Transparency Disclosure: We may receive a fee from the seller for any purchases made through links on this website or from other sites accessed via this website. This fee incurs no additional costs for the buyer. To learn more, please read our full disclosure page here. Read our Product Research and Testing page to know more about our review process in detail.
Our MyPillow review refers to the product offered by MyPillow Inc. (now MyPillow® Products), a Chaska, Minnesota pillow manufacturing firm. It was founded by Michael J. Lindell in 2004, an entrepreneur who designed and constructed this open cell polyurethane foam pillow. The design has been patented, and reviews tend to be mixed. The pillow has been extensively advertised and sold on TV consumer programs.
Table of Contents
So, is MyPillow any good? It comes in a standard and king size. We tested the standard version which measures 28″ x 18.5″. We put it through a number of tests, including a sleep test, and this is what we found:
The MyPillow Cover
The cover is 100% cotton. There is no way to remove the cover, which is printed all over with the MyPillow logo. However, you can use a pillow case to protect it, and the entire pillow can be machine washed and tumble dried. Once you get your pillow delivered, and take it out of the box, you are recommended to tumble dry it for 15 minutes to fluff it back up.
It is not too silent in use: the cotton cover has a rough or coarse finish that rustles when you change position. It is not as smooth a cotton cover as most other pillows have and could be annoying for your partner if you move your head or sleeping position a lot.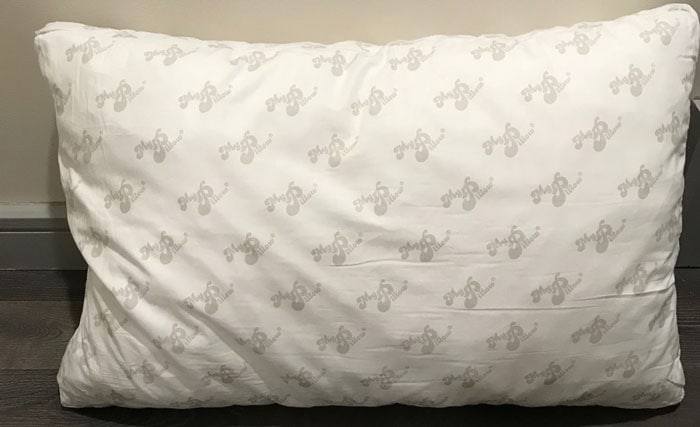 The MyPillow Filling
The filling of MyPillow is 100% shredded polyurethane foam. There appears to be nothing special about it. It isn't memory foam, just a standard poly foam that has been machine shredded into three different sizes of foam lumps. You have a choice of two lofts: Medium and Firm.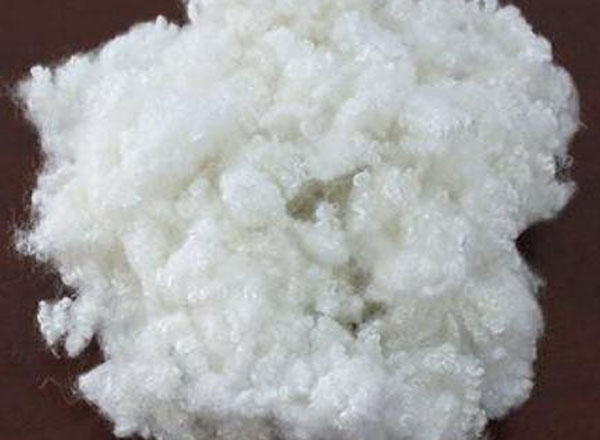 Most other MyPillow reviews comment that the pillow is not particularly cooling in spite of the shredded foam which should enable it to breathe effectively. This is likely due to the cotton cover which appears to be poor at allowing air to flow through it. MyPillow® Products recommends that you use a cotton cover on the pillow. This is because the company seems to believe that any other type of cover would reduce airflow and hence reduce its cooling properties. This appears to be debatable because there are covers other than cotton that are more effective for cooling than cotton!
Support and Comfort
The pillow gives good support for back sleepers, cradling the head and neck adequately with reasonable support. It is also OK for side sleepers, but stomach sleepers will likely find that this pillow has too much loft. It is certainly most suitable for back sleepers. While the loft is perhaps a bit on the high side, it could probably do with more fill. However, it is advertised as being available in four different loft levels, so you can choose your own.
Guarantee and Warranty
60-Day Sleep Test: MyPillow® Products offers a 60-day sleep test guarantee. You can return your MyPillow for a refund. However, you must pay the shipping and handling costs for both the original delivery and the return. If you exchange your MyPillow for another one then shipping is free.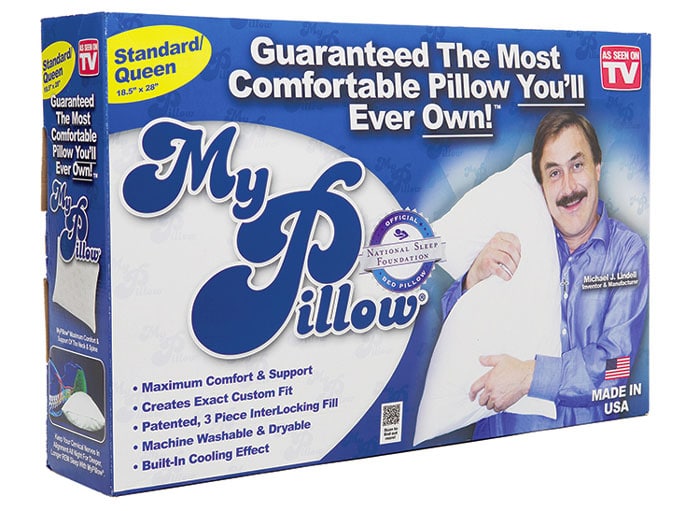 10-Year Warranty: MyPillow® Products offer a 10-year warranty on any workmanship and/or material defects. MyPillow will replace the defective product with a pillow of equal or greater value free of shipping charges.
Pros
Good for those who like soft pillows.
Machine washable and dryable.
Available in 4 loft levels.
No smell
Designed and Manufactured in the USA
60-Day sleep test – but you pay original and return shipping costs.
10 Year Warranty – The company gives you a new product of equal or greater value free of shipping.
Cons
The shredded foam can be lumpy.
The cotton cover reduces the cooling effect of the foam.
Not suitable for all sleeping positions.
Can be noisy when you move about on the pillow.
Tends to become thin after some use.
Is MyPillow Any Good? If so, for Whom?
MyPillow is OK for most people, particularly if you sleep on your back. It has practically no smell, unlike some alternatives, and it can be machine washed and dried. Once dried, it fluffs up offering maximum comfort. Some people will find it good for them, and it is a reasonable quality pillow. However, if you have specific needs, then there are better options available:
MyPillow is fine if you just want a general purpose pillow, but if you have any of the needs or preferences above, then click on the appropriate link for more details. Most reviews of MyPillow indicate that there are better alternatives for those seeking a pillow with specific health benefits or features that are important to them.
MyPillow Frequently Asked Questions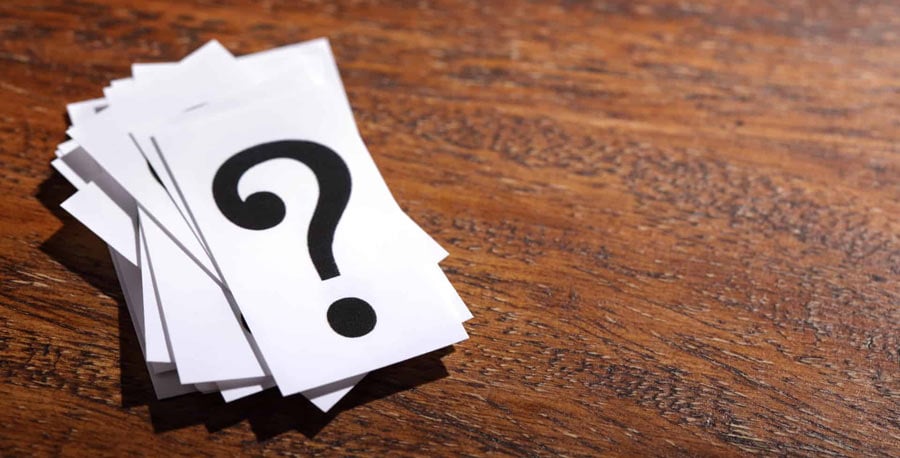 Here is a selection of the questions we have been asked regarding MyPillow and its benefits:
1. Can I use a pillowcase, and if so what kind?
The company recommends a 100% cotton open-ended pillowcase. It states that any other fabric might remove the cooling effect of the pillow. Pillow protectors are not recommended for the same reason.
2. How often should I wash my MyPillow – and how should I do it?
Clean it every 4 months. It may still look clean then, but you cannot see how the spaces between the cotton cover fibers are filling up. If you have any specific allergies, then clean it every 2 months. Wash it in your washing machine as recommended: wash on cold or warm cycle with any detergent but no fabric softener. If you have a front loader, include as part of a full load. With a top loader, wash 2 pillows for balance – otherwise balance the weight each side using towels.
3. Can I machine dry my pillow?
Yes: tumble dry on a high heat setting. Do not use dryer balls and use extra spin cycles when washing to reduce drying time.
4. My MyPillow seems to have become lumpy – why is that and what can I do about it?
If your MyPillow seems to be lumpy, then you can move the fill by manipulation and adjust it to suit your needs. The propensity for the fill to lump up will reduce the more you wash and dry the pillow. This helps to condition the fill.
5. My pillow is going flat – why is that?
The 3-piece interlocking fill is guaranteed not to go flat for 10 years. If it is going flat you should wash it and tumble dry it. It should then revert back to its correct loft. If that fails, then contact MyPillow Inc. to initiate your warranty.

The patented 3-piece interlocking fill used in the MyPillow® is warranted to not go flat for 10 years. If you find your pillow is going flat, it may be due to the pillow needing to be laundered. If after washing and drying your MyPillow® you still find the pillow is going flat, please contact us.
6. Why is my pillow hot when I sleep on it?
It shouldn't be. Check that you aren't using a non-cotton pillowcase on it. Any pillow case must be 100% cotton and also be open ended. Also, make sure you are not using a pillow protector – that will also heat up the MyPillow.
7. Is MyPillow any good for stopping my head and neck feeling hot when I sleep?
We cannot recommend a definite 'Best' pillow, although for this specific problem we recommend The Layla Pillow by LaylaSleep. This pillow has copper-infused cover that conducts the heat away and kapok-memory foam filling. Kapok is very light and airy and allows maximum air circulation. Between the copper and the kapok, the Layla Pillow is possibly the best cooling pillow on the planet.
8. I have a King size bed – why don't you have a King size pillow? You seem to nave only Standard and Queen.
We have a King size in the MyPillow Premium range. The King size is 32″ x 16.5″ + 2″.
Support

Materials & Quality

Cooling

Price

Design
Summary
The MyPillow product may not be the best pillow on the planet, but it does have its benefits. It has several negatives that may be resolvable with a bit of thought. For example, the cotton cover is not conducive to cooling, and there are fibers or fabrics available that would provide a greater cooling effect than cotton. Nevertheless, the pillows are good as any MyPillow review should demonstrate. That said, there are better pillows around that are suitable for all sleeping positions and that also keep you cool while you sleep. We have provided links to some of those in this MyPillow review, and they may give you an alternative option should you want one.