Transparency Disclosure: We may receive a fee from the seller for any purchases made through links on this website or from other sites accessed via this website. This fee incurs no additional costs for the buyer. To learn more, please read our full disclosure page here. Read our Product Research and Testing page to know more about our review process in detail.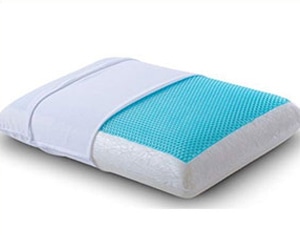 Do you ever wake up in the night feeling hot and sweaty? A cooling pillow can help you avoid this. Sure, there are cooling mattresses that help reduce the temperature of your bed, but cooling pillows are also important if you want to sleep well. In fact, a good cooling pillow can make a huge difference to your quality of sleep and help you feel more refreshed each morning.
Table of Contents
We have researched a number of such pillows available online and have selected the best for our top 8 cooling pillow reviews. What should you be looking for in a cooling pillow? Look for a pillowcase made using breathable fabrics, and a filling that allows a good flow of air. Check out our Buyer's Guide after reading our top 8 cooling pillow reviews. This will give you more information on how to choose the best cooling pillow for you.
| Ranking | Brand and Name | Filling | Loft | Our Ratings | Check Price |
| --- | --- | --- | --- | --- | --- |
| #1 | Coop Home Goods Eden Pillow | Shredded memory foam | Adjustable | 5 | 10% Discount |
| #2 | Classic Brands Reversible Gel | Memory foam with a Gel pad one side | 5" | 4.9 | View on Amazon |
| #3 | Xtreme Comforts Mem Foam | Shredded memory foam | 3.5" - 4" | 4.7 | View on Amazon |
| #4 | Bluewave Bedding Gel Mem Foam | Gel Memory Foam | 4" | 4.7 | View on Amazon |
| #5 | Beckham Hotel Gel Pillow | 'Gel' infused polyester fiber | 8" | 4.6 | View on Amazon |
| #6 | Comfort & Relax Gel Mem Foam | Memory foam with a Gel pad one side | 5" | 4.5 | View on Amazon |
| #7 | Snuggle-Pedic Mem Foam Pillow | Memory foam – low profile pillow. | 4" | 4.4 | View on Amazon |
| #8 | Perfect Cloud Gel Mem Foam | Gel-infused memory foam | 5.1" | 4.4 | View on Amazon |
1. Coop Home Goods Eden Shredded Memory Foam Pillow Best for Air Circulation
The Coop Home Goods Eden pillow is a cooling pillow with a shredded memory foam filling. Shredded foam is mixed with polyester fibers, which prevent the memory foam shreds from clumping together. This allows more air circulation than solid memory foam and therefore has a more powerful cooling effect. The zippered outer cover is a polyester and bamboo-derived rayon fabric that also allows a good flow of air together with a really comfortable feel. The zippered inner cover enables you to adjust the fill or loft of the pillow to suit your needs.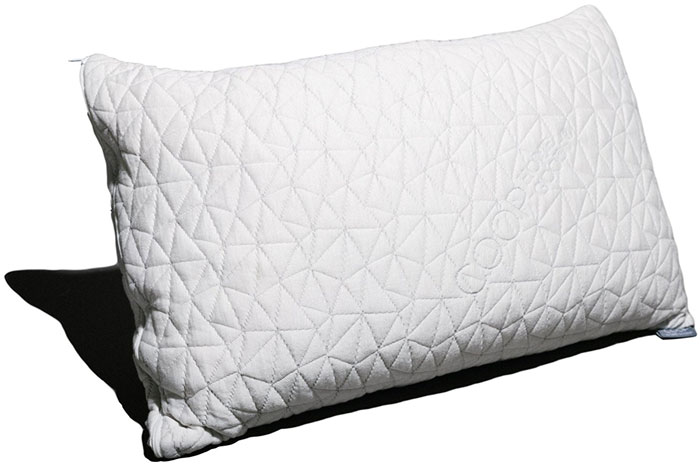 Inside Material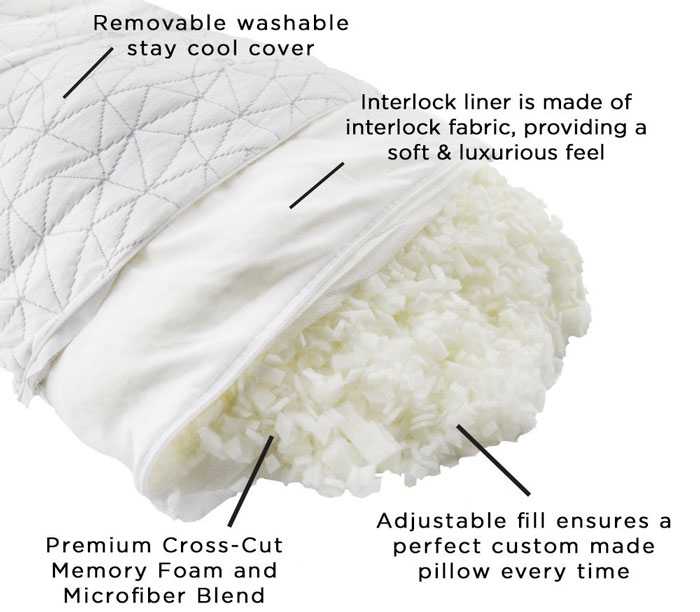 Pros
Shredded memory foam with poly fibers for superb air circulation.
Porous cover that allows a good flow of cooling air into the pillow.
Adjustable Loft
Good neck support.
Gusseted design keeps filling in place, preventing the center from hollowing out.
CertiPUR-US certified foam.
Case and Filling made in USA.
100 day sleep trial – return within 100 days for quibble-free refund.
5-year warranty against poor workmanship and material defects.
Cons
In rare cases the filling compresses, but the company will send a free bag of filling to top it up.
Otherwise, no serious issues.
Editor's Notes: This is our top rated cooling pillow because, not only is the air circulation an excellent way to keep you cool, but it also provides a good level of support for your neck. This is particularly the case for side and back sleepers. The adjustable loft enables you to remove or add filling to make it softer or harder. The extra filling is not supplied as standard, but the company will likely send you a pack of shredded foam on request.
Purchase This Memory Foam Pillow with Discount
2. Classic Brands Reversible Gel Memory Foam Pillow – Best Reversible Pillow
The Classic Brands reversible gel memory foam pillow is constructed with a gel pad over memory foam on one side to keep you cool on warm nights and normal memory foam on the other to keep you warm on cold nights. The memory foam provides good support and helps maintain the best position for your head, neck, and shoulders. Good for all sleeping positions: side, back, and stomach. This pillow has a medium plush feel to it, neither too soft nor too hard.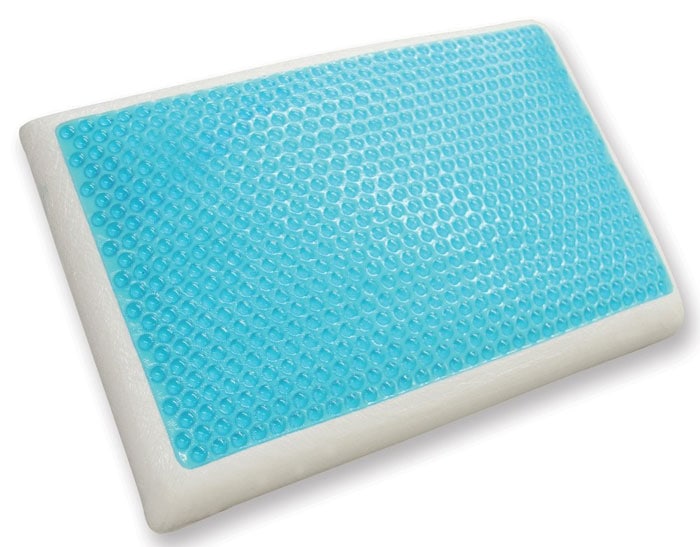 Close look of cooling elements: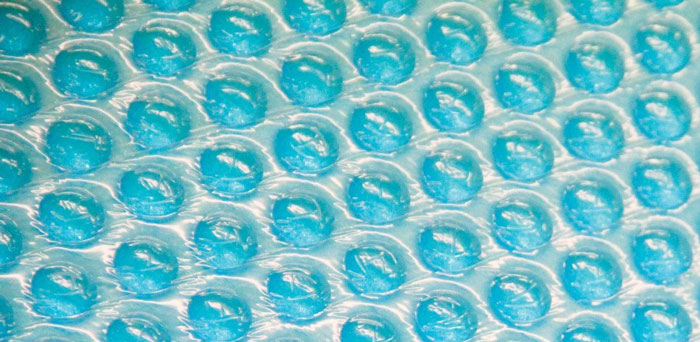 Pros
Double sided for warm and cold nights.
Suitable for all sleeping positions.
Removable mesh knit cover is machine washable.
Hypoallergenic cover
3 Year warranty for manufacturing defects and poor workmanship.
7-day customer service.
Cons
The loft is not adjustable.
Editor's Notes: This is a novel cooling pillow in that it has one cooling side, with the other side regular memory foam. You can use whichever you prefer at any time. It comes in at #3 because of its cooling properties, though unshredded memory foams do tend to have a heating effect as you sink into them. This pillow is recommended if you require a level of cooling without feeling too cold at night. The main issues are the lack of a sleep trial and a maximum 3-year warranty which is much less than other manufacturers offer. The product itself is good.
3. Xtreme Comforts Shredded Memory Foam Pillow – Best for Stomach Sleepers
This is a fairly thin pillow (4"), eminently suitable for stomach sleepers, and can also be used by back and side sleepers. If you sleep on your front, then this pillow would be ideal for you. Available in standard queen and king sizes, you could use it for yourself if your partner prefers something higher with more loft.
Shredded memory foam allows a greater flow of air through the entire pillow than any solid foam can, and the foam can be maneuvered to suit front, back, and side sleepers. The Xtreme Comforts shredded memory foam pillow helps stomach sleepers to maintain the correct head and neck position relative to the rest of the spine. This helps prevent lower back pain and other muscular and orthopedic issues.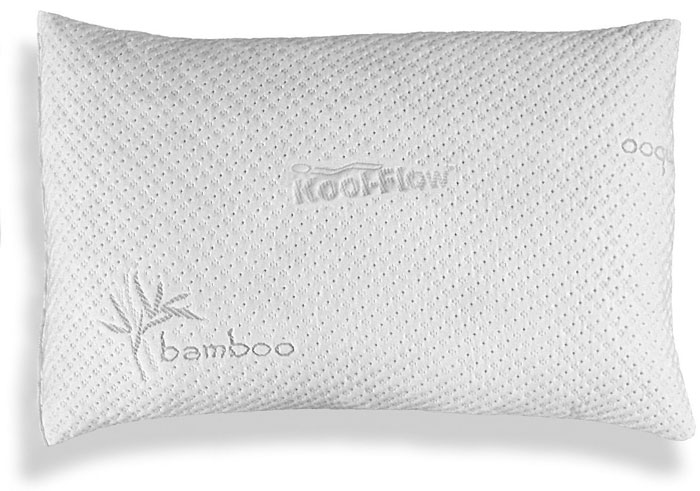 The foam is made in the USA, along with all the rest of the pillow, and is genuine memory foam that springs back to shape when you move off it. Each time you move your head in bed, the foam springs back to shape and the area you head is now resting on provides excellent support without having to be too high and forcing your head backward into an unnatural position.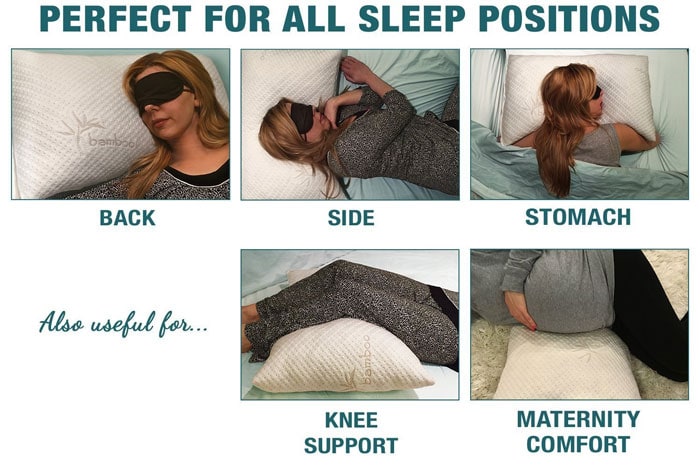 The cover of the pillow is made from bamboo-derived rayon making it silky smooth and soft. It is also micro vented to allow a good flow of air into and out of the pillow. Here are the pros and cons of this pillow:
Pros
An ideal pillow for stomach sleepers.
Shredded memory foam allows you to move the filling to suit other sleeping positions – side or back.
Helps prevent orthopedic problems by keeping your head and neck in the correct position.
Micro vented soft bamboo rayon cover.
Machine washable and tumble dry.
Hypoallergenic and dust mite and mold resistant.
Resistant to forming clumps or lumps of shredded foam.
All foam is CertiPUR-US certified free from ozone depleters, heavy metals such as mercury, lead and cadmium, TCEP flame retardants, phthalates, halogenated hydrocarbons (e.g. CFCs), hazardous emissions and other toxic materials.
100% made in the USA.
30-day sleep trial during which you can return the pillow for a full refund, and a 6-year warranty against defective materials and workmanship.
Cons
At just 4", this pillow is perhaps a bit thin for many who prefer a more substantial pillow. However, the shredded foam can be repositioned to suit. The thinness makes this an ideal, comfortable sleeping surface for stomach sleepers.
A tumble drier is required if the pillow needs to be fluffed up quickly. Otherwise, you can do it manually.
Editor's Notes: This appears to be an excellent pillow for stomach sleepers and gets good reviews. It is also suitable for many back and side sleepers who prefer a low loft pillow. It may not be our top pick for stomach sleepers but is certainly our second. Nevertheless, it is a good choice for stomach sleepers.
4. Bluewave Bedding Gel Infused Memory Foam Pillow
The Bluewave gel infused memory foam pillow gets its place in our cooling pillow reviews due to its multiple slimness options and its excellent cooling properties. We are reviewing the slim option which is around 4 inches in thickness, with super-slim and ultra-slim versions also available. Unlike many others, the memory foam in the Bluewave Bedding pillow is not shredded but is infused with cooling gel particles that absorb heat and distributes it throughout the pillow.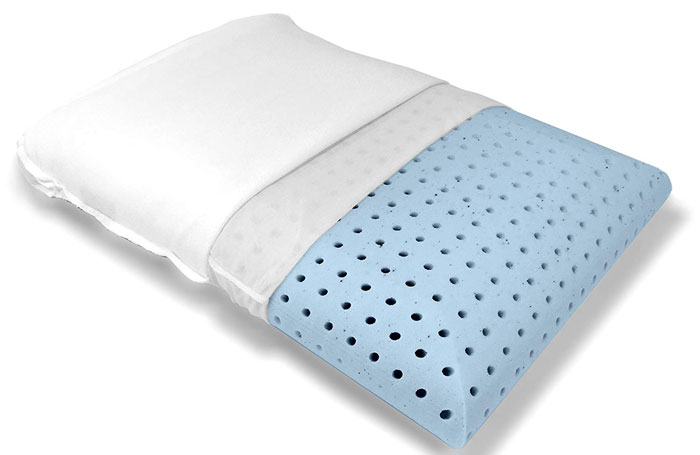 The cover of this pillow is made from 40% of a bamboo-derived rayon, and 60% polyester. The bamboo gives the pillow surface a sleek and smooth finish that is great on your skin and heaven to lie on. The foam also contains ventilation holes to help with heat dissipation. This pillow is ideal for stomach sleepers and others that require a low profile pillow. If you currently wake up with pain in your neck or shoulders, then a lower profile pillow may be the answer, so give it a try. You can return it within 30 days for a full refund if you don't like it.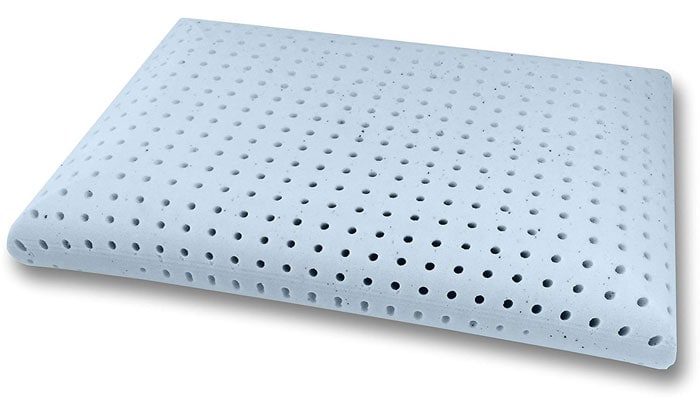 Pros
Gel-infused to absorb heat and keep you cool during the night.
Supportive 3.25 lb viscoelastic memory foam with ventilation holes to add to its cooling properties.
Three thicknesses, with around 4-inches being the thickest.
Polyester and Bamboo rayon cover that allows good air circulation and provides a lovely, soft sleeping surface.
The cover is removable and washable.
A good pillow for those that suffer neck and shoulder pain.
Suitable for all sleeping positions, including stomach sleepers.
Only CertiPUR-US foams used, signifying it to be free from phthalates, CFCs, ozone depleters, heavy metals and other toxic substances.
Cons
Chemical smell on opening which dissipates within 24 hours.
Otherwise, no obvious faults that we could find.
Editor's Notes: This is a very comfortable pillow to lie on, particularly when sleeping on your front. That said, it may have been a little thinner for stomach sleepers, but then you have the super and ultra slim versions available, at least one of which should meet your needs. The excellent 30-day trial period enables you to try the slim model and then change to an alternative if needed. This pillow deserves its #4 position in our best cooling pillow reviews.
5. Beckham Hotel Collection Gel Pillow
The Beckham Hotel Collection offers this gel-filled polyester fiber pillow that provides maximum comfort for any sleeping position. The pillow has been designed for all sleeping positions including front sleepers. It is constructed in such a fashion that the filling stays where it is – it is what the company refers to as a 'no shift' construction. This is very useful, because the shredded foam in many brands of such pillows tends to move around, and form hollows where your head lies on them.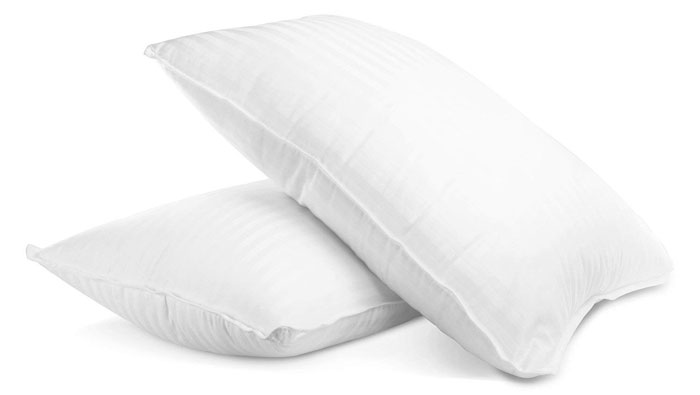 Pros
No-shift shredded foam construction.
Hypoallergenic.
Resistant to dust mites, molds, and mildew.
Machine washable and can also be tumble dried.
Resistant to fading and staining – although much depends on the source of any potential stain.
Tumble dry on a low heat setting to fluff the pillow up.
Cons
No warranty information available – just what the seller refers to as a 'satisfaction guarantee' to get a full refund within 30 days if you don't like it.
Some people find it too soft for them, although as stated previously you can unzip the cover and add more filling to bolster it up.
Polyester fiber may not be good for everybody. However, it is comfortable and supportive to sleep on.
Editor's Notes: The Beckham Hotel Collection Gel Pillow appears to be a very comfortable pillow suitable for all sleeping positions. Its construction tends to keep the filling in place. The gel absorbs heat and then dissipates it to keep you cool through the night. It is very unusual to have a gel filling associated with a polyester fiber filling, but it seems to work. The gel is normally used in relation to memory foams. However, the pillow is extremely comfortable, and it does keep you cool – and that's what counts!
6. Comfort & Relax Reversible Memory Foam Gel Pillow
The Comfort and Relax reversible is another excellent cooling pillow that contains cool gel memory foam. It is reversible in that one side is fitted with a cooling gel pad that is molded to a memory foam inner layer. This is solid memory foam, not shredded. This side keeps you cool during the night, while also offering support for your head and neck.
The other side has no cooling gel, and is good for cold winter nights when the last thing you want is to be cooled down! If you suffer from pain in your neck and shoulders, particularly when you wake up each morning, this pillow will help relieve that. The Spandex fabric cover also helps keep you cool.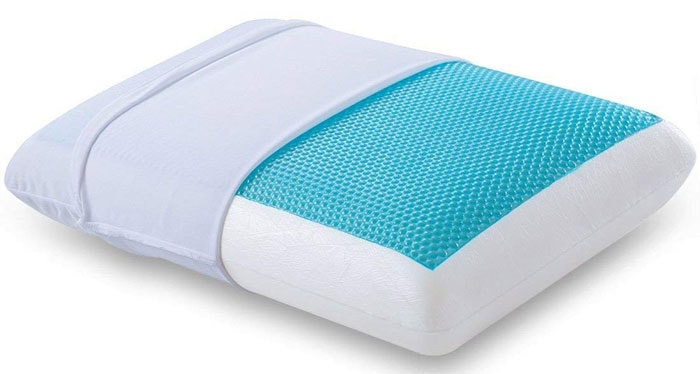 Pros
Reversible: one side cooling and the other side for winter nights when you want a warm, comfortable pillow.
Good for all sleeping positions.
Helps relieve neck and shoulder pain.
Antimicrobial and resistant to allergens.
CertiPUR-US certified to be free of phthalates, heavy metals such as mercury, lead and cadmium, ozone depleters and other substances hazardous to health.
Cons
Not suitable for washing machine.
No stated warranty or sleep trial.
Editor's Notes: This double-sided reversible pillow provides you with the option of sleeping normally when you feel warm enough, and sleeping cool when you feel too hot in bed. If you feel hot simply flip the pillow over and get cooled down. One issue is that there is no indication of any warranty or sleep trial available.
7. Snuggle-Pedic Bamboo Shredded Memory Foam Pillow
The Snuggle-Pedic shredded memory foam pillow claims never to go flat! As with other shredded foams, the Snuggle-Pedic memory foam pillow allows a good flow of air throughout the pillow that helps cools you down during the night. The outer cover is a mix of bamboo viscose (43%), polyester (56.4%) and Lycra (0.6%). It is extremely smooth, micro-vented for excellent airflow and a dream to sleep on.
The cover is zippered to enable you to adjust the filling to your desired thickness and comfort level. The shape of the pillow conforms to your head and neck to make this pillow suitable for all sleeping positions: front, side and back sleepers. It is fully machine washable, and the cover can be washed separately. This is important if the cover gets soiled and you don't want to wash the entire pillow.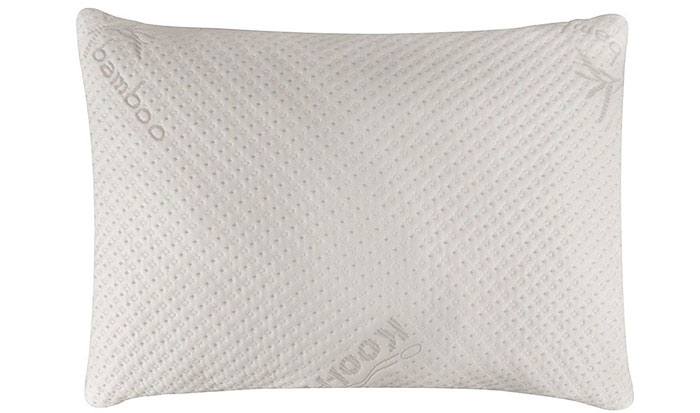 It is hypoallergenic and resistant to dust mites. It is also low in VOC emissions: those volatile organic compounds that can give many pillows and mattress an unpleasant chemical smell. This is an excellent pillow that anyone can use, and thoroughly deserves its #3 position in our list.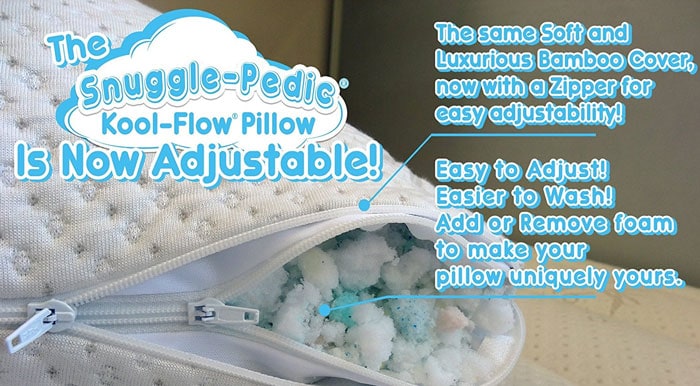 Pros
Suitable for all sleeping positions.
Shredded foam is very effective at keeping you cool during the night.
The vented cover promotes good air flow through the cover into and out of the pillow.
Zippered cover allows you to adjust the fill of foam to suit your needs.
Machine washable.
CertiPUR-US certified foam made in the USA is free from phthalates, heavy metals, CFCs, ozone depleters and any other toxic substances.
Hypoallergenic.
120 Night trial period during which you can return the pillow for a hassle-free full refund.
20-year warranty against manufacturing or material defects.
Cons
A bit of off-gassing to begin with, but that is to be expected with most foam materials. It soon dissipates.
Otherwise, no other significant issues.
Editor's Notes: The Snuggle-Pedic shredded memory foam pillow deserves its place in our 8 top rated cooling pillow reviews. The shredded foam and vented cover promote good flow of air through the pillow while you sleep. This wicks away any heat generated by your head and neck during the night and lets you wake in the morning cool and fully refreshed. The cover itself is very smooth and a joy to lie your head on.
8. Perfect Cloud Memory Foam Pillow
The Perfect Cloud memory foam pillow comes with a quilted cooling gel layer over a memory foam filling. This helps you to stay cool during the night due to the gel absorbing your body heat and dissipating it. The ventilated memory foam also helps keep you cool during the night while conforming to the contours of your head and neck to provide proper support to both. 'Proper support' means keeping your head and the seven vertebrae in your neck aligned properly in relation to the rest of your spine.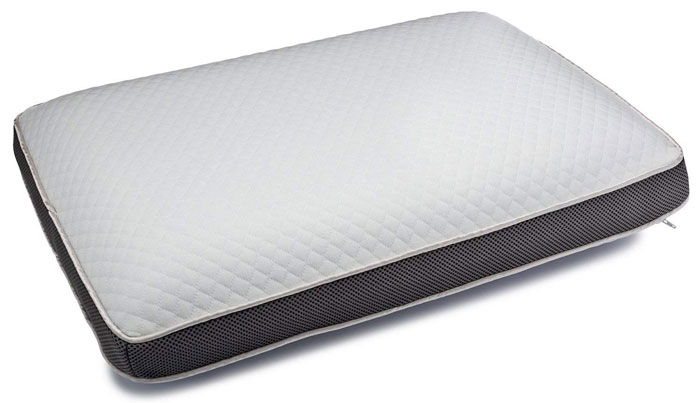 The Perfect Cloud memory foam pillow feels luxurious to lay your head on and helps you to sleep all night, and awake refreshed in the morning. Its 5-inch thickness is good for all sleeping positions – anything thicker would not be good for stomach sleepers. The cover is zippered so it can be removed for cleaning. You can choose to sleep on the gel layer for maximum cooling or on the reverse memory foam layer for maximum comfort.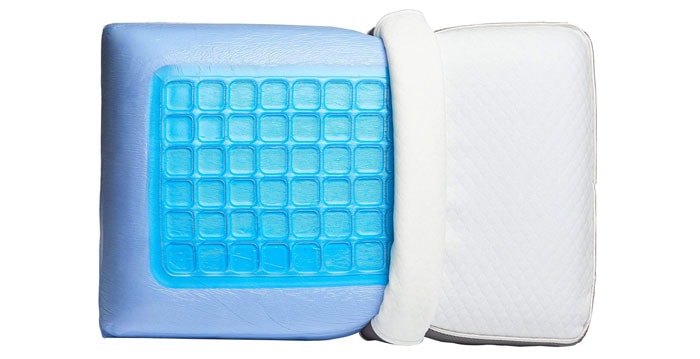 Pros
Keeps you cool at night.
Double sided, so you can stay cool on the gel side or add extra comfort on the ventilated memory foam side.
Plush quilted textile cover.
Hypoallergenic and dust mite resistant.
Foam is CertiPUR-US certified to be free from toxic ingredients such as heavy metals, phthalates, CFCs and ozone depleters.
30 Day sleep trial for Amazon buyers.
10-year warranty against manufacturing and material defects.
Cons
Perhaps not hard enough for heavier weight sleepers. However, the gel side is stiffer to sleep on than the memory foam side, and each helps you remain cool in its own way.
Otherwise few negatives with this pillow – that's one reason why it reaches our top rated cooling pillow reviews.
Editor's Notes: This is another double sided pillow with a cooling gel layer one side, and a ventilated memory foam layer the other side. The plush quilted cover is designed to maximize comfort when you use the pillow. Why position #8 for this pillow? Simply because those above it have their own pros and cons, and don't lose sight of the fact that we have chosen these eight as the best of all those we have looked at. All pillows in our list are top class and offer their own particular benefits.
Buyer's Guide to Cooling Pillows
Your head tends to be the hottest part of your body, particularly in bed when you are resting. When temperatures rise at night, particularly during the summer months, your head will feel hot, and you will consciously or unconsciously look for a cooler part of your pillow. As the temperature rises, you become restless and will often wake up. This can result in interrupted sleep patterns, and you are feeling anything but refreshed in the morning.
In this Buyer's Guide to Cooling Pillows we shall discuss the various types of pillows that keep you cool in bed, and how to select the one that suits you best. The important factors are the cover, the filling and the loft – the thickness of the pillow. First, here are some fillings to avoid when choosing a cooling pillow.
Latex Foams: Latex is a natural substance obtained from the sap of the Brazilian rubber tree. There are other types of rubber tree, but the Brazilian variety is currently the source of over 90% of all latex used in bedding. Natural latex undergoes a process that froths it up and solidifies it to make the filling for latex pillows. It holds heat well, and is a good material for mattresses and pillows in cold winter months when you have no desire to be kept cool! This is not what you want if you want to be kept cool in bed.
Down and Feather: Down and feather pillows are extremely comfortable, but they also suffer from that one issue: they sleep hot. Down and feathers retain body heat (that's their natural purpose), and should be avoided during the summer months if you tend to get hot in bed (temperature wise!).
So now that we know what to avoid, what should you be looking for in a pillow that keeps you cool? There is no universal answer to this question that would suit everybody. Some people like solid foam pillows while other prefer shredded foams where the amount of filling, or loft, can be adjusted. Some prefer a high pillow and others a low one, the latter particularly suitable for stomach sleepers.
Cooling Pillow Options
Regular pillows, particularly latex and down/feather pillows, will gradually become hotter during the night. The filling will trap heat rather than dissipate it, and you can wake up feeling hot and sweaty.
Cooling pillows are constructed to avoid this by allowing a constant circulation of air through the pillow. They do this by means of changing the structure of the foam or other filling inside to allow air to easily move around, and by using pillow covers or cases that are ventilated to allow cool air to enter and warm air to leave. Since you sweat when you are hot, many also possess moisture-wicking properties so that moisture can be drawn from the pillow to be evaporated away.
Here are some of the materials used that you should look for when pillow-hunting.
Natural Fibers: The most common natural fibers found in cooling pillows are cotton and bamboo fibers. Fabrics made using these materials are more breathable than most synthetics such as polyester and nylon. This is due to the physical and chemical structure of natural fibers allowing larger breathing spaces than synthetics where the fibers are generally packed tighter together. Natural fibers more readily absorb sweat on your face and neck which then evaporates off, leaving you cooler and dry. Low thread counts also help by enabling warm air to be more readily passed through the cover to be replaced by cool air.
Gel Fillings: Gel conducts heat away from your skin rather than absorb it for evaporation as fibers do. The gel absorbs the heat of your body which then dissipates into the mass of the pillow, ultimately cooling down.
Gel Pads: Some of the pillows in our recommended list have a gel pad attached to one side of the pillow. This is soft to the touch and comfortable to sleep on. Just like gel fillings, the gel conducts heat from your face and neck and dissipates it throughout the gel layer and ultimately into the atmosphere.
Ventilated Foams: Some foams, such as memory foam, contain small ventilation channels within the foam. These channels are like tiny conduits containing air that conducts heat away from the foam and allows circulation of the warm air throughout the pillow. This eventually dissipates into the body of your bedroom.
Shredded Foams: Shredded foams are a common way of allowing free passage of air throughout a cooling pillow. Many memory foam pillows consist of shredded memory foam. This still provides the shape recovery of memory foam while also enabling the heat from your head, face and neck to be drawn into the body of the pillow and ultimately cooled down.
Bamboo Rayon Covers: Rayon threads made from bamboo are soft, silky and allow heat to pass through the cover into the air. Gel and aerated foams can keep you cool, but ultimately the heat has to go somewhere – and that somewhere is through the pillowcase or cover into the atmosphere of your bedroom.
There are a few other types of cooling pillow, including those using a buckwheat hull filling, kapok, polystyrene microbeads, Japanese corma beads, and water-filled pillows. However, those we have reviewed are more traditional and, in our opinion, more consistent in quality and functionality than those others.
Ease of Cleaning
It is important that your pillow can be easily cleaned. Most cooling pillows can be machine cleaned if necessary, though generally cleaning the pillow cover or case is enough. They often come with a zippered cover that can be removed for washing and also to adjust the loft of fiber and shredded foam fillings.
Pillows tend to soil fairly rapidly: sweat, drool, make-up, nose bleeds, and general soiling. It is important to be able to clean this off your pillows from time to time. That means the outer cover must be able to be removed from the pillow. Machine washing is best, but you can also hand wash them.
Sleeping Position
Your preferred sleeping position will also have a bearing on the best pillow that is suitable for your needs. Check our cooling pillow reviews again to find the best for your normal sleeping position. Imagine your spine from the top of your neck down to the base. The best sleeping position is one where your entire spine remains in its natural alignment.
Stomach Sleepers: If you sleep on your front, then you need a soft, low loft pillow. If your pillow is too thick, your head will be forced upwards, placing stress on your cervical (neck) vertebrae. This is a common cause of neck pain. A 4-inch thick pillow or less is best for stomach sleepers. The softness will help maintain the correct angle between the top of your spine and lower down.
Side Sleepers: If you sleep mainly on your side, a thicker pillow might be best for you. The pillow should be high enough to support your head and not allow it to fall towards the level of your shoulders. Ideally, the pillow should keep your neck straight with your shoulder on the mattress and your head on the pillow.
Back Sleepers: Back sleepers should sleep on a thin pillow, but a harder or denser one than stomach sleepers. A thick pillow would raise their head too high in relation to the neck and likely lead to neck pain.
If you follow the above advice, you should be able to purchase the cooling pillow best suited to your needs. There are many available on the market, but don't be misled by some of the claims made. It is all logical common sense, related to the shape of your spine and the properties of the materials used in their manufacture. Even the most top rated cooling pillow will not meet the needs of everybody.
Top Rated Cooling Pillow Reviews: Frequently Asked Questions (FAQs)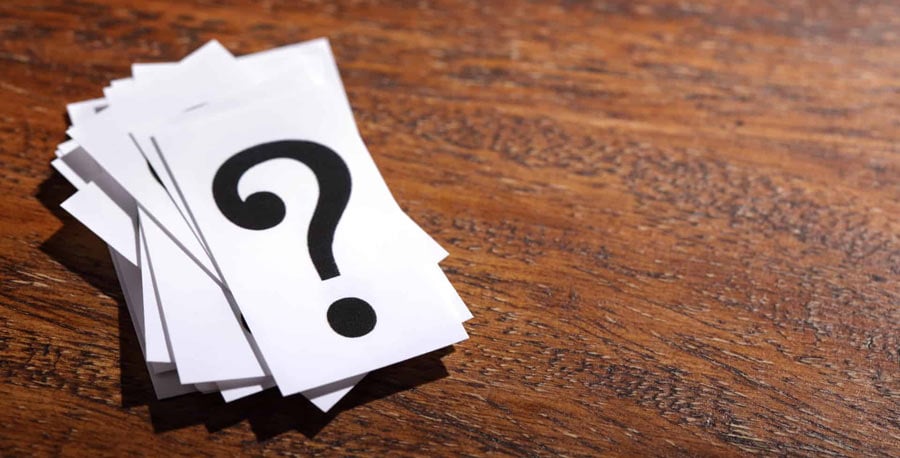 Here is a selection of the questions we have been asked about cooling pillows.
1. What kind of pillowcases should I use with a cooling pillow?
If you need a pillowcase or cover for your cooling pillow, then a 100% cotton or bamboo rayon cover would be best. Also, check that the thread count is not too high. You want less than 400 TC because the lower the thread count, the looser the fabric and therefore the more ventilation can pass through it. However, you will find that many cooling pillows come with a removable zippered cover. If so, it's best not to use another pillowcase over that since you will lose much of the breathing capacity.
2. Is the life of a cooling pillow less than that of a regular pillow? Will I have to buy a new one more frequently?
Any pillow is best replaced at the latest every two years, and often every year. Your pillow becomes contaminated with skin cells, skin and hair oils, make-up, possibly dust mites and saliva. It is healthier to replace it annually for that reason alone. However, many pillows begin to break down in quality and lose their cooling capability over time. So once a year we would recommend. If you have a removable and washable cover, this could be extended to 18 months to two years at a push – but you should be able to tell when it needs to be renewed.
3. Why do pillows heat up during the night?
Your head is in close contact with your pillow all night. Your head can tend to get hot due to the blood flow through your neck and around your face. Keep in mind that your blood temperature is 37oC or 98.6oF. This is quite warm, and when you sleep at night, this heat is transferred to your bedding – including your pillow. A pillow is smaller than a mattress, so this heat has a much lower volume in which it can dissipate than with a mattress. Your face and head are also in intimate contact with your pillow, making it much easier for these to get overheated.
4. How did our ancestors overcome this overheating at night issue?
If we go back to the cavemen, they slept on rocks – hence the once-used term sleeping like a rock. The cool stone absorbed the heat from their head and face when sleeping. The Chinese used pillows made from stone and metal – and also porcelain. They believed that the hard surface kept them cool. The most revered pillow was one crafted from jade because it was thought to increase the intelligence of the person sleeping on it. Stone pillows don't sell so well today!
5. You talk about the shape of the spine. Why is a pillow so important since it only supports your head?
For a start, some pillows support the head, neck, and shoulders. Re the shape of your spine: look at somebody straight on from front or back, and their spine is dead straight from top to bottom. If you sleep on your side, you need to keep this straight, or you will suffer pain in your neck and back. That means that your head and shoulders and hips should all be supported at their natural level. That's why a side sleeper needs a higher pillow – to keep the neck as straight as it is when you are standing.

Now look at the shape of your spine from the side; it is in an elongates S shape, the top curve being your (cervical area) neck and the bottom curve is the small of your back (lumbar) region. When you lie on your front or back, your spine must be supported in these areas. The right pillow will keep your head neck correctly aligned, while your mattress would have to look after the small of your back. Our top-rated cooling pillow achieves this along with most of the others on our list.
Coop Home Goods Eden Pillow

Classic Brands Reversible Gel

Xtreme Comforts Mem Foam

Bluewave Bedding Gel Mem Foam

Beckham Hotel Gel Pillow

Comfort & Relax Gel Mem Foam

Snuggle-Pedic Mem Foam Pillow

Perfect Cloud Gel Mem Foam
Summary
The best cooling pillow for one person may not suit another. All of those we have reviewed keep you cool with a high level of effectiveness, though none are perfect. What is! When choosing a cooling pillow it is important to consider your regular sleeping position and also the mechanism by which it keeps you cool. No cooling pillow is suitable for everybody, and many in our list offer a trial period during which you can return the pillow if it doesn't work for you. Fundamentally, cooling takes place when the filling absorbs the heat of your face and head, and then releases that heat through the cover into the atmosphere. Our list of eight is sure to include the best cooling pillow for your needs.