Transparency Disclosure: We may receive a fee from the seller for any purchases made through links on this website or from other sites accessed via this website. This fee incurs no additional costs for the buyer. To learn more, please read our full disclosure page here. Read our Product Research and Testing page to know more about our review process in detail.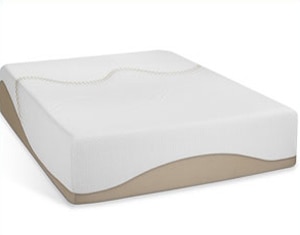 Why should you even consider buying the best budget mattress you can find? The answer is quite simple. You spend a great deal of your life on your mattress, the majority of that sleeping, so you may not be as committed to pay the same as you pay for a sofa. Perhaps you cannot afford a high-priced mattress. Whatever the reason, you should still get the best mattress you can for your money you spend.
To help you achieve that, we provide a Buyer's Guide at the end of our individual mattress reviews. In the meantime, here are our top 8 budget mattresses, many of which are better than some of the more inexpensive mattresses currently available. The pricing is based on current availability with most expensive given the number 1.
NOTE: To avoid continual repetition, when we state in the Pros section of each mattress description that a mattress is CertiPUR-US certified, it means that it is free of hazardous materials such as phthalates, heavy metals (mercury, lead, cadmium, etc), ozone depleters such as CFCs and toxic fire retardants. CertiPUR-US certification means that a product has been tested and found free of such hazardous materials. Check out CertiPUR-US for yourself.
Table of Contents
| Ranking | Mattress | Type | Thickness | Our Rating | Check Price |
| --- | --- | --- | --- | --- | --- |
| #1 | Nectar Mattress | Gel Memory Foam | 11" | 5 | Check Price |
| #2 | DreamCloud Mattress | Hybrid | 15" | 5 | Check Price |
| #3 | Layla Sleep Mattress | Memory Foam + Copper | 9.5" | 4.9 | Check Price |
| #4 | Winkbeds Mattress + Plus | Hybrid | 14.5" | 4.8 | Check Price |
| #5 | Saatva Mattress | Innerspring (Coil on Coil) | 11.5"/14.5" | 4.8 | Check Price |
| #6 | DynastyMattress Cool Breeze | Memory Foam | 12" | 4.6 | Check Price |
| #7 | Zinus Green Tea Mem Foam | Memory Foam | 12" | 4.5 | Check Price |
| #8 | Linenspa Hybrid Mattress | Mem. Foam/Innerspring | 8" | 4.3 | Check Price |
1. The Nectar Mattress – Best for Cooling Properties and Pressure Relief
The Nectar Mattress is our top budget mattress choice and includes features that you would find in some much more expensive mattresses. It is fundamentally a 5-layer gel memory foam mattress, offering high levels of pressure relief, motion isolation, and cooling. Here is a break-down of the 5 levels. Beginning from the top: the cover.
Layer 1 – The Cover
The Nectar mattress cover is made from Tencel, the company's Adaptive® cooling cover. This improves air circulation and removes heat while you are sleeping. Fresh air is circulated each time you move in bed.
Layer 2 – A Quilted Gel Memory Foam Layer
However, this is not just any memory foam, but a fourth generation 'Nectar Smart Sleep layer'. This type of memory foam is usually found only in the more expensive mattresses, but here it is – included as the top foam layer in our top budget mattress. It claims to be 'up to 30 times more breathable' than other materials, and keep your temperature regulated during the night while helping to support your main pressure points.

Layer 3 – Pressure-Relieving Memory Foam
This layer is pressure-relieving gel memory foam that not only contributes to keeping you cool while you sleep but also distributes your weight evenly. This adds to your comfort and helps reduce the aches and pains of the day, and also helps relieve or prevent chronic back pain in bed.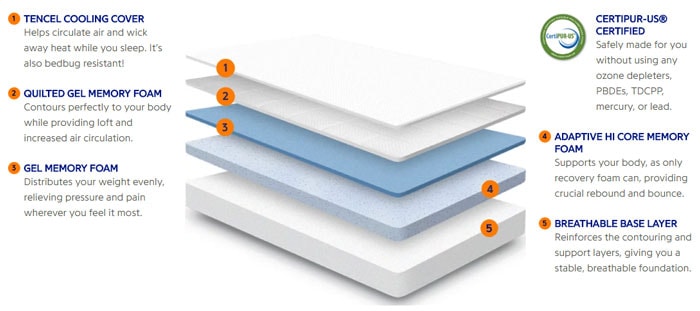 Layer 4: Adaptive Supporting Memory Foam
This is a support layer of higher density memory foam that helps bear your weight without the mattress feeling hard. This is another layer that is generally only found in high quality mattresses.
Layer 5: Breathable Foundation Layer
This foam layer is also breathable and helps keep the mattress firm on the base or foundation. It provides 7-zone support focusing on the hips and shoulders, thus providing an effective, supporting and a comfortable base layer to support all the layers above it.

Pros
Gel memory foam helps keep you cool as you sleep so you don't wake up feeling hot and sweaty.
CertiPUR-US certified to be free of ozone depleters, harmful chemicals such as heavy metals, phthalate plasticizers, CFCs and harmful fire retardants.
365 night sleep trial: return any time during this period for a full refund and free collection.
Lifetime warranty against defective materials or workmanship.
Climate and carbon neutral: Nectar takes active steps to reduce its carbon footprint to neutrality.
Nectar offers Phone, eMail or Live Chat support.
Cons
A small minority feel the mattress to firm for them: however, you have the one-year sleep trial to make your decision and have it collected during that period no quibbles regarding a full refund.
Otherwise no negatives.
Editor's Notes: The Nectar mattress lies on the cusp between budget and luxury: a luxury mattress at a budget price. It is excellent value, with a 5-layer construction from the cover down. It is probably the best mattress around at its price and thoroughly deserves its place at #1 as our choice of best budget mattress.
Purchase This Mattress with Discount
2. DreamCloud Mattress – Best for Support Allied with Bounce
The DreamCloud mattress appears to be excellent value for what you pay. It is a hybrid mattress which combines the bounciness of springs with the comfort of memory foam. This mattress comprises 8 different layers totaling 15 inches for a thick mattress that is heaven to sleep on. Are 8 layers too many? Judge for yourself with the free sleep trial that enables you to send the mattress back if you don't like it.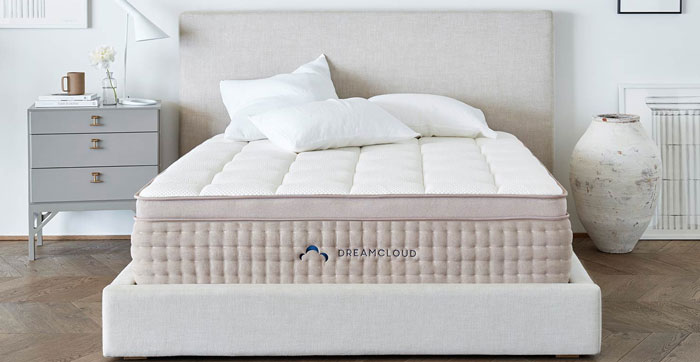 The layers:
A breathable cashmere-polyester blend fabric that feels soft and silky to lie on.
Gel infused memory foam that provides comfortable support for your pressure points (hips, shoulders, knees, buttocks) while also keeping you cool at night.
A layer of quilted memory foam that makes you feel as if you are floating on a cloud.
A hypoallergenic natural latex layer that provides give and bounce.
A layer of high density memory foam for deep contouring and more support.
A layer of super-dense foam that provides support for your entire body, so you don't sink too far into the comfort of the layers above. This is the firm's Bestrest coil system which is patent pending.
A layer of encased, individually pocketed steel Microcoils provide extra support head to toe and also contribute to movement isolation and a level of bounce.
A high-density support foundation foam layer that also helps reduce motion transfer while providing even more support without being hard or too firm.
The main selling point with this mattress for us is the support it offers, together with the very comfortable cooling properties of the top layers. It is a hybrid mattress, and in our view, it is a great budget buy for this type of mattress.
Pros
Excellent support allied with comfort for heavier people.
Excellent edge support.
White glove delivery and removal of the old mattress.
Natural latex is longer-lasting and more resilient that synthetic latexes.
CertiPUR-US certified foams.
365 day trial period during which you can return the mattress for a full no quibble refund at no cost to you.
Forever 'Everlong' warranty against material and manufacturing defects. Mattress replaced during first 10 years, then repaired or replaced after that. Transportation costs waived if defect is found.
Cons
US assembled but not entirely the US made.
Otherwise, we could find no negatives.
Editor's Notes: Having many different layers does not necessarily make a mattress a good one – but the DreamCloud mattress is a good one. It is genuinely between this one and the nectar mattress for #1 spot, and either could be awarded that accolade to be honest. I would say they were equal. However the DreamCloud is approaching the top price of the budget while the Nectar mattress is more of a high quality mid-budget mattress, hence their relative positions.
Purchase This Mattress with Discount
3. Layla Sleep Copper-Infused Memory Foam Mattress – Best Flippable Budget Mattress
The Layla Sleep copper infused memory foam mattress is by no means unique, but it does offer some marvelous properties at a goodbudget price. The copper infused into the memory foam can not only conduct heat away, but it is believed that those suffering from arthritis could benefit from it. We cannot comment on this since we are not qualified to do so, but that is the belief held by many people.
The mattress is medium soft on one side and firm on the reverse, so you can choose which side you prefer to sleep on. You might like to switch between them from time to time – the option is there. The cover of the Layla mattress is infused with Thermo Gel, a proprietary gel which reacts to body temperature to conduct the heat away from you so you don't get too hot during the night.

The top antimicrobial copper-infused level is 3" thick, and below that is a 2" deeply convoluted support foam. Below that you have a 3.5-inch layer of 3lb support foam then a final 1-inch layer of copper infused support foam. You really have to try it to find if it suits you (as with the others in this review) and the 120 night sleep trial enables you to do that.

Pros
The copper helps to conduct heat away from your body into the body of the mattress, and then into the atmosphere.
The Thermo Gel also helps keep you cool.
Flippable between comfort levels.
Suitable for any foundation: solid or slatted base, box spring, adjustable base or frame or a bunkie board.
CertPUR-US certified foams
Made in the USA.
120 Night sleep with the free no-quibble return.
Lifetime guarantee against faulty workmanship or materials.
Free returns
Cons
Not truly flippable since you get different firmness surfaces each side – but better than not being flippable!
Again, no specific negatives – this is an excellent budget price mattress suitable for all sleeping positions.
Editor's Notes: Copper may have beneficial effects on arthritis and other conditions – but also may not. Those who use copper bracelets, for example, are sure that they help them. However, the copper present in this mattress is good for conducting heat away from the immediate vicinity of the sleepers – and may also help with orthopedic conditions.
Purchase This Mattress with Discount
4. Winkbeds Luxury Hybrid Mattress – Best Mattress for Heavyweight People.
The Winkbeds luxury hybrid mattress combines the best of a specialty foam and innersprings. It is designed with a lumbar support pad to support your lower back where your spine curves upward when sleeping on your back. While this mattress is ideal for heavier weight people who sleep on their backs, it is also good for other types of a sleeper. The type of foam used absorbs pressure and also keeps you cool at night. The eucalyptus-derived Tencel cover also helps keep you cool while providing a silky smooth sleeping surface.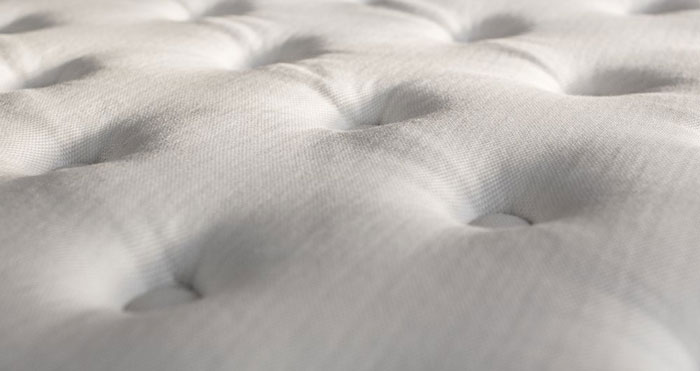 You can choose your level of firmness: Soft (4.5 on a 1 – 10 scale where 10 is firmest), Luxury Firm (6.5) and Firm (7.5). Each version is 14.5 inches thick, with 7.5 inches of individually pocketed coils with a 2-inch poly foam encasement (1.8 pcf, 28 ILD – see Buyer's Guide for these terms). The rest of the height comprises the comfort layers of gel memory foam and poly foam. The Winkbeds mattress is also fitted with what they refer to as their ExtraedgeTM edge support system.

Pros
Three firmness options – and if you don't like the one you chose, you can easily change it.
Excellent edge support.
The firmest option is good for heavyweight sleepers.
Very good motion isolation between partners.
Excellent edge support
Lifetime warranty against faults in workmanship and materials.
120 night sleep trial: free replacement and free return carriage if you want to change it during the first 120 nights.
There is also the Winkbeds Plus for those weighing over 300 lb. This accrues an extra cost, however.
CertiPUR-US certified foams
Made in the USA.
Cons
No specific negatives other than there is little information on the types of foam involved. The mattress appears to be made with gel memory foam and polyurethane foam (polyfoam), while the Plus version is latex.
Editor's Notes: This is a very good mattress at the cusp between budget and luxury mattress pricing. The three firmness options for the standard version of the Winkbeds mattress is good, while the firmest option for heavyweight people costs slightly more – probably due to it being made using latex foam which is best for supporting heavier weights. Otherwise, the Winkbeds mattress is an excellent choice for anybody.
5. Saatva Mattress
The Saatva mattress is another high quality budget mattress where you can choose your preferred comfort level. It is a supportive mattress, due largely to its coil on coil construction: two layers of coils, one over the other. Three versions are available in different comfort levels. The first is Plush Soft at #3 on a scale of 1 – 10 with 10 the firmest. Luxury firm is at 5 – 6 and Firm gets an 8. You can choose the version you feel is most suited to you, but you can change if you don't like it for any reason at all.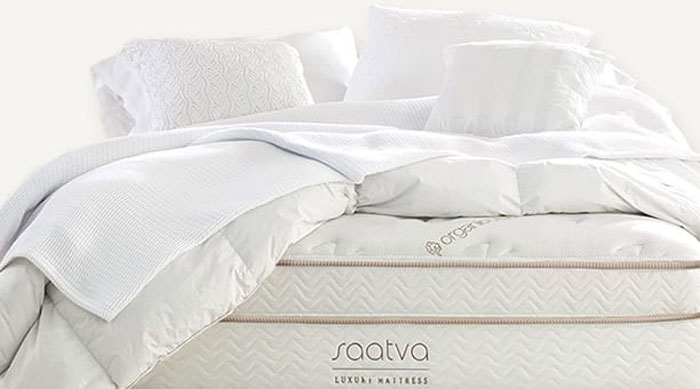 The Plush Soft version is best for you if your sleep on your side or back, or if you like feeling folded into a soft warm bed. The Luxury Firm version is the best general purpose mattress for those that sleep in any position. This is ideal if you and your partner have different sleeping positions. It is neither too hard nor too soft and offers the luxury hotel bed experience. The firmest mattress (Firm option) is best if you prefer a firm mattress, but not too hard. It's also good if your physio has recommended a firm mattress.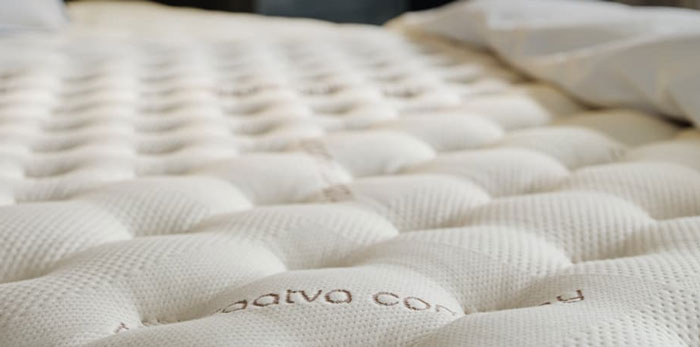 You also have a choice of mattress thickness or height with Saatva. You can choose either an 11.5" mattress or a 14.5" mattress – there is no difference in firmness or any other properties, and the height difference has no bearing on the properties of the mattress – it is purely aesthetic.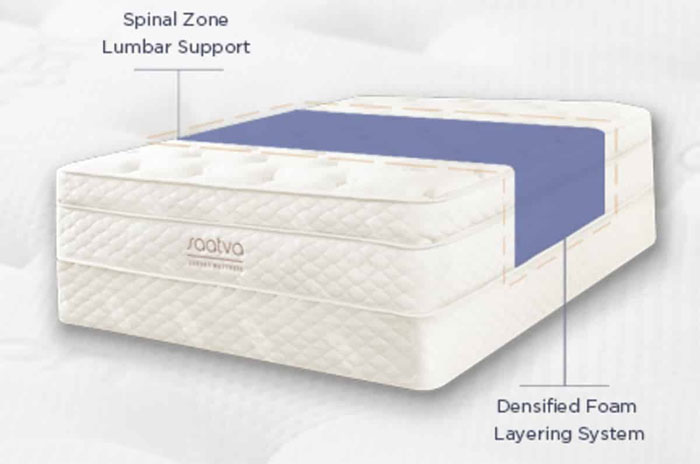 Pros
Offers three comfort levels.
Coil on coil construction for maximum support and movement isolation.
Enhanced lumbar support system to help prevent lower back pain.
Foam wrappings on the coils and a euro pillow top provide multiple levels of comfort.
Excellent edge support due to its Dual Perimeter Edge Support System.
Eco-friendly, using recycled steel coils, natural thistle flame retardant and free from chemical sprays or formaldehyde.
Antimicrobial.
Try it out for up to 120 nights, and if you don't like it you can return it free of charge for a full refund.
15-Year warranty against faults in workmanship or materials. All return costs free to you.
Cons
Noisier than a 100% foam mattress due to the movement of the springs.
Otherwise, there are few negative issues with this mattress.
Editor's Notes: The Saatva mattress is another mattress that is on the cusp of being regarded as a luxury mattress. It is priced at the upper end of the budget, but worth every penny. It has few negatives and is well regarded by those that have purchased it. You can find our full review of the Saatva mattress here.
6. DynastyMattress Cool Breeze Memory Foam Mattress
The Dynasty Mattress Cool Breeze mattress is a 4 layer 12-inch thick gel memory foam mattress. The top layer is a 3" layer of gel memory foam, then two 2" layers of 'Cool Airflow' foam, all resting on a 5" support layer of high density foam that absorbs the pressure of your body. It tends to lean to the firm side of medium, and the vast majority of users love it. But not all: some find it too firm, although you have 120 days to try it out during which you can return it quibble free at no cost to you.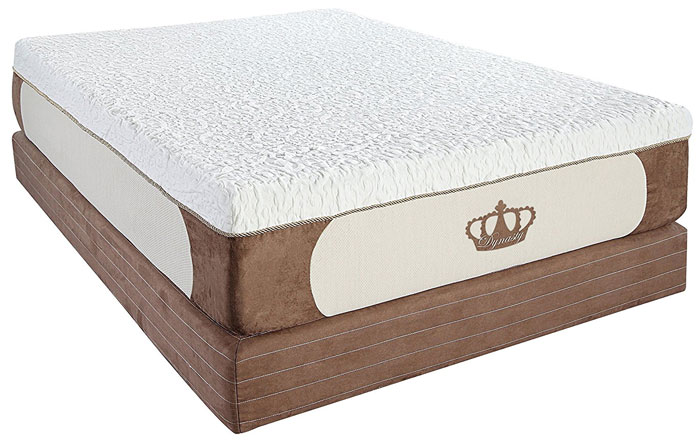 Pros
Gel memory foam absorbs heat and distributes it through the mattress.
Excellent support for heavier sleepers and stomach and back sleepers.
Good edge support.
CertiPUR-US certified.
Washable zippered cover.
30 years limited warranty against defective materials and workmanship.
120 day sleep trial – free return if you don't want to keep it.
Cons
High side of the budget, but worth the money.
Otherwise, no discernible issues.
Editor's Notes: The DynastyMattress Cool Breeze is a high quality mattress which is why it reaches this review. The 3" gel memory foam top layer proves excellent comfort for all sleepers and helps support your main pressure points: hips and shoulders for side sleepers, shoulders, and buttocks for back sleepers and chest, belly and knees for stomach sleepers. You have 120 nights in which to try this mattress out but give it at least 30 nights to make sure you don't grow into it.
7. Zinus Green Tea Memory Foam Mattress
The Zinus memory foam 12-inch mattress comprises four layers of memory foam and support foam, which together conforms to your body shape and relaxes back to its original flatness when you get up. The four layers are, from the top down:
3 Inches of memory foam infused with green tea oil.
2 inches of comfort foam that provides a relaxing sleeping surface.
A 3.5-inch layer of Airflow high-density foam – this is a proprietary foam that allows good air circulation.
A 3.5-inch layer of Airflow high density base support foam, similar to the above but of higher density to make it a firm base for the whole mattress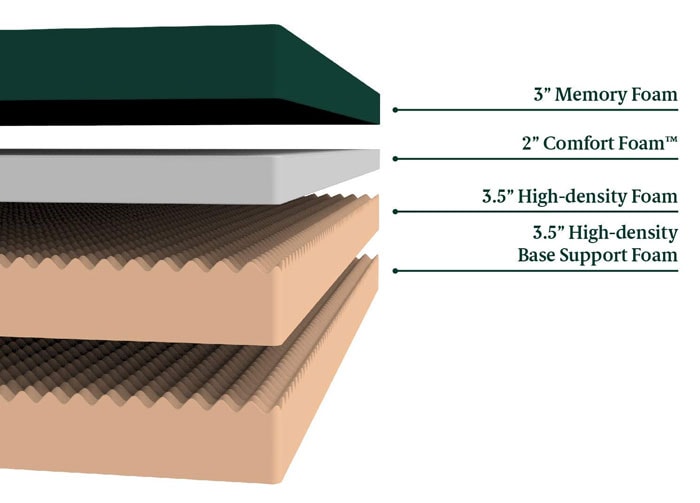 Zinus also offer 6, 8" and 10" versions. The six-inch version comprises just 1" of memory foam and 5" of Airflow high-density support foam and the other sizes are similarly different. It is the 12" mattress we are recommending and reviewing here. The green tea oil is antibacterial and helps to reduce odor. The high density foam layers help to increase the durability of the mattress and its stability when you move around on it.
Pros
The structure of this mattress makes it very stable with excellent support, while the top layers relieve pressure on your shoulders, hips, and buttocks while also supporting your lower back (lumbar) region. This helps reduce back pain, or the chances of you developing back pain while sleeping.
Natural green tea extract helps to maintain the freshness of the mattress.
Good edge support.
10-year warranty against faulty materials or poor workmanship.
Antibacterial.
CertiPUR-US foams used in the construction.
Cons
Recommends up to 72 hours (3 days) for the mattress to expand to its correct size after unrolling. There is also a statement that this could take up to a week in cold weather – so don't expect to be able to use it shortly after delivery!
Some complaints about odor, although this seems to dissipate after a period.
Apparently, no sleep trial offered.
Editor's Notes: The 12-inch Zinus green tea memory foam mattress is a good mattress for its price. Some have found issues as noted above, though the vast majority have found this mattress to be an excellent solution to sleeping cool and comfortable with good support.
8. Linenspa 8-inch Hybrid Mattress
The Linenspa 8-inch hybrid mattress consists of a half-inch layer of quilted memory foam, a 1.5-inch of comfort foam and a layer of 6-inch steel coils. The coils offer good bounce for adults, and also a high degree of durability and edge support to the mattress. The foam absorbs the pressure of your shoulders, hips and other pressure points while providing the support you need for a stable and good night's sleep.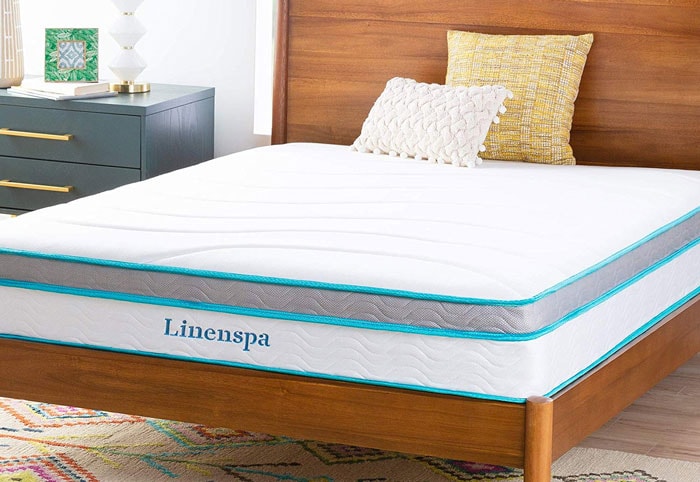 Pros
The support and bounce of an innerspring mattress.
Support and comfort for your pressure points help to prevent you feeling pain when you wake up in the morning.
10-Year manufacturer's warranty against material defects and poor workmanship.
The foam used is CertiPUR-US certified.
Ideal if you are looking for a mattress for a guest or kid's bedroom.
Cons
No specified sleep trial, but just 30 days to return the mattress for a refund.
Otherwise, this looks like a good budget mattress.
Editor's Notes: The Linenspa 8" hybrid mattress is a true budget mattress, affordable and designed for a spare/guest bedroom or for children. We would not recommend it for your main bedroom for adults but is an excellent low-cost option as a spare or for emergency sleepovers. It is comfortable to sleep on and excellent value for money. Keep in mind that is deserves its place in our 8 best budget mattress choices.
Best Budget Mattress Buyer's Guide
What are you looking for in a budget mattress? Are you looking for a lower cost version of the top priced mattresses? Are you looking for a good mattress at a fair price and forget all the hype? Are you looking for a mattress for a spare or guest room, or a first 'grown-ups' mattress for your children? Whatever you need, you will find here.
When buying a budget mattress you should not sacrifice functionality for the price. There is no reason for you to feel you are buying something inferior just because you are paying a budget price. All the budget mattresses on our list are high-quality mattresses. Some may not even consider them to be 'budget' while others would. Here is what to look for:
If you want a mattress that keeps you cool at night, then look for gel memory foam, and perhaps also a hybrid, since innersprings help to absorb and dissipate heat. Gel foams absorb the heat into the particles or beads of gel, which is then distributed throughout the mattress so it can more easily be absorbed into the room. The air inside innersprings also absorbs heat and keeps it in there as it slowly dissipates through the mattress into your bedroom.
If you are looking for the bounce of the old spring beds before memory foam came along, you can get that from a hybrid. Most young adults like a bit of bounce and innersprings provide that better than any foam. There are budget mattresses available that offer the same properties and features as many of the more expensive mattresses, and some of these are on our list above.
Best Budget Mattress Review: Frequently Asked Questions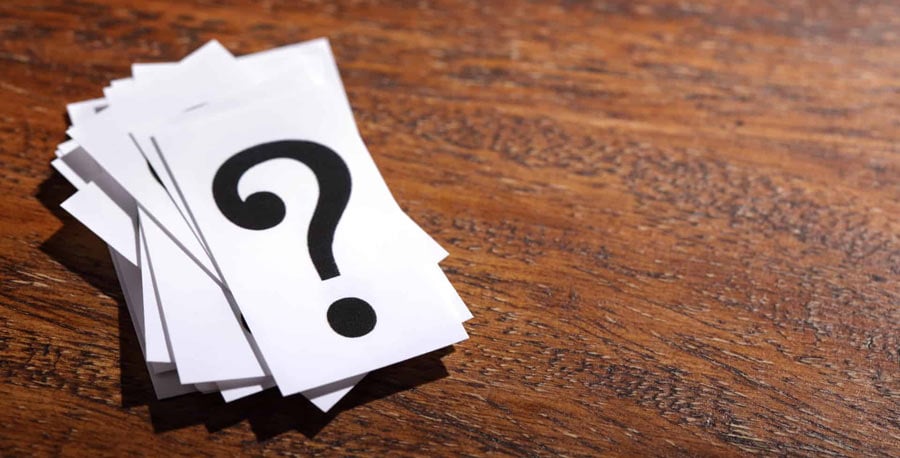 Here are FAQs involving budget mattresses that we often have to answer.
What does the term 'Budget Mattress' mean? Does it mean cheap and low quality?
Absolutely not! The term 'budget mattress' refers to mattresses that cost less than you may expect them to. They are more within normal household budgets without you having to take out credit to buy them. Many are of extremely high quality, but not priced at levels way above what most people can afford.
Does 'Budget' mean that we sacrifice quality for price?
Definitely not! Many budget mattresses are just as good as the highly priced variety. Who needs an orthopedic or hospital quality mattress in their homes unless they have a medical problem? Who needs a top-priced mattress for their guest room, or for their children who have reached an age when they need a proper bed and mattress? You can get some very high quality mattresses at relatively low prices.
What price makes a mattress a budget mattress?
There is none that fits all definitions! Some budget mattresses can cost over $1,000 while others are under $500. It all depends on the type of mattress you want. Innerspring? Memory foam? Latex? Hybrid? They each have their own pricing points – you can buy a fabulous hybrid mattress for less than some memory foam mattresses of lower quality but higher price. Our list provides pricing in terms of highest first at #1 down to lowest at #8.
Does a lower price mean that lower quality materials are used in the mattress?
No – definitely not! You will note that the 3 highest priced mattresses on our list are also the thickest. Price is largely based upon the amount of material needed to manufacture them and the type of material used. For example, gel memory foam is not the same cost as ordinary memory foam. Copper-infused foam is also fairly expensive. If you check out each mattress in our list, you will find that the pricing is very logical: based on thickness, materials, or even both.
What if I purchase a budget mattress and don't like it?
All in our list, other than one, offers a sleep trial. If you don't like the mattress then you can return it free of charge for a full refund of your payment. You do not generally have to state why, even though the question may be asked.
The Nectar Mattress

DreamCloud Mattress

Layla Sleep Copper-Infused Memory Foam Mattress

Winkbeds Luxury Hybrid Mattress

Saatva Mattress

DynastyMattress Cool Breeze Memory Foam Mattress

Zinus Green Tea Memory Foam Mattress

Linenspa 8-inch Hybrid Mattress
Summary
If you are buying a budget mattress you are not buying a low quality mattress. There are many low priced mattresses with high price performance available. We have listed eight of these for you to choose from. We have selected the best we could find at a lower price than we would have expected for our best budget mattress reviews. There may be many others, in fact there are sure to be, but these are the mattresses that we believe to be the best budget mattresses available online today.