Transparency Disclosure: We may receive a fee from the seller for any purchases made through links on this website or from other sites accessed via this website. This fee incurs no additional costs for the buyer. To learn more, please read our full disclosure page here. Read our Product Research and Testing page to know more about our review process in detail.
Can't choose between mattresses? Not sure what all the terms used by mattress companies mean?
Then you are in the right place! Not only do we explain below what terms such as motion isolation and response mean, but we also make it clear to you what the main difference between the various types of mattress are.
Then, we provide you with the ability to compare 2 or 3 mattresses against each other. It's easy to do and will help to make sure that you choose the mattress that best meets your personal needs. Here is information about our mattress comparison chart along with the chart itself, where you can choose your mattresses from the list beneath it.
Mattress Comparison Chart
Our mattress comparison chart (drag and drop tool) is intended to help you select the best mattress for your needs. Using our chart you can carry out a side-by-side comparison of a variety of mattress brands. Not only that, but you can compare selected brands against each other until you come to a decision based upon your personal needs.
Use this table to compare two or even three mattresses. Drag up to any three from the list below and drop in an empty row above to fill in the columns.
Logo
Mattress Brand
Mattress Type
Thickness
Comfort Level
Motion Isolation
Cooling Properties
Response
Bounce
Edge Support
Sleeping Position - Side
Sleeping Position - Back
Sleeping Position - Front
Large/Heavy Sleepers
Washable Cover
Smell
Free Shipping
White Glove Delivery
Delivered Rolled?
Sleep Trial (Nights)
Warranty (Years)
Free Returns
*Involves an extra cost.
** You can adjust the firmness level to suit your needs when you order.
*** Also available in 6", 8" and 10".
Different people will be looking for different features in their mattress. Ten people looking for a mattress are unlikely to have the same main priorities. You may put comfort at the top, while for your friend it might be the type of mattress – memory foam, latex or innerspring. Others may have sex on their minds, while you might find keeping cool in bed to be more important.
It is often difficult to make a decision as to what mattress brand you need. If you are unsure as to what mattresses to compare, you can first check out our best mattress in various categories by materials of manufacture, construction or type of sleeper among other factors.
You can compare more than three by choosing the mattress that suits you best from your initial three, and then compare that with another two – and so on, until you arrive at a choice that you feel is the best mattress for you from those we offer.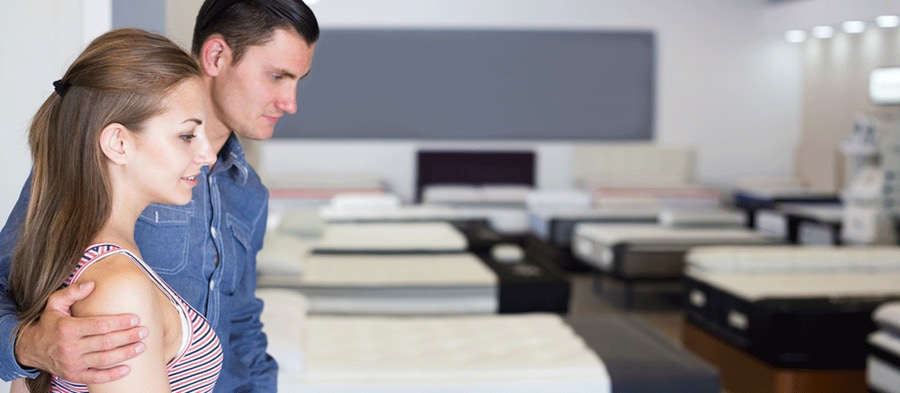 Terms Used For Our Comparisons
In order to avoid any misunderstanding regarding the factors, we have used for our comparisons, here is an explanation of the various terms used in the left-hand column of the above table. Keep in mind that our choice of best mattress for each of these terms may not be the best for you. You should check all of the factors below that are relevant to you when choosing your mattress. For example, our top pick of a mattress for side sleepers might not figure highly in the type of mattress construction you prefer, or its cooling properties or the level of responsiveness and bounce you need.
Mattress Brand: This is the brand name of the mattresses we are including in our comparison chart. These include the mattresses that InsideBedroom has individually reviewed and also some we have chosen as being among the best of their type. They are listed below the table. By dragging and dropping your selected mattresses into the table you can compare up to three mattresses between each other.
Mattress Type: This refers to the type of construction of the mattress and the materials used. The links below lead to our best picks from the following types of mattress. Each type is linked to our review of the best of each type.
Innerspring: Innerspring mattresses contain steel coils that may or may not be individually wrapped rather than constructed with each coil attached to its neighbors. Innerspring mattresses generally come with at least one layer of foam or padding over the layer of coils. This helps you feel comfortable in bed, while the springs provide support and bounce – always good for sex and many heavier weight people prefer an innerspring mattress. Our best Innerspring Mattress is the Aviya Mattress Luxury Firm option.
Latex Foam: You might have heard of the benefits of latex foam, and it does offer some benefits if you don't mind its high price. Latex is the most expensive foam used for mattress construction although it is the most durable. It is also bouncier and more responsive than other foams, and is great at keeping you cool – better than memory foam mattresses. Our best Latex Mattress is the Dreamfoam Elements Latex Magnolia.
Memory Foam: Memory foam mattresses contour to the shape of your body, providing comfort with a 'huggy' feel to them. Memory foams do not easily dissipate heat and can sleep quite hot, leaving you sweating in bed while you try to sleep. That's why many include a cooling gel and/or a heat conductive material such as copper, carbon or graphite to conduct the heat away and disperse it throughout the bulk of the mattress. Our best memory Foam Mattress is the Signature Sleep Memoir Mattress.
Hybrid Mattresses: Hybrid mattresses are constructed using a combination of different foams or foams and coils. If you like a spring mattress then this type might be ideal for you. Innerspring mattresses with memory foam or latex comfort layers are common types of hybrid mattress as are a combination of memory foam and polyurethane foam. Our best hybrid mattress is the Alexander Signature Hybrid Mattress.
Multi-Foam/Combo Foam: Polyurethane foams (polyfoams) are often used in combination with latex and memory foam. So too are proprietary foams developed by the manufacturer. They often offer more bounce and high density polyfoams are also used to provide enhanced edge support. InsideBedroom offers a number of foam mattresses that meet this definition.
Thickness: Do you prefer a thick or a thin mattress?
The thickness of a mattress is not necessarily important, although multi-layer and innerspring mattresses tend to be thicker than all-foam mattresses. You may prefer a thicker mattress simply for its looks, or a thinner, firmer mattress if you sleep on your stomach.
Comfort Level/Firmness: Do you know your preferred firmness level?
The comfort of a mattress is usually stated in terms of a numerical scale of 1-10, where 10 is firmest. A comfortably soft mattress could be anything from 4-6, depending on your preference, while a firm mattress with good support can rate from 7-10. A mattress with a comfort level of 6-7 is usually a good average. Some mattress brands offer a mattress with each side, right and left, with a different comfort level to suit couples with differing needs. Keep in mind that comfort and firmness is a subjective property, so one persons level 6 could be another's level 7.
Motion Isolation: Do your partner's movements disturb your sleep?
Also known as 'motion transfer', this property is relevant only when you are sharing a bed. It relates to how the movement of one partner disturbs the other. The best mattresses for high motion isolation (or low motion transfer) are memory foam mattresses. Innerspring mattress can also provide fairly good isolation of movement if they are constructed using individually pocketed springs (coils). Each coil compresses individually rather than with a mattress where the springs are all connected to each other.
Cooling Properties: Do you get hot, or wake up hot and sweaty in the night?
Many people tend to get too hot at night (temperature-wise) and prefer a mattress that helps keep them cool. Memory foams in particular can make you feel hot, just like any mattress can where you sink into a comfortably soft foam that supports your body shape.
If you check out our 8 Best Cooling Mattress Reviews you will note that there are several ways to help dissipate this heat, including gel memory foams and gel pads situated over the foam. The gel absorbs heat and distributes it through the mattress. Copper and carbon-infused foams conduct the heat away from you and spread it throughout the mattress. Phase change technology can also be used, such as with the Brooklyn Aurora Hybrid, our best mattress for cooling.
Response: Does your mattress react quickly to a change of position?
This property refers to the speed with which a mattress can respond to changes in pressure and your movement on the bed. For example, you would want a memory foam mattress to rapidly change back to its flat shape when you move position and not to leave a depression that takes time to flatten out. Responsiveness in a mattress is also related to bounce (discussed below).
Bounce: Do you prefer a mattress with bounce?
Sexually active couples like a latex or innerspring mattress to respond rapidly to their movements and provide a good level of bounce. Check out this review for more information. Our best mattress for sex is the Leesa Mattress.
Edge Support: Do you sit on the bed or sleep right to the edge?
Falling off a bed can be painful! You may sometimes feel that you are going to fall off the bed when you move close to the edge of your mattress. You might also find the edge of your mattress collapsing when you sit on it. This is all due to poor edge support. With a strong edge to a mattress, you can sit on the edge when putting on your footwear and also use the full width of the mattress for sleeping. This can be an important property if you and your partner normally use the full width of your mattress. The Sapira mattress is the one we found with the best edge support.
Sleeping Position: What position do you sleep in?
The three common sleeping positions are side, back, and stomach. Each is different with regard to the pressure put on the mattress and the comfort level/firmness required to provide a good balance between support and comfort. Here are more details on each of these:
Side Sleepers: If you normally sleep on your side you need a mattress with a top comfort layer thick enough to provide comfort for your hips and shoulders. This layer would also accommodate the knees and arms/elbows where relevant. These pressure points should then be supported by a lower layer of firmer foam, usually of polyurethane otherwise referred to as polyfoam. This type of construction should keep your spine straight when you are sleeping. 74% of people sleep on their side, which is why you will have more choices of the mattress than back or stomach sleepers. The Nectar Mattress is our best mattress for side sleepers.
Back Sleepers: If you are a back sleeper, you need a mattress that supports your shoulders and buttocks, and also offers support for your lower back. If you usually sleep on your back, it is important that that your mattress helps maintain the natural curvature of your spine. Your spine is straight when lying sideways, but curved when you lie on your back or stomach. The Nectar Mattress is our best mattress for back sleepers.
Stomach Sleepers/Front Sleepers: Like back sleepers, stomach sleepers need their spine to be supported so that it remains straight when you are sleeping. If you are a stomach sleeper, otherwise known as a belly or front sleeper, there should be a good balance between the softness of the surface layer of foam and the support provided by the main support layer. Your belly should be supported, not squashed. You will normally need a firmer mattress than side or back sleepers. Helix Sleep is our best mattress for stomach sleepers.
Large/Heavy Sleepers: Over 210 lb? You will likely need extra support.
If you are over 210 lb in weight (95 Kg) you will need a mattress able to hold your weight while allowing you to sleep comfortably. The term is relative, and the mattresses we recommend in our top 5 mattresses for heavy people are suitable for people weighing 210 lb upwards. Our top recommendation is the Live and Sleep Ultra Mattress while the Sleep Innovations Shiloh 12-inch mattress is a good thickness for heavy people at a lower price.
Washable Cover: Do you need to be able to machine-wash your cover?
Most mattresses come with a cover made from cotton or synthetic fiber. Most are zippered so they can easily be removed, but not all are machine washable. This box lets you know whether or you can remove the mattress cover for washing. Many beds are subject to contamination with bodily fluids or spillages, and it is particularly useful if the cover can be machine washed. Only 4 of the 21 mattresses we feature can be machine-washed. That is because many are quilted and others cannot be removed. In such cases, you advised to fit your own cover or use a mattress encasement or protector.
Smell – Offgassing: Will your new mattress emit a chemical odor when new?
Many mattresses release a chemical smell when they are first delivered, particularly those delivered in a rolled up format that has to be unrolled and allowed time to expand to its correct thickness. This chemical smell, known as off-gassing, is connected to the manufacturing process and is usually associated with polyurethane (polyfoam) and memory foams. The odor is not dangerous so don't worry. However, it can be a nuisance and you often have to tolerate it for two or three days until it dissipates. The smell is usually slight and can take up to 3 days to disappear. Some mattresses can smell for weeks or even months due to manufacturing issues, though we have not found any.
Free Delivery: Does the price of the mattress include delivery or is there an extra charge?
Not all mattresses come with free delivery. The delivery charge is added to the purchase price. Some companies recognize that this can be a nuisance to some people and offer free delivery. Sure, the delivery price is likely added to the mattress price, but at least you pay only what the price tag says and don't have an additional delivery charge added to it.
White Glove Delivery: Is the mattress set up in your bedroom and is it free or chargeable?
This term means that the mattress is set up on your foundation in your bedroom, rather than you having to do it yourself. White glove delivery may also involve removal of the old mattress. Some firms charge for a white glove service, while others offer it free. Some also charge for removal of your old mattress, while other companies will take it away free of charge. Make sure you know what is free and what is charged before requesting it.
Sleep Trial: Can you return the mattress if you don't like it?
This is another feature that varies between brands. With the sleep trial, you get to use the mattress for a period of time, usually between 100 to 150 days, though some offer a year, in which to decide if the mattress suits you. If you don't like it you get your payment refunded. Some companies also provide free return transport, while others will charge for its return – or less commonly, leave it to you to donate it to charity or arrange your own return transport.
Warranty: Make sure you read the warranty carefully.
The warranty is the guarantee and this varies widely between companies. It's important to read the warranty carefully so you understand what is and is not covered. A warrant can last anything from a month to 20 years or more, and, like the sleep trial, delivery back to the supplier may or may not be free.
How We Compare Mattresses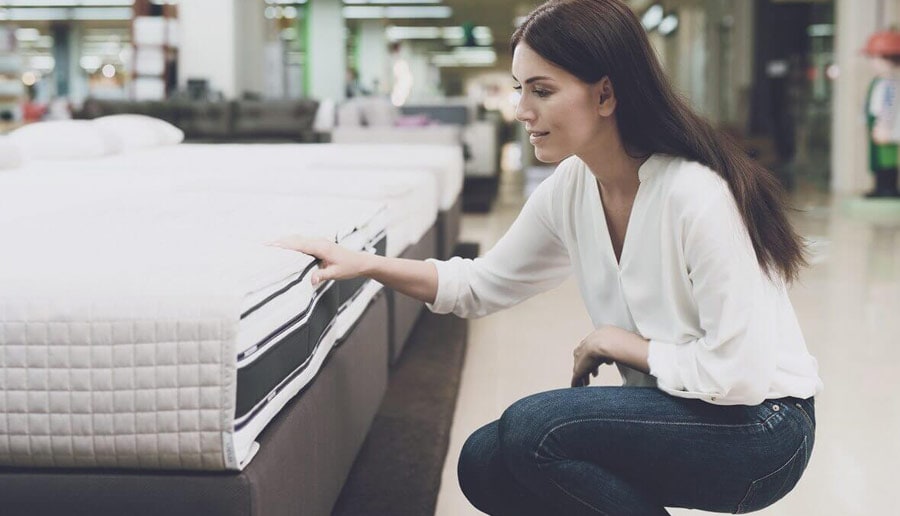 We are often asked how we set about comparing mattresses. Much of it is carried out personally, and I have tested many mattresses both by lying on them and by using techniques designed to measure properties such as the firmness and softness of mattresses, their level of bounce and how effective their cooling systems work. Firmness/comfort levels are generally expressed numerically on a 1 – 10 scale where 10 is firmest.
We also check out the thousands of mattress reviews available, both from actual users and from confirmed bona fide online reviews on manufacturers' websites and sales outlets such as Amazon.
Mattress Battles
Mattress battles involve comparing one mattress with another. Here at InsideBedroom, we understand that you may be faced with a choice of two mattresses that appear to meet your needs, but are unsure which is best for you. We have listed below the various one-on-one mattress comparisons, or mattress battles, that we have carried out to date.
Simply click on the link you want and you will be taken to our web page that provides the comparison. Please let us know if your alternatives are not included in our list. We will then take some action to address this issue. This will usually be resolved by providing a comparison between the two mattresses you prefer.
This is how we compare two mattresses against each other. We tend not to compare more than two directly, but if a) you cannot find two mattresses directly compared in our comparison list, or b) Would prefer to see three mattresses compared, you can use the InsideBedroom comparison chart to compare any two or any three you choose.
Simply choose your preferred two or three of the mattress links provided directly below the chart, and drag them into the three empty columns of the chart. You will then see their main properties compared. This should enable you to select the mattress most suitable for your needs. Meantime we shall continue reviewing individual mattresses and also carry out mattress battles by comparing the features and benefits of two mattresses.
Our mattress battles compare two mattresses against each other. We are continually doing this as well as testing mattresses individually. Here are some of the mattress battles we have completed to date:
Amerisleep
Brooklyn Bedding