Transparency Disclosure: We may receive a fee from the seller for any purchases made through links on this website or from other sites accessed via this website. This fee incurs no additional costs for the buyer. To learn more, please read our full disclosure page here. Read our Product Research and Testing page to know more about our review process in detail.
This Tuft & Needle vs. Purple Mattress review will compare the established Tuft & Needle mattress with the new kid on the block – the Purple Mattress. The former is well known as a good lower cost mattress suitable for many different types of sleeper while the Purple Mattress is a new entry into the mattress market.
Let's start with the way each mattress is constructed: the layers involved and why they are used. Both are 100% foam mattresses – no innersprings!
Since the Purple Mattress is the newer of the two we are looking at, you would expect it to offer some unique features to help push it ahead of its competitors – and there are many competitors, not only the Tuft & Needle. Here is how the two match up to each other. We begin our Tuft & Needle vs. Purple Mattress review with the layers that make each mattress what it is.
Table of Contents
Purple Mattress Layers
The Purple Mattress has three layers of foam that together form this 9.5-inch thick mattress:
The top layer is a 2-inch layer of Hyper-Elastic Polymer™ grid – the grid structure spreads the pressure of your body equally over the whole mattress. Its purpose is to prevent your body weight from compressing a specific area of your mattress. By spreading it around, the mattress will retain its support for much longer. The Hyper-Elastic Polymer™ was developed by Tony and Terry Pierce, the designers of the mattress.
The layer below that is 3.5-inches of 1.8 Lb polyurethane foam. This provides a slightly denser base for the top layer so that you do not sink through the top layer to a hard base layer of foam.
The third layer is 4-inches of a harder polyurethane foam that provides the main support. This layer helps the mattress to wear better.

Now let's compare these layers with those that make up the Tuft & Needle mattress.
Tuft & Needle Mattress Layers
The Tuft & Needle mattress consists of just two layers in its 10 inches of thickness. :
A 3-inch top layer of specialty polyurethane foam with a density of 2.8 lb. This is fairly high, although the foam is responsive to your pressure points. It is also breathable, a property that helps you to stay cool during the night.
A 7-inch support layer of standard high-density polyurethane foam. This layer helps keep your spine and neck properly aligned.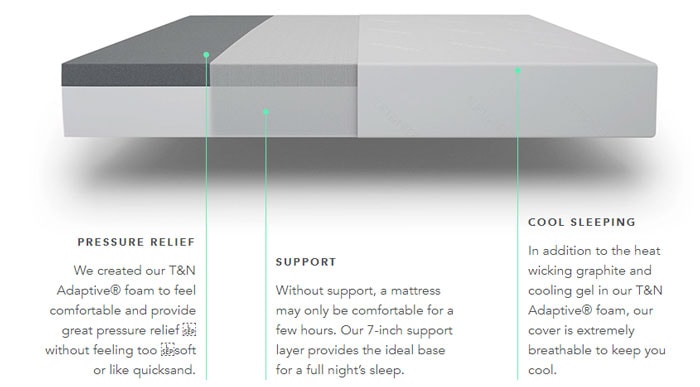 The objective of the Tuft & Needle team is offer a mattress that is comfortable to a wide range of people with various sleeping positions. It has also been designed to provide pressure relief, and to achieve both objectives without the restrictive sensation that many memory foams can give you.
Mattress Cover
The cover of a mattress is more important than many people might believe it to be. The Tuft & Needle cover is fairly thin and breathable, so allows a good flow air through the cover and the top poly foam layer. It also stretches well for a good fit.
The Purple Mattress cover is slightly less thin than that of the Tuft & Needle, so should wear slightly better. Its polyester (69%)/viscose (27%) blend also contains 4% of polyester-lycra blend, giving it good stretch properties and a good level of breathability. It is likely to be more durable than the thinner Tuft & Needle cover.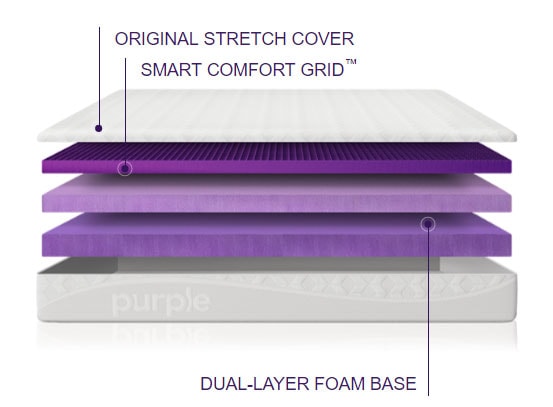 Which Mattress is Best for Me?
Before making a decision, you have to think about what you want from your mattress. Sure, you may get a 'trial period' or be able to return the mattress after a specified period of time. However, it's always good to get it right first time. No mattress suits everybody perfectly. That's why we have looked carefully at the Tuft & Needle Mattress and the Purple Mattress.
Here is our conclusion on which of the two is more likely than the other to suit people with specific medical or orthopedic issues, people with different sleeping positions and those with other personal needs or preferences.
Tuft & Needle Vs Purple Mattress Review: Comparisons
We recommend the Tuft & Needle mattress if you:
Prefer a mattress with good support – with a medium or slightly hard to medium firmness. On a 1-10 scale, with 1 the softest, then the Tuft & Needle mattress rates around 6.5 on a scale of 1 – 10.
You are heavier than average weight: the Tuft & Needle provides deeper core support.
You are not too concerned about the foam you sleep on then it is a good choice. By 'concerned' we mean if you do not have to sleep on memory foam, or you need not have any other specific type of foam.
Purchase Tuft & Needle Mattress on Amazon
The Purple mattress will suit you if you:
Prefer a mattress that cools you – the Purple mattress is slightly better than the Tuft & Needle due its grid style of construction with air pockets between an intersecting grid of foam.
Prefer a thicker comfort zone rather than just the 3 inches of the Tuft & Needle. This also rates about 6.5 for comfort, though if you are on the heavy side, then you may not like the level of sink.
Want a good level of bounce in your mattress. Young couples may prefer the Purple mattress to the Tuft & Needle for this reason.
Sleep on your side then the Purple mattress offers a deeper comfort layer and the core strength to support your pressure points.
Purchase The Purple Mattress with Discount
Major Similarities Between the Tuft & Needle and Purple Mattresses
While there are several differences between the two to enable you to make a choice based upon your personal needs, there are also several areas where the two mattresses are very similar. You would expect this with two high quality mattresses designed for the modern, knowledgeable consumer. While testing both mattresses for our Tuft & Needle vs. Purple Mattress review we found some aspects of each where we were unable to note any meaningful differences:
Both provide a polyurethane base layer with excellent support properties.
Both are responsive to your pressure points, and offer good pressure relief for your shoulders, hips, lower back (lumbar region), buttocks and other pressure points according to your sleeping position.
Both are made in the US.
Both have good, stretchable covers, though the Purple mattress is slightly thicker and slightly more durable.
Both offer similar 10-year warranties and 100-night trial periods with a full, 100% refund.
Major Differences:
There are several differences between the two, which is why we have highlighted above which mattress would suit certain needs. Here are the major differences which may help you decide which mattress is best for you:
The Purple mattress tends to keep you cooler at night than the Tuft & Needle, although both are more temperature neutral than a memory foam mattress.
The Tuft & Needle mattress is a half-inch thicker than the Purple mattress.
The Purple mattress comprises three layers to the Tuft & Needle two.
The Tuft & Needle mattress uses a polyurethane foam top layer specially designed to be breathable and offer good support allied to comfort. The Purple mattress uses a comfort layer of hyper-elastic polymer gel that absorbs your body heat.
The Purple mattress feels like it absorbs your body weight better, but the Tuft & Needle has better base support for heavier weight people.
Here are the differences and similarities displayed in tabular form:
| Property | Purple Mattress | Tuft & Needle Mattress |
| --- | --- | --- |
| Depth of Mattress | 9.5 Inches | 10 Inches |
| Cover | Soft, medium thin, best stretch | Soft, thin, stretch, best airflow |
| Layers | 2" Elastic polymer, 3.5" + 4" PU foam* | 3" PU foam + 7" PU foam |
| Firmness | 6 - 6.5 out of 10 - mostly on the 6 side. | 6 - 6.5 out of 10 - mostly on 6.5 side |
| Motion Transfer | Low | Low |
| Support | Excellent – up 300 lb each side of King | Good – better for side sleepers |
| Sleep test | 100 nights | 100 nights |
| Warranty | 10 years | 10 years |
| CertiPUR-US? | Yes | Yes |
| Price | Check Price | View on Amazon |
* PU = Polyurethane
So which do we recommend? We think both has its own positives with very few negatives. No mattress is perfect for everybody and if you feel you have made the wrong choice using the information we have given you, each does offer you the 100-day sleep trial.
It's not easy to choose between two mattresses that are so similar, yet also offer their own specific benefits. Hopefully, we will have given you enough information in our Tuft & Needle Vs. Purple Mattress review to enable you to make a choice based upon the pros and cons of each. The Tuft & Needle mattress and the Purple mattress are both high-quality mattresses. You can't really go wrong with either.