Transparency Disclosure: We may receive a fee from the seller for any purchases made through links on this website or from other sites accessed via this website. This fee incurs no additional costs for the buyer. To learn more, please read our full disclosure page here. Read our Product Research and Testing page to know more about our review process in detail.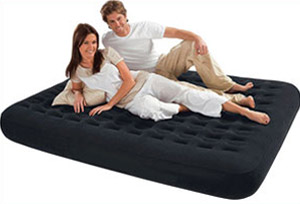 Sleep is important to all of us! NO matter how macho or romantic you are, you need a Good Night's Sleep!
You can purchase whatever bed you want – a traditional spring or slat-framed bed, a sleigh bed or a carbon fiber bed designed for the 21st century! It doesn't matter much – the bed has not very much to do with your comfort.
Comfortable sleeping depends on the mattress. How do you decide which mattress is best for you? You have many choices: memory foam which many dislikes due to the way they feel trapped, a spring mattress which can dig into some people according to how old it is, or you can check out an air mattress.
Get a bad mattress and you can be sleeping on lumpy springs or soft foam that sinks you down to the mattress frame. An air mattress provides the comfort of a compressed air layer that sinks according to your body shape. However, not all air mattresses are the same so: What is the best air mattress for you? Or air bed – many refer to air mattresses as air beds.
Here I explain the benefits and disadvantages of air mattresses (air beds) and the 10 air mattresses I believe to be among the best. You can sleep in comfort using air beds because modern air mattress technology has gone way past the old blow-up camp beds.
Best Air Mattress Table of Contents
Here Are My Top Ten Best Air Mattresses
Here is my list of the best air mattresses available today at affordable prices. Like my other mattress reviews, I do not include the very expensive medical or orthopedic mattresses. I have reviewed only those available to and affordable by the public. Air mattresses are generally only available in up to Queen Size – so that is the size I am reviewing for each brand. Twin size is also available in the first nine best air mattresses.
Choosing the Best Air Mattress
Your mattress is what supports you when you are sleeping. It's what you lie on. It should also provide a comfortable base when you are laying reading – but what about that very important factor for many people? Many mattresses do not have the compressibility, density or lack the bounce factor for sex! Beds are for two major uses – sleeping and …
Here is my opinion on how you can sleep well in comfort, backed by personal experience and worldwide reviews. I have reviewed mattresses of the same size – the Queen Size variety where available in the range. In fact, the technology behind air mattresses dictates that the maximum size is queen size.
1. SoundAsleep Dream Series with ComfortCoil Technology
The SoundAsleep Dream series of air mattresses is of dual construction: the upper layer of the bed contains 40 internal air coils for added comfort and support. They enable your air bed to stay flat and support you properly while you sleep. It is quick to inflate with a 1-click internal pump – you can fully inflate the mattress inside 4 minutes.
The material of construction is a multi-layer puncture-resistant eco-friendly 15-gauge PVC and is fitted with a patented 'Sure-grip' bottom that resists sliding. The top of this air mattress consists of a thick, flocked waterproof material that promotes comfort and durability. It also provides integrated cord storage so the cord is kept neat and tidy and doesn't get in the way. The fully-inflated bed is 19" thick and queen sized (78" x 58").
The bed itself consists of two chambers. The bottom chamber is a normal airbed construction, while the top contains 40 individual air coils that equally spread to ensure a flatbed for couples or individuals. Because of this construction, couples can sleep in comfort without disturbing their partner when they move position. This construction also provides increased durability.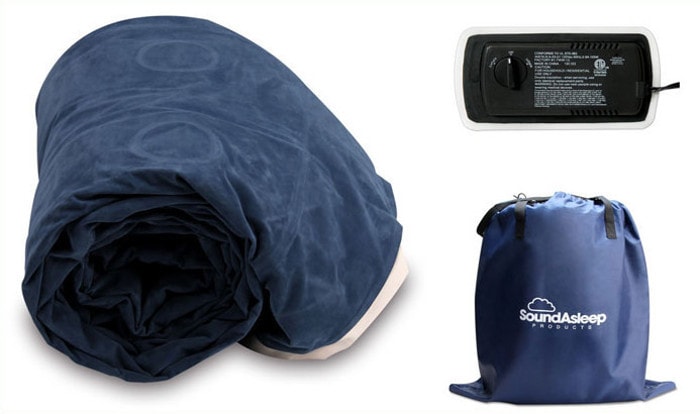 Details
Puncture-proof and non-slip.
Eco-friendly 15-gauge PVC.
ComfortCoil technology ensuring comfort and undisturbed sleep for couples and single people without sagging.
Internal air pump – easy and quick to inflate – fully inflated in 4 minutes.
Minimum air loss and sagging.
Adjusts to your desired firmness level.
Thick flocked top adds to comfort and mattress life.
Holds up to 500 pounds weight: over 37 stones.
Ideal for guests and relatives staying overnight.
Pros
Gets 89% reviews of 4-5 stars and just 7% 1-2 stars. These are excellent review figures exemplifying the high quality of this air mattress. This is one reason for the SoundAsleep Dream Series being our top air mattress or top air bed if you prefer the term.
This can be used as a mattress on a regular bed base, or as an air bed for camping or simply lying on the floor.
This is our #1 because of its durability – it is very durable even if roughly used.
Cons
There is an initial period where the PVC stretched until it reaches a stable level. All PVC air beds are the same in this respect. Like any PVC air bed, the surface can feel cold, although the flocked top minimizes this. Perhaps not a negative but the 19" thickness means that you must use larger sheets to fit beneath the mattress.
It is also slower to fully inflate and deflate than some others – but once inflated it's worth it!
Editor's Note: The negatives are largely irrelevant when compared to the advantages of the Sound Asleep Dream Series Air Mattress. This is without a doubt our best air mattress 2023. It is intended for home use, but there is a camping version that comes with a rechargeable pump that can be charged using your car battery for 4-6 inflations. We have reviewed this below.
2. Serta Raised Air Mattress with Never Flat Pump
This 14" thick air mattress provides two pumps. You use the first to pump the air bed to your desired hardness, then the second pump maintains that level hardness throughout the night. PVC mattresses can be stretched when warmed by your body. This reduces the pressure or hardness of the mattress. The 'never flat pump' system works to maintain a steady hardness irrespective of pressure loss due to PVC stretching or any other external conditions.
You may sometimes sleep alone and sometimes with a partner – the Serta Raised Air Mattress will quietly maintain your desired hardness irrespective of how the bed is being used. The pump is whisper-quiet so does not wake you. The mattress contains 35 circular air coils to enable it to provide even pressure across the whole area of the bed. Like the SoundAsleep Dream series, the Serta has a non-slip bottom and flock top.
Details:
The 'Never Flat' pump system maintains a steady level of hardness, even when the PVC warms up and stretches.
The air coil technology enables a level hardness to be achieved over the entire bed for singles and couples.
Clear dial settings allow the firmness to be set.
Pressure-sensing technology measures the perceived hardness and actuates the secondary pump when needed to maintain the preferred pressure/Hardness of the bed.
It can be adjusted to your preferred hardness level and maintained at that level all night.
Non-slip bottom layer, so the mattress can be used on the floor or on a normal bed base.
The flocked top keeps sheets and blankets in place.
Pros
The Never Flat Pump that comes with the Serta Raised Air Mattress maintains a steady hardness of the mattress throughout the night. Because of this, it does not sag as the PVC softens with heat and keeps a level degree of hardness whether a couple or an individual is using it.
The hardness is easy to adjust and set.
Cons
Some complain about the buzzing sound of the secondary 'never flat' pump motor. The vast majority do not, so there could be an inconsistency here. The integrity of the mattress seams has also been called into question. Some find the seams to fail – although it should be said that most do not comment on this issue.
Editor's Note: The Serta Raised Air Mattress might have come out top had it not been for the negative comments regarding the seam integrity and the low level of consumer ratings at 4-5 star level. With just 77% of reviewers offering 4-5 stars and 17% 1-2, there must be some perceived issues compared to the 89%/7% of the SoundAsleep Dream air mattress.
3. Insta-Bed Raised Air Mattress with neverFlatTM Pump
The Insta-Bed raised air mattress is constructed with 35 circular air coils in the Queen size and 21 coils in the Twin. These air coils provide good support and help the air mattress to remain flat while in use. They also isolate partners from each other when they move on the bed. It comes with two pumps: one to inflate and deflate the mattress and the other neverFlatTM pump monitors the air pressure while you sleep and tops it up when necessary to maintain an even pressure throughout the night.
Like most air mattresses, the PVC construction can stretch when used, particularly when warm, and the air pressure will have to be increased to counter this. This mattress automatically recognizes this happening as it heats up during the night, and compensates for pressure drop by pumping in more air. It will bring the mattress back to your selected comfort level. The settings enable you to choose from plush (soft) to the firm.
Like most air mattresses, the Insta-Bed air mattress has a slip-proof bottom layer to prevent it slipping about when in use, and also a flocked comfort top to prevent the bedding moving about.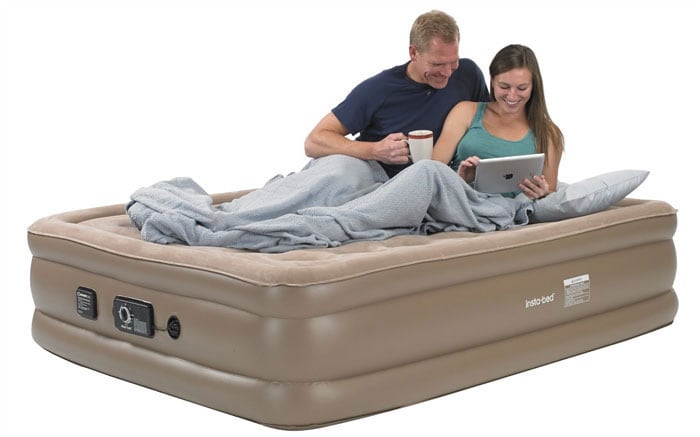 Pros
The dual pumping system is very useful for maintaining your desired mattress hardness when in use. Even the best air mattresses can lose pressure over time as the PVC softens when warmed. The main pump stops when the desired comfort level has been reached (Plush-Medium-Firm) then the top-up pump kicks in when necessary.
The 18-inch height makes it easy to get into and off the bed. The mattress can hold up to at least 500 Kg weight.
Cons
A constant power supply is needed to enable the second 'top-up' pump to operate during the night. Just 79% give this air mattress a 4-5 star rating and 16% 1-2 stars.
Most issues appear to be connected with leaks, though some of these seem to be from those not familiar with the top-up pump. Even the best air mattresses will lose pressure due to body heat softening the PVC and to general use.
Editor's Note: Most air mattresses tend to lose pressure through the night. The main benefit of the Insta-Bed Raised Air Mattress with the neverFlatTM Pump is that the secondary pump maintains your selected pressure all night. Unless you have a serious puncture or the seams come apart, you should never lose pressure. The fact that pressure loss is experienced by some indicates a need for improvement on behalf of the manufacturer. Nevertheless, this is an excellent air mattress for camping and occasional use.
4. SoundAsleep Camping Series Air Mattress
The SoundAsleep Camping Air Mattress is just what it says it is: an air mattress designed for use when camping. It is very useful, not only when camping, but also as a spare bed for occasional visitors who stay the night. Here are its main features:
Its I-Beam AirCoil construction makes it particularly suitable for outdoor use.
The heavy-duty PVC renders the air bed particularly durable for use outdoors, but it. Can also be used indoors as an emergency bed for unexpected visitors.
The external pump quickly inflates the air bed and the heavy-duty battery can be recharged at home or from a car battery.
The SoundAsleep camping mattress can be inflated in just 3 minutes or under, and is easily topped up with air.

Pros
The bed is rapidly inflated using a rechargeable battery that comes with car lighter plug.
This Air Mattress can be used both indoors and outdoors, and its light weight and carry bag make it easy to transport.
85% reviewers give the SoundAsleep Camping Series Air Mattress 4-5 star, while 12% give it 1-2 stars.
Cons
The 12% of negative reviews is a bit high, most complaining about pump problems and air leaks during the night.
Editor's Note: This seems a use useful air mattress or air bed for occasional use, such as camping or as an emergency bed at home. Although around 10% of users suffered air leaks, the vast majority liked it, 72% giving it a 5 star rating.
5. Coleman Premium Double High SupportRest Airbed
The Coleman Premium SupportRest Airbed includes a 35 inner coil structure just as those above, along with support for the sides to enable this air mattress to retain its shape. 'Unlike the non-Premium' version, this Coleman airbed has a built-in pump.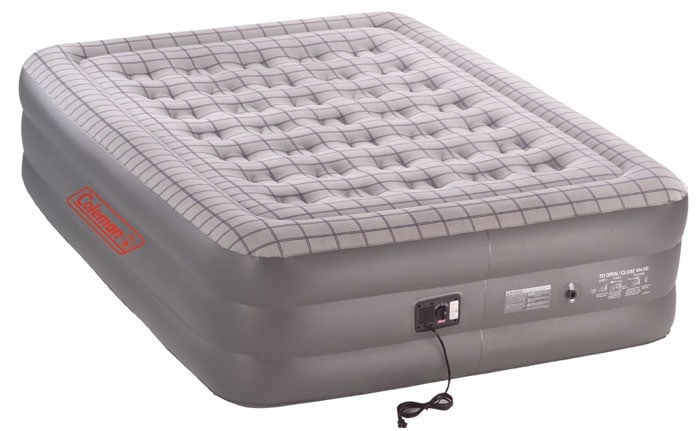 At 18" high, it easy to get onto and off, and can be used as the main bed at a push as well as being handy in emergencies. It is quick to inflate and deflate. But is recommended for indoor use only due to it having to be plugged in to inflate and has no battery
Pros
The cellular structure ensures even pressure across the area of the bed, and the side supports also help to prevent sagging.
Its height avoids difficult in standing up out of bed.
It is an excellent 'spare' or emergency bed.
The soft suede top offers more comfort.
77% of reviews give this air mattress a rating of 4-5 stars.
Cons
No battery!
This air mattress has to be used indoors – or close an electrical outlet to run the pump.. That means that it cannot be used for camping, but is for indoor use only. There is another air inlet, and it may be possible to purchase a battery or a foot pump, but none is supplied or available from Coleman's website.
The 13% of one-star reviews mainly relate to a loss of air, though some also state the lack of a battery to be an issue.
Editor's Note: If you are looking for a pump for camping or outdoor use, keep in mind that you need an electrical socket to run the pump. There is no battery with this air mattress. This may be an issue even though a second air input valve is available which may be used with a manual/foot pump. You have to purchase this separately from another source.
6. Intex Comfort Plush Elevated Dura-Beam Airbed
The Intex Comfort Plush elevated Dura-beam airbed claims to be suitable for up to a combined 600 lb weight. It is designed with a horizontal air chamber construction rather than cylindrical coils, with thousands of polyester fibers used to fashion the Fiber-Tech beam structure that creates them. This type of structure provides excellent support, comfort and durability.
The bed can be inflated within 3.5 minutes using the internal electric pump. You don't have to worry about leaving the pump behind when head off on vacation. It is easy to adjust the level of support or hardness of this air mattress. This mattress is 22 inches high – ideal for those who would normally find it difficult to stand up from a lower airbed. This is an ideal guest mattress or even for taking with you when you are visiting relatives of friends with limited sleeping capacity.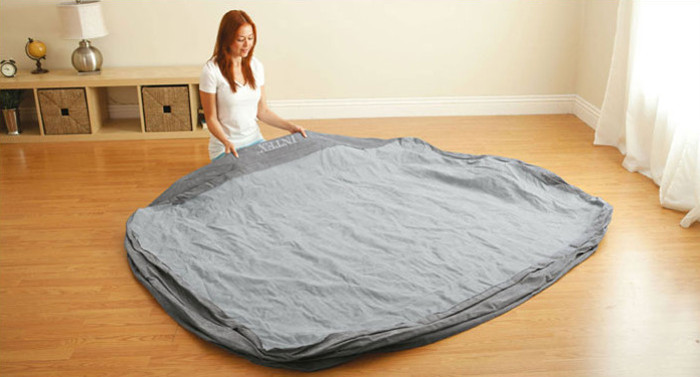 Pros
Quickly inflated with a built-in electric pump, making it great for use anywhere there is an electrical outlet.
It can also be inflated with a hand/foot pump using the alternative nozzle provided.
The flock top and sides help to improve comfort and heat retention.
Although only 74% of reviews gave this a 4-5 star rating, those that liked thought it fantastic …
Cons
… but what about the 564 with just 1 star out of 4280 reviews? And the 239 with just 2 stars? They generally suffered the issue off air leaks.
Their air mattress, or air bed, lost pressure overnight – sometimes early in the night. This is an issue that Intex should do something about!
Others commented on the level of service or support with which they were not satisfied.
Editor's Note: This is yet another instance of even the so-called best air mattresses losing pressure over time. People often wake up on the floor with their deflated mattress beneath them. Sure, sometimes the issue was resolved but it should not happen. Nevertheless, for most of the 61% that gave it 5 stars, the Intex Comfort Plush Elevated Dura-Beam Airbed was perfect for their needs.
7. ALPS Mountaineering Rechargeable Air
The ALPS Mountaineering rechargeable air bed is designed for outdoors use. It is not intended to be an indoor bed for regular use. Yes, you can use it for a bed indoors for friends and relatives staying overnight, and you can also take it with when visiting friends with no spare bed. However, this is not an air bed for continuous use as your main bed.
The APLS Mountaineering Air Bed appears to be a good air bed for home use, but has few bells and whistles. It is inflated with an external pump, and designed with a coil construction for comfort and endurance. It has some benefits, but also many flaws.
Pros
Air coil construction for improved comfort and consistency over the area of the bed.
The durable PVC is thick and puncture-resistant and is fitted with a slip-proof base and warm soft flocked top. All of this prevents the bed from sliding on the floor or base, and helps the bedding to stay with the mattress when in use and not slip around.
Cons
Reviews give only 68% providing 4-5 stars and 26% provide 1-2 stars.
The majority of negative reviews referred to loss of air, leaks and pressure reductions overnight. For this reason, we have rated the ALPS Mountaineering Rechargeable Air Bed a lower rating than it might be given if it resolved this problem.
Editor's Note: Air retention, or leakages, appears to be a major issue with this air mattress/bed. If the construction was made more leak-proof then it would receive a very high rating. For now, just 54% buyers giving it 5 stars and another 14% four stars, it seems there are improvements to be made. The company does not currently appear to be responding to these complaints.
8. AeroBed Classic Air Mattress
Like many of the others above, the Aerobed Classic air mattress can be used to turn any room in your home into a bedroom equipped with a twin or queen bed. It consists of the mattress and a separate hand-held pump. You can easily turn a room into a spare bedroom with this air mattress. The construction includes oval air coils to ensure an even pressure over the whole area of the air bed.
The AeroBed Classic air mattress is constructed using oval air coils which again provide an even pressure over the area of the bed. While this is an excellent feature, this mattress still suffers the leakage issues of its price-range contemporaries.
Pros
The Aerobed Classic air mattress gets 285 5-star reviews out 460 total.
Those that like it love it, but is 62% good enough? Perhaps. Perhaps not – it depends on the issues. If you only want an air bed or air mattress for use in your home as an emergency spare bed, then this may be ideal. If you want to use it as your main bed, then not so much!
Cons
Yet another pump that can be used only where there is an electric outlet.
There is another hole that can be used for a manual pump, but the company does not provide or even sell these.
It is difficult to find what type of manual pump can be used to inflate this air mattress when there is no electric socket nearby.
The 60 one-star complaints referred almost unanimously to loss of air – and hence air pressure. Most complaints relate to pressure loss over time – often before the night is over.
Editor's Note: The Aerobed Classic appears to be like most other air mattresses: it has leaks, punctures or other air losses. This is not one of the best air mattresses we have reviewed. However, it should be fine as an emergency bed.
9. Intex Pillow Rest
The Intex Pillow Rest is 16.5 inches high with a built-in pillow for extra comfort. It also claims to have a 600 pound capacity. Rather than air pockets or coils, this mattress is constructed using double-layered wave beam interiors which are sufficient to handle this 600 lb weight comfortably.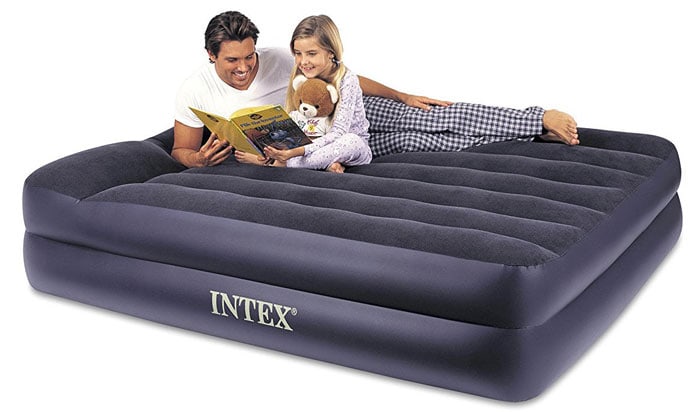 Among other features of the air mattress or air bed as many call them, is an integrated pump. That means you have no need to find and connect your pump when you want to inflate the mattress. It takes only 4 minutes to inflate this mattress fully. It is one of the better mattresses we have come across but is lower down in our rating because the low level of positive reviews: just 66% giving 4-5 star ratings and 27% provide only 1-2 stars.
Pros
Comes with an integrated pump so you need to find one yourself.
It can hold large weights – up to 600 lb over the entire mattress, and many like it because of its comfort and ease of inflation.
Cons
An entire 20%, of one-fifth of the 2700 reviewers, gave this air mattress just 1 star. The three major issues appear to be:
The usual air pressure loss overnight, resulting in people waking up lying on the floor, and
The internal chamber baffles giving way, so the air forms large bulges in the top of the mattress.
It seems that customer service might not be on the ball helping people with these problems.
Editor's Note: The Intex Pillow Rest is a comfortable air mattress. However, it suffers from having issues with the internal baffles and with loss of air overnight. Many other airbeds have the latter issue, and it is likely about time that manufacturers began to tackle this. Those that fall behind in maximizing the full inflation period may well fall behind their competitors in sales and reputation.
Now for something totally different!
10. Intex Pull-out Sofa Inflatable Bed
The Intex Pull-out Sofa Inflatable Bed is exactly what it says it is. It is an inflatable sofa with separate inflatable mattresses. It has been designed to sleep or seat two people and it contains two inflation/deflation valves for rapid inflation – but you have to purchase the separate pumps! The company states that the actual dimensions of the inflatable sofa bed depend on the degree of inflation – so the less it is inflated then the smaller it will be. Figures!
The sofa bed inflates to look like a regular sofa, with a seat, a back, and two arms. You have to inflate three separate sections individually. It is comfortable to sit on and, for most people, to sleep on. If you are watching TV and want to watch it to the end, then inflate it to the sleeping mode and lie watching it, before pulling over the blankets and going to sleep.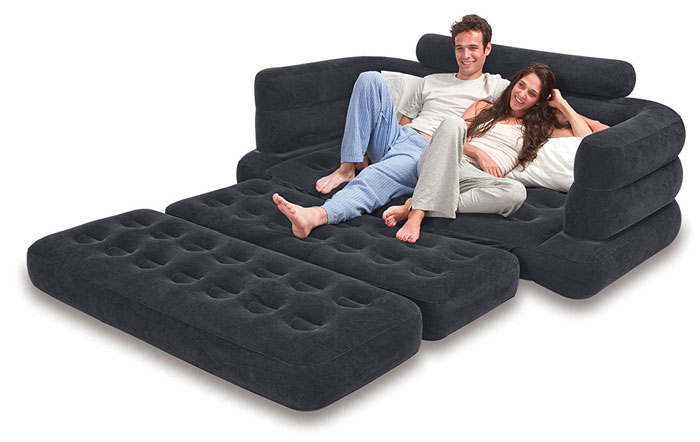 Pros
This is a settee than can easily be converted to a bed without the expense of a genuine sofa bed.
It can be use by you while watching TV or a movie, or by unexpected visitors or guests who have to stay over.
It is very comfortable to sit and lie on.
Cons
The Intex Pull-out Sofa Inflatable Bed received just 57% one or two star reviews, and 33% 1-2 stars, so apparently not good. However, what do they want for under $50? Most negatives once again are due to seams opening and loss of air pressure. So perhaps they are correct – you should at least get a product that does what it claims to without sagging and flattening.
Editor's Note: This may seem a gimmick, but the Intex Pull-out Sofa Inflatable Bed inflates to a sofa that can be further inflated to a bed. It is very useful for visitors or those unable to afford the high cost of a regular sofa and bed.
What is an Air Mattress? Buyer's Guide
Often referred to as air beds, an air mattress is one that supports you on a bed of compressed air. If you remember the old blow-up camping air beds or even use them now, then an air mattress is an advanced form of these intended mainly for home use. While they can be used as your main bed, most people use them as spare beds for guests and relatives staying the night. If all your bedrooms are in use by you and your children (not an unusual situation) then an air mattress can be used for occasional overnight visitors.
Although they can be situated on the floor, they can be used on a base designed for use with air mattresses. Some people use them as their main mattress because they prefer the form of support offered by an air bed – you can pump the bed to a pressure that suits your weight and your preferred degree of hardness. There is no such thing as a hard or soft air mattress – you decide that when you pump up the mattress.
Benefits of Air Mattresses
While not designed as your main mattress, an air mattress must nevertheless be comfortable. That is not to say that air mattresses are not used as the main mattress by some people, just that they are generally designed for a temporary bed for occasional use.
One of their major benefits is that they can be rapidly inflated (4 minutes) when needed. If you live in an attic or studio apartment with little room, then an air mattress, or air bed, would be ideal for you. You can deflate and store it if you have a party or there is some other reason you need the space, then bring it out and inflate when its bedtime.
The best air bed offers quick inflation and comfort. They have developed since the old days of manually blowing up a bed that is wobbly, moves about when you toss and turn in bed and regularly gets punctured. They are not available in as wide a range of sizes as regular or memory foam mattresses – the maximum air mattress size is generally queen size. The upside is that are not as expensive!
They do have one major advantage: air mattresses can be used in many different ways and locations. They can be used as your permanent bed, yet one that can be moved between locations very easily. They can also be used as guest beds and you can take them on camping trips. The best air beds come with a carrying bag, so you can take your bed with you wherever you go. Try that with a spring or memory foam bed!
Here are the major benefits of an air bed:
Adjust Hardness: You can set your bed as firm or soft as you wish. Having done that, should you feel at any time you would like it softer or harder, simply release pressure or switch on the pump! No problem! Your guests can set their bed to suit them if they feel it is too hard or too soft for them.
Sharing the Mattress: Some beds have two separate chambers, so you can set each side to its own firmness according to each person's preference. Some offer a number of air coils inside that have the effect of isolating the movement of individual partners, so the movement of one does not disturb the other. The latter are best, and the vast majority of mattresses I am reviewing here are of this type.
Lack of Sagging: Most mattresses sag after a while (sometimes years, sometimes months) in the place where people tend to lie. This is true of spring mattresses, where the springs weaken with continual use, and memory foam mattresses when the person lies in the same position over a long period of time. This cannot happen with the best air bed, because you simply inflate it more to remove the sagging. The only time you should get a problem with an air mattress, other than air leaking overnight, is when you have a split seam or the integrity of the internal air coil structure is broken.
Arthritis and Back Pain: Although not specifically an orthopedic mattress, the hardness of an air mattress can be adjusted to meet the needs of those with joint or back pain. Sometimes the bed might feel too hard for such people, so they can release some air to make it softer. Sometimes it may feel too soft, in which case a push of a button can increase the firmness. A good air bed or air mattress can be heaven to those that suffer pain when lying out flat in bed.
No Gassing: Many foam mattresses, and spring mattresses containing foam, can emit a chemical smell when new. This can affect some people. You do not get that with a good air mattress. They are odor free – the PVC they are made from emits no gassing and has no smell.
Quickly Inflated: You can inflate your air mattress within a few minutes using an electric pump – 4-5 minutes is normal for a queen-size mattress. Smaller camping mattress take less time using a battery-operated pump. Such pumps can normally be recharged from an electrical socket or a car battery.
Air Mattresses Can be Used Anywhere: You can use an air mattress anywhere – it is very portable. You can use it in your home, your garden, on the beach or while camping. While not designed as the main bed in your home, they can be used as such and some use them that way. However, because they are portable, air mattresses or air beds can be used anytime anywhere. However – there might be one issue. Unless your air mattress is fitted with a rechargeable battery, you will need to be close to an electric outlet/socket to enable you to inflate the mattress. Many have no manual means of inflation, just an electric pump.
Health Aspects of Air Mattresses and Air Beds: The PVC used in air mattresses and air beds is safe to children – and hence to adults. Such mattresses do not emit the chemical odor of memory foam mattresses, even though that odor is relatively harmless and dissipates shortly after first use.
You can allow your children to sleep on an air mattress without worrying about them coming to harm. But one point: they are not bouncy beds or bouncy castles! However, if they bounce about without falling over onto the floor, or do not puncture the mattress, they can have a great time playing on them – though on your head be it! It's not recommended. You can always pump the mattress up again if it starts to sag – but you know kids …
Disadvantages of Air Mattresses
There are very few disadvantages of air mattresses, assuming they are purchased and used for the benefits they offer. Yes, depending upon the mattress you purchase, the pump can be noisy while inflating it, but does that really matter? Sure, if the mattress gets punctured, then it will cost to have repaired. However, the cost of such mattresses is so low, that you may be just as well purchasing a new one.
Another issue was mentioned above. Mattresses are inflated by means of internal or external electric pumps. Some of the best air mattresses are run by rechargeable batteries, while others require an electric socket. The latter are no good for outdoor use such as camping. So check what's needed for charging before you buy any air mattress.
Warranty Period: You will generally find that the warranty period for air mattresses, even for the best 2023 air mattresses, is short. One year is normal, although if you do have to pay for a repair, their prices are so low that you may find that you are just as cost-effective to purchase a new mattress.
Air Mattress FAQs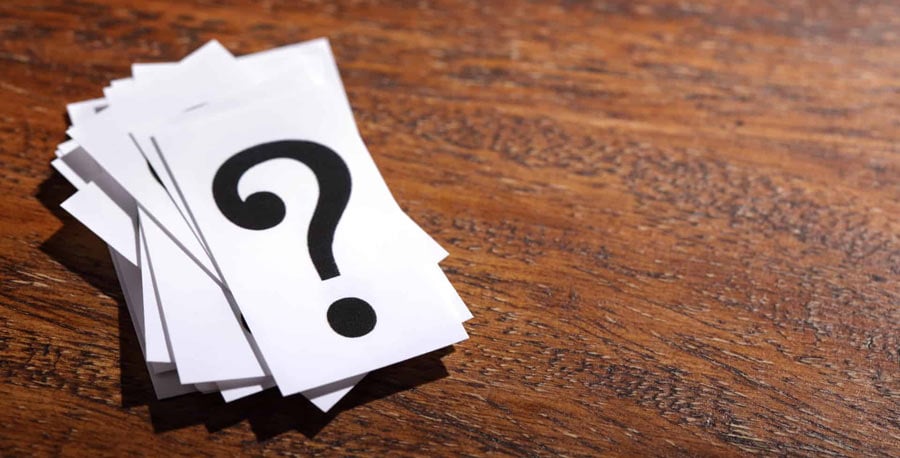 Here are some questions we have been asked about air mattresses.
Why does my air mattress lose its hardness?
All air beds lose a little pressure over time, usually due to slight air leaks from the valve. If your air mattress is becoming significantly softer overnight, then check it for the integrity of the seams or punctures. If you can't detect any by ear (hissing sound), then inflate it in your bath or pool if you have one and check for bubbles.
What if my air mattress has a leak or loose seam and needs repaired?
Check for leaks as above. Most high quality air mattresses come with a repair kit or repair patches. If yours does not come with these then contact your vendor or visit the support page on the manufacturer's website.
I am going on vacation and want to take my air mattress with me. What's the best way to deflate it?
Check your air pump or the instruction sheet that may have come with your mattress or air bed. Some pumps have a 'deflate' option that rapidly deflates your mattress. If not, then remove the cap of the air valve on the mattress and push down to listen for escaping air. If this allows air to escape than walk along the mattress carefully to completely deflate it. When largely deflated, start rolling it up slowly from one and remove the rest of the air. Bind the rolled up mattress with a cord, or insert into a bag to prevent it from unrolling during transport.
Can I use my air mattress on my existing bed base?
If you have a wooden base to your bed, then definitely yes. If the base is constructed with springs, that should also be OK if they are in good condition. Broken or damaged springs can be problematic, and even puncture or otherwise damage the mattress.
How do I clean an airbed or air mattress?
Wash it with a mild soap solution or household detergent and water. Use a soft brush or sponge. Never use a solvent and never use a washing machine. This may be harmful to your air mattress, including any flock comfort layer it may have.
Can I use my air mattress as my permanent type of bed?
This is not recommended. Air mattresses and air beds are designed for occasional use, and not intended to replace your regular bed. Everyday use will degrade the bed, overstretch the plastic and may also void your warranty. Check your warranty for exclusions such as everyday use.
I have a bad back. Will an air mattress help me?
It can do if it is inflated to the correct level of hardness for your condition. Too firm an air mattress can be like sleeping on a flat board, which is not good for many spinal problems. You need a mattress that supports you but can also respond to your shape when you sleep. You should ask for the advice of your physician or physiotherapist/chiropractor.
Best Air Mattress 2023 – Summary
It is not possible to state what the best air mattress of 2023 is. They all have so many pros and cons that it is difficult to say for certainty which is the best air mattress. Things to look for depends on the way you intend using your air bed or mattress.
For example, if you intend spending a lot of time camping and using an air mattress in your tent, you should look for a rechargeable battery operated the pump. You might alternatively find on with a connection for a foot pump. I suggest you consider all your potential uses before making a purchasing decision.
It is not a coincidence that most air mattresses leak or lose air over time. This happens for two major reasons:
1. The PVC cover round the mattress will soften and expand with heat and pressure. The heat of your body, and its pressure while you are sleeping, are enough to significantly stretch the PVC skin. This results in a drop in pressure. You may have to regularly reinflate your mattress – or at least give it a top-up of air. Alternatively, purchase a mattress that will automatically top up the pressure when it sensed a drop. The Serta Raised Air Mattress fitted with a with neverFlatTM Pump will do this for you.
2. All flexible plastics, including the high quality PVC used for air mattresses and airbeds, are liable to split at the seams when under pressure. Even a small split, or a slight puncture of the plastic, will lead to air loss.
Keep Reading: Top 5 Air Mattresses With Frames and Inflatable Mattress Frames »
Editor's Rating
SoundAsleep Dream Series

Serta Raised Air Mattress

Insta-Bed NeverFlat

SoundAsleep Camping Series Air Mattress

Coleman Premium Airbed

Intex Comfort Plush Elevated Dura-Beam

ALPS Mountaineering Rechargeable

AeroBed Classic Air Mattress

Intel Pillow Rest

Intex Pull-out Sofa Inflatable Bed
Summary
If you use our table and reviews of the best air mattresses, then you should be able to avoid most problems associated with this type of mattress. Take your time, because it might be difficult to get good service for a faulty air mattress.