Transparency Disclosure: We may receive a fee from the seller for any purchases made through links on this website or from other sites accessed via this website. This fee incurs no additional costs for the buyer. To learn more, please read our full disclosure page here. Read our Product Research and Testing page to know more about our review process in detail.
We carried out a Casper mattress review back in February, and we are now presenting our Casper pillow review. This does not infer that you should use a Casper pillow with a Casper mattress, although the one does complement the other. The pillow is made with the same care and expertise as the mattress is, and is suitable for use with any type of bed.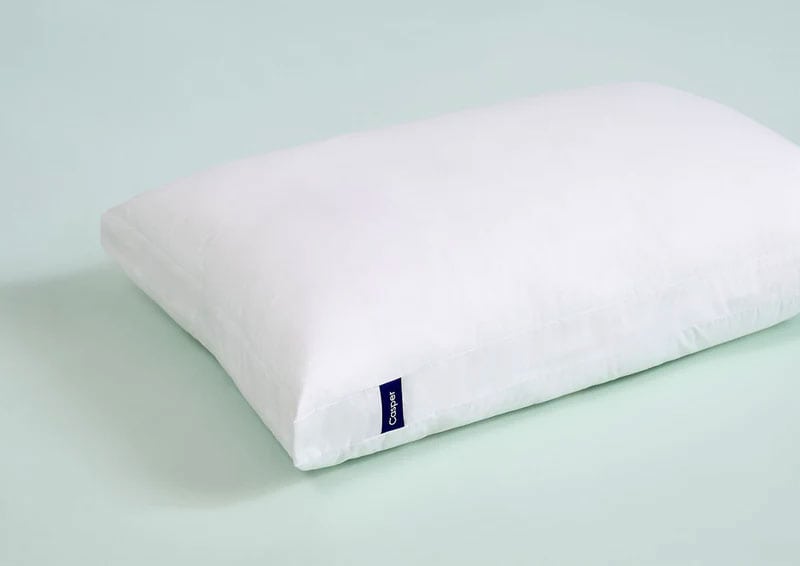 Our review of the Casper pillow is focused on the new pillow for 2023 to replace that sold last year. Last year's pillow could not be washed, and could only be spot cleaned. The 2023 replacement can be washed and has a different construction which is described below. So here is our review of the new 2023 Casper pillow which is designed in the USA and assembled in China. We could find no fault with the materials.
Table of Contents
Casper Pillow Review
The pillow is fairly thick and comfortable to sleep on, although due to its high loft it may be more suitable for side and back sleepers than stomach sleepers. That stated, Casper claims that the pillow is suitable for everybody. While some belly sleepers might find it comfortable, it is generally recommended that they sleep on a thinner pillow to help prevent neck pain and spine misalignment. If you are a stomach sleeper, check out our Best Pillows for Stomach Sleepers here.
Decide for yourself. So let's dive in and have a good look at the Casper pillow, and who it may suit best.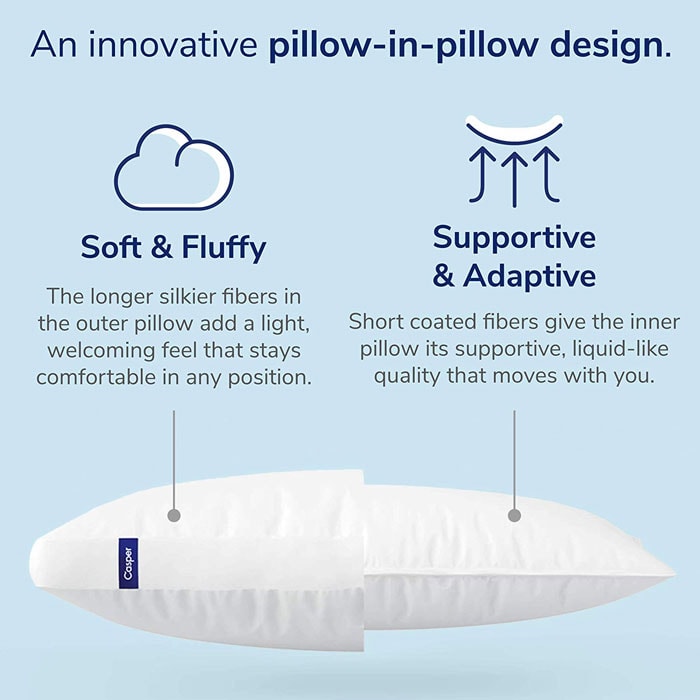 Casper Pillow Construction
The Cover: From the top down, we begin with the cover. This is 100% cotton material with a percale weave, meaning that it has a close weave with a high thread count. It is smooth and easy to wash. This makes sure that any fibers in the pillow stay in the pillow! It's not an attractive cover, but very functional. Most people would use a pillowcase with a nice design or color over it. You can do this without affecting the performance or functionality of the pillow. The cover does, however, allow a good flow of air through it, so you will be sleeping cooler because of this rather than hot without it.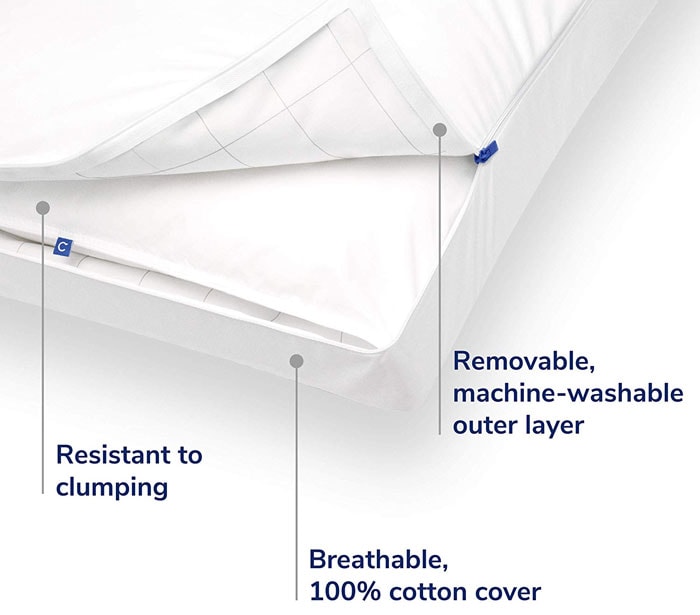 The Filling: The cover is filled with a polyester microfiber which offers excellent comfort and support. The outer part of the pillow is filled with fluffy clumps of microfiber while the central core is more dense. This means that you get a comfortable surface to sleep on, but with the core strength to prevent you sinking down to mattress level.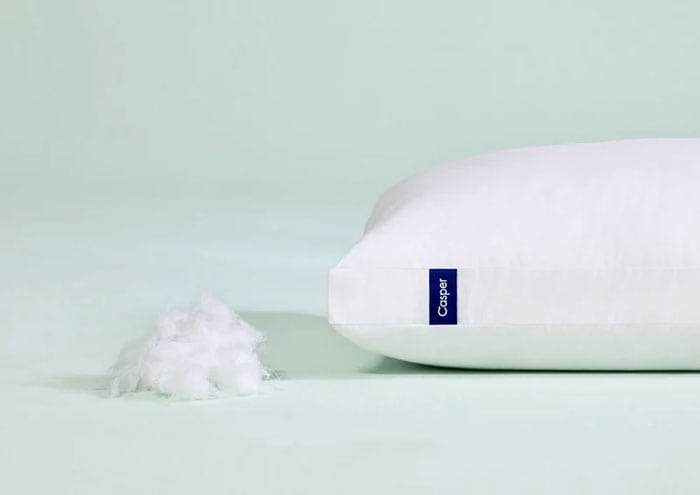 The outer layer is composed of cutting-edge low-friction polyester microfibers (thinner than a human hair) for a plush, cushioning outer layer. The inner core has almost a billion shorter silky fibers that provide an almost liquid-like response to your movements to generate springy support. So you get the benefit of a harder, responsive, springy center and a soft fluffy top to provide both comfort and support.
Washing: The 2018 Casper pillow could not be washed in water, but the new 2023 version can. Here is how this pillow can be washed:
Unzip the outer part of the pillow and remove the inner part.
Zip the outer part back up.
Add both the outer and inner parts to your washing machine.
Wash with a mild detergent on a cool, gentle setting.
Using the rinse cycle, rinse twice.
Tumble dry on a low setting with dryer balls. If dryer balls are not available, then use clean tennis balls.
If needed, both parts of the pillow can be fluffed up manually after drying and put together again. The cover can also be machine washed and dried. You are advised to wash the pillow every 3 – 6 months.
Dimensions: The Standard size pillow is 26" x 18" x 5" and the King size: 34" x 18" x 5"
Pros
Good airflow through the cover into the fiber layers. This helps you to sleep cool on warm nights.
The Casper pillow has a 2" gusset around its perimeter. This helps a) to promote stability, b) lead to an evenly distributed fiber fill, and c) give you a good neck alignment.
100-day guarantee: free return for a full refund if you don't like it or it is faulty. You can try it out for over 3 months so it is definitely worth testing. You have nothing to lose.
Sleeps fairly cool for most
Suitable for most weights and sleep positions
1-Year warranty against faulty materials or manufacturing defects.
The zippered cover can be removed for cleaning: it is machine washable and can also be machine dried.
Free delivery other than in Alaska, Hawaii, Yukon Territory, the Northwest Territories and Nunavut.
Available in UK and Europe.
Hypoallergenic.
Cons
It costs more than most other pillow brands, although we believe it is worth it.
Otherwise, we could find no negative aspects of this comfortable pillow.
Frequently Asked Questions
We have been asked several questions about the Casper Pillow by those who read our reviews. Here are some of those, chosen on the basis of the number of people who have asked the question, or one like it.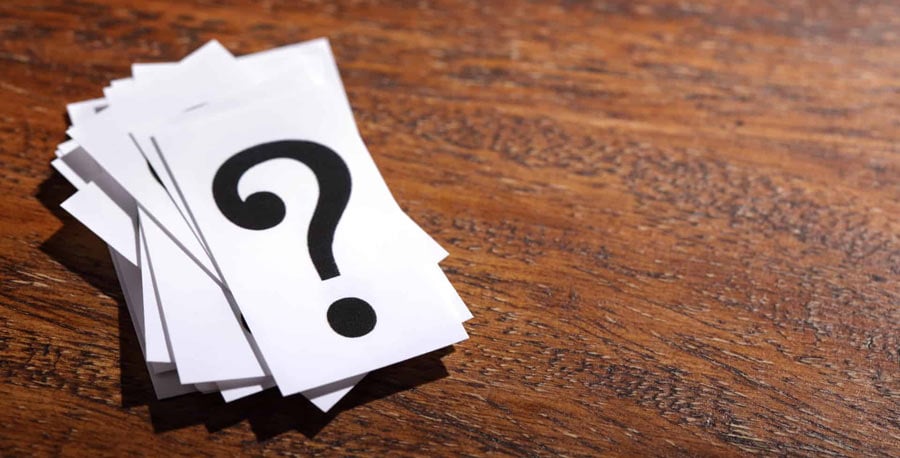 1. How frequently should I fluff up my Casper pillow?
We recommend you fluff your Casper pillow as often as you can: daily to if possible. It's not essential, but fluffing it up keeps it looking good, helps it to retain its cooling effect and maintains its comfort for whichever sleeping position you prefer. The Casper pillow has been designed to restore its puffiness with a quick fluff up.
2. I sleep on my back. What sleeping positions is the Casper pillow best for?
When we designed the original Casper pillow we intended to cater for all sleeping positions. The new version of the pillow not only enables you to machine wash it but is also suitable for all sleeping positions. Most people move positions during the night, and the company's objective was to design a pillow that would be suitable for any sleeping position. This has almost been met: it is suitable for back and side sleepers, but many stomach sleepers might also like it. It's worth a try because you can return it free within 100 days for a full refund. If you normally sleep on your back the Casper pillow will be ideal for you, even if you tend to roll over onto your side or stomach during the night.
3. How should I sleep on my Casper Pillow?
Given that you are not discussing your sleeping position (see directly above) you should lie on your pillow with it tucked under your head. Do not lie on it with your shoulders, knees, and toes – but your head is OK. As you move around in bed during the night, the Casper pillow will support your head regardless.

No matter how you fall asleep, Casper pillows should always be tucked under your head — not your shoulders (or knees, or toes). No matter how much you move around during the night, the pillow is designed to stay supportive with each toss and turn.
4. I heard that Casper also offers a down pillow. What are the benefits of this?
Yes, there is a Casper down pillow which has not yet been mentioned, but maybe in future Casper pillow reviews. This pillow is almost double the price of the pillow we have been reviewing, but it is certainly of very high quality. It has been constructed with five chambers that provide a balance between support and comfort. It has been manufactured using high-quality white duck down that has been responsibly and ethically sourced. It is very airy, machine washable and extremely durable.
5. Why does the Casper pillow not appear in more of your pillow reviews?
This is because the Casper pillow is very adaptable, and can be used by those who sleep in any position. It is not necessarily the best pillow for back sleepers or stomach sleepers, but it is very useful as a pillow for your spare room or guest room. It is likely to meet the needs of everybody. It is not necessarily the best for neck or back pain, but it is an excellent mattress suitable for most sleepers. If you like it, then it is sure to meet your personal needs.
Review of Casper Pillow – Conclusion
The Casper pillow provides good support for most people, irrespective of the positions they sleep in or their weight and body size. It may be less suitable for stomach sleepers, but the 100-night trial period makes it worth trying. Simply return it free of charge for a full refund if you find it is not for you. The company has a BBB Rating of A+.
The breathable cover and the microfibers of the filling enable you to sleep fairly cool, while the gusset helps the pillow to maintain its shape and keep the filling well distributed through it. It is a bonus that this new 2023 Casper pillow can be washed and dried in a machine: either in a combined washer-dryer or in separate machines.
Support

Materials & Quality

Cooling

Price

Design
Summary
The pillow is currently available in just two sizes: Standard and King. Each is made the same way and offers the same benefits. If you have any issues with your Casper pillow, then contact Casper support. The company has a very efficient support system, with very knowledgeable and helpful support staff. We can recommend this pillow to you if you tend to change your sleeping position during the night, and also mainly to back and side sleepers.