Transparency Disclosure: We may receive a fee from the seller for any purchases made through links on this website or from other sites accessed via this website. This fee incurs no additional costs for the buyer. To learn more, please read our full disclosure page here. Read our Product Research and Testing page to know more about our review process in detail.
While considering the benefits of a Japanese floor mattress, you should be aware that those used in the USA are generally quite different from the traditional Japanese futon floor mattress. Most American futons are thin mattresses supported on an adjustable frame. The Japanese futons are thin mats, three or four inches thick, which are placed on the floor, usually with only a tatami (straw mat) beneath them. The traditional style of Japanese futon is formally known in Japan as a shikibuton. Here, I shall present our 7 best Japanese floor mattresses along with a buyer's guide to futons and some tips on how to choose the best futon for your needs.
Why sleep on a traditional Japanese floor mattress? What are their advantages over a regular type of mattress? The first advantage is they take up little space. They are ideal for small accommodations such as bedsit apartments. If desired, you can fold them up and store them during the day. More importantly, a traditional futon is healthy for your spine and joints. That's because the Japanese futon is generally firmer than an American one.
If you suffer from back pains then you will likely find that placing a memory foam topper on the futon will help relieve the pain. That's because the memory foam changes shape to the contours of your body, and tends to provide even support to your shoulders, spine, lower back, and buttocks. It also helps maintain them in their natural position while you sleep.
It is wrong to believe that a softer mattress is good for your back. The opposite is true. The firmer your sleeping surface the better it is for your back. Many people find relief from back pain after moving from a traditional mattress on a bed to a Japanese futon on the floor or a tatami mat. If you sleep on your side you can use a topper such as in our #4 (Emoor futon set.) The futon and topper (and tatami if you use one) can be rolled or folded up for storage until the evening. They frequently come without a cover for easy washing, but there are covers available. 
Top 7 Japanese Floor Mattresses (Futons)
Here are our top 7 best Japanese floor mattresses or futons. A Shiki futon is the same as a shikibuton, namely a folding Japanese futon. They are two terms for the same thing.
| Brand Name | Sizes | Weight Lb | Thick | Price |
| --- | --- | --- | --- | --- |
| Fuli Shiki Futon | Twin, Twin-XL, Full, Full XL, Queen | 8 | 2.5" | View on Amazon |
| D&D Futon Furniture | 60" x 80" | 15 | 3" | View on Amazon |
| D&D Futon Furniture Foldable | Full and Queen | 14.4 | 3" | View on Amazon |
| EMOOR Original CLASSE Series | Twin, Full, Queen, King | 11 (futon) | 2.5" | View on Amazon |
| Luxton Home Shiki Futon | 27" x 80" | 15.7 | 4" | View on Amazon |
| Colorful Mart Japanese Futon | Twin, Full, Queen, King | 15.7 | 4" | View on Amazon |
| Fuli Tatami Mattress | Twin, Twin-XL, Full, Full-XL | 6.5 | 0.5" | View on Amazon |
 * Size reviewed in bold. Sizes not listed may be available. Also, weight relates to the size reviewed and should be used as a guide only.
* CHANGE WEIGHT OF #4
Table of Contents
1. FULI Shiki Futon: Most Authentic Japanese Futon
The FULI shikibuton otherwise referred to as a Shiki futon, is another genuine Japanese-made futon. You have a choice of sizes for individuals or couples. This Twin size Shiki futon is soft and can be rolled up for storage during the day or transportation. Weighing only 8 lb, the Twin size can easily be carried.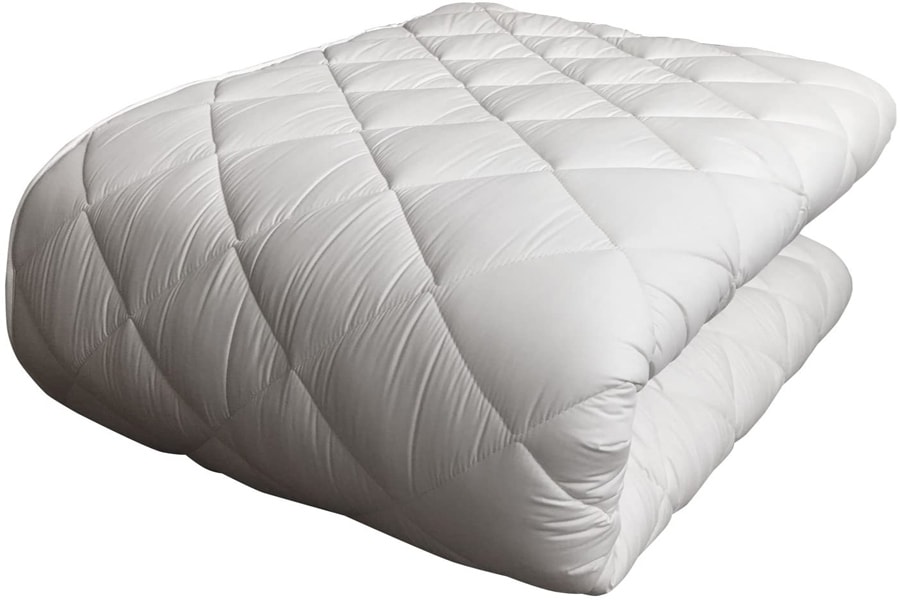 The cover cannot be removed and it is 100% cotton that allows sweat to dry rapidly from the pad. The filling is a mixture of polyester and polyurethane foam. It is a very comfortable futon to lie on and the combination of firmness and cushioning supports the small of your back to help prevent back pain. The FULI Shiki futon is the closest to the traditional Japanese futon of those I have tested. The dimensions of the Twin size is 75" x 39" x 2.5" while the King size is 79" x 75"
Also available are the Twin-XL, Full size, Full-XL, Queen, and the King. The dimensions range from the Twin at 75" x 39" x 2.5" and weight 11 lb to the King at 75" x 79" and 17 lb weight. Each is nominally 2.5" thick. 
Pros
Available in 4 colors: black, white, gray, and blue.
Available sizes: Twin, Twin XL, Full, Full XL, Queen, and King – all 1.5 to 1.75 inches thick.
A light 8 lb in weight making it easy to carry.
Genuine Japanese futon
Anti-bacterial.
Resistant to dust mites.
Covered by Amazon A-Z Guarantee and Returns Policy.
Cons
Removable covers are sold separately, even though without them the life of the futon will likely be short.
Need to be hung out daily for airing and to dry out.
A relatively short life, particularly if not dried out regularly.
Editor's Notes: You can find more about the Japanese Fuli Shiki futon in this video The Fuli Shiki futon is a traditional Japanese shikibuton and provides an excellent sleeping surface for all ages. It comes in a choice of 6 sizes, which should meet most needs. You must order the cover when you order the futon or its life will be significantly shortened. Also, if you make a point of hanging the futon and cover up to dry (preferably outdoors if possible) its life will be significantly extended.
2. D&D Futon Furniture: Best Western-style Futon
This futon, manufactured by D&D Futon Furniture, is a Western take on the traditional Japanese futon in that it is larger all round. I tested the Queen size – the only size available. Its dimensions are 60″ wide x 80″ long and 3″ thick and are colored black. This is a roll-up mattress that is easily rolled for compact storage (comes with tapes attached to secure rolled-up futon) and easily rolls out again. The cover is a cotton fabric and is filled with 90% cotton batting, 5% polyester, and 5% of resilient foam that adds to its comfort. The D&D futon can also be used as an exercise or yoga mat, or for meditation.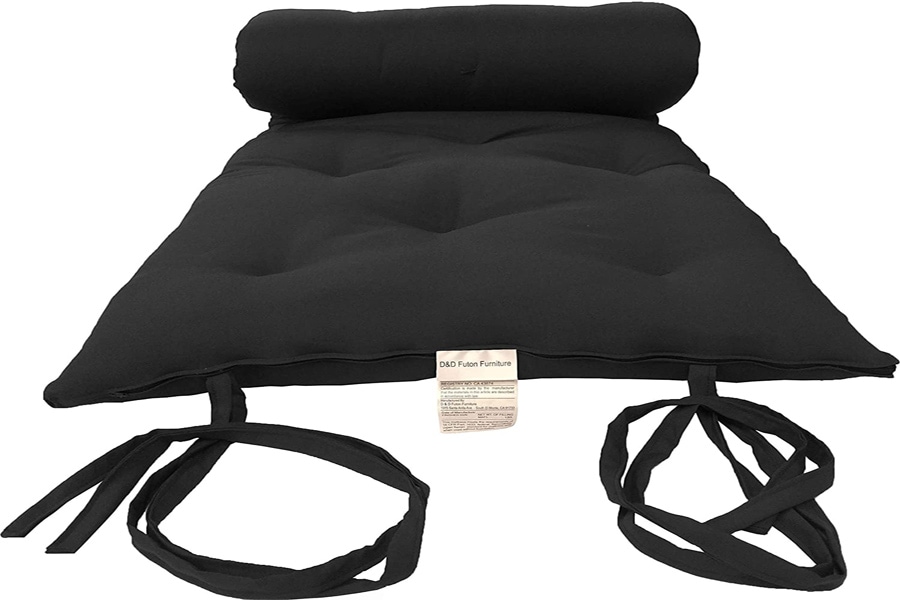 Pros
Lightweight and portable.
Queen size and suitable for couples.
Can be used directly on the floor, on a western-style futon frame or a tatami.
You can also use it with a duvet or a mattress topper or pad.
Good if you have back pains.
Manufacturer's warranty on request.
Flame retardant.
Made in the USA.
Cons
Takes up more space than a normal size-futon
Delivered compressed and may take up to 2 days to fully expand.
Editor's Notes: The D&D futon is wider than other futons and ideal for couples or those preferring a larger sleeping area. It is very versatile, being useful for meditation, exercise, yoga, or even as a play surface for children. I advise you to turn it and flip it every few days (not both at once) for maximum life. It is a genuine futon but made in a larger Western style although nowhere near being a Western mattress.
3. D&D Futon Furniture Gray Shikibuton Full Size Futon: Best Futon for Back and Side Sleepers
This is a traditional Japanese shikibuton, or Shiki futon, which is made in America. It has a white cotton filling, plus fiber, and resilient foam, and has a zippered washable polyester cover. The cover can be removed for washing but the entire futon should not be washed. It can be hung on a line outdoors and hit with a stick such as a broom handle. This will get rid of most of the dust that gets into almost any type of mattress.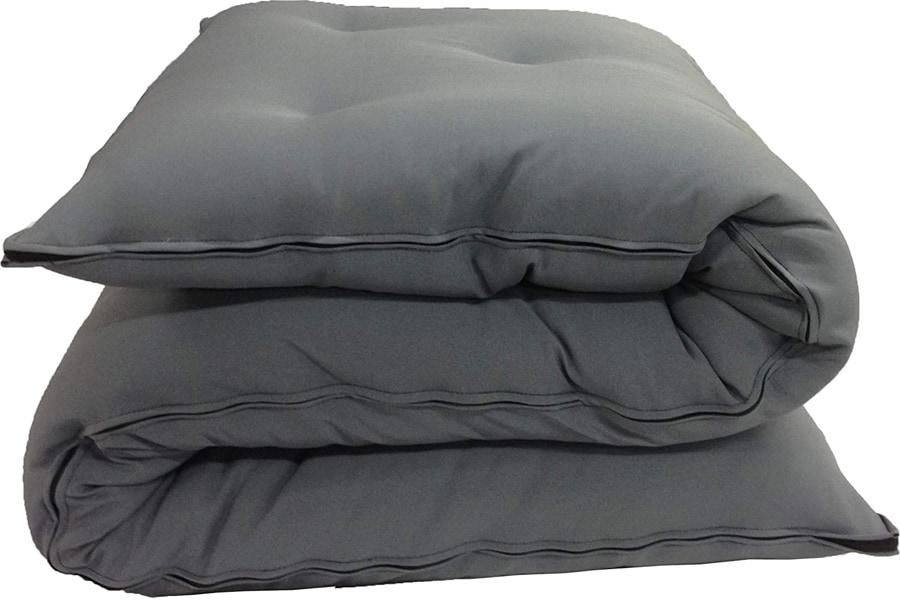 It can be rolled up or folded into 3 for storage, making this futon into a shikibuton (foldable futon). Its 3-inch thickness makes it ideal for sleeping on a floor, though I recommend it is placed on a carpet or tatami mat for better comfort. You can also use it on a metal or wooden futon frame. It is so portable that you can take it with you on a picnic or use it for exercise, yoga, and even for the kids to play on. It's an ideal bed for a dorm. Unfortunately, the D&D Futon Furniture grey shikibuton is available in the Full size (54" x 80" and 3" thick), and Queen size (60" x 80"x3") only, and only in a dark gray color.
Pros
Traditional style Japanese futon mattress in the shikibuton foldable style.
Excellent for back and side sleepers due to the resilient foam in its filling.
Can be folded in three and rolled up if you prefer. Removable and washable zippered polyester cover. 3" of comfortable foam between you and your base (preferably carpeted floor or tatami mat.)
Meets the requirements of 16 CFR part 1633 federal flammability standard for mattress sets when used without foundation.
Long-lasting
Designed and manufactured in the USA.
Editor's Notes: I have found this to be an excellent American-made floor mattress. It is very versatile and can be used on a floor, futon frame, or a tatami mat. It can be used on any floor in the house, on a patio, outdoors, and is an excellent choice for a student's dorm. It may be only available in gray, but how important is the color when compared to the excellent comfort it provides for those who sleep on their backs. It is easily folded or rolled up to be put away until it is needed again. It takes very little time to roll out and is an excellent space-saver. Ideal for bedsits or small apartments, this American-made Japanese floor mattress is an excellent choice if you have limited space in your home or your room.
4. EMOOR Original CLASSE Series, 3 Piece Japanese Shiki Futon Set: Best Japanese Futon
The EMOOR futon set is a genuine Full-size Japanese Shiki futon (shikibuton) set made in Japan. It comes in three pieces: the futon, a Full size comforter, and a pillow. The Full size futon consists of a 79" x 55" firm pad that supports your back with a quilted filling top and bottom for comfort. It can be folded into three for easy storage. The comforter keeps you warm and the pillow provides excellent support for your head. Each piece is fitted with a cotton outer fabric. The comforter is 83 x 75 inches and the pillow 25 x 17 inches. This Japanese floor mattress is ideal for small living accommodations such as an apartment, dorm room, trailer, temporary accommodation for a guest. The futon itself is 11lb in weight.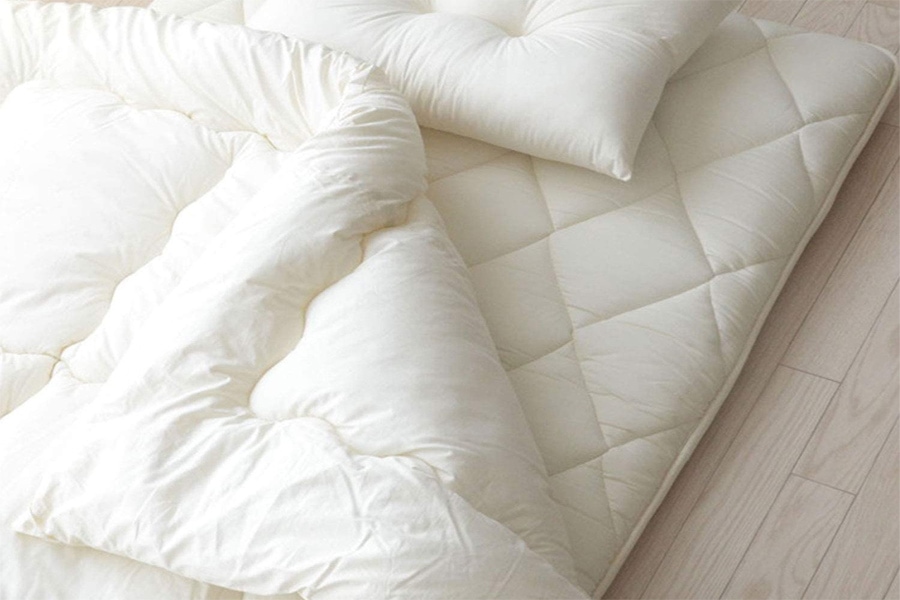 Pros
100% cotton outer fabric (200 thread count) with 100% polyester filling.
Genuine Japanese futon.
Firm central core with a soft quilted layer top and bottom that is good for your back.
Futon thickness 2.5".
Highly portable – can be folded in three for easy storage.
Antibacterial
Also available in twin and queen sizes.
Free shipping.
Greener than regular mattresses – most materials are biodegradable
More economical than a regular bed and mattress.
Takes up no space (other than storage) when not in use, unlike a regular bed.
Cons
Not washable: You need to use covers to keep the items clean.
Unlikely to last more than three or four years, though many futons made in Japan are the same. However, it is more economical than a regular bed and mattress and takes up a lot less space.
Editor's Notes: I chose to include this futon because its sandwich construction is good for your back and you can roll it up for easy storage. The comforter and pillow make this a full sleeping set although you will likely need sheets to keep it clean. It is extremely comfortable and provides a softer sleeping surface than just the basic futon mat. Its triple-layer construction consisting of two soft polyester quilted pads sandwiching a firm polyester pad offers an extremely comfortable sleeping surface that also provides support. The futon can be purchased separately if you don't want the full set. ADD the LAST SENTENCE
5. Luxton Home Japanese Shiki Futon with Sheet: Best Futon for Back Pain
The Luxton Home Shiki futon (also known as a shikibuton) is a traditional Japanese futon available in 3 sizes, namely Twin-long (38" wide by x 83" long), Full-long (55" x 83"), and Queen-long (63" x 83"). They are all 2.5" thick and are available with or without a sheet to go with them. The twin long is available with optional extra padding. This is a good choice if you have back pain. Sleeping on your back on this futon will help reduce your pain.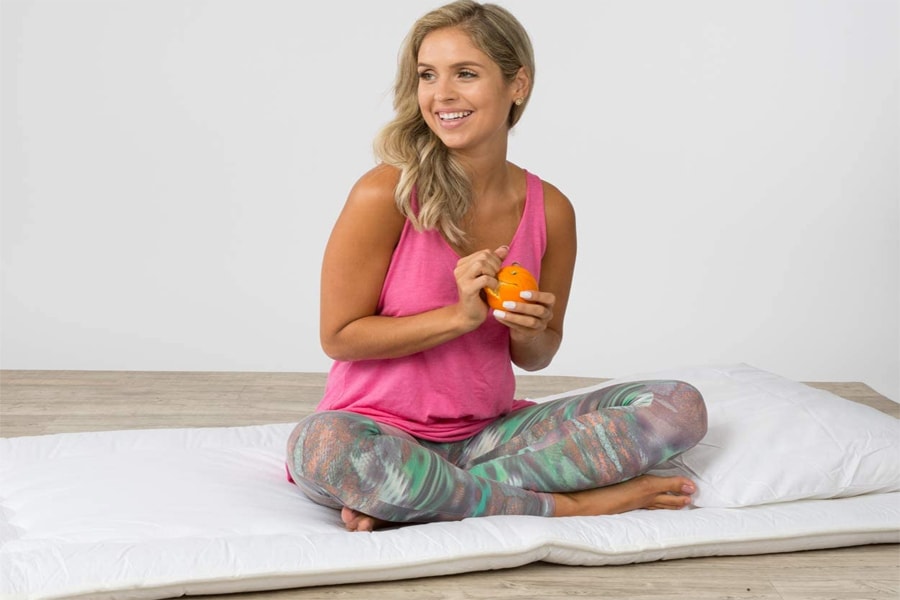 Pros
Excellent traditional futon.
Good for those with back pain and for side sleepers.
The cover is 100% natural cotton and easy to clean.
Due to its filling of polyester, this futon cannot be washed It can, however, be vacuum cleaned or beaten on a line outside. An optional washable cotton sheet is available at an extra cost of $30.
Foam is stated by the manufacturer to be free of hazardous material
30-day money-back guarantee.
Cons
Takes 3 days to expand to the correct size after opening the package.
No King size available.
Editor's Notes: This traditional Japanese futon (Shiki futon or shikibuton) is made in Japan. It is perfect for those who sleep on their back and need a good combination of comfort and support to retain a good posture. Unlike other shikibutons that can only be folded, the Luxton Home Shiki Futon can be rolled as well as folded. It is also easily portable at just 14 lb weight. The twin is just 8 lb in weight.
6. Colorful Mart Japanese Futon: Best for Color Choice
The Colorful Mart futon is available in Twin, Full, Queen, and King sizes and in a selection of colors: blue, pinkish-red, purple, and gray. I tested the Full size at 39.4″ x 78.7″ x 3″. Metric dimensions: 100 cm x 200 cm x 8 cm. The filling is in three layers, so it is important to lay the futon down the correct side up. These layers are memory foam on top, then a layer of resilient Viscolatex foam, and a bottom layer of high-density support foam all packed into a removable Jacquard washable cover. It is very comfortable to lie on, particularly if you sleep on your back. It is also more comfortable for side sleepers than most other futons, although it tends to be a bit thinner than its photograph.
Pros
A combination of memory foam, Viscolatex, and a high-density support foam renders this futon, or sleeping mat, very comfortable to lie on, and even side sleepers might like it.
3-Inch thickness (Full size).
38" wide – more than enough for any single person.
Removable Jacquard material cover.
CertiPUR-US certified free of hazardous materials
5-Year limited warranty.
Free shipping
UPS/FedEx delivery
Cons
Available in Twin size only.
Need to wait 48 hours minimum for the product to expand to its original shape.
Not as thick as the photo – as others have stated.
Editor's Notes: I could find nothing much to complain about with this futon other than having to wait 2 days after receiving it to allow the foam to expand to its proper dimensions. It was a dream to lie on and a real bargain at the price. The removable cover is a bonus – it is far better to remove a cover for machine washing than to spot clean it. It is a bit heavier in weight than thinner futons, but nothing that couldn't be handled. It did not, however, seem as thick as the photograph. Hence its position in the table.
7. FULI Japanese Traditional Igusa (Rush Grass) Tatami Mattress
A tatami is traditionally manufactured using woven rush grass (Igusa.) They are used by the Japanese as mattresses or rugs. Tatamis are highly durable and last very well. They are similar to mats and are traditionally used as mattresses or rugs. They are firm and supportive and traditional Japanese Mattresses. They are also useful for camping where they can insulate you from the cold of the ground.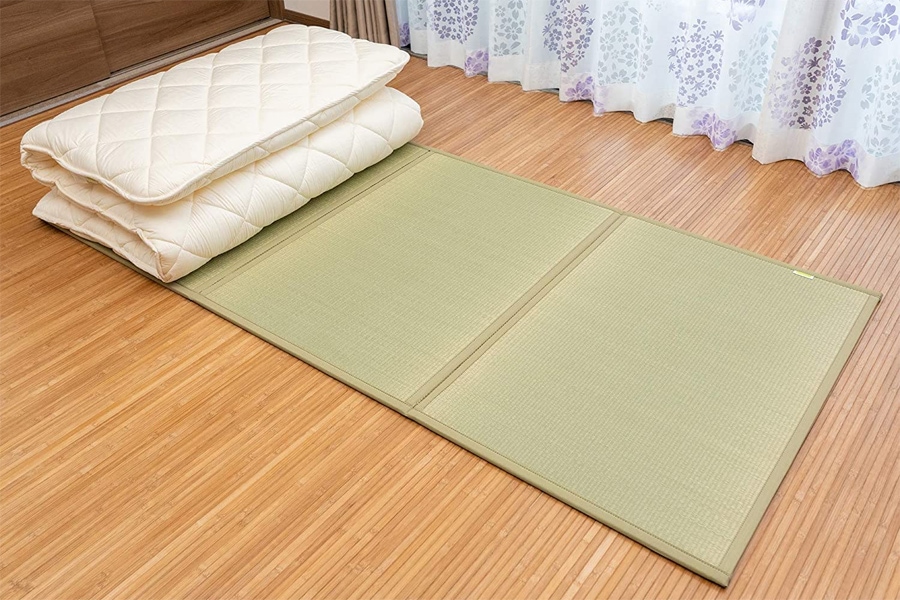 The rush grass is believed to help regulate the level of humidity in the room and it has a fresh, natural grassy smell. The Japanese use tatamis for sleeping and sitting on, and also as a base for a futon or a shikibuton. Like the futon, this type of tatami folds into three for easy carrying and sitting on. They are long-lasting and age well. Check out a tatami video here for more information on what they are made from and how they are used.
However you want to use your tatami – for sleeping or for sitting on, or as a base for your futon or shikibuton – the Fuli Japanese traditional tatami mattress is an ideal choice. You can also use traditional pillows (soba Gaara makura which translates as 'buckwheat pillow'.) Many dislike the feeling of resting their head on buckwheat – it is spikier and noisier than a foam pillow, but many seem to like it. Even more, however, would prefer a foam pillow. Check out the buckwheat pillows made in the USA here: a Premium Pine Tales Pillow (Sobakawa) and a Basic Pine Tales Pillow (Sobakawa) here. Both are 14" x 20".
Pros
Healthy firm sleeping and sitting surface
Lightweight and easy to fold and carry.
Good base for a futon or shikibuton.
Helps reduce the humidity in your room.
Available in Twin (39" x 73"), Twin-XL (39" x 83"), Full (55" x 73"), and Full-XL (55" x 83"). All 0.5" thick (1.27 cm).
Cons
We could find no negatives. This is an excellent example of an igusa: a Japanese tatami rush mat.
Editor's Notes: This tatami can be used to sleep on in the same way as a futon, but if you find it too hard, a futon will provide more comfort. Any of the 6 futons I have chosen above this tatami would be preferred by most as a sleeping surface rather than a tatami. However, if you would prefer to sleep on a firm surface then this tatami may be the best Japanese floor mattress for you. However, keep in mind that the tatami and futon together make an excellent bed for those unused to sleeping on this type of Japanese floor mattress.
Buyer's Guide to Japanese Floor Mattresses, Futons, and Tatamis
It should be stressed here that this buyer's guide relates to Japanese futons, otherwise known as shikibutons. American-style futons tend to take the form of sofa beds which can be used for sitting or sleeping. Japanese floor mattresses (AKA Shiki futons or shikibutons, are used on the floor, on a tatami mat, or on a futon frame designed to support a foldable or rollable futon. So let's get on with the guide:
Size Matters: You are advised to purchase a genuine Japanese futon, also known as a Shiki futon or shikibuton, in a size you need. Do not go for anything larger just to have extra sleeping space. Japanese futons are intended to be portable, so that they may be easily placed where needed and removed during the day should that be necessary. The larger futons weigh more than smaller equivalents. For example, the Fuli Shiki futon comes in 6 sizes: the Twin size weighs in at 8 lb, but the King size weighs 17 lb. Between these are the Twin-XL, Full, Full-XL, and Queen.
It should be stressed here that futons are not recommended for stomach sleepers, and that they may be uncomfortable for some side sleepers. The latter should choose the thickest futon they can find (in our case the 4" thick Luxton or Colorful Mart futon) although many side sleepers prefer a traditional Japanese futon to a regular bed. 
Frequency of use: Much depends on how frequently your futon, or Japanese floor mattress, will be used. Will it be your regular bed, in use every night, or will it be for occasional use such as for guests, or therapeutic use? For example, many people with back pain find that sleeping on a shikibuton for a few nights helps reduce the pain.
Roll-up or Fold: The choice between a roll-up futon and a folding one is fairly easy to make. Shikibutons for occasional use should be easily folded or rolled up to make them easier to pick up and store. Some prefer the roll-up option because some bi- or tri-fold futons can feel uncomfortable after prolonged use, as a gap between each of the parts can develop with prolonged use – though this is probably not common enough for it to be a serious issue. Some tri-fold shikibutons can be used as a chair with one end section as the back and the other two folded on each other as the seat.
The Cover: A cotton coveris standard for genuine Japanese floor mattresses, and one of its benefits is that sweat is more easily naturally evaporated from it.Synthetic fibers tend to hold on to moisture. Some shikibutons come with a removable cover, although if not they are generally available to purchase. For example, you can buy a cover for the Fuli Shiki Futon (our #1) from Amazon.
The Futon Filling: Cotton is usedas the filling of a traditional Japanese futon (Shikibuton or Shiki futon.) However, to pander to western tastes they can also be filled with foam (#1), a mix of cotton and foam, mainly cotton (#2 & #3), 100% polyester foam (#4 & #5), or memory foam on top and other foams below it (#6). Cotton may be the most comfortable to some, although the cotton + foam and the foam-filled futons are more suited to western tastes.
Moisture Evaporation: Your body can lose around a pint of moisture in a night. This is emitted as sweat, some of which evaporates off your head and neck into the toom, and the rest is absorbed by the shikibuton (Japanese futon.) Cotton is good for helping evaporate this moisture, but you will need to be able to clean the cover regularly. It also helps to lay out your futon on a tatami mat for more air circulation.
Flipping and Rotating: You may be able to flip and/or rotate your futon according to its type. Those with multiple fillings may only be able to be rotated. Check your futon to establish this. If there is only one type of filling, such as with our #4 and #5 it can be rotated and flipped.
Tatami Mat: A tatami mat is an essential part of a futon. A futon can be laid on a carpet, but laying it on a tatami mat is far healthier. It is light and breathable, and usually about 2 inches thick. Due to cool air settling to the floor, using a tatami mat can keep you cool on hot days. If the temperature is particularly hot, you can forget the Shikibuton and sleep directly on the cool tatami if you prefer. It is also believed to be good for your spine.
Futon Storage: Futons should be folded away each day and aired in the sun regularly to prevent mold from developing and also to keep the futon free of dust mites.
The information above offers some details on the various terms used relating to Japanese floor mattresses. It also explains the pros and cons of some of the best Japanese futons on the market, along with a buyer's guide to futons.
Best Japanese Floor Mattress (Shikibutons): Questions and Answers
Here are some questions Inside Bedroom has been asked regarding futons: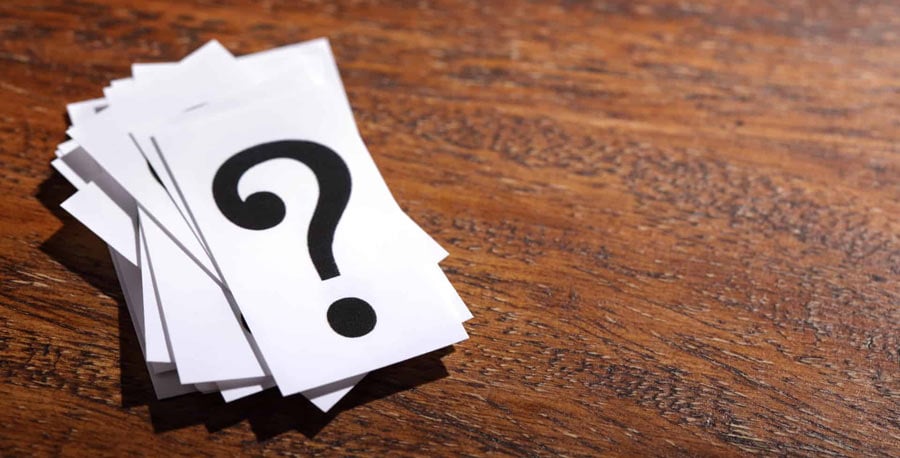 1. What is the best cover for a futon?
The best cover is a zippered cotton cover. The zipper allows the cover to be removed for easy cleaning. Unfortunately few shikibutons come with removable covers. That means that the cover can only be spot cleaned and that the whole futon may need to be replaced in event of accidents, bleeding, or any other serious contamination. There is one solution: some firms offer zippered covers on their futons, while others may sell separate covers that can be slipped over your futon for protection. These covers, usually cotton, can be machine cleaned and dried. Here's an example. It comes in five standard sizes abs can be machine cleaned and dried.
2. Can you get memory foam futons?
Yes, you can, but generally not 100% memory foam. Because this type of foam adapts to heat, it will compress with your body heat, and sink further with increased pressure. Because Shiki futons are fairly thin, 1.5 to 4 inches thick generally, memory foam tends to thin in such futons. Our #6 is an example of this: the 3" thick Colorful Mart Japanese futon, which has a memory foam top layer. Needless to say, this mattress cannot be flipped, but it can be rotated.
3. Do Japanese futons cause back pain?
No – not as much as soft foam mattresses that allow your joints to sink into them, particularly your spine. This can lead to serious back pain over time. Contrary to what most people think, a Japanese mattress, also known as a Japanese futon, Shiki futon, or Shikibuton) helps relieve back pain and some other pains. If you find your futon to be too firm for you, lay it on a tatami mat – our #7.
4. Why do the Japanese sleep on futon mats on the floor?
Traditionally, the Japanese have lived and slept in sparsely furnished homes. Samurai and other warriors would travel with a shikibuton on their backs rather than sleep on the ground. Japanese mattresses, or Shiki futons, provide a healthy sleeping surface in a warm climate as cold air sinks and hot air rises. A Japanese futon provides good air circulation and a high level of moisture/sweat evaporation from the sleeping body.
5. What's the difference between a Japanese mattress, a futon, and Shiki futon, and Japanese Shikibutons?
Fundamentally, there is no difference today. Traditionally, the futon is of two parts: the part you lie on (Shikibuton or Shiki futon) and the part you put over you (the blanket or today, the duvet) known as Kakebutons. Futon, Shiki futon, and Shikibuton today mean all the same thing.
6. What was a futon filled with before foam was available?
Usually, cotton was used as both the cover and the filling. However, some Shiki futons were filled with horsehair, reeds, and/or rice straw. Cotton and foams have largely replaced these, although they are still used in parts of Japan.
7. Why did the Japanese invent futons and not sleep on mattresses kike Westerners.
This is because the Japanese traditionally lived in one room. Their homes had just one room, and that living space had to be used for eating, living, and sleeping. Therefore, portable bedding was essential to make the best use of space. Futons were the ideal solution, and they could be rolled up and carried around the country.
8. How are traditional Shiki futons cleaned?
Futons are generally folded away daily and aired in the sun regularly to prevent mold from developing. Sunlight also helps to keep the futon free of dust mites. They were traditionally cleaned by beating them over a line with a stick. Today they can be spot cleaned, or fitted with removable covers. Some of the thinner futons can be machine washed and dried under the sun before fluffing them up.
Best Japanese Floor Mattress
Fuli Shiki Futon

D&D Futon Furniture

D&D Futon Furniture Foldable

EMOOR Original CLASSE Series

Luxton Home Shiki Futon

Colorful Mart Japanese Futon

Fuli Tatami Mattress
Best Japanese Floor Mattress
There is generally no such thing as the best Japanese floor mattress because different people take different views of futons. The USA has taken to using the term 'futon' for sofas that can be used as beds (sofa beds). The UK refers to them as bed settees. Many Japanese have westernized and sleep on regular beds, but many also sleep the old way – on Shikibutons laid out over tatami mats then folded or rolled up and put away each morning. Some even sleep on a tatami mat along with a comforter or duvet. As mentioned earlier, to the Japanese a futon is a full sleep system: the tatami mat, the Shikibuton, and the Kakebuton (duvet or comforter.) My selection of futons is closer to the traditional futons than the sofa beds of today.