Transparency Disclosure: We may receive a fee from the seller for any purchases made through links on this website or from other sites accessed via this website. This fee incurs no additional costs for the buyer. To learn more, please read our full disclosure page here. Read our Product Research and Testing page to know more about our review process in detail.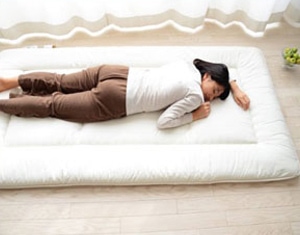 What do you do if you have more guests descending on you than beds? Or even Sofas? Where do they sleep? How about if you are visiting friends or relatives and have had more than just one too many drinks to drive? Where do you sleep if they have no spare beds? Easy!!
You Sleep on the Floor!!
Wow! Great idea, but what if you don't fancy the idea of sleeping on a hard floor – or if you have a bad back or any other medical problem that makes sleeping on the floor not the best idea? The answer is simple: get a cab!! OR:
Use a floor mattress: But not just any old floor mattress! You need to use a mattress that has been designed to lie on a floor rather than on a regular bed frame. Yep – there are such things, and these are what we are reviewing here.
Our Picks
If you're in a hurry check out our best recommendations:
Both mattresses are foldable, made of memory foam and would be a perfect choice. Also, check our comparison table below for the best 10 products.
In fact, some people prefer sleeping on the floor than on a bed. So what are the best floor mattresses in 2023 – and what is the best mattress for sleeping on the floor? Before answering that question let's look at why people want to sleep on the floor. It's not exactly the recommended place to sleep in your home – far from it. However, we shall assume that this is what you want to do, and try to answer the questions you may have.
Best Floor Mattresses Table of Contents
Why You Should Not Sleep on the Floor
First, why you should not sleep on the floor. It would be remiss of us not point these facts out to you before we recommend how best to do it!
Foam mattresses can grow mold on the side lying on the floor. In fact, any mattress can develop mold and even bacterial colonies if it is lying on an impervious floor surface and unable to breathe. Any moisture getting into your mattress from your breath or your sweat when in bed will tend to make its way down to the base of the mattress. This retained moisture can breed bacteria and molds and be a hazard to your health.
That said, if you use a floor mattress that has been designed and constructed to lie on a floor, then you should not have such issues. You can keep one or two of these in a cupboard for use by unexpected guests. You could also keep one in your car in case you are the unexpected guest – such as having one too many to drink! You never know when you might need an emergency bed!
Here are our best 10 mattresses for sleeping on the floor. These are the best floor mattresses for 2023.
Ranking
Brand
Type
Weight
Dimensions
Material
Price
#1
Milliard Memory Foam Tri-fold
⭐ Top Choice
Folding
24.8
T -F-Q
Memory Foam

View on Amazon

#2
Zinus Sleepmaster tri-fold
💰 Best Affordable
Folding
15.7
75" x 39" x 4"
Mem/v-elastic

View on Amazon

#3
American Furniture Folding Mattress
💡 Innovative
Folding
7.72
74" x 30" x 3.5"
Poly Foam

View on Amazon

#4
Lucid Sofa Mattress
👍 Good
Folding
28.1
T-TXL-Q
Mem-HD Base

View on Amazon

#5
Sproutwise Kids folding Pack n Play
Folding
7.5
38" x 25" x 2"
Natural Latex

View on Amazon

#6
D&D Futon Furniture - Japanese
Rolling
14
80" x 30" x 3"
Foam-PE-Cotton

View on Amazon

#7
Magshion Furniture - Tatami Floor Mat
Rolling
11
80" x 27" x 3"
Cotton batting/foam

View on Amazon

#8
D&D Futon Furniture - Tri Fold
Folding
8
75" x 27" x 3"
Polyester

View on Amazon

#9
Best Price Mattress - Tri Fold
Folding
12
75" x 33" x 4"
Mem /HD Latex

View on Amazon

#10
Magshion Futon Furniture Tri Fold Bed
Folding
11
S-F-T-Q
1.2 lb White Foam

View on Amazon
Dimensions guide:
S: Single
T: Twin
TXL: Twin extra large
F: Full
FXL: Full extra large
Q: Queen
Note: The weight of the mattress is included in the above table because folding and rolling mattresses are often carried by hand. Also, a lighter-weight mattress might not have the support of heavier alternatives – but it also may be smaller. Read our reviews below for this type of information.
1. Milliard 6-Inch Memory Foam Tri-Fold Mattress
This mattress enables you to sleep no matter where you are. You can unfold it in a tent, a van, a mobile home or on any floor in your home. Come morning, it is easily folded and stored away for when it is needed next. It's great for unexpected visitors or guests and also when traveling.
Memory foam provides a high level of comfort, particularly if you have arthritis or any other orthopedic issue. The Millard Memory Foam Tri-Fold Mattress is ventilated to keep you cool and is extremely comfortable to lie on. You certainly don't need a box spring support with this floor mattress!
The twin size folding floor mattress measures 38 x 26 x 18 inches when folded, and 78 x 38 x 6 inches when flat. It weighs 28.4 lb and so is fairly light to carry. The Queen size is 58" x 26" x 15" folded and when flat out is 78" x 58" x 6" – so folding also does not change the width of the mattress. The 6" of height provides an excellent level of comfort.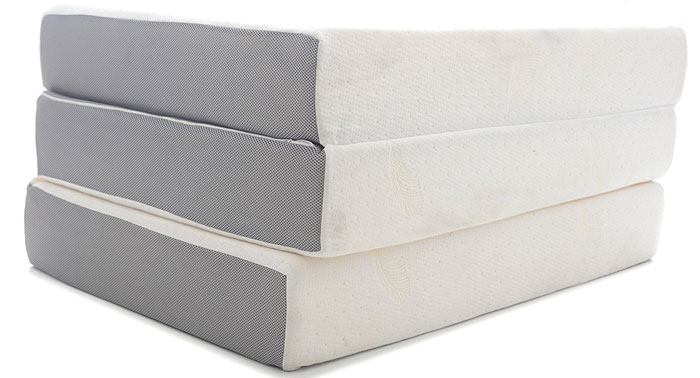 Pros
Gets 94% 4-5 star reviews.
The Millard tri-fold mattress can be used anywhere there is a flat, or nearly flat, surface. Indoors or outdoors, it provides a high level of comfort through its 6-inch depth of 3-pound memory foam.
This floor mattress is CertiPUR-US certified, meaning that it meets rigorous standards for emissions, content, performance, and durability. The certification tells you that it is manufactured without ozone depleters or any of the more environmentally hazardous fire-retardants. Among those, not used are RDCPP, PBDEs or TCOP.
It comes with a removable cover made from jacquard ultra-soft bamboo fiber that has a non-slip bottom.
Cons
Some of the few negative reviews refer to the mattress being too soft. Others refer to it, as being too hard. Can't satisfy everybody!
No other genuine cons. It should be understood that a floor mattress is designed to lie flat on a floor or any other flat surface. It is portable and either folds or rolled up. It cannot possible be compared with an 8-inch pocket spring mattress with memory foam.
Editor's Notes: This Millard tri-fold mattress is easy to transport and can be used on any flat surface. It is equally suitable for a standard bed base and a flat surface such as a floor, dry ground when camping or any other flat surface. Like all such mattresses do not expect total luxury, but it's a great unexpected guest bed or for a kids' sleepover.
2. Zinus Sleepmaster – Tri Fold
The Zinus Sleepmaster memory foam tri-fold mattress consists of a 1-inch layer of memory foam on top of 2-inches of Viscoelastic Responsive foam. These sit on a 1-inch layer of high-density support foam. This is a good combination which provides comfort on top with support below – just what you need!
This 4-inch thick mattress, fashioned totally with foam, is easy to roll up for traveling. You can use this twin-size mattress anywhere. Its design enables it to be used on a flat surface, such as the floor. In fact, most mattresses can be used on a floor – modern mattresses do not need a box spring base. They work perfectly well on the floor as on a solid bed base.
Pros
80% 4-5 star reviews.
Three distinctly different foam layers: memory foam, Viscolatex responsive form and high density support foam. These all combine perfectly to create a comfortable floor mattress.
The memory foam used (Biofoam) absorbs moisture and eliminates odors.
CertiPUR –US certified to make is safe for you and for the environment. More on CertiPUR later.
Cons
Available only in twin size.
Many of the 6% 1-star reviews related to the seams giving way, and generally relating to the sewing and construction of the mattress. The vast majority, however, had no issues.
Editors Notes: Available only in twin size – but who wants a king, or even a queen, in a mattress intended for floor sleeping or carrying around the country as a camp bed.
3. American Furniture Alliance Trifold Mattress
The American Furniture Alliance trifold mattress is made using a medium density poly foam and is intended for occasional use, camping and in dorm rooms. It is easy to bring out and unfold whenever you have visitors who are staying overnight – after parties and for sleepovers for example. It is also useful for tent camping and as a flat, comfortable surface for reading and gaming.
This is an exceptionally light folding mattress at just 7.72 Lb weight and comes with carrying straps for easy handling. The navy blue color might not suit everybody, but once it has a sheet on it, the color becomes irrelevant.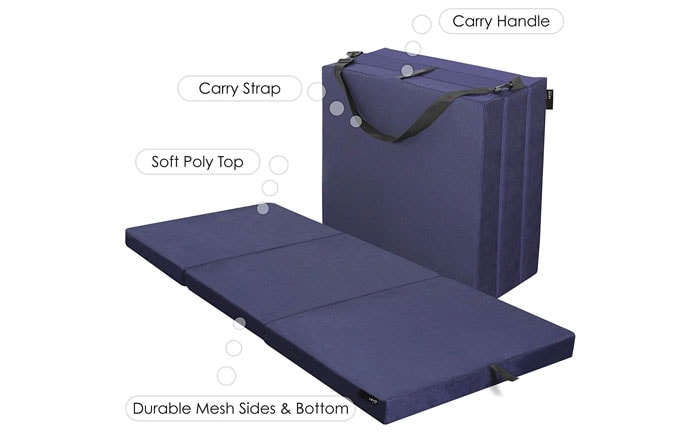 Pros
Portable, folding for easy storage and takes up minimum room in a trailer, spare bedroom or storage cupboard.
Light weight for easy handling.
Medium soft and breathable for a comfortable, cool sleep.
Is useful in many situations: as a mat for video games or yoga, camping, sleep-overs, temporary sleeping accommodation and many other uses where a comfortable base is needed.
Meets national flammability standards so you will be safe when you sleep.
Cons
Some buyers found this mattress too thin for their needs.
Some found the mattresses flattened after extended use.
Editor's Notes: This mattress is thin at 3.5 inches, but is still useful for occasional use. It is not intended as the main mattress for your bed, but as a floor mattress that will be used only occasionally. If accept that, then it is of good quality and it carries out its intended function well. You can be s afe taking this mattress camping or keeping it at home for unexpected overnight guests.
4. LUCID Sofa Mattress
The Lucid Sofa Mattress differs from the 4-inch folding mattress above in its design. You still get the comfort and the style, and can also use it when camping or on the floor of a trailer. Its construction separates you from the discomfort of most surfaces. It can be used outdoors and anywhere else there is a flat surface to sleep on. Simply place this floor mattress between you and that surface for a great night's sleep. It consists of a half-inch layer of gel-infused memory foam on 3.5 inches of high density base foam.
Unlike the Lucid 4" folding mattress, the sofa mattress doubles up as a sofa – as its name suggests. Some floor beds can also be used a chair – but this is a sofa when not used for sleeping. You don't need trundle beds, futons or even bunk beds for emergency sleeping accommodation if you have the Lucid Sofa Mattress.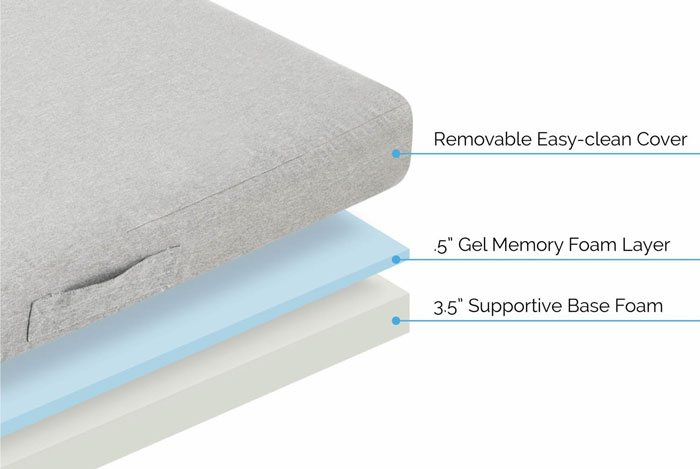 It comes in Twin, Twin XL, and Queen size. It doubles as a sofa-style floor chair to provide comfortable seating and a convenient guest mattress in one. It can easily sleep 2-3 children on a sleepover! Get one of these and you have no more excuses for not allowing sleepovers!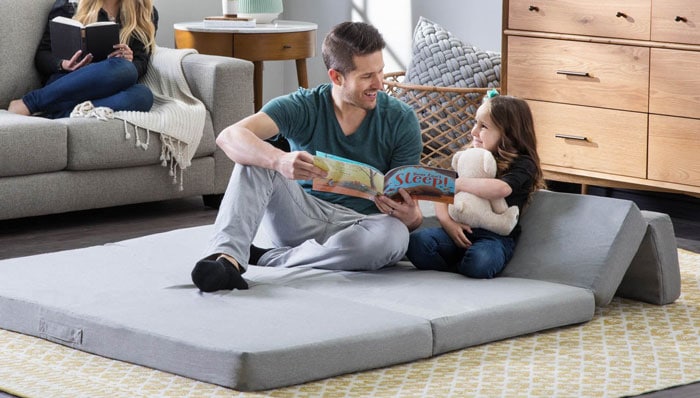 Pros
80% 4-5 star reviews
Durable indoor/outdoor cover
Machine washable
Removable zippered cover – also machine washable.
CertiPUR-US certified – so it's safe for you and your children.
Resistant to dust mites and other allergens.

Great for camping, cabins, playrooms and sleepovers. Sleepovers?
"Mom- Can Sally and July have a sleepover tonight?"
"No – No spare beds!"

None of that with a Lucid Sofa Mattress!
Cons
Just the usual complaints from a few buyers regarding lumpiness and seams splitting.
Some believe that this should be a main mattress. It is not – it is intended for floor use as a spare bed. And it meets that need very well.
Editor's Notes: If you are looking for a spare bed for occasional use, or even spare seating for a party or family get-together, then this is it! The Lucid Sofa Mattress is available in three sizes, and is a great option for your children. It does not cost a lot, and would make a great gift for your child who would like the occasional sleepover but doesn't have enough sleeping accommodation. It would also be a wonderful settee or couch for your family – one that can double up as a bed big enough to sleep three children or more!
5. Sproutwise Kids – Folding Pack n Play Mattress
Graco Pack n Play is a well respected brand that offers a number of playing and sleeping options for young children, from baby to toddler age. The Sproutwise Kids folding Pack n Play mattress is highly suitable for Graco cribs, but it is also good for traveling.
You can use this Sproutwise Kids folding Pack n Play mattress as a travel bed for babies and young children. After all, your Pack n Play folds up – so it makes sense to have a folding mattress to go with it. Apart from the crib, this folding mattress can be used on the floor by itself. Its dimensions are 38" long by 25" wide – so check the dimensions of your pack-n-play fold-up.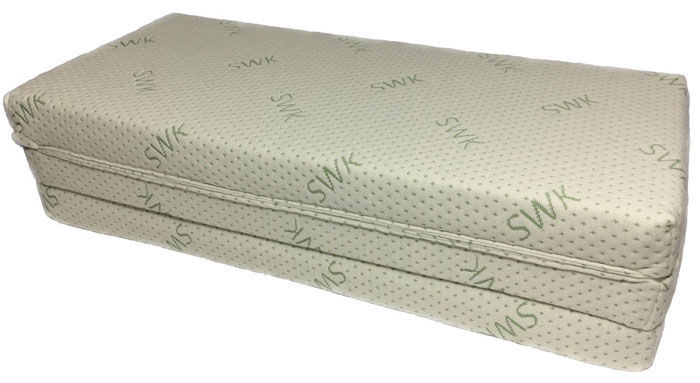 Pros
93% 4-5 star reviews.
Fits many Pack n Play cribs or bassinets – but check the dimensions.
Folds up for easy transportation.
Has a waterproof liner to keep the mattress itself clean.
Natural latex foam with soft zippered organic cover that is machine-washable.
Hypoallergenic and free from synthetic chemicals.
100% Money back guarantee.
Cons
Some complain about the weight – yet it is only 7.65 lb.
One or two complaints out of over 160 reviews regarding odor.
Editor's Notes: Note that this mattress is for children of at least 6 months of age. Otherwise, it appears to be a good solution if you are looking for a foldable mattress for your child – particularly if you use Graco Pack n Play products. Even you have never heard of Graco, the Sproutwise Kids Pack n Play Folding Mattress is an excellent choice of mattress for your children when traveling. You can use it in a caravan or trailer, in a holiday home and even on your own floor.
6. D&D Futon Furniture – Japanese
This floor bed from D&D Futon Furniture is a traditional Japanese futon. It is filled with a layer of foam, a layer of polyester and a layer of white cotton. It lays flat on the floor and can be rolled up for storage after use. Futons are not true mattresses, but they offer a good solution to a quick need for a bed. Its 3-inch thickness offers a good level of comfort while sleeping.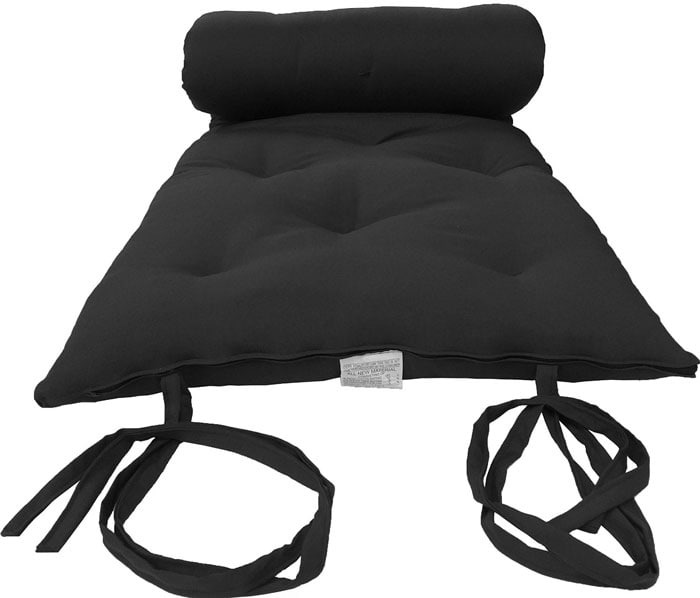 Pros
86% 4-5 star reviews
Filled with white cotton, a layer of polyester fiber and a layer of foam.
Meets flame retardant standards.
Convenient and easily laid down then rolled up again each morning.
Can be used in any situation where a bed is needed, or even a soft surface for children to play on.
Excellent as an exercise mat or for yoga.
Can be used in any room in your home.
Cons
The cover is black polyester and cannot be removed. Any stains will have to be rubbed off rather than washed.
No support for heavier people and not recommended for those with orthopedic issues.
Editor's Notes: This is not a tradition mattress. It is a futon, which is a relatively thin sleeping surface. It is great in an emergency, and at 3-inches thick this is not the thinnest futon around. It's good for what it is described as: an emergency sleeping surface and is easy to carry or transport in your car. It could be a bit heavy for manual carrying at 14 lb, although its weight indicates the density of the 3" thick foam.
7. Magshion Furniture – Tatami Floor Mat
Thais Tatami floor mat is made to order by Magshion Furniture in Chino, California. It is a single size (80" x 27" x 3") and rolls up for easy storage or transport. The mat comes with ties to keep the mattress secure when rolled up. It is filled with cotton batting with a 0.5" layer of foam in the middle. The cover is 100% polyester and can be spot washed only.
This mattress is versatile, and can be use as a spare emergency bed, for relaxing on during the day, for occasional naps or even as your main bed if you prefer futon-style sleeping. It seems a bit thin at 3 inches, although it gets 86% top ratings.
Pros
86% 4-5 star ratings.
Made to order in the US.
Rolls up easily and takes up little storage space.
Great for occasional use for unexpected guests or sleepovers
Cons
Some of the low ratings refer to it as being too thin, and not the 3-inches advertised. However, they were very few.
Otherwise, this is an excellent example of a rolling floor mattress.
Editor's Notes: This appears to be a good example of a rollup floor mattress. The vast majority who liked it found it comfortable. It can also be used as a premium mattress topper. A few who found it too thin for their liking found it excellent when placed on another futon mat. It is a good all-purpose roll-up mattress.
8. D&D Futon Furniture – Tri Fold
The D&D Trifold Futon is also known as a shikibuton. You can use it on any floor in your home, patio, trailer, mobile home, and even outside on a dry, warm night. If you have just a narrow space to sleep in, then the D&D tri-fold futon would be ideal. It is just 27" wide. It is also 75" long, enough for most tall people, and 3" thick. It is made from 100% polyester.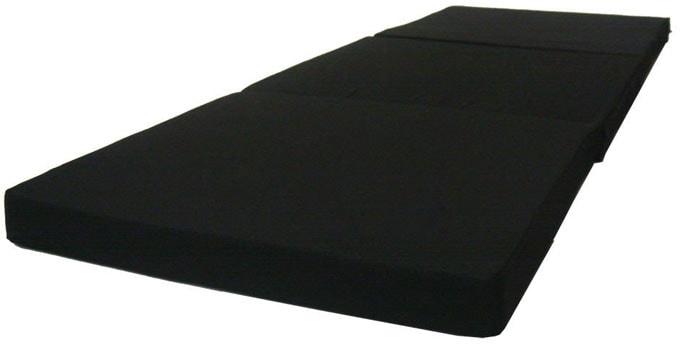 Pros
86% 45 star reviews.
Can be used on any floor surface.
Can also be used on a regular bed support.
Highly portable, taking up little storage space.
Ideal as an emergency spare bed for unexpected gusts – or even for expected guests!
Suitable for most people from children to their grandparents.
Cons
Some complaints about comfort and the high foam density.
Other complaints about softness – so seems to be either a consistency issue, or, more likely, differences of opinion and expectancy of the feel of the foam.
Just 28 negative comments out of 348 total.
Editor's Notes: This seems to be an excellent spare bed solution for people with limited bedrooms. The D&D Trifold Futon can be used on any surface, including a hard floor, the floor in a trailer, caravan, tent or even in your yard or a pickup truck on a warm night. Most futons are suitable for such uses, this being particularly suitable because it is a trifold with intrinsically higher density than a rollup.
9. Best Price Mattress – Tri Fold
This Best Price tri-fold mattress is made using a 1.5" layer of memory foam on a 2.5" layer of high density base foam. The memory foam is infused with ActivFRESH charcoal to absorb odors and keep this floor mattress fresh. It also comes with a black carry and storage bag to keep out dust when not in use. The mattress is protected with a zippered poly-Jacquard cover that can be removed and machine washed. It is great for floors, camping, sleepovers, and unexpected guests. Folded dimensions are 25″ x 33″ x 12″.
The Best Price tri-fold mattress is also certified to CertiPUR-US standards. This means that it is environmentally friendly and does not contain ozone depleters, dangerous types of flame retardant, phthalates or toxic heavy metals. CertiPUR-US certified polyurethane foams also contain low levels of volatile organic compounds (VOCs) – below 0.5 parts per million (below 0.00005%).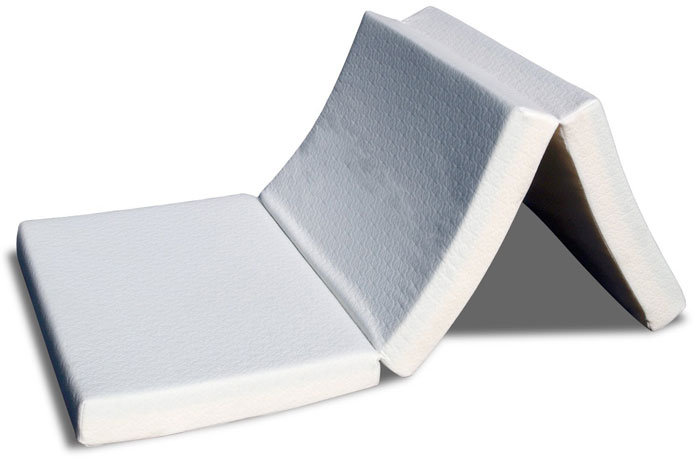 Pros
95% 4-5 star reviews
5" layer of memory foam for those that like it.
CertiPUR-US certified.
Storage/carry bag
Zippered protective cover with slip-proof bottom.
Cons
Very few:
One complaint from 100 users about lack of support.
One complaint re chemical odor.
The fact that there were only 4 people in all who gave it 1-2 star ratings is testament to its quality, rather than its faults.
Editor's Comments: This is a highly rated folding mattress suitable for a number of uses. In addition to being a good floor and camping mattress, it can also be used as a regular mattress topper. The 1.5 inches of memory foam give a small experience of the memory foam action. The Best Price tri-fold mattress can be used on any flat surface for futon-style sleeping or as an emergency bed to be brought out when needed. Its machine-washable cover and storage bag keep it clean until needed.
10. Magshion Futon Furniture – Tri Fold Bed
This floor mattress can be used anywhere. You can use it in a trailer, in a tent, in your home, or anywhere else you need to lay your head down. You can fold it up and keep it in your closet, or you can keep it in your car wherever you go.
The Magshion Futon Furniture Tri Fold Bed is available in Single, Twin, Full or Queen size. The single is popular, with dimensions of 75" x 27" x 4". In chair formation, it is 25 inches long, 27 wide and 12 high.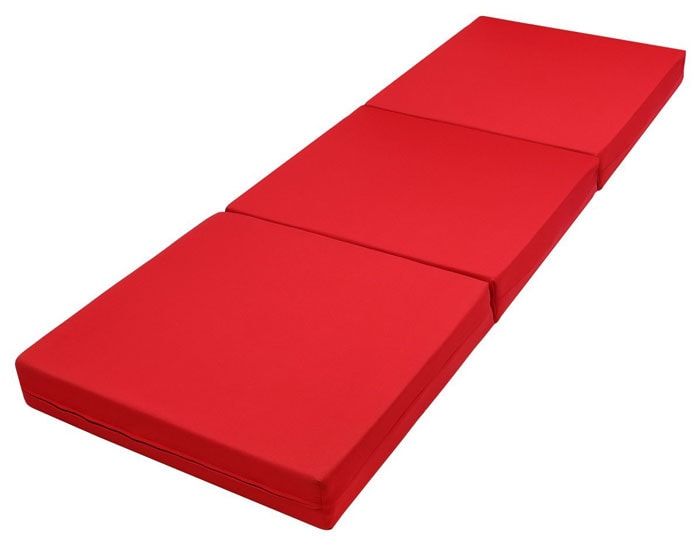 Pros
87% 4-5 star reviews.
Can be used anywhere as a bed or a chair.
Made from 1.2 Lb density white foam
Made in USA
Cons
Most complaints referred to it being too hard, so if you like a firm surface to lie or sleep on then this is it!
Otherwise, what more do you want for the price you pay for it?
Editor's Note: This is an excellent futon for the price – and it doubles as a chair. You can use it to make the most effective use possible of your living space. If you have little room in your apartment or bedsit, this can double for seating and sleeping accommodation. It has multiple uses in multiple rooms – or in a tent, trailer or patio.
It should be noted that these 10 have been chosen from dozens reviewed. A rating of 10 on our list does not mean that the mattress is bad. On the contrary, it means that it is still a wonderful mattress. It takes a lot to reach our top 10!
Best Floor Mattresses: Buyer's Guide
People normally place their mattresses on a platform or base at around about sitting height. This keeps their mattress off the floor when they are sleeping, and also easy to crawl into at night. People have their own reasons for sleeping off the floor: creepy crawlies, dust, mold spores, easier to stand up from a sitting position and so on.
Others like the idea of sleeping on the floor. Others do so only when camping or traveling in a van. You can pack a lot of stuff into a van when on vacation, but taking your bed with you is a bit of a stretch! However, if you have a folding bed or a rolling bed then life is a lot easier. It beats having to find a motel or guest house when traveling.
Let's say you like the idea and set out to buy a floor mattress. What should you be looking for? Here is our guide to choosing a folding mattress or one that rolls up for traveling.
Folding or Rolling?
First, do you want a folding mattress or a rolling mattress? Both can be comfortable, are both are easily transportable and can be stored away in a cupboard when not in use. Try that with a regular mattress! It is just not feasible to store a regular mattress away for incidental use. Let's look at both – most of the comments below apply to both folding and rolling mattresses.
Dimensions of Floor Mattresses
The first decision to make is what size of mattress you want. Much depends on its ultimate use. If it is to be used by just one person then a single would be good. An average of 75" long and about 27" – 35" wide would do for a single person. The narrower the better for camping and a lot would depend on the space available to you.
Rolling mattresses are usually singles, although it is possible to find a rollup mattress suitable for a couple. The problem with both types of mattress is that they retain their width when ready for storage or transport. We cannot offer any guidance here, because the size of a mattress is a personal choice.
The Best Price Tri Fold Mattress is 75" x 33" x 4" for sleeping, while when folded it measures 25" x 33" x 12". This retains its width when folded. The Millard 6" memory foam queen size folding mattress measures 78" x 58" x 6" when flat and 26" x 58" x 18" inches when folded. So folding mattresses retain their width when carried just as rolling mattresses do.
Floor Mattress Thickness
Generally, the thicker the better! However, there is a limit, particularly for rolling mattresses. Folding mattress commonly come in 4-inch, 6-inch, and 8-inch thicknesses. The thicker it is, the more comfortable you would expect a mattress to be – but also the heavier and the pricier.
The thicker the mattress, the more foam, and also the capacity to consist of multiple types of foam. For example, a thicker mattress can consist of a reasonable depth of memory foam on top of a good thickness of the high-density base foam. The heavier your weight, then the thicker the folding mattress you should consider.
It is a good idea to offset the cost of a thicker mattress against its longer life. The thicker the mattress the longer it will last – in addition to being more comfortable. The choice is yours to take, but it is also there for you to make if you wish.
A thicker mattress will more than likely cost more than a thinner equivalent.
You can weigh the cost of a thicker mattress against its benefits, and consider what the mattress will be used for and how often it will be used. An 8-inch folding mattress will likely be higher quality and last longer than a 4-inch folding mattress.
With rolling mattresses, you may not have as much choice of thickness, since mats must be thin in order for them to be rolled. That's why many people prefer tri-fold mattresses to rolling mattresses. However, rolling mattresses and futons also have their advocates. They are easy to roll up and put in a car trunk or a van.
Type of Mattress Foam
Most folding mattresses are filled with foam. Many rolling mattresses are also foam, but just as many are made from cotton or some other type of filling. The best folding mattresses contain memory foam. This conforms to your natural body shape, which is best for support if you have an orthopedic problem. Lower-prices mattresses are made using latex or normal polyurethane foam.
Memory foam is denser than normal polyurethane foam and many people find it better for sleeping on. However, you also need a layer of high-density latex foam as a base. This is denser than memory foam and provides good overall support. You may sink too far into a 6-inch mattress all of the memory foam. Half and half would be better: 50% memory foam for comfort and 50% high density foam for overall support.
Rolling mattresses sometimes use foam and sometimes cotton batting – some, such as the Magshion Tatami Floor Mat contains cotton batting with a half-inch of foam in the middle of the 3" thick mat. The D&D futon contains a layer each of polyester fiber, cotton, and foam in its 3 inches. This type of structure combines comfort with insulation.
Check the Mattress Cover
The cover of any mattress is important. The cover protects the important part of the mattress – the inside. It also helps keep it clean and free from contamination. All mattresses are subject to attack by bedbugs, and also tend to contain a lot of human skin along with the dust mites that feed on it. The cover helps prevent this along with the allergic reactions that dust can lead to – and it protects the mattress from molds.
Some of the best mattresses have removable covers that can be unzipped for washing. Others are fixed permanently. A removable cover is best. Waterproof covers are good for the kids when little accidents can happen. They are also good for camping when the mattress can get wet. Also, keep in mind that such mattresses are often slept on without sheets between you and the mattress. That means the cover must be comfortable enough to lie on unless you intend using a sheet or a mattress topper.
Mattress Transportation
You will likely be transporting your folding or rolling mattress. That's one of their main attractions: you can fold or roll them and take them with you. Some folding mattresses are easy to transport while others are not. Keep that in mind when buying one.
Check the way it folds and what its dimensions are when folded. Keep in mind that a tri-fold mattress will treble its thickness when folded, the length will be reduced by up a third of the original but the width will stay the same. So the mattress will be shorter but will be bulkier in thickness. So, where you might get a thin mattress into your space, you won't necessarily be able to fit a tri-fold there.
With a rolling mattress, its width will be the largest dimension when rolled up. The diameter of the roll will depend on the thickness of the mattress and also its length – the longer it is, the more layers in the roll.
Floor Mattress FAQs: Frequently Asked Questions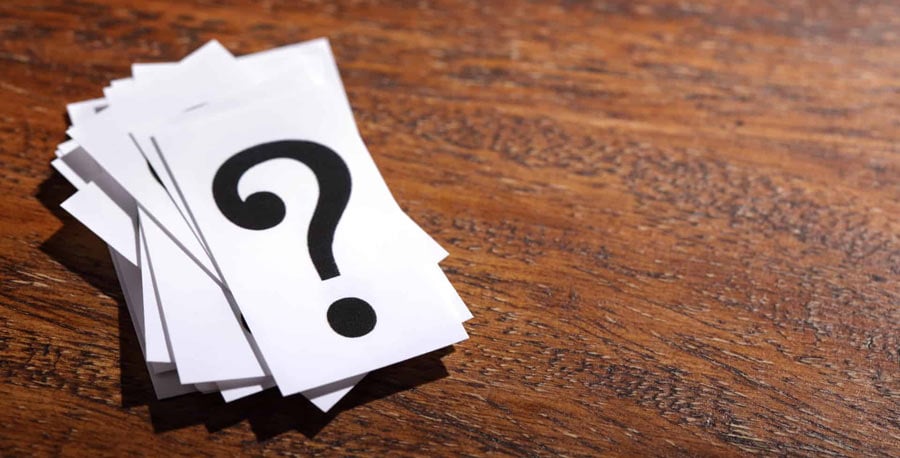 Here are some of the questions we have been frequently asked about futons and floor mattresses.
1. What's the difference between a futon and a floor mattress?
A futon can be described as a floor mattress, but not all floor mattresses are futons. There are folding mattresses that fold out into a mattress specifically for use on a floor or other flat surface. Technically, any mattress can be used on a floor, although those designed for that function are more suitable. They may have a non-slip bottom, and may also be impervious to fluids and dust. A futon is a flat mat that can be rolled up when not in use.
2. You Mention Weight in Your List – Why?
As we explained in the text immediately under the list, floor mattresses have to be manually carried. Their weight could be important to many people, particularly those unable to lift heavyweights. For some people, even over 20 pounds is heavy. However, that's not the only reason. The weight of a mattress can signify its quality. A heavier mattress will be bulkier than a lighter one. That means it will probably offer better support than a lighter floor mattress.
3. Can I use a futon on my box spring base?
Why would you want to? If you mean, can you save money by purchasing a floor mattress and using that on your base then possibly! Definitely not advised for a futon. That's because many believe that a futon should be used only on a slatted bed or futon frame. That's to avoid mold forming on the base and getting into the insides. However, we see no issue with a futon on a flat floor – if you do so only for a day or so before taking it up and cleaning the bottom.
4. Do I have to rotate or flip my floor mattress?
Possibly. Floor mattresses can be flipped unless they have a special coating on the bottom to prevent from slipping. Check the mattress, and if it is the same both sides then maybe. We recommend you ask your mattress supplier this question. As for rotating the bottom to the top – sure, why not? There is no specified bottom and top for a floor mattress.
5. What if I buy a floor mattress and don't like it?
Always check your warranty before buying anything. Amazon has a link somewhere down the right-hand side of any listing that refers to the warranty. Other third-party sites usually have the same. You could check the website of the manufacturer and see what they say. Apart from any warranty on websites, you still have the legal guarantee that comes with any goods you purchase that are faulty. If you just don't like it? Check with the seller!
6. What if I buy a mattress and don't like it?
Before you buy you should check the warranty details. You may have to refer to the manufacturer, although the vendor may have its own policy regarding returns. Some offer a period of time to decide if you want to keep it. One example is our #1 rated Aviya Mattress 100 night 'Sleep Perfect' guarantee. If you don't like it after 100 nights on it, then you can return it.
7. Why should I not buy my mattress from my local store?
Why not indeed! There is no reason at all apart from:

– Online gives you a huge choice of manufacturers and retailers.
– You can get a much larger choice of options on a site such as Amazon.
– Usually you will find you can buy a product at a lower cost online than from a mall store.
– Some people check out an item in their local store – then purchase cheaper from Amazon.

You could purchase a floor mattress from your local store if it stocks them. However, stores tend to have their preferred products and you are very unlikely to get the same choice.
8. Are floor mattresses good for a bounce at all?
No! Floor mattresses are recommended as emergency beds or for use when traveling. Some like futons, but for bed-rime activities, you cannot beat a good open coil or continuous coil spring mattress.
9. If you were to buy a floor mattress from your list, which would it be?
That's not relevant surely. My choice may not suit you. However, I may choose three:

– #1 because it's our #1 choice and also because it combines a good hard base foam with a top memory foam layer – and I like memory foam.
– #5 because it's the best possible floor mattress for kids that we have found – and it has a waterproof liner and a zippered machine-washable cover.
– #4 because it is a rolling mattress and my first choice is foldable. So I would have one of each plus a really excellent child's floor mattress.

These are my choices that I made for three good reasons. If you all make your own choices in the same way, then you will also have the best floor mattress 2023 to suit your personal needs. You may have three like me or just the one that suits you best. That's why we have presented our 10 best to you.
Best Floor Mattress – Conclusion
The best floor mattress of 2023 to you is the one you choose! You can use our list or our Buyer's Guide to assist you in your choice, but ultimately that choice is yours. You can base it on price, type (folding or rolling) or how it is constructed.
However, the best way to choose a floor mattress is to use the factors that are most important to you. These may be related to dimensions when flat and made ready for transport or storage, to the way the mattress is constructed or what you are using it for. Choose what is most important to you, and check out what is available that meets your criteria. Compare your short-list and then select the one you like best. Job done!
Milliard Memory Foam Tri-fold Mattress

Zinus Sleepmaster memory foam tri-fold

American Furniture Alliance Trifold Mattress

Lucid Sofa Mattress

Sproutwise Kids folding Pack n Play

D&D Futon Furniture - Japanese

Magshion Furniture - Tatami Floor Mat

D&D Futon Furniture - Tri Fold

Best Price Mattress - Tri Fold

Magshion Futon Furniture Tri Fold Bed
Summary
We can help with that with our list of the 10 best floor mattresses. We have checked them over, searched for comments and reviews and have finally come up with this list. There might be others, but these are what we have decided to include in our list. Right up to #10 they are all great floor mattresses or futons, and every one of these will serve you well.