Transparency Disclosure: We may receive a fee from the seller for any purchases made through links on this website or from other sites accessed via this website. This fee incurs no additional costs for the buyer. To learn more, please read our full disclosure page here. Read our Product Research and Testing page to know more about our review process in detail.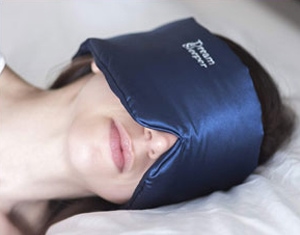 Many people find it difficult to sleep without some form of sleeping aid such as white noise, soft music or even medication. Others have found that eye masks, or sleep masks, work for them, and do so with no side effects. Our best rated sleep masks work by blocking out light and people with migraines often find them to relieve the intense pain.
Each of the eye masks we recommend is different, and you consider carefully why you are buying one. If you sleep in a room where there is lots of light you cannot control, or you need a sleep mask for an overnight flight or simply to sit back and relax with your eyes protected from ambient light, you are sure to find a suitable eye mask here.
8 Best Eye Masks and Sleep Masks for Sleeping
Table of Content
1. Dream Sleeper Sleep Mask: Best for Side Sleepers
The Dream Sleeper sleep mask is ideal for you if even the slightest light tends to prevent you from sleeping. It will block out all light, even around your nose, and is ideal for traveling, napping during the day or even sleeping if you work at nights. It can be fully adjusted with the Velcro closure and is suitable for both back sleepers and side sleepers.
This is a larger mask that fits around the top of your nose but does not cover it. If you have any allergies, this eye mask is hypoallergenic and free from latex. The Velcro enclosure can be adjusted for tightness and head size and it is a very comfortable sleep mask to wear. And guess what! If you lose your mask anywhere the company will replace it without charge, other than for shipping and handling.
Pros
Blocks out 100% of light.
One of the best eye masks for sleeping, traveling or just napping for a while in the afternoon.
Fully adjustable fitting for any size of head.
Stay in place throughout the night, so no waking up with hanging off your head.
Replaced free of charge if lost.
Cons
Dye may tend to bleed.
No refund warranty – only free replacement.
Editor's Notes The Dream Sleeper is one of the best sleeping masks on the market. However, there have been a few complaints regarding the blue dye bleeding onto the pillow or even the wearer's face, and the warranty cover replacement only, with no mention of a refund. Nevertheless, its effectiveness in excluding light and helping you get to sleep quicker and easier is well worth its top position in our review.
Purchase This Eye Mask on Amazon
2. Bedtime Bliss Sleep Mask with Ear Plug Set: Best Sleep Mask in General
This sleeping mask is comfortable to wear and good for travel and shift work. It comes with a Moldex ear-plug set and a carry pouch for the eye mask and the ear-plugs. It is available in two blacks and three colors, and is perfect for shift work and travel – and perhaps also for meditation.
You can use this eye mask to get to sleep at night or in the morning if you do shift work. Your partner may want his or her bed light on to read, while all you want is to get to sleep! Simply put on your Bedtime Bliss sleep mask and put in the ear-plugs, and you will see nothing and hear nothing. This will enable you to get sleep whenever you wish. The outside of the mask is polyester while the inside is polyurethane, and it is contoured to fit your face so there is no pressure on your eyes. Here are some of the benefits of the Bedtime Bliss Sleep Mask.
Pros
Comes with Moldex ear-plugs to eliminate noise as well as light.
Suitable for men, women, and children.
Suitable for use with Continuous Positive Airway Pressure (CPAP) equipment.
Molded to fit your face and eliminate spaces where light may get through.
OEKO-Tex certified fabrics.
Adjustable straps helps it fit all head sizes.
Suitable for all sleeping positions.
Available in black, jet black and three colors.
Return for a full refund if not satisfied.
Cons
The velcro straps may be a bit too large for those with smaller head sizes.
No other issues that we could find, and this eye mask deserves its position in our best sleeping mask reviews.
Editor's Notes The bedtime Bliss sleep mask is comfortable to wear and keeps out light. The provision of ear-plugs is a nice touch, because you can then also sleep undisturbed by any noise around you such as a TV or radio.
Purchase This Eye Mask on Amazon
3. FOMI Care Ice Eye Mask: Best Ice-Cooled Eye Mask
The FOMI Care Ice eye mask is constructed to hold a pack of medical grade gel beads that can be frozen or chilled to your desired temperature. The cover is flexible PVC, and a gel pack can flex with it. The flexibility of the eye mask and gel pack allow it to conform to the area around your eyes and sinus to cool the entire area. Cold therapy is good for relieving tension, pain, and puffy eyes. However, don't freeze the gel, just chill it. According to the Mayo Clinic, the effect of ice on burns likely won't have a positive effect. This would include frozen gel in an eye mask.
The eye mask can be used to help relieve muscular or joint pain on any area of your body, such as the legs, arms, wrist, elbow, knee, shoulders and back. It is great for relieving stress, muscle pain, sinusitis, fever, stiffness, headaches, migraine or arthritis You can also use a sealed bag of ice or hot water for heat therapy.
If you have puffy, tired-looking eyes, a FOMI Gel Bead eye mask should soon have back looking youthful and refreshed. The mask is double-sided with a plush fabric backing on one side and a PVC cover on the other for more intimate contact with your skin. Avoid use on any areas of skin that are sensitive to the cold. It is suitable for sleeping with, travel, yoga, meditation or simply for blocking out the light as you lie back on the sofa for some relaxation.
Pros
Suitable for cold therapy of various kinds. Do not use to treat new burns because it may lead to frostbite on your damaged skin.
Helps relieve stress, headaches, migraines, and fevers.
Great for keeping out light while sleeping, napping or just relaxing.
Remains flexible when cold.
One size fits all Velcro straps.
Cons
No warranty or returns information available, but it will likely be subject to Amazon's standard policy.
No other issues we could find when trying the mask out.
Editor's Notes The FOMI Care Ice eye mask is an excellent choice for those who suffer headaches, migraines, stress or even arthritis and joint pain. It uses cold gel rather than the usual ice, and a good majority of those who use it comment on the fact. It's not for everybody of course, but the cost is minimal and so worth trying if you suffer from chronic head pains (headache or migraine), or even pain in your joints – wrists, ankles, elbows or knees.
Purchase This Eye Mask on Amazon
4. Jersey Slumber 100% Silk Sleep Mask: Best Silk Eye Mask
The Jersey Slumber Mulberry silk sleep mask is 100% silk, a major reason for it being included with our best rated eye masks. It is extremely soft and comfortable to sleep with and blocks out light that can keep you awake. It may not be our choice as the best eye mask for sleeping, but it is the best sleeping mask we have found that is made from pure silk. Because it is silk, it is extremely lightweight and enables your eyes and skin to feel comfortable when wearing it.
This eye mask will enable you to get a full night's sleep. and improve your energy levels, your mood and your ability to think over the coming day. You can wear it whenever you want to protect your eyes from the light, or sleep without light keeping you awake. At home, in a hotel, while traveling by plane, train or in the back of a car during a long journey. It's even useful while camping when many people find it difficult to sleep.
Pros
100% silk means the eye mask is soft and comfortable to wear.
Great for insomnia and migraine sufferers, and dry-eye due to the passage of oxygen through the mask that silk allows.
Improves REM sleep and helps your eyes to relax during the night.
Minimal pressure on your eyelashes and eyes enables you to blink freely.
The strap is completely adjustable to fit your head and face.
Many have found they can sleep easier without pills or sleeping supplements when they wear this sleeping mask.
Hypoallergenic.
Cons
It can be returned if you don't like it, but returns are charged at a minimum of $5.
Otherwise, we could find no issues.
Editor's Notes This sleeping mask does what most other best rated eye masks do, but is made with pure 100% silk. It is soft and silky to the touch and comfortable to wear. It does not press on your eyes or lashes, and you can blink naturally when wearing it. It is highly breathable, keeping dry air out of your eye space while allowing oxygen in. If you suffer from dry-eye, migraines or insomnia, then is a good choice for you.
Purchase This Eye Mask on Amazon
5. Dream Essentials Sweet Dreams
The Dream Essential Sweat Dreams sleep mask is another eye mask that comes with free Moldex ear-plugs. The mask is of simple, plain design with a carrying pouch to store it while traveling. As with those above, the strap is adjustable and it features concave eye pockets for comfort while in use. Also, like those above, it blocks out light to give you a good night's sleep. It useful for shift workers, those whose partners like to watch TV or read before going to sleep, and is also good for daytime naps and meditation.
The concave eye pocket design of this sleep mask ensures that the mask is not close to your eyes, and is clear of your eyelashes, so you can blink as normal and air can freely circulate around your eyes. This eye mask is good for side sleepers as well as back and front sleepers. The straps are adjustable.
Pros
The concave design around the eyes ensures that you can blink easily and that fresh air can circulate around your eyes.
The ear-plugs ensure that you can eliminate sound if you wish to. Some people lIke falling asleep to white noise or soothing music, and you can so with these if you don't use the ear-plugs but they are available if you prefer no sound at all.
Lightweight, so you will hardly know you are wearing them.
Washable.
Easy to carry while traveling.
Easy to return if you don't like them.
Cons
Some found it did not last for as long as they hoped it would. However, we found that if used properly, with care and attention, then they do last.
Otherwise, this eye mask deserves its place in our top sleep mask reviews.
Editor's Notes The Dream Essentials Sweet Dreams is one of the best eye masks for sleeping we have found. It is not quite the best, but not far from it. We didn't find any genuine issues other than that some users have reported it to be fragile and easily broken. Our opinion is that they will last if treated gently and with care.
Purchase This Eye Mask on Amazon
6. Alaska Bear Natural Silk Sleep Mask
This is another pure natural silk sleep mask that thoroughly deserves its place in our best sleeping mask review. It has 100% natural mulberry silk on both sides of the sleep mask. This super-soft pure silk is a joy to wear and provides you with a high level of cool relaxation and protection of your eyes from the light. It fits easily if you wear ear-plugs, and is good if you use a CPAP facial mask for sleep apnea. The adjustable strap has a plastic adjuster at the back that can adjust the strap from 15.8 inches to 27.6 inches.
The mask is suitable for men, women, and children and for all sleeping positions. It should be kept out of direct sunlight and hot water if you want maximum life from it. The strap is made from nylon elastic, free from latex.
Pros
Suitable for all sleeping positions.
Adjustable strap for a perfect fit.
Can be washed by hand in cool water – but avoid hot water, fabric softener or bleach.
Available in 29 different colors and patterns inspired by Van Gogh.
Lifetime warranty
If you don't like it, return it for a replacement or a full refund.
Cons
The fitting band could be broader.
Other than that, we could find no faults with this face mask.
Editor's Notes The Alaska Bear eye mask is available in a wide range of colors and designs, and can be used effectively in all sleeping positions. The pure mulberry silk is extremely smooth and offers excellent light elimination. Ideal for travel or naps in the afternoon. This sleep mask eliminates all light, and is ideal if you have a partner that watches TV late at night or even prefers to read while you try to sleep!
Purchase This Eye Mask on Amazon
7. PUREFLY Sleep Mask Natural Silk Eye Mask
Like the Alaska Bear sleeping mask above, the Purefly sleep mask has a single narrow, adjustable fitting band. It could be broader, particularly when used with Continuous Positive Airway Pressure (CPAP) equipment which can be used with this eye mask. Unlike some others we have tested, the clasps are designed not to dig into your head. A carrying case comes with it for easy carrying.
If you like meditating, then the Purefly sleeping mask enables you to so at any time, day or night. It will provide you with perfect darkness for meditation or sleep.
Pros
Light weight and soft for comfort while trying to sleep. It's so light you would hardly notice you were wearing it.
Ergonomically designed to avoid pressure on your eyes and allow a comfortable sleep even in a brightly lit room.
Hypoallergenic.
Suitable for sensitive skin.
Great for sleeping in lit rooms, in hospital with ambient lighting and for those that work nights and sleep during daylight hours.
Can be hand washed with a mild shampoo, then rinsed and hung to dry in a cool place – not in bright sunlight.
Can be steam ironed at below 110 degrees F.
Comes with a free storage bag.
Cons
We found no negatives. This does not infer that none would appear were we to use it extensively over a period of months or even weeks.
Editor's Notes The Purefly sleep mask is very similar to those above in that it is made from mulberry silk, is very smooth to the touch and comfortable to wear. It is very effective at eliminating light and is easy to keep clean. We advise that it be washed at least monthly, though it should stay clean if you store it in the carry bag provided when not in use.
Purchase This Eye Mask on Amazon
8. Lewis N. Clark Comfort Eye Mask
The Lewis N. Clark Comfort Eye Mask is our #1 choice sleep mask for travel. To their small size, of course, most eye masks are suitable for travel. However, what makes the Lewis N. Clark product particularly travel-friendly is the 15 denier ripstop nylon it is made from. This neither tears easily nor loses its shape when packed. It is breathable and the curved nose and piped edges completely block out light. The strap is adjustable between 16 and 28 inches making it suitable for men, women, and children.
It provides total darkness irrespective of the lighting conditions: bright sunshine, aircraft or in your home. It can be used for meditation, yoga, sleeping during the day, in a hospital or any location when you want to sleep but others don't. It is pillow-soft to wear and kind to your hair.
Pros
Total light blocking, with a small ridge at the bottom preventing light getting in from the cheekbones.
One size fits all.
Soft and soothing against the eyes.
Suitable for use when traveling and anywhere you want to sleep or rest your eyes.
Helps you sleep during the day, and in any bright lighting conditions.
Good for insomnia, dry eye, migraines and works with CPAP masks.
The rip-stop nylon is very durable and hand washable.
Eye-side is soft, plush cotton that avoids pressure on your eyes.
Cons
We could find no issues with this sleep mask, although a few users have given negative reviews due to dye seeping into their pillows.
Editor's Notes We have found the Lewis N. Clark Comfort Eye Mask to be an excellent travel sleep mask. It performed well during trialing and was extremely comfortable to wear. You can adjust the headband to make sure they don't slip when you move around in bed, and they are suitable for back, side and stomach sleepers. This sleep mask has been recently redesigned for some reason, and the new design does not seem as good as the old. Had it been this eye mask would have been at the top at our list.
Purchase This Eye Mask on Amazon
Buyer's Guide to Eye Masks For Sleeping
Eye masks, also known as sleep masks, are used for more than just sleeping or napping. They are used for yoga, meditation and some use them for resting in the hospital. Some come with ear-plugs to block out sound as well as light, although you can always purchase ear-plugs if you need them. This buyer's guide is intended to help you acquire the best eye mask for your needs. First, think of your preferred material.
Silk Eye Masks: Silk is often used as a luxury sleep mask cover. Due to its superior thickness, silk tends to block out more light sources than most other fabrics. It wears well and is soft to the touch, which largely why many people prefer silk sleep masks to any other kind.
Satin: Satin is another popular material due to its silk-like feel. Satin may contain some polyester fiber and is often blended with cotton to give the cotton a silkier feel. If you have long hair, then look for a silk or satin eye mask. These are less likely to snag or pull your hair.
Cotton: Being natural and hypoallergenic, cotton is the best choice if you have sensitive skin or eyes. You can usually wash them and, while they may be a bit stiff at first, they will usually soften the longer you use them and wash them. Cotton also resists bacterial, yeast or mold growth.
Polyester: Polyester is a synthetic fiber, and can be used to craft lightweight and hard-wearing sleep masks. They tend to feel cooler than most natural materials such as cotton. One issue with polyester is that it doesn't hold dye very well. Colors can run into your pillow, so white or black is likely the best choice for polyester eye masks. Polyester is often used with more expensive materials in order to lower costs.
Gels/Beads: Some eye masks have a gel pack or beads inside them. This is useful if you need to cool your skin or eyes. Gels can be chilled in a freezer or fridge, but never take them down to freezing, or even close, because that may be too cold for your eyes. If you have burns on your face, then use only cold face masks because frozen gel would likely cause serious damage to burnt tissue. Otherwise, the cooling can be very relaxing and can help relieve headaches and migraines. Cold therapy is known to provide relief from many conditions including stress, muscle pain, and arthritis.
Sleeping Positions
Your sleeping position is important. This may well be an important factor in choosing your preferred sleeping mask. Some eye masks claim to be suitable for all sleeping positions, and this may well be true. However, it does not apply to all. Side sleepers, just like there are best to choose a mattress for side sleepers, also need a slim design of eye mask so that they don't have excess pressure digging into the side of their face. The band is best to be elasticized, or with a clip at the back.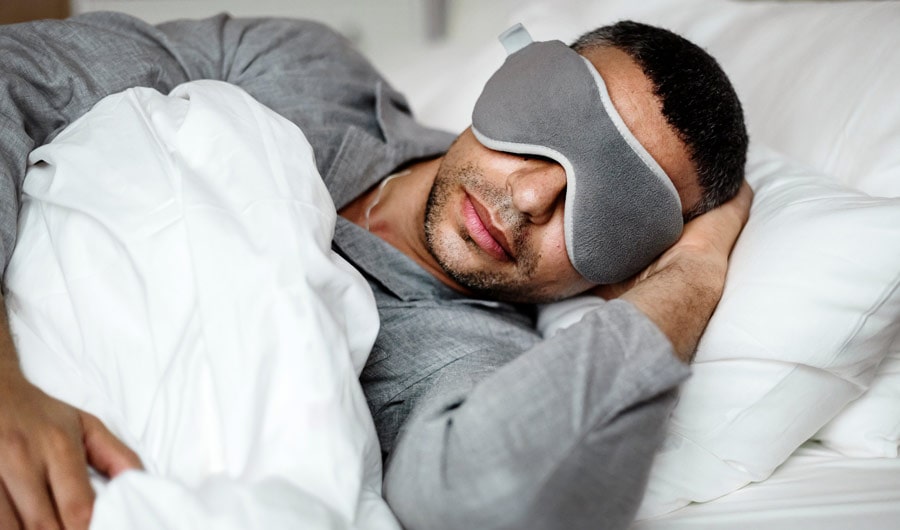 Back sleepers will need a strap that does not dig into the back of their head. If they find it does, perhaps choosing a pillow for back sleepers would help reduce their discomfort. It's best for back sleepers to select an eye mask that has no clip or fixing on the back of the strap. Many have it to one side or the other so this may not be an issue.
Stomach sleepers tend to sleep with their head to one side or the other, just like side sleepers. Their eye mask requirements will be similar to those of side sleepers. A back-fixing or fully elasticized band will meet their requirements.
Other Factors to Consider When Buying a Sleep Mask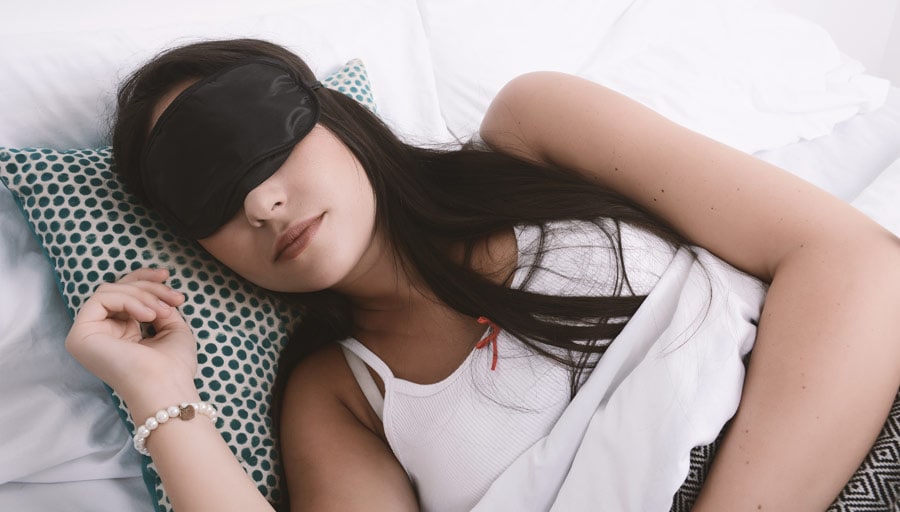 There several other factors to consider when buying an eye mask. For example, how much of your face does it cover? Some simply cover your eyes, like dark swimmer's goggles. Others can cover your entire face. Many don't like this because it makes them feel 'closed in' or claustrophobic.
Strap Location: Another factor is the strap. Is it a single elasticized strap that expands to meet your head size? This type of strap cannot suit everybody: those with small heads may find it to slack, medium sized heads might find it perfect, and those with large heads may find it too tight. It is best if it is possible to adjust the length of the strap to fit your personal head size. Some have an adjustment buckle, but you should ensure that you won't lie on this when you are trying to sleep.
Light Blocking: Does the sleep mask block out all light when you wear it? Many eye masks block out 100% of the light no matter what your sleeping position is. If your eye mask doesn't fit correctly or fails to block out enough light, then it may be worthless to you! The best eye mask is one that blocks out all the light by a combination of design and contouring to your face. You will only find this out when you try it, and if it doesn't meet your needs then return it.
Washing the Sleeping Mask: It's important that your eye mask should be washable. Never purchase one that cannot be washed. In general, the washing method used for eye masks should be to hand wash it in warm (not hot) water with mild soap and then hand drying it. Never put a sleep mask in a washing machine or the stitching may become damaged and perhaps let light in, and never use a heated hairdryer for the same reason. Drying your hand-washed eye mask in sunlight is the best way. The sun kills microbes and removes odor from your sleeping mask.
Frequently Asked Questions About Eye Masks or Sleeping Masks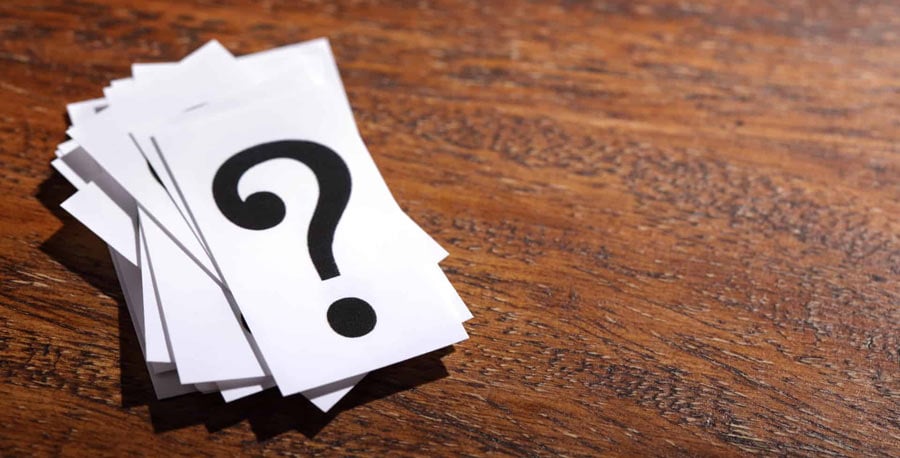 Eye masks and sleep masks are the same things: these masks intended to block light from your eyes when you are trying to relax, sleep or meditate. We occasionally get asked some questions, and here are some of those we are frequently asked.
1. Why do sleeping masks help people to sleep?
Melatonin is a hormone that helps to control the human circadian sleep cycle. This hormone makes you feel drowsy which in turn helps you to go to sleep. Not only does daylight slow down melatonin production, so do TVs, smartphones, tablets, and PCs. Melatonin is naturally created during darkness. What sleep masks do is to create that darkness, no matter what the outside lighting condition is. Whether you are in a brightly lit room or out in the sun, an eye mask will cut down on that light. In some cases, the eye mask can cut out all light so your eyes are detecting pitch darkness. This leads to the production of melatonin which in turn makes you sleep.
2. Can an eye mask reduce puffiness around my eyes?
Yes, it can! The FOMI Care Ice eye mask uses a cold gel pad set into the eye mask that cools and reduces the puffiness around your eyes. They remain flexible after use and relieve stress, headaches, migraines, and fevers. This sleep mask can also reduce swelling. You can cool them down in a refrigerator or freezer but to a freezing temperature. Too low a temperature can damage your body tissues. The low temperature constricts your blood vessels which in turn can reduce inflammation and swelling.
3. How can a FOMI Care Ice eye max help me with my migraines?
As stated above, the low temperature can restrict the size of your blood vessels and in so doing, it helps prevent or halt the progression of a migraine. A gel version, able to be heated up in a microwave, can increase blood flow and help with healing. Blocking out the light also provides migraine relief. Some people use eye masks for relief from sinus pressure.
4. I heard that wearing a sleeping mask can help with jet lag. How does that work?
Traveling can disrupt your circadian cycle, particularly when flying and passing through some time zones. Most people find it difficult to sleep on a plane during daylight hours. In order to acclimatize yourself in advance, you may have to sleep for a while on the plane mid-morning or afternoon.

A sleep mask can help you to fall asleep at these times by making your brain believe that it is night and that you must sleep – ready or not! You may even be able to enjoy some REM sleep. Then, when you arrive at your destination, you will have some sleep and be properly rested to walk off the plane into a country that you have acclimatized for!
5. Are there any drawbacks to wearing sleep masks?
Yes. While their benefits are enormous, there are some issues involved in their use. To tight a mask can place too much pressure on your eyes and also on your face. To some, this has led to skin irritation, eye infections, and ingrown eyelashes – yes there I such a condition. So make sure your mask fits you properly, you keep it clean and never tighten it to tight to your face.
Sleeping Mask Review: Conclusion
No doubt future technology will come up with an alternative to the traditional eye masks. However, for now, these are the best we could find from the reasonable selection available today. It is likely no 'best sleeping mask' give the massive selection currently available, and if you pay more, you may not get a better product. We are satisfied with our top 8 sleep masks as presented in our list of best rated eye masks.
Dream Sleeper Sleep Mask

Bedtime Bliss Sleep Mask with Ear Plug Set

FOMI Care Ice Eye Mask

Jersey Slumber 100% Silk Sleep Mask

Dream Essentials Sweet Dreams Sleep Mask

Alaska Bear Natural Silk Eye Mask

Purefly Sleep Mask

Lewis N. Clark Comfort Eye Mask
Summary
A sleeping mask is important to many people, particularly those that have to sleep in daytime or in well-lit conditions. Here we have presented our 8 best rated eye masks for sleeping. There is no identifiable best eye mask for sleeping, although our best rated sleep masks have been carefully tested and found to be among the very best sleep masks on the market today.