Transparency Disclosure: We may receive a fee from the seller for any purchases made through links on this website or from other sites accessed via this website. This fee incurs no additional costs for the buyer. To learn more, please read our full disclosure page here. Read our Product Research and Testing page to know more about our review process in detail.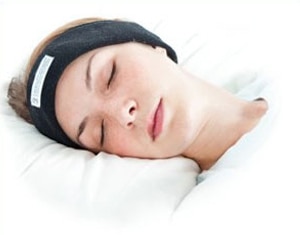 Do you sleep beside a loud snorer, or do you find it difficult to fall asleep for some other reason? Do you ever wish you could have some music playing in your ear so you could easily get to sleep at night? Some people find reading helps them relax, but many more believe that music also relaxes them and helps them get to sleep quicker at night. In fact, it may not even be music! It could be relaxing beats, such as waves breaking on a beach, birdsong or even just some relaxing music.
Some people prefer white noise or guided meditation, but whatever type of music or audio distraction you need a pair of headphones or earbuds that are comfortable to wear and give you a good quality of sound. You are less likely to fall asleep if your earphones are uncomfortable, particularly if you do not sleep on your back.
If you sleep on your side, bulky earphones will be uncomfortable. Good for back-sleepers, but you will need something thinner that is not so uncomfortable and does not hurt your ears. Connectivity is another issue: are they wireless, or wired?
8 Highly Rated Sleep Headphones and Earbuds
*Circumference.
**Wires are removable for sleeping with.
Table of Contents
1. Sleep Headphones: Wireless
These Sleep Perytong Bluetooth sports headband headphones provide a wireless connection to your devices. They cut out external sound, and help you to gently fall asleep. The Bluetooth 5.0 headband has a wireless range of 33 feet and is compatible with the majority of iOS, Android and Windows devices fitted with Bluetooth. It works with most smartphones, tablets, and laptops.
The headphone speakers are very flat, and comfortable even when you are lying on your side. They are ideal for side sleepers. They block out external noise without the need for earplugs. They are safe in use with low, safe RF emissions. The headband is soft and cool, and absorbs any moisture or sweat and is also fast drying. The headphones and the Bluetooth module can be removed to enable you to wash the headband.
The Perytong sleep headphones are powered by a rechargeable battery that will last for 10 hours when fully charged. The system is lossless, and a built-in microphone and volume-control buttons enable you to answer phone calls hands-free. The sound quality is amazing.
Pros
The headband is made from a soft, stretchy material that will fit around your head without being too tight or too loose.
The device will not wake you up during the night, even if the battery is running low.
Keeps your head cool and dry during the night.
Completely washable by hand or by machine.
You can pair your iPhone or any other Smartphone easily. Same with iPads, laptops, Android devices, and Windows devices. It can be used with MP3 and MP4 players.
Speaker positions can be adjusted to suit the dimensions of your head and ears.
360-Day warranty.
90 days no reason to return or replace.
Cons
No negatives that we could find.
Editors Notes: The Sleep Perytong Bluetooth sports headband headphones are our #1 choice because the speakers are very flat, and there are no wires to get in the way when you are trying to sleep. Not only is this product compatible with iOS, Android and Windows devices but it is also comfortable in use and offers a 360-day warranty which none of our other choices offers. It is a headband where the speakers can be removed if desired, and be used as a headband to help you sleep – without the music or with it. It can also be used with white noise, soothing sounds such as waves lapping on a shore and your favorite radio program.
Purchase This Headphone on Amazon
2. Bose QuietComfort20
The Bose QuietComfort20 in-ear earphones feature a noise-canceling option that you can use to cancel out any surrounding noise to enable you to focus only on your music or sounds. If you want to hear external sounds, such as airplane announcements, then simply touch a button to achieve this. Bose noise-cancellation is as effective as the quality of its music reproduction: unparalleled!
These in-ear headphones, also referred to as earbuds, are comfortable to wear and the sound quality is brilliant – just what you would expect with Bose audio equipment. They provide amazing digital-quality sound, and very comfortable to wear. Two versions are available: one for Apple devices such as iPod, iPhone, and iPad models. A second version is suitable for Android devices such as the Samsung Galaxy.
The inline remote and microphone enable you to switch between your music and calls on your iPhone. The battery gives 16 hours of power, and the system comes with a USB battery charging cable.
Pros
Bose noise-canceling technology.
Suitable for Apple/IOS or Samsung/Android devices.
Seamless switching between phone calls and music.
Proprietary StayHear+ tips for a comfortable and secure fit to your ears.
16-Hour battery
Cons
No issues when we trialed these headphones – they performed perfectly.
A bit pricy compared to others we have reviewed.
Potential issues reported with cable connections coming loose.
Editor's Notes: The Bose QuietComfort 20 headphones not only look and feel great, but the sound reproduction is also great. We could find no faults with them, and they are comfortable when lying on your side. If we had any issue with them it would be only that the wired connection could be a nuisance when you are wearing the headphones in bed. However, the Bose QuietComfort20 headphones deserve their place at #1 in our 8 best headphones and earbuds for sleeping. They are certainly our best headphones for sleeping with.
Purchase This Headphone on Amazon
3. Shure SE215-K
There are three versions of the Shure SE25 earbuds available. The 'K' designation indicates Black. The SPE designation (Shure SE25-SPE) indicates the special edition in blue, while the clear version is the SHURE SE25-CL model. We tested the K version. They looked very stylish and were very comfortable in use by side-sleepers. In fact, they were comfortable for all sleeping positions.
In general, earbuds are less bulky than earphones and preferred by many people over earphones for using in bed. However, some people may find that they tend to dig into the ears when lying on their side. Nevertheless, they appeared more comfortable than the majority of earphones available.
The sound is clear and the deep bass tones come through very well. If you like good extended bass reproduction, then go for the SPE or CL versions. Sound isolation is good, blocking up to 37 dB of ambient noise. The cable can be removed to use any of the four alternative connectivity options.
Pros
Detachable cable.
Models available with universal communication methods include alternative connectivity options: Bluetooth 5.0, Universal 3.5 mm connection and iOS/Android selectable.
Available in wired and wireless models. Wireless range up to 30 ft.
Up to 37 dB of external noise blocked by sound isolating sleeves.
10 Hours battery life.
Zippered carrying case.
Cons
Might be awkward to fit if you wear glasses with thick legs.
The nozzle or sleeve is easily blocked by moisture or ear wax.
Otherwise, we could find no issues.
Editor's Notes: The Shure SE25-K is one of three sets of earbuds with multiple connectivity options. Sound reproduction is excellent although the sleeve or nozzle can easily become blocked with the slightest amount of moisture or ear wax. A sudden drop in sound quality or volume can often be overcome by replacing the sleeve or cleaning the nozzle. A wax filter has been included in new foam sleeves to help prevent this issue.
Purchase This Headphone on Amazon
4. MAXROCK Sleeping Earbuds
Although described as headphones, Maxrock Sleeping earbuds are exactly that: earbuds designed for sleeping with. They are manufactured from silicone which makes them easy to clean and feel very smooth in your ears. They conform gently to the shape of your ears and remain securely in place until you want to remove them. They can be used for sleep, traveling or running.
These earbuds cut out external noise, extremely useful for attending noisy live events. You can enjoy your music without your enjoyment spoiled by outside noise. They are fitted with a 3.5 mm jack, and are suitable for all apple devices (iPhones, iPods, and iPads) and Android devices such as the Samsung Galaxy and Note devices, and also PCs, gaming devices and MP3 and MP4 music players, laptops, HTC mobiles and Nexus devices.
Pros
Hands-free calling: you can reject, answer and end calls directly from the earbuds.
A remote button enables you to play, pause and skip tracks.
Very comfortable when sleeping, including side sleepers.
48-inch long cord to the tip of the 3.5 mm plug.
90-Day warranty.
Cons
Personally, we could find no faults during our testing.
Others may find issues after extended use.
Purchase This Headphone on Amazon
5. Panasonic RP-HS46E-K
The Panasonic RP-HS46E-K earphones are traditional earphones with very slim housing. They also provide excellent powerful sound quality. They are very compact and provide great sound and an excellent level of comfort. The ear hook holds the device to your ear with a high level of comfort and security.
The cord is 3.5 ft long with a 3.5 mm plug that fits most MP3 or portable devices fitted with a 3.5 mm stereo output socket. One negative aspect of this product is that there is no noise control, so it is possible for a partner to hear the sound coming from the speakers – although that would be very faint.
Pros
Slim speakers which provide good sound quality and are easy to sleep with, even for side sleepers.
Excellent performance with powerful sound capability.
The ear hook holds the phones close to your ear while being comfortable to wear.
Cons
Little noise isolation, so others can hear the sound coming from the earphones while you sleep. This would be faint, however.
No published warranty.
Editor's Notes: These Panasonic earphones seem comfortable to wear, and they should also be comfortable for side sleepers due to their very slim profile. They are certainly suitable for front and back sleepers. Our only issue with them is that there appears to be no seller warranty published. They will likely be covered by the Amazon warranty.
Purchase This Headphone on Amazon
6. Cozyphones
Cozyphones offer yet another headband design of headphones. It consists of two flat, round corded earphones inserted into a fleece outer cover. Available black, white, blue and pink, it is a headband that helps you sleep by eliminating external light and sounds, and instead replaces these with darkness and music and soothing sounds of your choice.
Headband earphones have become increasingly more popular due to their ease of use and comfort when sleeping, particularly side sleepers. As with those above, CozyPhones feature two 1/8-inch speakers that can be removed when required, but which remain in place when in use or when you are sleeping. Great for insomniacs that find it difficult to sleep, or simply to listen to your favorite podcasts, eBooks, soothing sounds or music. They also help to block out external noises such as snoring.
The CozyPhones connect using a 52-inch braided cord and a 3.5 mm stereo plug for MP3 players, Apple devices, those that use the Android OS and practically all makes of laptop and cell phone. The soft fleece pad is comfortable to wear and for sleeping in any position, even on your side. They feature volume-limiting technology to prevent your ears from experiencing high volumes of music while you are sleeping. The recommended limit for your middle and inner ear is 90 dB, and the sound from the speakers is limited to this level.
Pros
Cosy fleeced headband that is comfortable to wear in bed in any sleeping position.
Volume-limiting technology helps save your ears from extended loud noises such as snoring or noisy roommates.
Suitable for use as a comfortable eye mask by pulling the band down over your eyes.
The thin speakers can be removed if desired.
Machine-washable once you have removed the speakers.
180-Day warranty
Cons
Some reviews have mentioned the headband being too large at a maximum of 20 inches diameter, and others too tight at a minimum of 18 inches.
Otherwise, no issues that we could find.
Editor's Notes: The company has also introduced a new Contour Series of headband phones in pink. Check it out here. CozyPhones are suitable for front, back, and side sleepers, and are great for use at home, in planes, or anywhere else you may find it difficult to sleep. The volume-limiting feature enables to sleep with them playing without worrying about damaging your ears.
Purchase This Headphone on Amazon
7. AcousticSheep SleepPhones Classic Headband
AccousticSheep SleepPhones was developed by a doctor to help her patients get to sleep easier. They come in the form of a headband with integral fabric-wrapped speakers. You can play, stop and skip tracks easily and listen to a variety of sounds: music, podcasts, white noise, audio-books, AMSR and tracks for meditation. There are no uncomfortable earbuds or headphones to annoy you, and they are very comfortable to sleep with, particularly for side sleepers. You can also pull them over your eyes to help you sleep on airplanes, in cars or even at home without the need for sleeping pills.
The 48-inch stereo audio cord supplied can be used to connect the headband to any device fitted with a 3.5 mm (1/8-inch) audio jack. They are ideal if you find it difficult to sleep, have tinnitus, sleep with a snore or simply to help you relax or meditate. There have been some reviews commenting on discomfort when sleeping with the AccousticSheep SleepPhones, though most people found them extremely comfortable and easy to use. We certainly found no with them – the headband was comfortable to wear and sleep with all three main sleeping positions: back, side and front.
Pros
A flat headband that you can comfortably sleep with while they help you get to sleep.
Speakers can be removed to hand-wash or machine-wash the band.
Available in small (20 – 20⅜ inches), medium (21½ – 23⅜ inches), and large (23½ – 25 inches ) circumference sizes. The medium size should suit the vast majority of users, while the large size should suit largely built people and those with a fair amount of hair.
Two types of fabric available in a choice of colors. One warm and soft (Fleece) and the other lightweight and moisture-wicking (Breeze).
Available in seven colors.
Good for side sleepers.
Cons
Some reported issues with the cord and sleeping comfort, though we found nothing like this during our tests.
Other than the above comment, we found no negatives.
Editor's Notes: This headband was very comfortable to sleep with, although it may be difficult to get the correct size first time round. Not to worry, there are free returns and you should soon get the right band to suit you. If you prefer a wireless AccousticSheeep headband, then there is a Bluetooth version available at a higher price. This is very easy to tether and removes any cord issues you may have.
Purchase This Headphone on Amazon
8. Tooks Sportec Band
The Tooks Sportec band is a headband made of 100% Dryfit material: a high-performance fabric that takes sweat away from your head onto the body of the fabric where it evaporates off. It helps keeps the skin under the band dry, and wicks away any sweat that you generate when wearing them: day or night. They are wired, and compatible with mobile phones, MP3 players and others. They are often used by sportsmen and women due to the security of their fitting – they are highly unlikely to fall out of place.
The headband contains earbuds inside it, but are not the same as the AccousticSheep product above. They do contain a similar type of earbud fitted with a 3.5 mm (1/8-inch) audio jack, enabling you to use the headband for music, although the earbuds can be removed to isolate you from exterior noise. This can be useful if you do not want any audio distractions when carrying out athletic performances. 
Pros
Lightweight and more versatile than the AccousticSheep headband, and good for playing soft music, white noise, or any other recording to help you sleep.
Removable earbuds so you can use the headband to isolate you from noise when trying to sleep.
100% Microfleece that helps remove moisture when in use.
Available in black, white and pink.
Machine-washable when earphones are removed.
Cons
May not be as comfortable for side sleepers as the AccousticSheep Classic Headband – though they can be repositioned so they do not feel uncomfortable when lying on your side.
Otherwise, no Issues we could find.
Editor's Notes: The Tooks Sportec Band, also referred to as the Tooks Polartec band, is another design of headphones for sleeping that comes in the form of a headband. The headband is 100% microfleece and comfortable source of music or other recordings to sleep with or to run with.
Purchase This Headphone on Amazon
Buyer's Guide to Headphones and Earbuds for Sleeping
When looking for a set of headphones or earbuds for sleeping, you must find those that have been designed for that purpose. There are many great headphones on the market, but most of them would be extremely uncomfortable to sleep with. Not only that, but some earbuds can damage your ears if you fall asleep with them on – particularly if you sleep on your side.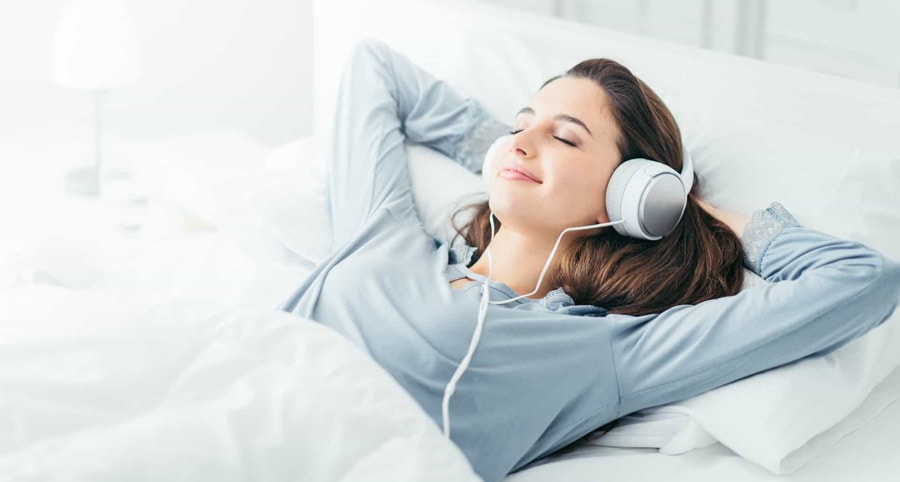 Types of Headphones
There are three basic types of what we shall generically refer to as 'headphones': earphones, earbuds, and headbands. They can also come corded or wireless (Bluetooth). Bluetooth devices are generally more expensive to buy than corded phones. Let's have a look at each of these different types.
Earphones: Headphones for sleeping with are generally fitted with thin speakers that are not bulky enough to cause discomfort when you sleep on them. They are like traditional headphones, but slim with normally a wired connection to your device. The industry standard for stereo music sockets is 3.5 mm.
Earbuds (Also known as In-Ear Headphones): Earbuds are designed to fit into your ear, and are the smallest type of headphone. They are more portable than standard earphones and are generally more comfortable for sleeping with. However, some designs can damage your ears when you sleep on them, and we have avoided these in our selection.
Headbands: Headbands with low-profile speakers secured in small pouches each side of the band are a favorite form of headphones. Some are available in a choice of circumferences while others are elasticized to fit any size of the head. They are generally comfortable to wear in bed and are easy to fall asleep with.
Connectivity
There are two types of connectivity available: direct wired (corded) and wireless. Wired headphones are more common and generally come with a generous allowance of cord to prevent you tugging at your device (phone, tablet, laptop, MP3 player, etc.) when you move while sleeping.
Wireless systems, generally Bluetooth, are better but cost a bit more. However, a benefit of wireless is that the location of your device at home needn't limit your ability to move about the room (or bed!) It should be noted (obviously really) that you will need a Bluetooth connection if your device has no headphone jack. Here are some Pros and Cons of Bluetooth:
Pros
No cables to get caught on something, and nothing for you to get tangled with when sleeping.
Bluetooth is competitive in quality with wired headsets.
Cons
Although occurrences are becoming less common, wireless signals can suffer from interference.
Bluetooth headphones need a battery.
Old headphones may not support modern codecs such as Qualcomm® aptX™ and high-resolution LDAC. Also, modern headphones may be unable to communicate via Bluetooth with older cell phones and other devices.
Summary
Each person may have different needs when choosing headphones for sleeping with. No matter why you want or need them, there is a good selection of headphone types available for sleeping. It's recommended that you take note of everything you must have regarding features, connectivity, comfort, etc, and then choose the model most suitable for you. We have included examples of the more comfortable types of headphones and also wired and wireless options.
Comfort is an important quality to look for, and connectivity may also be important to you. Your headphones must be comfortable for your normal sleeping position. No matter how you may try to change that before falling asleep, most people revert to their normal position once they are asleep. So you may be able to fall asleep lying on your back, but when you roll over to your side when sleeping you could be forced awake by the pressure of the headphones on your ear.
The best type of headphones for side sleepers are thin earphones, earbuds and, above all, headbands. Most side and stomach sleepers find headbands easy to wear and comfortable in use. In addition to this and the above factors, there is a property that is important to many people: external noise blocking.
Noise Blocking: Many earphones, irrespective of what type they are, can block out external noise. They may not eliminate all external sounds, but a good set of headphones can block a great deal. The Bose QuietComfort20 is ideal for this, and you can touch a switch to cancel the feature and enable you to hear necessary sounds such as airport announcements. This is unimportant for many people since most noises are blocked when you play music. We are not focusing on this since we are suggesting the best earphones for sleeping, not for general use during the day. 
Microphone Control: Some headphones have controls attached to the headphones or the cable to enable you to answer phone calls or access features such as Google Now. We have not focused on these since, as stated above, you are reading this mainly to find headphones that can help you sleep at night, not listen to airport announcements. However, it may be useful to some who would also use them during the day just for music.
Health Issues: There are some potential health issues connected to using headphones and earbuds for sleeping. One of these is hearing damage if you consistently listen to audio at high volume over a long period of time. Try to keep your volume at 60 decibels or less – play the phones with a smartphone by the speakers using a sound level app. You can get them for iPhones and Androids from most online app stores. Many come free with the phone.
You can also get a build-up of earwax which can affect your hearing. Compacted earwax can be difficult to remove, and can lead to a bacterial infection in your middle ear, so if you sense a reduction in your hearing ability, visit a physician who will check them for you. Keep your earplugs clean, and be aware of the potential issue, then you should not have any serious side effects.
Finally, earphones can heat up! If you are a side sleeper and wear regular earphones (not earbuds or a headband) then the phone on the side you sleep on can heat up. It can heat your ear by a surprising amount, and you can wake up with a very hot and red ear. A headband, or alternatively earbuds, is better for you than earphones.
Frequently Asked Questions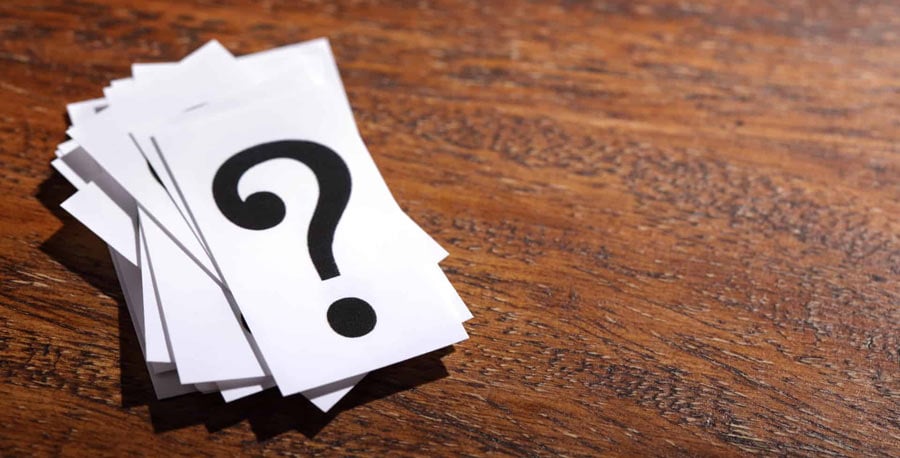 Here are some questions we have been asked regarding sleeping headphones.
1. Can children wear sleep headphones?
Yes – if your child finds it difficult to get to sleep for any reason then a set of earbuds or good quality earphones allied with soothing sounds, or even a recorded fairy story, can help them to sleep. The volume should be high enough for them to hear, but not too loud. A wireless version would be safer for a child, eliminating the possibility of them being caught up in the wires. It is likely best not to use 'white noise' with children, although birdsong or children's music would be ideal.
2. Can I still hear my alarm clock and baby alarm when wearing headphones for sleeping?
Yes, you will be able to with those we recommend above. Even if your headphones, headband or ear-plugs are fitted with sound reduction, you will be able to hear an alarm clock, fire alarm and a baby alarm. It may be slightly muted, but still enough to wake you up. It'd a good idea to wear your headphones, whatever type they may be, then one at a time, turn on all your alarms individually and find out if you can still hear them.
3. Is it OK to wear my ear-plugs every night?
Not really. Many people do, but you are recommended not to. To do so could result in a build-up of wax in your ear. Not so much with earphones and headbands, but it is always good to give them and your ears a rest now and again. Give your ear-plugs a regular good clean. Headphones do not need this – they do not enter your ear. A pair of each, ear-plugs and earphones or headband, will enable you to alternate their use.
4. Do I need to plug headphones into an electrical socket for them to work?
No! They do not need an external power source. Just plug them into the audio output socket in your music device.
5. How can my wife and I listen to the same music in bed at the same time?
You need two sets of headphones. Then you can buy a splitter than you plug into your device's socket. That splits the one socket into two sockets, and you can then plug the separate headphones into each socket.
Best Headphones for Sleeping: Conclusion
After a hectic day at work, or of looking after the children all day, you may feel that you need a good night's sleep to recover. Perhaps you suffer from insomnia or have a painful condition that keeps you awake. By choosing one of our best headphones for sleeping you can connect them up to some of your favorite, soothing music. Or perhaps you would like to fall asleep to the singing of birds, or the sound of waves gently lapping on the shore.
By choosing one of our recommended best earbuds for sleeping, or our recommended sleep headphones, you will be able to connect them to your favorite player or device, either with a hard connection or wirelessly via Bluetooth. They would also make a great and considerate gift for friends or family who have sleeping problems.
Sleep Headphones Wireless

Bose Quiet Comfort 20

Shure SE25-K

MAXROCK Sleeping Earbuds

Panasonic RP-HS46E-K

Cozyphones

AcousticSheep SleepPhones Classic Headband

Tooks Sportec Band
Summary
Our selection is not comprehensive of course, but we have included the eight best headphones for sleeping that we could find. Listening to your favorite sounds can entertain you and get you to sleep faster than simply wearing earmuffs to eliminate all external sound. It is more fun, brings you more joy and helps you to sleep quicker.