Transparency Disclosure: We may receive a fee from the seller for any purchases made through links on this website or from other sites accessed via this website. This fee incurs no additional costs for the buyer. To learn more, please read our full disclosure page here. Read our Product Research and Testing page to know more about our review process in detail.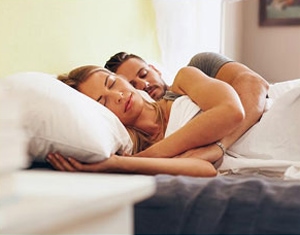 Looking for the best mattress for couples in 2023 is one of the most difficult tests of a relationship. If you had difficulty finding the best mattress for yourself, think of the problems you will face when there are two of you to consider:
What if you like a nice firm mattress you can lie on top of and your partner prefers something much softer and yielding?
What if one of you is fairly light in weight and the other much heavier?
What if you both move about on the mattress while you sleep – or even one of you?
How about sex? You may need a mattress that doesn't make this activity a chore by having absolutely no bounce!
These are just four of many questions that have to be answered before you choose the best mattress for you and your partner. The best mattress for couples is one that meets the needs of both of you, and we have researched the market to come up with ten of the best. Here they are:
You can find more information on these mattresses by clicking on the orange buttons below.
Table of Contents
1. Helix Dual Extra Hybrid Mattress – Best Bed for Couples
The Helix Dual Extra mattress is designed for couples, where each partner prefers a different level of firmness than the other. One side of the Helix Dual Extra mattress is softer than the other. Helix also markets its Helix Dual Balanced mattress, which is designed specifically for side sleepers. If you sleep on your side, then this is the mattress for you. However, the Dual Extra is good for all sleeping positions and is preferred by most couples over the Dual balanced model.
In this mattress, a proprietary memory foam layer rests on top of a bed of individually wrapped coils. This adds to the superb motion isolation of the mattress – a must with any couple-friendly mattress. It is also more bouncy than regular memory foam mattresses.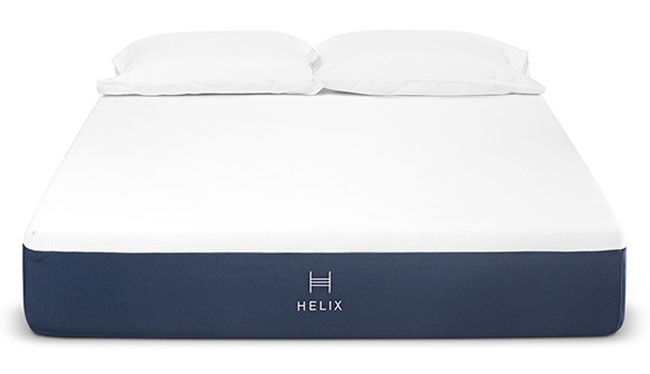 Pros
Each side a different firmness for each partner.
Hybrid (foam + coil) construction makes it bouncier than all-foam mattresses and more suitable for couples.
Suitable for all sleeping positions: back, side and stomach.
When ordering you fill in a questionnaire to enable Helix to provide you with a mattress that meets the needs of each partner individually. The softness/firmness of each side can be adjusted to suit your needs.
CertiPUR-US certified foams – certified free of hazardous substances and ozone depleters.
Made in the USA.
10 Year warranty.
100 night sleep trial (after the mandatory 30 day period). A full refund is provided if you don't like the mattress.
Cons
Edge support not too good.
Editor's Notes: Where two people are of different build and weight, there may be a need for the Dual Balanced or Dual Extra Helix mattress option. The Dual Balanced mattress is designed for side sleepers where one side of the bed is lovely and soft, and the other firm to meet the needs of both partners. That is what makes this our choice as best bed for couples.
The Dual Extra has the same arrangement but designed for all sleeping positions. It is made using a proprietary Dynamic Foam, a form of memory foam, that conforms to your body shape and absorbs your weight no matter how you sleep: on your back, side or stomach.
Check out our full review of the Helix Mattress here.
Purchase This Mattress With Discount
2. The Nectar Mattress – Our Best Budget Mattress for Couples
The nectar mattress consists of three layers of memory foam and a high-density foam support layer, all enclosed in a cooling Tencel cover. The top layer is a quilted layer of gel memory foam that contours to your body while also allowing good air circulation to keep you cool. This lies over a second layer of memory foam that relieves pressure on your pressure points and also distributes your weight evenly over the mattress.

The third layer is an adaptive memory foam layer that provides rebound, or bounce, while also offering excellent support for your entire body. The bottom layer of this 11" thick mattress is a breathable high-density foam that offers stable support and contouring to your body. The entire mattress reduces motion transfer to an absolute minimum, making the nectar mattress it an excellent budget choice for couples.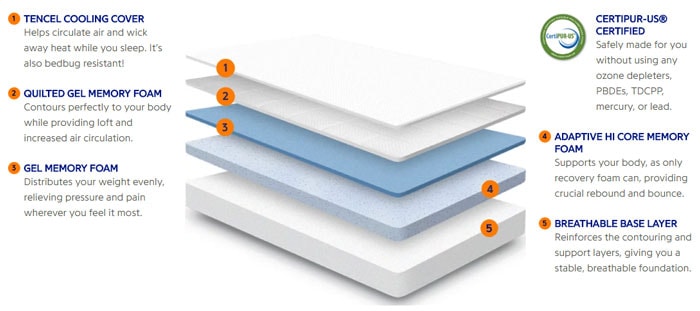 Pros
Excellent motion isolation between partners.
An optimum balance between firm mattress support and soft mattress comfort.
Effective cooling, even on warm nights.
180-night trial period – the company will collect the mattress for a full refund if you don't like it.
Forever warranty – the Nectar mattress is under warranty for as long as you own it.
Editor's Notes: The nectar mattress is a good mattress for couples. The memory foam used is effective in isolating the movement of partners, and also provides a comfortable yet supportive sleeping surface. It is also a relatively low price in comparison with most of the others.
Check out our full review of the Nectar Mattress here.
Purchase This Mattress with Discount
3. WinkBeds Plus Mattress – Best Mattress for Heavy Couples
WinkBeds Plus a WinkBeds mattress designed specifically for heavier people: 300 lb or more. It is of particular benefit to heavy couples who need good support and comfort just as regular or lightweight couples need. With excellent edge support built in, the WinkBeds Plus mattress easily makes our best mattress for couples 2023 list. It is extremely durable and will last heavier couples for many years.

This 15" thick mattress is of hybrid construction, with a breathable latex layer over 7.5 inches of individually wrapped coils that keep you cool. The top foam layer is resistant to sagging, and there is also a bottom support layer of poly foam. This mattress features the company's SLEEPCALMTM motion isolation technology which reduces motion transfer to a minimum.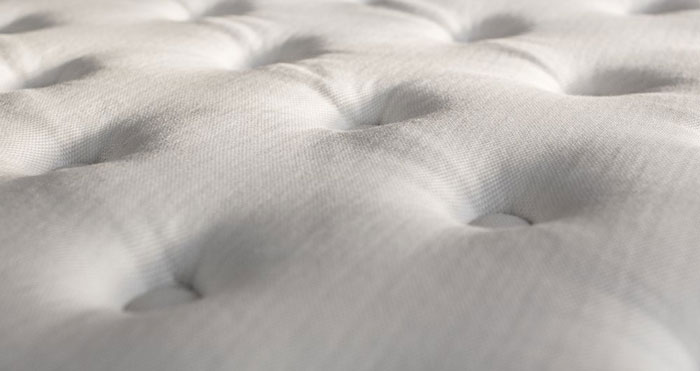 Pros
The latex layer is designed to add extra support where needed in seven specific areas of the mattress.
Cooling properties.
Suitable for heavier weight couples.
Good motion isolation.
Extra support where needed.
Excellent edge support.
Highly durable.
Made in USA.
120-night sleep trial.
White glove delivery with free removal of old mattress.
Lifetime warranty.
Cons
Some people find it too firm – it is 7.5 on a 1-10 scale with 10 firmest. However, heavy weight users might appreciate the extra support and you can return it free of charge within 120 days for a full refund.
Editor's Notes: The Winkbeds Plus mattress is ideal for heavier weight couples who find softer mattresses uncomfortable. The edge support, the extra support available and its high level of motion isolation make this bed ideal for heavier weight couples who find it difficult to find a mattress to suit them.
4. Dreamcloud Mattress – Best for Young Couples
The Dreamcloud mattress deserves its place in our list because it not only provides a superb sleeping surface, but is a hybrid. This means it combines foam and innersprings for a comfortable but springy bed. It is great for younger couples who like a bit of bounce in their mattress. It is a 6 on the 1 – 10 firmness scale – a bit to the firm side of medium.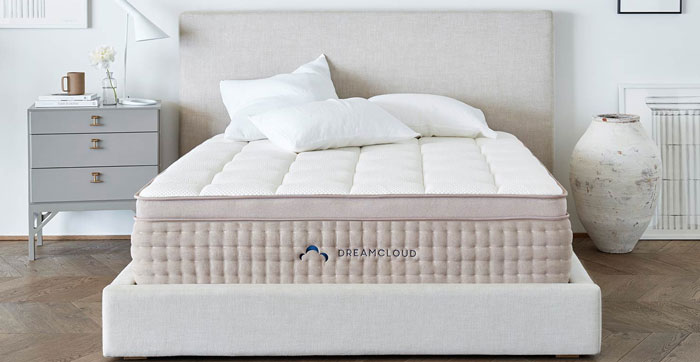 It comprises 8 layers, from top down:
2" Euro top tufted cashmere mattress cover. This cover helps cooling by promoting airflow.
0.5" memory foam infused with a cooling gel the keeps you cool while conforming to your body shape.
1.75" of quilted memory foam, providing a high level of comfort to the sleeping surface.
0.5" natural latex, hypoallergenic and adding bounce.
0.25" of high density memory foam to provide some support at this level in the mattress construction.
0.5" of higher density memory foam (5 Lb/Cubic ft) for extra support.
An 8" layer of individually encased steel Microcoils for good core support. These are spaced into five zones, and not only provide support and bounce, but also help cool down the mattress and contribute significantly to motion isolation between partners.
1.5" of high density memory foam to add to the solidity of the mattress and provide a base for the spring layer to rest on.
The result is a very comfortable mattress, on the firm side of medium, with good bounce for younger couples and also excellent motion separation between partners.
Pros
Excellent bounce for couples, while also offering excellent motion separation.
Keeps you cool while sleeping.
An intelligently matched mix of various foam types and springs to provide a marvelous, cool sleeping surface with good bounce and motion isolation.
C ertiPUR-US certified foams free from toxic materials and ozone depleters.
265 night sleep trial. Return within the first year for a no quibble refund.
Lifetime free replacement warranty against defective workmanship or materials.
Cons
The edge support is fairly weak and could do with beefing up.
Editor's Notes: The Dreamcloud mattress provides a high quality bed for young couples, with a nice comfortable springy bounce when needed and excellent motion isolation. It also sleeps cool due to its imaginative construction. The mattress is well put together, and is an ideal solution for young couples who are having difficulty finding a suitable bed.
Purchase This Mattress with Discount
5. Loom & Leaf Mattress – Good Overall Mattress for Active Couples
The Loom & Leaf mattress is a memory foam mattress that provides good responsiveness and bounce. These are two of the most important mattress properties for sexually active couples. This mattress is available in firm (7-9 on a 1-10 scale) and Relaxed Firm (5-7).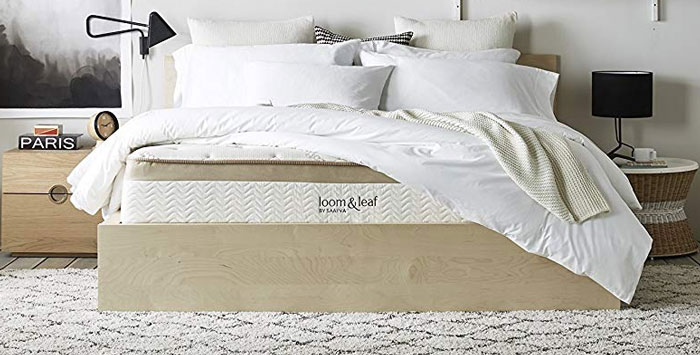 The top layer is 2 inches of a 4 lb enhanced conforming foam with a cooling gel incorporated into the foam. It not only keeps you cool while you sleep, but conforms to your body providing good support for your pressure points, namely shoulders, hips, buttocks, knees, etc depending on your sleeping position. The foam is convoluted, allowing good air flow, and the unconvoluted side is laminated with a cooling gel panel in the lower back section of the mattress. This is generally where heat tends to gather, and cooling panel helps prevent this.
The next layer is a 2.5 inch layer of 5 lb memory foam, providing support at a deeper level.
The 3rd layer is a transition layer. This is a 2" loft pad that enables layers 2 and 4 to work well with each other, providing comfort and a high level of support.
The bottom layer is 5.5 inches of a high density support foam that forms the foundation of the mattress.
The mattress is covered by an organic cotton top, quilted with a 5/8" layer of foam. The top also contains the company's natural thistle flame retardant.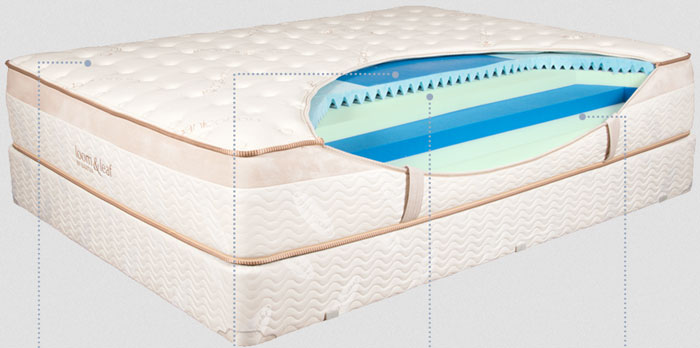 Pros
Cooling gel and a cooling gel panel helps you to sleep cool and not waken up hot and sweaty during the night.
All foams are CertiPUR-US certified to be free from hazardous materials and ozone depleters.
Antimicrobial
White glove delivery with free old mattress removal.
120-day sleep trial.
15 year warranty against defective materials or workmanship. Free return during first 2 years, then $99 carriage charge thereafter.
Cons
Returning the mattress during your sleep trial will cost you $99 carriage charge.
Other than that, there are no negatives we have identified.
Editor's Notes: This is one of the best couple's beds due to its responsiveness and bounce, allied to a high degree of motion separation. It is suitable for all active couples, not only the youngsters. It combines excellent comfort with the level of responsiveness and bounce that most couples need. Read our full Loom & Leaf mattress review here.
Purchase This Mattress with Discount
6. The Sapira Mattress – Best for Edge Support
The SapIra mattress is included in our selection, not only for its excellent motion separation, but also because it offers equally excellent edge support. First, let's have a look at this mattress's five layers and why it is a good design for couples.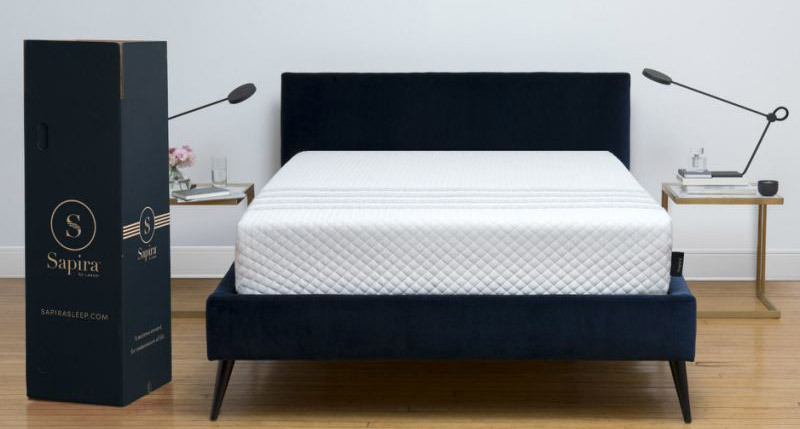 From the top layer down, the construction of this 11" mattress is:
 The Cover: The cover is made with a Lycra-Polyester blend, and is fairly thin. It is also stretchy, which means it will stay flat when you move around the bed. Lycra also helps to wick moisture away from the body and keep you cool and dry.
The comfort layer: This is made using 1.5" of Aveena foam. This is a foam that is perforated with holes to allow free airflow when you lie on it and move on it. Not only does this foam help keep you cool, but it also responds rapidly to pressure so you can move easily about the bed.
The Contour Layer: This is a 1.5" layer of memory foam that absorbs the pressure of your pressure points and contours to your body shape.
The Transition Layer: This is a 1" layer of high density polyurethane foam. It lies between the soft comfort layers above it and the steel springs, transitioning between the different materials.
The Support Layer: This is a layer of over 1,000 individually pocketed 6-inch steel coils. This type of pocketing allows each spring to move independently of the others, thus not only extending the body contouring, but also separating the movement of each partner from the other. The bounce they give is also desirable with couples. The spring layer is enhanced with edge support.
The Foundation Layer: The base layer is 1" of high density polyfoam. This provides support to the pocketed coils.

Pros
Enhanced edge support for overall stability.
Good responsiveness and bounce.
The foams used support your pressure points during the night, while the coils give good reliable core support.
Good separation of movement of each partner.
Makes a very good bed for couples.
Made in the USA.
100 night sleep trial with a full refund if you don't like it – free return. You must give at least 30 days trial though.
10-Year warranty against poor workmanship or faulty materials.
Cons
Some users find it too firm for their liking.
Otherwise, no specific issues.
Editor's Notes: The Sapira mattress is made by Leesa, whose 100% foam mattress did not make our list. However, the Sapira is an excellent mattress for couples, and the individually pocketed coils seems the way to go for couples beds. The responsiveness and bounce are ideal for sex and the separation of movement is good.
Check out our full review of the Sapira mattress here.
7. Nest Bedding Alexander Signature Hybrid Mattress – Best for Light Couples
Nest Bedding has come up with an interesting hybrid mattress for couples using modern cooling technology. Claiming to be possibly the most comfortable mattress available on the internet, this mattress is 13.5 inches thick.

Here is how it is constructed:
0.25″ 4 lb. Gel Infused Memory Foam & Super Soft Quilted Thermic Phase Change Fabric
3″ 3.5 lb. Medium TitanChill Endurance Foam®
1″ 3 lb. SmartFlow Support Foam
8″ Quantum Edge Pocketed Support Coils
1″ 3 lb. Base Support Foam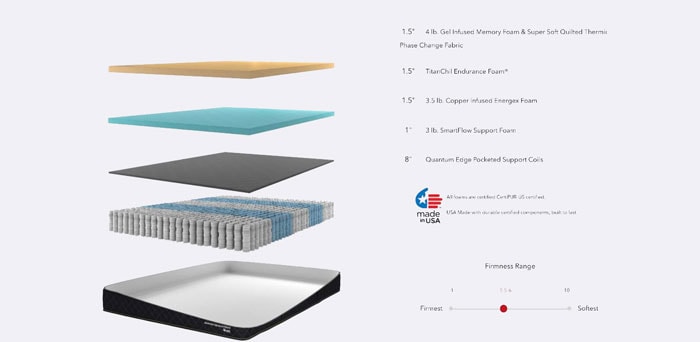 Pros
Cool to sleep on – it is unlikely you will wake up in the middle of the sweating and feeling hot.
Very comfortable mattress to lie on.
Good separation of movement between partners, so a good bed for couples.
All foam CertiPUR-US certified free from hazardous substances.
Made in the USA
100-night sleep trial.
Lifetime warranty and lifetime comfort guarantee.
Cons
Fairly soft. 0 – 7.5 on a 1 -10 scale where 10 is softest. This is the model we are reviewing for light weight couples.
The Luxury Firm version is 2.0 – 2.5 on the same scale, so pretty firm, while the medium is 5.0 – 5.6.
More suitable for lightweight couples than heavier couples.
Editor's Notes: The overall result is a comfortable and cool mattress to sleep on. It is the best mattress for lightweight couples, and is likely the coolest to sleep on. The foams are mix of visco and latex foams which, along with the individually pocketed springs, can do a good job of separating the movement of partners. There are firmer models as explained above, but the Plush model is best for lightweight couples.
Purchase This Mattress with Discount
8. Avocado Green Mattress – Best Eco-friendly Mattress for Couples
The Avocado Green mattress is not only GREENGUARD Gold certified, but is the greenest beds for couples we could find. It is the best mattress for couples we could find that is totally eco friendly. It is a hybrid mattress, the foam part being 100% natural Dunlop latex, and the fabrics made from natural wool and organic cotton. There are no foams or toxic fire retardants used in its construction.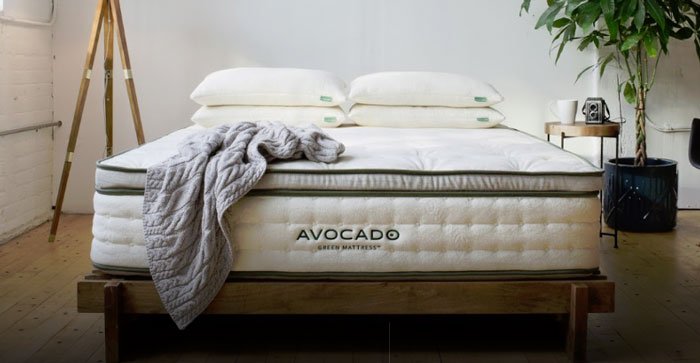 From top down, the layers are:
Standard Avocado (7 on a 1 – 10 scale with 10 firmest):
2" 100% natural Dunlop latex comfort layer
1" Natural Dunlop latex base layer.
8" individually Pocketed coils, made from recycled steel. These are arranged in three distinct zones, and are also fitted with a reinforced perimeter. This arrangement offers maximum motion separation between individuals.
The mattress is also offered with an optional pillow top, consisting of an attached 2" layer of natural Dunlop latex for a maximum 13" of thickness and a comfort rating of 6. This is more suitable for side sleepers than the firmer Standard Avocado mattress which is best for back and stomach sleepers.
Pros
100% eco-friendly, from the use of natural fibers and latex to recycled steel coils.
Reinforced perimeter for good edge support.
Dunlop latex has a good spring to it, even though this mattress offers good motion separation.
Even weight distribution.
Motion transfer reduced to a minimum.
Greenguard Gold certified
Eco-Institut certified latex.
OEKO-TEX standard 100 certified wool.
GOTS certified organic cotton.
Fire Barrier of natural hydrated silica.
100-night sleep trial: no charge for transport back to supplier if you don't like the mattress.
25-year Warranty against defective materials and poor workmanship.
Cons
Some people find the mattress too firm for them – even the pillow top version.
Editor's Notes: The Pros well outweigh the Cons with the avocado mattress. Most users find it makes an excellent bed for couples, with good motion separation and a choice of comfort levels. If you are looking for a mattress that is green and eco-friendly, then this is the one. The latex is springy enough, and the separation of motion is good. Check out our full Avocado Green Mattress review here.
9. Zenhaven Mattress: Best Latex Mattress for Couples
The Zenhaven mattress is 100% Talalay latex. It is available in two comfort levels: Luxury Plush which is 4 – 5 on a 1 – 10 scale where 10 is firmest, and Gentle Firm which is around 7. Difficult to choose? Well, you don't have to because the Zenhaven mattress offers both on the same mattress. One side is Luxury Plush and the other Gentle Firm. Simply flip the mattress to the side that suits you best.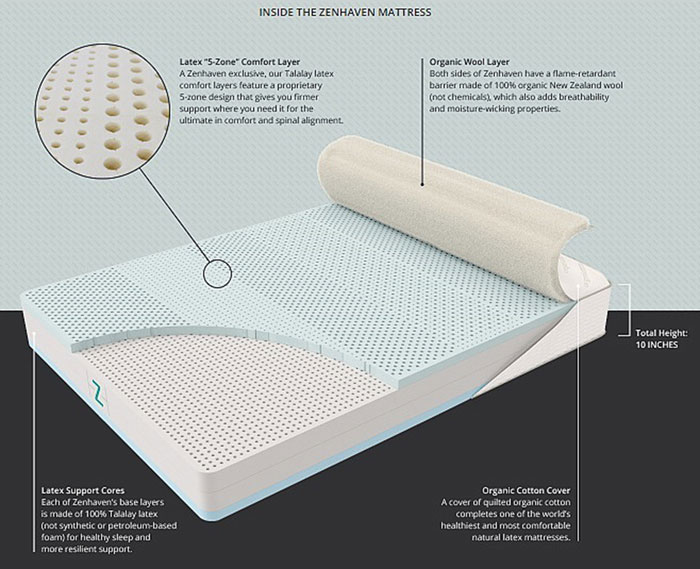 The firmer side might be best for couples because Talalay latex is not an ideal surface for sex. Sure, it is slightly bouncy, but not as good as a hybrid or innerspring mattress. Nevertheless, it is superb for motion separation, so older couples might find it ideal for them. The softer side is best for pressure and pain relief. Here is how the mattress is constructed:
Central Layer: 6" of Talalay latex, with ventilation pinholes created during the pouring process. The size and distribution of these pinholes can be zoned during the process to create a mattress that provides firmer support beneath the shoulders and torso, and less support elsewhere to allow correct spinal alignment in whatever sleeping position you use.
Top and Bottom: Above and below that central layer is a 1.5-inch layer of Talalay comfort foam: one medium soft layer, and a firm foam on the other side so the mattress can be flipped to use one side or the other.
Cover: The cover is of organic cotton for a cool, smooth and comfortable sleeping surface. The overall thickness of the Zenhaven mattress is 10 inches.
Pros
100% Talalay latex, other than the cotton cover.
Excellent motion separation.
Flippable to change comfort level.
Excellent airflow for a cool night's sleep.
120-night sleep trial.
20-year limited warranty against defective materials or workmanship.
Old mattress removed at no charge (up to 2 pieces).
GMO-free organic cotton.
Cons
You pay $99 for mattress return during sleep trial.
Editor's Notes: The Zenhaven mattress is manufactured in the USA by Saatva. It is 100% latex manufactured using the Talalay process that creates a lighter form of latex than the Dunlop process. The mattress offers excellent motion separation properties between couples and also has a slight bounce. It is one of the few mattresses available today that can be flipped. Check out our full Zenhaven Mattress review here.
10. Brooklyn Bedding Signature Mattress – Best Mattress for Sex
The Brooklyn Bedding Signature mattress is available in three comfort levels so you can choose which you prefer most. We shall focus on the Medium since the Soft option might be too 'huggy' for active couples, and the Firm option might be too hard. However, they are there if you prefer them.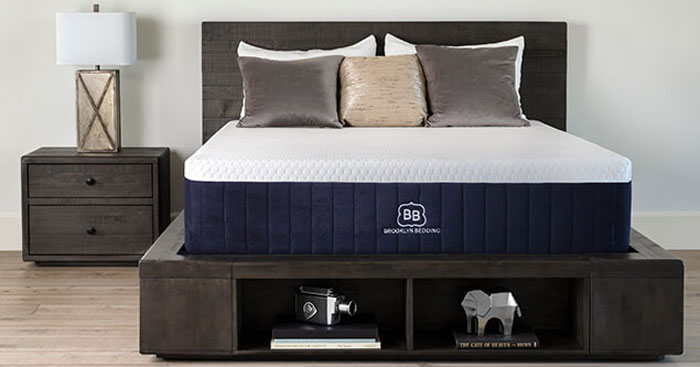 Construction: here is how the Brooklyn Bedding Signature mattress is put together, to provide one of the best couples beds available. Naturally, the level of firmness of each layer will be different for each of the three comfort levels available.
Layer 1: A 1" layer of quilted gel memory foam that keeps you cool at night and resists the formation of body impressions in the mattress.
Layer 2: Below that is a 2" layer of patented TitanFlexTM foam which provides the supportive contouring of memory foam combined with the responsiveness of latex. This responsiveness is an ideal surface for couples who are sexually active. This layer is infused with TitaniumGelTM to promote cooling while you sleep.

Layer 3: Below this is another 2" layer of a firmer form of TitanFlexTM which provides deeper compression support. That means the foam resists you sinking further into the mattress and lets you feel as if you are lying 'on' the mattress rather than 'in' it.
Layer 4: A 6-inch layer of up to 1,024 individually encased AscensionTM steel coils. These provide the main support for the mattress, while also reducing motion transfer to a minimum.
Layer 5: A 1" layer of high density base foam supports the coils as they compress and improves the durability of the mattress.
The result is a superb mattress for couples and the best we have found for sex. It is highly supportive and responsive: two properties that active couples will agree are essential. The Brooklyn Bedding Signature mattress also provides a high level of motion separation.
Pros
Highly cooling which is important for active couples.
Responsive and springy.
Good motion separation.
3 different comfort levels.
120 Night sleep test with free return if unhappy.
10 year limited warranty.
Made in the USA.
Cons
Some complaints about the mattress being too hard.
Otherwise nothing specific.
Editor's Notes: In spite of developments in synthetic foams, such as memory foams made from synthetic polyurethane, nature can still figure high up there. Latex is an ideal substance for comfortable mattresses, and its responsiveness is what makes it ideal for couples in this case. There is more to choosing a mattress for couples than just motion separation. Sex is also very important for most couples, and this is our best bed for couples who are still active in this regard.
Purchase This Mattress with Discount
Mattresses For Couples: Buyer's Guide
When buying a mattress for couples, the needs of each individual partner must be taken into consideration, and then also the needs of the couple as a pair. Let's take a look at the latter first, and examine what properties a mattress needs to be suitable to two people, even if they agree on the level of comfort or firmness the mattress should have.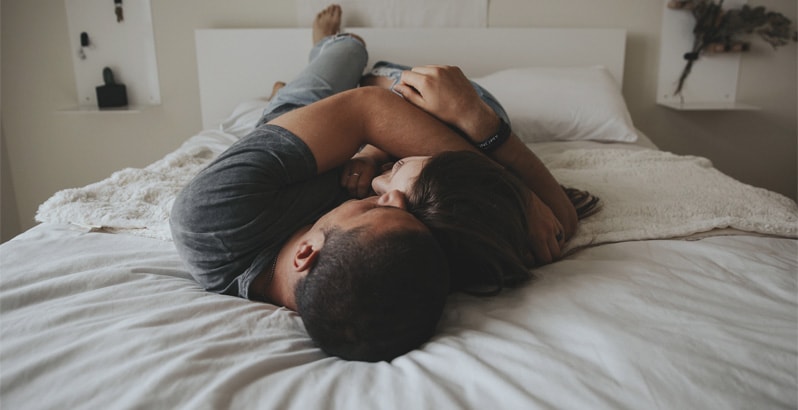 Isolation of Motion: Whenever somebody moves in bed, that movement could easily disturb their partner. Just shifting position could wake up your partner, or if you get out of or into the bed while they are sleeping your motion could disturb your partner's sleep. This should be considered when you are choosing a mattress for a couple.
There are ways that mattress manufacturers can design their mattresses to avoid, or at least minimize, this disruption that one partner can cause to another's quality of sleep. Memory foams tend to move only the area in contact with the person moving; that motion is not generally passed on farther to the other partner. However, most memory foams have a property that many couples dislike: they have no bounce and they tend to fold around the contours of the body.
Adult Night Games: You may think that this would be a good solution to this issue, but it's not. Not unless you have ceased sexual activity with your partner. Active partners need a good level of responsiveness or bounce to enjoy good sex, and memory foams generally do not provide this. However, there is a solution to that. A hybrid mattress with memory foam or latex foam lying over innersprings in the form of individually wrapped coils can provide excellent motion separation and also good bounce. The bounce comes from the springs, which, because they are individually encased and not connected all together, only move where you or your partner are lying. Each coil is compressed individually without also pulling down the coils around it. A mattress with good edge support is also an advantage during sexual activity.
What's the Best Mattresses? The best mattresses for motion separation are thick – those in our review range from 10" to 15" in thickness. They can absorb movement better than thin mattresses. Unfortunately, the very best mattresses for isolating motion are also generally the worst for sex. There is therefore a compromise to be made, and while you can have a reasonable level of both in a mattress, you may have a decision to make if you want great sex or great isolation of motion! We have given you a choice of both in our review above. Couples' beds are available that maximize both of these properties on an 'either or' basis – but not both at once.
Noise: Noise can also disturb your partner. If you want to move silently at night, then foam or latex mattresses are best. A good latex mattress can provide a level of motion isolation and may also have the bounce for good, virtually silent sex. While innersprings have better bounce, they are also noisier when bounced upon, with no isolation of motion – though that would be academic because you would both be awake (we hope!).
Comfort and Firmness: Some people like a soft mattress they can disappear into while others prefer a firm mattress they lie on top of. Asking her what type of mattress she prefers is not the most intelligent chat-up line! However, once you get to the stage that you are a couple, then you may agree or you both have to comprise – or more likely one of you would have to compromise!
Split Mattresses: Heterosexual couples tend to have a weight difference, and a guy weighing in at 250 lb would need a harder bed than a woman of 120 lb. Your respective sleeping positions would also have to be taken into consideration. For you, it would be best to have a split mattress with each side at a different comfort level. The trouble is, there are not many like that – the Helix Dual Extra Hybrid mattress in our review above is one such mattress. The left and right sides are different comfort levels.
You could also buy two twin mattresses and lay them side by side on a foundation wide enough to take both. This is a fairly common solution to this problem. One mattress can be at 4-5 on a 1-10 scale and the other at 7-8 for example. That would also solve the motion transfer issue since you are each lying on your own mattress.
Heat and Cooling: When you are asleep in bed, your mattress absorbs your body heat during the night. Unless there is some way for the mattress to dissipate this heat, you will be likely to wake up hot and sweaty during the night. Innerspring mattresses tend to be cooler than foam mattresses. This issue becomes worse when there are two of you sleeping in the same bed.
Memory foam mattresses were extremely warm at night when they were first used, but now are available with cooling gel beads in the foam and even gel pads for you to sleep on. Make sure your foam mattress has some form of cooling feature – even phase transfer systems are being used nowadays and we are in a better situation with regard to this issue than a few years ago.
Miscellaneous Factors: There are other factors to consider when buying a mattress for a couple. However, they apply to any type of mattress. Factors such as free delivery, sleep trial periods and warranties are important so get your questions answered first. It is much easier to buy a mattress online from a mall store. For a start you get to read the reviews and the pros and cons of each mattress – this is all good information.
Make sure your choice will suit both you and your partner, then give the mattress a try in your home – most offer at least 100 days trial period, and some more. If you don't like the mattress, they will take it away and give you a full refund.
Frequently Asked Questions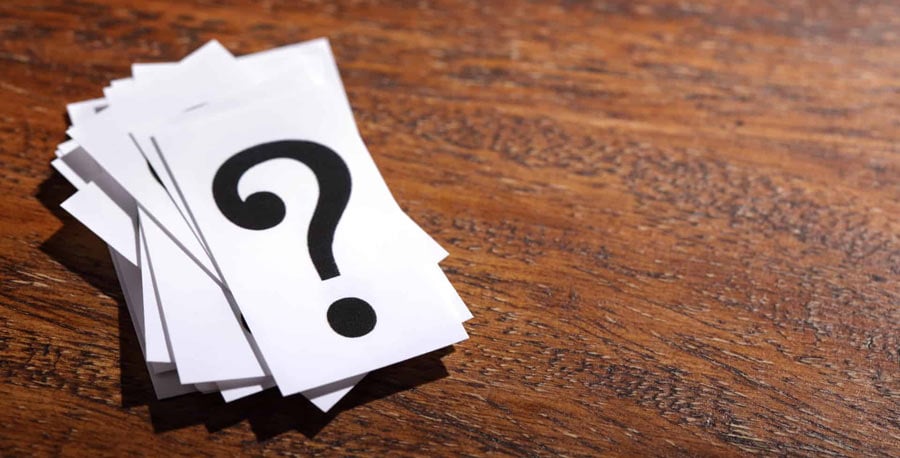 Here are some commonly asked questions we have come across regarding the best mattress for couples.
What's the best mattress for couples with different comfort preferences?
You are best to opt for a split mattress. This is actually two mattresses of half-width. Take a split King: This is two twin XL mattresses side by side on separate bases or box springs. Each person keeps to their own half of the bed. Each mattress meets the needs of the person sleeping on it. You can use king-size covers and quilts and treat the bed as a regular king, only you each have your own comfort level. Otherwise, you would both have to compromise, or at least one of you!
Is an innerspring mattress better than a memory foam mattress?
An innerspring mattress supports you using coil springs. Memory foam mattresses support you on various layers of foam that softens with your body pressure and heat. Memory foam mattresses are best for couples who want to reduce motion transfer to a minimum, and innerspring mattresses if you are sexually active. You can get both: a memory foam layer lying over an innerspring support layer.
Does the thickness of a mattress have any bearing on motion separation or bounciness?
The thickness of a mattress depends on the amount of cushioning, foam and springs it contains. Innerspring mattresses, or pocketed coils, tend to be thicker than 100% foam mattresses. Young couples may be better with a bouncy latex foam over a pocketed spring base while those more elderly may prefer a memory foam top layer over springy latex or even an innerspring unit.
My mattress is great for motion separation but is no good for adult activities. Can I get a topper that I can put it on the bed to give a bit of bounce whenever we need it?
I suppose you could, but why not just get a new mattress that allows you both: motion separation and adult activities? A pocketed spring mattress with a latex foam top to it would likely help you with both.
What's the difference between responsiveness and bounce when having sex?
Responsiveness relates to the speed with which the mattress adjusts to your body as you move around on it. A mattress with slow response time is no good for sex: it makes you feel like you are stuck in wet sand. A fast response time makes sure the mattress has returned to its correct position in time. Bounce is different – it helps you. A nice bouncy mattress will rebound as opposed to just absorbing your impact on it. This bounce is what can allow a mattress to be perfect for sex.
Helix Dual Extra Mattress

Nectar Mattress

Winkbeds Plus

Dreamcloud

Loom & Leaf Mattress

Sapira Mattress

Nest Bedding Alexander Signature

Avocado Green Mattress

Zenhaven

Brooklyn Bedding Signature
Summary
Most of the above choices could be at #1 position, which is why we have selected a specific feature of each which sets it apart from the rest. Sure, mutual comfort is very important – people have to feel comfortable in their bed, and so is motion isolation or separation. For some, it is the cost of the mattress that is important to them, and for others, it must be comfortable for their weight – whether very light or very heavy! Those who are unsure of what they want should take advantage of the sleep tests available. It is not always possible to find these mattresses in a mall store – many are sold only online. You may try out several mattresses before you find the best bed for couples such as yourselves. Check out each of those above and make your choice. You may not agree with our reviews but they will give you a good basis for making a decision.