Transparency Disclosure: We may receive a fee from the seller for any purchases made through links on this website or from other sites accessed via this website. This fee incurs no additional costs for the buyer. To learn more, please read our full disclosure page here. Read our Product Research and Testing page to know more about our review process in detail.
This Nectar mattress review will explain what the Nectar mattress is along with its benefits. We shall also mention any negative aspects of the mattress in order to enable you to make a considered decision whether to choose it or not.
First off: The Nectar mattress is a memory foam mattress. Most people know what the term means. Many people who have already slept on memory foam, and those who have never experienced this type of mattress, should give this mattress a try. If you didn't like your first memory foam experience, then this might change your mind!
Nectar Mattress Review: Table of Contents
Sleeper Types
The trouble with any mattress is that it is rarely made with any specific type of sleeper in mind. If you usually sleep on your side you may need a different type of support than if you sleep on your back or are a stomach sleeper. There is no such thing as a universal mattress that suits all sleepers.
The same is true of singles, couples and the elderly. Young couples like a bit of bounce for obvious reasons. The elderly prefer comfort and a mattress that supports their aging bone structure. Most people want a combination of both, willing to accept the compromise between bounce and pressure point support. The Nectar mattress offers this.
The Nectar Mattress Construction Revealed
So what exactly is the Nectar mattress? How is it constructed, and what are its benefits? First, let's have a look at the different layers that make the 11-inch thick Nectar mattress what it is – starting with layer 1 at the top, the first layer you sleep on.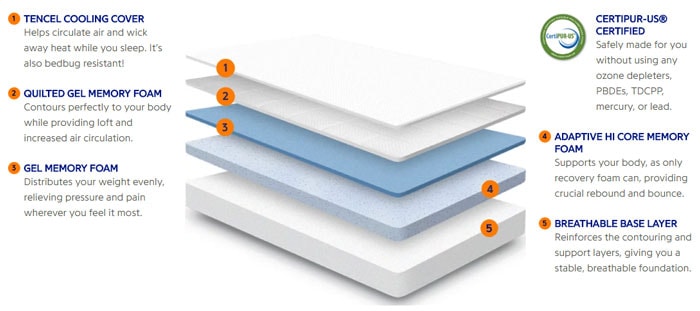 A plush 1-inch quilted top – just like having a plush mattress topper integrated into your mattress. The quilting includes an inch of aloe-based gel memory foam that absorbs your body heat during the night. It also provides a soft top sleeping surface over the memory foam layer beneath it. The cover is made from Tencel which is a bedbug resistant and breathable fabric. It can be removed for spot cleaning only.
A 3-inch layer of LushFoam™, a proprietary gel memory foam that not only contours round your body, but also wicks away the heat you generate during the night. This layer helps prevent you from getting too hot at night.
A 1.5-inch layer of an Adaptive Hi Core Memory Foam. This is firmer than the LushFoam and responds faster to your body weight (and hence body movement in bed.) While helping to support your weight, it also helps to facilitate the transference of your weight from the top comfort layer of your Nectar mattress to the supportive layers below.
The final layer is a 5.5-inch thick high-density foam layer (Nectar refers to it as a High Vegetable Base Super Core.) This is the final support for your body, providing good base support and helping to extend the life of the Nectar mattress
Nectar's cover is fully removable, quilted with a healthy aloe based cooling gel layer to assist air wicking. Nectar's foam layers include "lush" 1-in four lb. semi-open fast-recovery gel memory foam, a 3-in 3.5Lb memory foam with a medical grade cooling and recovery levels and finally a 2.2Lb high density base foam.
Regarding the firmness of the Nectar mattress, it is slightly to the firm side of medium. This mattress offers a level of support suitable for people of most weights. It is an ideal mattress if you carry a bit of weight or suffer lower back pain. However, it also good for thinner, lighter-weight people who have a particularly angular bone structure.

The multiple layers of the Nectar mattress not only support your pressure points such as your shoulders, hips, elbows, knees and other protruding bones that can suffer pressure when you sleep. This mattress absorbs pressure whether you sleep on your side, your back or your stomach.
Get NECTAR Mattress at $125 Off + 2 Free Pillows
Who Will Like the Nectar Mattress?
Different types of mattresses suit different types of people – so who will like the Nectar mattress? Obviously, not everybody meeting one or other of the above criteria is likely to like this mattress. Nevertheless, we were impressed, and it is certainly worth giving it a try. You get a 365 night home trial with a warranty that lasts forever. So who would like it?

If you like memory foam then the Nectar mattress meets your needs. If you like to feel that you are sleeping in a wonderfully soft bed that also supports your weight, then the Nectar mattress should meet your needs.
If you need to reduce the pressure on your arms, shoulders, hips or knees, then this is well worth a try. If it doesn't work for you, then send it back for a full refund.
If you sleep on your side, then you should find that this is a very comfortable mattress to sleep on.
If you need a good period to test the Nectar mattress then you have a full year to get a refund if it's no good for you.
If you are pregnant and the bump is starting to show, the Nectar mattress will be ideal for providing the comfort allied to the support that you will need.
If your partner tends to move around a lot in bed. The Nectar mattress provides excellent motion separation properties.
If you are heavier weight than average, or even obese, then you will probably like this mattress.
Who May Not Like the Nectar Mattress?
If you are a young couple that likes a springy, bouncy bed – this is not for you. It may be in a year or so or when you get older.
If you don't like the memory foam sensation of being slightly 'enclosed' within your mattress. That sensation is not so apparent with the Nectar mattress because of its construction, and with the 365-day trial period, you get plenty time to try it out.
Nectar Mattress Foundation/Base
You can use the Nectar memory foam mattress on just about any foundation. These include box springs, divans, solid or slatted frames, and even adjustable mattress bases. If you purchase the foundation for your Nectar memory foam mattress from Nectar then you also get the Forever Warranty for that.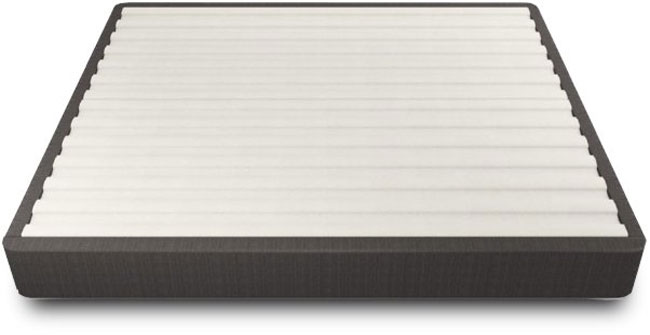 How the Nectar Memory Foam Mattress Suits Different Sleeping Positions
As stated earlier, the Nectar memory foam mattress helps to relieve pressure pain on the major pressure points of your body: shoulders, hips, etc. Here is how it performs with people who use different positions while sleeping.
Side Sleepers: If you are a side sleeper, you will find that you have uniform pressure relief round down your body. The memory foam layers support your shoulders and hips, while your less obvious pressure points (arms, elbows, knees, feet) simply sink down into the foam for a marvelously comfortable sleep. The high-density base helps keep your spine aligned straight when viewed from the front or back.
Back Sleepers: If you sleep on your back your spine will be kept in almost perfect alignment when you sleep. This is not straight when viewed from the side but in an S shape. Your shoulders and buttocks will sink into the mattress while your lower bank will also be supported by the top two layers. The high-density foam at the base of the mattress will support your entire body and also help keep your spine properly aligned.
Front/Stomach Sleepers: just as with back sleepers, the spine of stomach sleepers has to retain its S shape while they sleep. The Nectar mattress allows the stomach to sink slightly into the mattress while their hips are supported. If your spine is not kept in its natural S shape, you will be likely to suffer from back pain. The Nectar mattress helps prevent this.
Environment and Safety
Environmental and personal safety are much in the news today, and both are very carefully managed. The Nectar mattress is certified to both CertiPUR-US and OEKO-TEX standards – the first referring to foam and the second to textile standards. The mattress is as safe as you can get in relation to these two universal standards.
They fundamentally mean that the mattress meets regulations for its content of:
Heavy metals such as cadmium, lead and mercury.
Banned pigments or dyestuffs containing azos, formaldehyde, nickel and
Made without ozone depleters such as Chlorofluorocarbons (CFCs) and other halogenated ozone depleting substances (ODS).
In order to receive such certifications, the company has to be willing to allow the certifying bodies to scrutinize the manufacture and raw materials used in creating the product. They don't just take the company's word for it.
Nectar Mattress Warranty and Guarantee
Some warranties are not worth having, but the Nectar mattress warranty lasts forever! Not only that, but you also get a 365 night sleep trial. If you don't like the mattress during its first year of use, then you can return it for a full refund.
Here are some pros and cons of the Nectar mattress. These do not include the benefits of memory foam which we have already covered above, nor its disadvantages such as giving an 'enclosed feeling or a tendency to heat you up when sleeping. These issues have already been addressed in the design and construction of the mattress.
Pros
Motion transfer between sleeping partners has been reduced to a minimum.
Bouncier than a regular memory foam mattress, but perhaps not enough for young couples.
Excellent edge support, so you can sit on your mattress without it collapsing at the edge.
Keeps you cool when sleeping.
Excellent warranty/sleep trial period.
Cons
In spite of attempts to keep the Nectar mattress cool at night, some still comment on the heat generated by the memory foam.
The mattress is on the firm side of medium, and some find it too firm for them.
Frequently Asked Questions – FAQs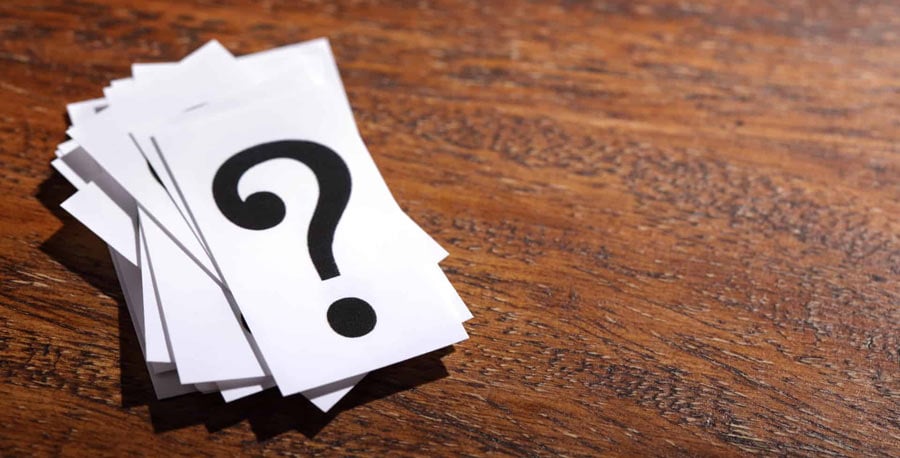 Here are some of the questions that are most frequently asked (FAQs) regarding the Nectar mattress. Some of this information can be found above, but we take the view that any question asked is important to the person asking it!
1. I like sleeping on the floor – or at the floor level! Do I need to use a foundation with the Nectar mattress?
The Nectar mattress can be used without any foundation – it is self-supporting. So you don't need a foundation to get its full benefits. It can be laid directly on your bedroom floor – or any floor! However, keep in mind that there will be no flow of air under the mattress and it could develop mildew. We recommend you use a foundation – but it is not essential.
2. What foundation do you recommend if any?
The Nectar mattress is good with any foundation. Box spring is OK, but a slatted wooden base would allow more airflow.
3. Can it be flipped or rotated?
It can be rotated but there is no pressing need for it. The rotation could even out wear over a period of time, but is not essential. Due to its construction, the Nectar mattress cannot be flipped. You would then be sleeping on the 2.2 Lb high-density foam base – not good for comfort!
4. Can I use the Nectar mattress on an adjustable bed frame?
Yes, you can. Because it is a 100% foam mattress, it will bend according to your adjustable bed position.
5. How do clean this mattress?
You can clean it any way you want other than machine cleaning. The top cover can be removed, but because of its quilting, you can only spot clean it. We recommend you use a mattress protector or mattress pad, particularly if you have children or you allow pets onto your bed.
Nectar Mattress Review: Conclusion …
If you like memory foam, or have never experienced a memory foam mattress and want to try it, then you will like the Nectar mattress. It is a bit on the firm side, although people who prefer softer comfort have commented that the top layers suit them well along with the solid support beneath. It is never good for your health to sink right into a mattress with little support for your spine.
Get NECTAR Mattress at $125 Off + 2 Free Pillows
If you are a bit on the heavy side then this mattress might be ideal for you. The top layers are memory foam and the lower layers high quality support foam. It does a good job of wicking away body heat, and most people wake up feeling cool and refreshed.
Here are our ratings for the properties that we believe to be most important for those looking for a new mattress.
| Factor | Score | Factor | Score |
| --- | --- | --- | --- |
| Comfort | 9.6 | Edge Support | 8.5 |
| Support | 9.8 | Warranty/Trial | 10 |
| Keeping Cool | 9.1 | Durability | 8.8 |
| Motion Transfer | 9.4 | Reputation | 9.4 |
| Bounce | 8 | Total Average | 9.2 |
It takes a great deal to score even 9 on our scale. We have scored the Nectar mattress well because of the comfort, support and good separation of partners' motion in bed. The warranty and trial period is top class, and the company has a great reputation for its products.
Support

Materials & Quality

Cooling

Price

Design
Summary
If you have never tried memory foam before (other than an inch or so in a top 'comfort layer') then give the Nectar mattress a try. If you don't feel it is for you then you get your money back. No quibbles! If you sleep on your stomach this is good for you. If you have painful pressure points (shoulders, hips, lower back or arms and legs for side sleepers) then you might love the Nectar mattress. It should be stressed that the above review is a personal one. You may think differently, although we have acquired our information from personal use and feedback from online vendors. They say that the customer is always right – and most seem to like the Nectar mattress.