Transparency Disclosure: We may receive a fee from the seller for any purchases made through links on this website or from other sites accessed via this website. This fee incurs no additional costs for the buyer. To learn more, please read our full disclosure page here. Read our Product Research and Testing page to know more about our review process in detail.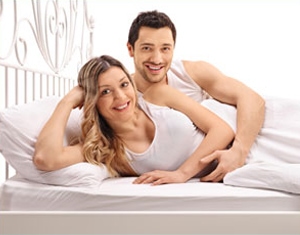 Couples looking for the best mattress for sex are often disappointed. Some are too shy to ask this in a physical store, particularly younger couples and newly-weds. They tend to look online for the information they need. We have looked at the suitability of a number of mattresses and present below the top 5 that we regard as the best mattresses for sex 2023.
There may not be such a thing as the 'best mattress' for a sexually active couple since what is good for one couple might not suit another. However, you should be able to choose one to suit from our selection below. So what do you need? What are qualities that the best bed for sex should possess? These are important questions and we shall discuss them in our 'Buyer's Guide' which is discussed after we have presented our selection.
Here are our top 5 best mattresses for sex:
Best Mattress for Sex Table of Contents
1. Leesa Mattress
The Leesa mattress is our best mattress for sex, 2023. There are several reasons for this which are discussed below. The mattress consists of three layers:
Layer 1: 2 inches of LSA200 Foam
LSA200 is a similar foam to latex, though possesses certain properties that make it one of the best mattresses for sex available today. Here are three of these properties that help make the Leesa Mattress our #1 best bed for sex:
 LSA200 foam is durable, so the Leesa Mattress lasts longer than regular foam mattresses.
It offers good pressure relief allied to a high level of comfort, so is better than most other foams for sexually active couples.
LSA200 responds rapidly to the application and removal of pressure, and so promotes good sex.
Layer 2: 2 inches of Memory Foam
The memory foam layer is placed immediately below the LS200 foam layer. This enables you to enjoy the comfort of memory foam without the overheating that it can produce, and this construction also prevents you from feeling stuck in the mattress. This is a common problem with memory foams and it can spoil the enjoyment of sexual activity.
Layer 3. 6 inches of High Density Polyurethane Foam
This is the bottom support layer that also improves the durability of the mattress. The top layers provide resilience, bounce, and comfort while the lower layer the support and strength needed during active sex. Together, the three layers of the Leesa mattress provide the three most desirable properties required in a good mattress for a sexually active couple: bounce, comfort, and support.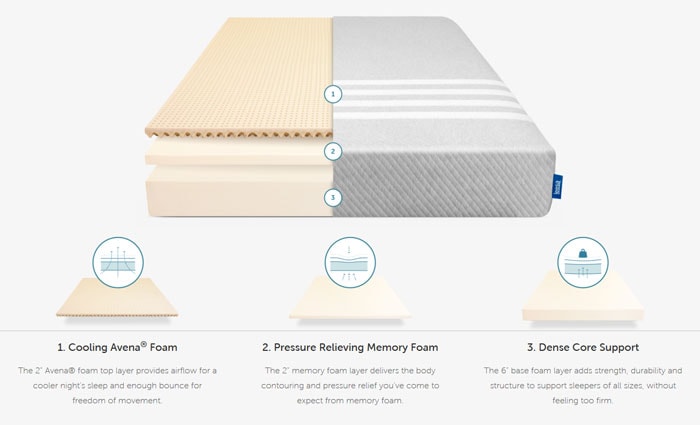 Mattress Cover: The above three layers are held inside a cover. Leesa recommends that this cover not be removed for cleaning, but that it is spot cleaned only. If you are using this mattress for sex, then for obvious reasons we recommend that you purchase a mattress protector that you can machine wash when needed.

Pros
Good bounce and responsiveness.
Comfort and support of memory foam.
Quiet during sex.
Memory foam tends to hold you in position – a good property for sexual activity.
CertiPUR-US® Certified: Manufactured without ozone depleters, phthalates, heavy metals, and other toxic substances.
Made in the USA.
100-night sleep trial: return within 100 days for a full refund.
10-year limited warranty against poor workmanship and defective materials.
Leesa donates one bed to the needy for every 10 sold.
Cons
Cover not washable.
May not suit those that prefer a plush top, although a softer top layer would not be so good for sex.
No other negatives we could find.
Editor's Notes: This is an ideal mattress for sex due to its resilience and bounce, and the way the memory foam helps stop you slipping while lying on your back – or side! It is also very quiet while in use so you need not to worry too much about discretion and being heard. The LS200® foam is an ideal top layer and is more durable than normal latex. This makes an ideal top surface with the memory foam beneath imparting its own benefits. Check out our full Leesa Mattress Review here.
2. Perfect Cloud UltraPlush Gel-Max Memory Foam Mattress
The Perfect Cloud UltraPlush Gel-MAX memory foam mattress is constructed with a top 1.5-inch layer of air-infused memory foam over 2 inches of Visco Gel-Max memory foam and a 6.5-inch base layer of high density foam. So what is UltraPlush Gel-MAX memory foam? It is a normal gel memory foam that can keep you cool during the night. The cover is zippered, and removable for washing and it allows a free flow of air through it in order to facilitate cooling.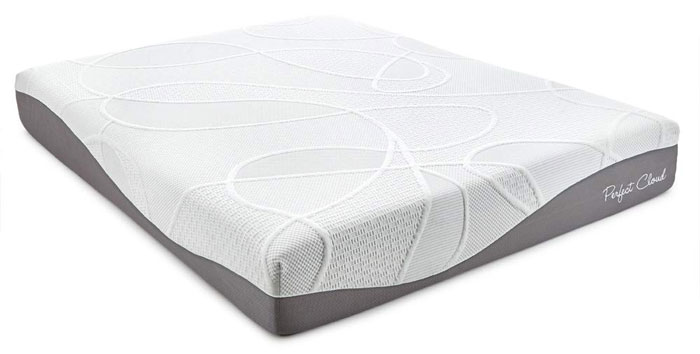 The mattress is comfortable to lie on without being ultra-soft! Too soft or plush a mattress would be no good for sex, but this has some bounce to it and is not particularly soft. There is always a compromise to be made when you want a combination of comfort and bounce. It is also comfortable for all types of sleeper: side, back or stomach/starfish. This mattress deserves its #2 slot in our review.
Pros
The cover, air-infused top memory foam layer and the gel memory foam work together to create a cool, comfortable sleeping surface.
Good bounce allied with comfort makes a good surface for sexual activity.
Low noise – quiet during sex.
CertiPUR-US certified foams.
10-Year warranty against manufacturing and material defects.
30-day Trial period – though not much information given on this.
Designed in the USA
Cons
Some found it hard, and much can depend on the memory foam layer. Some people like memory foam and others don't, and the 3.5 inches is not going to hold you in much. It might not be enough for complete comfort, but too much memory foam is bad for good sex. So swings and roundabouts.
A 30-day trial period is very short in comparison with other manufacturers.
Otherwise, we found no issues with it.
Editor's Notes: This mattress is another one of those memory foam mattresses that are also good for sex, but not quite up to the level of our #1 mattress for sex – the Leesa mattress. There is not much information provided on the sleep trial, and although only for 30 days at least one is available.
3. PlushBeds Botanical Bliss Latex Mattress
The PlushBeds Botanical Bliss mattress also contains latex. As mentioned earlier, latex is a good choice when it comes to providing long-term durability, comfort, support and bounce whilst making love. This mattress is available in three thicknesses: 9", 10" and 12". If you prefer a split version, the Queen, King and California King are each available in a split format. Each different height has a different construction. These are made up of various layers of 2" and 3" Arpico Latex*.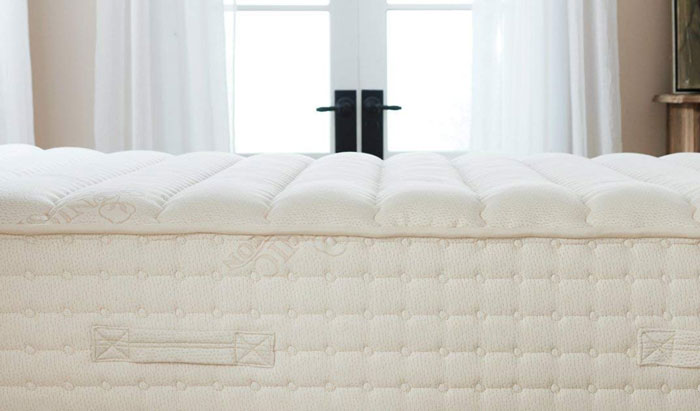 Thus, the 9-inch mattress has one 2" layer and 2 x 3" layer of latex, wrapped in a thick organic cover and batting that together make up the other inch. The 10" mattress comprises 3 x 3" latex layers wrapped in the cover and batting, and the 12 mattress has 1 x 2" and 3 x 3" layers of latex along with the cover/batting.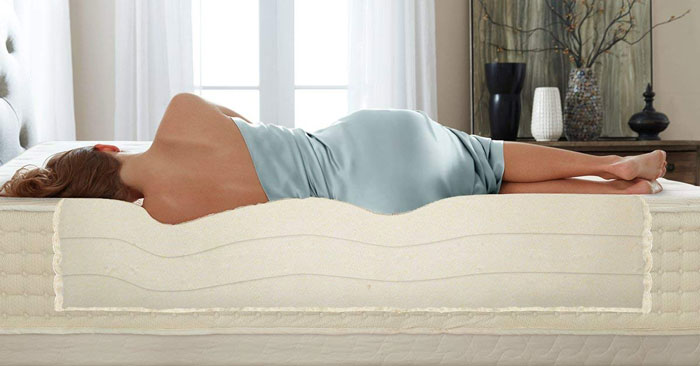 Customize Your Mattress Layers: One benefit of this construction is that you can customize your layers. There are four foams of different densities that you can to personalize your mattress: 55, 75, 85, and 95 lb. You can choose between two comfort levels for each thickness of the mattress: Medium and Firm. Medium is made using 55, 75, and 95 lb foams, while the Firm uses the 75, 85, and 95 lb foams. Once you receive the mattress, you can rearrange these layers to suit your preference.
*The latex is 100% natural Arpico Latex from the organic Sri Lankan rubber plantation. No synthetic foams are used. It contains no heavy metals, phthalates, ozone depleters or any other toxic substance. The latex resists dust mites, molds and mildew and is antiallergenic (other than latex allergy) and antimicrobial. The open cell structure of natural latex allows good air flow and a cooler sleep.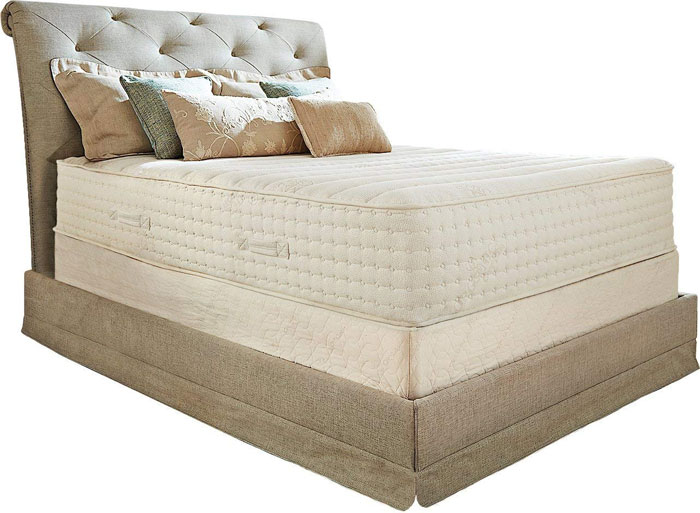 Pros
100% natural organic Dunlop latex.
Excellent durability and bounce for sexual activity.
Customizable comfort levels.
Split Queen King and Cal King sizes.
Hypoallergenic and antimicrobial.
Organic cotton cover and New Zealand wool batting.
A cool mattress to sleep on.
Quiet during sex.
Made in the USA.
100-night sleep trial with free return if you don't like it.
25-year warranty against faulty workmanship or materials.
Cons
Unsuitable for those who do not like latex or are allergic to it.
Otherwise, we could find no faults or issues.
Editor's Notes: This is another mattress ideal for sex. In fact, if you are OK with latex, then it is probably the best mattress for sex available. We have put it back to #3 because many people have a latex allergy, and will be unable to use it. Otherwise, it provides all you could want for great sex: it helps you stay cool, you can adjust the firmness of the various layers, it is resilient, durable and has a good bounce to it.
4. Helix Sleep Mattress
The Helix Sleep mattress is a hybrid mattress, combining the benefits of innersprings with the comfort of foam. Each Helix mattress has a 4-layer structure, and you undergo a questionnaire before ordering to make sure that you choose the best, most suitable mattress from the Helix nine-mattress collection. Here, we look at the Helix Dusk.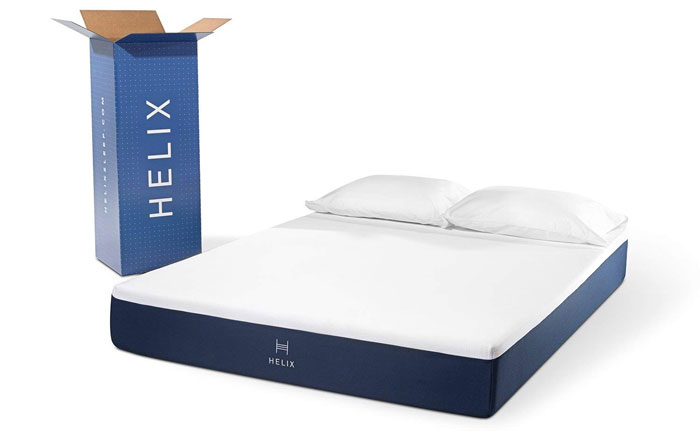 Helix Dusk Mattress
The Helix Dusk is typical of the Helix Sleep range. It has a medium feel to it and is suitable for back, side and stomach sleepers. It is neither too firm to provide a comfortable sleep nor too soft to make sexual activity difficult. It is designed to react to the shape of your body and to recover dynamically to its original shape.
The top and middle layers are designed to provide you with the correct type of support for the way you sleep. The initial medium-feel dynamic latex foam hybrid layer has been developed to react in much the same way as latex does – providing good rebound during sex. The second layer is a polyfoam transition layer, lying between the top foam layer and the springs.
The springs are individually wrapped to provide minimal motion transfer, while also providing a nice bouncy layer to facilitate lovemaking. The edges are reinforced all round so you won't feel as if you are falling off the edge of the mattress. The bottom layer is a base layer of higher density patented DuraDense foam that provides a firm foundation to the mattress and the durability needed by an energetic couple.
In addition to being one of the best mattresses for sex in 2023, the Helix Dusk mattress is also comfortable to sleep on – remember, mattresses are also intended for sleep! This one has a comfortable top comfort layer, and is also good for its reduced motion transfer, so the movement of one partner does not disturb the other when they are sleeping.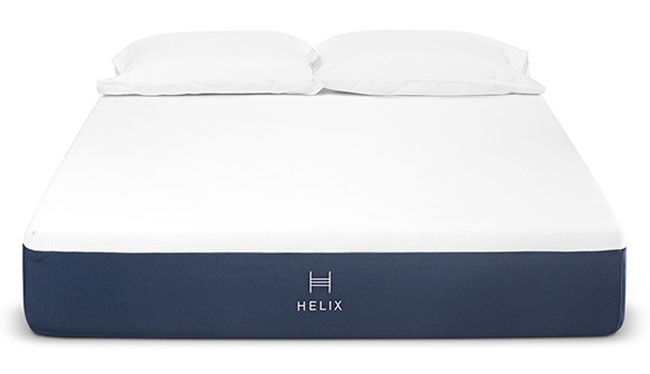 Pros
Supportive and bouncy with a good level of comfort.
Combination of latex-like foam and innersprings make this mattress supportive and bouncy with a good level of comfort.
Highly breathable cover to maximize air movement and ventilation.
Good durability – can take a lot of punishment!
Low level of motion transfer.
Low noise – quiet during sex.
All foams CertiPUR-US certified free of toxic, harmful or environmentally damaging substances.
Textiles OKEO-TEX certified free of harmful substances.
100-day sleep trial – the free return of mattress for a full refund if you don't like it.
10-year limited warranty against faults in manufacturing or materials.
Made in the USA
Cons
Some comments regarding the mattress being too firm.
Otherwise, no negatives that we could find.
Editor's Notes: This is a review of the Helix Sleep Dusk mattress, which is only one of the hybrid mattresses in the Helix collection. You may be recommended another in the range when you complete the questionnaire. Each mattress in the Helix range is designed for comfort and support, and we have chosen the Helix Dusk as being a good choice for a sexual activity.
Note: Regarding the mattress being too firm for some people, this type of complaint is common with most mattresses. There is also the Luxe version of the Dusk mattress available or another eight choices. If you find any Helix Sleep mattress too firm for you, then you can choose another during the 100-day sleep trial. However, get it right second time because it is unlikely that you would be able to invoke the trial on the replacement!
5. Advanced Sleep Solution: Pearl Gel Memory Foam Mattress
The Advanced Sleep Solutions pearl gel memory foam mattress is a 3-layer mattress with a top one-inch layer of a proprietary memory foam infused with a pearl gel for cooling purposes. Below that are 2 inches of proprietary Visco Comfort Technology foam that provides a comfortable sleep at an optimal sleeping temperature and an even weight distribution. This is important during sex to accommodate changing positions and a regular tempo.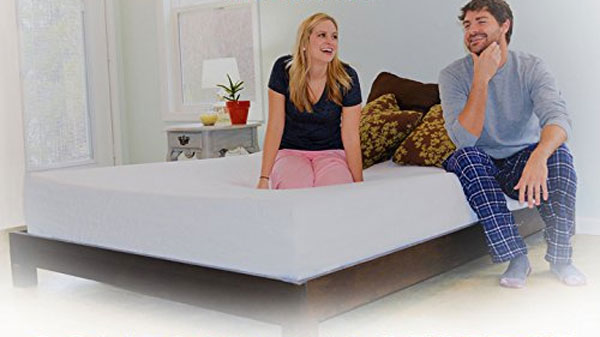 The base support layer is 7 inches thick, with a high level of stability, support, and durability, all properties required of a mattress regularly used for passionate lovemaking. The layers above also help you stay cool during this time.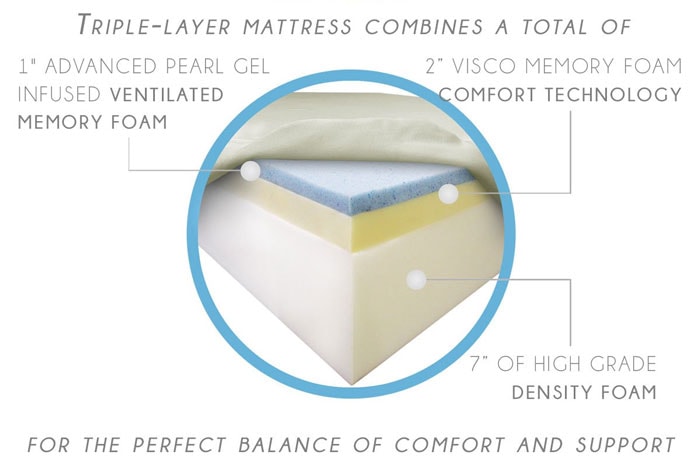 Pros
Good structure for making love.
Comfortable and cool to sleep on.
CertiPUR-US certified foams – free of toxic materials, ozone depleters, and heavy metals.
Made in the USA using American components.
60-Day Comfortably Perfect money-back guarantee if you don't like your mattress.
20-Year manufacturer's warranty against defects in workmanship or materials.
Cons
Some issues with the mattress being too soft, but the vast majority of users liked it.
We found no issues with this mattress.
Editor's Notes: This is another excellent mattress for sex: it is comfortable, cool and resilient – just what is needed for a night with your loved one. The fact that this is our #5 choice does not indicate a weakness in the mattress but is a measure of how good those above it are. Don't forget that we have looked at a large number of mattresses for this review, and this is our top 5 – so #5 is a great accolade without negative implications.
Mattresses for Sex: Buyer's Guide
Here is our guide to buying a bed for sex. If you are looking for the best mattress for sex 2023, then these tips will help you choose the option most suitable for you and your partner.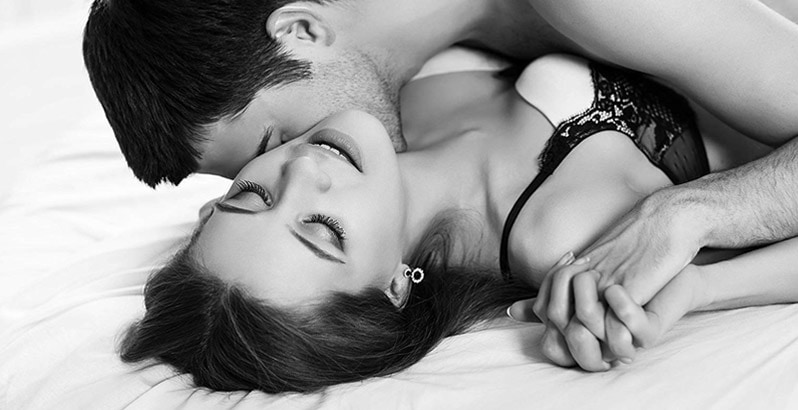 First off, it should be comfortable to sleep on! It should provide good support without being too firm. Too firm a mattress can make sex uncomfortable. A soft, comfortable mattress that enfolds you and keeps you more or less stuck in it is also not conducive to good sex. However, memory foam mattresses are often preferred by some couples as long as the memory foam layer is not too thick.
You will notice that the memory foam mattresses in our top 5 above all have fairly thin memory foam layers combined with at least one resilient layer with good bounce. The best mattresses for sex all have a bit of spring or bounce to them. This helps you save on energy while making love – there's nothing worse than getting out of puff before the finish! A soft, comfortable mattress without a bit of spring in it can do this to you! Here is how various mattress materials can affect your sex life.
Memory Foam: You tend to sink into memory foam, and too thick a layer can ruin the experience. However, some people prefer this since the one partner has sunk into the mattress and is being held stable by it. This can often lead to a quicker finish which some less energetic people prefer. Memory foam provides good support, but you need to choose the firmness level carefully for a lower density memory foam can be easier to move on than a higher density one. Memory foam is quiet, however, and many couples with others sleeping in the house prefer it because of this.
Latex: The general alternative to memory foam is latex. If you prefer a good bounce to your mattress when having sex, rather than the neutrality of memory foam, then latex may be your answer. Dunlop latex has less bounce than Talalay latex though many prefer this. Too much bounce can be tiring. Latex does not hold you down in the same way as memory foam and is also good for supporting buttocks, knees, elbows and hands. They can, however, develop depressions if the same part of the bed is used most of the time.
Regular Foam: Usually polyurethane foam, a regular foam mattress has limited bounce and may bottom out or develop depressions. Those that use them, however, are generally happy with the quality of sex on this type of mattress. It is comfortable for sleeping and silent in use, although much depends on the quality of the foam. They can be clingy, but not as much as memory foam.
Innerspring: Innerspring mattresses tend to be best for a bounce but they can also be noisy. This is OK if you live alone, but not if discretion is required. Innerspring mattresses are easy to move around on, with good edge support, and are suitable for a variety of positions. However, they can lack comfort and durability.
Hybrid: A hybrid is a mattress comprising a layer of coils, usually individually pocketed for comfort and reduced motion transfer, and also with layers of foam (memory foam or latex) on top. Hybrids are also bouncy, though not, perhaps, as much as innerspring or latex mattresses. Hybrids are comfortable to sleep and lie on, though a latex hybrid is likely a better mattress for sex than a memory foam hybrid due to the latter's tendency to lack bounce and restrict movement.
Factors to Consider When Looking For the Best Mattress for Sex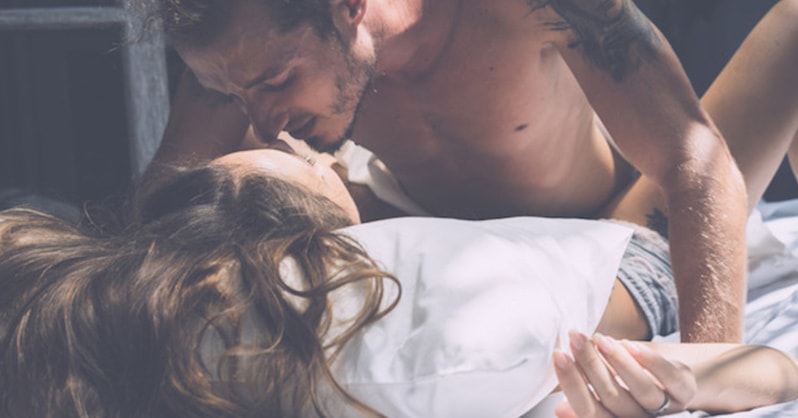 The two major factors to consider are comfort and position: both sexual and sleeping positions. Don't forget that the mattress is also for sleeping on. Here are some tips to help you choose.
1. Comfort and Support
It is important to choose a mattress that is comfortable to lie on and provides the support you need. These two properties usually work against each other: a mattress with good support is also likely to be firm while a comfortable mattress may also be too soft.
For good sex, you need something between the two: too soft a mattress will likely not be resilient enough for bounce while too firm a mattress can be uncomfortable when making love. You need a mattress that meets both needs: support for your position (sleeping and sex) and also comfort. All five of our choices meet this need, and some allow you to choose from a number of comfort and support options available.
2. Sleeping and Sex Positions
We touched on this above, and your choice of mattress should be suitable both for your sleeping position (side, back or stomach) and your preferred position during sex. Memory foam is good for all sleeping positions while latex foam, with more bounce, is best for traditional sexual positions and for side and back sleepers. Our main latex foam mattress, the #3 Botanical Bliss by PlushBeds, offers two comfort levels where the various foam layers can be switched around to best support your positions.
3. Durability
It is important that the mattress is durable, and resists the sagging that can occur with regular sex. Latex is generally very durable, as is memory foam. Innerspring mattresses have the least durability, although hybrids can also be very durable and comfortable due to the foam top layers.
4. Level of Noise
Most people would prefer to be discreet when making love. The best mattresses for sex make very little noise when in use. The quietest are 100% foam mattresses, with no springs to squeak while the poorest are innerspring mattresses where the springs are all interconnected. Hybrids, where coils are individually wrapped and not connected to each other, make a very little sound but may not be totally silent.
5. Cleanliness and Hygiene
"Is sex dirty? Only when it's being done right." This famous Woody Allen quote indicates the need for hygiene after having sex. Try to avoid 'spot-clean only' mattress covers, and go for one that is removable for machine washing. If this is not possible, then purchase a mattress protector you can remove and wash when needed. A stained mattress is not hygienic, even if antibacterial, and can start to smell after a while.
6. Safe to Use
Make sure your mattress is safe to use: look for the CertiPUR-US certification. This means that the foams used are free from hazardous or toxic substances, heavy metals, ozone depleters, halogenated hydrocarbons, toxic fire retardants, etc. The mattresses we have recommended all possess this certification other than the PlushBeds Botanical Bliss mattress that is made using organic latex – this does not need such certification. Polyurethane and memory foams do.
Leesa Mattress

Perfect Cloud UltraPlush

Plush Beds Botanical Bliss

Helix Sleep Mattress

Advanced Sleep Solutions; Pearl Gel
Summary
Our Best Mattress for Sex review has presented our choice of the best mattresses for sex available online today. Our opinion of the best mattress for a sexually active couple is the Leesa mattress, though the best bed for sex is probably PlushBeds Botanical Bliss mattress. However, we have placed this in third place due it being made using natural Dunlop latex, and therefore not suitable for anybody with a latex allergy. All five are excellent mattresses, each offering a good combination of sleeping comfort and support, while also being suitable for most, if not all, sleeping and lovemaking positions. They each offer a good combination of comfort, support and springiness or bounce for sleep and for sexual activity. That's the key: many mattresses are great for sleeping comfort and support and others are great for good sex, but these five are great for both! They all deserve their place in our best mattress for sex review.