Transparency Disclosure: We may receive a fee from the seller for any purchases made through links on this website or from other sites accessed via this website. This fee incurs no additional costs for the buyer. To learn more, please read our full disclosure page here. Read our Product Research and Testing page to know more about our review process in detail.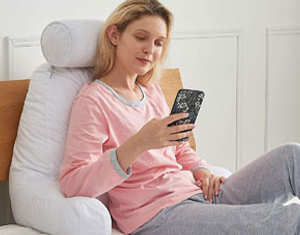 Whether you are reading in bed or on a chair or sofa, a reading pillow can help take the strain off your shoulders, neck, and back. Many people stack up pillows behind their backs as they sit up in bed to read, and many do the same when sitting in the lounge reading. Neck and shoulder strain is not uncommon among avid readers, and poor posture or slouching when reading can also give rise to a misalignment of the spine. This can often lead to severe neck and back pain.
Stacked pillows or cushions can help, but there is a more effective solution: reading pillows, designed specifically to support the neck and lumbar regions of your spine. A lounge pillow, or reading pillow, is designed to promote and maintain the correct alignment of your spine while you read and eliminate or reduce neck, shoulder, and back pain. You can use them on a sofa, in bed, and even when sitting on the floor leaning back against a wall.
We have identified several such pillows, and our reading pillows review 2023 includes our six best 6 reading or gaming pillows in 2023 to help you play or read in comfort and without pain.
The dimensions in the table below are in inches – Length x Width x Height.
H* – Height variable
W*- Width variable
| Sr. No. | Name | Type | Filling | Size (inches) | Price |
| --- | --- | --- | --- | --- | --- |
| 1. | Husband Pillow | Backrest Husband Pillow | Shredded Mem Foam | 31 x 8.5 x 15 | View on Amazon |
| 2. | WOWMax Reading Pillow | Back Wedge Bolster | Polyurethane foam | T, F, Q, Cal K | View on Amazon |
| 3. | Milliard Reading Pillow | Backrest Husband Pillow | Shredded Mem Foam | Variable | View on Amazon |
| 4. | Linenspa Extra Large | Backrest Husband Pillow | Shredded Mem Foam | 26 x 11.8 x 11.6 | View on Amazon |
| 5. | Xtra-Comfort Bed Wedge | Back Wedge | Memory Foam | 22 x 12 x H* | View on Amazon |
| 6. | Avana Kind Bed System | Back Wedge | PU Foam plus Mem Foam | 32.5 x W* x 11 | View on Amazon |
Table of Contents
1. Husband Pillow
Manufactured in the USA, this husband pillow (marketed by Hit Notion) enables you to sit up in bed, on the floor, or anywhere you may have back support such as a wall or headboard: anywhere you want to sit and relax. This reading pillow has a fully-formed backrest that provides full support for your head, neck, and back. It also comes with a detachable microfiber-filled bolster or headrest that takes the strain off your lower back. This neck roll can be removed to elevate your legs by means of a zipper.
It is filled with shredded memory foam that conforms to your body shape for maximum support. Extra filling can be added if the pillow is too soft for you or can be removed if you find it too firm. It can also be moved around to maximize thickness and support where needed. Extra filling is available free on request. The removable covers are available in 16 colors. There is also an optional Aspen range of covers available, comprising 9 reversible colors with a smooth suede finish one side and microfiber on the other. The two finishes provide different shades of the same color on either side.
Pros
Supports your head, neck, and back to remove strain and ease back and neck pain if you have any. It is 31-inches high (24" + 7" neck roll on top) with wide support arms (7" high and 12" long) that can be adjusted to suit your arms. Extra filling can be used to beef up the support.
Detachable neckroll on a bungee cord that extends the height of the pillow to provide extra neck support, or be detached to be used as lumbar support or for leg elevation and support.
Suitable to help you sleep upright if you have breathing difficulty or acid reflux.
Side and back pockets for your books and other items.
Portable: Comes with a sturdy built-in top handle.
CertiPUR certified foam: free of heavy metals, ozone depleters, phthalates, and any other toxic substances.
Made in the USA.
3-Year warranty
100-Day trial period: No quibble money-back guarantee if you don't like this reading pillow within 100 days of purchase.
Cons
We could find no negatives to the pillow we tested, although a small percentage of users have found it too hard or too large for them.
Editor's Notes: The term 'husband pillow' refers to all pillows of this upright design with armrests. This is an excellent reading pillow, and we have been reviewing it as such. Although we have not taken its orthopedic qualities too much into consideration, it provides good back support and the neck roll can be used to cushion your neck or your lower back (lumbar) region. It is ideal if you are recovering from abdominal surgery, and can also be used as a TV pillow, a lounger for watching movies or a wall pillow to allow you to comfortably sit at floor level.
The Husband Reading Pillow helps to soothe or even eliminate neck or back pain while you are reading. It is portable, with a total height of 31 inches with the 7-inch roll attached at the top. Another aspect of the Husband Pillow is the removable covers. They can quickly and easily be changed to suit your mood, your room's color scheme, or because simply need a new cover!
2. WOWMax Triangular Reading Pillow
The WOWMx triangular reading pillow is a one-piece bolster that comes in 4 sizes and 11 colors (see below for details.) This is a cushioned polyester corduroy wedge pillow that sits against the back of your bed (wall or headboard.) Because of its width, this reading pillow can be used to replace a headboard. It can also be used against a wall if you are sitting on the floor. It helps promote the correct position of your spine, and can reduce back and neck pain caused by strain. It is suitable for adults and children and is also ideal for college students who want to read or study in bed.
Pros
Can be used to lean against a headboard, or used in place of a headboard.
Easily portable between rooms.
Can be used as a sloping sleeping surface for those with conditions such as breathing difficulties (e.g. COPD) or acid reflux, or those that prefer to read or sleep on their belly.
Good color range to suit any color of bedding.
Replacement covers are available in 11 colors.
Good support with a plush feel on top.
Available in Twin, Full, Queen and Cal King sizes.
Cover is removable for machine washing.
Made in the USA.
Cons
We found no issues when testing this reading pillow. The only small issue is that this style of reading pillow has no armrests. Otherwise, it is excellent.
Editor's Notes: The pillow is stuffed with polyurethane foam inside a plush linen-blend velvety corduroy fabric which is very comfortable to sleep on. You can use this reading pillow upright, when it can replace a headboard or lean against it, or lay it flat with a gentler slope for reading on your front or for sleeping slightly elevated on a relatively shallow slope. This is a good sleeping position for those with acid reflux or breathing difficulties. It can also be used for sleeping with your head, chest, and abdomen on a steeply sloping surface.
3. Milliard Reading Pillow
The Milliard Reading Pillow is another backrest pillow with two arms and is available in three sizes. These are Petite (14" high), Standard (18"), and Extra Large (24"). It can be used on the floor, in bed, or on a couch or sofa. The arms provide support and added comfort. If the pillow is too hard or soft, the shredded memory foam filling can be reduced or increased. The soft velour outer cover is zippered and is removable for machine washing and drying.
The Milliard pillow offers a comfortable alternative to beanbags. If it needs a clean, just unzip the cover and put it into your washing machine and dryer and it should be cleaned, dried and ready for use the same day. However, should the cover be damaged replacements are available.
Pros
Available in three sizes for all members of the family.
The built-in armrests are useful for reading, gaming, and relaxing.
Useful if you have breathing difficulties or acid reflux and prefer to sleep upright.
Adjustable memory foam fill available to increase support if needed.
Machine washable cover – replacement covers are available.
Free delivery to mainland US states.
No apparent overall warranty, but free no-quibble returns if returned within 30 days of purchase
CertiPUR-US certified foam: free of heavy metals, ozone depleters, phthalates, and any other toxic substances.
Cons
No neck roll
Must be left to expand for 24 – 48 hours after opening the package.
No manufacturer's warranty is apparent.
Grey is the only color.
Editor's Notes: The Milliard Reading Pillow does not have the neck roll that the Husband pillow has, but it does come in three sizes to suit small and large members of the family. The support or hardness is adjustable to suit your preference. An ideal reading pillow if you want to read, game, or watch TV in comfort.
4. Linenspa Shredded Foam Reading Pillow-Extra Large Design
The extra-large Linenspa shredded foam reading pillow is suitable for teens and adults, particularly those larger in size. There is a medium version if you need a pillow like this for your kids. It provides ideal support if you are reading, watching TV, using a laptop or tablet or when gaming and is fitted with support arms either side. The shredded memory foam conforms to your body shape for added comfort. The back and shoulder support is useful to help you recover from injury or surgery, and its carry handle makes it easy to move it around the house or garden as needed.
The cover is a stone or navy velour and the extra-large size also offers optional neck support that not only increases neck comfort, but it can be removed to support your legs. This tends to increase blood circulation in your legs. This reading pillow provides excellent back and shoulder support that reduces any stiffness you may experience while gaming or reading for extended periods. Many people feel shoulder, back, or neck pain when reading or gaming for long periods – but not with this Linenspa shredded foam pillow.
Pros
Can be used in bed, on a sofa or even on the floor. Ideal for sitting on the floor with your back to the wall.
Extra-large size to accommodate adults and larger teens.
Optional neck support available with extra-large size.
Standard size available for kids and teens.
Shredded memory foam conforms to your body shape for a high level of support.
Helps speed up recovery from surgery or injury.
3-Year US warranty.
30-day free return for a full refund if you don't like this reading pillow.
Cons
Can be spot cleaned only.
Otherwise, we could find no issues with this reading pillow.
Editor's Notes: The Linenspa shredded foam reading pillow is manufactured by a well-respected American company that is well known for its high-quality bedding products. You can order optional neck support with the extra-large size if you prefer. This gives added support to your neck, which is useful if you have neck pain or the need for neck support. This support can also be removed for use as a leg or knee support. Fixed carry handle makes it easy to move from place to place (e.g. in front of the TV to the bedroom.)
5. Xtra-Comfort Bed Wedge Pillow
The Xtra-Comfort bed wedge pillow is an adaptable reading pillow that allows you to comfortably sit up while reading or working in bed or anywhere you want to relax: on the patio, the floor, or on a sofa. It can be used under your head or back, and may also be used to elevate your legs. The incline is adjustable It is made using high-density memory foam so that it conforms to your body shape for maximum support.
This reading pillow comes in the form of two wedges attached together, but that can be set in four variations of incline to create a steep or gradually sloping surface according to your needs: relaxing, sitting, reading, or sleeping. It can also be used beneath regular pillows for maximum comfort. The gradual slope enables you to reduce pressure on the neck by elevating your head. Its dimensions are 22" wide and 12" deep, with variable height according to how you set the two movable parts.
Pros
Multi-positional: you can set the two wedges in four different ways for reading, sitting, sleeping, supporting your legs, or relieving neck strain.
High-density memory foam for good support.
Removal and machine washable beige polyester covers on each of the two sections.
Carrying handle.
Good for reading, sitting, or sleeping.
Can be used in bed, on a sofa or on the floor.
22" wide and 12" deep. Height varies according to set-up.
Free delivery to the USA.
30-Day guarantee: free return for US customers for a full refund if you don't like the product.
Cons
The two parts cannot be separated, although each has its own washable cover.
Otherwise, we could find no faults
Editor's Notes: This wedge-shaped reading pillow is adaptable to your needs. It can be used for sitting up while reading or for sleeping, as well as for supporting your legs or elevating your feet. It is a different concept to the Husband Sleeping Pillow at our #1 position but offers a number of different configurations to meet your needs. Free delivery and returns to US and UK customers is a useful offer.
6. Avana Kind Bed Orthopedic Support Wedge Pillow Comfort System
The Avana Kind Bed orthopedic support wedge pillow system comprises 4 components that can be put together in several ways to meet your personal needs. Each individual component is 24 inches wide but varies in height and thickness according to its function. They are manufactured using premium medium density high-performance polyurethane foam covered with a one-inch layer of 4 lb density memory foam. You can adjust each piece to target support where you most need it.
If you are recovering from surgery, have back or neck pain, suffer from a condition leading to shortness of breath such as COPD, are prone to acid reflux or simply want a comfortable backrest for gaming, watching TV or reading in bed, the Avana Kind Bed System offers you the perfect solution. It is available in five different options as outlined below: 
The Cool Gel foam versions have a layer of gel memory foam between the polyurethane foam and the cover. This version of the Kind Bed Comfort System comes with a white cover and taupe sides. The 6 color option versions have a micro-velvet cover on the top and micro-suede sides. The single color options have a bamboo-derived rayon top and micro-suede sides in coordinating shades. The various pieces can be fitted together in a number of different ways to suit your support needs.
Pros
Adaptable to suit your personal support needs: each piece can be placed in any orientation to best suit your body shape.
The back section is curved to conform to the natural shape of the spine for maximum, healthy support
Memory foam comfort with the top layer of foam.
Cooling gel memory foam versions available if you tend to get too hot at night.
Adjustable support utilizing the 5 movable pieces.
Soft, comfortable covers in either micro-velvet or bamboo-derived rayon.
Covers removable and machine washable.
Made in the USA.
Free delivery in the USA.
1-Year manufacturer's warranty against manufacturing and material faults.
Editor's Notes: The Avana Kind Bed orthopedic pillow range is extremely versatile, and genuinely deserves its inclusion in this review of sleeping pillows 2023. You can turn the 4 or 5 pieces in various ways to create a pillow or resting configuration to suit your exact orthopedic needs. This is an extremely comfortable reading pillow, whether you want to read, game, watch TV or simply lie back and relax. It is great whether you need support for your knees, your lower back, your shoulders or your neck, and is suitable for adults or younger members of your family.
If you tend to heat up in bed, then there are two options where standard memory/ foam is replaced with a cooling gel version. There are alternative over materials available depending on whether you are happy with the white/taupe combination or prefer another color (6 alternative colors are available in 24-inch 4 and 5-piece options.)
Buyer's Guide to Reading Pillows 2023
A reading pillow is shaped to prop you up to enable you to read more comfortably when in bed, or even out of bed. If you tend to sit on a settee or couch when gaming or reading, or even on the floor with your back against the wall, a reading pillow will be much more comfortable for you – particularly with your back to the wall. Some of our recommended reading pillows can even be used to sleep on if you prefer to sleep upright or on a slope. Here is our buyer's guide to reading pillows for 2023.
There are a number of different types of reading pillows available, but the two below are the most common and most popular. Such pillows can be used for reading, etc, but they can also be used for orthopedic and medical reasons.
Types of Reading Pillow
Reading pillows can be used by those who like to sit up in bed to read, or who are confined to bed and cannot move without help. You can also use such pillows to watch TV in bed, play games, or simply sit up in bed rather than lie down all day. There are a few different types of reading pillows, and here are the most common.
Husband Pillows: No, this does not mean that a wife can lean against her husband to read! Nor are they just for men! A husband reading pillow looks a bit like a chair, with a padded seat, back and arms which can provide comfortable support for the neck, back, and arms of someone who spends a lot of time in bed reading, gaming, or watching TV. Some also include cupholders to hold drinks and pockets for your phone, books, or magazines.
They can be laid against a bedhead or used in place of a bedhead, against the back of a settee or chair or against a wall if you like sitting on the floor. Kids and teenagers prefer to sit on the carpet against a wall while gaming or reading, and they can even be used as an emergency seat if you have too many people for your chairs!
Wedge Pillows: Wedge reading pillows are wedge-shaped, angled so that you can prop up your back while in bed. It is easily placed against the bedhead, the back of a chair or couch, or against a wall to provide a sloped back to rest on.
Sleeping: In addition to being used for reading, viewing, or gaming, some people prefer to sleep on a wedge or husband reading pillow. This is particularly so if they suffer from COPD or some other condition where they can breathe more easily in an elevated position.
Another such issue is acid reflux which is practically eliminated when you are sitting up rather than lying down. Our #2 choice was given that position for this reason. It is a back wedge bolster, which is a long pillow that slopes from top to bottom along its length. It is padded to provide a comfortable sleeping surface and keeps the sleeper's head above their chest and abdomen. This keeps the airways open and helps prevent reflux from the stomach to the mouth. 
Major Factors you Should Consider When Choosing a Reading Pillow
Support: A reading pillow should be firmer than a pillow used for sleeping. That's because its primary job is to support you while sitting upright, and too soft a pillow will not do that. Without adequate support for your neck and back, you are likely to develop neck and back pain.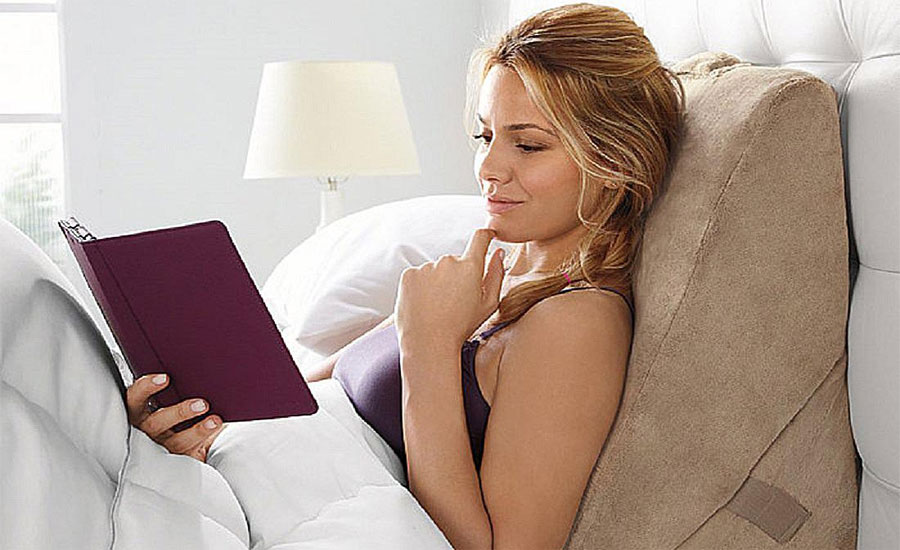 Dimensions: Size matters! A reading pillow should ideally be in contact with your whole back. Many will not do so because they have not been specifically designed for larger adults. If your reading pillow is too short at the back or too narrow, it may not be comfortable for larger people. Measure yourself, or have somebody else do it when you are sitting and lying down, to get the important measurements. If you are a regular-sized adult, a teenager, or child then you should be OK with most such pillows.
Comfort: It's always best to choose a cover that is soft to your skin. You may be using a reading or gaming pillow when in bed, where it is most likely to contact your skin. You want a cover that is soft and not scratchy or itchy. The products we have included in our review or reading pillows all have soft plush or velvety covers that are kind to skin.
Washability: Try to get washable covers if possible – which also means that the covers must be removable. If not washable, then you should at least be able to spot clean them. It's not unusual for pillows to suffer spillages during gaming and reading – and even when watching TV! Some manufacturers offer separate covers you can buy. So if they become badly contaminated you can change them.
Adaptability: Unless you want to use your reading pillow for one purpose only, adaptability is an important factor to consider. Can it be used only in bed, or is it suitable for use on a couch or sofa, on the floor or to replace an existing headboard? Can its geometry be changed to provide different angles of support or to support more than just your back: your neck, shoulders, and/or your knees? Some are fixed while others can be configured to provide orthopedic support exactly where you need it.
Store or Online: Some people prefer to purchase bedding products from a mall store than from an online store. Sure, you can usually test the product in a physical store, although buying a reading or games pillow online also has its benefits. You get to see more products or options online, and online items are usually lower-priced than from a mall store. Online comparisons are easier, and you may also be able to test a product in a store then buy it online!
Warranty and Return Period: If you purchase from an online outlet such as Amazon, you normally get the security of a decent warranty. If the seller does not offer a decent warranty then Amazon frequently does. Also, check Returns. Many suppliers will offer a full refund if the item is not as expected – for example, not the right size or you don't like it.
Specific Orthopedic Condition: If you have a specific orthopedic condition that requires neck or back support, you may be best to choose a shaped orthopedic reading pillow. This provides good support to the shape of your spine, and a neck roll may also be of benefit to you. A pillow that provides you with an upright reading and sleeping position may reduce pain and assist healing.
Acid Reflux and Breathing Issues: A gaming and reading pillow that also keeps you upright when sleeping is also ideal if you suffer from acid reflux or a breathing issue such as COPD. There are such pillows available that are recommended for such conditions.
Reading Pillows Review 2023: FAQs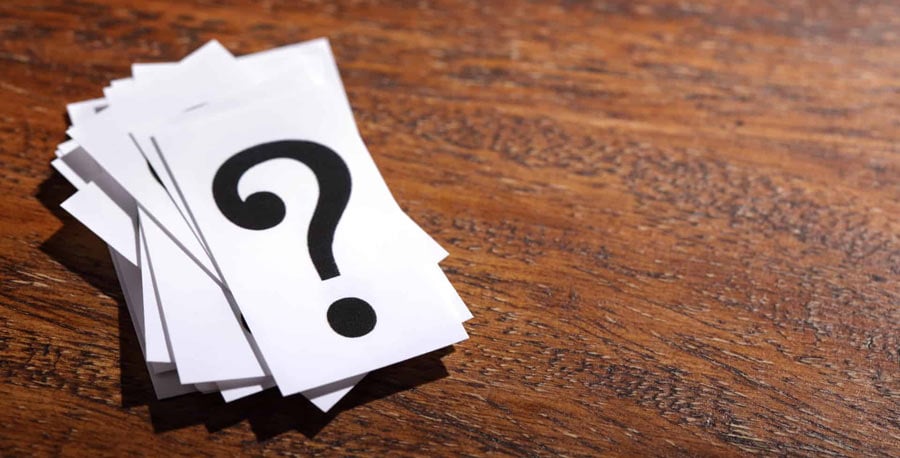 1. What Do the Best Pillows For Reading Do That Ordinary Pillows Don't?
The best pillows for reading support your neck and back. They make sure that your neck vertebrae are in the correct position relative to the vertebrae in your back. Ordinary sleeping pillows are intended for your head and neck only. Reading pillows also support you while sitting up, whether you are sitting on a sofa or on the floor. They are particularly useful, however, when you are sitting up in bed or against a wall.
2. What is a Reading Pillow?
A reading pillow is a pillow that you can relax on while you read. However, it can be used for more than just reading, depending on the type of reading pillow you have. They can also be used as gaming pillows, for watching TV and for specific orthopedic uses. If you suffer breathing difficulties that are brought on by specific medical conditions such as COPD or some heart issues, then a reading pillow is ideal for helping you sleep comfortably while breathing freely.
3. What is the Best Reading Position?
This depends upon whether or not you have a specific problem with your spine or other orthopedic issues. Generally, however, the best reading position is sitting with your back supported from your head to the base of your spine. Reading pillows are ideal for this, particularly husband pillows or wedge pillows that are contoured to help support the natural curvature of your spine. Your feet should also be propped up, and any hard foam pillow or footrest should help with this. Some reading and gaming pillows come with wedges that can be used to support your legs or feet. Try to avoid your neck dropping towards your book.
4. What is the Best Type of Gaming Pillow?
The best type of gaming pillow is probably the husband design. This is an upright pillow, sometimes with a neck roll attached, with padded arms attached to each side. The arms are usually able to be moved laterally to suit your arms or elbows and the angle you have them at while gaming – or reading. The arms are useful if you are also holding a console or tablet.
5. Is Sleeping While Sitting Upright in Bed Good For You?
No, it is not good for your spine to sleep straight up. Sitting up straight for a while reading won't do much harm, although it is best to sleep inclined at an angle. Wedge-shaped reading pillows are better for sleeping than you sleeping while sitting straight up. Even a slight incline such as our #2 choice, the WOWMax Reading Pillow, is good for sleeping on.
6. What do the best pillows for reading do that ordinary pillows don't?
The best pillows for reading are designed to support your neck and spine correctly and help maintain your entire spine in its correct shape. Most are also designed for sitting on a carpet with your back to a headboard or a wall, and also providing proper support against the soft back of a sofa or couch. Some designs enable you to set up the pieces to meet your personal orthopedic needs, or your personal comfort preferences concerning your head, neck, shoulders, back, and knees.
Husband Pillow

WOWMax Reading Pillow

Milliard Reading Pillow

Linenspa Extra Large

Xtra-Comfort Bed Wedge

Avana Kind Bed System
Summary
Finally …. The six pillows we have chosen are the best six reading or gaming pillows we could find which are also suitable for watching TV. We have taken many variables into account, and if you choose one of these then you should be able to safely use it for reading – whether you are in bed, on a sofa, or sitting leaning against a wall. Not just for reading though: they are also gaming pillows and you can use them to watch TV or when using your laptop or tablet.