Transparency Disclosure: We may receive a fee from the seller for any purchases made through links on this website or from other sites accessed via this website. This fee incurs no additional costs for the buyer. To learn more, please read our full disclosure page here. Read our Product Research and Testing page to know more about our review process in detail.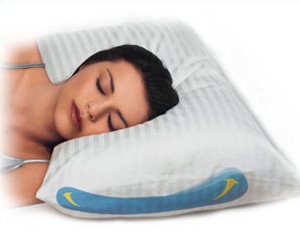 The best pillow for one person might not be the best for another. However, everybody should find at least one that suits them from our best rated pillows ever reviews in 2023. This is an eclectic selection that includes at least one example of each of the common types of pillow.
Some people love feather or down pillows, while others love the feel of memory foam pillows. Some like a soft pillow while others prefer a firmer base for their head while they sleep. There are pros and cons for every type of pillow, although one we have kept in mind in our selections is the pillow's ability to support your head and neck, and keep them in line with the main part of your spine. Here are our top 10 pillows in 2023. Sizes are for the King.
Sr No.
Name
Type
Dimensions "
Price
#1
Nest Bedding Easy Breather Support Pillow
(Best for Support/Breathing Problems)
Shredded Mem Foam
32 x 16

Get Discount

#2
Layla Pillow: Kapok and Memory Foam
(Best Choice for Keeping You Cool)
Kapok/Mem Foam
32 x 18

Get $25 OFF

#3
Coop Home Goods: Premium Adjustable
(Suits All Sleeping Positions)
Shredded Mem Foam
36 x 20

Get 10% OFF

#4
The Purple Pillow
Hyper-Elastic Polymer
24 X 16 *

Check Price

#5
Malouf Z
(Top Latex Pillow)
100% Talalay Latex
34.5 x 16

View on Amazon

#6
Snuggle-Pedic Ultra-Luxury
Shredded Mem Foam
35 x 20

View on Amazon

#7
ComfySleep Buckwheat Hull Pillow
Buckwheat Hulms
30 x 30

View on Amazon

#8
eLuxurySupply Hotel White Goose Down
(Top Choice for Goose Down)
Goose Down
36 x 20

View on Amazon

#9
Naturapedic Organic Cotton/PLA Pillow
Cotton/Kapok fiber
26 x 20 *

View on Amazon

#10
eLuxurySupply Overfilled Down Alternative
Polyester Cluster Fiber
36 x 20

View on Amazon
* One size only.
Best Rated Pillows Table of Contents
1. Nest Bedding Easy Breather Support Pillow
The Easy Breather Support Pillow is manufactured by Nest Bedding and may well be the best pillow in the world – if there is such a thing. It supports your neck so that it is level with the rest of your spine. The pillow is filled with Nest Bedding's own blend of materials that makes it feel like a feather and down pillow, but with the support that only foam can provide.
Because this pillow correctly supports your head and your neck, it helps to open up the passage to your lungs making breathing easier. This is particularly of benefit to those with breathing problems such as COPD or asthma. Its Tencel blended fabric cover provides a soft surface for your face and neck and you can open the cover to add or remove foam filling to make it softer or harder.

Pros
Top and bottom layers are 0.5″ thick Tencel blended fabric.
The shredded memory foam contains gel beads that absorb heat and keeps your head and neck cool while sleeping.
The gel memory foam is suspended in pliable siliconized microfibers that keep the pillow soft, resists clumping of the shredded foam, and also prevents heat from being trapped close to your body.
The Tencel blended fabric cover can be opened to add or remove filling for your perfect hard/soft level and thickness.
Available in Standard, Queen and King sizes.
Made in the USA – including all materials.
Cons
This pillow can be spot cleaned only. If you need to machine-wash it, then remove the filling, put the cover in the washer and then refill it. This is not a genuine negative, and the pillow can be fluffed up and the filling re-distributed by tumbling in a dryer at zero heat.
Otherwise none!
Editor's Notes: This is an excellent example of a shredded memory foam pillow, enabling you to adjust the filling to make it softer or harder, thinner or thicker. This pillow contains no animal products and no latex, so is good for those that tend to suffer from allergies. A benefit of shredded memory foam is that it conforms to the heat and pressure of your head and neck, but also allows a good flow of air within the pillow.
This is particularly true of this pillow, where the shredded foam is supported by siliconized microfibers that help to prevent the foam shreds from clumping together. The Easy Breather Support Pillow by Nest Bedding is one of the best rated pillows ever. It may not be the best pillow ever, but it certainly rates up there among the best pillow options available today.
Purchase This Pillow on NestBedding Website
2. The Layla Pillow by LaylaSleep
The Layla pillow comes with a copper-infused cover with a kapok fiber/memory foam filling. Kapok is a 100% natural fiber obtained from the kapok tree seed pods. Kapok is a rainforest tree that can reach heights of up to200 ft. The fiber is very airy and soft, with lots of loft to it, making it almost perfect for pillows. The Layla pillow uses kapok along with shredded premium memory foam for maximum support and air circulation.
Kapok provides a number of advantages over other fibers when used in a pillow. Among these is the fact that it is 100% natural as explained above, so is free from synthetic pesticides. Kapok is also hypoallergenic so you can lie on your pillow knowing that you can breathe without wheezing or with any other side effects. Another benefit is that the memory foam used in the Layla Pillow is CertiPUR-US® Certified.

The cover of the pillow is manufactured with copper threads woven into the fiber. Copper offers a number of advantages:
It rapidly conducts heat away, making for a cooler pillow while you sleep.
Copper is antiviral and antibacterial, making the pillow healthier to sleep upon than one not containing copper.
Copper is also believed by many to help maintain good health and prevent some orthopedic problems. It is believed to release positive ions into the pillow which have beneficial; health properties. This has still to be proved, but many people attest to the properties of copper when used in this way.

Pros
The Layla Pillow is very comfortable to lie and sleep on due to the quality of the shredded memory foam used in its construction.
The copper threads conduct away any heat you generate during the night, so keeping you cool and waking up refreshed.
Kapok is a natural fiber and is hypoallergenic.
Copper is antiviral and offers the benefits described above.
Lifetime Guarantee.
100 night trial period: return within 100 days free of charge if you are unhappy with the pillow.
Made with 100% USA products.
Cons
Available in Standard and King sizes only.
No others that cannot be resolved by changing the fill of the pillow. Many do not understand the fact that can that they can make the pillow softer or harder, and thinner or thicker.
Editor's Notes: This is an excellent example of a memory foam pillow manufactured using shredded memory foam. Shredded foam offers the advantages of memory foam along with the ability to add or remove foam filling from the pillow. It is possible to order additional filling if you need more than is provided with the pillow.
There are very few negatives that we could find with this, and like the Nest Bedding pillow, it is an excellent choice. The only genuine difference is that one uses siliconIzed fibers with gel beads in the memory foam, and the other uses kapok and copper to keep the pillow fluffed up, supportive and cool.
Purchase Layla Pillow with $25 OFF
3. Coop Home Goods Premium Adjustable Loft Pillow
The Coop Home Goods Premium pillow is one of the top rated pillows online. Made using cross-cut memory foam coated with a combed microfiber this pillow offers a medium level of support with a truly luxurious feel. It is claimed to provide the responsive support of memory foam along with the wonderful feel of a down pillow. We have found nothing in our tests to dispute this. It is suitable for any sleeping position.
You can customize the fill of the Coop Home Goods premium pillow to make as thin or as thick as you prefer. The shredded memory foam used for the fill is a high quality CertiPUR-US rated memory foam, and not just scraps left over from other pillows and mattresses. The shredded memory foam allows a good flow of air through it while you sleep in addition to the comfort of high quality memory foam. The adjustable loft means that you can fill the pillow so that your head and cervical (neck) vertebrae remain in a proper alignment with the rest of your spine.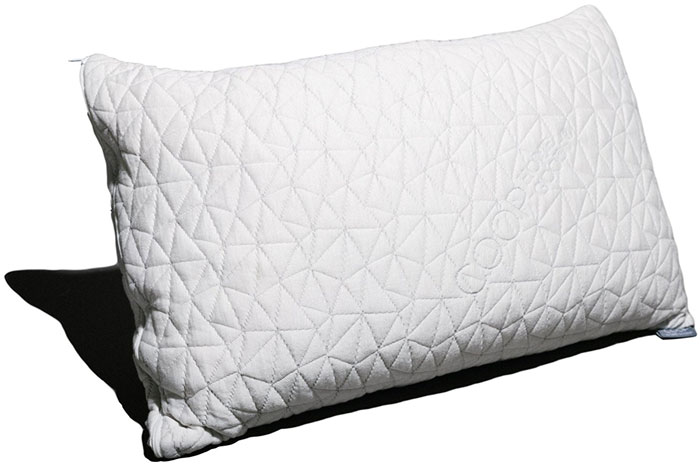 More details about the construction: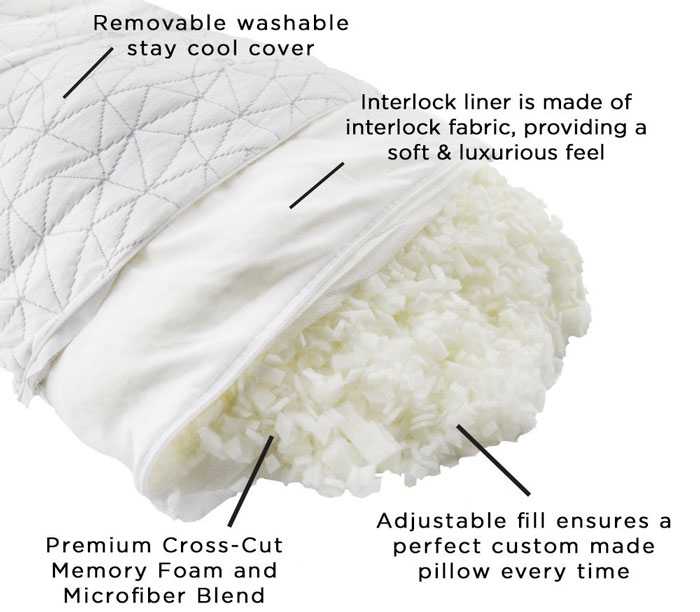 Pros
Made using high-quality CertiPUR-US rated shredded viscoelastic memory foam. It is therefor free of depleters, heavy metals and other substances hazardous to your health.
Supplemented with premium combed microfiber to give it a truly luxurious feel – this helps you fall asleep much quicker.
You can easily customize the fill or loft of the pillow to meet your personal needs.
The pillow is encased in a zippered cover comprising 60% polyester and 40% natural bamboo-derived rayon fiber. This gives the pillow a wonderfully smooth feel.
There is an additional inner cover, also zippered to give access to change the fill level.
Hypoallergenic and resistant to dust mites.
The pillow is machine-washable so easily kept clean (Cold, delicate cycle with no bleach or detergent).
5-Year warranty.
100 nights sleep test – return the pillow within 100 days for a no-quibble refund.
Made in the USA (California).
Cons
Guarantee/Warranty is only 5 years – less than for many other pillows.
Available only in Standard, Queen and King sizes.
Main issues were connected with the shredded memory foam. Some people do not like shredded foam: in this case, then you should probably try a feather/down or solid foam pillow.
Editor's Notes: This is a high-quality shredded memory foam pillow. Many users appear not to understand the benefits of shredded foam, the fill of which can be adjusted to change its thickness and also the level of hardness. It may not be the best pillow in the world, but is certainly one of the top rated pillows ever in our 2023 pillow review. The shredded foam allows good air flow to help keep you cool. The double cover design (outside washable cover and inside zippered cover to add or remove filling) helps keep the pillow clean, particularly the filling.
Purchase This Pillow with 10% Discount
4. The Purple Pillo
The Purple Pillow claims to be the "First innovation in pillows since geese!" This pillow is soft in the middle but supportive where you need it to be. It is manufactured using a proprietary material referred to as 'Hyper-Elastic PolymerTM. This material is arranged in a trademarked Smart Comfort GridTM that is designed specifically to support your head. Not just your head of course, but anybody's head!
This type of construction supports your head and your neck. It uses hundreds of small triangles of foam that enables the pillow to support the pressure of your head and neck. It does this without losing any support as you sleep, as the reinforced edges of the triangular shapes support your neck all might through. This construction, unique to the Purple Pillow, allows a free flow of air through the pillow. This keeps your sleeping temperature neutral: neither hot nor cold, so you will never wake up all sweaty and hot.

A unique feature of The Purple Pillow

Pros
Supports your head and neck so they are in a correct alignment with your spine while you sleep.
Keeps your head and neck cool during the night – no more waking up sweaty and hot.
The foam (or Hyper-Elastic PolymerTM) never breaks down and loses its shape as many shredded memory foams do.
You can wash the Purple Pillow in warm water – you can use a small amount of dish washing liquid or other mild detergent. Don't machine dry, but let dry naturally in the air.
100 Night trial period. You can return it without question at any time during this period for a full refund.
Made in the USA (Utah).
Cons
Limited warranty is only one year.
Otherwise no negatives that we could find.
Editor's Notes: The Purple Pillow is a good accessory for the Purple Bed or Purple Mattress. It is fundamentally a memory foam pillow – which is what the term 'hyper-elastic infers. Its unique construction, using triangular shaped hyper-elastic foam elements, enables a good flow of air through the body of the pillow. This keeps you cool during the night. Although the one year warranty might not be unusual for a pillow, it should be noted that other pillows in our best pillow reviews offer much more than just one year – our #2 choice, the Layla pillow, offers a lifetime guarantee.
5. MALOUF Z 100% Natural Talalay Latex Zoned Pillow
The Malouf ZTM pillow is made using 100% natural Talalay latex. This pillow is a low loft pillow, but also firm for those that prefer a firm pillow. It is good for side and back sleepers, who need support and pressure relief for their neck. Talalay latex rapidly conforms to the movement of your body, providing support where needed almost instantly whenever your head or body moves during the night. This is the best latex foam pillow we could find.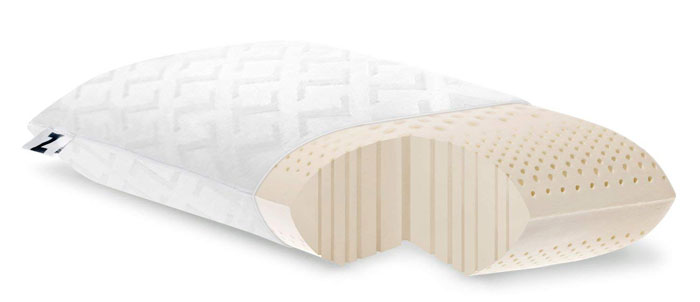 Pros
Available in a low loft filling for stomach sleepers, and firm for side and back sleepers.
Made using 100% natural Talalay latex.
Naturally resistant to dust mites and mildew.
The Tencel cover helps manage moisture while you sleep and can be removed for cleaning.
The Malouf ZTM Talalay latex foam pillow is available high and low profiles and in plush and firm densities.
Malouf ZTM Talalay latex is breathable and maintains its original shape – it does not have to be fluffed up after use.
5-Year warranty.
Cons
Available only in Queen and King sizes.
Made in China.
Otherwise, there are no apparent negatives with this latex pillow.
Editor's Notes: The Malouf Talalay latex foam product is one of our best rated pillows that is not made using memory foam. It may not be the best pillow ever, but it is antiallergenic, made from natural materials and provides support where and when you need it. It comfortably cradles your head while also providing support to your neck and shoulders. This helps to keep your cervical (neck) vertebrae in line with your spine and so helps to prevent neck and back pain while you sleep. Talalay latex is the best type of latex you can use for neck and vertebral support.
6. Snuggle-Pedic Ultra-Luxury Bamboo Shredded Memory Foam Pillow
This Snuggle-Pedic shredded memory foam pillow comes with a zippered lycra and bamboo fiber enriched cover. As with other shredded memory foam pillows, you can adjust the fill of the Snuggle-Pedic Ultra-Luxury pillow. It is ideal for all sleepers: Back, side and stomach. It is also an ideal pillow for pregnant women. It supports your neck to keep it in line with the rest of your spinal column.
It comes with a good 20-year warranty and a 120 night no-quibble sleep trial period. If you don't like the pillow, then return it within 120 days for a full refund – no questions asked! The pillow comprises a zippered micro-vented cover manufactured with 56.4% polyester, 42% bamboo viscose and 0.6% Lycra. It provides a smooth, cool sleeping surface for your head and neck. The cover is fully machine-washable.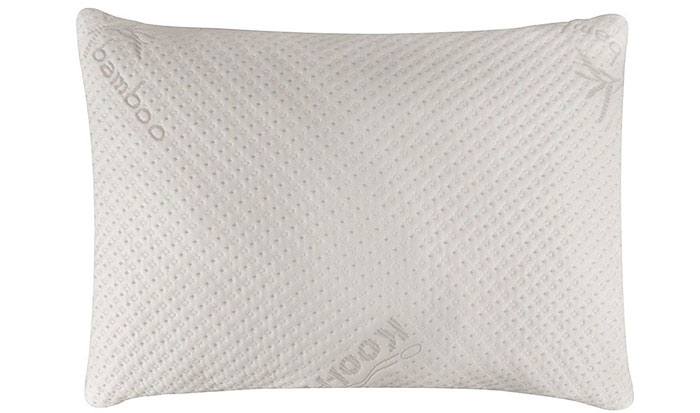 Although the pillow itself can be spot cleaned, it is also machine washable. Put the whole pillow into your washing machine for a thorough clean. If your Snuggle-Pedic Ultra-Luxury pillow is tending to flatten, put it in a tumble dryer on a high heat setting for 20 minutes. The memory foam cells will be reinflated, fluff up and become revitalized.
Pros
Machine washable zippered bamboo-enriched cover.
Available in Standard, Queen and King size.
The pillow is machine washable and can be reinvigorated a tumble dryer.
Hypoallergenic, antibacterial and resistant to dust mites.
CertiPUR-US and Biogreen certified foam made without heavy metals, phthalates or ozone depleters. Also low in VOC emissions.
You can change the filling to make the pillow as soft or as firm as you want. If you have difficulties, the company will help you customize your pillow free of charge.
Made in the USA.
20-Year warranty.
120 night sleep trial period: a free personalization service is available if necessary.
Cons
Once again, very few, although it can be difficult to get the right fill for your needs. If you have this issue, then Snuggle-Pedic will help you.
Editor's Notes: This is another excellent shredded memory foam pillow with a bamboo-enriched rayon cover. It is a dream to sleep on, and the loft and fill are adjustable. If you cannot do this properly yourself then the company will help you free of charge. It earns its position in our best pillow reviews because of this, and because of its hypoallergenic and antibacterial properties.
7. ComfySleep Rectangular Buckwheat Hull Pillow
The ComfySleep Rectangular Buckwheat Hull Pillow is available in Standard (20″ x 26″) and Queen size (20″ x 30″), but not King size. It is also available in three other sizes: Traditional (14″ x 21″), Classic (14″ x 23″) and Classic Plus (14″ x 26″). This pillow is filled with cleaned buckwheat hulls. 8 pounds of buckwheat hulls fills a Standard (20″ x 26″) pillow. It also comes with an extra 2 Lb buckwheat to adjust the filling if necessary.
One of the benefits of buckwheat hulls is that they allow a high level of air circulation within the pillow. The buckwheat is contained within a breathable organic twill cover, from US cotton woven in the USA. The cover is fitted with an invisible zipper. If you prefer a pillow that is totally natural, then the ComfySleep Buckwheat Pillow is the answer.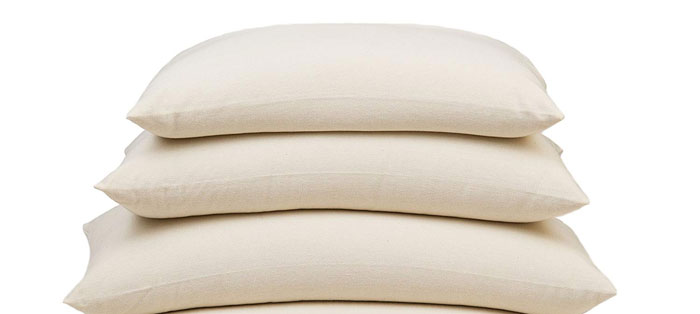 Check the internal material of the pillow: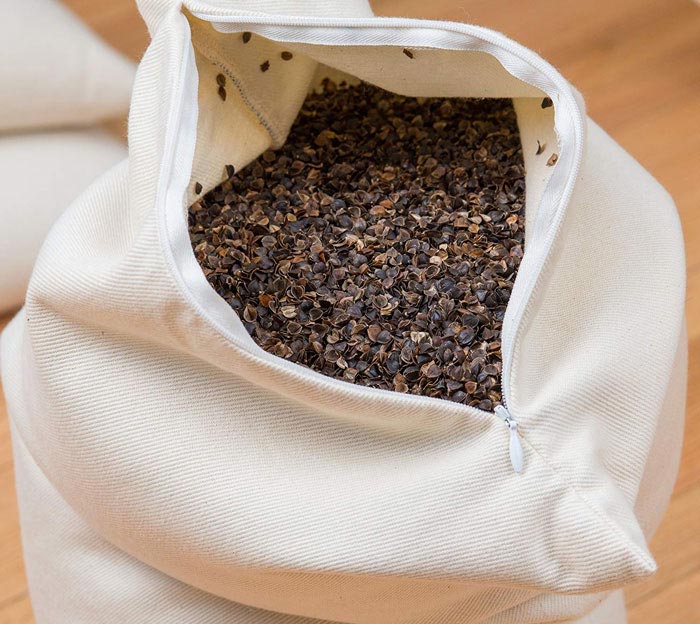 Pros
Allows airflow all round your head.
Stomach sleepers like it.
No foam – only buckwheat.
100% Natural material.
No animal products involved.
Safe for your family – and safe for the environment (but check out the Cons).
Free of chemical fertilizers or insecticides.
The hulls can be composted when you replace the pillow.
Cons
Hulls must be thoroughly washed and cleaned. Otherwise they may contain allergens that can trigger asthma-like attacks in those susceptible to it. If you are asthmatic, therefore, you may be advised to use latex or memory foam pillows. The huls used in this pillow have been thoroughly cleaned and should present no problems.
Editor's Notes: Buckwheat is a crop more related to sorrel and rhubarb than to wheat. The hulls, or husks, do not reflect or conduct heat in the same way that any synthetic filling does. If you have specific allergies, then a buckwheat hull pillow may be better for you than other natural fillings such as feathers or down. Many people use this pillow and love it.
8. eLuxurySupply Hotel White Goose Down
The eLuxurySupply White Goose Down pillow is soft and luxurious, and ideal if you like a soft pillow you can snuggle into. Because it is 100% goose down, with only 20% feather in the filling, it lacks the sharp quills of a 100% feather pillow that dig into your face. It is encased in a 300 thread count cotton cover, and the pillow can be machine washed and tumble dried.
Available in Standard (20 x 26), Jumbo (20 x 28), Queen (20 x 30) and KIng (20 x 36) sizes. This pillow is manufactured by a family firm in the USA, although a family member manufactures a version in Canada. Those that use the eLuxurySupply white goose down pillow find it very comfortable with very few complaints.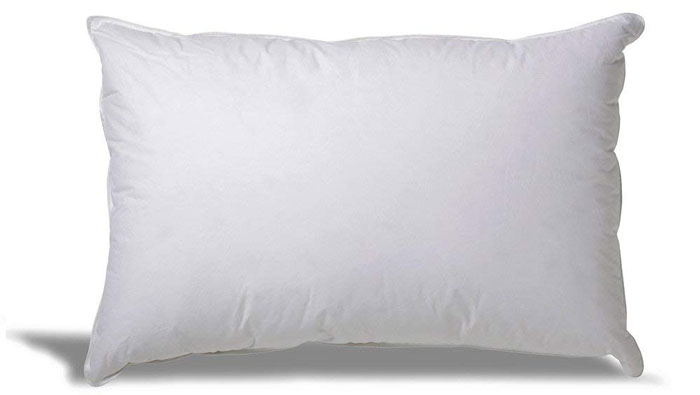 Pros
Pure white goose down: 600 fill power.
80% down and 20% feather.
Machine washable and dryable.
Made in the USA.
Cons
Some issues regarding the pillow being too thin. At 7.4 inches thick, this should seem to be thin, which may indicate a loft or fill problem. However, the vast majority loves it and the company is quick to offer a refund or replacement in the event of a complaint. This negative is, in a way, a positive due to the rapid response and refund offer.
Editor's Notes: If you like the feel of feathers and down on your face and head when you sleep then this pillow is ideal for you. It is the best pillow we have tested that is 100% down and feathers. The company's rapid response to complaints cannot be faulted, and it is quick to offer a replacement or refund, whichever you prefer.
9. Naturepedic Organic Cotton/Kapok Pillow
If you want a cotton a kapok filled pillow, then this is likely the best available. That said, it is not the best pillow in the world, but is good if this is the type of filling you prefer. It appears to be available only in toddler and standard size, although at 20 x 26 inches it does seem a bit small. Nevertheless, the 50% kapok (also known as silk cotton) adds a lightness to the cotton filling and helps to make this a very comfortable pillow to sleep on. It may be ideal for you if you prefer not to use a latex or memory foam pillow.
The outer cover of the pillow is not removable, but it is made using a 300 thread count organic cotton fabric. If you want a removable protective cover, then any pillowcase or cover will do the job. We recommend this because you cannot wash the pillow itself.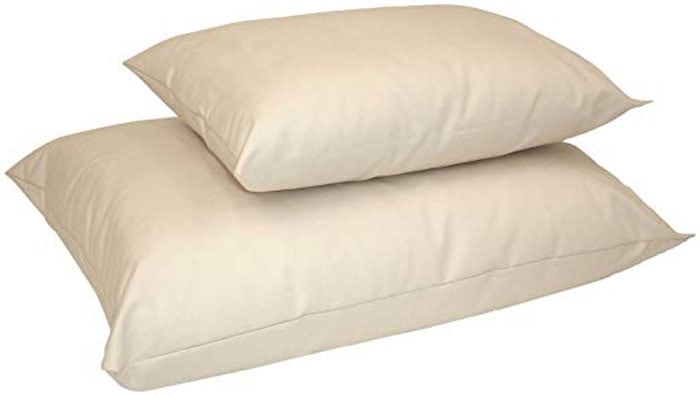 Pros
50/50 100% Organic Cotton/Kapok filling.
300 thread count cotton cover.
Greenguard certified for the elimination of chemical emissions.
Naturepedic is GOTS certified (Global Organic Textile Standard ) for the purity of its organic bedding textiles and fibers.
Made in the USA.
Cons
Few negatives other than perhaps thinning out with use and needing plumped up regularly.
The cover is not removable, and it may be wise to purchase a pillow case to go with it that can be machines washed.
Editor's Notes: This is our best pillow if you want a surface for your face and head that is not latex/memory foam or feathers/down. The cotton and light kapok fill provides a comfortable filling to sleep on, as does the cotton cover. It's a pity the cover can't be removed for cleaning, although it's an easy solution to purchase a removable pillow case that can be machine washed. This then allows you to sleep on the surface of your choice: cotton, polyester or even silk if that's what you prefer!
10. eLuxurySupply Overfilled Down Alternative
If you prefer a down alternative hypoallergenic pillow, then this is for you. The construction of this pillow is a 100% cotton ticking case filled with a hollow, siliconized polyester cluster fiber. The cluster fiber is of a high loft, for maximum support. The filling is encased in a 230 thread 100% cotton cover for a maximum lifetime. It is also very smooth and soft to lie on.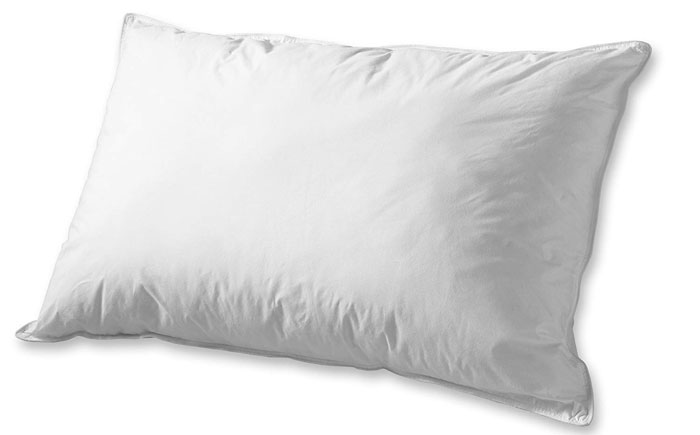 This pillow is good for all sleeping positions: back, side and stomach. The down alternative is a soft polyester coated with silicone to make it seem smoother and also prevent it from forming clumps. When you lay your head on it feels just like a down/feather pillow, but without the high price associated with genuine down-filled pillows.
Pros
The case is overfilled with siliconized polyester cluster fiber to create an amazingly supportive pillow.
Machine washable – unlike most other pillows, this does not lump up when washed.
30 day sleep trial, during which you can return the pillow for a full refund without any questions.
A prepaid return label will be provided for all returns.
Made in the USA.
Cons
The cover cannot be removed. We recommend that you buy a washable cover for your pillow so you can protect it from any contamination.
Otherwise, no significant negatives with this pillow.
Editor's Notes: This pillow offers an excellent alternative to a down pillow without the high cost of down. You are advised to purchase a separate pillow case for it (as with all pillows without a removable cover) so can wash the cover if it gets contaminated. Otherwise, this pillow deserves its place in our top 10 best rated pillows.
Buyer's Guide to Purchasing the Best Pillow For Your Needs
Our best rated pillows ever reviews have presented you with our top pillows available today. We cannot claim that any of them is the best pillow in the world, but they are the best rated pillows of those we have reviewed. However, our choice might not be your choice, so how do you purchase the best pillow for your needs Here are some tips to consider while you are seeking out your personal best pillow in the world.
The Pillow Fill
Perhaps the most important aspect of a pillow is the material that fills it. In fact, there is no perhaps about it. It's what is inside the pillowcase that matters, although the case or cover itself is very important as we shall shortly discuss. You have several options regarding the filling inside the pillow. The most common of these are:
Goose down and feathers – or commonly a mixture of the two.
Latex foam – one of the original fillings for a pillow.
Memory foam or viscoelastic foam – different terms for much the same thing This can come shredded or in a slab.
Natural fillings such as cotton and other natural fibers such as kapok.
Unique natural fillings such as buckwheat hulls or husks.
Which of these would you prefer to sleep on? You can have any you wish, but which one should you choose? If you have a partner it's an even more difficult decision to make. It's like walking into a bakery to buy a cake for your wife. What will she like? The same as you or not? Big decisions to make! The obvious solution is to ask her, but with a bit of thought, you would be best to take her and let her decide.
Choosing the Right Pillow
However, pillows are not cakes! They aren't over in a day or two! You both have to live with the choice you make for years – not days. So discuss it, make your choice together and make sure you and your partner are agreed on the type of pillows you purchase. There is no reason why you should not have different pillows – so think about that as an option.
The three major properties of a pillow are its hardness, the type of fill and the cover. Some people like a firm pillow while others would rather lie on a softer pillow they can sink into and scrunch up as they sleep. You might like a cotton cover while she may prefer a silky feel to her pillow. He might like a thick pillow with a high loft while you may prefer something a bit thinner that gives when you lie on it.
As you can likely understand now, there are no hard and fast rules regarding the best pillows. Softer – harder, thicker – thinner, rougher – silkier, natural – synthetic: you name it, there are always alternatives. No buyer's guide to pillows can possibly conclude by recommending one pillow or the other. That's why we have recommended the 10 pillows above.
Sleeping Position
Does it make a difference how you sleep? On your back, side or front? Yes, it does, and you should consider your preferred sleeping position when buying a pillow. The best pillow in the world for front sleepers might not suit back sleepers. Whatever way you sleep, you are always going to be most comfortable when your spine is maintained in its natural shape.
When looking straight on at your body from front or back, your spine is straight from the top of your neck down to the last bone – the coccyx. If your sleeping position tends to move your spine out of the straight line, you may suffer back and neck pain. When viewed from the side, your spine has a natural curve. If this curve is but under pressure it can also lead to back and neck pain. The best pillow for you will support your head and neck in a way that helps to maintain the natural shape of your spine. Here are some tips on buying the best rated pillow for your sleeping orientation.
Side Sleepers: Imagine you lying straight out on your side with one hip and shoulder in contact with the bed, and your neck and head level with your spine. Your pillow needs to fill the space between the side of your head and the bed to keep your cervical (neck) vertebrae in line with the rest of your spine. This space will relate to the width of your shoulders. That means you and your partner may need different pillows – one thick enough to fill that space for each of you.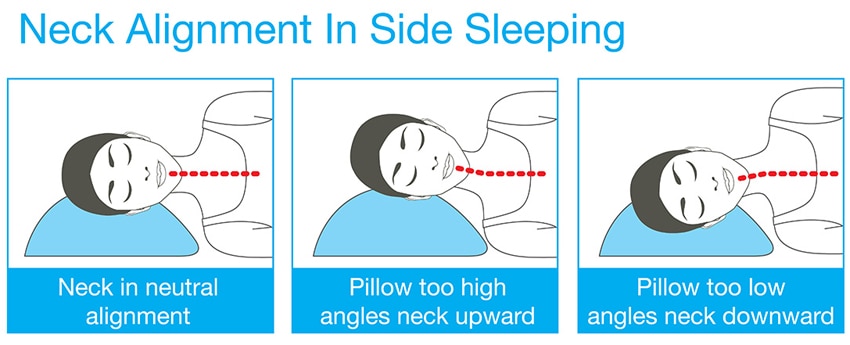 Back Sleepers: If you sleep on your back, your head needs to be slightly raised, but not too high. Medium thickness with a medium or firm filling would be best to support the head. A variable loft pillow enables you to change the amount of filling. You can adjust this until your head and neck feel right, and in line with the main part of your spine. Most of our recommendations enable this.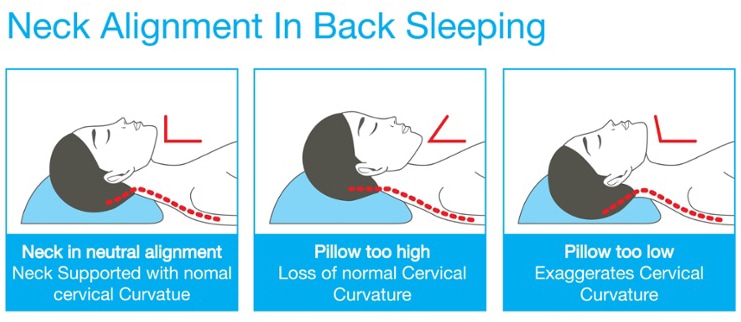 Front Sleepers: This is not the best sleeping position, and many orthopedic surgeons and chiropractors advise against it. However, should you prefer to sleep on your front, then your head should ideally be close to level with the mattress. That means a soft low loft pillow. Most stomach sleepers prefer a down or feather and down pillow. You could also use a variable loft shredded memory foam filling, where you can add or remove filling to meet your needs.
You and Your Partner: More often than not, partners have different preferences in the way they sleep and the preferred firmness of their pillow. It's not unusual for partners to have their own type of pillow. In fact, some partners have different mattresses: singles on each side of the bed. It figures that they should also have the pillow that suits them best.
Here are some questions that people ask us regarding choosing a pillow. They cover a range of pillow-related topics and should help you in choosing yours.
Best Pillow Reviews 2023: Frequently Asked Questions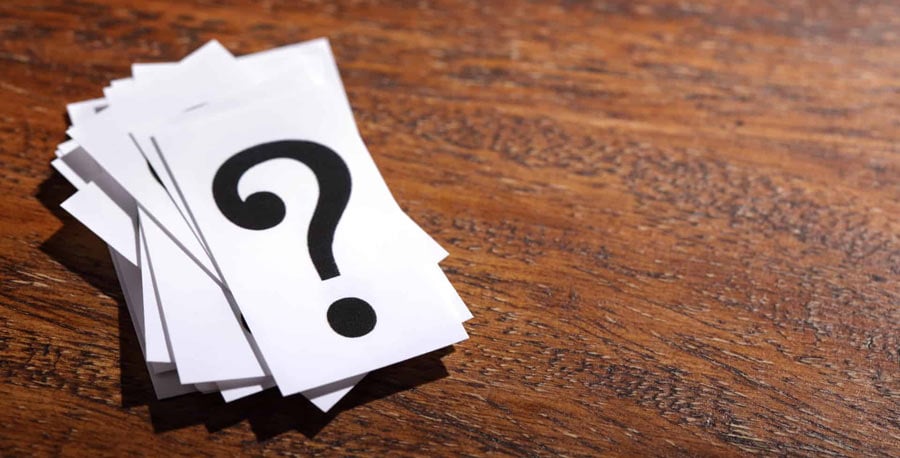 1. Do I need a separate pillow cover?
Generally, a separate cover is good to have. You can buy pillowcases or cover to fit all sizes of the pillow. Many pillows are provided without a removable cover, and you may invalidate your warranty if you don't use a separate cover. The main benefit is that the cover will absorb any spills or drools. You can then remove the cover and machine wash it. It fundamentally protects your pillow and keeps it hygienic.
2. Should my baby have a pillow in her crib?
Absolutely not! It can up to 2 years for a baby's cervical vertebrae (neck) to develop sufficiently to handle a pillow. It is very easy to damage her neck if you give a pillow too early. Babies should sleep on their backs on a crib mattress with no pillow. They will then find their own position – sometimes involving them sticking their bottom in the air! Check out the question below.
3. When Should I give my child a pillow to sleep with?
Most pediatricians will suggest 2 years old to be a good age. Before that, children are best to lay their heads on the mattress. However, children vary in their need for an extra lift for their heads when they sleep. A good way is to give them a low-loft soft pillow and let them use it if they want to. Never give a child an adult firm high loft pillow – a child needs a soft low pillow, to begin with – and 2 years old is a good age to start.
4. Is a down pillow better than memory foam?
It's a matter of personal preference. Some people prefer the softness of down to memory foam. Most memory foam pillows use a shredded form of the foam. This enables you to increase or decrease the amount of foam in the pillow. Check out the Question below for more information on this. Down is a soft filling, and by itself may even be too soft for most people. That's why some feathers are included with the goose down in such pillows. Down compresses, and has to be plumped up every now and again. The same can be said of other fillings, and all it usually takes is a few minutes in a warm tumble dryer.
5. Why do some pillows allow you to change the amount of filling in them?
It's difficult to assess how a pillow will support you month after month, year after year! It's also difficult for you to decide how high or hard your pillow should be. By enabling you to change the loft or filling of the pillow you can adjust these properties to meet your personal needs. In fact, over the years you may wish you had a softer or thinner pillow rather than the one you chose initially. Rather than purchase a new pillow, you can add or remove filling to bulk the pillow up or reduce its thickness to something more comfortable for you.
6. I've read about pillow protectors. What are these?
Pillow protectors are like pillowcases. You put the pillow into one and zip it up. They form a barrier to liquid spillages, drool, perspiration, bed bugs, dust mites, molds, bacteria and other forms of contamination. A pillow protector keeps your pillow hygienic and most are machine washable. They are more resistant to contamination than regular pillowcases. Check out our best pillow protector reviews article.
7. I have read about shaped pillows: are they of any benefit?
We have not included shaped pillows in this review. However, we have done so in our Best Memory Foam Pillow Reviews– just click on the link to read this review.
8. Can my partner and I have different pillows?
Of course, you can – why not? You likely have your own pillows in a case, and there is no reason why they must be the same. Most pillows are sold singly, so rather than purchase two of the same, buy one to suit the needs of each of you. In fact, some couples have different pillows and different mattresses. This is particularly the case with adjustable bases where each side of a double bed can be adjusted separately. The days are long gone when partners had to have the same type of pillow – or mattress.
Nest Bedding Easy Breather Support Pillow

Layla Pillow: Kapok and Memory Foam

Coop Home Goods: Premium Adjustable

The Purple Pillow

Malouf Z

Snuggle-Pedic Ultra-Luxury

ComfySleep Buckwheat Hull Pillow

eLuxurySupply Hotel White Goose Down

Naturapedic Organic Cotton/PLA Pillow

eLuxurySupply Overfilled Down Alternative
Summary
Our ten best pillow reviews provide a good selection for you to choose from. We cannot advise on which would specifically be good for your personal sleeping position. This is because everyone is built differently, and while our #1 Nest Bedding pillow may suit most back and side sleepers, others might find the alternative adjustable fill pillows better. Added to that, some people may want a natural filling, while others prefer memory foam – so we cannot make specific recommendations. That's why our reviews are designed to help you make your choice.