Bed sizes and mattress sizes vary from country to country. Unfortunately, there is no international standard, so take care when ordering and make sure you are purchasing your mattress based on dimensions that are suitable for your bed and not just by the name given to them. That is why we have compiled our mattress sizes chart US consumers will find useful. It should also help those from the UK and Australia to ensure that they are purchasing the correct mattress size for their needs.
The dimensions of a 'King size' mattress in the USA are different from those in the UK or Australia. The names given to mattress sizes such as Full, King and Queen are not standard sizes but nicknames. They should not be used to define the dimensions of a bed or a mattress because they differ around the world.
That said, let's start with the obvious: choice of bed size. If you are purchasing a new mattress for your existing bed, then that isn't an issue. If you are buying a new bed, you will often be offered a mattress for it. However, that may not be your preferred type of mattress. You might prefer to have a memory foam mattress rather than a box spring, or perhaps a pocket spring mattress rather than an open coil.
You will then be purchasing your mattress and bed separately. When purchasing a bed and separate mattress rather than the package, you must make sure that:
Your bed is large enough for your needs, allowing you and any partner to move round freely without disturbing each other.
The bed fits the space in your home available for it.
The mattress you purchase fits the bed properly and is neither too short nor too narrow, and does not overhang the edges.
Table of Contents
Mattress Size Chart: Mattress Sizes the US, UK, and Australia
Here is a chart displaying the common mattress sizes in the US, UK, and Australia in inches and centimeters. Figures in brackets are in centimeters.
| Mattress Nickname | Mattress Sizes US | Mattress Sizes UK | Mattress Sizes Australia |
| --- | --- | --- | --- |
| Cot/Small Single | 30" x 75" (76 x 191) | 30" x 75" (76 x 191) | - |
| Twin - Single | 39" x 75" (99 x 191) | 35" x 75" (90 x 191) | 36" x 74" (92 x 188) |
| Twin XL | 39" x 80" (99 x 203) | - | - |
| Super Single | - | - | 42" x 80" (107 x 203) |
| Full - Double | 54" x 75" (137 x 191) | 53" x 75" (135 x 191) | 54" x 74" (137 x 188) |
| Queen | 60" x 80" (152 x 203) | - | 60" x 80" (152 x 203) |
| Super Queen | 66" x 80" (166 x 203) | - | - |
| King | 76" x 80" (193 x 203) | 60" x 78" (152 x 198) | 72" x 80" (183 x 203) |
| California King | 72" x 84" (183 x 213) | - | 72" x 84" (183 x 213) |
| Super or Texas King | 80" x 98" (293 x 249) | 71" x 79" (180 x 200) | 80" x 80" (203 x 203) |
| Large Emperor | - | 84" x 84" (213 x 213) | - |
| Caesar | - | 96" x 87" (245 x 220) | - |
| Long Single | - | - | 36" x 80" (92 x 203) |
| King Single | - | - | 42" x 80" (107 x 203) |
Please note that the figures on this mattress size chart are accurate to within a centimeter. Also, note that different mattress manufacturers may have their own designation for the above 'nicknames' – that is why you should check the dimensions (inches or cm) and not the nickname (e.g. Queen or Twin XL).
The corresponding bed sizes chart would be the same as above. However, one issue with standard mattress sizes is that padding and the way the mattress is constructed could add an inch or so to these dimensions. Nothing is exact to the inch with mattresses, so it is best to make sure that your mattress fits your bed. A good way to do that is to measure it. Yes- measure it in the store! Take a tape measure and make sure that the mattress you are buying will definitely fit your bed.
Bed and Mattress Sizes Vary Between Countries
Let's say you have a King size bed and simply want to buy a new mattress to replace an old and worn one. Do not just purchase another 'King size 'mattress. Make sure the dimensions are correct because mattress and bed sizes vary between countries – and occasionally even between manufacturers. A King size mattress made outside of your own country might not be the same dimensions as the mattress you are replacing.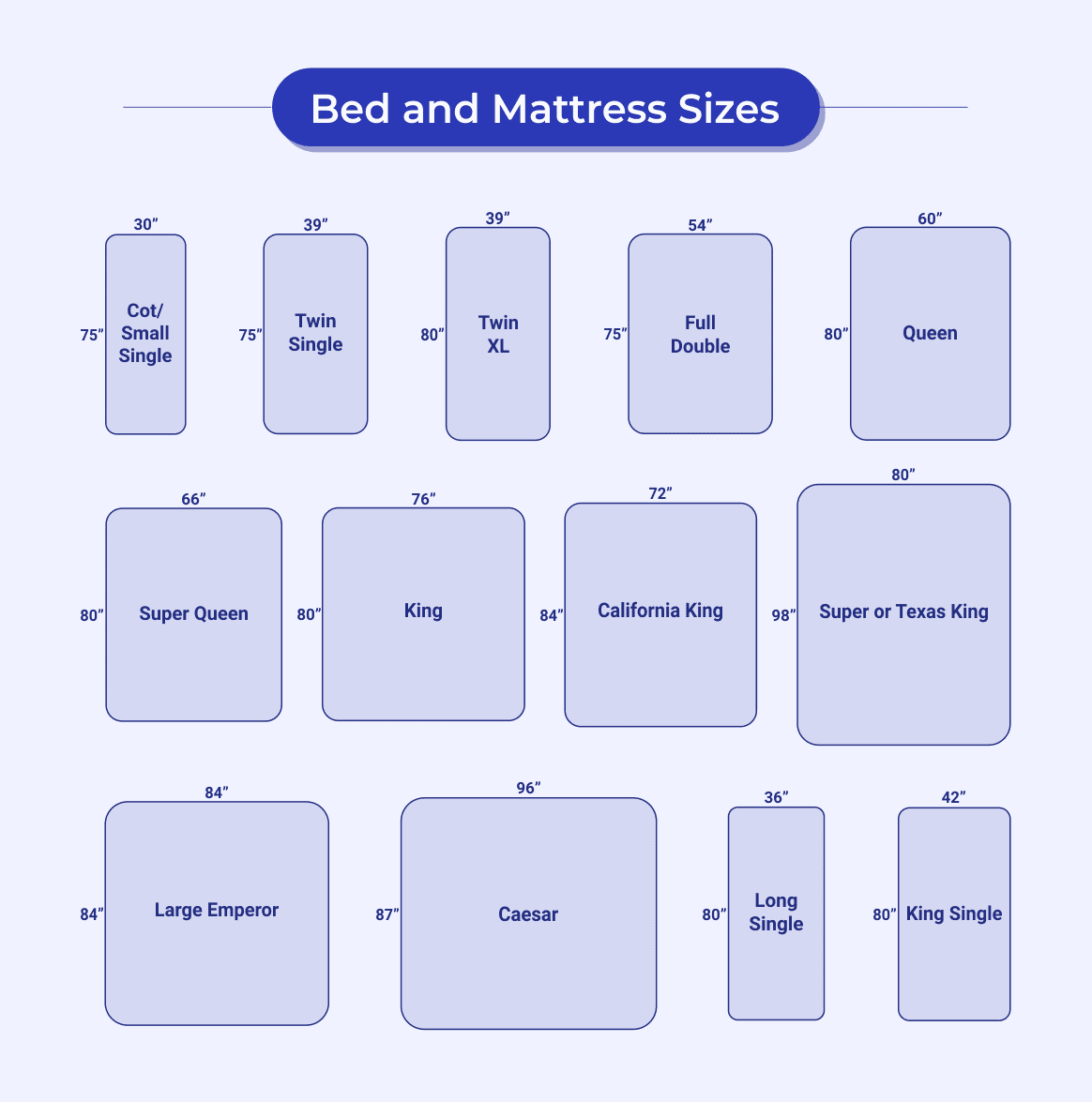 For example, a standard King Size mattress in the USA measures 76" wide by 80" long (193 cm x 203 cm). In Australia, a King measures 72" x 80" (183 cm x 203 cm), and in the UK and Ireland it is 60" x 78" (152 cm x 198 cm). So, although you can use the term 'King' in general terms, it is important that you check the dimensions and make sure your Kingsize mattress fits your Kingsize bed.
Bed Sizes Also Vary
The same is true of bed sizes – in fact, bed sizes can vary considerably for a number of reasons. Not only does each country have its own standard sizes, but bed sizes can also vary according to the design and dimensions of the frame. So when you are looking for a new mattress for your bed make sure you measure the width and length available for the mattress, then purchase the closest you can to these dimensions.
If your mattress is too large in either of the dimensions, then a lack of edge support will reduce the life of the mattress, and may also affect your comfort. Better too small than too large. However, too small of a mattress will leave hard ledges around the bed which may also be uncomfortable.
Our mattress sizes chart above lists the dimensions of the major mattress and bed sizes in each of these countries. First, however a brief description of each of the major mattress sizes, using American dimensions as an example.
Mattress Sizes US
There are several mattresses sizes US manufacturers offer. Here is a selection of the most common of these, starting with the smallest. The width is stated first, then the length. Dimensions are in inches. There may be manufacturing variations, so measure your existing mattress or your base to be sure of getting the right size.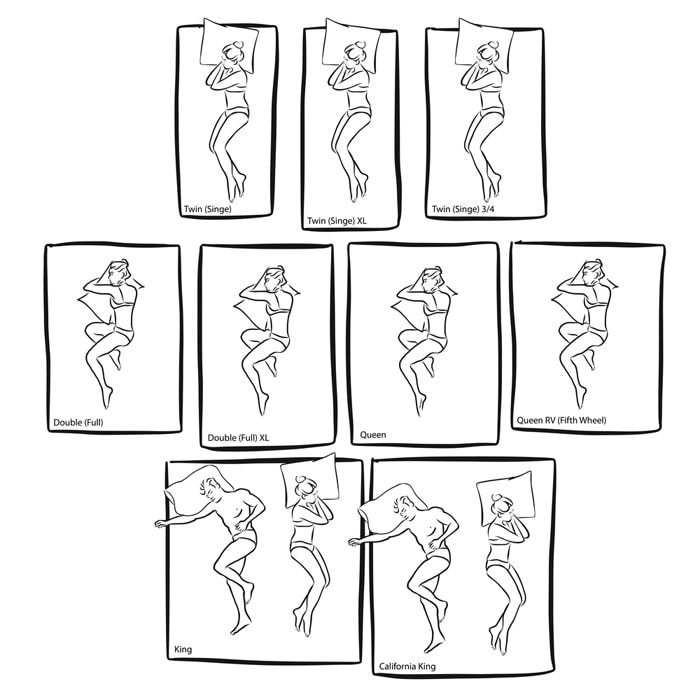 Twin Bed Dimensions: 39 Inches by 75 Inches
An American Twin size mattress is paradoxically suitable for just one person. It is equivalent to the UK Single mattress (35" x 75"). This mattress size is suitable for anybody 5t 6" tall, including children. There may be some manufacturing variations, so measure your bed base or your current mattress to be sure you are purchasing the correct size.
Twin XL Bed Dimensions: 39 Inches by 80 Inches
This is a longer version of the twin and suitable for a 6-footer. Always make sure that the bed is longer than the person using it. You need room for the pillow (Unless you sleep with your head right up against the headboard!) Here again, there will likely be some variations with this U.S. mattress size.
See Also: Twin Vs Twin XL Mattress and Bed: Size and Things to Consider »
Full Bed Dimensions: 54 Inches by 75 Inches
This has the same dimensions as the UK Double mattress. However, it is not recommended for use as a double because the width available to each person is very narrow. Many single people prefer this mattress size because it offers more room. There is also a Full XL, which is a longer 80" version of the Full.
Queen Bed Dimensions: 60 Inches by 80 Inches
This is the first genuine 'double' bed size and is the most popular of the mattress sizes US manufacturers offer. This is roughly equivalent to the King size UK mattress (60" x 78"). Many taller people use this as a single because they can move about on it better than smaller mattresses. In the UK the Queen is 71" x 79" (180 cm x 200 cm) and generally referred to as the Superking or European King.
See Also: Full vs. Queen Mattress: The Difference and Which is Best for You? »
King Bed Dimensions: 76 Inches by 80 Inches
The King mattress is a favorite for couples. At 6 ft 6" this is a wide bed offering 38" of width to each person. It is just 2 inches short of the width of two Twin XL mattresses together, so plenty of room for couples. It is wider and longer than the Super King mattress size UK couples tend to purchase. The Australian King is 72" x 80".
California King Bed Dimensions: 72 Inches by 84 Inches
This is another of the mattresses sizes American couples tend to purchase, particularly for taller people. They are prepared to sacrifice width for length, offering them more comfort with the extra length. The Australian version is 2" shorter.
See Also: King vs. California King Bed Size »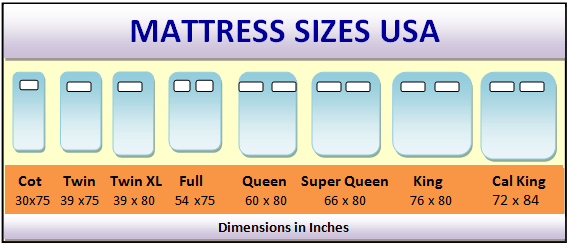 Other Mattress Sizes US Stores Offer
These are the most common mattress sizes that US consumers tend to purchase. There are several other mattress and bed sizes that may not be so popular, but that suit many people due to their specific dimensions. Some are commonly found in Europe or Australia, although there are others available in the USA and other countries. Among the various mattress sizes you can find both in the US and worldwide are:
Cot/Small Single Bed Dimensions: 30 Inches by 75 Inches
This is the same length as the Twin, but narrower by 9" and suitable for children. It is also referred to as a Small Single in the UK and Australia.
Super Queen or Olympic Queen Bed Dimensions: 66 Inches by 80 Inches
This is one of the rarer mattress sizes US customers look for when they need extra width. It offers 6" more width than the standard Queen, and is suitable for those needing more room per person without going to the larger King size.
Super King or Texas King Bed Dimensions: 80 Inches by 98 Inches
Everything in Texas is said to be bigger, and the Texas King (sometimes referred to as the Super King or Grand King) is the biggest of them all. The width of the Texas King mattress is the same as the length of the Queen, and it is a full 8ft 2" long. You would need a bed of the same dimensions to use it!
Waterbed Inserts:
In the USA, waterbed inserts are available to enable you to use a conventional mattress in a waterbed frame. The most popular sizes for these are the California Queen ( 58" x 82") and California King (70" x 82"). Each of these is 2" less in each dimension than the standard waterbed sizes.
See Also: Mattress Buying Guide 2023: Mattress Property Chart »
British Mattress Sizes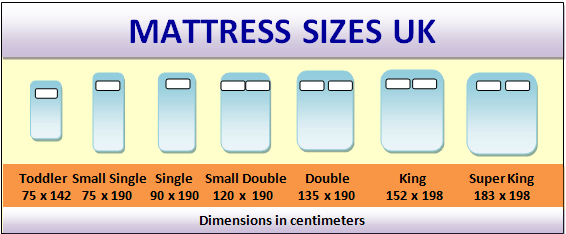 Mattress sizes in the UK are expressed in metric units rather than in inches. The popular sizes also tend to differ in the UK. There is no California King in British mattress or bed terminology, and neither is there a Full, Queen or King Single.
The nearest to the California King is the Super King: same width but 6" shorter.
The UK King at 60" x 78" is just 2" shorter than the American Queen.
The UK equivalent of the Full is the Double.
The UK Single is the same length but 4" narrower them the US Twin.
Australian Mattress Sizes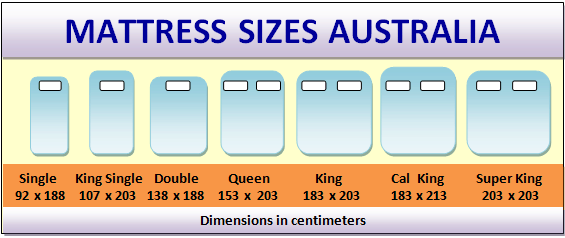 Australian Mattress terminology and sizes lie somewhere between the British and American standards.
The Australian and UK singles are similar – the British version being 2" narrower.
Both doubles are also very similar, just 2-3 cm difference in each dimension.
The Queens and California Kings are identical to those of the US. (no Cal King equivalent in the UK )
The Australian King is closer to the US King – just 4" (10 cm) narrower and the same length, and equivalent to the UK Super King which is the same width and just 5 cm (2") shorter.