Transparency Disclosure: We may receive a fee from the seller for any purchases made through links on this website or from other sites accessed via this website. This fee incurs no additional costs for the buyer. To learn more, please read our full disclosure page here. Read our Product Research and Testing page to know more about our review process in detail.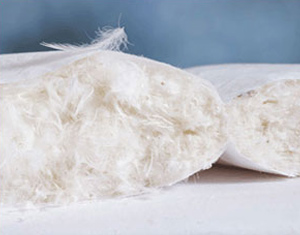 Our best feather pillow reviews help you to choose the feather pillow most suitable for your needs. Although often regarded as a luxury item, feather pillows have been with us for thousands of years. That's because feathers and down are natural materials, they are soft and airy and are extremely comfortable to rest your head on. They were the most popular pillow filling until technology gave rise to artificial foams that are now in common use. Feather pillows are best for side and back sleepers.
Despite these synthetic foams, feathers and down are still popular and affordable. Many prefer feather pillows to their foam alternatives, whether latex, polyfoam or memory foam. Most feather pillows are actually a combination of feathers and down. We shall explain the difference between feathers and down in our Buyer's Guide later. For now, let's start with our best feather pillows 2023.
Note: For consistency, we are reviewing the Queen size in each case.
| No | Pillow | Type | Fill | Size * | Check Price |
| --- | --- | --- | --- | --- | --- |
| #1 | Downluxe Goose Feather/Down | 90% Goose feather/10% down | 33 oz | 20" x 28" x 3" | View on Amazon |
| #2 | Puredown Goose Feather/Down | 95% Goose feather/5% down | 37 oz | 18" x 26" x 2" | View on Amazon |
| #3 | Wenersi White Goose Feather/Down | 95% Goose feather/5% down | 32 oz | 20" x 28" x 2" | View on Amazon |
| #4 | Down & Feather Original Feather Pillow | 100% Goose feather | 26 oz | 20" x 26" ** | View on Amazon |
| #5 | Peace Nest White Goose Feather/Down | 95% Goose feather/5% down | 37 oz | 20" x 28" x 2" | View on Amazon |
* The 'Size' column displays the dimensions of each pillow in width, length and thickness of the pillow when somebody is lying on it. This is different from 'Loft' which is the plumped up thickness. For example, the Wenersi pillow has a loft of 7 inches, but this compresses to 2 inches when you lie on it. This is for guidance only, since lighter people may compress the pillow less than heavier people. Also, many people scrunch their pillow up to provide a more substantial and comfortable sleeping surface.
** This pillow is commonly available in the Standard size reviewed (20" x 26"), hence the apparently low fill. The Queen and King sizes are available on request.
Best Feather Pillows Table of Contents
1. Downluxe Goose Feather Down Pillow – Best Down Pillow For Comfort
Most goose down pillows are not filled only with goose down. That would increase the cost considerably and the pillow might lack support. This is true of the vast majority of 'down pillows': what it means is that it contains down, but is not 100% down. Were that the case, support for the head would be very poor. In fact, some feather/down pillows contain very little down. Those we are reviewing have a maximum of 10% down, and one has no down at all.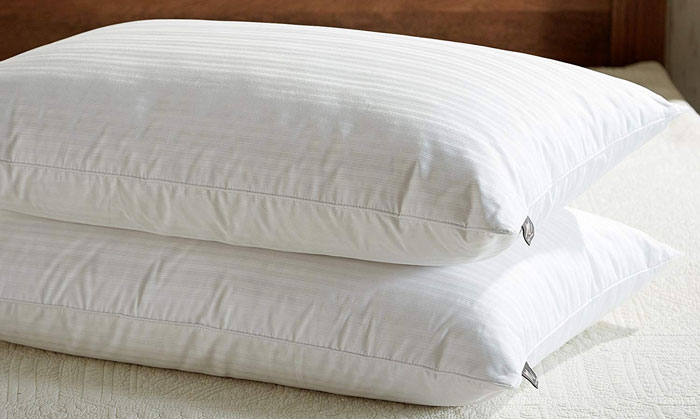 The Downluxe goose feather down pillow is filled with a mix of 90% goose feathers and 10% goose down, and a total 33 ounces of filling. It is available in Queen and King size – we are reviewing the Queen size of all pillows in our best feather pillows reviews. As with the Puredown pillow below, this comes in a set of two. Downluxe is renowned for its hotel-quality bedding and this pillow does not disappoint.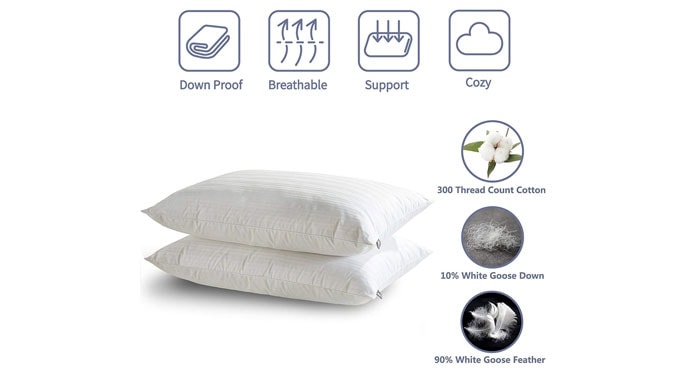 This pillow has a double-layer fabric holding in the feathers and down. You will be very unlucky if you get 'quilled' lying on this pillow. The damask stripe shell is of a 300 thread count (TC) cotton which reinforces the resistance of this pillow to feather quills. All fabrics used in the construction are double-stitched for strength, and the cover of the Downluxe goose feather down pillow is very silky and smooth to feel. The cover is naturally down proof, and can even keep out dust. The pillow comes in pairs and is available in Queen and King sizes only.
Pros
90% goose feathers and 10% down.
300 thread count damask top cover which helps prevent quills penetrating the cover.
Resistant to feather quills penetrating through to the sleeper.
Decorative piped edge.
Set of two Downluxe goose feather pillows.
Machine washable in cold water with a gentle cycle, and tumble dry on low heat. Can also be dry cleaned.
Hypoallergenic and resistant to dust mites and mold.
Cons
No environmental information.
No details on warranty – though since the item is fulfilled by Amazon, you should be able to invoke Amazon's 30 day trial period: return for a full refund within 30 days of receipt. Check out the Amazon Return Policy here.
Editor's Notes: It should be noted here that feather and down pillows contain no foam. They, therefore, do not need to be CertiPUR-US certified, since that is for foam pillows only. This is made in China, just like the Puredown pillow at our #2 spot. In this case Chinese means excellent quality and comfort.
2. Puredown Natural Goose Down Feather Pillows – Best hypoallergenic down pillow
In fact, the filling in this pillow is 95% goose feathers and 5% goose down (37 ounces goose feather down). The geese in question are Siberian grey geese, and this combination provides medium support for your head. You can improve support slightly by using a pillowcase to enclose the entire pillow. Note that this pillow comes in sets of two.
The pillow cover is 100% cotton and is double-layered to prevent the quills from irritating or jabbing you. To supplement quill protection, there is an additional plush polyester peach skin inner layer. The entire pillow is recyclable and environmentally friendly. You can get a gusseted version of this pillow (reviewed) or a single seam version. It is a very comfortable pillow to sleep on, particularly for those whose existing pillow feels too firm for them.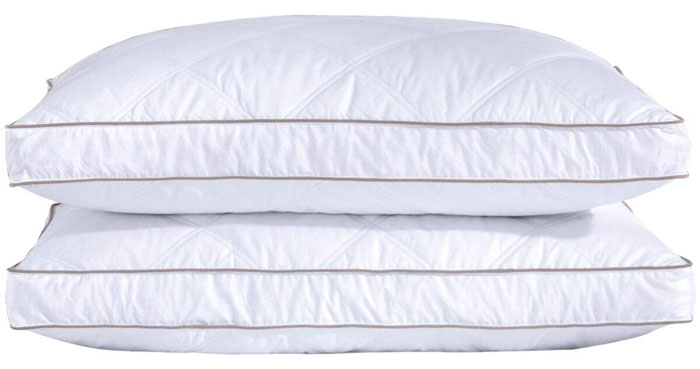 Pros
Goose down and feathers are believed by most users to be more comfortable to sleep on than foam pillows.
Down and feathers cleaned and disinfected.
37 Ounce filling of feathers and down.
Three-layered protection against quills: Double layered cotton case and internal plush polyester peach skin layer.
Recyclable and environmentally friendly.
Machine washable on warm temperature setting.
Hypoallergenic.
Conforms to the Responsible Down Standard.
30-day guarantee.
Cons
None evident, though a few users find it too soft for them. The vast majority love it.
Editor's Notes: The Puredown goose down feather pillow is ideal for side and back sleepers. The down is from Siberian geese and has been hygienically treated and its collection follows the requirements of the Responsible Down Standard. It is supportive and very comfortable to rest your head on. If you like feather and down pillows, then this is a magnificent example. It is one of the best feather pillows we have reviewed, and not all reviewed pillows reached our top 5!
3. WENERSI White Goose Feather and Down Pillow – best down pillow environmentally.
This goose feather and down pillow also comprise 95% goose feathers and 5% goose down. It has a 32 ounce fill of feather and down, less than the two options above. Its cover is 100% cotton and helps to protect you from any hard quills in the mix. This imported pillow is very comfortable to lie on and is suitable for all sleeping positions. It may seem slightly firmer than these two pillows above, though many/ like it for the head and neck support it offers.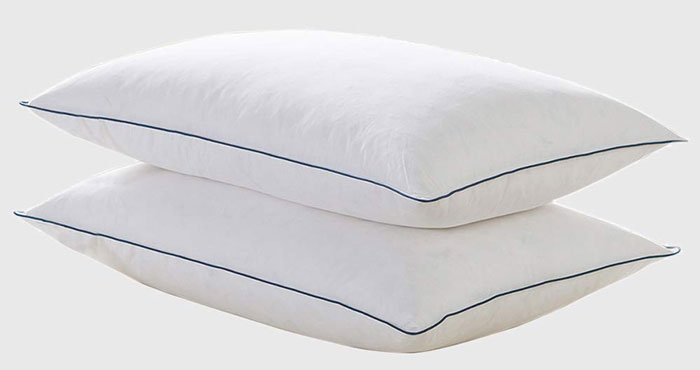 The pillow is hypoallergenic and free of chemicals. It has been treated with Ultra-Fresh, which inhibits fungal and
bacterial growths. This helps the pillow to smell fresh, and remain free from the staining and textile degradation that
bacteria and fungi can cause. The WENERSI white goose feather and down pillow is available in packs of two.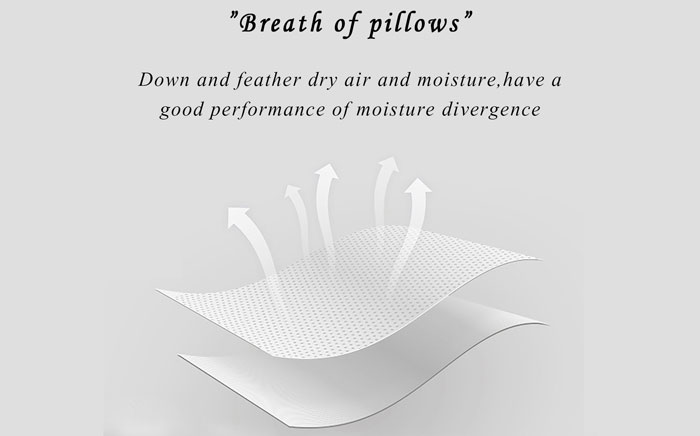 WENERSI also offer a Firm version of this pillow with a 42 ounce fill as compared with the 32 ounce of the Soft version
reviewed here. Check out the WENERSI Goose Feather and Down Firm version here.
Pros
Antibacterial and anti-fungal.
100% cotton cover.
Good for all sleeping positions.
Excellent head and neck support between the soft and firm versions.
Antibacterial and antifungal.
Anti-allergy and chemical free, perfect for allergy sufferers.
The pillow is finished with a sewn blue piped edge.
Double needle stitching keeps down in.
30-day money-back guarantee.
Cons
Not machine washable.
Has just 5% goose down and 95% feathers.
The Soft version appears to have a low fill at 32 ounces.
Editor's Notes: In spite of one or two issues, such as not being machine washable, this is an excellent pillow for side and back sleepers, though some may prefer the firm version with 32% more filling. Stomach sleepers would be better with the softer version to prevent their head from being pushed backwards, potentially resulting in neck pain.
4. Down and Feather Co. Original Extra Firm Feather Pillow – Best all feather pillow without down
This pillow is made in the USA from high quality Hungarian goose feathers – no down! The quality of the feathers means that there is less likelihood of the quills sticking through the cover and annoying you. The 26 ounces of feathers is contained in a 220 thread count 100% cotton shell (blue and white striped). The Extra Firm version has a 30 ounce fill of goose feathers.

This pillow is great for all sleeping positions, particularly stomach sleepers. It fills in the gap between the head and shoulders of back and side sleepers. It also helps prevent stomach sleepers having their head pushed back in bed, potentially resulting in severe neck pain. This is an ideal pillow for those with neck pain since it helps keep your cervical vertebrae in their natural shape. The extra firm version would be ideal for heavier weight people, or those who prefer a firm pillow to a soft one.
This pillow has several benefits other than maintaining a good posture while sleeping. These are stated below. It is recommended, as with any feather or feather and down pillow, that you use a separate pillowcase to make sure the quills cannot poke through the cover. Another benefit is that if you are unhappy with the density or support of your pillow, the company will adjust the density to suit you free of charge. This 'Perfect Pillow Policy' lasts for one year after the date of purchase.
Pros
High quality Hungarian goose feathers.
Helps maintain good posture while you are sleeping.
3 Comfort levels: medium, firm and extra firm.
Available in Standard, Queen and King sizes.
Perfect Pillow Policy (see above).
Hypoallergenic.
Made in the USA from imported materials.
30 night comfort guarantee.
10 year guarantee against faulty materials or workmanship.
Cons
Standard size reviewed, although the Down & Feather pillow is also available in Queen and King on request.
Otherwise none.
Editor's Notes: It is useful that the Down and Feather Original feather pillows are available in three levels of firmness and three sizes. It should be understood that the fill changes with the size and firmness of the pillow. The free firmness adjustment is an excellent service for those that are unhappy with their original choice.
5. PEACE NEST White Goose Feather and Down Pillows
The PEACE NEST white goose feather and down pillow is a medium density down pillow that is an excellent choice for side and back sleepers. This is another 'down pillow' that contains a filling of 37 ounces of 5% goose down and 95% feathers. The pillow shell, or cover, is hypoallergenic, protecting you from a number of allergens including dust mites. If you are subject to allergies, and you use your own pillowcase over this pillow, make sure that the case is also hypoallergenic.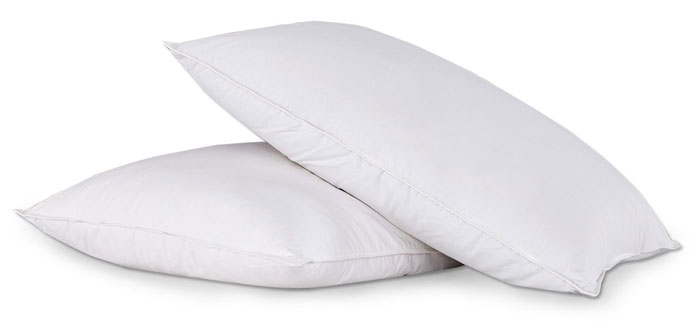 This pillow can be dry-cleaned (recommended) or machine washed on a cold, gentle cycle. At the end of the wash cycle, spin dry as normal. Tumble dry on a low heat setting, then fluff up the pillow. This pillow comes in packs of two.
Pros
Goose feathers and down – but only 5% down.
Medium density fill for a medium firm pillow.
Available in Standard, Queen, and King sizes, with goose feathers/down and optional duck feathers/down.
30-day return and replacement guarantee.
A good fill of 37 ounces.
Cons
Imported.
The warranty is poor – seems to be replacement only rather than money back.
The single shell or case may not be enough to keep the quill from annoying you. You may have to use a close-weave pillowcase over this product.
Editor's Notes: This is a comfortable pillow to sleep on and would have figured higher in our ratings if its guarantee terms were clearer. It apparently offers a 'return and replacement' guarantee, which is not what Amazon requires of its sellers. Check out the Amazon Returns Policy here. Having stated that, this is a good pillow with a 37 ounce fill, although the shell seems a little light for goose feathers. A separate pillowcase with closely woven fibers should resolve this problem.
Buyer's Guide to Feather Pillows
Feather pillows are very popular, and many people will rest their heads on nothing else. Although generically known as 'feather pillows' the majority is a mixture of feathers and down. The two most common birds used for feather pillows are duck and geese. The feathers form the coarse outer layers of a bird's plumage, while the down is the soft inner plumage. The feathers help flight while the down keeps the bird warm.
A feather pillow should contain at least 30% exterior feathers. In fact, most feather pillows contain 90% to 95% exterior feathers, the remainder being down. You often find the feathers in the center of the pillow to provide good support, and the down used as soft padding around the edges. You can also occasionally find the down and feathers mixed together. The best feather pillows tend to contain mostly down, though this need not always be the case. So how do you choose the best feather pillow for your personal needs, apart from reading some best feather pillows reviews? Here are some tips:
Feather Types: The more down in a pillow, better that pillow should be to lie on – or so it is said. However, down does not offer much support unless it is packed tight into the pillow shell. That can be very expensive in cash terms. Most feather down pillows contain up to 95% feathers and 5% down, although our #1 pillow contains 10% down.
Fill: This is the amount of filling in ounces. The higher the fill for any given size of the pillow, the firmer that pillow will be. You can compare Queen size fill with Queen size, but not Queen with King or any other size since the larger pillows will have more fill, and the smaller pillows less fill.
Feather Pillow Sizes: Most feather pillow brands are available in Standard, Queen and King sizes and many, but not all, come in packs of two pillows.
Pros and Cons of Feather Pillows
Pros
Feather pillows generally last longer than foam pillows.
The majority of feather pillows weigh less than their foam counterparts, so are easy to move on the bed to your desired position.
Because feather pillows are scrunchy and moldable, you can scrunch your pillow up into its most comfortable form.
Many users buy feather pillows for their softness: they are great for those that like to snuggle into their pillow at night.
Because of their construction, with plenty air inside the pillow, they sleep cooler than most foam pillows. They do not retain heat easily and great if you prefer to stay cool during the night and not wake up with your head and neck hot and sweaty.
Cons
Feather pillows are easily flattened and do not hold their shape like other pillows. You can overcome this by shaking the pillow and fluffing it up, but it can be a nuisance.
Because of this flattening, support might be lacking for those with neck pains and other orthopedic issues. This lack of support can lead to misalignment of the spine which can lead to neck and back pain.
Some feather pillows have insufficient protection against the feather quills poking through and irritating you. You can avoid this by choosing a pillow with multiple covers, or pillowcases, and/or a high thread count cover. Because they are natural products, feathers and down can emit an odor. While this tends to be kept to a minimum, it is something you should be aware of. Such odors are not usually as hazardous to your health as the chemical odors of many foam pillows are.
Feather pillows can make a crunching sound when first used.
Although the above negative factors have to be stated, the vast majority of people who buy feather pillows love them and find no issue with them. However, if you are receiving orthopedic or chiropractic treatment, you should seek advice from your orthopedic surgeon or chiropractor.
How to Choose a Feather Pillow
Your pillow should allow you to rest your head, and often your neck, comfortably when lying on your bed or sleeping. The pillow should have enough feathers in it to provide support, and enough down to make that support comfortable. If you prefer a fluffy, soft type of pillow, then the more down mixed with the feathers the better. The rule of thumb is that the more down in a pillow, the softer and more comfortable it should be.
While the amount of down in a pillow can usually be equated with its comfort, 100% down pillows (yes, they are available) can lack support. They can also be expensive since there is less goose down on a bird than genuine feathers.
If you are interested in a pillow that is 90% goose down and 10% goose feathers, then you should check out the Acrafsman Luxury Goose Down Pillow. In general, the more down in a feather pillow the better. The more resilient it will be and it will last longer while continuing to provide superb comfort. (Delete this section if you want, or add your affiliate ref to the link).
Warranty/Guarantee: Another thing to look for when buying a feather pillow is a warranty or guarantee. You should generally find a 30-day guarantee, where you must make a claim within 30 days. The Down and Feather Company offers a 30-day comfort guarantee and a 10-year warranty against faults and poor workmanship. You also have the Amazon return policy that can be invoked for any product fulfilled by Amazon rather than delivered by the manufacturer.
Thread Count: One aspect of a pillow that many people overlook is the cover or 'shell'. When a pillow is stuffed with feathers and down, the quills of the feathers can ultimate penetrate the cover and irritate you. Look for a tightly woven fabric with a thread count of 200 or over. The higher the thread count, the less likely the fabric is to be penetrated by goose quills. The fabric will also feel smoother, silkier and be a joy to rest your head on.
Softness/Firmness: Each person has his or her own preference regarding the firmness of their pillow. Firmness is also a factor when considering the different sleeping positions. Feather pillows contain no foam, so the level of hardness is determined by the fill of the pillow – how much feather/down mix is stuffed into it. The higher the fill figure the firmer the pillow will be. Side sleepers are better with a firm pillow while back sleepers might like their pillow to be a bit softer. Stomach sleepers need soft pillows, but not so soft that their face sinks too deeply into the pillow.
Goose Down or Duck Down: Clusters of goose down are usually larger than clusters of duck down. The larger the down clusters, the better the loft. Also goose down lasts longer, and coming from older birds, are more durable and resilient than duck down clusters. Not only that, but goose down tends to have less natural odor than duck down due to the goose's better diet.
Miscellaneous Factors: If you suffer from allergies then buy a hypoallergenic pillow. The feathers and down in such pillows have been thoroughly cleaned to remove any dust mites, skin flakes from the goose and any bacteria that might also have been present when the feathers were plucked. However, feather and down pillows are more hygienic than synthetic fibers, largely because the pillow shells/cases are tightly woven and keep the allergens in.
Best Feather Pillows Reviews: Frequently Asked Questions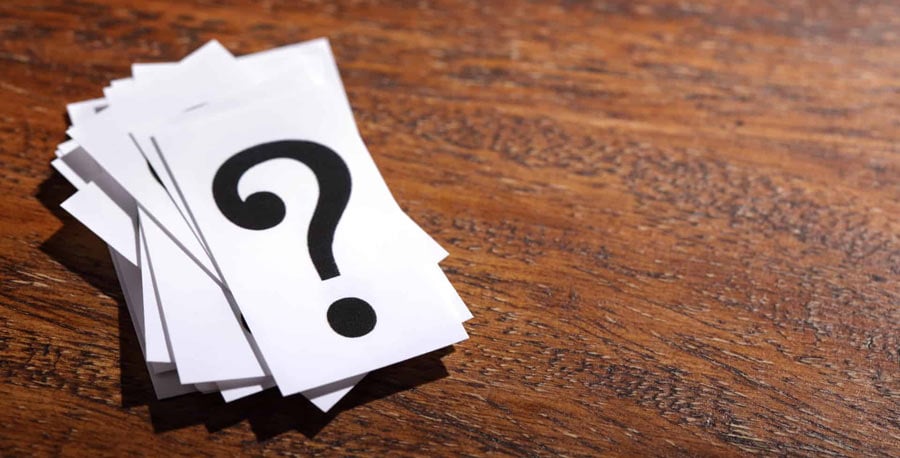 We are often asked questions regarding the products we review. Here are some appertaining to feather and down pillows:
1. How long do feather pillows last?
Much depends on the quality of the feathers and down, and the way the pillow is made. Feather and down pillows can usually be washed to keep them clean; 6 monthly is good practice. Assuming they are kept clean and washed every 6 months, a feather pillow should last 5-10 years. This compares to 1-2 years of synthetic down.
2. How should I wash my feather and down pillows?
1. First of all, if you have more than one feather/down pillow, wash two together. This makes sure there is no imbalance in your washer when spin drying.

2. Remove any removable covers or pillowcases – wash these separately.

3. Use a mild soap, preferably without additives.

4. You are advised to use cold or tepid water to avoid fabric shrinkage.

5. Wash on a 'delicate' cycle.

6. Rinse well to thoroughly remove the soap – Spin dry at the fastest speed possible. This is to remove as much moisture as possible before drying them properly.

7. You can dry the pillows in a tumble dryer at a low heat setting.

8. Fluff the pillows up once they are dry.
3. What's the best way to dry feather or down pillows?
1. Again, it's best to dry two pillows at once to prevent an imbalance in the dryer. Put the pillows in the dryer with two tennis balls. These help to prevent clumps of feathers sticking together, and fluff the pillows up while drying.

2. Dry on a low heat gentle cycle until the pillow is dry.

3. Carry out regular checks on how dry the pillow is. Do this by stopping the dryer every 50-60 minutes, take out the pillows and fluff them up by hand while checking their dryness. You don't want the down or feathers to be damp when you use them – this can lead to mildew.

4. Once they are dry, they can be used immediately if needed.
4. What is the difference between feathers and down?
Feathers are the outer feathers of the bird, generally involved in flight. They tend to be two dimensional with little curl. They are held rigid by means of the quill, or backbone of the feather. These quills can be sharp and rigid and can find their way through the shell or cover of the pillow. This can be annoying, which is why we recommend you use a high thread count (200-300) pillowcase or cover over the shell of the pillow.

Down is a cluster of fine feathers next to the skin of the bird, and designed to keep it warm. It is three-dimensional in nature and can trap air and provide warmth. Down clusters have very little weight, they are breathable and can absorb and wick away moisture. Down is often used around the sides and edges of a pillow to provide comfort and strength, and can also be mixed with the feathers for a more comfortable pillow.
5. I read that if feathers get wet they can smell. Is this true?
Yes, that is true. Even new pillows can smell when you open the pack. If so, then let them air for a few days – the best way is to hang them up outside in the fresh air (but not if it's raining!) If you have pillows that smell, sprinkle baking soda over them and air them outdoors – again on a dry day (preferable windy). Make sure you read the card tab on the pillow. Never store feather and down pillows in damp conditions. Also store them where there is free circulation of air, to help prevent condensation or dampness to get to the pillow.
6. I wash my hair and tend to let it dry in bed. Is this OK?
Absolutely not! Make sure your hair is thoroughly dry when you use a feather pillow. Otherwise, it is sure to grow molds or mildew and smell bad!
7. Can stomach sleepers use a feather pillow?
Yes! When stomach sleepers lie on thick, firm pillows, their heads are raised above the level of their spine. This can result in neck pain and other unwanted conditions. Stomach sleepers are best with a soft, malleable pillow (but not too soft) and feather pillows are exactly that! The pillows included in our best feather pillows reviews above are all generally suitable for stomach sleepers.
Downluxe Goose Feather/Down

Puredown Goose Feather/Down

Wenersi White Goose Feather/Down

Down & Feather Original Feather Pillow

Peace Nest White Goose Feather/Down
Summary
Feather pillows, including feather and down pillows, provide a different feel to foam pillows. Apart from being more traditional, such pillows are quite different in how they feel than latex or memory foam. They do not bounce back to their original shape, but they can be fluffed up to their original shape. If you want comfort then a feather pillow offers that, and enables you to pull or scrunch the pillow up into any shape you prefer for sleeping on.