Can't sleep or do you have trouble getting to sleep? Many people find it hard to get to sleep at night for one reason or another. You may have something on your mind, or you might even have a sleep disorder that gets you increasingly more anxious the longer you lie in bed hoping to get some sleep. Maybe you are unable to relax enough to drift away into dreamland.
Whatever the reason, there are things you can do to help you sleep – and taking pills is not one of them. There are many things you can do to help you relax enough at night to slip into a deep, refreshing sleep. Different people find different activities relaxing, and each of these 15 relaxing bedtime rituals helps others sleep and may work for you. You can try them from the top, or choose any in the list that you believe suits you to begin with.
1. Get Prepared for Bedtime
Get prepared for sleep around 30 minutes to an hour before your bedtime. Unwind by reading a chapter of a book, or watching TV with a hot, milky drink. This is not because milk contains soporifics that promote the production of the sleep-inducing tryptophan (it doesn't), but simply because it is relaxing and contains no stimulants. Unwinding slows down your metabolism and tells your brain you are getting ready for sleep.
2. Avoid Caffeine
Avoid caffeine drinks as early as possible before bedtime. A 2013 study showed that caffeine can disrupt your sleep if taken up to 6 hours before bedtime. Energy drinks are definitely out, although real non-herbal tea and coffee are the main offenders. These drinks are stimulants and can prevent you from relaxing at night. If you must have coffee before bed then take decaffeinated coffee.
3. Avoid Meals Close to Bedtime
If you eat a meal shortly before bedtime it can affect the quality of sleep and reduce the production of melatonin, a hormone that promotes sleep. However, if you eat a meal high in carbohydrates 3-4 hours prior to bedtime, then this could help you sleep!
4. Keep Away From Electronic Devices
If you find it difficult to get to sleep, check over your various electronic devices. Do you check your phone in bed? Is your laptop switched on? Do you play games before sleeping (or not sleeping!)? Each of these devices emits blue spectrum light, and that is the light that signals your brain to stop the production of melatonin. Your brain thinks it is daytime! So keep your electronic devices switched off if you don't want to be unable to sleep.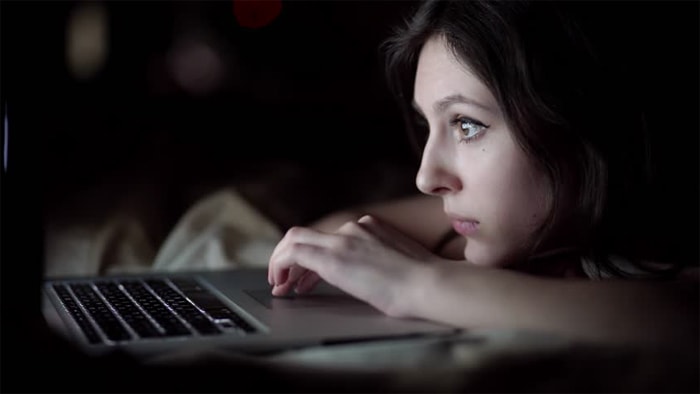 Having said that, it is possible to overcome this issue by blocking blue light from reaching your eyes. There are glasses available that do this. Simply wear them and job done! You can also download f.lux, an app that blocks blue light on your laptop.
5. Regulate the Temperature of Your Bedroom
A number of studies have come to the conclusion that night-time temperature can affect sleep and lead to sleeplessness. One study focused on human sleep loss in a changing climate and concluded that sleeplessness rose with increasing climate temperature. The same applies to the temperature of your bedroom. So keep your bedroom at a lower temperature than you usually set may help you sleep better at night. It is believed by many that the ideal sleeping temperature is 15.5OC – 22OC (around 60OF – 72OF.)
6. Have a Warm Bath
A warm bath is very relaxing and should be one of your more common relaxing bedtime rituals. It helps to ease your muscles, particularly if you have been working hard during the day. A warm bath is generally more effective than a cold bath, but don't make it too hot. Around 15 to 30 minutes in the bath just before bedtime is good. You could also use some aromatherapy oils in your batch (see #13 below).
7. Set Yourself a Regular Time for Bed
 Your body has a natural rhythm known as the circadian rhythm. This is a 24-hour internal cycle that your brain runs in the background. It cycles between alertness and sleepiness based on sunrise and sunset. You can use that to help you sleep. Set yourself a set time for going to bed and follow that as often as you can. Your brain will subconsciously reset your circadian rhythm to be lowest at your bedtime, thus helping you sleep. Consistency is key to using your circadian rhythm in this way. You will soon find it easy to relax at bedtime and fall asleep easily. The same is true of waking: try to wake up at the same time every day, and eventually, you will be able to throw away your alarm clock!
8. Set the Right Environment For Sleep
 Set the environment in your bedroom to be conducive for sleep. Bright lights and outside noise do not help. They tend to keep you awake more than anything else. Just before going to bed, pull the curtains to keep external noise reduced to a minimum and dim the lights. Your brain is now more likely to produce melatonin.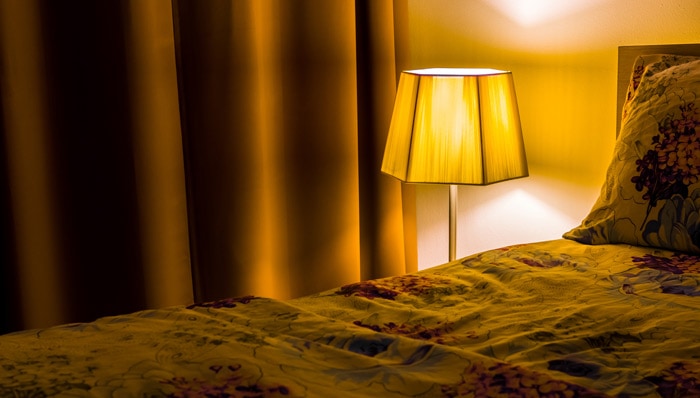 Melatonin is a hormone that regulates sleep and wakefulness. It is produced by the pineal gland situated in the brain and modulates sleep patterns in circadian and seasonal cycles. When darkness occurs, the pineal gland (so-called because it resembles a small pine cone) is activated by a special center in the area of the brain known as the hypothalamus.
This center is known as the suprachiasmatic nucleus (SCN). When darkness occurs, the SCN turns the pineal gland on which then begins to produce melatonin. This hormone is released into the blood and makes you sleepy – the most common time for this happening is approximately 9 pm. If you keep your bedroom lights on, the pineal will remain closed for business. So dim the lights or switch them right off, and you may find it easier to fall asleep.
9. Reading
Reading is a good way to relax before sleep. By focusing on what you are reading, your brain has no time to dwell on issues that may have otherwise have kept you awake. The book you read is irrelevant, so long as it keeps you and your brain focused. Some people find that they even fall asleep while reading.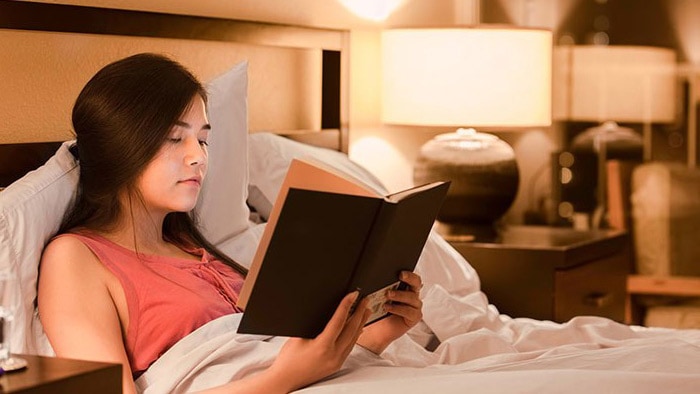 10. Listen to White Noise or Natural Sounds
Many people who find it difficult to get to sleep use a white noise machine or listen to a recording of natural sounds. Among the most popular of such sounds are running water, waves breaking on a shore and birdsong. Go for the birdsong and before long you will be an expert on the subject! Such recordings are very popular with insomniacs while others find white noise works best for them. You won't know what works for you until you try it.
11. Listen to Music
Another bedtime ritual is listening to music. This is similar to reading but more soothing (unless you are into hard rock and heavy metal!) You should use soft, relaxing music to help you sleep, and if you can set it on a timer, then all the better. Many people fall asleep to the music and then are wakened up later by the same music. Make yourself a playlist and play it on your smartphone or laptop, set to stop when it finishes the list – this will help you avoid wakening up a few hours later with the music still playing.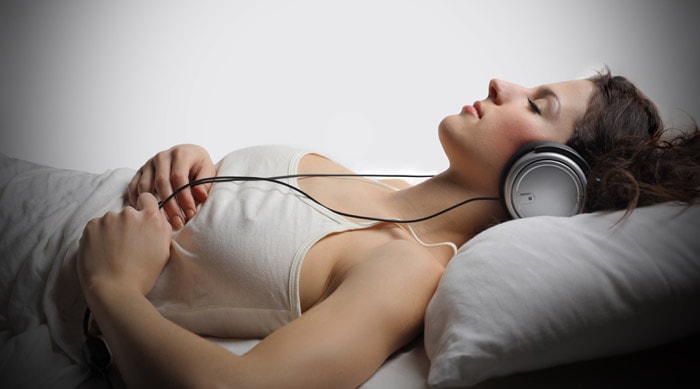 12. Meditation and Prayer
Many people use meditation and/or prayer to help them relax and get to sleep. One reason why this works is that it helps calm those that believe it helps them. Another is that many people find peace when they pray or meditate, and are able to relax by dealing with their daily worries in this way. Get yourself calm mentally, and you will find it much easier to find bodily calm and get to sleep.
13. Aromatherapy and Other Scents
Among the top proven relaxing bedtime rituals available is aromatherapy. Aromatherapy oils, including chamomile, lavender, and sandalwood can be very soothing and sedating. Try rubbing small amounts on the inside of your wrists, and you may be surprised at how quickly they can help you find sleep. If the above scents don't help you, then try others.
14. Stop Napping!
While not exactly a proven relaxing bedtime ritual, you should try to stop napping during the day, or at least keep naps to a minimum. Long naps will affect your sleep at night. You may find it difficult getting to sleep or might wake up unrefreshed after just a short sleep. It's not just that you may not feel as tired after napping, but it also interferes with your internal clock and circadian rhythm. If you must nap, keep them to less than 30 minutes.
15. Massage
Last but by no means least, we come to massage. This is a very effective way of helping you relax but you cannot do it yourself. This is a good option if you have a partner willing and able to give you a massage. If you carry out a lot of manual work or are sitting or standing for long hours, massage is a ritual that will soothe your muscles and help you sleep much easier. It is practically a fail-safe solution to insomnia, but you need somebody to do it for you – hence its place at #15.
Relaxing Bedtime Rituals: Summary
These 15 proven relaxing bedtime rituals should help you if you find it difficult to sleep at night. Every individual one of them will help you sleep, and if you try several together a good night's sleep is practically guaranteed. A good, comfortable mattress will also help.
It is important that you train your psyche to associate the bedroom with sleeping. This will happen if you only use your bedroom for resting and sex. Your brain will associate the bedroom with fatigue and sleep, and once you are in bed it will be morning before you know it!