Transparency Disclosure: We may receive a fee from the seller for any purchases made through links on this website or from other sites accessed via this website. This fee incurs no additional costs for the buyer. To learn more, please read our full disclosure page here. Read our Product Research and Testing page to know more about our review process in detail.
Our IKEA Morgedal foam bed review focuses on the Morgedal 100% foam mattress. Like most other IKEA products, its construction was designed to produce a good quality mattress at a very affordable price. It is a medium firm mattress with a 1 – 10 firmness rating of 7.5 (10 = firmest). The seven-inch thick Morgedal mattress also offers a Firm option, where our firmness test rated it at 9.0.
Incidentally, in case you are wondering, Morgedal is a village in Telemark County in Norway. It is famous for its skiers, including the great Sondre Nordheim. Most 100% foam IKEA mattress reviews focus on its low price, although it is nevertheless an excellent choice for certain needs. Sure, it is a budget price mattress but is one that offers great value for money, and that is an affordable option for those who like a firm but comfortable mattress. This includes most back and stomach sleepers. We carried out our testing on the medium-firm mattress.
Table of Contents
IKEA Foam Mattress Construction
Here is how the Morgedal medium firm foam mattress is constructed:
Foam Layer 1: The top comfort foam layer is a 2.4" layer of 2.2 lb/cu.ft resilient polyurethane foam that IKEA has zoned to relieve the pressure on your shoulders and hips. This layer contains grooves to help you relieve pressure stress on certain areas of your body.
Foam Layer 2: 1.7 lb/cu.ft. polyurethane foam comprises the second foam layer. This is a higher density polyfoam layer that provides support while you sleep. Polyfoam is another term for polyurethane foam (not memory foam.) Overall, this IKEA mattress is about 7.2 inches thick.
Cover: A layer of polyester/rayon fiber wadding lies on top of the two foam layers, and the whole is covered by a ticking of cotton, polyester, and rayon. It also has a removable cotton and polyester cover that is not only soft to lie on but can be unzipped for machine washing, though tumble drying is not recommended. The cover and wadding promotes a cushioning effect, providing the mattress with a high-quality, comfortable feel.
IKEA Morgedal Mattress Review: Main Properties of the IKEA Mattress
We have carried out exhaustive tests on the IKEA Morgedal mattress with the following results.

The mattress comes rolled in a box, and it takes typically 3-4 days to expand to its full dimensions. Delivery charges depend on your location, and a white glove service is available for a fee. While you shouldn't expect too much for a mattress at such a low price level, it punches way above its weight and is great for those who have a very limited budget but must have a new mattress.
The IKEA Morgedal mattress is an excellent budget mattress that is fantastic value for money. Who would like this mattress and why? Here are the opinions we came to after our thorough and exhaustive testing:
It is a firm mattress that you are unlikely to sink into unless you are of particularly heavy weight. There may be a slight depression where you lie, but you will generally be sleeping on the mattress rather than in it. It is very responsive, meaning that you will find it relatively easy to move around and reposition at night. The resilience, bounce and support help you readily change position without struggling out of a depression in the mattress.
What is Your Normal Sleeping Position?
Side Sleepers: Not all mattresses are suitable for all sleeping positions, and some are downright bad for certain positions. If you sleep on your side, then this mattress is unlikely to meet your needs. You would likely need a softer mattress to absorb and contain the pressure of your shoulders and hips. If you change position a lot and sleep on your side only occasionally, then the Morgedal mattress might suit you – but not if you are an exclusively side sleeper. You would be best on a softer mattress.
Back Sleepers: If you sleep on your back, then the IKEA Morgedal mattress could be ideal for you. The comfort foam layer not only conforms to the shape of your body, but it also provides the best level of support for your weight and sleeping position. The zoning of the top layer of polyfoam provides support for your lower back, or lumbar region, while also allowing your buttocks and shoulders to sink slightly into the foam, so helping maintain the natural elongated S curvature of your spine.
Stomach Sleepers: Many people find that the best sleeping position for them is on their front: also known as stomach or belly sleeping. They often find that the IKEA Morgedal foam mattress is eminently suitable for them. It helps to keep their backs correctly aligned all night. The Medium Firm model will likely be firm enough, but if not then the Firm option certainly should.
Heavyweight Sleepers: Heavier weight people might find that the Medium Firm IKEA Morgedal mattress (Level 7.5) is OK for them, although the Firm version (Level 9.0) would likely be the more suitable option. It is often a difficult choice for those weighing over 230 – 250 lb, although you do get a 365-day sleep trial. The Firm option might be too firm for comfort, or the Medium Firm may not give the required support. You can either get a full refund during that trial period or a replacement – enabling you to switch from one firmness option to the other.
Motion Transfer
It can be very disturbing to your sleep if your partner tends to move about when sleeping, or even gets up for a drink! A mattress that has good motion isolation can help you remain in dreamland while your partner does their thing – you remain undisturbed in bed and sleep through it all. The poly foam used by Morgedal makes sure that you are neither affected by your partner's thirst nor by him or her changing their sleeping position during the night.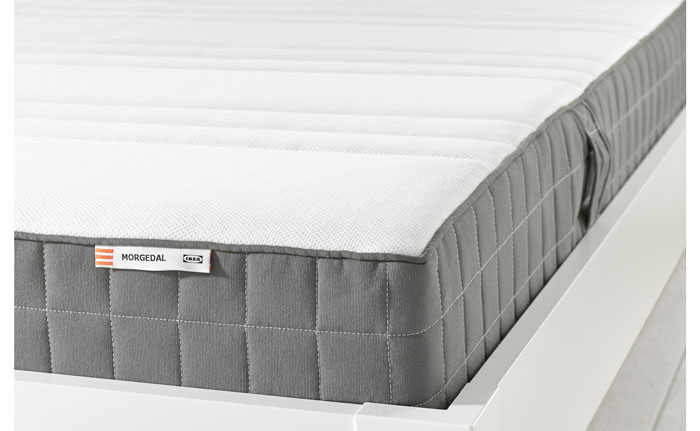 Edge Support
Edge support is an important factor for many people who like to sit on the edge of their bed, or for couples with no desire to fall off the side of their bed during sex. You certainly don't want to find yourself on the edge of a bed that just collapses under your weight. A strong mattress edge is often very important, particularly if you and/or your loved one are lying right to the edge of the mattress.
The Morgedal mattress doesn't look particularly strong initially, but when you sit on the edge compression of the mattress is low. This is because the mattress is constructed using fairly firm foams that themselves offer excellent support. If you are lying on the edge of this mattress, it is difficult to tell that you are not sitting in the middle of it. You are unlikely to feel as though you are about to topple onto the floor!
Pros and Cons of the Morgedal Mattress
Pros
Excellent low cost alternative to high-ticket polyfoam, memory foam and latex mattresses.
Comfort zones provide targeted support for your shoulders and hips.
Good low-cost mattress for overnight guests.
An ideal choice for sleeping outdoors.
A perfect choice for children: they will love having an 'adult' bed.
Great mattress for sleepovers in a child's bedroom.
365-Day sleep trial with full refund or exchange, whichever you prefer.
25-Year limited warranty. Read about the terms in IKEA's Limited Warranty brochure
White glove delivery to the room of your choice plus set-up. Chargeable service.
Removal of old mattress. A charge is made for this service. Chargeable service
Cons
Best used for children or occasional use (visitors, sleepovers, etc.)
Prolonged adult use can lead to premature formation of an uneven surface and permanent depressions.
Shipping is not free.
Who Should Like the IKEA Morgedal Mattress?
Those with a low budget for their mattress.
People who prefer a firm sleeping surface, and like to sleep ON their mattress rather than sink into it.
Those looking for an inexpensive spare bed for visitors and guests.
Those seeking an inexpensive mattress for outdoors.
People who want a spare bed for their children's room – or for sleepovers.
Those who prefer a 100% foam mattress, and also want to avoid latex.
Purchase IKEA Morgedal Mattress on Amazon
Frequently Asked Questions
We are often asked questions on our site regarding our reviews and specific mattresses. If you have any questions about our IKEA Morgedal Foam Bed Review or about the IKEA Morgedal mattress itself, then please do so using our Contact Form here. Here is a sample of the questions we have been asked about our review of the Morgedal Mattress, and about the mattress itself.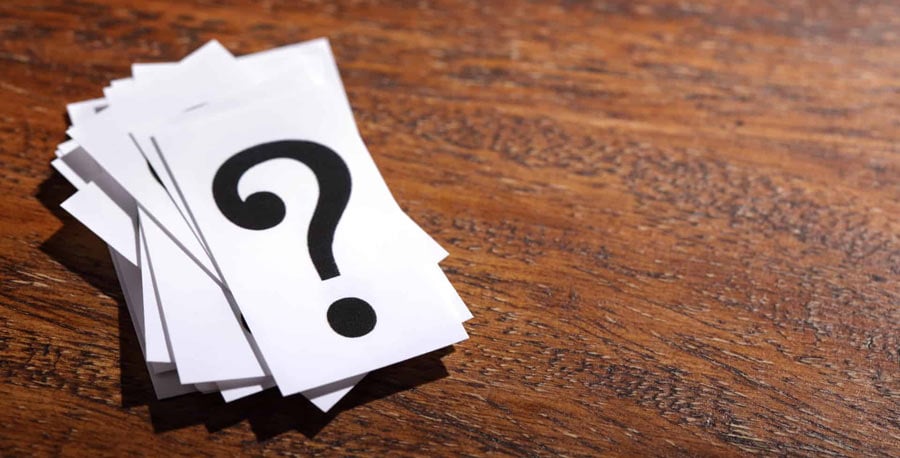 I weight 235 lb and my wife 168 lb. Which of the two IKEA Morgedal mattresses would you recommend for us?
In your case, we would recommend the firm option. The Medium Firm might be suitable, but unless either of you sleep mainly on your side, then the Firm option will not only provide more support, but the mattress will likely last longer than the softer option. Keep in mind that you have a full year sleep test to change your mind. If you want to return it you get a full quibble-free refund.
Would the Twin size mattress be OK for a trailer or RV?
Sure! The Morgedal mattress is light in weight and recommended for trailer, RV and general outdoor use. Its low price is an added benefit, and all available sizes are suitable for use in a trailer or RV assuming they fit the space available. You can also use it in a hunting cabin and when camping.
Which option would be best for me? I sleep mainly on my stomach, but sometimes on my side. I can fall asleep on my side and wake up on my stomach.
Generally, stomach sleepers need a fairly firm mattress. That's because they get a feeling of suffocating if they sink into the mattress, and that sinking can also bend the spine into an unnatural position. In your case, we would recommend the Medium Firm option. We would also recommend you have a mattress designed around your personal sleeping needs. The Helix Mattress is constructed for you personally by means of a questionnaire. You could opt for the relatively inexpensive IKEA Morgedal mattress or first check out the Helix Mattress and go from there.
Are polyfoam and polyurethane foam the same as memory foam?
No. Polyfoam is another name for polyurethane foam. The chemicals used to manufacture polyurethane foam (polyfoam) are mixed together with additional chemicals including a type of alcohol known as a polyol. This makes the foam sensitive to temperature and pressure, and also resilient in that it reverts to its original shape when pressure is removed. So no, they are not the same. Polyfoam has more bounce but has no 'memory' effect.
Can the Morgedal mattress be flipped?
Strictly no, but it is possible. The two sides of this IKEA mattress are of differing foam densities and hardness levels. You should not, therefore, be able to flip it, but you can turn it so that the head becomes the foot and vice versa. However, if you find the reverse side to be a suitable sleeping surface for you, you can flip and turn it at least twice yearly. This should give you more wear out of it. As you can see in our IKEA mattress review, the Morgedal mattress is not as durable as most other mattresses and may not last as long. This is particularly true if you are heavy and sleep on the same area of mattress every night. It will quickly develop permanent impressions or sagging. You can even out the wear, or at least delay it, by flipping it and turning it. This is good practice to employ with all mattresses that can be flipped or turned.
Why is the cost of this mattress so low?
First of all, the low cost is not due to lower quality materials. The polyfoam (AKA polyurethane foam) is good quality, but without the properties of memory foam and not as resilient and heard-wearing as latex or innerspring mattresses. It is also a relatively inexpensive foam to make. Memory foam involves more chemical processing, while latex is a natural product that has to be tapped from rubber trees then further processed to convert it to a foam. Springs are also relatively expensive to manufacture. So it's all in the manufacturing costs, not the quality.
How many times can I use the Sleep Trial?
I know what you are thinking, but no – you can only use it once. If you want to return the mattress at any time up to 365 days after purchase you can do so without quibble. You can receive a replacement mattress or have a full refund. Say you first purchased the Medium Firm IKEA Mattress then got a refund and decided to use that to buy the Firm version. You do not get another 365-day trial. Otherwise, you could use trial after trial and never actually pay for the mattress! The answer to your question is just once!
Does this mattress have good bounce for a young couple?
No, the mattress is not designed for bounce, though there is a slight bounce to it. It is not recommended as the main mattress for a young couple. It is more intended for a spare bed, such as a guest bed or sleepover bed. It's also useful for a fishing or hunting cabin or an RV (recreational vehicle) such as a trailer or camper van.
Support

Materials & Quality

Cooling

Price

Design
Summary
The IKEA Morgedal mattress, or IKEA Morgedal foam bed as it is often referred to, is a 100% polyurethane foam mattress available at an excellent budget price. Although it is often used as the main bed in a household, it is popular as a spare bed for visitors, sleepovers, outdoors, cabins, RVs or as a child's first 'grown-up' bed. It is an excellent bed for its price and suitable mainly for back and belly sleepers and for adults over a certain weight.
Most Morgedal mattress reviews focus on the price, although it is a good mattress irrespective of that. Children will love it as their first grown-up bed like mommy and daddy have. Many negative reviews are from those who expect Tempur-Pedic performance from a mattress costing just a few hundred dollars. Most of our positive comments come from those that have purchased the IKEA Morgedal mattress for their children's room or for an occasionally-used guest bedroom. The conclusion of this IKEA Morgedal foam bed review is that it is an excellent low cost mattress for occasional use by guests or kids' sleepovers, or for RVs and fishing or hunting cabins. It is ideal for regular use by children and occasionally for average weight adults. Prolonged use by heavier weight adults will probably result in a misshapen mattress after a year or so.