Transparency Disclosure: We may receive a fee from the seller for any purchases made through links on this website or from other sites accessed via this website. This fee incurs no additional costs for the buyer. To learn more, please read our full disclosure page here. Read our Product Research and Testing page to know more about our review process in detail.
This Casper vs. Purple mattress comparison and review will be comparing the latest product offered by each company. Purple is the new mattress kid on the block, and after a successful Kickstart beginning it has been getting great reviews – but so has Casper.
Casper recently introduced its new updated mattress in the mid-price range – similar to that of the Purple Mattress – and it too has been getting rave reviews. So how do they fair in a head-to-head comparison? We have checked each mattress comprehensively in order to find out how they differ.
In fact, other than their construction and the materials used, each seems very similar to the other. Of twelve criteria we used to compare the Casper vs. Purple Mattress, the differed significantly in only four of them: The relative number of foam layers, the type of foams used, comfort and bounce. It may be five, due to the two comfort zones in the second layer of the Casper Mattress.
Table of Contents
Here is a comparison of the major features of each mattress.
Casper vs. Purple Mattress Comparison Table
| Feature/Property | Casper Mattress | Purple Mattress |
| --- | --- | --- |
| Layers | 4 | 3 |
| Thickness | 9.5 Inches | 9.5 Inches |
| Firmness Options | One | One |
| Foams* | Latex-type/Mem/PU/HD PU | Proprietary/PU/PU |
| Comfort | Excellent due to Layer 2 | Good |
| Support | Excellent | Very Good |
| Bounce | Good | Excellent |
| Cooling | Good | Good |
| Motion Transfer | Excellent | Excellent |
| Edge Support | Good | Good |
| Test Period (days) | 100 | 100 |
| Warranty | 10 Years | 10 Years |
| Price | View on Amazon | Check Price |
* PU is polyurethane foam
Comments on Each Factor
Each of the factors/properties above is important to the overall quality of the mattress and to how it suits specific types of sleepers. You may be aware of the properties you are seeking when you purchase a new mattress.
Your decision is likely to be influenced by whether the mattress is for you, your children or overnight visitors. That's where price may become a factor, although there's not a lot to choose therebetween a Purple and Casper mattress. Here are our comments on each:
Layers in Each Mattress and Thickness
The number of layers in a mattress may or may not have an impact on its quality, comfort and suitability to your needs. Each of these mattresses has been designed by people who understand what people need, and just as important, understand the nature of the various materials they can use in the construction of their mattress: the foams, what makes them tick and how multiple layers work together.
Casper Mattress: Casper uses four different layers in its mattress construction:
A 1.5-inch thick proprietary latex-type foam that provides comfort for your major pressure points: your hips and shoulders.
A 1.5-inch layer of memory foam. The purpose of this is to maintain pressure point support as your body sinks into the mattress. It helps to keep your spine in its correct alignment in whatever way you sleep: side, back or belly.
A 1.5-inch layer of polyurethane foam – but specially designed to provide a softer foam for your shoulders to sink into, and farther down the mattress surface, a firmer foam for your hip and lower back. Your hips need more support than your shoulders!
A bottom 5-inch layer of higher density polyurethane foam to provide the deep base support needed by most people, no matter in what position they sleep.

Purple Mattress: The Purple Mattress has three different layers. That does not mean that it is inferior to the Casper mattress with four layers. What matters is how the various layers interact and combine to provide a comfortable and healthy sleeping surface for a wide range of sleeping positions.
A top 2-inch layer of what is referred to as a hyper-elastic polymer. This has been designed to distribute heat and keep you cool while sleeping.
A middle 3.5-inch layer of polyurethane foam comfort layer to absorb the pressure of your hips and shoulders.
A bottom 4-inch support layer of polyurethane foam.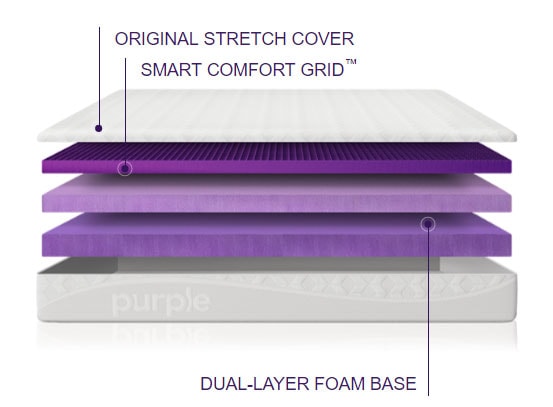 So, the Purple Mattress has one layer less than the Casper Mattress. Does this matter much? Not on the face of it! Unlike some other mattress brands, each of these has only one firmness rating to choose from. So let's examine some other differences between the Casper and Purple Mattresses before coming to a decision.
Firmness, Comfort and Support
Both have only the one firmness option – so it's you get what you get regarding how firm your mattress will be. There are no options. Both are comfortable to sleep on. Whether you sleep on your side, your back or your front, each mattress provides good comfort.

The Casper mattress might just be ahead here due to the two different levels of support provided on the third layer of foam. Your shoulders can sink into the mattress, while your hips and lower back get the support they need. This is a definite plus for the Casper mattress. However, the overall support is excellent for each mattress. It is very difficult to choose between them.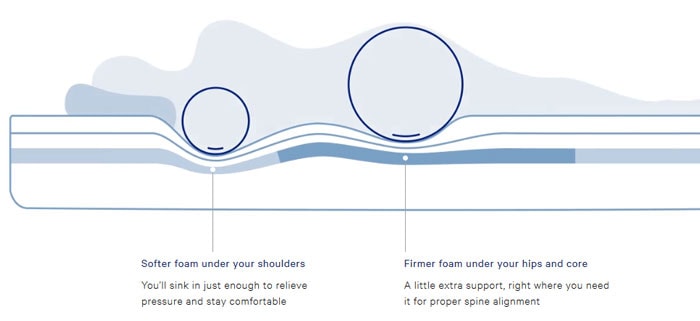 Mattress Bounce
The bounce of the visco-elastic foam of the Purple Mattress is superior to that of the Casper. Couples might prefer the Purple to the Casper for this reason, although the Casper Mattress does offer a level of bounce that most would find acceptable. But why settle for 'acceptable' when you can get better!
Cooling Effect
The Casper Mattress certainly helps keep you cool at night, but the Purple Mattress edges it. There are likely few mattresses on the market, if any that can keep you cooler than the Purple Mattress. If you tend to wake up hot and sweating, then the Purple Mattress is your best choice.
Motion Transfer
Motion transfer between partners is minimal with each of these mattresses. With either, one partner is unlikely to have their sleep disturbed by the movement of their partner lying beside them. A lot depends on the degree of this movement of course, although these are two of the better mattresses available to isolate the movement between partners.
Edge Support
If you sit on the edge of your bed, you expect some degree of support. Unfortunately, not all mattresses provide this. Both the Casper and purple mattress provide good edge support. The edge of each does compress when you sit on it, but not significantly, and they sure don't tip you off the edge of the bed as some mattresses do!
Warranty and Sleep Test Period
Again, there is nothing between them regarding warranty and the sleep test period. Both offer the same level of 10-year warranty, and both offer 100 days sleep test with full refund and free uplift should you not want to keep the mattress. We cannot see any reason why either of these two excellent mattresses should fail a sleep test!
That is our Purple Mattress Casper Mattress review. If you still cannot make up your mind then our answers to these questions may help you.
Casper vs. Purple Mattress Review 2023: Questions and Answers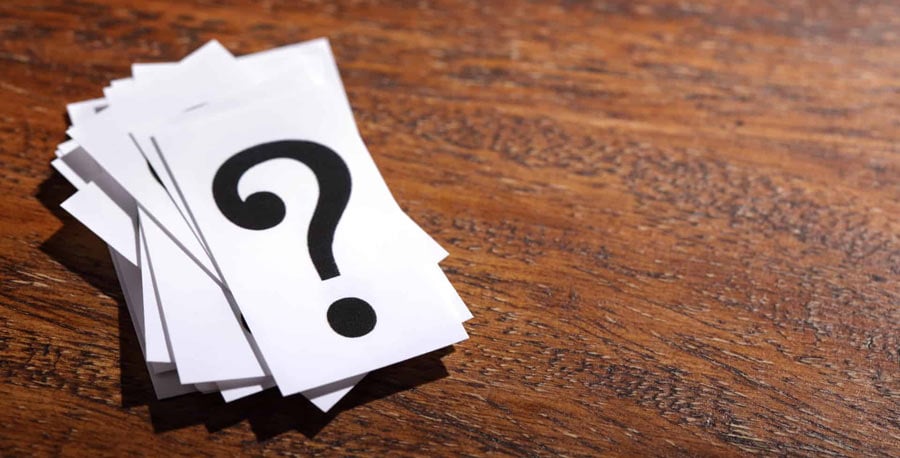 Here are some of the questions we have been asked regarding these two mattresses:
1. Are these mattresses made in the US?
Yes, both are. However, the Purple Mattress uses some materials sourced outside the US.
2. If you were a side sleeper which one would you choose?
Depends on your weight. If you are over 150 lb, I would go for the Casper, but make sure it is the new updated version and not the early 2017 model. The Purple is OK for a heavier weight person, so make sure you try out your mattress before purchasing it!
3. Is there genuinely much difference between the Purple Mattress and the Casper?
We have tested them both, and the differences we report are those that we find. There are genuine differences as reported. No two mattresses can be exactly the same, which is why we need mattress comparisons to help you choose the best mattress for you.
4. Why is the warranty for 10 years and the test period for 100 days? What's the difference between them?
A warranty is a guarantee against faulty materials or workmanship. You are guaranteed that your product will not develop a fault caused by faulty workmanship or faulty raw materials. A 100 day sleep trial allows you to sleep on your new mattress for 100 nights before making your mind up. Simply arrange a free return within that 100 days and you will also get your money back – so 100 days to test your purchase, after which you lose nothing in the event you don't like it.
5. Is 1.5 inches of any foam enough?
Not always – it depends on the foam. Usually, 1.5 inches of memory foam does not do much. However, if it is lying on top of a layer of higher density foam, it can help reduce the hardness of the underlying foam and help you to sleep quicker than without it.
Casper vs. Purple Mattress: Conclusion
It is very difficult to choose between these two mattresses. They are different in some ways but also very similar in others. Likely the best way to summarize this review is to suggest which mattress is best for which people or their different needs.
Go for the Casper Mattress (New 2017 model) if:
You like to sink in a bit, but also have good support for your hips and lower back.
If you like some memory foam in your mattress.
If your weight is a bit on the heavy side.
Purchase The Casper Mattress on Amazon
Go for the Purple Mattress if:
You are a younger couple and love a good bounce!
You like to stay cool during the night. The Casper Mattress is also good at this, but the Purple Mattress is better.
Otherwise, they are both more or less equal for:
Thickness
Motion transfer between partners.
Edge support
So which should you choose? Make your own decision from the information we have provided to you. You can't really go wrong with either. If it boils down to a cost decision, then the Casper comes at a lower price than the Purple Mattress. They have roughly the same warranty and the same 100 day test period.
Our Casper vs. Purple Mattress Comparison and Review 2023 has offered a lot of information and advice. It is finally your choice, although if you have narrowed your options down to these two, it should not be too difficult to make a final decision based on the information we have provided.