Transparency Disclosure: We may receive a fee from the seller for any purchases made through links on this website or from other sites accessed via this website. This fee incurs no additional costs for the buyer. To learn more, please read our full disclosure page here. Read our Product Research and Testing page to know more about our review process in detail.
Any mattress comparison is sure to be difficult since each has its own positive and negative aspects. To compare four together is just next to impossible to achieve accurately. So what we will do is to compare the Casper and Leesa mattresses, select the better of the two and then do the same with the Tuft and Needle and the Saatva. We will then compare the best of each with each other.
Table of Contents
This is a mattress contest that compares four of the best affordable mattresses available. They each have their own strengths and weaknesses. However, the four we have chosen have few enough weaknesses to make this a difficult comparison to judge. So let's get started:
So let's look at the Leesa vs. Casper Mattresses First.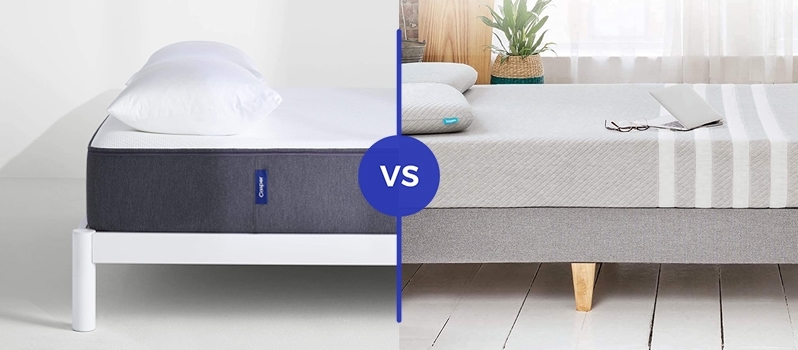 The Casper mattress has four foam layers
A top layer of 1.5″ responsive polyurethane foam.
A layer of 1.5″ memory foam.
A layer of 1.5″ standard polyurethane foam.
Finally a 5″ layer of denser support foam.
The Leesa Mattress has three foam layers:
A top 2″ layer of what it refers to as 'Avena foam' – what is described as a latex foam alternative.
A 2″ layer of memory foam
A 6″ support foam layer.
Casper Conclusion: The Casper mattress is slightly firmer than the Leesa mattress, though there is not a lot in it. The Casper is also the better for side sleepers, providing slightly more 'hug' and allowing the shoulder and hip to sink into the mattress before the support of the bottom layer comes into play.
Check Casper Mattress Reviews on Amazon
Leesa Conclusion: The Leesa mattress is slightly less giving, and more suitable for front or back sleepers. Both possess minimal transfer properties, meaning that they allow good separation of movement between partners. Regarding warranties, both are the same: 10-year warranties with 100-day sleep trial period. If you want to return the mattress after that period, you get a full refund and they collect the mattress free of charge.
Check Leesa Mattress Reviews on Amazon
Result: So which is our choice between these two mattresses? We are going with the Casper only for its suitability for side sleepers, and the fact that stomach and back sleepers would also find it comfortable. It is a difficult decision to make, and many people using the Leesa would likely disagree with us!
Must Read: Endy Vs Casper: Is the Endy Mattress Better Than the Casper Mattress – or is Casper Best? »
Tuft and Needle Mattress vs. Saatva Mattress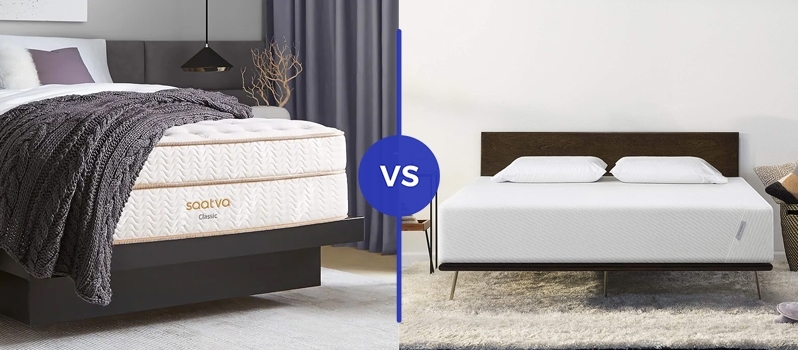 Tuft and Needle Has Two Foam Layers
A 3″ layer of low density polyurethane foam
A 7″ layer of high density foam
The Tuft and Needle mattress has a 2-layer construction. 3-inches of low density polyurethane foam as the comfort layer, with a 7-inch layer of high density support foam beneath. The support level is excellent, and this would be a good alternative to the Casper mattress for side sleepers.
Saatva Coil Spring Construction
The Saatva mattress is a spring mattress. It is constructed with two layers of coils. If we are discussing layers, the Saatva is unique:
A 0.5″ top layer comprising a thin Euro-style pillow top over 0.5″ of memory foam to top the spring coils.
A 4″ top coil layer of 884 straight profile spring coils individually wrapped.
A 7″ layer of heavier hour-glass shaped high profile support coils.
Another bottom layer of coil encasement foam
The mattress is also fitted with a 0.5 edge support foam which helps keep the whole mattress together. Not only that, but it offers three different comfort levels:
The Saatva Plush Soft is by far the softest of any of the four mattresses being compared here.
The Saatva Luxury Firm is roughly equivalent in hardness to the Leesa and very slightly softer then the Casper and Tuft and Needle.
The Saatva Firm is a fair bit harder than any of the others.
If you prefer a hard mattress, as many heavier people do, then this is for you. If you are a back sleeper then this may also be best. Side sleepers may prefer the plush soft or luxury firm depending on their weight, and the lighter-weight stomach sleepers might just love the Plush Soft.
So how do you compare a spring mattress with a 100% foam mattress? It's easy really – simply compare them on what they are – mattresses. On comfort, support and suitability for different types of sleepers. So what is our conclusion on the Saatva mattress vs. the Tuft and Needle?
Tuft and Needle Conclusion: The Tuft and Needle mattress is a very comfortable mattress to sleep on. If you prefer a 100% foam mattress, then this is a better choice for you. However, we are comparing it with an excellent pocketed spring mattress.
Check Tuft & Needle Mattress Reviews on Amazon
Saatva Mattress Conclusion: First, we must take into consideration that the Saatva is the only mattress where you have an option on firmness – in fact, three different options as explained above. Secondly, this is the only spring mattress in our test.
So – Tuft and Needle s. Saatva? Who wins?
This is a very difficult decision, and you may disagree with our choice. For its multiple comfort levels, we are going with Saatva. If you don't like pocketed spring mattresses then it must be Tuft and Needle.
Don't get us wrong – both are excellent mattresses – and we have been comparing the best of the best together. It's a hard fight, but in this instance we have to go with the only spring mattress in the contest. It was the three comfort options offered by the Saatva mattress that swung it their way!
Our Choice of the Best of the Best Mattresses
Now let's compare the two winners: Casper vs. Saatva. Which would we choose were we to be purchasing a mattress? That is a very difficult question to answer. First of all, we have to choose between a spring and a foam mattress. If you like foam mattresses then Leesa wins! If you prefer pocketed spring mattresses, then Saatva wins!
Saatva Mattress: We believe that both win. The Saatva spring mattress is an astonishingly good spring mattress. It has all the qualities needed to be great: the springs are individually pocketed, so helping to isolate the movement of each partner in the bed, and it offers three different comfort/hardness levels.
It offers a 15-year warranty and a 120 day trial period. You get a full refund if you don't like it after 120 days – but- and a BIG BUT – you pay a $99 collection fee for the return.
Casper Mattress: This is our choice of the foam mattresses. Whether or not it beats the Saatva mattress is debatable. For those who prefer foam to springs this is the undoubted winner between the two, but vice-versa for those that like a spring mattress. There is no collection fee if you want to return this mattress after the trial period!
Leesa vs. Casper vs. Tuft & Needle vs. Saatva Mattress: Final Decision
Final decision? There is none! The answer to the Leesa vs. Casper vs. Tuft & Needle vs. Saatva Mattress comparison question is that they all have their own individual benefits and their own individual drawbacks. Here are the major pros and cons for each:
[table "38nbspresponsivescroll" not found /]
So how do we rate these against each other? Simple answer – we cannot. The differences may become apparent only if you tried them all out. However, what we can say after examining each of them is that the Casper is #1 for side sleepers, the Leesa is #1 for front or back sleepers, Tuft $ Needle is #1 for overall support, and the Saatva is a #1 pocketed spring mattress that also offers 3 different comfort/hardness levels.
Take your pick according to which of these qualities apply most to you. For us, you could shuffle the four names then deal them out one by one – the order they come in would OK with us!