Transparency Disclosure: We may receive a fee from the seller for any purchases made through links on this website or from other sites accessed via this website. This fee incurs no additional costs for the buyer. To learn more, please read our full disclosure page here. Read our Product Research and Testing page to know more about our review process in detail.
This Purple Mattress Review 2023 is to establish whether or not the bed is worth the hype that many are writing about. We have covered every aspect of the mattress carefully, and come to the conclusion that you will find at the end. So let's dive right in and find out what all the fuss is about!
Table of Contents
Purple Mattress Construction
The designers, Tony and Terry Pearce, have an aerospace science and marketing background between them. They applied their knowledge to the mattress industry and came up with the Purple Mattress. It is a 9.5-inch thick 3-layer mattress
Layer 1: A 2″ layer of a proprietary Hyper-Elastic Polymer™ grid. The grid structure spreads the pressure on it equally over the area of the mattress. Purple refers to this polymer layer as being "pressure erasing." It doesn't so much 'erase' the pressure as spread it out over a larger area.
Layer 2: A 3.5″ layer of 1.8 lb. polyurethane foam. This is a medium softness variety of polyurethane foam designed to improve the comfort of the mattress.
Layer 3: A 4″ layer of firmer 2.0 lb. polyurethane foam. This provides the support and is also said to give the mattress its durability and resistance to wear.
The layers beneath the top layer work in much the same way as regular polyurethane foams. Where the Purple Mattress design works well is in the structure of these layers. At first glance, these layers are no more than what you get with most other foam mattresses. So what makes the Purple Mattress so special?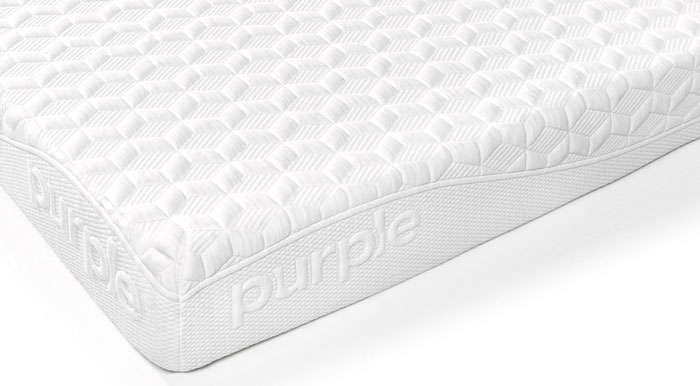 More Information on the Unique Aspects of the Purple Mattress
The Cover: Let's begin with the cover. The cover of a mattress is often underrated. That's in spite of the fact that it is the first layer you lie on. You will likely have a sheet over your mattress, but if not then this cover is soft and a dream to sleep on. It is breathable and helps any moisture in the mattress itself to evaporate away.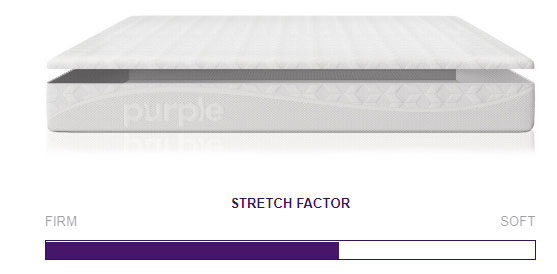 Hyper-Elastic Grid: Beneath that is the Hyper-Elastic Polymer™ grid structure. When your body applies pressure to this layer, it pushes down according to the pressure applied to it. Side sleepers will find the top layer to sink to accommodate their shoulder and hip while offering excellent support to their side and legs.
Front and back sleepers will find that their bodies are well supported. The foam structure sinks slightly to support the more prominent or heavier areas of your body and also releases that pressure when you move. The Hyper-Elastic Polymer™ foam releases quickly when the pressure is removed and so acts much like a memory foam, but with more bounce.
Mattress Support: Unlike some memory foams, this mattress provides excellent support when needed, but quickly reverts back to its original flatness when your weight moves off it. That's one reason why the Hyper-Elastic Polymer is regarded by those who sleep on it as being an advance on regular memory foam that takes time to revert back to its original shape.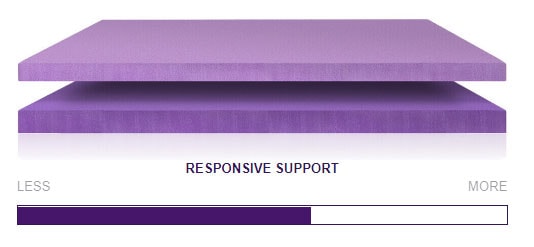 Motion Isolation: Its motion isolation properties are good, but not perfect. Because it reverts to its original position quicker than regular memory foam, it may seem to have the edge here over memory foam, but its proclaimed 'bounciness' does not tally with that. A bouncy mattress is sure to disturb your partner lying beside you.
Spine Alignment: Regarding your spine, because the Purple Mattress distributes the pressure of your body so evenly, it helps to maintain proper spinal alignment. This enables you to relax after a hard day and promotes a good night's sleep. This also makes the mattress suitable for side sleepers who need their shoulders and hips properly supported to keep their spine straight (looking from front to back).
The mattress also helps to maintain the natural 'S' shaped curvature of the spine when viewed from the side. In order to achieve this, the mattress must allow the shoulders and buttocks to sink into the mattress, while it also supports the small of the back and the neck.
Cooling Properties: The foam is constructed with free-flowing air channels. These breathable channels help to cool the mattress and release any trapped heat. The designers of the Purple Mattress have over 30 years between them of cushion design and aerospace technology to help them design a cooling mattress with excellent support.
Comfort With Safety: The proprietary Hyper-Elastic Polymer™ foam grid lies over two layers of CertiPUR-US certified polyurethane foam. The CertiPUR-US certification ensures that the mattress is free from ozone depleters, CFCs, toxic heavy metals and toxic fire retardants. The comfort aspect comes from the unique grid structure of the foams that react to the pressure placed upon them.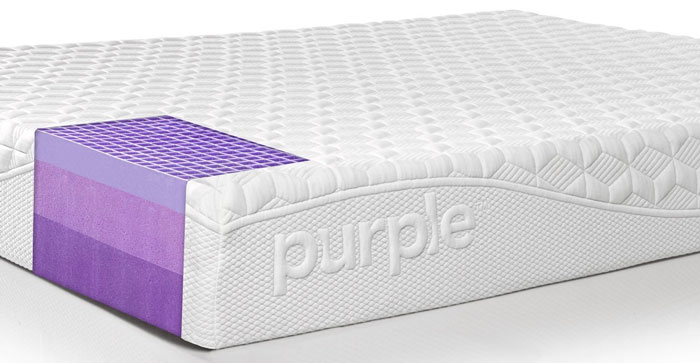 Antibacterial Protection: The mattress contains no artificial insecticides, but is naturally antibacterial. It also protects you from dust mites and other allergens. It has been certified by the FDA to be safe for use. It is totally non-toxic for people of any age, from young children upwards.
Mattress Foundation or Base: The Purple Mattress is suitable for any type of foundation or base. You can use a solid or slatted wooded foundation or a box spring base if you prefer it. The latter would not make any difference to the comfort of the mattress.
Purchase Purple Mattress with Discount
Who Might Like the Purple Mattress?
Part of the Purple Mattress promotion is the raw egg test. It is a gimmick to show how Purple Mattress can relieve pressure. Quite frankly, we believe that the best test for a mattress is to actually sleep on it. Who cares if a plate of eggs doesn't smash on the mattress? Many other mattresses would likely pass this test – but it proves nothing.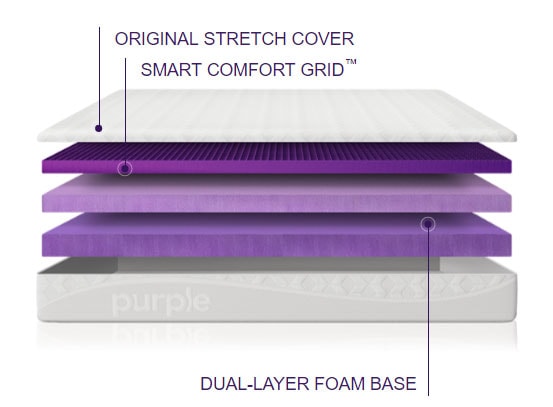 Those who would like this mattress are not those who want to throw eggs on it, but those much heavier than eggs who want a good night sleep! So consider the following factors that are important to most people when they go to bed.
How You sleep: The Purple Mattress is good if you sleep on your side. That's because the top Hyper-Elastic foam level absorbs the pressure of your shoulder and hip – and also your arm if you sleep with an arm under your body as some side sleepers do. It is just as good for back and belly sleepers, though no better than regular memory foam mattresses with good core support. So yes, it is good for those that sleep in any position – particularly for side sleepers.
Temperature Control: This mattress is good if you tend to heat up when you are sleeping. Its construction enables a good flow of air inside the top layer, which can wick away any heat generated while you sleep.
You Like New Technology: It's psychological, but many people feel more comfortable when they are using what is generally referred to as 'New Tech' – and that is what this mattress claims to offer. It is the only one that drops eggs on a plate onto its mattress to prove its comfort level! If that impresses you then go for it – why not!
Who Might Not Like the Purple Mattress?
Traditionalists: Among those who might prefer to use another brand of the mattress are those that prefer something more traditional. They don't like gimmicks and don't like 'new' types of foam.
That's about it really. Those who might not like trying the Purple Mattress are those that prefer to use something they understand. Something their parents used perhaps or a mattress made using a polyurethane or latex foam, or even perhaps a regular memory foam. If you prefer an innerspring mattress, then this is not for you – althou8gh why not try it? You can return it free after 100 days!
Would such people miss out on a great sleeping experience? Perhaps. The problem with taking chances on new technology is the cost. So let's say you would like to give the Purple Mattress a try. What might persuade you to take the plunge?
The Purple Mattress 100-Day Trial Policy
First, you would have to be interested in this mattress, and secondly, you would have to be sure that it would not cost you if you tried it and didn't like it. It's not the cheapest mattress out there, so why take a chance on it? Well, here is some information for you. You get to test it!
Here's how: Purchase the mattress, and you then get a 100 days trial of it. Use it as normal, and if at the end of those 100 days, or even during it, you feel that the Purple Mattress is not for you, then you get your money back in full. Not just that, but the mattress will be collected free of charge. In other words, it is a 100% guarantee, and you lose nothing if you want to return it. Simply email the company using the address they will give you, and they do the rest.
The company is so convinced that you will want to keep it that in order to get your refund you can donate the mattress to a local charity. If there is none in your areas, then Purple will arrange to get the mattress taken away at no cost to you. What better guarantee can you ask for!
Purchase Purple Mattress with Discount
Purple Mattress Review: Is This Bed Worth The Hype?
So is it? In our view, it is, because if you disagree after purchasing it, it will cost you nothing to return it for a full refund. Is it the best mattress we have reviewed? Possibly – possibly not! Mattresses are very personal items of your home, and what is good for one person may not be good for another.
That said, our conclusion is that the Purple Mattress is worthy of the hype surrounding it. It is an excellent mattress and you cannot beat its guarantee. Other manufacturers offer the same return terms, so while the guarantee cannot be beaten, it is by no means unique. This is a very good mattress, and well worth trying.
Support

Materials & Quality

Cooling

Price

Design
Summary
You cannot purchase this mattress from a mall store – it is only available online. So you cannot visit a store to have a look and maybe lie on it. That is likely one reason for its very generous guarantee and 100 day trial period conditions. It is certainly worth the free 100 day trial it offers.