Transparency Disclosure: We may receive a fee from the seller for any purchases made through links on this website or from other sites accessed via this website. This fee incurs no additional costs for the buyer. To learn more, please read our full disclosure page here. Read our Product Research and Testing page to know more about our review process in detail.
This Helix mattress review includes information regarding a short questionnaire you are asked to complete to enable the company to customize the most suitable mattress for your needs. This decision is based upon your height, weight, sleeping position and other factors.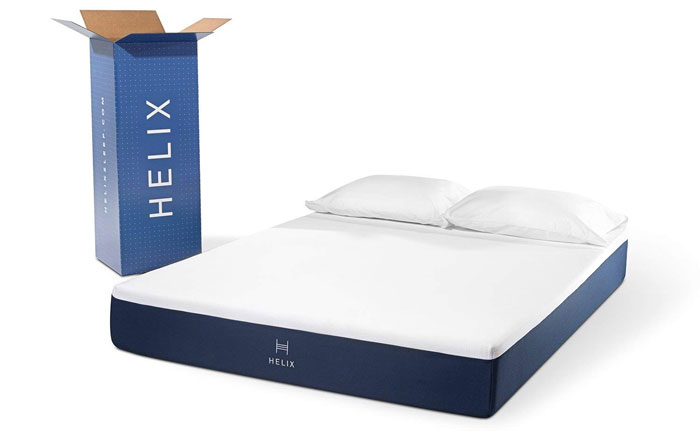 In addition to recommending the most suitable mattress based on the answers, the company's website also provides information on the standard range of products available. Our review of the Helix Sleep mattress will discuss each of the available mattresses builds to help you come to your own decision. You can then compare that with the recommended mattress build based on your questionnaire answers.
Helix Mattress Review Table of Contents
The Helix Mattress Questionnaire
The information requested is:
Your required mattress size (twin, queen, etc.) and whether it is for one or two sleepers.
Your age, weight, and height.
Sleeping position: Back, Side or Stomach or if you toss and turn all night.
Preferred feel: Plush, Medium or Firm.
Sleep Relief: Back Pain? Do you need a mattress that can provide relief from back pain?
Fill in the information for each sleeper; then you are provided with the company's recommendation based on the information provided. The range of mattresses available includes:
| Helix Mattress | Comfort Feel | Sleep Position | Support | Sizes** |
| --- | --- | --- | --- | --- |
| Sunset | Plush | Side Sleeper | Balanced | T, TXL, F, Q, K, CA K |
| Moonlight | Plush | All Positions | Extra | T, TXL, F, Q, K, CA K |
| Midnight | Medium | Side Sleeper | Balanced | T, TXL, F, Q, K, CA K |
| Dusk | Medium | All Positions | Extra | T, TXL, F, Q, K, CA K |
| Twilight | Firm | Side Sleeper | Balanced | T, TXL, F, Q, K, CA K |
| Dawn | Firm | All Positions | Extra | T, TXL, F, Q, K, CA K |
| Nightfall | Medium | All Positions | Max. Support | T, TXL, F, Q, K, CA K |
| Dual Balanced | * Dual | Side Sleepers | Balanced | Q, K, CA K |
| Dual Extra | * Dual | All Positions | Extra | Q, K, CA K |
* Dual Comfort levels indicate that one side of the mattress is Plush and the other side Firm. This is for couples where each person has a different preference in softness/hardness.
** The actual dimensions of each mattress size are (in inches).
Twin: 39 x 75     Twin XL: 39 x 80     Full: 54 x 75     Queen: 60 x 80     King: 76 x 80     CA King: 72 x 84
These sizes can vary by up to 1 inch due to them being handmade. Each mattress is 10 inches thick, other than the 12-inch thick Helix Nightfall. The extra thickness is needed to provide the Maximum support level.
Note: Check below for an explanation of each column heading.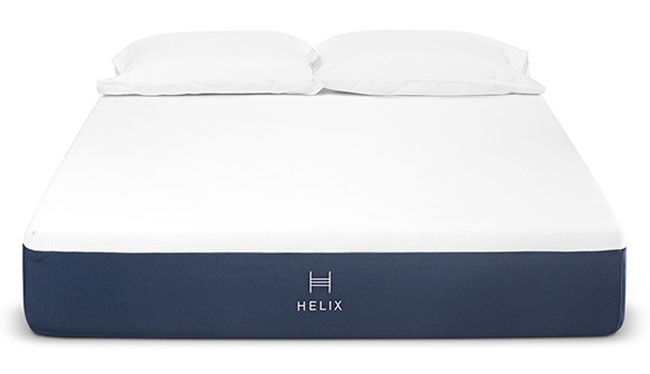 Comfort Feel
A Plush feel mattress is soft at the top allowing you to sink into it. The Medium feel offers some give on top, but without the feeling that you are sinking into the mattress. It is somewhere between the Plush feel and Firm feel which has no sink or give on top of the mattress. It is made using a latex foam hybrid that has been designed to conform to your body shape. As explained above, it offers the options of Plush, Medium and Firm feel. The foam density is 2.45 PCF (Lb/Cubic Foot).
Sleep Position
The Helix Sleep mattress is designed for just two options regarding the position you sleep in. The 'Side Sleeper' option cushions your main pressure points: your shoulders and hips if you sleep on your side. It does this using a Memory Plus foam that absorbs the pressure of these features of your body and helps keep your spine level from your neck to the base of your spine.
The 'All Positions' body contouring option uses a proprietary Helix Dynamic Foam that has been specially designed to maintain the natural curvature of your spine. When you look at your spine from front to back, it is a straight line – The Side Sleeper option helps to maintain this straightness. However, if you look at your spine from side to side, it has a natural curvature at the neck and lumbar areas. You need a different type of support to maintain this curvature. Failure to do so would lead to neck and back pain.
Support
The Helix Mattress offers three support levels: Balanced, Extra and Maximum.
Balanced Support:
Foam density of the top and middle layers are balanced for optimum support based on your body type. Balanced support offers a medium level of support – not too much, so it feels hard, and not too little, so it feels too soft.
Extra Support:
If your body type is larger than average, then the density of the top and middle foams are adjusted appropriately. This ensures that you get the extra support needed for your body type and weight. This level of support will feel harder to the average person than the Balanced Support mattress.
Maximum Support:
If your BMI (Body Mass Index) is higher than average, then the Helix 'maximum support' mattress will have an additional layer of high density foam added to provide the level of support that high BMI people need. If you are not sure what BMI is, then you will likely not need a Maximum Support mattress.
Dual Balanced and Dual Extra:
Where two are of different build and weight, there may be a need for the Dual Balanced or Dual Extra Helix mattress option. The Dual Balanced mattress is designed for side sleepers where one side of the bed is lovely and soft, and the other firm to meet the needs of both partners. The Dual Extra has the same arrangement but designed for all sleeping positions. It is made using a proprietary Dynamic Foam, a form of memory foam, that conforms to your body shape and absorbs your weight no matter how you sleep: on your back, side or stomach.
Check all Details of Helix Mattress
Other Important Aspects of the Helix Sleep Mattress
The Cover:
The top cover of each mattress is a thin stretch polyester cover with a soft feel to it. There is also a lower layer of cover that promotes good airflow and breathability of the mattress.
Edge Support:
Edge support is not the best. If you sit on the edge, you feel it falling away, so if edge support is important to you, then the Helix mattress might not be ideal for you.
Sleep Trial:
You have a 100 day risk-free trial period. You can return the mattress during this period if you are in any way unhappy with it. The company will arrange a collection and provide a full refund.
Warranties:
The mattress has a 10-year warranty. This covers the Helix mattress for any manufacturing defects only, plus any indentation greater than one inch that has not been caused by the foundation or base. It does not cover damage caused by spillages or contamination of any other form. You must return the mattress at your own cost, although Helix will refund shipping fees up to a maximum of $100 should the complaint be justified and a replacement or repair be provided.
Manufacturer:
Designed and Made in the USA. See the packaging.

Detailed Structure of the Helix Mattress
The above information relates to the properties of the Helix mattress and how it can be altered to meet the needs of individuals. It also explains the warranty conditions, the sleep trial and other basic information that might interest you. Now, we look at how the Helix Sleep mattress is constructed. So how does Helix put together a mattress to meet your personal needs? Here are the important layers, and how they are put together.
Cover:
As stated earlier, there are two covers. The top cover is a thin polyester cover that is very breathable and does not affect the feel of the mattress, and beneath this cover is a second cover that provides breathability and good airflow to help cooling.
Top Layer:
Depending on whether you sleep mainly on your side or not, the top layer is either a 2-inch thick proprietary dynamic memory foam comfort layer with a rapid response to pressure or a latex foam hybrid that contours to your body – this is somewhere between a bouncy latex foam and memory foam. The nature of this top layer varies with the type of mattress.
Transition Layer:
This 2″ layer lies immediately beneath the top layer. It is made using Helix's high grade polyfoam. Not only does this foam have a quick response to pressure, but it also provides a cooling effect to the mattress, preventing you from getting too hot while you sleep. It is a transition layer between the foam and the layer of coils below. It helps prevent the mattress from sleeping hot.
Micro Coil Layer:
This 2.4″ layer consists of hundreds of individually wrapped micro coils. The coils limit motion transfer between partners and also help the mattress to conform to your body shape. This layer has reinforced edges all round to help with edge support. Micro coils are very effective cooling agents due to the flow of air between them compared to a solid layer of foam.
Base Support Layer:
This is a 4″ layer of high density proprietary DuraDense foam that provides base support for the sleeper and durability to the entire mattress.
Overall Result:
The overall result of this construction is a mattress that can be modified to meet the needs of individual users. Foam hardness and density can be chosen to meet the comfort needs of customers. This can be achieved, not only for each individual mattress order but also from side to side of individual mattresses. Two sleepers with different needs can be accommodated on each side of the mattress.
Other Properties: Motion Transfer and Sinkage
When buying a mattress for a couple, motion transfer is an important factor to consider. You do not want to be disturbed or wakened by your partner moving around in bed. People tend to roll over, particularly side sleepers, and you don't want to wake up every time your partner moves. So how does the Helix mattress perform in this respect?
We carried out a review of helix mattress motion transfer properties, and people appear to be well protected from their partner with regard to motion transfer. The construction of the mattress tends to protect partners from the movement of each other. The top layer of memory foam helps isolate motion, while the micro coils also tend to protect partners from each other.
Sinkage is also at a minimum. You tend not to sink right into this bed, due partially to the innersprings and partially to the high density foam base layer.
Who Would and Would Not Choose the Helix Mattress?
Given the above information, what type of sleeper would the Helix mattress suit and who would it not suit? This review of the Helix mattress provides enough information for most people to make a decision.
One of the Helix mattress options should suit you if:
You need help to decide on the best mattress construction for your needs. The Helix questionnaire uses your size and weight, sleeping habits and personal preferences to help you to select the most suitable mattress from the company's range of products.
You want a mattress that helps keep you cool: you don't want to sleep hot, which you should be able to avoid with a Helix mattress.
You sleep with a partner with a different sleeping preference from you. The Helix range of mattresses should be able to meet your needs with at least one of its versions.
You like a coil spring core in your mattress: the coil core of the Helix mattress is an excellent base for any type of sleeper.
You may not like what the Helix mattress offers if:
You like the feel of a classic memory foam mattress.
You like to sink into your mattress without any feeling of bounce.
You do not like innersprings.
You tend to sleep close to the edge of the bed: the Helix mattress does not offer good edge support.
You want to choose you're your own type of mattress construction
Regarding the last comment in that list, the Helix mattress range offers you nine constructions to choose from, so there is plenty of scopes available. If you think you would prefer something different, then the company will likely listen to you.
Frequently Asked Questions: Helix Mattress Reviews FAQs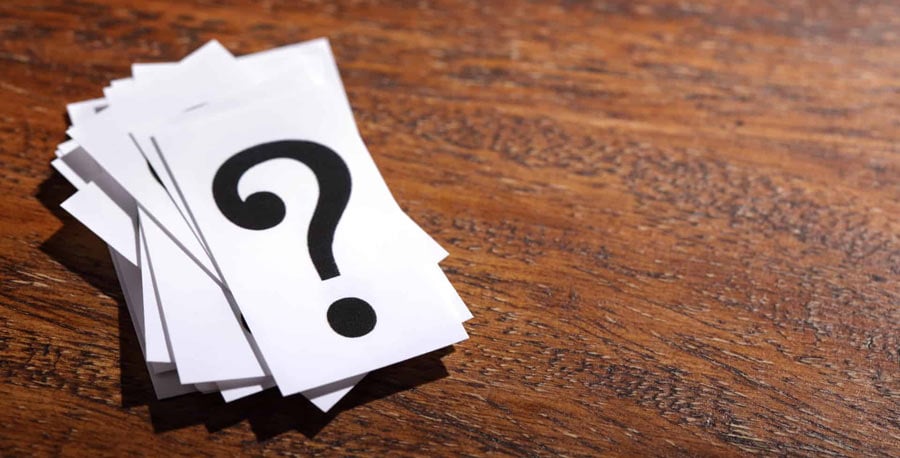 We have been asked several questions about our Helix mattress review: more about the mattress than the review of course. Here is a selection of some of these along with our answers obtained from our testing and research, the Helix website and other sources.
1. What Sizes of Helix mattresses are available?
The available sizes depend on the model chosen. Check out our size list in the table and just below it.
2. Can a Helix mattress be turned and flipped?
Not flipped. Your mattress is designed and built to provide the optimum sleeping surface for your weight and sleeping habits, and cannot be flipped. The bottom surface of the mattress is not the same as the top surface. You could turn if you wished, although keep in mind that this would change the nature of two sides of the Dual Balanced and Dual Extra models. You would need to switch sleeping positions. However, Helix mattresses are well constructed, and should not need to be turned.
3. Is the Helix mattress certified pure and is it fire resistant?
The foams used in the Helix mattress are CertiPUR-US certified. That means that they contain no ozone depleters, phthalates, heavy metals or other harmful chemicals. The mattresses themselves conform to US Federal Regulations CFR Parts 1632 and 1633. Helix mattresses are encased in a fire-retardant fabric that protects them from the fire. The fire retardant contains silica which smothers the fire and prevents it from spreading.
4. Can I use this mattress on an adjustable base?
Yes – you can use any Helix mattress on an adjustable base. You can use it on any base, so long as the slats are no more than 5 inches apart.
5. Is the Helix Sleep Questionnaire or Quiz essential? Must I take it or can I choose the mattress myself?
The Sleep Quiz is not essential, and yes, you can make your own choice of mattress that seems to meet your needs. However, our Questionnaire has been designed to help us suggest the most suitable mattress for your needs. It was developed after years of matching our most suitable mattress with many different customers, and we have had some great results using it. You are not obliged to use our recommendation, but you can take it into consideration when making a final decision.
6. I have read some Helix Sleep mattress reviews that state that the warranty could be invalid if the mattress is not used with a Helix foundation. Is this really the case?
Not necessarily. What may potentially void your warranty is using a foundation or platform with slats greater than 5 inches apart. Apart from that, the Helix mattress can be used with just about any foundation including a box spring or solid wood foundation.
7. Can the Helix mattress construction vary according to my needs?
Yes, it can. The mattress can be constructed to meet your needs. The various layers can change according to your body weight and your way of sleeping. A heavy side sleeper will have different needs for a lightweight back or stomach sleeper. The company designs the mattress around the way you complete your sleep quiz.
Support

Materials & Quality

Cooling

Price

Design
Summary
This review of the Helix mattress is intended to help you decide whether or not this mattress can meet your needs. You can either select your preferred construction from those available or complete the sleep questionnaire and allow the company to use its experience in deciding for you. There is no 'standard Helix mattress' because each mattress is constructed to meet your personal requirements. You are highly recommended to complete the mattress quiz or questionnaire and allowing Helix to make their recommendation. These guys are experts in their craft, and you can trust them to make the decision for you. If this Helix mattress review achieves anything, it should at least have given you confidence in their superb knowledge about mattress technology and its relationship to how people sleep.