Transparency Disclosure: We may receive a fee from the seller for any purchases made through links on this website or from other sites accessed via this website. This fee incurs no additional costs for the buyer. To learn more, please read our full disclosure page here. Read our Product Research and Testing page to know more about our review process in detail.
The Zenhaven mattress is luxury personified for those that like to sleep on a latex mattress. The latex used is American Talalay latex layered each side with fire-retardant pure New Zealand wool, and if you prefer to purchase an American-made mattress then this is ideal.
There are two types of latex used in mattresses: Dunlop and Talalay latex. Each is made using natural latex, a white sap collected from certain species of tree. This sap is then processed in certain ways to produce either Dunlop latex or Talalay latex. The process is described here. Talalay latex is bouncier than Dunlop latex and softer, to lie on. 
It is a particularly good latex for newly-weds and young couples who like a bit of bounce. American Talalay offers more airflow and breathability than the Dunlop process. This latex also conforms to the shape of your body, helping to keep your spine in its natural shape. If you suffer scoliosis then you will likely find this mattress one of the best you ever slept on. It is included in our best mattresses for scoliosis reviews.
The mattress is reversible, in that you can flip it between a Luxury Plush side and a Gentle Firm side. We begin our review of the Zenhaven Mattress with a description of its construction: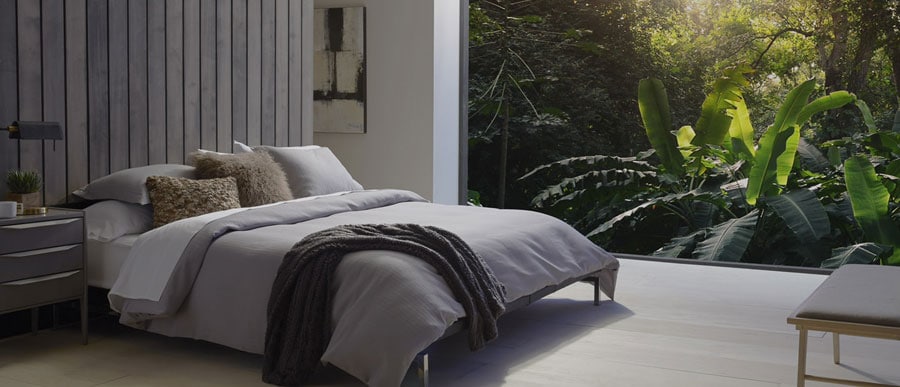 Table of Contents
Construction of the Zenhaven Mattress
The Zenhaven mattress is delivered as is, and not in a box. This is a definite plus to many people. You have no need to wait for it to expand to its proper size. The mattress is 10 inches thick and should be used on a solid base or platform – definitely not slatted. It can be flipped to prove you with two firmness levels – Luxury Plus (4-5) and Gentle Firm (7-8).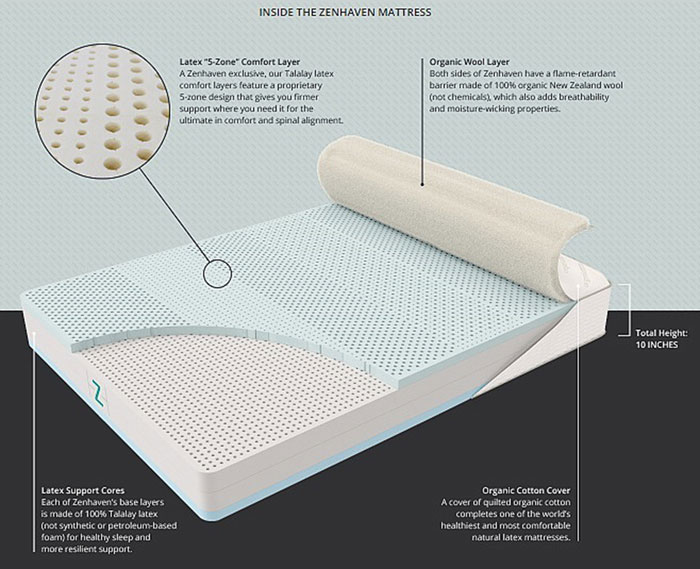 Cover: The cotton cover is quilted with strong stitches that won't easily come loose. The cotton is not bleached but is of natural color and look. Sure, bleach would have made the cover more even in color, but Zenhaven preferred not to use the harmful bleaching agents needed to do this. So the cover has the appearance of the natural cotton that it is. It covers all of the mattresses including the four sides.
Layer 1: Immediately below the cover is an inch of pure New Zealand wool. Wool is a natural fire retardant and also absorbs moisture. Not only does this help keep you dry on warm nights, but the cotton also allows good air circulation and helps maintain an even temperature.
Layer 2 (Luxury Plush side): 1.5 inches of Talalay latex. This type of latex is manufactured in such a way that the latex contains pinholes. In the Zenhaven mattress, this second layer contains five separate zones, each with different densities of pinholes. These combine to provide different support for various pressure points of your body to prove most support where needed, and less where not so important. This helps your spine to remain in its natural alignment when you are sleeping. This helps to avoid back and neck pain. If you tend to suffer neck pain when sleeping, check out our page on how to ease neck pain from sleeping.
Layer 3: Beneath the above layer is a 3-inch layer of a firmer Talalay latex than that above. This helps support your body's main pressure points: your shoulders and hips for side and back sleepers, and chest and knees for front sleepers.
Layer 4: The fourth layer is another 3-inch layer of even firmer Talalay latex. This increases the support of those parts of your body that need it. When you flip the mattress, this layer also provides a firmer mattress with more support for those that need or prefer it.
Layer 5: This is 1.5 inches of Talalay latex foam that is firmer than the top latex layer. When you flip the mattress, this side provides a firmer bed than the more popular Luxury Plush side above. The flipped mattress brings the Gentle Firm side of the bed into play.
Layer 6: This is the other side of the New Zealand wool layer – the fire-resistant layer.
Firmness Ratings: Luxury Plush side: 4-5 firmness where 10 is firmest, and Gentle Firm: 7-8 on the same scale. Talalay latex is naturally hypoallergenic and resists bacteria, molds, dust mites, and other allergens. American Talalay latex is made in the USA as is the entire mattress.
Dimensions:
| Mattress Sizes | Mattress Dimensions |
| --- | --- |
| Twin | 38" x 75" x 10" |
| Twin XL | 38" x 80" x 10" |
| Full | 54" x 75" x 10" |
| Queen | 60" x 80" x 10" |
| King | 76" x 80" x 10" |
| Cali King | 72" x 84" x 10" |
Sleeping Positions
The Zenhaven mattress is suitable for all sleeping positions. This is largely because of its two-sided nature (Luxury Plush and Gentle Firm).
Side Sleepers: Side sleepers may prefer the Luxury Plush side due to them needing good support and pressure relief in their shoulders and hips. The second layer of this side is zoned in these areas, so this side will likely meet their needs best.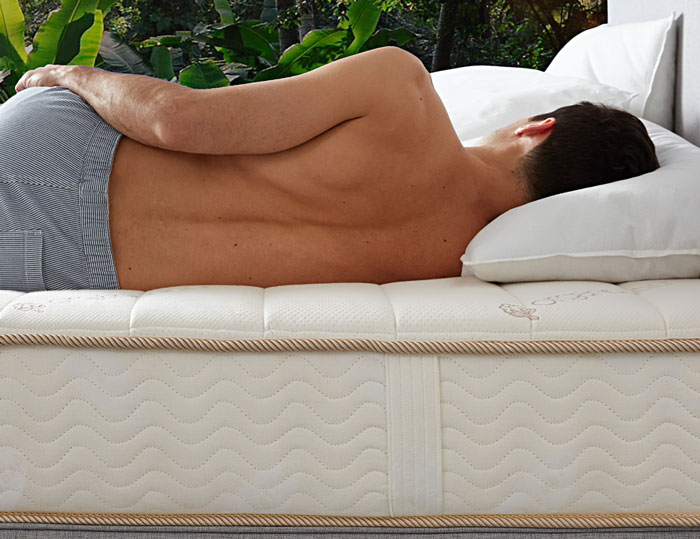 Back Sleepers: Either side would suit back sleepers since their pressure points don't dig into the mattress so much. Nevertheless, back sleepers are best with a bit more overall support so the Gentle Firm side will likely suit them best.
Stomach Sleepers: Stomach/ sleepers need a firmer surface to sleep on, so the Gentle Firm side would be ideal. This side of the Zenhaven mattress supports the hips better. This stops their hips from sinking into the mattress and pulling their spine out of alignment. Some stomach sleepers might prefer the Luxury Plush side. The Zenhaven mattress enables them to try both sides!
As mentioned above, the Zenhaven mattress allows people of any sleeping position to try each side. They can then sleep on the side that not only feels most comfortable, but they can also sleep an entire night and make a more definite decision based on an all-night sleep.
NOTE: If you need to flip the mattress to find which side is best for you, and you can't do it yourself, then Zenhaven will send a team to your home to flip it for you.
Other Factors in Our Review of the Zenhaven Mattress
Motion Isolation: Memory foam is king when it comes to motion isolation. A latex mattress cannot be expected to isolate motion between partners as effectively as memory foam mattresses can. However, they do offer a degree of motion isolation. You do get a certain level of motion transfer between partners with a latex mattress, but the level of isolation is still fairly high.
The Zenhaven mattress does possess a degree of bounce, but not so much that one partner will be disturbed when the other moves in bed. Sure, there is bounce, but not so much that your partner will be disturbed if you turn around or move position in bed.
Edge Support: Some people seek edge support when sitting on the edge of their mattress, and others seek it when lying on the mattress. The Zenhaven mattress is better than average when you sit on the edge. In fact, it performs better than most other latex mattresses we have reviewed. It also performs well when sleeping or lying on the edge. You feel stable when lying on the edge, and not as though you are about to fall off the mattress. Edge compression is low, and you still feel supported.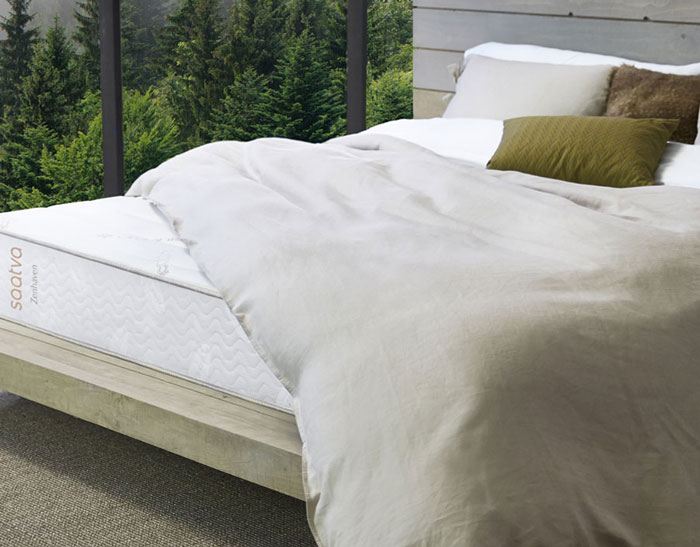 Who Would Like the Zenhaven Mattress
Those who are unsure of the level of firmest that is best for them. They can try both sides, and if neither is good for them then they can return it for a refund – but minus a $99 transportation cost.
Those who suffer from scoliosis. This mattress would be an excellent choice.
Those who tend to sleep hot. Latex does not trap your body heat like memory foam does. Talalay latex has an open cell structure that allows it to breathe and heat to become dissipated.
Couples who like the bounce of a Talalay latex mattress.
Those who prefer a natural foam in their mattress.
Purchase This Mattress on Official Website
Who Would Not Like the Zenhaven Mattress
Anybody who is allergic to latex.
Those who are not keen on a bouncy mattress.
Who is Zenhaven: Zenhaven is based out of Westport, CT, and Austin, TX and grew from the success of Saatva and Loom & Leaf mattresses. It is an American company that believes in giving its success back to those in need. Over the past year, it has donated hundreds of mattresses to high-need organizations country-wide and also partnered with them. If you prefer buying from companies in the USA, then this is a good choice.
Pros
Flippable for two different comfort levels (4-5 and 7-8)
100% designed and made in the USA
Free White Glove service: the mattress will be set up for you in your home free of charge (request at checkout.)
The White Glove team will remove up to two pieces without cost – that includes your old mattress.
Hypoallergenic
Antimicrobial
Compatible with adjustable bases.
120-day trial period: no-quibble return for a full refund but with a $99 transportation cost.
20-Year warranty against faults in manufacturing or material faults.
Cons
No good for those with a latex allergy.
Otherwise, we could find no issues with this mattress.
Frequently Asked Questions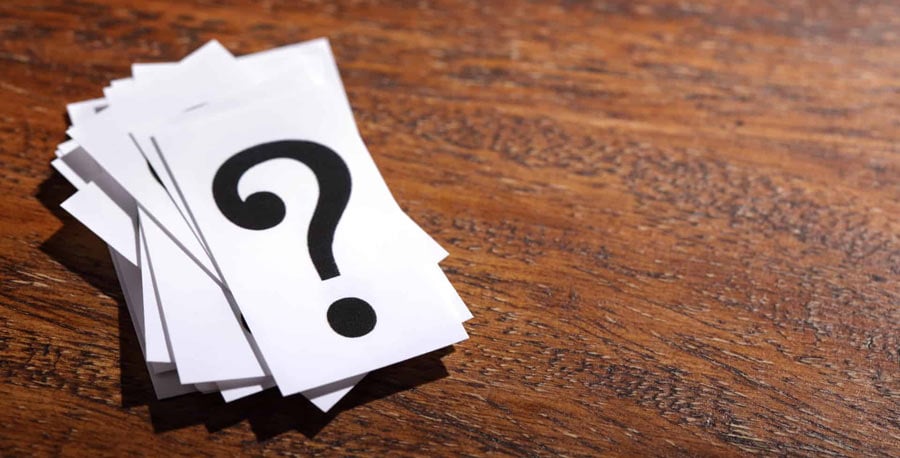 Below are some FAQs we have been asked, both while compiling this Zenhaven mattress review, and before and during its publication on the InsideBedroom site.
1. Is the Zenhaven mattress 100% organic?
As far as it can be, it is. The latex is 100% organic, but some non-toxic inorganic material has to be added to convert it from its natural liquid form to a foam. It is as organic and green as the manufacturing process can make it. The fire-retardant wool and the cotton cover are all 100% organic material. 
2. What is latex ILD?
ILD is Internal Load Deflection, fundamentally the amount of pressure needed to create an indentation of 25% in the foam using a standard area metal plate. The firmer the foam then the higher the ILD. Zenhaven ILDs range from 14-34.
3. Can I try the Zenhaven mattress in a local store?
I am afraid not. The Zenhaven mattress is available online only. This enables us to keep our costs low, and hence the cost of the Zenhaven mattress as low as possible to you. If you don't like the mattress when you receive it, it can be returned free of charge other than the $99 transportation cost.
4. I have a slatted platform base – Can I use this with the Zenhaven mattress?
No, I am afraid not. The Zenhaven mattress is suitable only for use on a solid base. This is because of the way it is constructed. You could fix a sheet of plywood onto the top of your slotted platform. This will fill in the spaces while still preserving the strength of the base.
5. Does the Zenhaven mattress emit organic fumes or off-gas?
Absolutely not. Such fumes or off-gassing is generally connected to mattresses with foams manufactured using certain organic chemicals. The Zenhaven mattress is made using natural latex from trees. No volatile organic compounds (VOCs) are used, either in its manufacture or in its processing into a form suitable for mattresses. Offgassing does not happen with our mattresses for these reasons.
Review of the Zenhaven Mattress: Summary
The Zenhaven mattress is made in the USA using American Talalay latex, and no volatile organic chemicals (VOCs) have been used in its manufacture. It is an ideal mattress for those suffering a spinal defect such as scoliosis and is suitable for all sleeping positions. The Zenhaven mattress is double-sided, with one side having a firmness level of 4-5 and another, firmer side of 7-8.
Support

Materials & Quality

Cooling

Price

Design
Summary
It is suitable for all sleeping positions, and you can flip between the softer and firmer side as you please. The firmer side is probably best. For back and stomach sleepers, while side sleepers will prefer the firmer side. It is excellent for couples with reasonably good motion isolation, while the relatively bouncy Talalay latex is good for younger couples or any others who prefer a mattress largely suitable for sex. It is also built to last!