Transparency Disclosure: We may receive a fee from the seller for any purchases made through links on this website or from other sites accessed via this website. This fee incurs no additional costs for the buyer. To learn more, please read our full disclosure page here. Read our Product Research and Testing page to know more about our review process in detail.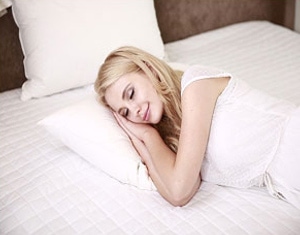 Before discussing the best mattress for scoliosis, let's first discuss the condition itself. Scoliosis commonly develops in children any time before puberty. It initially takes the form of a pre-pubescent growth spurt that results in a painful exaggerated curvature of the spine.
Less commonly, it can also be caused by cerebral palsy and other neuromuscular conditions, spinal infections and injuries, and also during the development of the spine before and just after birth. However, if you are looking for the best mattress for scoliosis, then you will understand what the condition is. So let's discuss a number of options available to you.
The best sleeping position for most scoliosis sufferers is on your back. We are using the Queen size (80" x 60") for our reviews.
Table of Contents
1. Live and Let Sleep Mattress
The Live and Let Sleep mattress is constructed with a 2.5-inch layer of visco-elastic memory foam that is infused with air to help keep you cool. This lies over a 7.5-inch layer of high-density support foam. The result is a very comfortable mattress with a comfort level of 6-7 on a 1-10 scale where 10 is firmest.
It is excellent for those who suffer scoliosis, particularly back sleepers where the top layer molds to the shape of your spine, with excellent support provided by the lower layer. It helps relieve back pain and also assists in relieving hip and shoulder pain. The soft textile cover is comfortable to lie on and comes with a bonus free luxury pillow.
Softness of the mattress: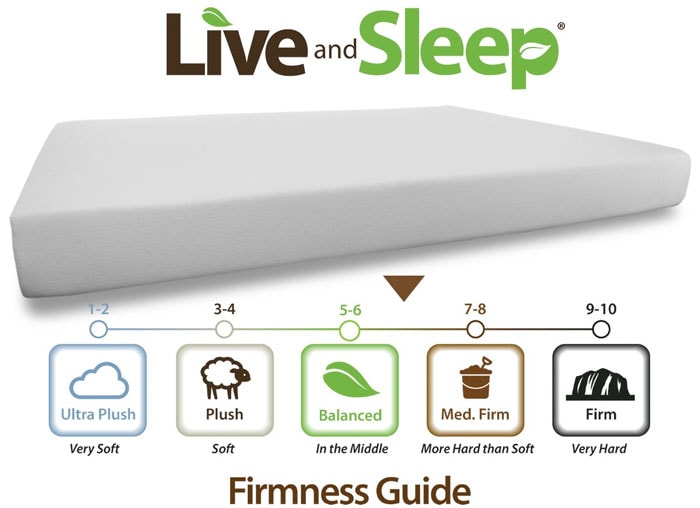 Pros
Top memory foam layer absorbs the weight of your shoulders, hips, and spine and conforms to your body shape for as comfortable a sleep as you are likely to get with any mattress. It is eminently suitable for scoliosis sufferers, side sleepers and back sleepers.
Gets good reviews from scoliosis sufferers.
CertiPUR-US certified free from heavy metals, ozone depleters, and other toxic substances.
Removable zippered cover easily machine washed and dried.
Made in the USA.
20-year warranty
30-day trial period.
Editor's Notes: This seems an excellent mattress for those that suffer from scoliosis. It gets good reviews from buyers with scoliosis and fibromyalgia, is non-toxic and can be used on hard bases, box springs, metal platforms, and adjustable bases. It's our top pick for scoliosis.
2. Tuft & Needle Mattress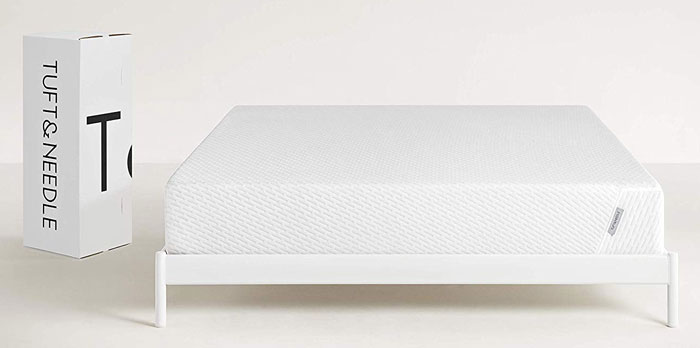 The Tuft & Needle mattress is constructed using a top layer of proprietary adaptive polyurethane foam with memory foam properties though not described as memory foam. In fact, it is less 'clingy' than most memory foams while still conforming to the shape of your spine. The lower layer is 7" of high-density support polyfoam.
It is bouncy and suitable for all sleeping positions, though best for back sleepers. It helps support your spine position no matter what that is, so good for scoliosis. However, it is not suitable for heavy-weight people due to the relatively thin 3-inch comfort layer. It is very cooling thanks to the graphite cooling gel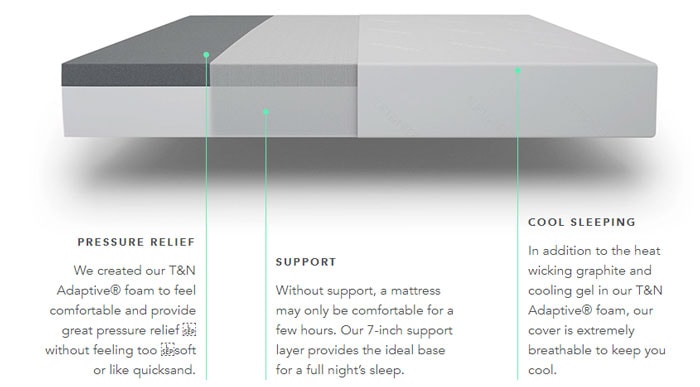 Pros
Good for scoliosis sufferers and back sleepers.
Also suitable for side sleepers and lower-weight stomach sleepers.
Helps keep you cool at night.
Removable and washable cover.
Made in the USA.
CertiPUR-US certified
Greenguard certified.
OEKO-Tex certified.
Good bounce for sex.
100-night sleep trial.
10-year non-prorated warranty.
Free delivery and collection if you don't like it.
Cons
Not suitable for heavy weight sleepers.
Average edge support, if that.
Editor's Notes: The Tuft & Needle is another mattress that is good for back sleepers and those with scoliosis. It is comfortable and bouncy for couples and helps support your spine alignment. You have a free 100-night trial during which it will be collected free of charge along with a full refund if you don't wish to keep it. You can view our full Tuft & Needle Mattress review here.
3. Casper Mattress
The Casper mattress is designed to keep your spine straight – a 'must' for scoliosis sufferers. The top layer is 1.5 inches of a latex-like proprietary foam that not only keeps you cool at night but also provides a high level of pressure relief. Below this is a 1.5-inch layer of memory foam (3.5 lb) that helps maintain a correctly aligned spine – important for scoliosis sufferers.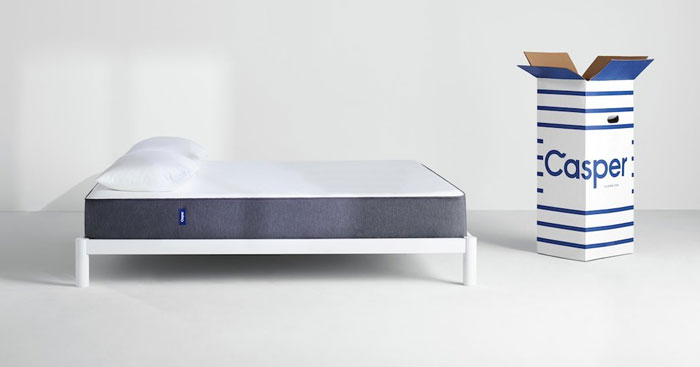 There is then a layer of foam to provide a good transition from the memory foam layer to the high-density support foam layer. However, the main benefit that the Casper mattress offers to scoliosis sufferers is its differential comfort zones.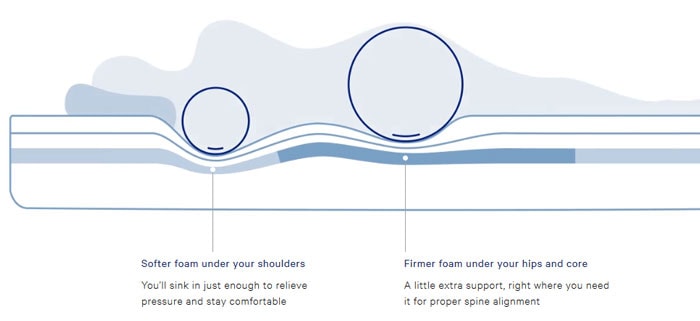 The Casper mattress also provides zoned comfort and support areas. The area where your shoulders lie is softer, while your hips and lower back are supported by a firmer foam. This arrangement helps keep your spine in its correct alignment.

Pros
Suitable for all sleeping positions.
Helps keep your spine correctly aligned
Removable cover that can be machine washed and dried.
CertiPUR-US Certified foams.
Made in the USA and the UK.
10-year warranty
100-day trial – return free within 100 days for a full refund.
Cons
No specific negatives that we could find.
Editor's Notes: The Casper mattress is constructed in such a way that it helps keep your spine straight and in its correct position. Scoliosis sufferers will find it more comfortable than most other mattresses, and it's a close call between this and the mattresses above as to which is best for you. If you are unsure, you get a 100-day trial, and if it doesn't work for you it can be returned free for a full refund of your payment, no strings attached. You can view our full Casper Mattress review here.
4. Zenhaven Mattress
The Zenhaven mattress is a Talalay latex foam mattress which conforms to your body shape. This is what makes it such a good mattress for scoliosis. It also offers a good level of spring which helps scoliosis sufferers to enjoy sex more. The Zenhaven mattress also provides support for whatever spinal misalignment your scoliosis has caused. Talalay latex possesses good push-back against your body pressure which helps to straighten the spine.
Beneath the flame-resistant wool cover, the latex layer provides 5-area zonal support where you have firmer support for your lower back (lumbar) area of your spine and more comfort at your shoulder and hips.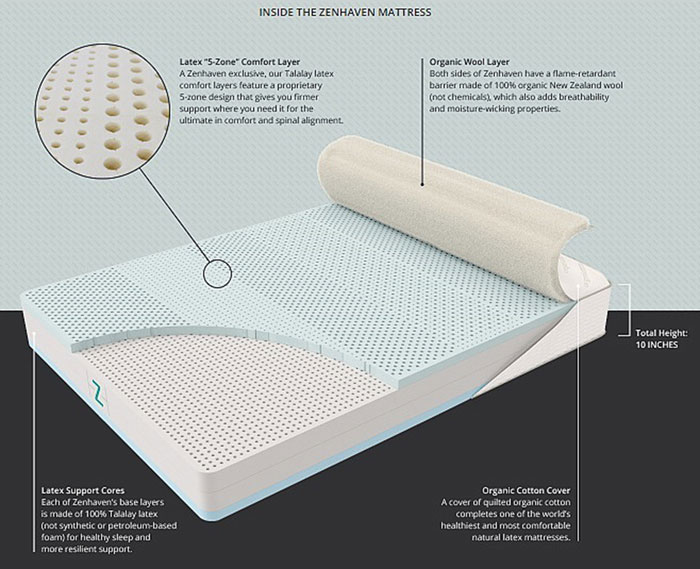 Pros
5-zoned support to help make you more comfortable where your spine is misaligned.
Hypoallergenic, antibacterial and resistant to factors that can lead to allergic reactions.
White-glove service where your mattress will be set up free of charge – you must request this service when ordering. They will also take away your old mattress without charge.
Made in the USA
120-day sleep trial that involves a $99 transportation cost taken from your refund.
20-year warranty providing free replacement during the first 2 years, after which there is a $99 transportation cost each way for repair and recover.
Cons
All we could find are the transportation costs related to the sleep trial and warranty.
Editor's Notes: The Zenhaven mattress is another excellent mattress for scoliosis sufferers. It will particularly suit you if you like latex mattresses and like a bit of spring to your mattress which memory foam mattresses do not have. It appears in our best mattresses for back sleepers review which is generally regarded as the best sleeping position for scoliosis. Check out our full Zenhaven Mattress review here.
Purchase This Mattress with Discount
5. Loom and Leaf Mattress
The Loom and Leaf mattress is a 12-inch thick 5-layer memory foam mattress with a lower 5.5-inch layer of high-density polyurethane foam, otherwise known as polyfoam. The organic quilted cover is soft and comfortable to lie on and helps keep you cool.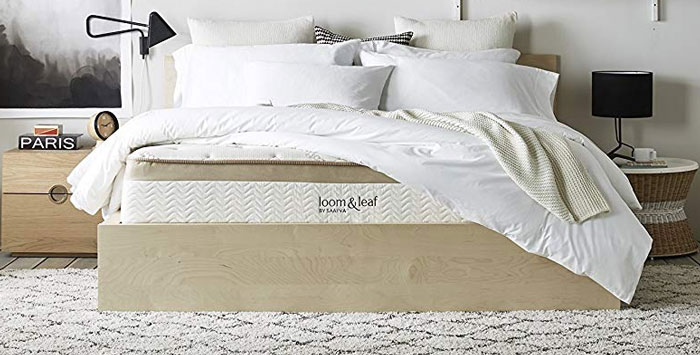 The center of the top 2-inch convoluted memory foam layer is fitted with a Spine-Zone Gel laminate panel to provide support for your spine and keep it cool. Beneath that are 2.5 inches of 5 lb memory foam, a 2-inch transition layer and then the polyfoam layer mentioned above. A total of 12 inches.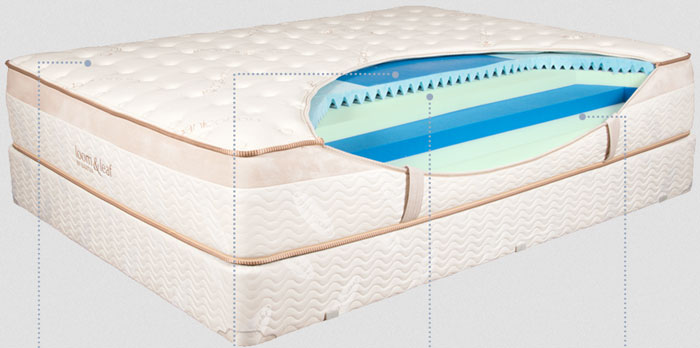 An advantage of the Loom and Leaf mattress is that delivery is free, and the carrier will take away your old mattress if you wish. You state this when ordering: there is part of the order form enabling this. It's also white glove since the mattress is delivered flat – it will be set up for you in the room of your choice.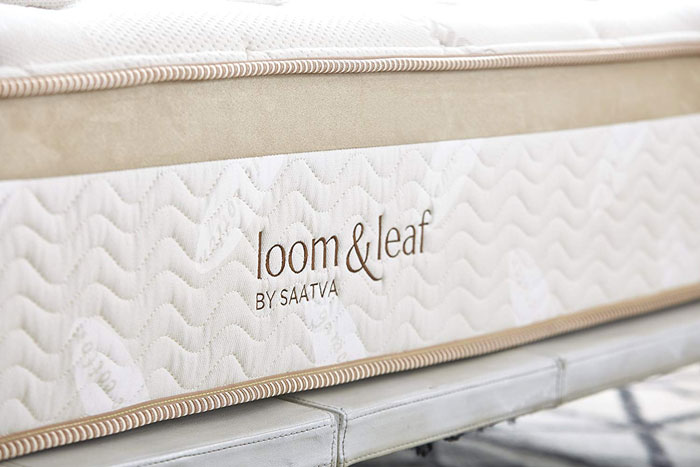 Pros
Well designed to help reduce the pain and effects of scoliosis.
The convoluted egg crate design of the top memory/ foam layer keeps you cool, along with the gel panel in the center.
Best for medium or lightweight sleepers.
Free white glove delivery with free old mattress removal.
120-day sleep.
15-year warranty – free return during first 2 years then $99.
Made in the USA.
CertiPUR-US certified foams.
Antimicrobial.
Cons
Not suitable for heavyweight sleepers.
$99 charge for mattress return during sleep trial.
Otherwise, no negatives we could find.
Editor's Notes: In addition to being an excellent mattress for those with spinal deformations due to scoliosis, this mattress has good responsiveness and excellent motion separation for couples. It is not so good for heavier weight stomach sleepers, and to an extent, back sleepers, but is fine for low to medium weight people. Check out our full Loom And Leaf Mattress review here.
Purchase This Mattress with Discount
6. The Winkbed
The Winkbed offers four comfort levels: Softer (4.5), Luxury Firm (6.5), Firmer (7.5) and Plus (8.0). Figures are on a 1-10 scale where 10 is firmest. The luxury firm and firmer options are best for back sleepers with scoliosis, while the Softer version is more suited to side sleepers. The Plus option is intended for heavyweight sleepers who prefer a very firm mattress.

It is fundamentally a hybrid: a combination of foam and innerspring with a top Euro quilted cover that provides a soft sleeping surface to supplement the relative softness of the micro air springs beneath it. These help keep the mattress cool and also offer comfort to scoliosis sufferers. Beneath that is a layer of individually wrapped steel coils.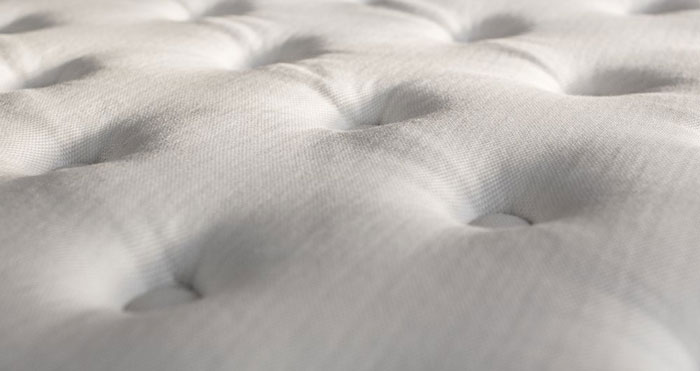 This spring layer is zoned to provide extra support to the shoulders and hips while provided less support for the lumbar (lower back) region. The mattress is around 14 inches thick, though the Soft version is around 16 inches.
Pros
Choice of comfort levels.
Two comfort options which are most suitable for back-sleeping scoliosis sufferers.
Temperature control system.
Zoned innerspring layer with extra support for pressure points and less for the lower back area.
Excellent edge support.
CertiPUR certified foams.
Free delivery – to ground level only.
Optional white glove delivery $99 – your bed is set up for in situ. They remove your old mattress for an additional $60 (Total $159).
120-night sleep trial – free collection and full refund if you don't keep the mattress.
Lifetime limited guarantee against poor workmanship and material defects.
Hand made in the USA.
Editor's Notes: The four different comfort levels is a useful aspect of the Winkbed, although you may find it difficult to establish which is best for scoliosis. We believe the Luxury Firm or Firmer options to be best for scoliosis, though side sleepers may prefer the Softer option. You may have to use your sleep trial on this one, though you can only use it once. The Winkbed is an excellent bed for back sleepers in general, so should suit scoliosis sufferers.
In order to help you get it the right first time, or at least a second time around, here is our guide to buying a mattress for scoliosis.
Buyers Guide to Mattresses for Scoliosis
Scoliosis can cause various degrees of curvature of the spine. While some cases in children and adolescents can partially correct themselves as the spine develops and grows, the condition can lead to pain and permanent curvature in adults.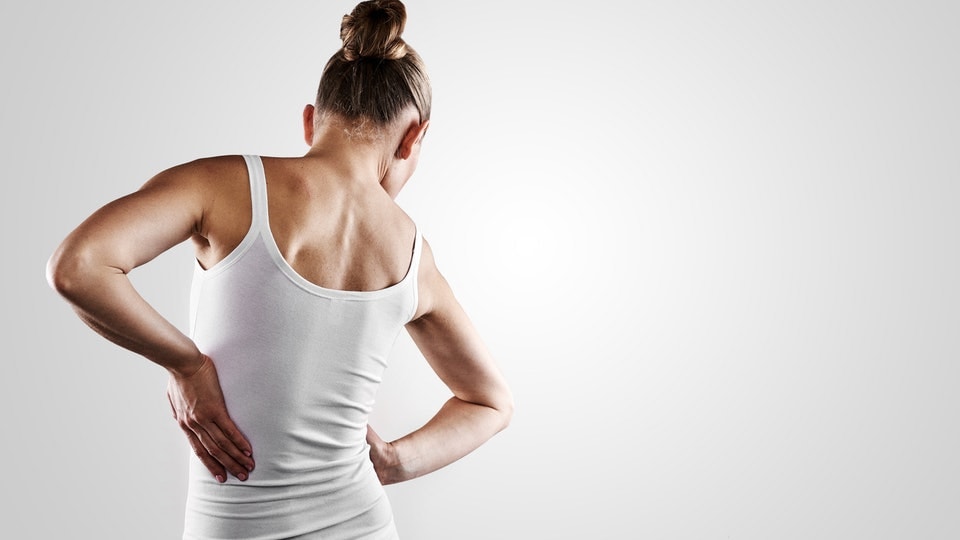 Pain can occur in the spine and in the lower back, sensitivity to heat, muscle spasms and consequent difficulty in sleeping. The choice of mattress can be critical in offering comfort while sleeping and preventing the sufferer from waking up in pain during the night. Your mattress must be comfortable and support your spine in whatever sleeping position you prefer.
Here are some factors you should consider when looking for the best mattress for scoliosis. First off, there is no 'best mattress for scoliosis'! Different people have different degrees of scoliosis, different areas of pain and different levels of curvature. A mattress that suits one person may not suit you and vice versa. Your favored sleeping position is also a factor.
Sleeping Positions and Scoliosis
Some people prefer to lie on their side since that helps maintain a straight spine when viewed from front to back. Others prefer to lie on their back. Both these positions are OK, but sleeping on your stomach is not recommended. In fact, it could make your condition worse. You should not consider sleeping on your stomach.
Side sleepers may need a softer mattress than back sleepers for whom a firm sleeping surface is best. Side sleepers require support for their main pressure points (shoulders, hips, knees,) often necessitating a softer mattress than back sleepers. If you sleep on your back you are best with a luxury firm or firm foam mattress. Memory foam is often preferred, although Talalay latex may be better for you, particularly if you move around a lot in bed.
Mattress Support and Conforming Properties
A conforming mattress is one that molds to your body when you lie on it in your usual sleeping position. It helps to support the shape of your spine while not tending to change it. This helps to alleviate pain and help you sleep more comfortably. The majority of scoliosis sufferers will prefer a mattress that molds closely to their body shape. Consistent support is better for scoliosis than inconsistency where some areas are supported more effectively than others. You need a mattress that is neither too soft nor too firm for you. The heavier you weigh, the firmer the mattress you need.
A soft to medium-firm mattress would best for a scoliosis sufferer who weighs around 130 lb or less, but not so soft that you sink into it. A firm mattress for those weighing 230 lb or more, and medium to firm for those between 130 and 230 lb. This is just a rough guide since some people generally prefer a softer or firmer mattress.
If you decide on a latex mattress, go for Talalay latex due to its good 'push-back' properties that can help straighten the spine. Generally, firmer is better for scoliosis than a softer mattress, though many side sleepers find it difficult to sleep well on a firm mattress. If you prefer softer, go for the Softer version of the hybrid Winkbed mattress.
Motion Isolation Properties
Your scoliosis will bother you less in bed if you are not disturbed by others sleeping with you. The better the motion isolation properties the less you will be disturbed. Memory foam provides a high level of isolation while a bouncy latex mattress may not. You should also consider your partner since this is a two-way thing.
People with scoliosis can tend to move about in bed trying to find the most comfortable sleeping position. So not only may your partner's movements upset your sleep and perhaps cause you pain, but your movement can also disturb them.
Noise is another issue: most foam mattresses are quiet in use, but innerspring mattresses can be squeaky or noisy. Make sure you check this before ordering your mattress. While the degree of bounce provided by a layer of springs or a layer of latex foam may be good for passionate night games, it can also disturb partners when you or they are moving around for a good sleeping position.
Our Recommendations
Just as most people have their favorite sleeping position they also have their favorite type of mattress. Those who prefer memory foam will probably choose this type of mattress irrespective of them having scoliosis or not. Lighter weight sufferers will be best with a softer memory foam mattress than heavier weight people.
We recommend that you choose memory foam or latex mattress, preferable Talalay latex if you have scoliosis. The comfort level you need will depend a great deal on your weight, the type of spinal deformity you have and whether or not you are sexually active. Latex is generally better for sex than memory foam, though the latter tends to be more conforming than latex. However, Talalay latex has good push-back properties and exerts positive pressure on your spine where you need it.
If you already have a mattress you like, but it no longer works for you, then a Talalay latex or memory foam topper would be worth considering. Choose one that is at least 3 inches thick and you may find 4 inches to be more comfortable for you. In fact, those with fibromyalgia will also find a memory foam or latex mattress topper to be the best for pain relief. Generally, firm mattresses are better for scoliosis than soft mattresses.
Using the Sleep Trial
Each of our recommended mattresses offers you a sleep trial. Check out our recommendations and scoliosis mattress reviews carefully then decide on your two main options. Make a decision on one of them then use the trial period to test the mattress.
If you like it, then great – keep it! If not, then return it and order your second option. Unfortunately, you will not have a sleep trial on this because you are allowed only one trial. So make sure that you select the two mattresses you are convinced would be best for you and your condition.
Best Mattress for Scoliosis: Frequently Asked Questions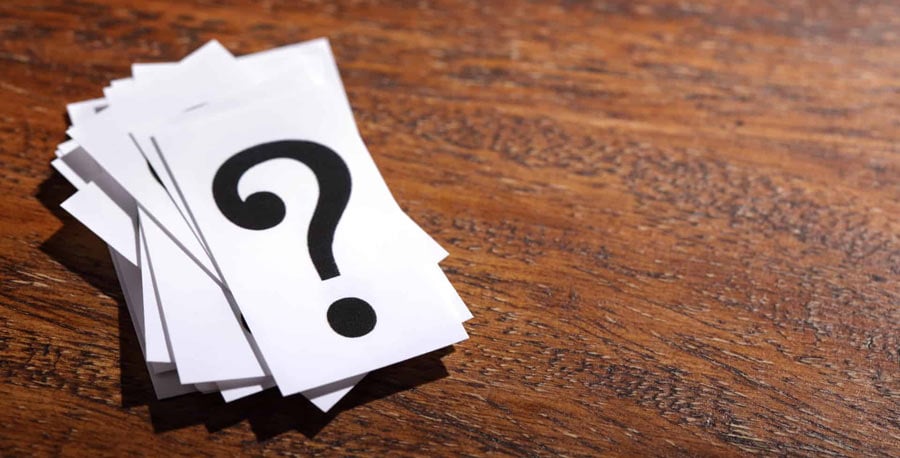 Here are some of the more popular questions we have been asked regarding mattresses for scoliosis.
1. Which latex is best for scoliosis: Dunlop or Talalay latex?
Talalay latex is best because it possesses better push-back properties than Dunlop latex. When compressed, Talalay latex presses back against the spine and can help straighten it. Dunlop latex also possesses this property, but it is not as springy a push-back as Talalay.
2. What's the best sleeping position for scoliosis?
The best sleeping position is on your back since the deformation caused by scoliosis tends to generally occur in the mid-back in the thoracic region. Memory foam mattresses can be more comfortable than other foams when lying out flat on your back, while latex, particularly Talalay latex, can spring or push back against the deformity and help to correct it, even if only in a small way. However, sleeping on your side can also help. If you have a curve on the right-hand side sleep on your left side and vice versa. The curve could improve as gravity tends to pull the spine downwards. A firm (back) to medium-firm or soft (side) mattress would be good.
3. I have lumbar scoliosis – what's the best sleeping position for that?
Lumbar scoliosis is a curvature at the base of the spine. We recommend you sleep on your back with a pillow under your lumbar region (small of your back). You can also help keep your spine supported by using a small pillow or a rolled-up towel under your neck. You will still need to rest your head on a regular pillow.
4. I have scoliosis. What's wrong with sleeping on a soft mattress?
If you want to do all you can to correct your curvature it's important that you sleep on as firm a mattress as you feel comfortable with. Too soft a mattress will not support your spine and may allow it to sag into the mattress. However, if you sleep on your side, you may find a softer mattress works for you such as the Softer option of the Winkbed. Too firm a mattress might be uncomfortable for you to lie on. A mattress from 6.5 to 7.5 on a scale of 1-10 where 10 is firmest would be good for someone who sleeps on their back.
5. I read that innerspring mattresses are no good for scoliosis. Is this true?
It is true up to a point. The trouble with innerspring mattresses where all the coils are interconnected is that they do not compress evenly when you lie on them. Hybrid mattresses are better in this respect. They are generally made with individually pocketed springs that compress only where your body is in contact with them. A hybrid mattress also has at least one comfort layer over the springs. The Winkbed is the only hybrid mattress in our top 6 mattresses for scoliosis. It consists of a Euro quilted top, followed by a layer of air coils then a layer of pocketed steel coils. It is available in four comfort levels. Those we would recommend for scoliosis are the Luxury Firm (6.5) and the Firmer (7.5) options where the figures are on a 1-10 scale with 10 the firmest. The Luxury Firm should work OK for side and lightweight sleepers who don't find the Firmer option comfortable. The Firmer option is recommended for medium weight and back sleepers with scoliosis.
6. Is it right to generalize the best types of mattress for side and back sleepers without taking the person's weight into consideration?
No, it is not. Some common sense has to be employed here. It is perfectly feasible that a small child or lightweight adult that sleep on their side may find the Softer (4.5) Winkbed option better for them. A heavy back-sleeping adult with scoliosis at way over 230 lb in weight may be better with the Plus (8.0) option. This is why mattress manufacturers offer sleep trials. So you can change your mattress if your first choice doesn't suit you – though you can only do this once!
Live and Sleep Mattress

Tuft & Needle Mattress

Casper Mattress

Zenhaven Mattress

Loom and Leaf Mattress

The Winkbed
Summary
If you have scoliosis then using the above guidelines will help you come to a decision. Your mattress should conform to the shape of your spine for a more comfortable sleep, but it should also support your spine to prevent worsening your condition. It should not allow you to sink so much into it that you find it difficult to change position in bed. A memory foam or latex mattress, preferably Talalay latex, is more likely to meet your needs than an innerspring mattress. However, for those that like innersprings, make sure the coils are individually wrapped and that you have at least around 2" – 3" of foam over the springs. The Winkbed has a layer of air springs beneath the Euro cover which will add to its comfort. That's why it has no need for more than a quilted cover on top. So make your choice. Keep the warranty in mind and read it carefully. Some warranties will replace or repair your mattress if it develops an indentation of 1" although many will do this only if a permanent indentation of 1.5" develops. A one-inch indentation can be uncomfortable for a scoliosis sufferer so make sure you know what your warranty covers.