Transparency Disclosure: We may receive a fee from the seller for any purchases made through links on this website or from other sites accessed via this website. This fee incurs no additional costs for the buyer. To learn more, please read our full disclosure page here. Read our Product Research and Testing page to know more about our review process in detail.
In this Tuft & Needle mattress review, we shall examine the benefits this mattress provides to enable you to decide whether or not it meets your needs. First of all, who makes it and where? Tuft & Needle, often referred to as simply T&N, was founded in Phoenix, Arizona by Daehee Park and John-Thomas Marino in 2012. Atlanta firm Serta Simmons Bedding LLC of Atlanta merged with Tuft & Needle in 2018. The purpose of the merger was to expand the former's online presence. Tuft & Needle operates as a separate brand to Serta Simmons and is often referred to simply as T&N.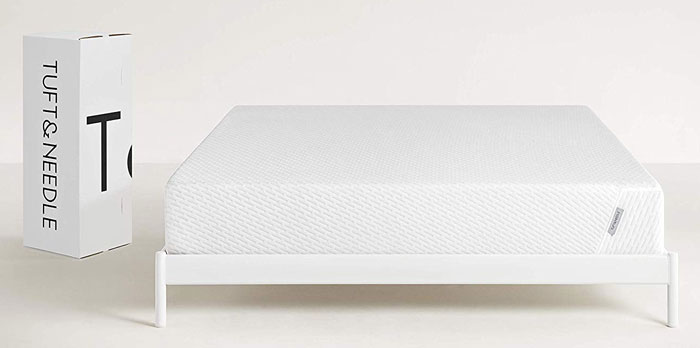 Table of Contents
Tuft & Needle Mattress Construction
The Tuft & Needle mattress is all foam with a medium firmness rating of 6.0 – 6.5 on a 1 – 10 scale, with 10 being the firmest. The mattress is 10 inches thick, comprising two layers of polyurethane-based foam. These layers are:
Top Layer: 3 Inches of responsive proprietary polyurethane foam with an open structure, enabling the mattress to breathe during the night and help keep you cool. Tuft & Needle designed and developed the T&N Adaptive® foam to provide the responsiveness of memory foam, but also the bounce of latex. It is easy to shift position on this mattress due to the assistance given by the responsiveness and bounce of the foam. It is an ideal top surface for all sleeping positions.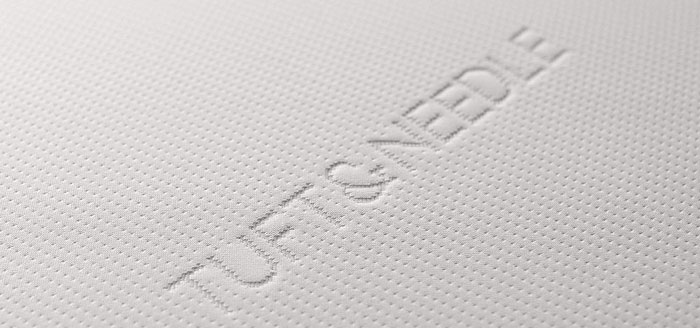 Bottom Layer: A 7-inch support layer of a higher density polyurethane foam. This layer provides the main support of the mattress while the top layer provides comfort. It is also designed to provide good pressure relief for your pressure points: shoulders, hips, buttocks, and even your elbows and knees if required. The support layer is good for back and stomach sleepers, while the top layer offers good comfort for side sleepers.
Cooling Properties: The T&N Adaptive® Foam is infused with conductive graphite to spread any heat generated during the night throughout the mattress so that it does not focus only on the area in contact with the body. The top layer of foam has an open structure to allow heat to escape easily and it is also infused with a cooling gel to prevent you from waking up sweating during the night.
The Tuft & Needle Mattress Cover: The cover is made of polyester fiber and micro polyamide which is quick to dry off any perspiration during the night. It assists the flow of air into and from the mattress due to its thinness and breathability. Not only does the mattress cover allow good airflow, but it dries quickly if it does become damp. The cover can be removed and is machine washable.
Our Initial Impression:
Our initial impression is that the mattress is more on the firm than the soft side, and that the 3-inch layer of comfort foam would suit lightweight people rather than heavyweights. In fact, we eventually concluded that the mattress would suit anybody up to around 230 lb in weight. More information on this below.
Overall, the Tuft & Needle mattress is neither too soft nor too hard for anyone. It does not allow you to sink into the mattress so much that you feel stuck (like many memory foams) and neither does it sleep hot due to conductive graphite and cooling gel. The mattress is soft to the touch with a surface bounce to it and fast response to pressure. Motion transfer is low due to the nature of the foams.
Tuft & Needle Mattress and Common Sleeping Positions
Back sleepers will find good support with this mattress. The shoulders and buttocks sink into the top layer, while the lumbar region, or small of the back, is provided with a good level of comfortable support. Your spine is maintained in its natural shape avoiding lower back pain.
However, because the comfort layer is only 3 inches deep, heavier weight people may find it too firm. If you weight over 230 lb, this may not suit you. You will likely need a comfort layer thicker than just 3 inches to avoid feeling the high-density base support layer too quickly. 250 lb or over, and this mattress is definitely too firm for you due to the relatively thin 3-inch T&N Adaptive® Foam layer.
Side sleepers also benefit from the soft top layer. It absorbs the pressure on the shoulder and hip while getting good support from the lower layer of support foam. The same comment applies as for back sleepers: if you weigh much over 230 lb you may find it too firm for you due to the lower surface area of your shoulder and hip pressure points. These will probably sink down to the firm foam rather than be supported by the comfort layer.
Stomach sleepers benefit from the top level of soft foam. This provides them with pressure relief for the chest and hips, and sufficient firmness to provide the correct alignment of the spine. Breathing should not be impaired since pressure on the chest is low due to the responsiveness of the T&N Adaptive® foam. However, this mattress is not ideal for heavier stomach sleepers whose hips might sink too far in for comfort, although it is included in our Best Mattress for Stomach Sleepers review. You could give it a try, using the 100-day free trial.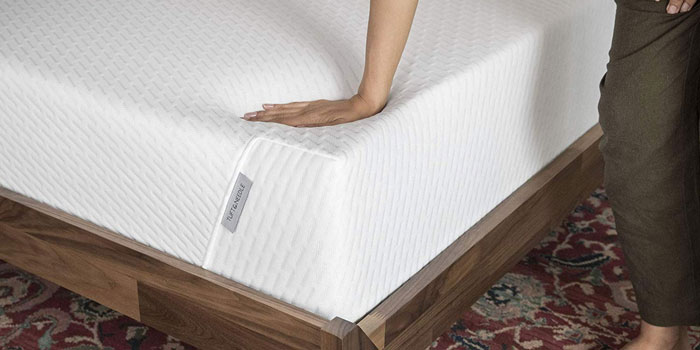 Edge Support may not be important to you, but if it is then all-foam mattresses rarely perform well. However, when we tested it, it was possible to lie on the Tuft & Needle mattress right to the edge without that feeling of falling off. There was a distinct lack of support when sitting on the edge though, as you may do when getting out of bed or even dressing and undressing. If this is important to you, but you still want to try this mattress, you get 100 nights sleep trial, after which it will be collected for a full refund free of charge if you don't like it.
Who May Like or Not Like the Tuft & Needle Mattress?
You will probably like the Tuft & Needle mattress if:
You prefer a responsive mattress that enables you to move position easily and does not tend to hold you in position as some memory foam mattresses do. The T&N Adaptive® Foam may not be memory foam, but it works with the firm base support layer to render the mattress quickly responsive.
You or your partner is disturbed by the movement of each other during the night.
You tend to sleep hot on foam mattresses.
You like a slight bounce to your mattress, but not too much.
You prefer your mattress to be thick rather than thin.
You sleep on your back. While suitable for all sleeping positions, the T&N mattress is particularly suitable for back sleepers. It. Provides excellent support and maintains your spine so as to avoid back pain. If you already have back pain this will be a good mattress for you.
You weigh less than 240 lb.
Purchase Tuft & Needle on Amazon
You may not like the Tuft & Needle mattress if:
You weigh more than 240 lb. The mattress is best for those under 240 lb. Heavier people should look for a firmer mattress.
You prefer a firm or very soft mattress. The T&N mattress is 6 – 6.5 on the 1 – 10 scale.
You are a heavier weight stomach sleeper.
Mattress Essentials:
Warranty: 10-year, non-prorated.
Sleep Trial: 100 nights
Free delivery and collection.
CertiPUR-US Certified free from hazardous levels of toxic substances such as VOCs, heavy metals, PBDE flame retardants, ozone depleters, formaldehyde and other toxic substances.
Greenguard certified: low VOC emissions and helps to create a healthy indoor environment
OEKO-TEX® Certified: Certified to STANDARD 100 by The OEKO-TEX® Association to be free from over 300 harmful chemicals.
Available in Twin, Twin XL, Full, Queen, King, and California King sizes.
Availability: Online and physical T&N stores in some cities.
Made in the USA.
The mattress may take up to 72 hours to expand after unrolling and lose any odors emitted.
Tuft & Needle Review: Pros and Cons
There are more pros than cons with the Tuft & Needle mattress. However, no mattress is perfect, and while it offers many benefits, no Tuft & Needle reviews would be fair without us pointing out the negative aspects of the mattress. Here are the major pros and cons we found when carrying out this Tuft and Needle review.
Pros
It offers excellent value – very reasonably priced for what you get.
Durable, depending on how well the Tuft & Needle mattress is cared for.
Most suitable for average weight users or lighter.
Suitable for all sleeping positions.
A great option for combination sleepers.
The top layer relieves pressure without you feeling trapped in the mattress, while the bottom layer provides good support.
Great for keeping you cool at night. The graphite and cooling gel prevent you from overheating.
OK for sex – not as clingy as memory foam and the bounce is good enough, if less than that of latex.
Triple certification against hazardous and toxic substances.
The perfect choice for a guest bed.
Cons
Not suitable for heavily built people due to the relatively thin 3" comfort layer.
Edge support is not great – but not terrible either.
Not flippable – but the mattress can be turned.
Purchase Tuft & Needle on Amazon
Tuft and Needle Mattress Review: FAQs
Here are some questions people often ask us about mattresses, in this case about the Tuft & Needle bed.
1. What is T&N Adaptive® foam?
T&N engineered this foam as an alternative to memory foam. It provides some of the benefits of memory foam but without the negatives. When you lie on T&N Adaptive® foam, it reacts to the pressure of your body to support you. The more pressure you apply to a reactive foam, the more it reacts back to give you support.

Memory foam sinks with the pressure and heat of your body and enfolds you, giving you a feeling of sleeping 'in' the mattress rather than 'on' it. This foam is a proprietary type of polyurethane foam that combines the best properties of memory foam and latex.
2. What type of foundation do you recommend for a Tuft & Needle bed?
We recommend a firm foundation for this mattress. A box spring base is good, as are solid or slatted wood frames, though slats are preferred for better air circulation. This helps to prevent mildew. You can also lay the mattress on the floor for a sleepover or emergency bed. If the foundation is not firm enough it can affect the life of the mattress and your comfort. You can also use an adjustable frame.
3. Does the T&N mattress smell of chemicals?
Polyfoam, or polyurethane foam to give it its full name, usually has a chemical smell when first delivered. This is due to the VOCs (volatile organic compounds) that are both used in its manufacture and released into the atmosphere when unpacked. This is known as off-gassing and we were unable to find any users of this mattress complaining of off-gassing. Even if it did off-gas, it is only for a very short time: no more than other 100% synthetic foam mattresses.
4. Can I machine wash my mattress cover, and how do I clean the Tuft & Needle mattress if not?
You cannot machine wash the cover even though it is zippered. It may shrink, and the same applies to tumble drying. You can remove it, but only for spot cleaning and air drying. If this is an issue with you, then you can purchase a washable mattress cover or encasement to replace or use over the existing cover. A mattress protector will not void the warranty.
5. Can I use a heating mattress pad with this mattress or an electric blanket?
You can use a heating mattress pad without voiding your warranty. The same is true of an electric blanket or even an old-style hot water bottle. Neither of these will damage the mattress.
Support

Materials & Quality

Cooling

Price

Design
Summary
Many Tuft and Needle reviews fail to comment on the amazingly low price of the mattress. This mattress hits well above its weight and is an amazing value for its price. However, a mattress must be functional and irrespective of the above, our Tuft and Needle review shows the benefits that this mattress can provide. The only genuine issues we found were the low level of edge support (though good for a 100% foam mattress) and its possible unsuitability for heavier weight people. Neither of these is a serious issue unless you weight over 250 lb and like sitting on the edge of the bed! If this is you, then we recommend you check out our review of mattresses for large or heavy people.