Transparency Disclosure: We may receive a fee from the seller for any purchases made through links on this website or from other sites accessed via this website. This fee incurs no additional costs for the buyer. To learn more, please read our full disclosure page here. Read our Product Research and Testing page to know more about our review process in detail.
This Avocado Mattress review will introduce you to an environmentally conscious, eco-friendly mattress with a traditional innerspring feel. Manufactured by the New Jersey-based Avocado Mattress Company, this mattress is made by hand in California. The foam used is latex: a compostable form of Dunlop latex that is hypoallergenic and free of toxic chemicals. The firm's carbon footprint is offset with carbonfund.org.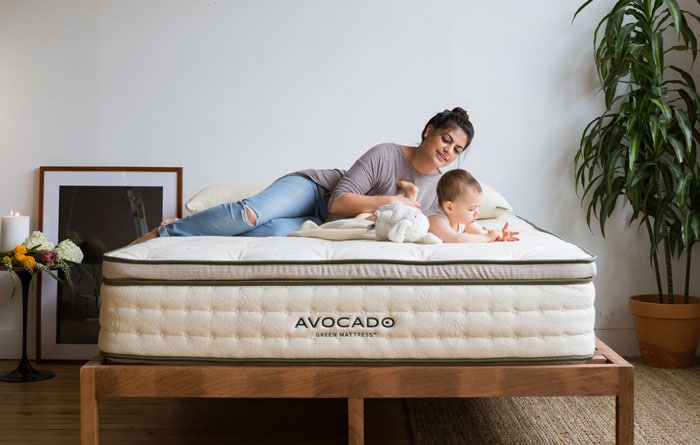 Table of Contents
An example of this is in its fire retardants: hydrated non-crystalline silica and natural New Zealand wool. No potentially toxic substances have been used in the construction of this mattress. It is naturally resistant to allergens and dust mites. The Avocado Green Mattress will be suitable for anyone who is looking for a mattress that is friendly to the environment and also contains no toxic substances in its makeup.
So what type of mattress is this? It is a hybrid mattress, consisting of an innerspring base with comfort layers of latex put together for maximum durability and sustainability. You can buy this mattress with or without a comfortable Euro-style pillow top. Many Avocado Green mattress reviews focus on its environmentally friendly nature, but it should also be stressed that this is a particularly comfortable mattress, with more than its environmental aspects to commend it. It has been constructed in a way that makes it comfortable, highly supporting and one of the best mattresses we have reviewed. Here is how it is built.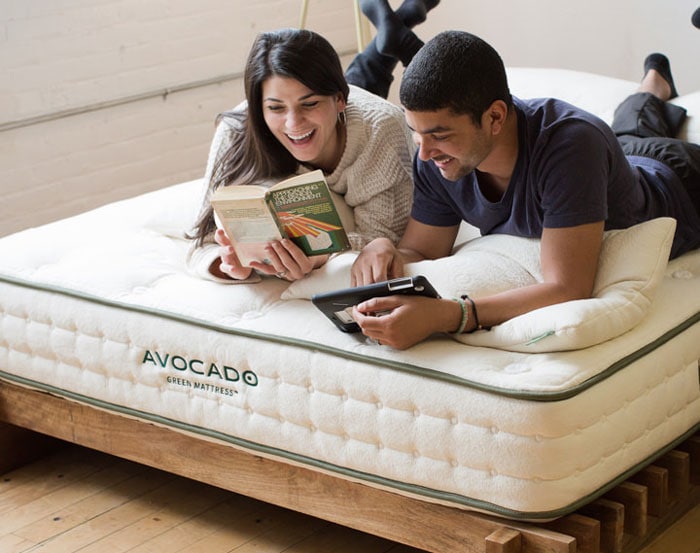 Avocado Green Mattress Construction
We shall describe the construction of the Avocado mattress from the top down, and explain the purpose of the cover and each of the three layers that make up this mattress. There are three types of this mattress: the Standard, Euro-style pillow-top and Vegan models. The differences between these will be explained after the general construction of this mattress.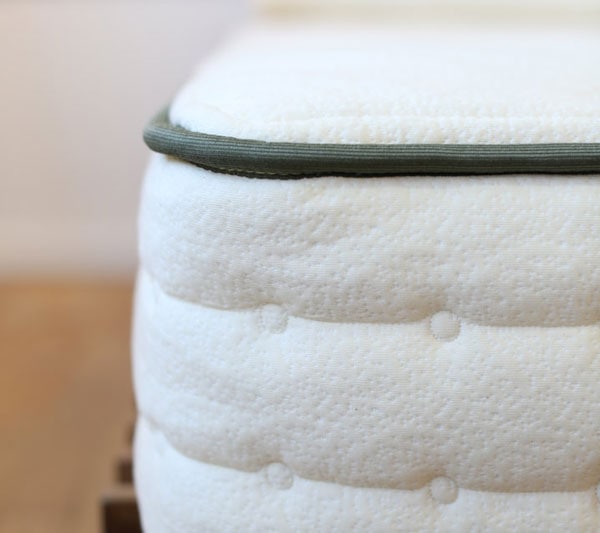 The Cover
The cover of the Avocado Green mattress is made from an organic cotton, beneath which is a soft, breathable organic wool. This is natural Joma Wool® which has been sourced from New Zealand. This is moisture-absorbent and wicks away moisture while also helping to control temperature. This material is also dust mite resistant and antimicrobial. The cover is fixed to the top of all the Avocado Green mattresses.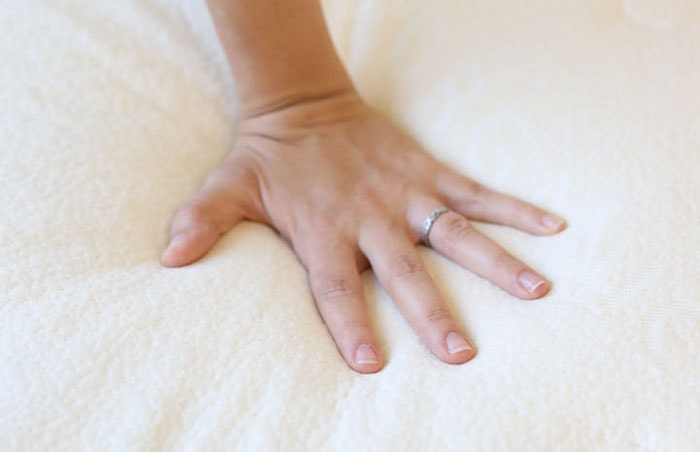 The Standard Avocado Mattress
The construction for the Standard Avocado mattress consists of 2-inches of Dunlop latex foam lying over an 8-inch layer of up to 1,414 recycled steel springs. This figure depends on the size of the mattress. Each spring is individually encased to achieve the maximum possible level of motion isolation between partners. It achieves this very well. Beneath this innerspring layer is a one-inch layer of latex foam to support the coils. The Standard Avocado Green mattress has a firmness level of 7 on a 1 – 10 scale where 10 is firmest. It is best for back and stomach sleepers.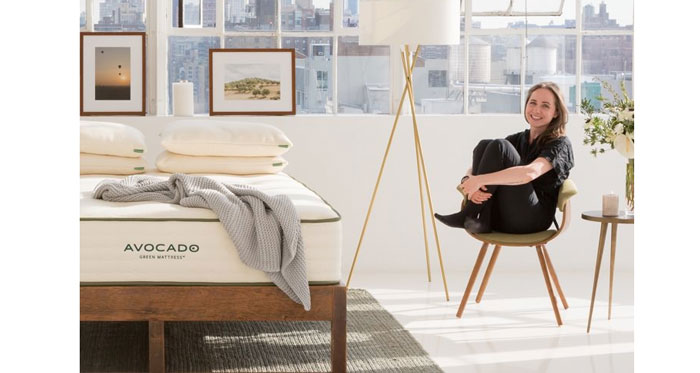 The spring coils are arranged in three zones, with to provide ideal support for the main pressure areas of your body while you sleep: your neck, shoulders, back, and hips. The coils are placed in such a way as to contour the support to the shape of your body. This enables a good even distribution of your weight over the mattress. The edge support is reinforced to enable you to sleep right up to the edge of the mattress without experiencing that 'falling off' feeling.
Euro-style Avocado Mattress
The standard version of the Avocado Green mattress above is good for back and stomach sleepers. There is also a Euro-style that has a pillow top: two extra inches of Dunlop latex foam on top of the standard mattress, making it 4 inches of foam. The rest is as standard. The total thickness of the standard mattress is 11 inches, with the optional pillow-top (Euro-style top) two inches thicker at 13 inches.
At a 6.0 – 6.5 level of firmness, the Euro-style top is softer and more luxurious than the standard mattress and is excellent for side sleepers. If you are looking for some pressure relief on the side you are sleeping on then this mattress is for you. It is also perfect if you are ecology-minded and would like to sleep on an environmentally friendly mattress.
Vegan Avocado Mattress
The Vegan mattress is much the same as the pillow-top mattress, only the cover has all been made with GOTS certified organic cotton rather than wool. Click here for details of the Global Organic Textile Standard (GOTS). This mattress is good for side sleepers who would rather not sleep on a cover containing wool, but rather on a vegan organic cover. Other than the cover, this mattress is no different in construction than the Euro-style pillow-top mattress.
Button Tufting
Woolen yarn rosettes are used to button tuft right through the mattress from the top sleeping surface down through the bottom layer. This holds all the layers together. This is a better way of achieving this than the adhesive used by other mattress manufacturers. Such adhesives can degrade over time, and also release unwanted chemicals into the mattress. Tufting makes the mattress secure, and less likely for the layers to loosen up, move about and bunch up into an uncomfortable sleeping surface.
Certifications
The three Avocado mattresses are Greenguard Gold certified free from toxic materials, and suitable for children and the elderly. The latex used is certified free from toxic substances by the eco-INSTITUT in Cologne, Germany. Among these substances are VOCs (volatile organic compounds), heavy metals, ozone depleters, formaldehyde, phthalates, and pesticides. Also, as stated earlier, the cotton textile used in the ticking is GOTS certified.
Shipping
The mattress is shipped free in the USA including Alaska and Hawaii. White Glove delivery, where the mattress is set up where you want it, is available in continental USA for an additional fee. The mattress is shipped rolled up in a box.
Pros
A full year trial period. You have up to a year to try this mattress out, and if it doesn't meet your needs you can return it free for a full refund.
Delivered in a box with handles enabling you to position the mattress before opening it.
Chargeable White Glove installation if requested.
25-Year warranty against manufacturing and material defects.
Eco-friendly mattress with certifications to substantiate it.
CertiPUR-US Certified: This mattress was certificated that it
Environmental Charity: Avocado will donate 1% of all profits to environmental causes.
Hypoallergenic.
Antibiotic.
Zoned spring levels to distribute your body weight evenly.
Suitable for all sleeping positions.
Compatible with adjustable bases.
Made in California.
Who Would Like the Avocado Mattress?
Not everybody will like the Avocado mattress, irrespective of the variations available. This is because not everybody likes a hybrid mattress: a combination of foam and inner springs. However, if you have no objections to a hybrid innerspring mattress then you might find that this mattress suits you. It certainly suits the many people who have purchased it. Here are some of those who would like the Avocado Green Mattress:
Those who like hybrid or innerspring mattresses. If you like the bounce and feel of a spring mattress, then the Avocado Mattress would be ideal for you.
You care for the environment and prefer to have an eco-friendly bed. The Avocado mattress is made using materials that are organic, sustainable or environmentally friendly. The steel coils are made from recycled steel. The latex is natural and sustainable, the wool is natural as is the certified organic, and we have already detailed the environmental certifications.
If you tend to change your sleeping position during the night, this mattress is suitable for side, stomach and back sleepers.
If you are heavier in weight than average then this is a good mattress for you. Its 11-13 inch thickness can hold your weight comfortably, and the zoned steel coil arrangement provides extra support where your body weight tends to focus, thus helping to keep your neck and spine correctly aligned.
Hate offgassing: many people dislike the chemical smell that most mattresses that come straight out of a box emit. The Avocado Green Mattress emits no noticeable smell once it has been unpacked and placed on your bed.
Purchase This Mattress from Official Website
Who Might Not Like the Avocado Mattress?
Those who are working to a tight budget for their mattress. Because of the nature of the materials that are used in its construction, it costs more than most other mattresses that are delivered in a box. Nevertheless, our tests have shown that this mattress is of higher quality than most other mattresses in the same price range. It is certainly worth its price, and many who have purchased it are delighted with the mattress they got for their money.
If you are allergic to latex.
Mattress Sizes Available
The following sizes are available for the Avocado Green mattress:
| Size | Dimensions (inches)** |
| --- | --- |
| Twin | 38" x 75" x 11" |
| Twin XL | 38" x 80" x 11" |
| Full | 54" x 75" x 11" |
| Queen | 60" x 80" x 11" |
| King | 76" x 80" x 11" |
| Cali King | 72" x 84" x 11" |
 ** Add 2 inches to the height of a Euro Avocado Mattress. So the Queen size of the Euro Avocado Green Mattress would be 60" x 80" x 13". Please note that because each mattress is made by hand, stated measurements may vary slightly.
Some Q&As We Have Come Across Regarding the Avocado Mattress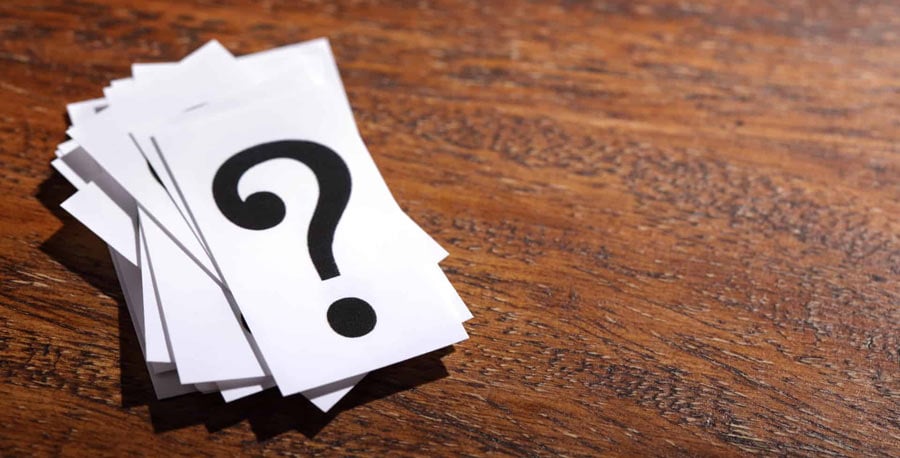 1. Can the Avocado Mattress be flipped or rotated?
Because the mattress is a hybrid innerspring mattress, and the main support areas are zoned with different strengths of spring, it is not possible to flip it. However, the zoning is arranged so that you can turn, or rotate, the mattress. So no, you cannot flip it, but you can rotate it.
2. How strong are your mattress seams? Will they last?
Our seams are hand-stitched tape edges. The perimeter seams are double stitched to increase their durability. Most other firms use only woven knit tops, with the knit glued tightly to the core of the mattress. How long will these last – we do not know, but what we do know is that hand-stitched tape edges will last a lot longer than glued edges.
3. How do you control motion transfer on your mattresses?
The pillow-top version of the Avocado mattress has a fairly low level of motion transfer. Due to the extra latex layer, and the individually pocketed coils, the movement of one partner should disturb the sleep of the other. Pocketed coils are not like interconnected steel coils. They compress individually rather than take all the interconnected springs down with them. Motion transfer should not be an issue with the Avocado mattress, with the pillow-top or without!
4. What are Dunlop and Talalay Latexes?
The difference is in the way the raw latex is processed after tapping. Talalay latex is whipped into a froth and put into a mold that is only partially filled. The latex expands to fill this mold, and then it is flash-frozen. This forces carbon dioxide throughout the mold, making the foam lighter and more breathable as it turns into a solid. The frozen latex is baked, removed from the mold and then washed and dried. Talalay latex tends to be light and fluffy, and used mainly as a comfort layer.

Dunlop latex is first frothed then injected into a mold, then baked in an oven. After being removed from the mold, shaped and washed, the latex is rebaked to remove any excess moisture. This results in a denser form of latex than Talalay. Because the latex is of various densities, a sediment tends to develop and settle to the bottom resulting in a denser foam at the bottom than the top. For that reason, Dunlop latex is often used as a support layer in a mattress rather than a comfort layer.
5. What is the best way to clean the Avocado Mattress?
The fundamental rule is not to use bleach or harsh chemicals. For general cleaning, you can sprinkle a layer of baking soda (sodium bicarbonate) over the whole surface of the mattress. Leave it 30 minutes, then vacuum it all up. The baking soda absorbs dirt and contamination.

If you have specific spillages (blood, urine, vomit, for example) make a cleaning mixture of 1-2 parts hydrogen peroxide, 1 part dish washing-up liquid and 1 part table salt or baking soda. Work this into the stain and leave to dry. Then blot the area dry with a dry white rag and remove any dried residue. You could also use borax, or a mix of equal parts vinegar and baking soda. Try it on a hidden part of the mattress first.

For larger spillages, such as wetting the bed, clean the mattress immediately. You can use baking soda first, then an enzymatic cleaner. Blot it up and apply again if necessary. The same with vomit. For bleeding, use hydrogen peroxide first and then the above method. Avocado has published an excellent method of cleaning your mattress properly without damaging it with harsh chemicals. Check out the page How to Clean Your Natural Latex Mattress.
Support

Materials & Quality

Cooling

Price

Design
The Avocado Green Mattress Review: Conclusion
We have provided you with a review of the Avocado Green Mattress. It is available in three formats: the Standard Avocado mattress, the Euro-Style Avocado Green Mattress and the Vegan Avocado Mattress. Most people opt for the Standard or Euro-Style mattress, although we have provided you with a description and review for all three options. We have also presented some Questions and Answer on these three mattresses, and a conclusion.