Transparency Disclosure: We may receive a fee from the seller for any purchases made through links on this website or from other sites accessed via this website. This fee incurs no additional costs for the buyer. To learn more, please read our full disclosure page here. Read our Product Research and Testing page to know more about our review process in detail.
It's usually fairly easy to compare a foam mattress with an innerspring or hybrid alternative since the differences are often obvious. However, it can be more difficult to choose between two 100% foam mattresses. This is particularly the case when both are high quality mattresses.
In this case, we have one mattress comprising a Dunlop latex foam and gel memory foam, while the other uses a latex-like proprietary foam and standard memory foam. How do they compare, and which is the better of these two high quality mattresses for your personal needs? Read our GhostBed vs. Leesa Mattress review for an answer to this question.
Table of Contents
Let's begin by comparing the way each mattress is put together. Both consist of three layers of foam:
GhostBed Vs. Leesa Mattress: Construction
GhostBed Construction
Cover: Soft, thin polyester and viscose cover. The cover is removable for washing.
Layer 1: 1.5 inches of 3.5 pcf (pounds per cubic foot) aerated Dunlop latex foam. This provides a reasonable level of spring – meaning it quickly springs back when you take pressure off the mattress. It also has reasonable bounce. This makes it good for sex, and also for keeping its shape. However, the 1.5 inches of this layer could maybe be a half-inch thicker to override the memory foam feel of the second layer.
Layer 2: 2 inches of 4 pcf gel permeated memory foam. The gel absorbs heat and dissipates it through the body of the foam.
Layer 3: 7.5 inches of a 2 pcf high-density support polyurethane foam.
Total thickness: 11 inches.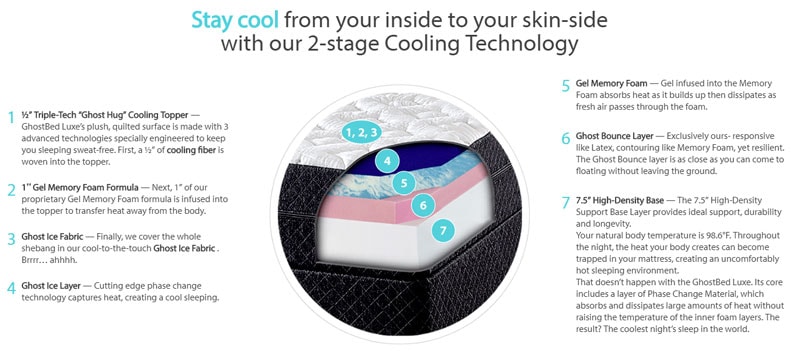 Overall: The aeration of the latex assists in air movement, and helps you to remain cool during the night. Along with the gel memory foam middle layer, this type of construction keeps you cool on warm nights. The GhostBed is a springy mattress with a certain level of bounce, and suitable for most sleeping positions.
Leesa Mattress Construction
Cover: Soft, thin polyester and Lycra cover that stretches easily and smoothly over the mattress. There is no padding involved in either cover. Leesa recommends that you do not remove the cover and that you should spot clean it.
Layer 1: 2 inches of LSA200 Polyfoam – a light, airy proprietary 13 ILD, 3 pcf foam with similar properties to Dunlop latex. This top layer is comfortable to lie on, while also providing a reasonable level of bounce and response to pressure.
Layer 2: 2 inches of 9 ILD, 3 pcf memory foam. This provides good support for your pressure points as your shoulders, hips, buttocks, and knees sink into the latex and activate the memory foam beneath it. Memory foam is good for support and pressure absorption.
Layer 3: 6 inch 32 ILD, 1.8 pcf support layer of high-density polyurethane foam. This base layer gives the mattress its durability, providing deep support and stability for the layers above it.
Total thickness: 10 inches.
Note: ILD is Indentation Load Deflection. This is the weight needed to compress the foam by a certain amount. A 12-inch round disk is pressed into a 4-inch piece of foam until it presses 25% or one inch into the mattress surface. It is fundamentally a measure of compressibility of a foam. The greater the ILD, the firmer the foam. This data not available for the GhostBed mattress.
Overall: The structure of the Leesa mattress offers a good level of comfort and a reasonable level of bounce from the latex-like LSA200 polyfoam top layer. The type of construction is conducive to air movement and a consequent reasonable level of cooling – though it does not sleep quite as cool as the GhostBed.
Leesa Vs. GhostBed Mattress: Comparison of Specific Properties
The above comments are so far fairly general and indicate that the two mattresses are very close to each other regarding construction, comfort, durability and pressure response/bounce. How do they compare to each other regarding other properties? Here are our conclusions after giving each a good test run.
Firmness and Support
The Leesa mattress is a 6.0 on a scale of 1 – 10 where 10 is the firmest. The GhostBed mattress is similar, although a bit firmer, so we give it a 6.5-7.0 firmness rating. The Leesa mattress seems the most suitable for the majority of sleepers, being a good all-round mattress. The GhostBed will also suit many types of a sleeper, but particularly back and stomach sleepers and those of heavier weight (225+ lb). It is not suitable for those weighing less than 130 lb.
The Leesa mattress is the better for sharp, deep pressure points such as the shoulders and hips of lighter-weight side sleepers (below 225 lb). Leesa changed the top layer of its mattress in September 2018 from Avena foam to the LSA200 polyfoam. This foam provides more comfort, particularly for side sleepers and fairly lightweight back and stomach sleepers. This is the one we are reviewing here. If you weigh between 225 and 250 lb, then perhaps the GhostBed might suit you better. If you are 250 lb or over, it definitely would.
Responsiveness and Bounce
Responsiveness refers to the ability of a mattress to compress with pressure and then bounce back to its original position when that pressure is removed. Sex is one example of this type of activity. Bounce is also good for couples, and both mattresses are good for sex. In our test, both mattresses appeared to have the same level of responsiveness and bounce.
However, the LS200 foam possesses a soft plush feeling that is missing in the GhostBed. The GhostBed combines its bounciness with firmness, while the Leesa mattress is equally bouncy but softer and more comfortable to sleep on. For that reason, the Leesa mattress is the better of the two for sex. However, if you are a heavyweight, you would find the Ghostbed mattress the better for this purpose.
Check GhostBed Mattress Reviews on Amazon
Motion Transfer
This is where the movement of one partner disturbs the sleep of the other. If a mattress has poor motion transfer, this can easily happen if one partner rises earlier than the other, or goes to bed after the other. Poor motion transfer properties can result in the other partner's sleep being disturbed, or even in them waking up. This can happen even when one partner moves around when sleeping.
When comparing the Leesa mattress vs. GhostBed mattress, both are OK for motion transfer because Dunlop latex is better than Talalay latex for absorbing movement, and the LSA200 foam of the Leesa mattress is also fairly good. The memory foam beneath the top layer in both mattresses tends to dampen any movement. The GhostBed seems to move slightly more, particularly with heavier weight users, so the Leesa mattress just shades it for motion transfer.
Edge Support
The Leesa mattress does not appear to be particularly designed for good edge support. When you sit on the edge of the mattress it does tend to compress. The GhostBed mattress compresses slightly less at the edges, but it is slightly firmer than the Leesa. However, you don't feel like you are about to fall off if you lie close to the edge of either mattress. The GhostBed mattress wins this particular challenge.
Check Leesa Mattress Reviews on Amazon
Cooling Properties
The cooling properties of the respective mattresses is an important aspect of our GhostBed vs. Leesa mattress review 2023. While we did not find either mattress particularly hot to sleep in, this may change come the warmer seasons of the year.
The top layer of the GhostBed is an aerated latex that allows the mattress to breathe. The corresponding layer of the Leesa mattress is LSA200, a proprietary latex-like foam made using polyfoam – but one that is particularly resilient. This foam is also light and airy, and there is not much difference between them regarding heat transfer. However, while the second Leesa mattress layer is a regular memory foam, known for its heating properties, that for the GhostBed is a gel memory foam, known for its cooling properties. So no real contest here: the GhostBed wins. Nevertheless, neither should heat you up significantly and have you waking up during the night sweating.
Sleep Trial and Warranty
The GhostBed offers a 101-night sleep trial, but with a mandatory 30 days use before invoking it. The Leesa mattress offers a 100-night sleep trial with no mandatory period. You can return the Leesa mattress immediately at no cost to you and get a full refund. The GhostBed offers a 20-year warranty against defects in workmanship and materials with 10 years non-prorated. Leesa offers a 10-year limited warranty. Neither involves a cost to the buyer. Also, note that you can use both mattresses with adjustable bases.

Miscellaneous Factors
The foams used in both the Leesa and GhostBed mattresses are CertiPUR-US Certified to be free from heavy metals, ozone depleters, phthalates, toxic fire retardants, and other harmful substances.
Both mattresses are made in the USA and in the UK for the European market.
Both are delivered in a rolled-up form and need time to expand to the correct shape and size.
Leesa donates one mattress to shelters and those in need for every 10 mattresses sold.
GhostBed minimizes packaging to generate less landfill.

Who Would Prefer the GhostBed Vs. Leesa Mattress?
In the GhostBed mattress vs. Leesa Mattress battle, who would prefer which mattress? When reviewing a mattress it rarely happens that one mattress is best for all factors and the other is best for none. Here is our opinion of who would prefer each mattress based upon their individual properties.
You would prefer the GhostBed if:
You sleep on your stomach or on your back if you are a heavier weight sleeper.
You weigh 250 lb or over.
You prefer a mattress on the firm side of average.
You are heavy in weight and want a fast-response mattress with bounce.
You tend to sleep hot.
You want a machine-washable removable mattress cover.
Purchase GhostBed Mattress on Amazon
You would prefer the Leesa if:
You sleep on your side and are 225 lb or under.
You are light to medium weight (225 lb or under) and sleep on your back or stomach.
You prefer a comfortable soft-medium mattress to a medium-firm alternative. The Leesa is plusher than the GhostBed.
You tend to change sleeping positions during the night (combo sleepers).
Purchase Leesa Mattress on Amazon
There is nothing in it if:
You want a mattress with good responsiveness and bounce, but costing less than all latex.
You are an energetic young couple weighing around 225 – 240 lb.
GhostBed vs. Leesa Mattress: FAQs
Here are some questions we have been asked about the GhostBed and Leesa mattresses.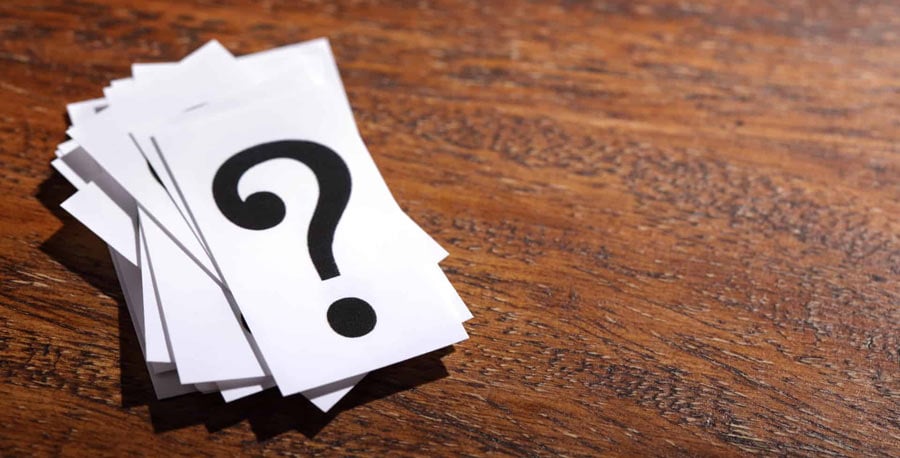 1. Which is the best mattress between the GhostBed and the Leesa Mattress?
Much depends on your weight. We couldn't, in all honesty, recommend the Leesa mattress if you weigh over 250 lb. The GhostBed should be OK because it has that extra inch of thickness – that matters when discussing heavier weight people. Otherwise, weight aside, if you sleep on your side or back, the Leesa might suit you better and the firmer GhostBed would be the better mattress for stomach sleepers.
2. My partner tends to get hot in bed (temperature-wise). Which would be the better mattress for us?
We haven't found a great deal of difference between the two, although to be honest the GhostBed just shades it – it has a layer of gel memory foam below the aerated latex foam while the Leesa mattress is regular memory foam, which is known to sleep on the hot side. Lighter weight people would find no difference; medium weights would prefer the GhostBed and heavyweights should be using the GhostBed in any case.
3. My partner and I like a bit of bounce in our mattress. Which of the two is the bounciest?
We didn't find much difference between them. However, the GhostBed appeared to us to be slightly more bouncy than the Leesa mattress, but not enough to comment on. However, the heavier you weigh, the more the GhostBed bounce comes into play. If you are referring to sex, the GhostBed would be best if you have a combined weight of over 400 – 450 lb. Saying that, the bounce in each of these mattresses is not as good as with an innerspring bed. If you tend to get too hot when sleeping, then you might prefer the new GhostBed
4. How do I decide which of these two mattresses to purchase? I sleep on my back, weigh just over 228 lb and my partner weighs 120 lb and tends to sleep mostly on her side. What if I choose the wrong mattress?
The GhostBed mattress is best for you and the Leesa mattress best for your partner. If you find you have made the wrong choice you can always use the sleep trial – but you must get it right second time round because you will likely be unable to return your second choice. Most firms permit just the one return if the mattress doesn't suit you. Another option is to purchase two different Twin XL mattresses and use them side by side on a king-size base or adjustable frame – known as a Split King. You could try both the Leesa mattress and the GhostBed mattress on the split base. The 1/2 –inch difference in thickness shouldn't over-worry you.
5. Why did Leesa change the Avena foam in their mattress?
It was changed in the US only, due to a supply issue. The EU version, manufactured in the UK, still uses AvenaTM foam. There are also differences in materials and build due to different regulations in the various countries where the Leesa mattress is sold.
Leesa Vs. GhostBed Mattress Review: Summary
We noted several differences when we carried out the GhostBed Vs. Leesa mattress review. These differences largely arise because of the respective constructions and the types of foam used by Leesa and Ghostbed. They both use latex or latex-like foam on the top, with memory foam in the second layer: cooling gel memory foam in the GhostBed with regular memory foam in the Leesa mattress. Both have a base layer of high ILD high density foam.
The Leesa mattress came out top for light to average weight users irrespective of their sleeping position. The GhostBed mattress was best for heavier sleepers, particularly those that sleep on their stomach or back. It also came top for its cooling properties, largely due to GhostBed using a cooling gel memory foam where Leesa used a standard unmodified memory foam.
As far as bounciness and sexual activity is concerned, there is nothing much in it, though light and medium weight people would likely prefer the Leesa mattress and heavyweights the Ghostbed mattress. GhostBed is also better for edge support and for those that prefer a firm rather than a plush mattress to sleep on. The choice is yours! Our GhostBed vs. Leesa mattress review should help you make the decision best for your personal needs. Don't forget you have the sleep trial if your initial choice is wrong.