Transparency Disclosure: We may receive a fee from the seller for any purchases made through links on this website or from other sites accessed via this website. This fee incurs no additional costs for the buyer. To learn more, please read our full disclosure page here. Read our Product Research and Testing page to know more about our review process in detail.
The Leesa vs. Purple Mattress debate has been going for some time now. Here is our opinion of the benefits that each mattress offers you and how they compare together. The Leesa mattress has a good pedigree and is a well-established brand. In the Purple mattress vs. Leesa battle, the Purple mattress is a new contender.
The question is, has the Purple mattress taken deliberate steps to surpass the quality of Leesa and other established brands, or have these established brands stepped up to the mark having made sure that they could beat off new competitors in the mattress niche? That's what we are about to find out.
Leesa vs. Purple Mattress Review Table of Contents
Leesa Mattress vs. Purple: Mattress Construction
The construction of a mattress is an important feature: the materials used in each layer, and their properties and thickness are very important. So too is the cover that holds everything together. Each mattress consists of three layers plus the cover. Here is how the Leesa and Purple mattresses compare, from the top layer to the bottom:
Leesa Mattress Construction
Top Layer: Leesa uses a 2-inch layer of its patented L200 Avena foam at the top of its mattress. This foam combines the properties of responsive latex foam and the pressure relief of memory foam. It is a layer that provides better bounce and cooling properties than memory foam but provides better pressure relief and comfort than latex. This top layer is good for most types of a sleeper.

Second Layer: The second (middle) layer comprises 2 inches of memory foam. This foam supports the pressure of your shoulders, back, and hips to relieve the pressure exerted by the mattress on these pressure points. This helps to keep your spine in its natural position and reduce the likelihood of pain in these parts of your body.
Bottom Layer: The third (bottom) layer comprises 6 inches of dense support foam. It bolsters the support provided by the mattress. This is particularly good for heavier weight sleepers and side sleepers who will appreciate the level of support provided by this mattress.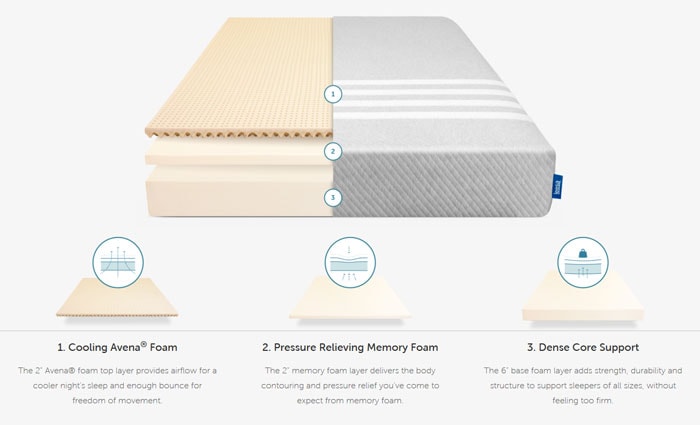 The Cover: The cover encases the three layers of each mattress. The Leesa mattress cover is made using polyester and Lycra. This provides a good combination of smoothness and stretch. It is a thin cover that does not interfere with the properties of the various layers of the mattress and allows good breathability.
Check Leesa Mattress Reviews on Amazon
Purple Mattress Construction
The Purple mattress also consists of three layers and a cover: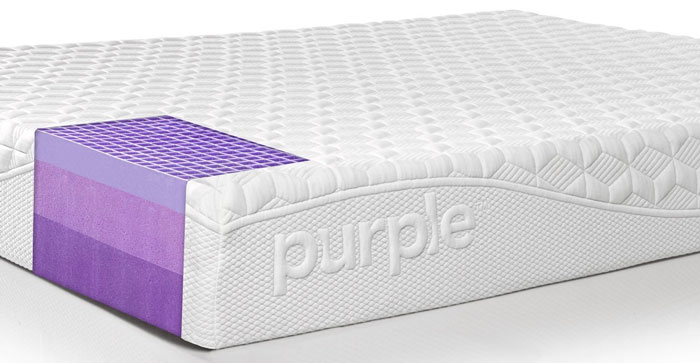 Top Layer: The top layer of the Purple is a hyper-elastic polymer foam. It is more responsive than the Leesa patented latex foam, and contours better to the body for improved pressure relief. Like the Leesa mattress, this is a 2-inch layer., bur rather than a solid foam this layer is in a grid layer, with individual walls that sink around your pressure points (shoulders and hips) but remain upright to provide support for your lumbar (lower back) area. This structure also maintains proper alignment of your spine, whether you sleep on your side, back or front.
Second Layer: This is a 3.5-inch layer of polyurethane foam. Its purpose is to prevent you from sinking too far into the top layer. It provides support and push-back to help maintain a good foundation for sleeping on.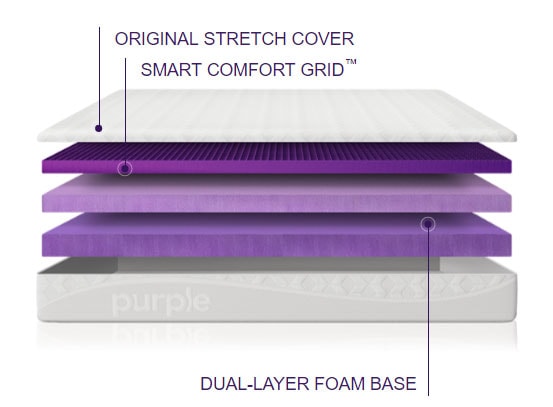 Bottom Layer: The bottom layer of the Purple mattress comprises 3.5 inches of a high-density polyurethane foam that forms the main support layer for heavier people. It also helps increase the life of the mattress by absorbing most of the pressure and reducing wear.

The Cover: The Purple mattress cover is a blend of 69% polyester, 27% viscose (a regenerated cellulose fiber similar to cotton in structure) and 4% polyester-lycra. It is similar to the Leesa mattress cover with good stretch properties and breathability. The Leesa vs. Purple cover is more a marriage of minds than a competition.
Check Details of the Purple Mattress
The Construction Result
With regard to the construction of the mattress, the Leesa vs. Purple mattress result is a draw. Both mattresses are well designed and constructed with an intelligent sequence of layers. They both provide a top layer that provides some bounce and also absorption of the pressure of your shoulders, hips, and back. They also both help to maintain the correct alignment of the spine (straight viewed from front to back) and with a natural 'S' shape when viewed from the side.
The Leesa and Purple mattresses are fitted with a good foundation layer of high density foam that absorbs most of the pressure of heavier sleepers. This can lead to a good lifetime for both mattresses, with the Purple mattress slightly firmer than the Leesa mattress.
Leesa Mattress Vs. Purple Mattress: A Comparison of Main Features
The comparison table below summarises the major differences between the Leesa and Purple mattresses. It includes the information above plus some other factors. Some of the latter may be discussed later in this Lisa Vs. Purple mattress review.
| Factor | Leesa Mattress | Purple Mattress |
| --- | --- | --- |
| Foam Layers | 3 | 3 |
| Thickness | 10" | 9.5" |
| Responsive to Pressure | Very Low | Very Low |
| Support | Excellent | Excellent |
| Firmness (1 – 10) | 6 | 6.5 |
| Motion Transfer | Very Low | Very Low |
| Warranty | 10 Years | 10 Years |
| Sleep Trial | 100 Nights | 100 Nights |
Who Would Want a Leesa Mattress?
There are many factors to consider, most of which are detailed in the table above. Here is our opinion of who would prefer the Leesa mattress and who may find the Purple mattress better for them. You would prefer a Leesa mattress if:
You prefer a medium level of firmness or a universal feel to your mattress: The Leesa mattress comes in at 6.0 on a 1 – 10 firmness scale. The combination of foams creates a balanced feel with a good bounce on the top and good separation of movement, so you and your partner are less likely to disturb each other.
You prefer a well-balanced sleeping surface: The Leesa mattress has excellent pressure point relief and adaptive response that meets the needs of most sleepers with various sleeping positions. You are less likely to develop back pain with this type of mattress. It should be said that the Purple mattress is the same.
You like a charitable company: Leesa donates one mattress to homeless shelters for every 100 sold. Over 5,000 were donated in the company's first 18 months.
Purchase Leesa Mattress on Amazon
Who Would Want a Purple Mattress?
You would prefer a Purple mattress if:
You prefer a medium feel to your mattress rather than soft or hard: At 6.5 on a 1 – 10 hardness scale, the Purple mattress is slightly harder than the Leesa mattress. Sleepers will lie slightly higher on top of a Purple mattress than on a Leesa mattress – but not by much.
You like a good response, but support for your back: The Purple mattress has a top layer grid structure of hyper-elastic foam with excellent response to pressure from your salient pressure points (shoulders and hips), but that also supports your back.
You prefer a cooling mattress: In the Leesa vs. Purple mattress battle, the Leesa mattress offers good cooling properties. However, the Purple mattress is slightly better in this respect. The grid design promotes effective airflow and excellent cooling properties. It is more temperature neutr5al than cooling as such, in that the structure helps you not to heat up while you sleep.
The Leesa vs. Purple Mattress Review Result
Neither mattress gives that 'trapped in' feeling that 100% foam mattress can promote: particularly those made using memory foam. As you can see, there is next to nothing between the two with respect to the properties included in the comparison table. A 0.5″ difference in total thickness is all – the foams are similar and perform in very much a similar fashion.
Overall, the two mattresses are so similar in properties that it is impossible to announce a winner. So …. It is a draw!
If you must make a choice, check over the recommendations and differences in foam types. You may spot something there that draws you to one brand of the mattress over the other. However, for the purpose of this Leesa Vs. Purple mattress review, the result is a draw. We cannot separate them.
See Also: Sleep Number Bed Vs. Tempur-Pedic: Mattress Comparison »