Transparency Disclosure: We may receive a fee from the seller for any purchases made through links on this website or from other sites accessed via this website. This fee incurs no additional costs for the buyer. To learn more, please read our full disclosure page here. Read our Product Research and Testing page to know more about our review process in detail.
In this Casper vs. Tempur-Pedic mattress review, we shall compare the Casper signature mattress, the Casper, against Tempur-Pedic. We are using the latter's new Tempur-Adapt mattress for the comparison, both being priced fairly close to each other. Tempur-Pedic markets a range of mattresses, all more expensive than the Casper. After our initial comparison, we shall then take a quick look at the other mattresses in the Tempur-Pedic range.
The Tempur-Adapt mattress comes in two forms: 100% foam and the Hybrid version.
It should be stated here that Tempur-Pedic is unwilling to share details of the foams used in its mattresses, while Casper has no such reticence to share details of its technology. The Tempur-Adapt mattress comes in two forms: the standard and hybrid versions. Here, we will use the 100% foam mattress to compare with the Casper, which is itself 100% foam.
Here is a quick comparison of the structure of each mattress.
| Layer | Casper (10") | Tempur-Adapt Std. (11") |
| --- | --- | --- |
| 1 | 1.5" responsive breathable poly foam. This layer provides good bounce while minimizing heat retention. | A 1.6" layer of an extra-soft TEMPUR-ES material – this is a responsive cushioning layer. |
| 2 | 1.5" of 4 PCF memory foam that relieves pressure and contours to your body. | A 1.6" layer of 'Tempur-Pedic material' that acts as a transition layer between the comfort and main support layers. |
| 3 | 1.5" of 2.5 PCF poly foam – this transitions between the comfort layer and the support layer below. | The rest is an aerated support foam that helps dissipate heat and spread your weight evenly over the mattress. |
| 4 | 5" of a 5 PCF high density support foam. It is also breathable and helps dissipate heat. | |
Layer Comparisons
Both mattresses have a comfort layer on top. The Casper poly/ foam top layer is very responsive to your movement and gives good bounce for couples. Below that the Casper has a layer of memory foam, which helps to isolate the motion of one partner from the other. Casper has an additional layer of poly foam (polyurethane) as a transitional layer between the comfort layers and the support layer beneath it.

Tempur-Pedic reveals neither what its TEMPUR-ES material is, nor what constitutes its support layer. It is very secretive about the construction and composition of its foams. However, TEMPUR-ES is a type of memory foam developed by the company.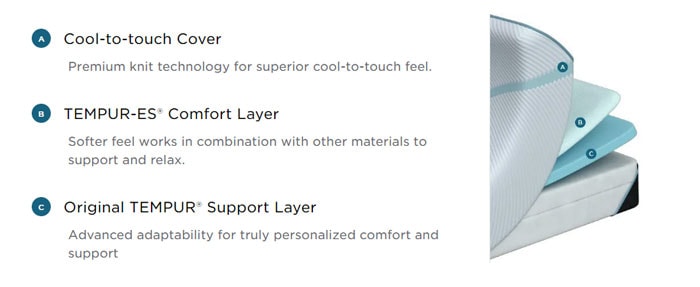 The Casper support layer is a high density support foam. This layer is breathable in that it absorbs heat into its pores. This heat is then dissipated throughout the foam and ultimately into the atmosphere. The Tempur-Pedic support layer is an 'airflow' foam that disperses heat passed down from the layers above it. The nature of this foam is not revealed but is possibly a similar foam to the Casper support layer that does the same job.
The top of the Casper mattress is springier than that of the Adapt, and returns to its original shape quicker. It is this 'spring' that so many people like, particularly younger couples. If you prefer a Tempur-Pedic mattress, but would like more bounce, then the Tempur-Adapt hybrid might suit you better. This has a layer of 1,000 pocketed springs as the main support.
Not everybody is keen on the way memory foam works. The Tempur-Pedic top layer is memory foam, which moves more slowly than the springy Casper foam. When you lie on the Tempur-Pedic mattress you feel yourself slowly sinking into it. When you change your sleeping position, it is slower than the Casper mattress to adapt.
Mattress Cover
The mattress cover is important because it is the surface you lie on. The Casper cover is a white fabric with a grey border. The top and bottom of the mattress are 100% polyester, while the sides are a polyester/polypropylene blend. The cover looks a bit thin and stretches easily. The textiles are Belgian and the mattress is assembled in the USA.

The Tempur-Adapt knit cotton cover uses cooling gel technology to help prevent you from feeling hot during the night. It is also zippered so you can easily remove it for cleaning – although it is not machine-washable! This is a weakness since it is recommended that you spot clean the cover should it become soiled.
Firmness: Comfort and Support
The Casper mattress is medium firm, lying at 5-6 on a scale of 1 – 10 where 10 is the hardest. If you are fairly heavyweight, you will sink farther down into the mattress than a lighter weight person. You may then feel the support layer more, and the firmness may be up to 7 when lighter weight people feel it as a 6.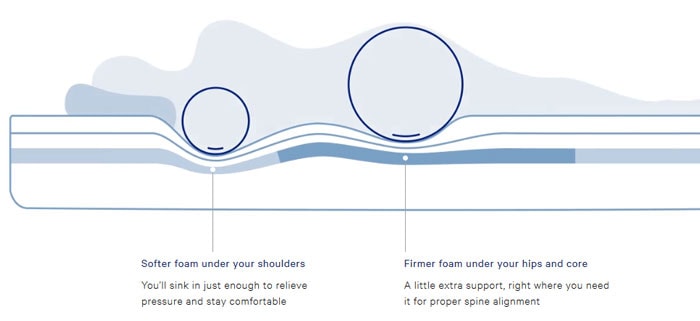 Unlike memory foam mattresses, the Casper responds rapidly to you moving around in the bed. Memory foams tend to hold you in, and you often find it difficult to move from one position to another. Its spring or bounce level makes it very easy for you to turn over or change sleeping position. If medium firmness suits you and keeps you comfortable, then the Casper mattress provides good support. It has a good, responsive feel to it.
The Tempur-Pedic Tempur-Adapt is also a medium firm mattress with firmness rating of nearer 5, slightly softer than the Casper. There is very little bounce in this mattress – you tend to sink into it with a slight feeling of being held there. For the same reason, it is not as easy to move on it than on the Casper. When you move about the foam takes time to respond. The hybrid version is slightly bouncier than the standard Adapt due to the innerspring base.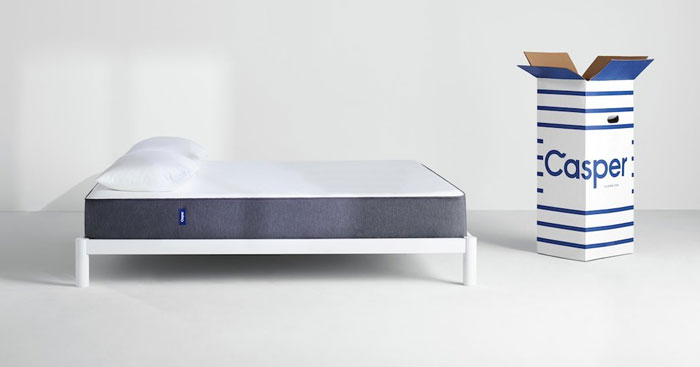 So, to sum up on firmness and comfort, the Casper mattress is more responsive, has more spring in it and you tend to lie on the mattress rather than lie in it. The Tempur-Adapt is slightly softer than the Casper, but it is slower to respond to movement. Neither mattress is flippable due to their construction.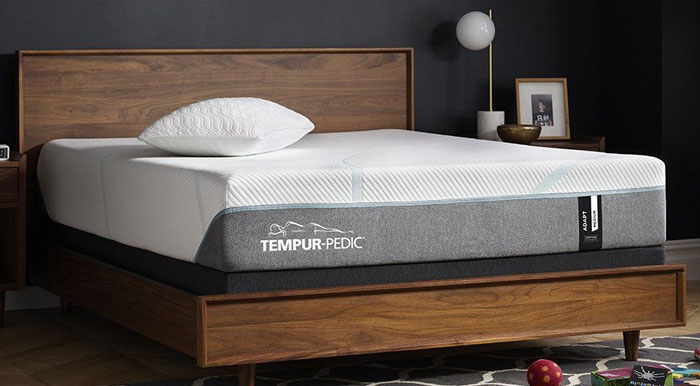 Who Would Prefer the Casper?
You would prefer the Casper to the Tempur-Adapt if:
You want a responsive/bouncy mattress: one that responds to your movement.
You prefer to lie on your mattress, not in
You are not looking for a particularly soft or firm mattress.
You are not particularly light or heavy in weight.
You want to sleep cool and not wake up hot and sweaty.
Cost is important to you. You also get more for your money with Casper because, unlike Tempur-Pedic, it sells directly to the consumer and misses out the middleman.
Purchase The Casper Mattress on Amazon
Strengths Over the Tempur-Pedic:
Sleep test period: 100 nights with no mandatory period vs. Tempur-Pedic's 90 nights with 30-day mandatory use period. If you don't like the Casper mattress you can return it immediately.
No charge to the customer for return after sleep trial. Tempur-Pedic does not refund for return cost.
Bounce and response superior to Tempur-Pedic
Sleeps cooler, easy movement in bed. Better for medium and heavyweight side and stomach sleepers.
Who Would Prefer the Tempur-Pedic?
 You would prefer the Tempur-Pedic Tempur-Adapt mattress if:
You like to sleep on memory foam and feel it contouring around your body as you sink into it
You want a high level of motion isolation. Casper does offer this, but Tempur-Pedic does it better!
You would prefer to have multiple firmness options: Tempur-Pedic has many different mattress models and can provide one to meet any softness/hardness requirements you may have.
You prefer a hybrid mattress with an innerspring layer beneath the foam.
You prefer to buy from a company with a reputation for quality, and one that has been around for years – unlike Casper.
Price is not so much of an issue with you.
Purchase Tempur-Pedic Mattress on Amazon
Strengths over Casper:
Excellent durability
Tempur-Pedic offers a wide range of mattress choices.
Free white glove delivery and free removal of your old mattress and box spring if required. Casper charges for planned delivery and setup, and also for removal old mattress.
Warranty and Sleep Trial
Both companies offer a 10-year limited warranty against poor workmanship or material defects. Regarding the sleep trial, Casper offers a 100-day sleep trial during which you can return the mattress free for a full refund if required. Tempur-Pedic requires you to use the mattress for 30 days before considering returning it. Even then, the action the company takes is to discuss the issue with you – it is not a no-questions-asked refund. If they have to, they will refund your payment less shipping charges.
Which to Choose?
Much depends on the type of mattress you prefer and how much you are prepared to pay. If the Tempur-Adapt mattress doesn't suit you, you have the option of the hybrid version or alternative models such as the ProAdapt. However, when we consider price, the Casper fights way above its weight and many people prefer to try it first, taking advantage of the 100-night sleep trial.
Casper vs. Tempur-Pedic Mattress FAQs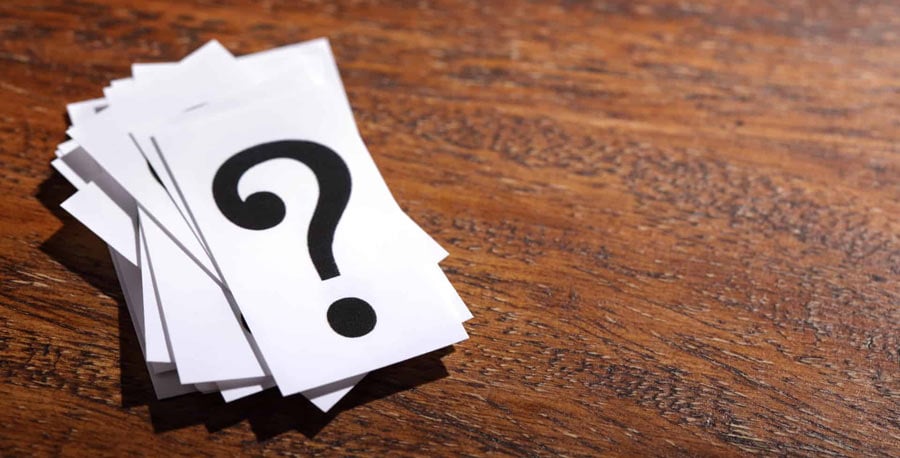 Here are some of the questions we are most frequently asked regarding these two mattresses and mattress reviews in general.
1. How can you carry out a Tempur-Pedic vs. Casper review when the mattresses are so different?
They may be different, but they are mattresses! Which is best for you will depend on what you are looking for in a mattress. Some might prefer the positive aspects of the Casper and other those of the Tempur-Pedic. For some people, the Casper sleep trial offer might sway them to go for the Casper. Others may go for the Tempur-Pedic because they like memory foam or trust the brand.
2. Which is best for motion isolation: Casper or Tempur-Pedic?
It depends on how much isolation you want. The Tempur-Pedic mattress will win every time, although the Casper mattress offers more motion isolation than an innerspring mattress. If your partner is a few inches away from you, you won't feel anything when they move on the Casper – but the Tempur-Pedic is the better of the two for motion isolation.
3. Are there any restrictions on the type of foundation or base for these mattresses?
You can use any type of base other than a box spring. If your base is slatted then make sure the slats are at least 3 inches wide and a maximum of 4 inches apart. If slats are more than 4 inches apart you will need to lay a board over them. Both mattresses can be used on adjustable bases or frames, but if you have a box spring foundation then you should replace it with something more solid.
4. Why do mattresses the quality of the Casper cost so much less than other mattresses?
Because Casper sells their mattress direct online. They have no showrooms and staff to support, and no commissioned salespersons. Rather than take extra profit, they pass the saving to their customers.
5. Can I use an electric blanket or heating pad with a Casper mattress?
Yes!
Casper vs. Tempur-Pedic Mattress Review: Summary
In the Tempur-Pedic vs. Casper mattress debate, it can be extremely difficult to decide which mattress is best for you. The decision is made even more complicated by the number of products both companies offer. We have focused on the Casper's 'Casper' and Tempur-Pedic's Adapt Series medium and Hybrid medium for the purposes of this review. The Adapt is the closest Tempur-Pedic product in price to the Casper mattress.
The Tempur-Pedic range includes over a dozen different mattresses with a maximum price of over $7,000. We have chosen that part of the range closest to The Casper in price and functionality. There is very little in it between those we have included in this Tempur-Pedic vs. Casper review, but there are sufficient differences for you to be able to make an intelligent and considered choice.