Transparency Disclosure: We may receive a fee from the seller for any purchases made through links on this website or from other sites accessed via this website. This fee incurs no additional costs for the buyer. To learn more, please read our full disclosure page here. Read our Product Research and Testing page to know more about our review process in detail.
This Amerisleep vs. Tempur-Pedic mattress comparison was not easy to carry out. Both are high-quality mattresses, although the Tempur-Pedic is the more established and hence better known of the two, and the brand has a stellar reputation. Amerisleep, on the other hand, is the new kid on the block and has its name to make. It was a brave decision of the Amerisleep founders to take Tempur-Pedic on in its own backyard, so how well have they done with it? Let's see!
Both companies are based in the USA where their mattresses are manufactured. Tempur-Pedic International, Inc. (founded in 1992), is part of Tempur Sealy International of Lexington, Kentucky, while Amerisleep (founded in 2010) is based in Scottsdale, Arizona. Tempur-Pedic offers a large range of mattresses, while Amerisleep offers five foam mattresses plus three hybrids. Consequently, we have chosen to compare the five Tempur-Pedic mattresses closest to the Amerisleep range. Tempur-Pedic offers several different comfort levels in most of its range, and both offer innerspring hybrid versions of some of its range. Here are the ranges of each mattress we have chosen to review for each brand:
| | | | | | | |
| --- | --- | --- | --- | --- | --- | --- |
| Tempur-Pedic | Soft | Med. Soft | Medium | Med. Firm | Firm | Hybrid |
| Tempur-Cloud® | | | ✔ | | | |
| Tempur-ADAPT® | | | ✔ | | | ✔ |
| Temur-PROADAPT® | ✔ | | ✔ | | ✔ | ✔ |
| Tempur-LUXEADAPT® | ✔ | | | | ✔ | |
| Tempur-Breeze® | ✔ | | ✔ | | ✔ | ✔ |
| | | | | | | |
| --- | --- | --- | --- | --- | --- | --- |
| Amerisleep | Soft | Med. Soft | Medium | Med. Firm | Firm | Hybrid |
| Amerisleep AS1 | | | | | ✔ | |
| Amerisleep AS2 | | | | ✔ | | ✔ |
| Amerisleep AS3 | | | ✔ | | | ✔ |
| Amerisleep AS4 | | ✔ | | | | |
| Amerisleep AS5 | ✔ | | | | | ✔ |
*Tempur-Cloud Prima with a surface comfort thickness of 1.2" is 10" thick and the Tempur-Cloud Supreme with a surface comfort thickness of 2" is 11.5" thick.
Table of Contents
Amerisleep AS3 and Tempur-Pedic Adapt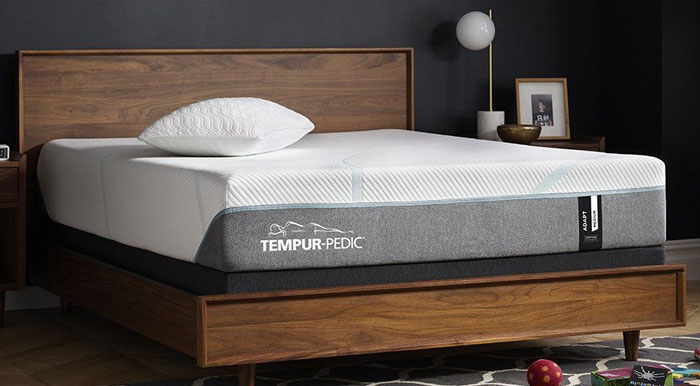 Both the Amerisleep AS3 mattress and the Tempur-Pedic Tempur-Adapt mattress are high-quality memory foam mattresses. They both offer contouring support, pressure point relief, and a comfortable night's sleep. The deciding factors may not lie in their respective comfort levels or construction, but in price and design. We have chosen these two for the brand comparison because they are both available in a Medium rated firmness level. They are both around 5.5-6.0 on a 1-10 scale where 10 is firmness. When choosing between the two, it is important to consider all of the factors detailed in this comparison to determine which one best meets your needs.
Amerisleep offers a better range of comfort levels, so if you are looking for something between medium and firm for example, Amerisleep offers this option but not Tempur-Pedic. As stated above, we have chosen the middle comfort product for each brand: the Tempur-Pedic Adapt and the Amerisleep AS3 – each is available in just medium and hybrid versions which allow a true comparison between the two companies. 
Mattress Dimensions
| Size | Inches | Tempur-Pedic | Amerisleep |
| --- | --- | --- | --- |
| Twin | 38" x 74" | Cloud, Adapt | AS1, AS2, AS3, AS4, AS5 |
| Twin XL/Long | 38" x 80" | Cloud, Adapt, Pro-Adapt, Luxe Adapt, Breeze | |
| Full/Double | 54" x 75" | Cloud, Adapt, Pro-Adapt, Breeze | AS1, AS2, AS3, AS4, AS5 |
| Queen | 60" x 80" | Cloud, Adapt, Pro-Adapt, Luxe-Adapt, Breeze | AS1, AS2, AS3, AS4, AS5 |
| King | 76" x 80" | Cloud, Adapt, Pro-Adapt, Luxe-Adapt, Breeze | AS1, AS2, AS3, AS4, AS5 |
| Cal King | 72" x 84" | Cloud, Adapt, Pro-Adapt, Luxe Adapt, Breeze | AS1, AS2, AS3, AS4, AS5 |
| Split King | 38" x 80" (x2) | Cloud, Adapt, Pro-Adapt, Luxe Adapt, Breeze | AS1, AS2, AS3, AS4, AS5 |
| Split Cal King | 36" x 84" (x2) | Cloud, Adapt, Pro-Adapt, Luxe Adapt, Breeze | None. |
Mattress Construction
The construction of the mattress is very important to many people. The materials used and their properties may be critical to many people. Properties such as their cooling power in hot weather, whether or not they sink into the mattress and are held by it, does it have enough bounce for young couples, are foams certified for their safety may all affect the purchasing decision. All or even just one of these questions may be critical to the buying decision you make. Please note that Tempur-Pedic doesn't release full details of how each mattress is constructed.
Construction of the Tempur-Pedic Adapt® Memory Foam Mattress
The Tempur-Pedic Adapt mattress range comprises a memory foam mattress and a hybrid. The 11-inch thick mattress comes in 8 sizes: Twin, Twin-Long, Full, Queen, King, Split King, Cal King, and Split Cal King. Here is the Adapt® construction from top to bottom:
The Cover: A premium, moisture-wicking cotton cover that is superior in breathability and airflow. It employs cooling gel technology that cools you down during the night. It is not a particularly soft cover, but it is effective in keeping you cool.
Layer 1: The top layer consists of 1.6 inches (4 cm) of TEMPUR-ES® memory foam. The ES stands for Extra Soft. It possesses a rougher and tighter cell structure that can both relax and support you while you sleep. It has a firmness of around 6 on a 1 – 10 scale where 10 is firmest. The company tends to be secretive regarding the structure of the foams it uses, but the tighter, slightly rougher cell structure of TEMPUR-ES® creates a softer feel that works in combination with other layers to support and relax. ES is a type of memory foam that is soft and contours to the shape of your body. It is a good top comfort layer for any sleeping position.
Layer 2: The transition layer between the comfort and support layer is 1.6 inches (4 cm) of foam. Again, the company is secretive regarding the nature of this foam.
Layer 3: The rest of the 11" total comprises an aerated higher-density support foam. The aeration helps to dissipate heat and also spreads your weight evenly over the mattress, helping to prevent any indentations caused by you sleeping in the same place on the mattress every night.
The total result is an excellent memory foam mattress that provides excellent support for your main pressure points. The memory foam layer is thinner than that of the Amerisleep AS3 below, although the nature of the transition layer is not stated.
Hybrid Model: If you prefer an innerspring mattress, and the level of bounce it gives, then the Tempur-Pedic Adapt Hybrid is constructed with an innerspring layer replacing the bottom support foam layer. This layer comprises over 1,000 individually wrapped steel coils that accentuate the motion separation while providing a good level of bounce. This model is often preferred by active couples.
Construction of the Amerisleep AS3 Memory Foam Mattress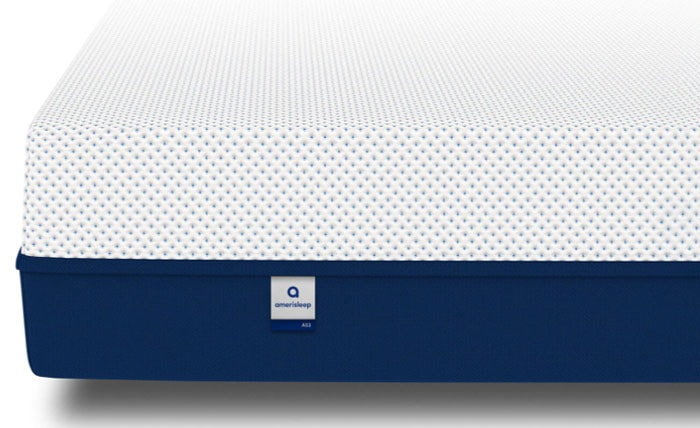 The AS3 is the Amerisleep of the TEMPUR-Adapt® mattress. It is 12 inches thick, an inch more than the Adapt. The structure is similar to the Adapt. From the top down:
The Cover: The same cover is used for all the mattresses in the Amerisleep range. It is woven from a blend of Celliant, the Amerisleep proprietary thermo-reactive material, polyester and Spandex for stretch. The Spandex ensures that should you ruffle the cover when sleeping, it snaps back into place to keep it smooth and not wrinkled. The Celliant wicks away heat and keeps the cover feeling cool. There is not much difference between the cooling power of this cover and that of Tempur-Pedic.
Layer 1 (Top): The top comfort layer comprises 3 inches of Amerisleep's eco-friendly Bio-Pur® memory foam. This foam is made from plants and not oil, and allows good airflow through it which helps to keep you cool on hot nights. It is highly responsive to temperature fluctuations and seems equal to the Tempur-Pedic Adapt in this respect.
Layer 2 (Middle): As with the Adapt, the second layer down of Amerisleep AS3 is a transition layer of the company's proprietary HIVE® foam. This foam transitions between the medium-soft top layer and the firm support layer beneath it. It is formed by means of a number of hexagonal memory foam cells. These are smaller and packed closer together in areas of the mattress where your pressure points tend to rest. This targeted support system renders the AS3 mattress extremely comfortable to lie on, while the open cells contribute to the cooling properties of Amerisleep mattresses.
Layer 3 (Bottom): The bottom layer is 7 inches of a high-density base Bio-core poly foam – a polyurethane foam. This layer supports your body weight while maintaining comfort through the two layers above. If you prefer an innerspring mattress then the
The total is a comfortable mattress with a 3-inch thick memory foam sleeping surface, 2 inches of memory foam in the transition layer, and a good, 7-inch supportive lower layer. It is suitable for all sleeping positions since the transition and support layers provide excellent targeted support for your shoulder, lower back, hips, and knees depending on how you sleep.
Hybrid Model: As with the Tempur-Pedic Adapt, the Amerisleep AS3 also offers a hybrid model. As with the Adapt, the Amerisleep A3h, as it is known, has replaced the base foam support layers with individually wrapped steel coils. Young couples frequently prefer this mattress due to its comfort and bounce. The hybrid versions are the same thickness as the foam versions.
General Mattress Properties
Comfort: Both mattresses use memory foam for comfort and are very comfortable to lie on. Their firmness levels are very similar (5.5 – 6.0) and there is very little to choose between them. However, other Tempur-Pedic mattress models offer a choice of Soft, Medium, and Firm options. and all other than the Cloud and LUXEADAPT. also offer a hybrid option where the foam support base layer is replaced with an equally thick layer of individually encased steel coils. This improves the bounce properties of the mattress.
Responsiveness: The comfort layers of both mattresses are responsive to your movements. They tend not to hold you down in the mattress, and the polyurethane support layer of the Amerisleep AS3 supports the level of responsiveness in this mattress. Tempur-Pedic is again coy about the nature of its support layer, although it too is responsive to your movement in bed. 
Support: This is a very difficult property to assess. Good support for a heavy person might seem too hard for a lighter weight person. However, due to the nature of memory foam, good support need not infer that the mattress need be hard. Amerisleep uses polyurethane support foam in its range, while Tempur-Pedic is secretive of the chemistry of its support foam. Amerisleep offers 5 levels of firmness plus 3 hybrids, while Tempur-Pedic offers 3 levels of firmness plus 3 hybrids although the company may make you a mattress with bespoke properties on request.
Edge Support: Edge support is important, particularly for couples or if you tend to sit on the edge of the bed. Edge support of memory foam mattresses is frequently poor, although both Tempur-Pedic and Amerisleep have done what they could to maximize this. The Amerisleep mattresses have reasonable edge support, though not perfect. There is some compression of the edge when you sit on it, but not what could be called excessive. The same is true for the Adapt. Both Amerisleep and Tempur-Pedic have good edge support for memory foam mattresses.
Motion Isolation: Both have memory foam top layers that help isolate the movement of one partner from the other, so you won't wake up when your partner rolls over in their sleep. The hybrids are made using individually wrapped steel coils so they can move independently of their neighbors, again contributing to motion isolation. The Tempur-Pedic just wins it for this property.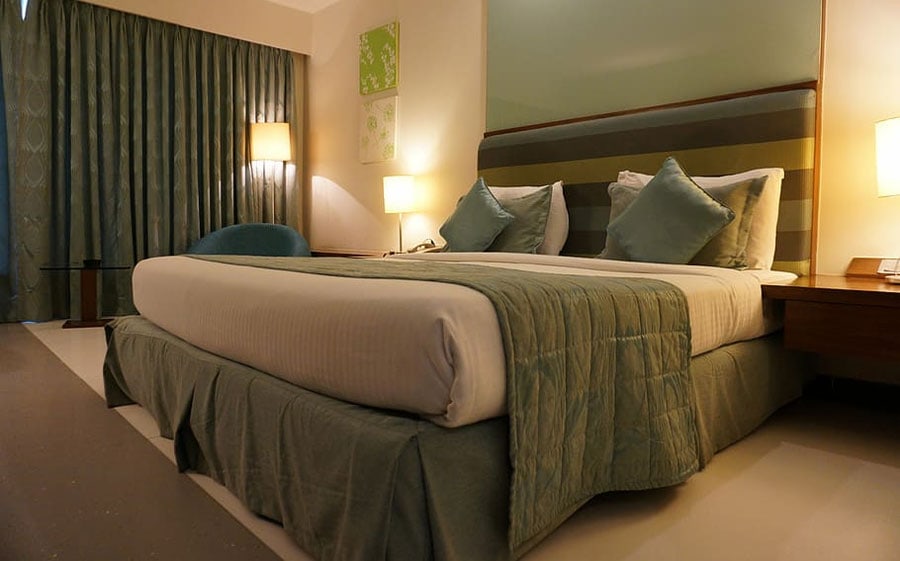 Suitability for Couples: The nature of memory foam, where pressure and the heat of your body soften the foam so you can comfortably sink into it, means that a mattress with comfort layers made predominantly from this foam is an excellent choice for couples. As stated above, motion separation is practically guaranteed. Both Amerisleep and Tempur-Pedic mattresses are of this nature. However, both also offer split versions where each side of the split can be fitted with a different mattress. This is the ultimate in maximizing comfort for couples, particularly where they don't share the same sleeping position.
Bounce: Bounce may be an important property for couples, particularly those who are sexually active. In this case, the three hybrid models of each of the Amerisleep and Tempur-Pedic range are perfect (see table at the top). They all bounce well, and you don't feel as if you are being held into the bed by the mattress foam. They are all very similar for bounce, so if you prefer bounce in your mattress you can choose any of the 6 models available between the two companies. 
Cooling Properties: Memory foam tends to retain body heat, gradually heating the bed during the night. For that reason, most mattress manufacturers tend to use one form of cooling or another. This is where the Celliant cooling cover and the open-cell structure of the Amerisleep mattresses, particularly the HIVE® transition foam, vie with the cooling properties of the Tempur-Pedic mattresses which appear to rely on the gel cooling properties of the cover. Sure, the latter design their mattresses in such a way as to try to minimize heating, but we have found that the Amerisleep options are generally cooler during the night than any of the Tempur-Pedic range. The whole range tends to sleep hotter than Amerisleep mattresses, though the TEMPUR-Adapt seems best in the range.
Sleeping Positions: Both the Tempur-ADAPT® and the Amerisleep AS3 are suitable for side and back sleepers. A front or stomach sleeper would prefer something more firm such as the ProADAPT or LuxeADAPT or the Amerisleep AS1 or AS2. If you like a particularly soft mattress then the soft version of the above two Tempur-Pedic mattresses or even the Tempur-Breeze would do. The Amerisleep AS4 or AS5 are also soft mattresses.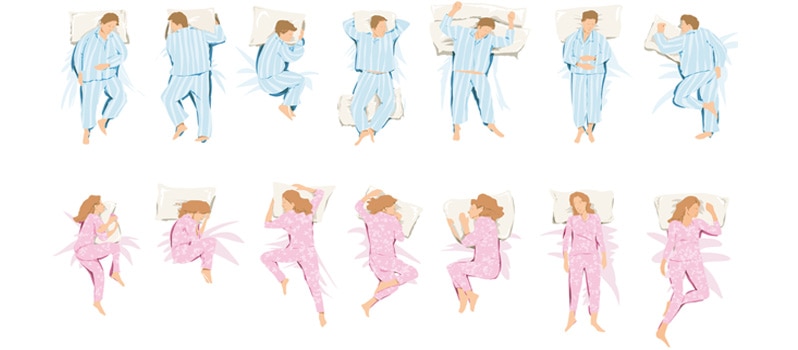 Warranty and Trial Period: Amerisleep offers a 20-year warranty against faulty workmanship or material, pro-rated after 10 years, while the Tempur-Pedic warranty is for only 10 years. Amerisleep offers a 100 night trial period, during which you can return the mattress free of charge for a full refund if you don't want to keep it. Tempur-Pedic offers a 90-day trial period – after 30 days you can return the mattress for a refund less shipping costs.
Note: With Tempur-Pedic, for your warranty to be valid, your purchase must be from either an authorized Tempur-Pedic dealer or direct from Tempur-Pedic. It seems that Tempur-Pedic products purchased through Amazon, eBay, or Craigslist would not be covered by TempurPedic's warranties nor can they be returned.
Shipping: Both companies ship free to the contiguous US states. Tempur-Pedic delivers their mattresses flat using a White Glove Service (other than Tempur-Cloud which is compressed in a bag.) There is therefore no waiting time for the mattress to expand into its proper shape. Your Tempur-Pedic mattress is delivered to your home, set up for you and packaging materials and your old mattress removed if you wish – all free of charge in the contiguous US states. Amerisleep delivers free to the contiguous US states and the mattress is compressed in a box.
We Recommend an Amerisleep if You:
Prefer an organic or eco-friendly mattress: Amerisleep uses plant-based memory foams, so they reduce the consumption of petroleum-based chemicals in their manufacture. The company also uses a zero-emission process that collects contaminated air for passage through carbon filters. The result is clean air emitted into the atmosphere. This air exceeds what is expected by the US Clean Air Act.
Like to know the composition of each layer: Amerisleep is open about what each layer is made from. It is easy to find out the foam density, its chemical composition, and how it was manufactured. Tempur-Pedic does not disclose such information.
Want a better warranty period: Amerisleep offers a 20-year warranty against Tempur-Pedic's 10.
Prefer to sleep cooler: A lot more air circulates through Amerisleep's plant-based foam that can circulate through Tempur-Pedic's traditional memory foam. The Celliant cover also tends to make Amerisleep mattresses feel cooler. It works by converting body heat to infrared energy and increases blood flow and circulation. Amerisleep mattresses are more breathable and are cooler than those of Tempur-Pedic.
We Recommend a Tempur-Pedic Mattress if You:
Prefer a well-established company: Tempur-Pedic was the first mattress firm to use memory foam and has 30 years of experience in manufacturing high-quality mattresses. Its reputation is solid but the company is now facing a high level of competition, particularly from Amerisleep.
Want your mattress set up and your old one removed: Tempur-Pedic provides a free White Glove service where your mattress is set up on your foundation. It also takes away your old mattress and/or foundation if you wish. All free of charge.
You value motion isolation: If you sleep with a partner, particularly one that moves bout a lot while sleeping, then the motion isolation.
Motion Isolation is important: Both companies offer good motion isolation, although Tempur-Pedic is slightly superior to Amerisleep for this property.
Cost is immaterial: If cost is not an issue for you, then you will likely find the Tempur-Pedic mattress slightly better overall than the Amerisleep. The differences between the two companies are not sufficient to warrant purchasing the luxury Tempur-Pedic just on its name unless the price is not an issue.
Purchase Tempur-Pedic Mattress on Amazon
Amerisleep vs. Tempur-Pedic Mattress: Conclusion
We have compared Tempur-Pedic with Amerisleep mattresses using the mid-range of each (TEMPUR-Adapt and Amerisleep AS3) and have also taken into account details of the other mattresses offered by each company, including their innerspring hybrids. We believe it valid to use these as primary representative examples of each range.
We conclude that the Tempur-Pedic products are slightly superior to those of Amerisleep, but that the latter gives better value for money. If you are looking for a luxury mattress and money is no object, then Tempur-Pedic is it! Amerisleep is the new kid on the block and is continually improving. If you prefer a more organic product, then Amerisleep would meet your criteria better than Tempur-Pedic.