Transparency Disclosure: We may receive a fee from the seller for any purchases made through links on this website or from other sites accessed via this website. This fee incurs no additional costs for the buyer. To learn more, please read our full disclosure page here. Read our Product Research and Testing page to know more about our review process in detail.
Many people prefer to purchase their mattresses online. This is mainly because buying a mattress online tends to be easier than traveling to a store, and they also tend to be priced less than purchasing in-store. Not only that, but you can get professional reviews and expert comparisons between alternative options. We have chosen to compare the Brooklyn Spartan and Leesa Hybrid mattress, both of which are made in the US: Leesa in Virginia, and Brooklyn Bedding in Arizona.
Both firms offer hybrid and 100% foam mattresses. A hybrid is a mattress consisting of foam on top of a layer of steel coils. In other words, it is a combination of foam and an innerspring mattress. In our Brooklyn Spartan vs. Leesa mattress comparison, we will focus on the hybrid mattress that each offers. Brooklyn offers 4 hybrids and one 100% foam mattress, while Leesa offers two of each. We have reviewed the Brooklyn Spartan hybrid vs. the Leesa Hybrid mattress. Each of these is similarly priced. Let's start with the Brooklyn Spartan hybrid mattress.
Table of Contents
Brooklyn Spartan Mattress
As explained above, a hybrid mattress is a combination of an innerspring and foam. The Brooklyn Spartan mattress is manufactured in Arizona by Brooklyn Bedding, and comprises a cover and 5 layers: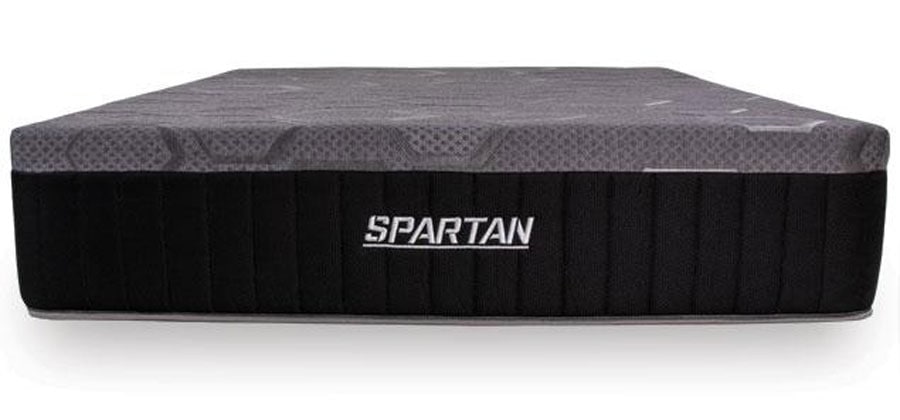 Cover: Fibers in the quilted cover of the mattress utilizes far infrared technology to convert the heat of your body into energy waves that enhance the circulation of your blood in your skin and internal organs, promoting rapid recovery after the athletic performance and improving the quality of your sleep.
Layer 1: 1.5" of CopperFlexTM, a patented type of foam, somewhat similar to the TitanFlexTM below it, but with CopperGelTM added to the cell structure of the foam to enhance cooling and thermoregulation. This draws heat away from your body, helping to keep you cool. It also enhances the removal of moisture from the mattress, helping keep you cool and dry.
Layer 2: 2" of TitanFlexTM foam. This is a proprietary hyper-elastic foam that contains TitanFlex*. It reacts similarly to memory foam when subject to pressure and warmth. It contours to your body, but has the response of latex without the potential allergic reaction of some people. It also offers a degree of pressure relief and draws more heat away from the body contributing to the cooling properties of the mattress.
Layer 3: A 1" layer of Swirl visco-elastic memory foam that enhances body shape contouring and offers enhanced compression support and further cooling.
Layer 4: A layer of individually wrapped 8-inch Ascension X steel coils to provide support and a high level of pressure relief on pressure points such as hips and shoulders. It also contributes significantly to reducing motion transfer between partners.
Layer 5: A 1" base layer of high-density foam to support the coils and add to the durability of the mattress.
These layers combine to provide a high quality, supportive, and highly cooling hybrid mattress. It is one of the best innerspring mattresses on the market, with superb cooling properties, support and pressure relief. It is available in three firmness levels:  Soft, Medium, and Firm.
*TitanCool: This is a substance that contains particles of titanium. This metal is a good heat conductor. As the sleeper compresses the foam the particles are forced increasingly closer to each other, creating a conductive pathway that enables body heat to escape. This is particularly effective where major pressure points have the greatest compression power, such as your shoulders, buttocks, and hips.
Leesa Hybrid Mattress
The Leesa Hybrid mattress is manufactured In Virginia by Leesa Sleep, and also has a 5-layer construction: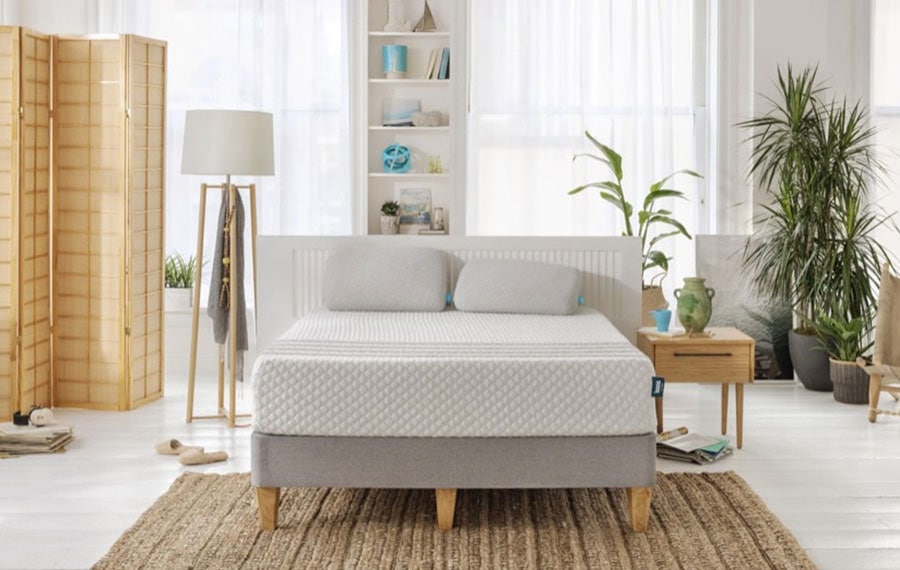 Cover: The cover is seamless, so cannot come apart at the seams! Although slightly quilted, it is comfortable and soft and also looks good.
Layer 1: The top foam layer is 1.5 inches of soft, comfortable premium cooling foam. This not only provides initial comfort but also helps you keep cool in bed. It has small holes punched in it to maximize air movement.
Layer 2: 1.5" of memory foam, designed to contour to the shape of your body. (IFD = 12 – See below) This layer is designed to ensure that your main pressure points of shoulder and hips are supported comfortably if you are a side sleeper and that your lower back is properly supported if you are a back sleeper.
Layer 3: A 1" layer of 30 IFD* poly foam as the core support layer. This provides support beneath the two foam layers above to them to provide the correct level of comfort without allowing you to sink into the mattress too much.
Layer 4: A layer of 14.5 gauge 6" individually pocketed springs. There are over 1,000 such springs, depending on the size of your mattress. These are rapid response springs that are individually pocketed to ensure excellent motion separation and enhance the absorption of the weight of the hips, shoulders, and the buttocks of back sleepers.
Layer 5: Beneath the springs is a 1" layer of 32 IFD* polyfoam to provide the base support for the mattress. The springs are fitted with edge support suitable for all body types.
*IFD: Indentation Force Deflection: Indicates the firmness of foam. The higher the IFF, the harder the foam.
Comparison of the Brooklyn Bedding Spartan vs. Leesa Hybrid Mattress
| | Brooklyn Bedding Spartan | Leesa Hybrid |
| --- | --- | --- |
| Firmness: | Soft, Medium and Firm | Medium: 6 |
| Delivery: | Compressed in a box | Compressed in a box |
| Shipping: | Free + Free returns | Free + Free returns |
| Trial Period: | 120 night trial | 100 night trial |
| Warranty: | 10 Years | 10 Years |
| Where made: | USA - Arizona | USA – Virginia |
| CertiPUR-US Certified: | Yes | Yes |
| Price | Check Price | Check Price |
Major Properties
Comfort: This is the major property for most people and both are extremely comfortable mattresses. Both use a top layer of cooling foam to ensure that you are not too hot while sleeping or trying to sleep. However, Brooklyn Bedding has the advantage here with its three comfort options: Soft, Medium, and Firm. Leesa offers only a medium level of firmness: 6 on a 1-10 scale where 10 is firmest.
Our winner for comfort: Leesa Hybrid. Although the Brooklyn Spartan mattress offers three firmness levels, we found the medium firmness version of the Brooklyn Spartan to be slightly less comfortable than the Leesa Hybrid mattress. So for the comfort of its medium firmness, the Leesa mattress wins it.
Response: They each have a similar response to your movements in bed. Neither tends to hold you down in the mattress, so you can easily change position without feeling stuck. The steel coil layer further down also helps to promote responsiveness. There is nothing to choose between the two.
Our winner for response: A draw.
Motion Isolation: The memory foam layers of each mattress help to ensure that one partner is not disturbed by the movement of the other partner in bed. The individually wrapped steel coils enhance this property in each, as only the coils bearing weight are compressed. Each coil is compressed individually rather than all the coils around these also moving as is the case with coils that are tied to their neighbors. 
Our winner for motion isolation: A draw.
Support: Both mattresses have a 1" layer of high-density foam to provide support for the springs. The innerspring construction of hybrids provides excellent support for people of a wide range of body weights. Both these mattresses should suit you whether you are light or heavyweight. The Brooklyn Bedding Spartan mattress has the advantage here due to its three levels of comfort.
Our winner for support: Brooklyn Spartan, for its three levels.
Cooling Properties: Memory foam tends to absorb your body heat, and you may gradually get warmer during the night. It has become standard practice among the better mattress manufacturers to address this issue with some form of cooling. The Brooklyn Spartan mattress uses a copper-containing gel to the structure of the top layer of the mattress: its 1.5" layer of CopperFlexTM foam contains its patented CopperGelTM that conducts body heat into the body of the foam, which is then dissipated throughout the mattress.
Its second layer contains TitanFlex, a substance that contains particles of heat-conducting titanium that draws heat from your body, and the more the layer becomes compressed, the closer the titanium particles become to each other enhancing the conductive pathway and maximizing heat removal. The open spaces in the spring layer of each mattress also take heat away from the foam layers above it. The Leesa mattress has a top layer of cooling foam with small holes punched in it to maximize air circulation and heat release.
Our winner for cooling: Brooklyn Spartan for its overall cooling properties.
Bounce: Bounce is important for many sexually active couples, particularly younger couples. Both mattresses provide a good bounce due to the springs.
Our winner for bounce: Brooklyn Spartan. The extra 2 inches in spring layer depth and the latex-like nature of the 2-inch TitanFlexTM layer just shades the Leesa Hybrid for bounce, though both are more than acceptable to couples. 
Edge Support: This is an important factor if you sit on the edge of the mattress, and traditionally memory foams have poor edge support. However, Leesa has fitted edge support to their hybrid mattress that makes it somewhat firmer at the edges than the Brooklyn Spartan mattress. 
Our winner for edge support: Leesa Hybrid – seems slightly firmer when sitting on the edge.
Sleeping Positions: Both mattresses are suitable for all sleeping positions. However, as stated earlier, the Brooklyn Spartan offers three firmness options against the one of the Leesa mattress. Nevertheless, the nature of hybrid mattresses makes this difference much less than it would have been if they were both all-foam mattresses. Although the Leesa Hybrid is most suitable for back and side sleepers, its construction has resulted in its medium firmness also being suitable for stomach sleepers.
Our winner for sleeping positions: A draw.
Comparison Summary
These two mattresses are very similar to each other and it is extremely difficult to say which is best. They are both excellent high-quality hybrid mattresses that are very comfortable to sleep on, and also provide excellent support. Their construction is similar to a similar thickness of comfort foams, the support of high density and IFD foams, and the deep support and motion isolation of individually wrapped steel coils. Nevertheless, they are not exactly the same, and there are features of each that can make a difference if you have any specific needs you may prefer in your mattress.
Who would prefer the Brooklyn Bedding Spartan mattress:
If you like the feel of latex, but without the cost, then the TitanFlex technology used by Brooklyn Bedding is similar to latex in its feel and response.
If you prefer a quilted cover to the smooth cover of Leesa mattresses.
If you tend to sleep hot and need maximum cooling in your mattress.
If you sleep on your back or side, this mattress is very similar to the Leesa Hybrid, particularly if you also like bounce in your mattress. If you sleep on your stomach, the Firm version of the Brooklyn Spartan mattress would be better for you.
Purchase Brooklyn Spartan Mattress
Who would prefer the Leesa mattress:
If you like the feel of smooth cover on your bed. The Brooklyn Bedding mattress has a quilted cover, although many prefer a smooth surface on which to sleep. It is thin and does not affect the mattress properties when the weight of your body is placed upon it. The Leesa Hybrid has slight quilting but is a much smoother cover.
If you like a genuine medium-firm mattress, but suitable for back and side sleepers, then this should meet your needs perfectly. It is also suitable for stomach sleepers, though if you sleep on your front you may prefer to check out our Best Mattress for Stomach Sleepers 2023 reviews.
If you prefer a mattress that cools you, contours to the shape of your body without creating permanent dips in your mattress, and is very responsive to your movements then the Leesa mattress provides all of that.
If you would like the mattress to be delivered in-home and set up for you. There is a charge for this service.
You would like good edge support: the Leesa mattress appeared to provide better edge support than the Brooklyn Spartan mattress. This is likely due to Leesa's focus on maximizing this property.
You sleep in different positions: the Leesa Hybrid is best because, while the Brooklyn Spartan firm version is better for stomach sleepers than the Leesa, the latter enables all three sleeping positions with the one mattress.
The same is true for couples, particularly if each sleeps in a different position.
Purchase Leesa Mattress on Amazon
Brooklyn Spartan Mattress vs. Leesa Hybrid Mattress: Conclusion
These two hybrid mattresses are very similar. They are both excellent mattresses for back, side, and stomach sleepers. By comparing them and purchasing your choice online you avoid the hassle of traveling to physical stores and trying to make your mind up. Both of these companies have adopted an online selling system that enables them to cut prices.
They are both hybrid mattresses, meaning that they are a combination of innerspring support and foam layers; they combine the pressure relief of a memory foam mattress with the classic springiness of an innerspring mattress. The springs in each are individually wrapped rather than tied together. This isolates the pressure on each spring, which enables the springs to provide bounce to the mattress while maintaining a good level of motion separation and enhancing the targeted support of pressure points such as shoulders, hips, buttocks, and knees.
We cannot come to a conclusion as to which is the better mattress since much depends on your specific needs. Many choose the Leesa Hybrid mattress because they like sleeping on a smooth surface, while others like the enhanced cooling of the Brooklyn Spartan. When choosing, keep in mind you have a trial period to test your option, and you can switch to the other, again with a trial period. If you need a mattress to suit a couple, one of whom is a stomach sleeper and the other mainly a side sleeper, then Leesa allows this in the one mattress. The firm version of the Brooklyn Spartan might be too firm for side sleepers.