Transparency Disclosure: We may receive a fee from the seller for any purchases made through links on this website or from other sites accessed via this website. This fee incurs no additional costs for the buyer. To learn more, please read our full disclosure page here. Read our Product Research and Testing page to know more about our review process in detail.
This Saatva mattress review addresses the positive and negative aspects of this high-quality premium innerspring mattress. Before discussing the properties of the Saatva mattress it is important to stress that its price does not reflect its quality. This is due to the company's exclusively online business model.
Yes, that is correct! Saatva mattresses are sold exclusively online. There are no mall stores to build, maintain and staff, so prices can be kept low in comparison with other mattress brands. It is an American company, with most manufacturing units in the USA, and two in Canada for Canadian customers. Its materials and components are sourced from within the US.
Saatva Mattress Review Table of Contents
Let's begin this Saatva mattress review by considering every aspect of the mattress from shipping and delivery to construction and warranties.
Shipping and Delivery
The Saatva mattress is delivered free and your old mattress is taken away for disposal. You will not be left with an old mattress and disposal or recycling issues. White glove delivery means that the company leaves your mattress ready to use in any room of your choice. There is no refusal to carry the mattress upstairs, and the removal of your old mattress is an extremely useful service. This is one reason why you will find few Saatva mattress complaints.
The mattress does not come compressed in a box and can be removed from the packaging and used immediately. According to the company, off-gassing is very low, and there is no off-gassing apparent during manufacture. A benefit associated with the white glove form of delivery is that the mattress can be fitted with enhanced edge support. The edges are encased in thick foam, providing a level of edge support that is not possible with mattresses rolled up and delivered in a box.
Saatva Mattress Construction
The Saatva mattress is constructed in layers, with a breathable Euro-quilted cotton cover that keeps you cool at night, and also provides comfort and a level of support.
Layer 1: Cover with Pillow Top.
The top layer is the mattress cover. Saatva uses 100% organic breathable cotton to keep you cool. It is fitted with a pillow top of 1.25 inches of foam stitched into the cover. This provides comfort to what is essentially an innerspring mattress. The mattress is center quilted to provide a good support in the primary sleeping areas. This is a Euro-style quilted pillow-top providing maximum support and mattress lifetime.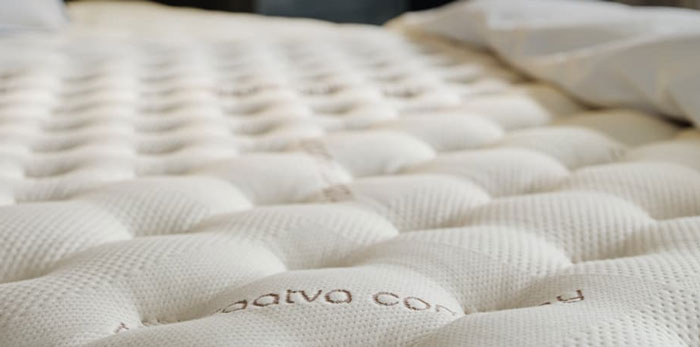 In helping to support your body weight, the cover helps maintain the natural shape of your spine. This is straight for side sleepers, where the spine should lie in a straight line from the top of your neck to the base of the spine when viewed from front to back. When viewed from either side, your spine should lie in a natural S shape, helping to prevent neck and back pain caused by pressure on your vertebrae.
Layer 2: Memory Foam Lumbar Support Layer
The second layer is not a full-size layer but covers the middle third of the mattress. This layer provides extra lumbar support to help avoid back pain. It supports the curve of the spine between the shoulders and the hips, preventing it from collapsing.
Layer 3: The next layer down is a transition layer of convoluted foam that covers:
Layer 4: A layer of individually wrapped 4-inch coils. These pocketed coils provide comfort and a good level of motion separation between partners. The number of springs in each layer varies according to the dimensions of the mattress. It is available in Twin, Twin XL, Full, Queen, King, and Cal King sizes. The King and Cal King size Saatva mattresses each consists of 1,088 4-inch coils individually wrapped.
Layer 5: A layer of Steel Springs
Beneath the 4-inch coils is a layer of stronger hour-glass shaped 7-inch steel springs. These provide the main core support beneath the comfort support of smaller wrapped coils. These total 520 in the King and Cal King sizes – giving a total of 1,608 springs in all.
The mattress sizes smaller than the King size each has a decreasing number of springs down to a total of 752 for the Twin size. The top comfort layer provides a good level of motion separation between partners while the lower spring layer provides a high level of core support.
Layer 6: Sturdy Foam Base
The bottom layer of the mattress (other than the encasing cotton cover) is a layer of thick, dense foam the same as is used for the side support. This supports the main 7-inch bottom spring layer.
Get Saatva Mattress with Discount
Saatva Mattress Edges – Edge Support:
The edges of the mattress have been mentioned earlier as an advantage of white glove delivery over a rolled mattress in a box. The thick foam provides excellent edge support for those that tend to sit on the edge of the bed.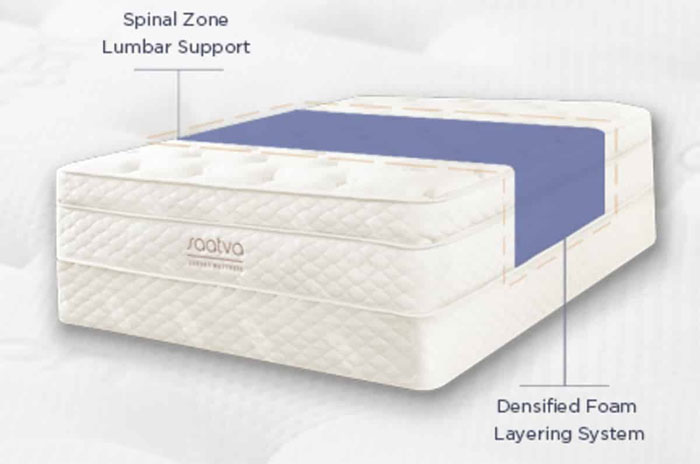 Saatva Mattress Reviews and Firmness Options
Many Saatva mattress reviews fail to note that the company offers three levels of softness or hardness. These are, along with their hardness level on a 1 – 10 scale:
Plush Soft (3 – 4): This is the softest option where the coils are wrapped in contouring foam. This is most suitable for:
Side sleepers and some back sleepers.
If you like to feel yourself sinking into your mattress.
If your arms tend to go numb due to the pressure on them when you sleep on your side.
Luxury Firm (5 – 6): This is what Saatva believes to be the middle road between Plush Soft and Firm. The company refers to it as its Flagship Level and is the option that seems to fit the needs of most customers. You may prefer this level if:
You like to sleep on your back or stomach, and also your side if the Plush Soft mattress is too soft for you.
You are two partners who sleep in different ways (e.g. one back and one side sleeper).
You tend to switch between sleeping positions during the night.
You like a hotel bed – most hotel beds are in the 5 – 6 hardness grade.
Firm (7 – 8): This is Saatva's firmest mattress. It is made using a denser layer of foam over the coils. This mattress may suit you if:
You sleep on your back or stomach – likely too firm for most side sleepers.
You dislike sinking into your mattress but prefer to lie on top of it.
You need a firm mattress for orthopedic reasons.
You like a firm bouncy mattress to one with less bounce.
You can choose which of these options you want when you order. Many people prefer to go with the middle option and change if they find that they may prefer a softer or firmer mattress. It is often difficult to make this type of choice without sleeping on the mattress for a while.
Warranties and Trial Periods
Very few Saatva mattress reviews comment on complaints regarding quality or service provided by the company. The company's warranty and sleep trial demonstrate how the firm looks after its customers.
Saatva Warranty: There are very few Saatva mattress complaints regarding warranties and sleep trial periods. The Saatva warranty lasts for 15 years and split between 1-2 years and 3-15 years. If you find any manufacturing defects in your mattress during the first two years, it will be replaced free of charge with a brand new mattress. After 2 years and up to 15 years, it will be repaired and recovered for free.
However, you will be charged $99 for the transportation involved in returning it and re-delivery. As with most mattress warranties, there is a limit to permanent body impressions – in this case, 1.5 inches. Your warranty will not be valid if the mattress foundation is not of a box spring or platform construction. A 5-6 leg metal frame is also acceptable.
Sleep Trial Period: You have 120 days to decide if you want to keep the mattress. You may it within 120 days for a 100% refund if you don't like it. This is useful if find you may prefer one of the firmness options other than the one you have chosen.
Who Would Like and May Not Like the Saatva Mattress?
You will like this mattress if you:
Like a bouncy mattress with a good flow of air through it. Innersprings promote bounce, while a 100% foam mattress enables you to sink into the mattress for a comfortable luxurious feel.
Like to sleep cool and not wake up in the night with sweat dripping off you.
Want the affordable luxury of a well-made mattress with the top class workmanship and high quality materials and stitching.
Need good lumbar support normally associated with a memory foam or latex mattress.
You dislike off-gassing and the chemical smell you get with many 100% foam mattresses.
You want to purchase online rather than travel to a mall store.
You may not like this mattress if you:
Like the feel of a memory foam mattress. Those who like the pressure point support offered by memory foam might not like the springiness of an innerspring mattress.
You like the mattress to sink and fold itself around you. Even though it has a pillow-top cover and layers of foam over the spring layers, you don't get the genuine foam feeling. You are sleeping on top of the mattress rather than sinking into it.
You prefer to try the mattress out before buying it. Keep in mind that Saatva does not sell its mattresses from a physical store: only online.
You prefer a mattress with a low level of motion transfer. Foam mattresses, particularly memory foam, separate the movement of partners sharing the mattress. The movement of one partner is less likely to disturb the other when memory foam is used.
Materials Used in the Saatva Mattress
The construction of the Saatva mattress is detailed above. However, many people like more information on the materials used and any potential toxicity involved. Here is a quick review of Saatva mattress materials and
Fire Retardants:
In 20017 a law was passed by the CPSC (US Consumer Product Safety Commission) stating that all mattresses contain sufficient fire retardant to withstand a 2-foot wide blowtorch flame for 70 seconds. The majority of the US mattress market uses fairly toxic fire retardants because they cost less than their non-toxic equivalents. Any review of Saatva mattress will likely tell you that Saatva is not among these. Saatva uses a natural thistle barrier, manufactured mainly from wood pulp and a small amount of polyester. This flame retardant barrier contains no toxic substances.
Organic Cotton Cover:
The organic cotton used in the Saatva mattress cover is backed with hypoallergenic fibers. This negates any allergy risk associated with the cover. The thread used is Kevlar.
Polyurethane Foam Off-gassing:
Memory foam is manufactured using polyurethane foam (polyfoam). Polyurethane foam is made by mixing liquid chemicals together into a liquid foam then solidifying the mixture. While still liquid, these liquids can emit gases, mostly harmless. Once the mixture has been solidified, the gases are trapped in the foam structure. These may then be released over a period of time.
The smell may be caused by chemicals that are harmless, even though they smell. However, some can be slightly toxic and lead to problems for some people. Not so with Saatva foams. This polyurethane foam is made using natural bio corn and soy oils which are eco-friendly. Any off-gassing with this type of foam rapidly dissipates and is never noticeable when used in mattresses in the US plant.
No off-gassing, therefore, takes place where Saatva manufactures its mattresses. Saatva mattresses are not delivered rolled up in a box like most other mattresses. They are white glove delivered, ready for immediate use, and you will notice no smell at all.
Other Materials in the Saatva Mattress:
Saatva mattresses are eco-friendly. They are made using renewable and natural resources (adhesives, threads, Rayon, etc.) where at all possible rather than harmful alternatives. The tempered steel springs and coils used are manufactured from recycled steel.
Get Saatva Mattress with Discount
Who Manufactures Saatva Mattresses and Where?
Saatva is an American company and their mattresses are made mainly in the USA. The firm has 2 companies in Canada to meet Canadian customer requirements, but products sold in the USA are made in one of its 17 American plants. The company also sells the Linea mattress foundation, the company's own adjustable base.
According to the company, 100% of its eco-friendly foams used in both the USA and Canada are sourced in the USA, along with around 85% of non-foam materials used in the mattress.
Saatva Mattress Review: Questions and Answers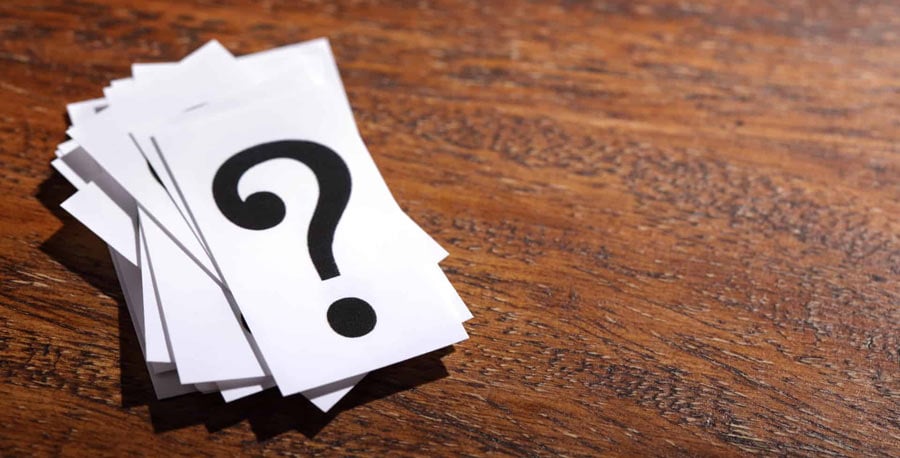 Here are some of the questions we have been asked regarding the Saatva mattress.
1. I have noticed in your review that Saatva mattress complaints are rarely mentioned. Why is this?
We have not published any Saatva mattress complaints because there have been none. We have come across next to no complaints regarding the mattress itself, and certainly none regarding the review. This is a top-class mattress and we have reported accurately on what we have found.
2. Why are Saatva sales staff not paid a sales commission?
This is because the company does not want staff to pressure prospective customers into buying a Saatva mattress for personal financial reasons. Our sales personnel are free to be truthful about our products without any comments affecting their income.
3. Why does Saatva only sell online?
The company sells only online because then there are no physical manned mall stores to finance. Such stores would significantly add to costs, and affect the price of the products. That allows Saatva to offer such superb products at much lower prices. The company estimates the price difference to be around $1,200.
4. Why do you offer 11.5-inch and 14.5-inch thick mattresses at the same price? What's the difference between them in performance?
There is no difference in performance, so the company charges the same for each thickness. The difference is one example of how Saatva listens to its customers and acts accordingly. The thicker mattress is to accommodate higher headboards and the thinner mattress for very low headboards.
5. Does the delivery team remove my old mattress?
Yes, certainly. That's another reason why we like the Saatva, and how it meets its customers' needs. Simply tick the checkbox on your shopping cart page saying "Mattress Removal" and they will take away your old mattress for disposal.
6. You mention a Euro pillow-top mattress cover – what's that?
A Euro pillow-top involves extra wadding being inserted under the top outer cover of the mattress. Rather than being stitched to the top of the mattress, it is stitched to the underside of the cover. This design is neater than the standard pillow top and also enables the euro pillow-top design to maintain its shape and its effectiveness for longer.
7. What's coil on the coil?
This is the Saatva design where a layer of small coils sits on top of longer steel coils. The top 4″ coils offer a more comfortable top to the mattress, while the bottom layer of 7″ coils provides excellent support. The top coils also help isolate the movement of each partner in bed.
8. You don't mention bed sizes. What sizes are available?
We mention sizes in terms of the name (Twin, Full, etc.). Here are the actual standard sizes in inches:

– Twin Size Mattress 38″ x 75″
– Twin XL Mattress 38″ x 80″
– Full Size Mattress 54″ x 75″
– Queen Size Mattress 60″ x 80″
– King Size Mattress 76″ x 80″
– California King Size Mattress 72″ x 84″
Support

Materials & Quality

Cooling

Price

Design
Summary
In this Saatva mattress review, we have discussed the major factors that make this mattress stand out from the opposition. It is a superb mattress for the price, made in the USA and with a good range of sizes, comfort/firmness levels and choice of two thicknesses. It is eco-friendly and non-gassing and the company provides two mattress foundations plus an adjustable base. The Saatva mattress comes out top when compared with other innerspring mattresses.