Transparency Disclosure: We may receive a fee from the seller for any purchases made through links on this website or from other sites accessed via this website. This fee incurs no additional costs for the buyer. To learn more, please read our full disclosure page here. Read our Product Research and Testing page to know more about our review process in detail.
Our Aireloom mattress review focuses on the Karpen Luxury mattress manufactured using multiple layers of natural materials. It is not easy to choose the best bed to suit your needs and preferences, but Aireloom offers a number of options to you in addition to its Karpen range. You can find our top-rated mattresses for 2023 in our best mattress reviews although the Aireloom mattresses reviewed here are certainly worth considering.
Table of Contents
Karpen Luxury Mattress Construction
Like all other Aireloom mattress collections, the Karpen Luxury mattress is a hybrid mattress. It incorporates Talalay latex, cotton and memory foam over a layer of individually pocketed steel coils. There are three mattresses in the Karpen Luxury collection: The Bel Aire, the Pacific Coast Luxury Firm and the Pacific Coast Firm. To begin with, we shall focus here on the mid-range Pacific Coast Luxury Firm mattress. All three of the Aireloom Karpen mattresses have the same general construction: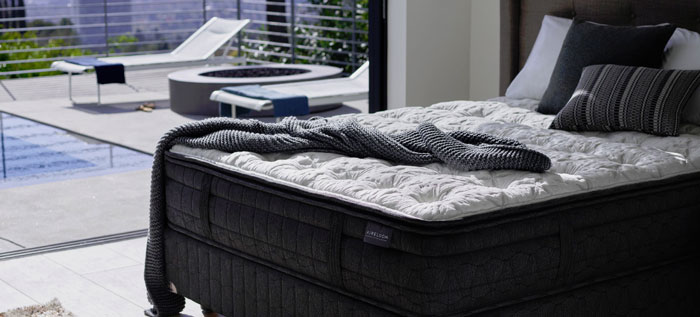 Quilted Top: They have a quilted top for comfort. This comprises a top layer of 100% rayon fiber fabric laid over 1.2 lb of wool and silk fibers. Beneath this is a fire-resistant 1 ounce layer of proprietary HiLoft fiber (silica-infused rayon.) These three layers are quilted to a 1½" layer of high-density polyurethane foam and to a 1" layer of the firm AireluxTM memory foam with a cotton tricot backing.
Other Mattress Layers: Then there are the other layers that make up the mattress:
The surface is JomaTM wool and cashmere.
Two layers of Talalay latex foam.
A layer of organic cotton.
A layer of proprietary AireluxeTM foam. This is a form of memory foam.
An innerspring layer of individually pocketed 15 and 16 gauge steel coils. These are laid out in such a way as to provide zoned support for your pressure points.
A box spring base with steel hourglass coils hand-tied eight ways with Italian twine.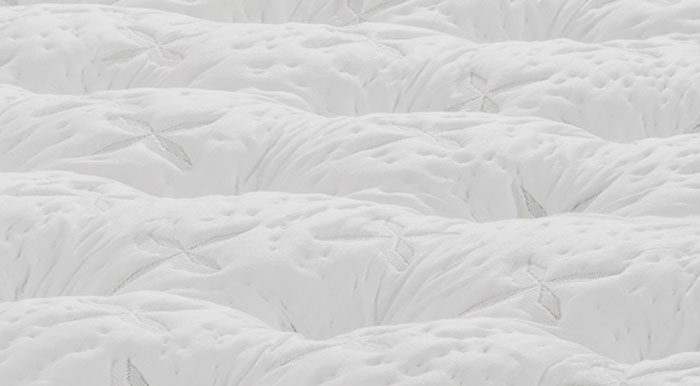 Pacific Coast Luxury Firm Mattress: The difference between the three mattresses in the Karpen Luxury collection is in how the various layers are arranged. The 13-inch thick Aireloom Karpen Pacific Coast Luxury Firm mattress has two one-inch layers of firm Talalay latex, one inch of organic cotton and an inch of firm AireluxTM foam. The rest is in the springs and quilting. This version is medium-firm, around 6 on a 0-10 scale where 10 is firmest.
Bel Aire Mattress: The softer option is the 14-inch thick Aireloom Karpen Bel Aire mattress. It comprises the quilted top and bottom spring layers as above, but with a one-inch layer of each of Luxus latex, Talalay latex, organic cotton, a one-inch layer of 5 lb slow recovery memory foam and one-inch of plush AireluxeTM foam.
Pacific Coast Firm Mattress: The firmest option is the 13-inch Aireloom Karpen Pacific Coast Firm mattress. Also with the quilted top, this mattress is constructed with two one-inch layers of extra firm Talalay latex over the same one-inch each of organic cotton and Airluxe foam with the innerspring layers below.
Every mattress in the Aireloom Karpen range is hand made in the USA. The coils are hand tied and the side-stitching is also carried out by hand. The artisans who are involved in the manufacture have decades of experience to offer and a high attention to detail. You don't often find mattresses that are hand-crafted by experienced experts in the industry.
Who Would Like the Aireloom Karpen Mattress Collection?
The Aireloom Karpen mattress collection comprises three mattresses as detailed above. So who would like this collection, and which model would you prefer? The difference between the three is fundamentally in the feel: the Bel Aire is the softest and also one inch thicker than the others. The other two are progressively firmer.
Karpen Bel Aire: This mattress will be best for those that like a soft mattress. It would also suit those who sleep on their side and some who sleep on their back. Front sleepers are best to choose a firmer mattress than this. If you have pain or suffer from scoliosis. You may find this mattress suits you better than the firmer options. It is not great at motion isolation since latex foams are not as good at separating partners as memory foams.
Karpen Pacific Coast Luxury Firm: The Luxury Firm option is firmer than the Bel Aires and more suitable for back sleepers and some who sleep on their stomach. It is the most versatile of the Aireloom Karpen options, and many side sleepers prefer this mattress to the softer option. Generally, reviews tend to indicate that the Pacific Coast Luxury Firm option is good for motion isolation. If you tend to move about in bed during the night or to frequently change your sleeping position, then this mattress might be ideal for you. That's why we chose it as our standard in the Karpen range.
Karpen Pacific Coast Firm: The Firm option is best for stomach sleepers and some back sleepers and for heavyweight sleepers (230 lb +) who need a firmer and thicker mattress. It is 13 inches thick, which is the same as the luxury firm option, but thicker than most other firm mattresses on the market. Back and stomach sleepers gave this mattress good reviews. It offers good support and also a level of softness to keep you comfortable.
Patented Aireloom Lift™: The major difference between the three Aireloom Karpen options is in their firmness and level of support. However, there is one similarity between them, and that is the company's Patented Aireloom LiftTM. It is not easy to find much detail about this feature on the Aireloom website, but you can track down what its main features are.
Fundamentally, there is a natural chamber between the top of the mattress and the springs. This chamber enables the mattress to breathe by increasing the low pressure area when you lie on the mattress. This gives you a feeling as though the mattress is cradling your body while also supporting your weight and pressure points.
Check All Mattress Collection on the Official Site
Other Aireloom Mattress Collections
Aireloom offers more than just the Karpen mattress collection. These include the Karpen Sidestitch and the Aireloom Latex collection, both of which consist of two mattresses. The Preferred Aireloom mattress comes with three options, while the Aspire and Hotel collections have two options. We shall discuss these briefly:
Karpen Sidestitch
The Aireloom Karpen Sidestitch collection offers the Super Featherbed and the Rip Van Winkle. This collection is similar to the Karpen Luxury range but uses less expensive materials. The JomaTM wool and cashmere used in the Karpen Luxury collection are not used in this collection. The mattresses in this range are available in multiple firmness levels and use a combination of latex and synthetic foams. The materials used are:
Cotton felt (42 lb of it)
Ventilated latex
Memory foam (visco-elastic)
Offset coil innerspring layer.
Spring base of 13 gauge coils.
The Karpen Sidestitch comes in two options — the Super Featherbed and the Rip Van Winkle. It features a similar design to the Karpen Luxury, but removes some of the higher end materials like the cashmere and Joma™ wool. These mattresses come in multiple firmness options and combine both synthetic foams and latex in their comfort layers. The Aireloom Karpen Sidestitch collection does not get the best reviews, although some people regard the Rip Van Winkle to be an excellent mattress. Its price range is fairly high at $2599 to $4199.
Aireloom Latex Mattress
The Aireloom Latex mattress is available in two versions: the StreamlineTM and LuxetopTM versions. Tencel® is a cooling fabric that tops the mattress. Other luxury materials, including silk and wool, are included in the top comfort layer. The three main support layers are memory foam, Talalay latex, and Talalay/Dunlop latex support foam.
A positive aspect of the Aireloom Latex mattress is the latex foam. There are multiple layers of the latex in a number of firmness levels. However, the cost of this mattress may be an issue for many people who can access very competitive mattresses with the same properties.
Aireloom Preferred Collection
The Preferred Aireloom mattress collection is available in a range of models with a similar comfort range as to Karpen collection: plush to firm. This collection uses Tencel in the mattress surface, which is an excellent supersoft sleeping surface. The three options are:
Preferred Luxetop: This has an addition ½ cosmetic layer on top and incorporates cooling 'Aergelle to help dissipate heat generated during the night.
Preferred Streamline: The Streamline does not have the additional ½ cosmetic layer.
Preferred Streamline Channel Design: This has rows in place of the normal tuft top. This is largely cosmetic.
Aireloom Aspire Collection
The Aspire collection is available in two design options. It possesses minimal options in comparison to other Aireloom collections, though two options are available. One is the Plush and the second version of the Aireloom Aspire mattress is the Triple Option, where you can choose from the firm through plush comfort levels.
The Aspire is handcrafted using memory foam and Aireluxe foams along with pocketed coils over a 5" or 9" attached foundation. It also incorporates pressure relieving and temperature regulating AiregelleTM which helps keep you cool during the night.
Check All Mattress Collection on the Official Site
Support

Materials & Quality

Cooling

Price

Design
Summary
There are many versions of the Aireloom mattress available, and we have presented the majority of them here. It should be noted that each mattress is covered by a 15-year warranty against manufacturing and material defects. The mattresses are hand-crafted in Pennsylvania and California. It should also be noted that these mattresses are top of the line, and their price reflects that.