Transparency Disclosure: We may receive a fee from the seller for any purchases made through links on this website or from other sites accessed via this website. This fee incurs no additional costs for the buyer. To learn more, please read our full disclosure page here. Read our Product Research and Testing page to know more about our review process in detail.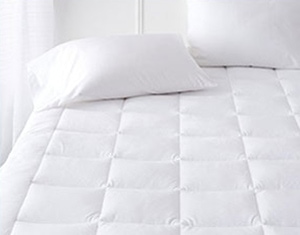 Hypoallergenic mattress toppers and pads are intended to add a comfort layer over the mattress and also protect it from contamination of many kinds. Many use the topper or pad for comfort, and others as a hypoallergenic layer to keep the mattress clean, and also to keep skin cells, dust mites, dander, and other allergens out of the mattress.
Allergens Are Bad For You and Your Mattress
If you use a mattress pad or topper, even without their hypoallergenic properties, then you can keep your mattress clean.  In the event of spillage or accidents, all you need do is put the topper or pad in the washing machine and that's it cleaned. That is much easier than having to clean your mattress. The hypoallergenic properties make sure that you are protected from the allergens mentioned above.
We shall discuss the difference between a mattress pad and a mattress topper later. For now, here is our selection of the 5 best hypoallergenic mattress toppers and pads for 2023. These are the ones we suggest you should consider to protect you and your mattress over the coming year and beyond. We have reviewed Queen size for consistent comparisons, but other sizes are available for our selections.
Table of Contents
Best Hypoallergenic Mattress Toppers and Pads Reviews
Note: The depth of the pad or topper is not its thickness, but the total depth of the skirting that fits to the bed. The depth indicates the thickness of the mattress it can fit. If this is greater than the thickness of your bed, then it fits underneath for more stability. Generally, the deeper the better.
1. SONORO KATE Mattress Pad
The SONORO Kate hypoallergenic mattress pad is topped with an ultra-soft 100% 300 thread count cotton and is well filled with a down alternative. It feels super-soft to lie on, and also protects your mattress from the various allergens that can cause you to itch, sneeze and have a runny nose. The filling is also hypoallergenic and prevents the build-up of dust mites, skin cells and bacteria that can harm you and make you have allergic reactions whenever you go to bed.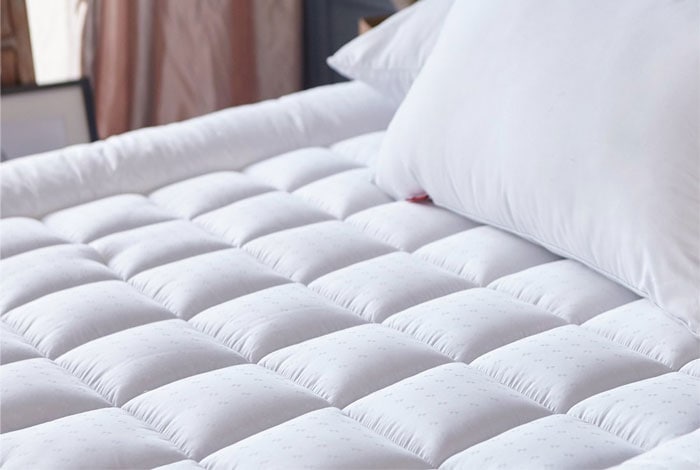 The SONORA Kate hypoallergenic mattress pad can be machine washed, it fits over your mattress like a fitted sheet, and wraps right around it, protecting it from all the above allergens.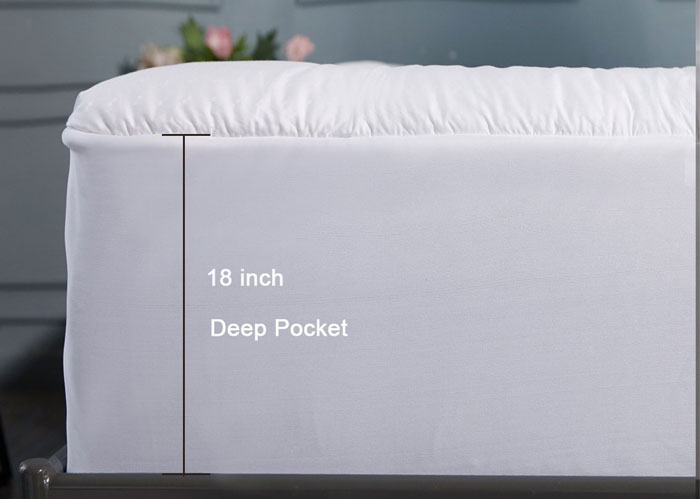 Pros
Hypoallergenic like all those above, and protects your mattress from invasion by dust mites, mold spores and many other types of allergens – and it also prevents bacteria from invading your mattress.
Those that use it say that it makes their memory foam mattress much cooler to sleep on.
Machine washable at low temperatures.
Wraps right around your mattress, offering maximum protection.
Money back guarantee if not satisfied
Cons
It is not waterproof, so you would need to use a waterproof fabric layer between this and your mattress if it is important to you.
Otherwise, it looks good.
Editor's Notes: This appears to be an excellent mattress pad that is highly hypoallergenic. Not only does it keep these pollen spores, dust mites and other allergens at bay, but it is easily machine-washed, and you get your money back if you don't like it and return it in a saleable condition.
2. Sable Hypoallergenic Mattress Pad
The Sable hypoallergenic mattress pad has a top surface of soft microfiber and a comfort layer of a siliconized down alternative. It has a 14" skirt that means it is ideal for mattresses of any thickness up to 14 inches. The pad is stitched in a diamond pattern that prevents the down from bunching any specific area or corner. The bottom of the Sable mattress is polyurethane, which prevents any moisture or other contamination reaching the mattress itself.
The construction of this mattress pad ensures that neither allergens not fluids can reach your mattress. It is fully hypoallergenic and FDA certified as a Class 1 Medical Device. Using this mattress pad protects from sneezing, runny noses and red eyes. It is attached to your mattress using corner elastic bands and covers your mattress with smooth, comfortable top.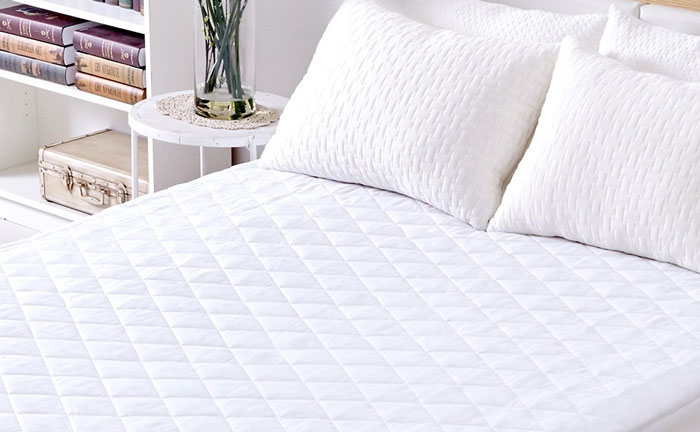 The Sable hypoallergenic mattress pad should not be ironed and not dry cleaned.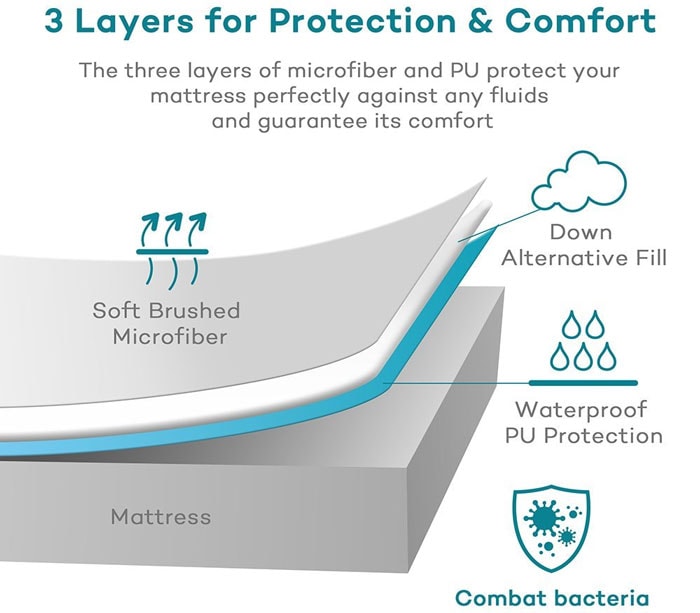 Pros
Filled with a down alternative that provides superb comfort.
The bottom layer is waterproof polyester, preventing any accidents or spillages reaching your mattress.
FDA certified as a Class 1 Medical Device.
Easy to fit with corner elasticized bands.
Machine washable on cold cycle, and can be tumble dried on a low setting.
Cons
It may give crinkly sound when used, but this tends to go after the first wash.
Otherwise, none reported
Editor's Notes: This mattress pad fits any mattress up to 16 inches deep. There are few negatives and it does what you would expect of a hypoallergenic mattress pad: it keeps allergens away from your mattress and is easily cleaned. If you mattress pad becomes affected by dust mites, bed bugs, pollen or other allergens, simply wash it. You can be sure that these allergens did not enter your mattress. If that happens, there are few solutions other than an expensive professional clean or a new mattress.
3. Zen Bamboo Hypoallergenic Mattress Topper
The Zen bamboo hypoallergenic mattress topper is manufactured with a cooling bamboo-derived rayon cover, filled with a hypoallergenic down alternative. The topper is in a baffle box construction, with the sections double stitched. This keeps the filling stable, preventing it from bunching up.
The blend of natural bamboo fiber and soft microfiber helps to keep you cool during the night and has a lovely, silky feel to it. The down alternative filling is very soft for a comfortable sleeping surface – there is no need to use an additional mattress pad with this topper. It can be machine washed in cold water, and tumble dried at a low setting.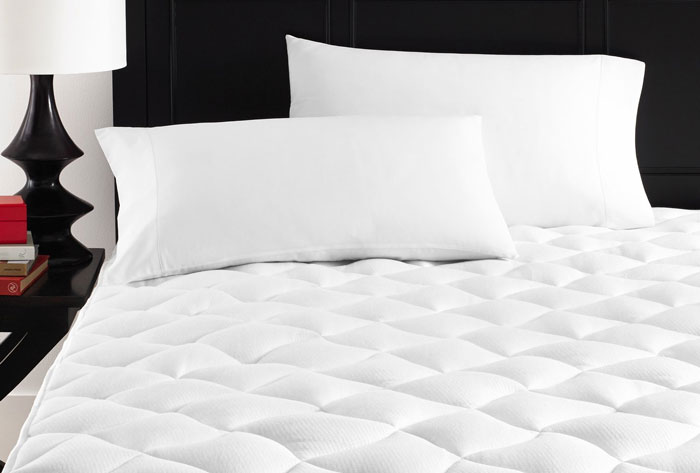 Pros
Bamboo fiber is durable and cooling.
Baffle box construction to keep filling in place.
Machine washable and tumble dry.
3-day satisfaction guarantee: contact Zen to return for a full refund.
Cons
Very few: Mainly personal views on thinness (it is a topper, not a pad) and comfort levels. It is important to understand the difference between a mattress topper and a pad.
Editor's Notes: The baffle box construction of this mattress topper ensures that the hypoallergenic filling remains evenly distributed throughout. The bamboo derived rayon cover provides a lovely smooth sleeping surface that remains cool while you sleep. The hypoallergenic filling not only offers a soft sleeping surface but also protects you and your mattress from allergens such as dust mites and molds.
4. Bedsure Microplush Mattress Pad
Made from 100% microfiber polyester, this mattress pad is noiseless and very soft for a luxurious sleeping surface. It is completely hypoallergenic, protecting your mattress from bacteria, skin cells, dust mites, and other allergens. It also keeps your mattress clean in the event of accidents or spillages. Once it has been washed it reverts immediately back to its original shape. Do not bleach and do not iron! The mattress pad is crinkle-free after washing and dries flat.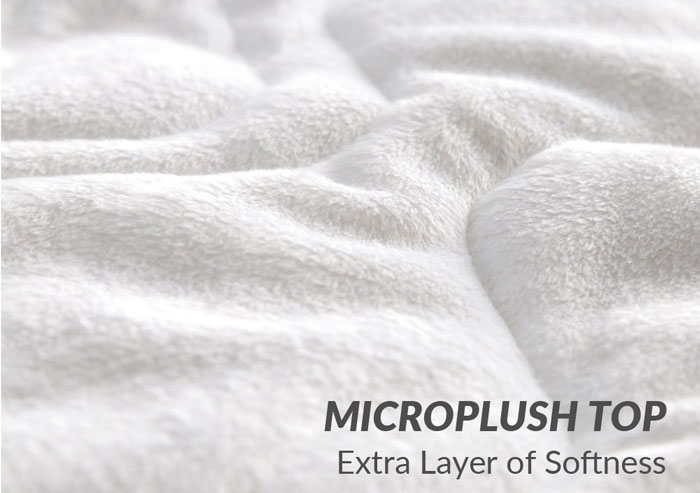 It is quilted with a stretch skirt to fit up to 18-inch thick mattresses. The design automatically pulls any excess material under the mattress for a super-smooth fit, and prevention of movement of the mattress pad while you are sleeping. It is available in Twin, Full, Queen and King sizes.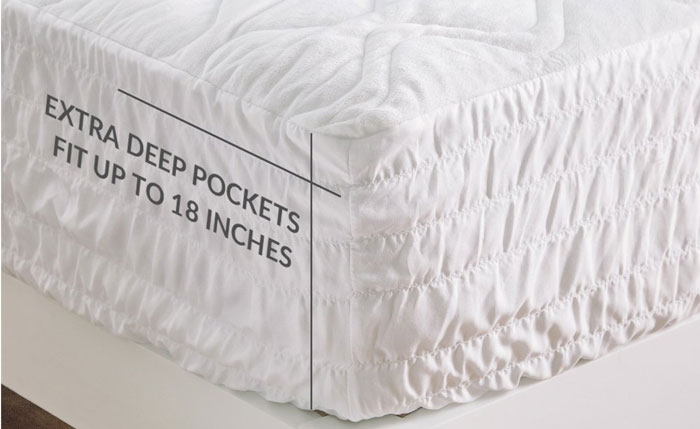 Pros
Extremely comfortable to sleep on.
Keeps out all common allergens – and some not so common.
Fully hypoallergenic.
Fits the entire mattress surface and sides and is secured beneath the bottom.
Machine washable on cold setting.
Tumble dry on low setting.
30-day return and replacement service and the 10-years warranty.
Cons
Nothing serious – if the material feels too hard for you then wash it – that will soften it for future usage.
Editor's Notes: This is a superb hypoallergenic mattress pad that protects your mattress from allergens and spillages. It encloses the top and sides of the mattress, preventing skin cells, dust mites, molds and even bed bugs getting into it. It is easily cleaned and is machine washable. One tip: make sure you give your mattress a good clean before fitting it: you don't want to trap allergens in there. Any mattress pad or topper that keeps allergens out also keeps them in!
5. LANGRIA 2-Inch Full Bamboo Charcoal Infused Memory Foam Mattress Topper
This is a 2-inch thick hypoallergenic mattress topper designed to relieve pressure points while you sleep. It's an ideal way to check out memory foam before deciding to purchase a memory foam mattress. It is a bamboo charcoal-infused memory foam that not only supports your back, shoulders and hips but also keeps you cool while you sleep.
You can use this hypoallergenic mattress topper on any mattress: innerspring, latex foam or even memory foam. It is not only hypoallergenic, protecting you and your mattress from allergens such as molds, dust mites and pollen, but also prevents such allergens from getting onto and into your mattress.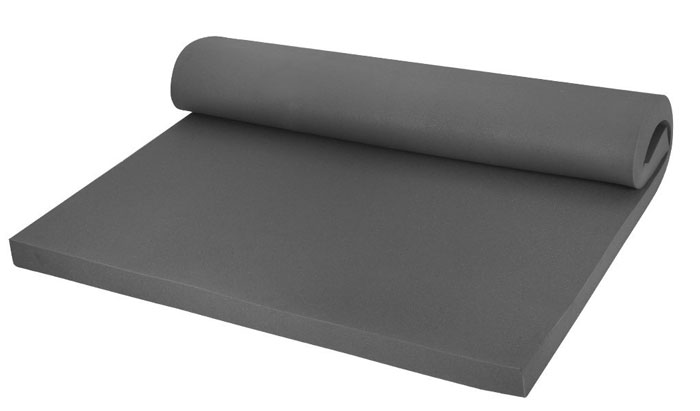 Bamboo benefits: The bamboo charcoal is antibacterial. It is also mildew-proof and absorbs odors and moisture. It keeps you safe when you sleep, and the also molds to your body shape to help prevent lower back and neck pain.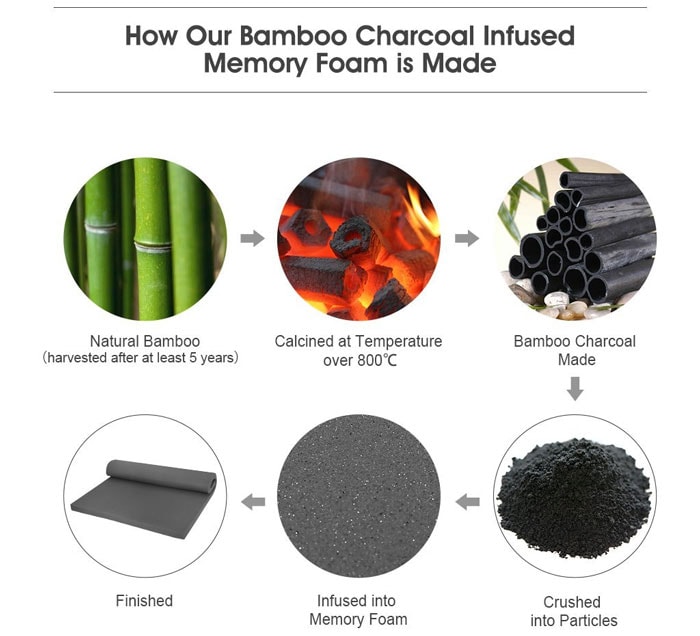 Pros
The hypoallergenic bamboo charcoal absorbs moisture and odors, is antibacterial and hypoallergenic.
The memory foam molds to your body shape and provides support to your body where you need it.
The extra 2-inches of bamboo charcoal memory foam provides more comfort when you sleep on your regular mattress.
CertiPUR-US tested and certified: this shows it free from harmful chemicals and of low VOC (<0.5 ppm.)
Cons
Some report a break-up of the integrity of the mattress topper surface
Some complain about odor
Don't let the dark color affect your decision: that is what a mattress topper made using bamboo charcoal looks like!
Editor's Notes: This mattress topper combines the benefits of memory foam with the natural properties of bamboo charcoal. Charcoal is cooling and absorbs odors, and the structure of the memory foam provides a more comfortable sleep. It combines the benefits of memory foam with hypoallergenic properties that protects you from excessive exposure to allergens, and your mattress from contamination from pollen, molds, dust mites and even bed bugs.
Buyer's Guide to Choosing a Mattress Pad or Topper
First, let's consider the difference between a mattress pad and a mattress topper:
If your mattress is slightly hard for you, you can make it more comfortable with a topper or a pad. What's the difference between the two? Fundamentally, a mattress topper lies on top of the mattress, offering a comfort layer to help you sleep better.
A mattress pad is a thin quilted cover for a mattress and is normally fastened to the mattress with an elasticized band. The pad is more for protection from stains and moisture than extra comfort, although modern mattress pads do offer more comfort to the sleeper. Some toppers are fixed with a band at each corner, but hypoallergenic toppers should completely enclose the mattress to keep the above allergens out. Pads are fitted over the entire mattress, with a skirt that is tucked beneath it.
A pad is a thin, quilted material that fits atop the mattress, offering a little extra protection from moisture or stains. A topper usually refers to thicker add-ons that also rest atop the mattresses. Toppers and pads can add extra firmness or softness and may be used to make the bed more comfortable.
Mattress Pads:
A mattress pad covers the mattress and can also stretch around the sides. It offers a comfortable sleeping surface, and also protects your mattress from spillages, accidental contamination, and ingress of bed bugs and allergens such as skin cells and dust mites. It is usually placed on top of your mattress and is normally attached to it with an elasticized skirt that tucks under the mattress. Some may also be attached with elastic bands at each of the four corners.
Mattress pads are often used to protect the mattress, keeping it clean while the pad can be washed on a regular basis. Hotels often use them for this reason, so there is less need to clean the mattresses. If you regularly have guests staying over at your home, then a mattress pad is ideal to enable you to provide your guests with a clean surface to sleep on without too much work for yourself.
Mattress Toppers:
There is often little or no difference between mattress toppers and mattress pads. They tend to be thicker than mattress pads, although today there is often very little difference between the two. If your mattress is getting old, losing its freshness and perhaps sagging in places, then a topper can refresh it. A topper is ideal if you don't want to, or cannot, change your mattress immediately. It will give your mattress a new lease of life.
Mattress Pad and Topper Buying Guide
Both mattress toppers and mattress pads offer the same benefits – in fact, as stated above, the two are very similar and many people often cannot tell the difference between them. Our review offers information on each, although even we struggle to tell the difference between them.
Make sure that your mattress topper or pad is described as hypoallergenic. This is the main reason why many people purchase them: to protect themselves from allergens including dust mites, pollen grains and fungal spores. Other reasons include:
You need additional support when in bed for medical reasons.
Your existing mattress is too hard, and you need to soften it until you can get a new mattress.
Your mattress is getting old, but you can afford a new one just yet. A mattress topper or pad can rejuvenate it for a while.
You need protection for your bed, such as waterproofing or protection from other spillages or other forms of contamination.
A mattress topper or mattress pad can achieve all of the above. Some people have an innerspring mattress but would like to check out memory foam. You can do this using a memory foam mattress pad.
What to Look for in a Mattress Topper or Pad
What should you look for when seeking a new mattress topper or pad? The fill material is important, sure. Many people find polyester or natural down to be very comfortable. Others, including us, believe that a down alternative is a good filling for a mattress pad or topper. Feathers can be a nuisance, but the down alternatives, particularly bamboo down alternative, provide an excellent sleeping surface.
You should also look at the cover. A good, silky mattress topper cover can make sleeping a total luxury. Look for a cover that is pure linen, polyester or a mix of polyester and bamboo. Also, check that the cover is quilted or has a baffle box construction. Each of these ensures that the filling stays where it should be, and doesn't move around too much and forms lumps or uncomfortable clumps of filling.
Hypoallergenic mattress pads and mattress toppers play fundamentally the same role. They are intended to offer a top layer of comfort, while also keeping allergens away from you and your mattress. Without them, many people would suffer more coughs and sneeze and also more serious allergic reactions.
It is important that you do what you can to protect your family. Purchasing a hypoallergenic mattress topper or pad can help save them from suffering allergic reactions from the many allergens that can infest their mattresses. Follow our advice above and purchase the most suitable hypoallergenic mattress pad or mattress topper to meet your requirements.
FAQs: Frequently Asked Questions on Hypoallergenic Mattress Toppers and Pads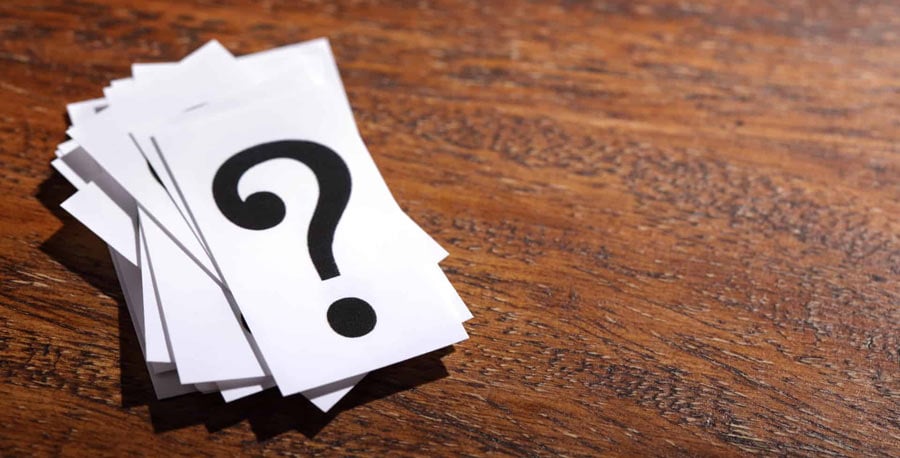 1. What does the term 'Hypoallergenic' mean?
The term 'hypoallergenic' does not mean that the substance cannot cause an allergic reaction with your skin. It does not mean that it is allergy-proof! It simply means that it is relatively unlikely to cause an allergic reaction. That is partial because it does not contain known allergens, and also helps to prevent you from coming into contact with known allergens. It does not mean that it is allergy-proof.
2. What is really the difference between a mattress topper and a mattress pad?
The two terms are often believed by many people to be synonymous. However, there is a difference between them. A mattress topper should strictly be thicker than a pad, attaching to the mattress by means of elasticized corners. The pad should be thinner than a topper and used to modify the sleeping surface of the bed. A mattress pad is thinner and may not appear to significantly alter the surface of the bed, but does so in a less obvious way.
3. My new mattress topper still itches me and I wake up scratching. What could be the cause?
First, check the mattress for bed bugs. These take the appearance of small black dots, then look for signs of dust and general lack of cleanliness. If you see any then take the mattress topper off and clean it according to the manufacturer's instructions. If you find dust and dust mites on the mattress and not the topper then they would likely have been there before you purchased the topper. Give the topper a cold-water machine wash and clean the mattress itself.
4. Can I use an electric blanket on my topper?
Yes, there are no reasons why you can't. If you have a memory foam topper, the heat might soften the foam. The topper will then feel softer than normal – but this will not be a problem unless you don't like the feel of it. It's not recommended for a 2-inch thick topper, but anything thicker than that should be OK.
5. Can I use a memory foam topper on an innerspring mattress?
Sure you can! You can use a memory foam mattress topper on any kind of mattress. The topper will change the feel of the mattress when you lie on it, but most people get used to it. You may lose a bit of the 'bounce;' of an innerspring mattress, but otherwise, it should feel more comfortable.
Best Hypoallergenic Mattress Toppers and Pads: Summary
A hypoallergenic can not only change the characteristics of your mattress but can also provide you with better and more restful sleep. If you feel that you need a new mattress then try a mattress topper or pad before going to the expense. You may be astonished at the difference it can make, and it can also be used to extend the life of your old mattress by years.
Maybe you have an innerspring or latex foam bed and want to try out memory foam. A memory foam mattress topper, or even a pad, may give you a taste of what memory foam can do for you. Not everybody likes memory foam, and this will give you an idea if you may like it or not before going to the expense of a full memory foam mattress.
Sonora Kate Mattress Pad

Sable Mattress Pad

Zen Bamboo Rayon Topper

Bedsure Microplush Pad

Langria Mem Foam Topper
Summary
Our Best Hypoallergenic Mattress Toppers and Pads Reviews will give you the essential information you need to make a choice of the best mattress topper or pad for you. Some are happy with the mattress pad, although others need the extra thickness of the topper. It's your choice!