Transparency Disclosure: We may receive a fee from the seller for any purchases made through links on this website or from other sites accessed via this website. This fee incurs no additional costs for the buyer. To learn more, please read our full disclosure page here. Read our Product Research and Testing page to know more about our review process in detail.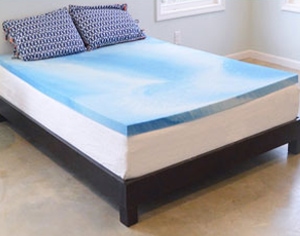 Here are our best mattress topper reviews for 2023. Our top 11 mattress toppers have been chosen for a number of reasons. You can find these after our mattress topper reviews in our 'Buyer's Guide' section.
What is mattress topper and who would want one? It's exactly what it says: it lies on top of your mattress to make it more comfortable for you. It can make your mattress seem softer or harder! Not everybody likes a soft mattress just a hard mattress is not everybody's taste!
Note: A mattress topper is not the same as a mattress pad. More of this under the Buyer's Guide later.
Our Picks
If you're in a hurry check out our best recommendations:
Both mattresses are foldable, made of memory foam and would be a perfect choice. Also, check our Top 10 products for the list.
Many people choose their mattress and try it out. They can then use a mattress topper to personalize it with their own preference regarding the surface they sleep on. Not only that but a good mattress topper can rejuvenate an old, tired mattress!
It can make it feel new again until you can purchase a new mattress. It makes no difference why you need it: to rejuvenate your tired old mattress or to personalize the comfort level of a brand new mattress! The following 10 mattress toppers are the best we could find. Our sources include personal use, review sites and word of mouth.
We are confident that our best topper mattress reviews 2023 are based on genuine experience, and not just on opinion. As normal our reviews are using the Queen size for consistency.
Best Mattress Topper Reviews 2023
Ranking
Mattress Topper
Material
Thick
Rating
Price
#1
Lucid Gel Mem Foam
(Innovative)
Gel Memory Foam
3"
5.0

View on Amazon

#2
Amerisleep Lift
(Versatile)
Bio-Pur® material
3"
4.9

Check Price

#3
Sleep Innovations Dual Layer
(Top Choice)
Gel Memory Foam/Fiber
4"
4.9

View on Amazon

#4
Pure Green 100% Latex
(100% Latex)
100% Natural latex
3"
4.8

View on Amazon

#5
Advanced Sleep Solutions Gel Foam
(Popular)
Gel Memory Foam
2"
4.7

View on Amazon

#6
Zinus Swirl Gel
Gel Memory Foam
3"
4.6

View on Amazon

#7
PharmMeDoc Memory Foam
(Budget)
Open-Cell Memory Foam
2"
4.6

View on Amazon

#8
Sure2Sleep® Memory Foam
Gel Memory Foam
2"
4.5

View on Amazon

#9
Langria Gel Infused
Gel Memory Foam
3"
4.5

View on Amazon

#10
Ultimate Dreams Talalay Latex Foam
Talalay Latex Foam
3"
4.4

View on Amazon

#11
Memory Foam Solutions
Gel Memory Foam 4 lb
4"
4.4

View on Amazon
Sizes: T: Twin, TXL: Twin XL, F: Full, Q: Queen, K: King, CK: California King
Note: Sometimes mattress toppers are described as pads, although they are technically toppers, not pads. All those reviewed below are genuine mattress toppers.
Best Mattress Topper Reviews Table of Contents
Our Best Mattress Topper Reviews 2023
1. LUCID 3-inch Gel Memory Foam Mattress Topper
The Lucid 3" gel memory foam mattress topper brings the memory foam experience to your bed if you do not already have it. It can also top a memory foam mattress that has aged and is losing its 'memory'. The gel infused into the memory foam structure absorbs heat and keeps you cool while sleeping. The ventilated design of this mattress topper results in improving the flow of air through it, and so wicking off your body heat during the night.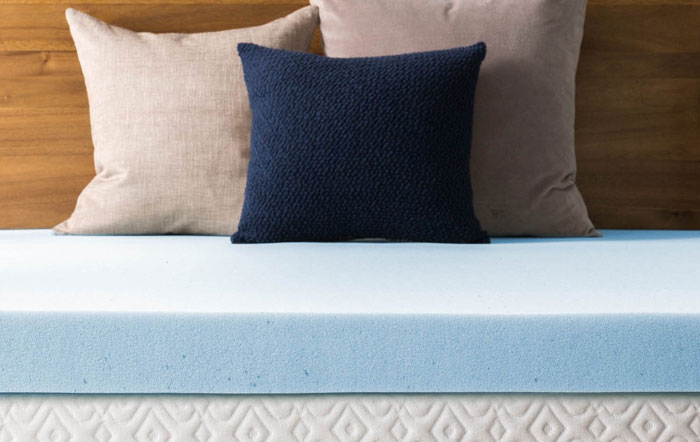 Pros
Ventilated memory foam allows you to enjoy the benefits of this type of foam without the heating during that night associated with many other memory foams.
The gel infused into the memory foam absorbs heat for excellent temperature control.
3-year warranty – which is good for a mattress topper.
Cons
Some complaints refer to the integrity of the mattress topper – about seams opening and other similar issues.
Others complain about the softness/hardness of the product – some found it too soft and others too hard. This indicates the differences in perception with mattress toppers. Most love it, some find it too soft, and come find it too hard.
Editor's Note: The Lucid 3-inch gel memory foam mattress topper does a good job of keeping you cooler at night and innerspring or foam mattresses for added comfort or support. This is a good example of a memory foam mattress topper.
Purchase This Mattress Topper on Amazon
2. Amerisleep Lift Mattress Topper
If you need to upgrade your existing mattress, the Lift Mattress Topper, manufactured in the USA by Amerisleep, comes in two comfort levels:  Comfort and Support. If your mattress is worn or is too firm for you, then the Comfort version provides exactly that: comfort! People buy mattress toppers for various reasons, the most common being to refresh an old mattress, to change the comfort level if the mattress is too soft or too firm and also to keep you cool if your mattress gets too hot at night.
The Lift Mattress Topper does all of these. The Comfort option is comfortable and relaxing to lie on, and can transform a mattress that is too firm for you. The Bio-Pur® material provides a wonderful cushioning effect with support where needed. However, if your mattress is too soft and you need extra support, then the Support option is a firmer version of the LIFT topper due to the Affinity material used to fill it.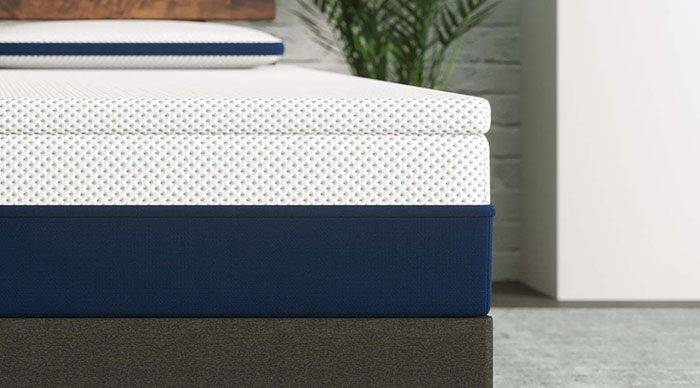 Before discussing these two materials, let's first have a look at the HIVE technology featured in the 3-inch thick Amerisleep Lift mattress topper. The term 'HIVE' as used here is an acronym for "Harnessing Intelligent Ventilation and Energy."  This use of the term HIVE is not the same as the project and energy management system of the same name, and there are other uses of this term. In this case, HIVE technology refers to a form of foam where large numbers of hexagons of memory foam are used to provide targeted support around the head, back, and feet, and targeted cushioning for the main pressure points of your shoulders and hips.
The Bio-Pur® memory foam is eco-friendly and the open cellular structure permits a good flow of air throughout the topper, helping to keep you cool at night. The breathable Celliant cover contributes to this, while the memory foam used has a very rapid response to temperature so that its feel does not fluctuate with changing temperature conditions. You will never feel as though your mattress is making you feel stuck.
Pros
Eco-friendly memory foam mattress topper.
Targeted pressure relief.
Cooling on warm days: excellent flow of air through the foam and cover.
Two optional comfort levels.
The company's MicroGrip® technology generates friction between the bottom of the topper and the mattress, thus keeping it firmly in place.
No motion transfer between partners.
CertPUR-US certification: free from heavy metals, ozone depleters such as CFCs, phthalates, formaldehyde, and any other toxic or hazardous material.
The cover can be machine-washed using a gentle cool cycle.
Eco friendly.
Made in the USA.
5-Year warranty against faulty materials or workmanship.
Cons
As with any topper, make sure your sheets fit the extra height. You may have to get new sheets.
Otherwise, we have found no problems with the Amerisleep Lift mattress topper.
Editor's Notes This is one of the best mattress toppers we have reviewed. It is an excellent topper, whether you need more comfort or firmness, or simply want to rejuvenate your old mattress. It offers all the benefits of memory foam and is an ideal way to upgrade your mattress. If you are looking for targeted support with the benefits of memory foam, this is a superb answer. We recommend you use a protector over the Lift mattress topper to keep the foam clean.
Purchase This Mattress Topper with Discount
3. Sleep Innovations 4-Inch Dual Layer Topper
This is a softer mattress topper. It consists of 2-inches of gel memory foam layered with 2-inches of fiber-fill. The cover is removable and can be machine washed and dried. Gel memory foam contains small gel capsules that absorb heat and keep you cool during the night.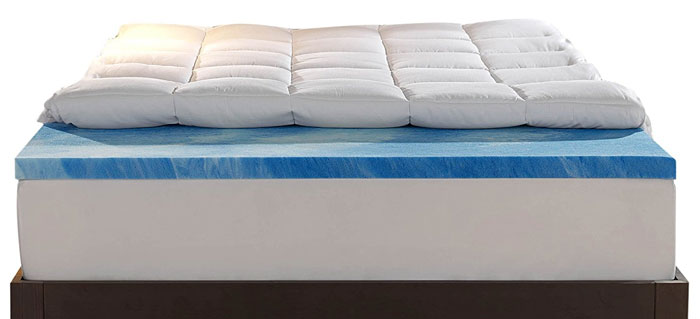 Folded: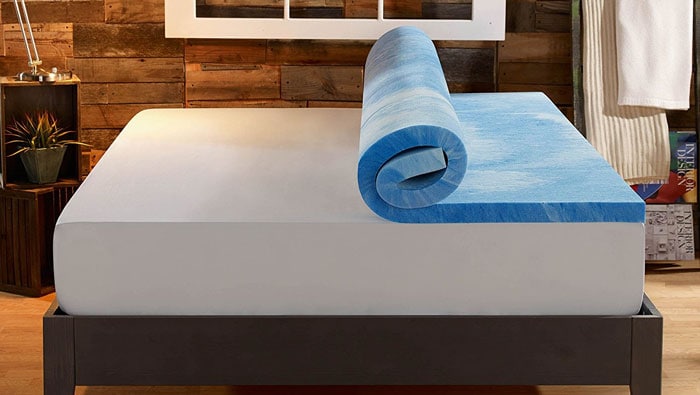 Pros
4-inch thickness offers significant cover for any mattress.
The cover is snug-fit, and easily machine washed and dried.
Very comfortable and can be used on a mattress that is too hard for you.
Suitable for all sleepers: side, back or front.
10-year limited warranty
Foam made in USA
Cons
Some comment on the life of this mattress topper – they say it quickly forms a sag in the middle.
Some complaint about it being too thin – thinner than the 4-inches advertised.
Others complain about comfort levels.
Editor's Note: This mattress topper offers the memory foam experience for those without a memory foam mattress. The 2-inch layer of memory foam is infused with tiny gel capsules that absorb heat while you sleep. The Sleep Innovations 4-inch dual layer mattress topper is ideal for anybody who feels that their mattress is either too hard or lacks comfort. It offers excellent support for your pressure points without that 'sinking in' feeling that some full memory foam mattresses can give.
Purchase This Mattress Topper on Amazon
4. Pure Green 100% Natural Latex Topper
This mattress topper, made by Sleep On Latex, is a very high quality latex foam mattress topper. The latex used is 100% natural and both support you and allows movement in whatever sleeping position you prefer. It is hypoallergenic and anti-bacterial and also resists dust mites. It is therefore an excellent mattress topper if you suffer allergies.
The Pure Green 100% natural latex mattress topper keeps your body temperature at a comfortable level throughout the night – and the day if you are an invalid. It is available in all sizes from Twin to Cal King in 1-inch, 2-inch and 3-inch thicknesses. This is one factor that makes this mattress topper so good – its range of options. The 3-inch option provides good support, while the thinner mattress toppers are likely best used on a harder mattress with good support built in.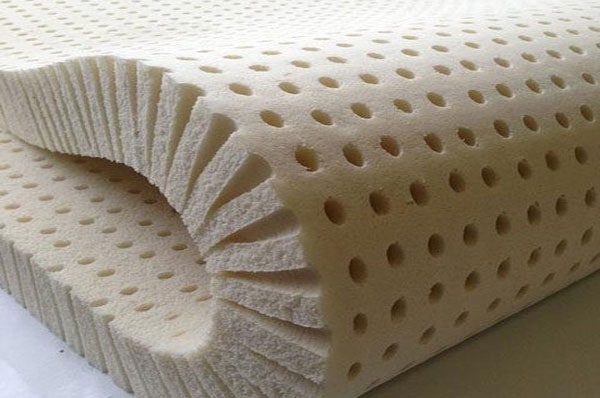 Pros
Comfortable with good body temperature regulation.
Natural latex contains no added chemicals.
A great option for people with allergies.
Gives medium support with a softer sleeping surface than the hard mattress beneath it.
Firmness and hardness ratings provided: 30 ILD Firmness and 5.0 lb/cubic foot density. Most mattress toppers do not provide this information.
Hypoallergenic, anti-microbial, dust-mite resistant and naturally stays cool.
Greenguard Gold Certified (Certification #80101-410)
Oeko-Tex Class 1 Certified (Certification #15.HUS.60646)
EcoInstitut Certified (Certification #0215-33371-001)
Cons
A few complaints (under 2%) about the Pure Green Natural Latex mattress topper being too soft or thin.
Some commented on a chemical smell – but again, way below 2% of reviewers.
Those that complained may have chosen the thinner options.
You have to contact the company for warranty information.
Editor's Note: This mattress topper is manufactured using high-grade natural latex, so contains no synthetic chemicals. It's a top choice if you tend to suffer from allergies. Its density is 5 lb/cubic ft. with a firmness rating of 30 ILD. It is ideal for firming up a mattress with worn comfort layer. Natural latex foam has an open-celled structure that allows air to flow freely through it. It makes an excellent buffer later between you and potentially hot memory foam.
Purchase This Mattress Topper on Amazon
5. Advanced Sleep Solutions Gel Memory Foam Mattress Topper
Manufactured in the USA by Advanced Sleep Solutions, this gel memory foam topper looks good. As with the gel-infused polyurethane memory foams discussed above, the Advanced Sleep Solutions option can help to up an old, tired mattress. However, just like the others, they can also be used to harden up the surface of too soft of a mattress or soften one that is too hard.
Some people use mattress toppers to preserve the life of an expensive mattress, so it won't wear out and need replacing too soon. They can also be used to provide a layer of comfort to their mattress, and that is what this mattress topper does well – very well! The gel helps to absorb and dissipate body heat during the night. The softness of the topper helps to make the sleeping surface more comfortable.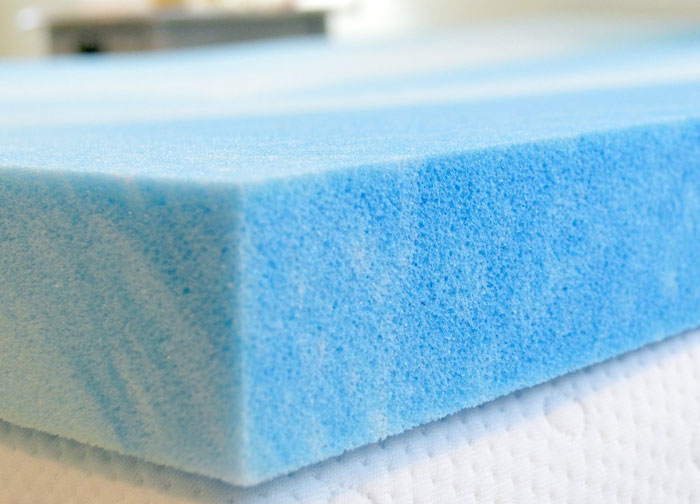 Generally, however, the Advanced Sleep Solutions 2" memory foam mattress topper, helps you sleep at night and cool you down when you would otherwise have tended to sweat and stay awake.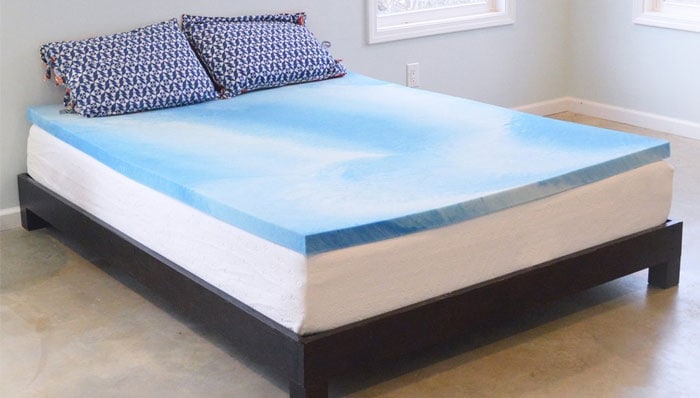 Pros
Very comfortable, particularly when used to make a hard mattress easier to sleep on.
Dissipates heat by means of the gel absorbing heat and quickly dissipating it.
The memory foam topper relieves pressure on your hips, knees and shoulders.
The foam is CertiPUR-US® – meaning it is free from halogenated hydrocarbons and no toxic substances have been used during its manufacture.
Beneficial if you have back pains. It helps maintain a good alignment of your spine, and reduces the disturbing effect of your partner when moving in bed.
Made in USA.
60 Day Money Back Comfortably Perfect Guarantee and a 3 Year Manufacturers Warranty!
Cons
The 2" of foam may be too thin for heavier-weight people.
Some complaints are about it not being cooling enough – maybe for them 2" is insufficient for a proper cooling effect. However, in saying that, many people loved the way it kept them cool at night.
Some found it too hard and others too squishy! Perhaps a matter of personal perception.
Editor's Note: This is an excellent gel memory foam mattress, though perhaps another inch might have made it perfect. The major complaints could all be explained by the thinness of the topper. Two inches is not a lot, although other 2-inch mattress toppers have had excellent reviews. The Advanced Sleep Solutions gel memory foam mattress topper would likely have been rated at #1 had it slightly more thickness to it.
Purchase This Mattress Topper on Amazon
6. Zinus 3 Inch Swirl Gel Memory Foam Air Flow Topper
The Zinus swirl memory foam mattress is manufactured using 3 inches of a cooling gel memory foam. The Zinus mattress topper is also available in 1.5", 2" and 4" versions. The 4-inch version consists of only 1-inch of memory foam and 3-inches of high-density foam for added support.
The memory foam used is described as 'the latest evolution' of memory foam: biofoam. It is manufactured using natural plant castor oil as part of the usual petroleum derivatives, green tea extract and active charcoal. The active charcoal absorbs odors and moisture and keeps the Zinus mattress topper smelling fresh.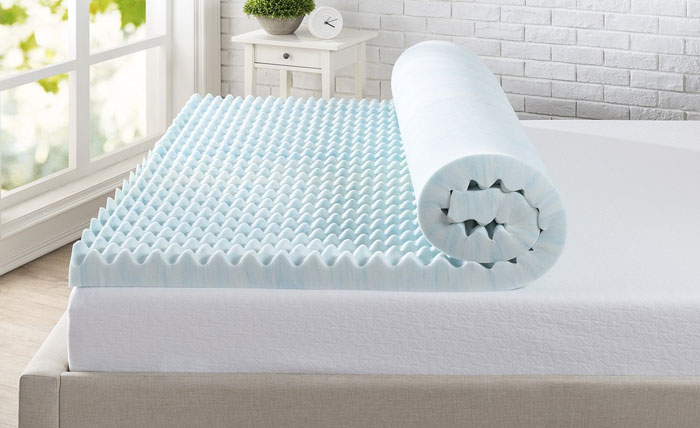 Pros
A 3-inch layer of gel memory foam that absorbs and dissipates body heat while you sleep.
Contains natural plant oil and green tea extract to eliminate the bacteria that cause nasty smells.
The activated charcoal absorbs any residual odor and moisture for a fresh-smelling, dry mattress topper.
CertiPUR-US certified memory foam.
Available in four thicknesses: 1.5", 2", 3" and 4", although they are not simply thinner versions of the 3-inch topper.
5-Year warranty.
Cons
A few complaints about smell and lack of support.
Takes 2 days after opening to get to a usable state.
Some people complain they can't fit the mattress protector or their regular sheets over the mattress topper. This is not restricted just to this one! People should be aware that the topper will add to the total depth of the mattress.
Editor's Note: Gel memory foams are well known to help memory foam mattress stay cool overnight. This technology is now being used with mattress toppers – and mattress pads! The Zinus 3" gel memory foam mattress topper is an excellent example of this type of bedding. The other options are the same, although with a thinner layer of gel memory foam. The 4" version consists of only one-inch of gel memory foam, the rest being a breathable regular foam.
Purchase This Mattress Topper on Amazon
7. PharmMeDoc Memory Foam Mattress Topper
The PharmMeDoc memory foam mattress topper helps your spine to maintain its natural curvature. The memory foam contours to your body shape, offering the support to your lower back than a regular latex topper cannot do. It is also good for giving your old mattress new life or covering slight depressions or lumps in your existing mattress.
The memory foam in this topper has been enhanced with an open-cell structure that permits a good flow of cooling air through the foam. The topper absorbs body movement during the night to help promote a trouble-free sleep for both partners. The company is based in California.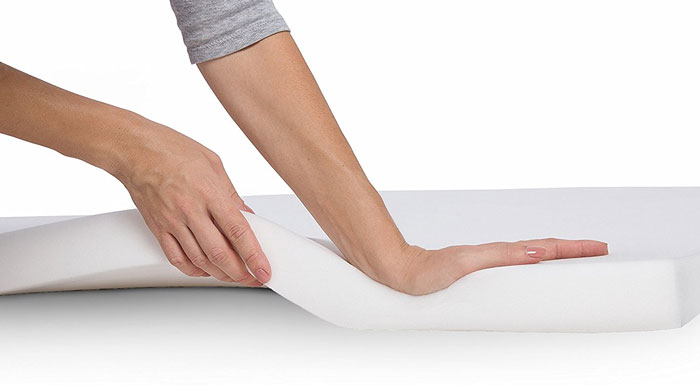 Pros
Open cell structure keeps you cooler at night.
Hypoallergenic properties for those prone to allergies.
Good movement isolation between partners.
Good for those with pains in the neck, shoulders, back and hips.
Prolongs the life of a new or used mattress.
Lifetime manufacturer warranty.
Cons
A few complaints regarding the topper not being as cooling as claimed.
One or two complaints regarding the foam splitting or crumbling.
Editor's Note: This appears to be a high-quality memory foam mattress topper, though one or two complaints related the quality of the foam. The lifetime warranty should look after replacements. On the whole, we can't ignore the fact that 71% of buyers loved it and another 16% gave it a 4-star review. The company designs its products in California.
Purchase This Mattress Topper on Amazon
8. Sure2Sleep 3 Pound High Density Gel Memory Foam Mattress Topper
Sure2Sleep is a highly-rated American company that manufactures high-quality memory foam mattress and mattress toppers. Its 3 lb high-density gel memory foam mattress topper is an excellent product that offers good support. The gel infused memory foam prevents you bed temperature from rising during the night, and also shapes itself to your body and reduces motion transfer between partners.
The foam is naturally hypoallergenic and makes your mattress healthier to sleep on. The CertiPUR-US materials give you peace of mind that it contains no toxic ingredients or ozone depleters. Its high density means that the mattress topper is more durable than most others and will last longer while maintaining its high level of support.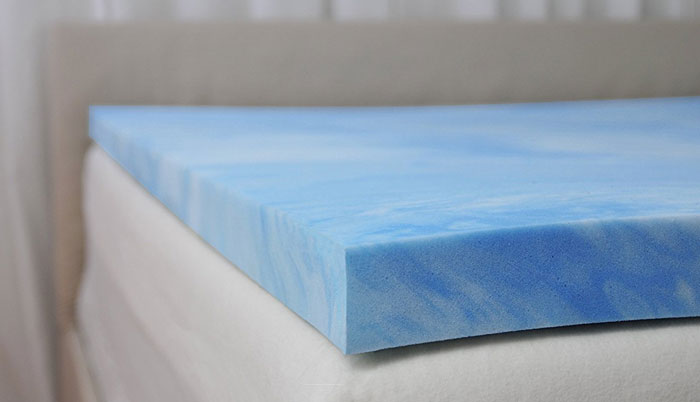 Pros
3-pound density, higher than many others.
Cooling gel infused memory foam.
CertiPUR-US certified and hypoallergenic
Made in USA
Full 3 year replacement warranty
Cons
Most complaints related to it not being cool enough. However, most users found its cooling properties to be excellent.
Some found the 2" to be too thin – which might be a relevant argument. Has it been an inch thicker, it would have been right at the top of this review.
Editor's Note: Perhaps 2" is just an inch to thin for this excellent mattress topper. At 3 inches, it may have been perfect. Nevertheless, it seems to be superior to many of the 3-inch mattress topper reviewed here. That said, the thickness of mattress topper is not its primary property, and the Sure2Sleep 3-pound topper is an excellent way to give yourself some added luxury to an existing mattress.
Purchase This Mattress Topper on Amazon
9. LANGRIA 3-Inch Mattress Topper – Gel Infused Memory Foam Bed Topper
The Langria gel infused memory foam topper is a 3-inch mattress topper that absorbs heat while you sleep – as most gel-infused memory foams should do. The memory foam tends to hold you in a comfortable sleeping position and is excellent for side sleepers. This helps to stop your body rotating in bed, and so twisting your pelvis and also your spine.
If you find that you are having back pain when sleeping on your mattress, then the Langria 3-inch memory foam mattress topper may help stop that. This mattress topper comes with a zippered cover, so you machine wash it when needed. The cover is also hypoallergenic and helps to prevent bed sores if you have to lie in bed for protracted periods.
Pros
The zippered Bamboo fabric removable cover provides a lovely silky sleeping surface.
Bamboo zippered cover is machine washable.
3-ich deep mattress topper is ideal for side sleepers –but also good for back and front sleepers.
Gel-infused memory foam absorbs heat during the night.
CERTIPur-US certified memory foam.
Cons
Some complaint about the hardness and others the softness. You should try it and see how it suits you.
A few complaints about lack of support, but generally, this mattress topper has been well received.
Editor's Note: The Langria mattress topper is manufactured using a gel-infused memory foam. The gel is designed to absorb heat and keep you cooler when sleeping – or lying awake! The gel is often used in memory foam mattresses to absorb body heat. It is good for people who sleep on their belly, back or side. The CERTI-Pur certification indicates that no heavy metals, chlorinated hydrocarbons, or ozone depleters have been used to manufacture the product.
Purchase This Mattress Topper on Amazon
10. Ultimate Dreams 3" Talalay Latex Mattress Topper
This Talalay latex mattress topper made by Ultimate Dreams offers an excellent way of providing pressure point relief. You may have a mattress that is a bit too hard for you and is giving you some pain in your shoulders and hips. This mattress topper will help resolve that by providing a 3-inch layer of softness on top.
It is available in three different levels of support:
Soft: 19 ILD latex – See Buyer's Guide below for explanation of ILD ratings.
Medium: 28 ILD latex
Hard: Firm – 36 ILD latex – This will not add softness but will tend to cover any sagging or lumps in your old mattress, and also help relieve pressure points.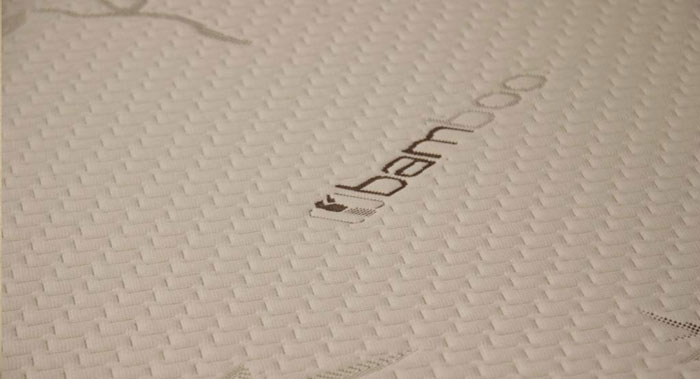 Pros
The topper is encased in a natural bamboo fabric that has a silky feel and is hard wearing and easy to clean.
Talalay latex that provides up to a third more pressure relief than conventional latex foams.
Perfect choice for allergy sufferers.
Cools down a warm memory foam mattress.
Available in three firmness options.
Made in USA
Cons
Most negative comments related to level of hardness, although there are three hardness levels to choose from.
Not 100% natural latex – Talalay does not indicate this. It is the term for the process used to manufacture the foam. The other type is Dunlop latex.
Editor's Note: The three hardness versions is a good feature of this mattress topper. It is rare that a topper will suit everybody, and this is the closest you will likely get to that. The bamboo fiber cover gives a lovely silky feel and is easily cleaned.
Purchase This Mattress Topper on Amazon
11. Memory Foam Solutions Queen Size Visco Elastic Memory Foam Mattress Bed Topper
The Memory Foam Solutions memory foam mattress topper is made using 4-inch thick 5-pound foam. It is a substantial mattress topper that can perfectly conform to your body's sleeping shape at any temperature. The four inches of five pound density memory foam used in this topper will improve and enhance the feel and comfort of your existing mattress. It can be used on top of an old sagging or dipping mattress.
The mattress topper has a PURGreen certification (see Buyer's Guide below) and is manufactured in the USA. It is an excellent topper for anybody needing relief for their pressure points and an allergen-free sleeping surface.
Pros
4 inches thick 5lb visco-elastic memory foam offers excellent support for pressure points.
Good for back sleepers as it supports your spine in its natural curvature while also supporting shoulders, hips and buttocks.
PURGreen certification.
Made in USA
3-Year warranty*
Cons
One complaint about being allergic to the mattress material
One complaint regarding sagging after a few months.
No warranty details published.*
* One issue with Memory Foam Solutions is there is no information on the warranty published – not even on their website. You need to make a purchase before they release warranty information. However, I managed to find the warranty after an internet search: it is apparently 3 years on mattress toppers, which is good for such a product.
Purchase This Mattress Topper on Amazon
Mattress Topper Buyer's Guide
Many people have mattresses that are getting old and losing their comfort. Others have developed some form of joint or muscular pain in their, hips, shoulders or even their neck. These issues can sometimes be due to sleeping on a mattress that is too soft or too hard, or has gradually deteriorated and is no longer providing the support needed.
Many of these issues above can be resolved by changing their mattress. However, you may not want to change your existing mattress. You may have purchased it just recently, and just need the surface 'feel' modified. You might like your existing mattress, but just need it to give you a bit more support or comfort.
What is a Mattress Pad: Sometimes mattress toppers are confused with mattress pads. Unlike a topper, a mattress pad is normally fitted with an elasticized skirt to fit around the base of your mattress. They can be used as moisture barriers, to provide a little extra comfort or simply to keep your mattress clean. They are neither the same as mattress toppers and nor are they good alternatives.
A mattress topper is designed to lie right on top of your existing mattress. It can provide you with more comfort, but more importantly: also with more support. Mattress toppers commonly come in thicknesses of from 2" to 4" and in a choice of hardness levels. Here is our guide on how to choose the mattress topper most suitable for you. First, some comments on hardness and destiny.
Mattress Topper Hardness and Density
Many manufacturers state the hardness and/or density of their mattresses and mattress toppers. It is important that you understand what these figures mean. Here is a very brief explanation, but one that will help you with your choice:
Hardness: Hardness is a measurement of the firmness of a foam. A harder foam will be more firm than one with a lower hardness rating. Technically, it is the weight needed to compress a standard area of foam to 40% of its original thickness. The higher this figure, the harder and firmer the foam. So a higher stated hardness rating means that the foam will compress less when you lie on it.
Density: The density refers to how much foam in pounds you get in a cubic foot of foam (or Kg in a cubic meter). So a 5 Lb foam will be denser than a 4 Lb foam – and would be expected to provide more support. Same with 2.5 Kg vs. 2 Kg. Whatever the measurement units are, the higher figure indicates a denser foam. That does not mean that it is harder – but does give a guide.
ILD Rating: The Indentation Load Deflection of a memory foam (or viscoelastic foam) is a measure of the support it can provide. ILD is tested by measuring the pressure needed to indent a disc of 50 square inches in the area into a 15″x15″x4″ viscoelastic foam sample and make a 1″ indentation. For example, 14 ILD means it would take 14 pounds to make a 1″ indentation in the foam.
What Else to Look for In a Mattress Topper
Zippered Cover: A zippered or otherwise removable cover is handy for keeping your mattress topper clean. Most are machine washable, so you can wash and dry them between morning and bedtime. Mattresses and mattress toppers are subject to many types of spillages of one kind or another. They can also be marked with food debris if you like eating in bed. A cover that is easily removed for washing is extremely useful.
Bamboo top: If you would like a smooth silky top to your mattress topper, look for those that include a bamboo fiber top. This not only gives your topper a sleek feel to it but is also generally hypoallergenic, protecting you from any allergens in the topper itself.
Memory Foam: Memory foam is an excellent type of foam for a mattress topper. Many people find it a lot more comfortable than any other type of foam, and also cooler to sleep on. If you have issues with your spine or lower back, then a memory foam topper will give you better support than a regular latex foam. A 2-inch thick topper can help, although the best thickness for a memory foam mattress cover is a minimum of 3 inches. This is particularly true for side sleepers.
Mattress Foam Environmental Certifications
There are two major environmental certifications that relate to foams used in mattresses. These are:
PURGreen Certification: This certification indicates that the product has been manufactured and packaged in the USA. It meets all EPA environmental standards and also CSPC safety guidelines. The products have been manufactured without the use of ozone depleters, harmful heavy metals, prohibited phthalates and other harmful substances. The PURGreen standard also implements certain requirements re conservation of water and energy during manufacture.
CertiPUR-US Certification: Unlike PURGreen, CertiPUR-US certification related only to foams. Such certification indicates that the foam has been manufactured without ozone depleters, phthalates, toxic flame retardants, heavy metals such as lead, mercury and cadmium, formaldehyde and is free of phthalates that are regulated by the Consumer Product Safety Commission.
If you mattress topper (or your mattress) has either of these certifications, then it is likely to be safer for you to use than one that has not.
Conclusion
Mattress toppers can significantly change the comfort level of your mattress and also keep it clean. They can revitalize a tired old mattress, or keep your new mattress pristine. Many people purchase a new mattress and find it slightly too hard or too soft for them. The correct choice of mattress topper can solve this problem. Our Best Mattress Topper Reviews For 2023 can help you choose the most suitable mattress topper to meet your needs.
See Also: Mattress Toppers: Good Or Bad? »
Mattress Toppers: Frequently Asked Questions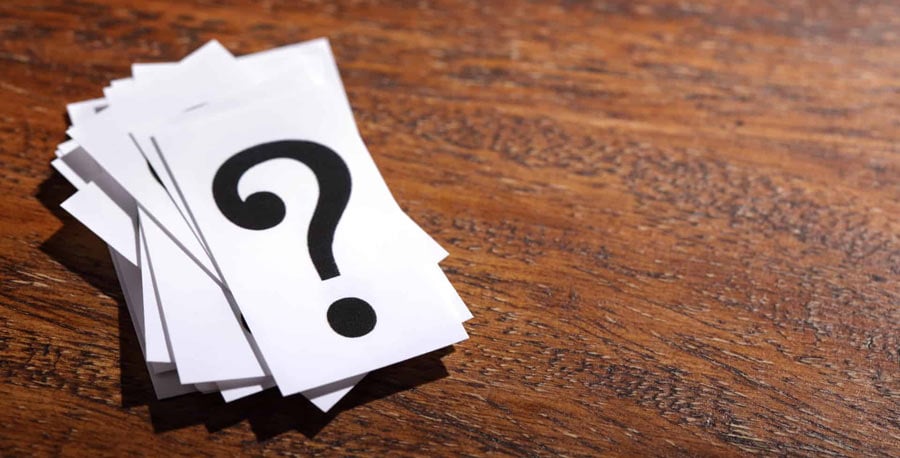 1. What's the difference between a mattress topper and a mattress pad?
This was explained earlier. A topper is intended to change the feel of your mattress when you sleep on it. You can use a mattress topper, add some memory foam that is not on your mattress. You can use a topper to cover some degradation of your mattress and make it feel almost new again. It is fundamentally another layer of the mattress.

A mattress pad is generally thinner and less substantial. It usually comes with an elasticized skirt to fit over your mattress. A pad can be used as a comfort layer, as a mattress protector or to extend the life of an old mattress. A pad is less substantial than a topper, but it has its own unique uses.
2. Can I use an electric blanket on my topper?
Yes, you can use an electric blanket. The only issue you may have is the heat from the blanket: heat softens a memory foam. When you lie on it after the electric blanket, it will be softer than normal. This may not be a good idea with a 2" mattress topper made using memory foam. A 3" plus thickness should be OK as long as the blanket is not left on for too long. What's too long? You will find that by experience!
3. Can I rotate or flip my mattress topper?
You can rotate it, sure. It's a good idea whether you sleep alone or with a partner. It will help even outwear, and this could be particularly the case with memory foam toppers. Flip is another thing; it means flipping it over so the bottom becomes the top and vice versa. This is not recommended unless your mattress topper is the same on each side. It has to be 100% memory foam or latex foam. Some have memory foam on top and latex underneath – these cannot be flipped.
4. Is ILD Important? Many suppliers don't state the ILD of their foam.
Yes, ILD is important. We have including a paragraph on ILD in our Buyer's Guide above. It gives you a good indication of softness and hardness. A softish mattress topper would make from a foam of ILD 24 or less, a medium mattress would be around 26 -30 and a firm mattress from around 35 up to 50 ILD. A higher IL mattress topper is good for covering faults in your existing mattress – or for firming up its feel. A softer ILD makes your mattress seem more comfortable. Medium is best for those back sleepers needing lumbar support, or support in the small of their back.
5. How important is the thickness of a mattress topper?
It may or may not be important according to your weight and why you want it. The heavier you weigh, the thicker you want your mattress topper to be. If you are fairly heavy, you will not appreciate using a 2-inch thick topper. If you want to feel the memory foam effect, then get the thickest you can find if you are regarded as overweight or obese. You could go to 3-inch (#3, 4, 7, 9 and11 in our list) or even 4-inch (#1 and #6).

If you are not particularly heavy, then thickness should be such an issue. Obviously, a 3-inch or 4-inch memory foam topper will give you more of the memory foam effect than a regular latex foam topper. However, many people simply want a mattress topper to soften up or harden their sleeping surface, and the memory foam aspect is irrelevant to them.

The thickness may be important, so were we to recommend anything it would likely be 3 inches. However, many 2-inch foams are just as effective at keeping you cool and providing you with a comfortable sleeping surface. That's why we include three of these on our list.
Best Mattress Topper Reviews 2023: Summary
A mattress topper is a useful way to change the characteristics of a mattress and even rejuvenate an old worn mattress. If you feel that your mattress is no longer giving you the restful sleep you need, then try a mattress topper before buying a new mattress. It may solve your problem. If not, you can use it on your new mattress to extend its life.
It's also a good way to try out the memory foam experience. You may not be keen on paying a lot of money for a new mattress, but a 3-inch memory foam topper will give you a taste of what all the excitement is about. Memory foams are not to everybody's taste.
Lucid Gel Mem Foam

Amerisleep Lift

Sleep Innovations Dual Layer

Pure Green 100% Latex

Advanced Sleep Solutions Gel Foam

Zinus Swirl Gel

PharmMeDoc Memory Foam

Sure2Sleep® Memory Foam

Langria Gel Infused

Memory Foam Solutions

Ultimate Dreams Talalay Latex Foam
Summary
Try the topper and if you like it then buy the whole mattress next time you need one. Many people find genuine memory foam mattresses too expensive. However, try the mattress topper at 3 or 4-inches thick and you will get a good indication of how the mattress would feel. Maybe you will find yourself delighted with just the topper – many people are! Our Best Mattress Topper Reviews offer a good selection of the best mattress toppers available today.