Transparency Disclosure: We may receive a fee from the seller for any purchases made through links on this website or from other sites accessed via this website. This fee incurs no additional costs for the buyer. To learn more, please read our full disclosure page here. Read our Product Research and Testing page to know more about our review process in detail.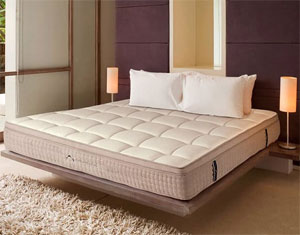 If you intend to purchase a premium mattress, our best luxury mattress reviews for 2023 provides you with important information on how to make your choice. It can be extremely difficult to choose a mattress that gives you all that you hope to get from it. Many believe that luxury mattresses are overhyped and overpriced, but this is not always true. They also believe that any mattress will do if it feels OK! Quite frankly, we believe that that is nonsense, and that, as with any item you purchase, whether a car or a child's toy, the best-recognized brands are making loads of money for nothing!
It is not all down to marketing or advertising, but due to the fact that premium mattresses actually do what they say they can do. Perhaps their price seems a bit high to you, but why scrimp on a piece of furniture you will be lying on for a full third of your life yet pay high-end prices for your sofa, armchair or even your car? We will present our top six luxury mattresses and then a buyer's guide to explain the importance of your mattress to your health and how to choose the mattress most suitable for your personal needs.
So let's dive into our best luxury mattress reviews for 2023. Many of these may not be as expensive as you might have thought.
Ranking
Mattress Brand
Type
Trial (days)
Warranty
(years)
Height
Price
#1
DreamCloud Mattress
Hybrid
365
Life
15"

Check Price

#2
Brooklyn Aurora
Hybrid
120
10
15.5"

Check Price

#3
Zenhaven Mattress
Latex
120*
10
10"

Check Price

#4
Winkbeds Mattress
Hybrid
120
Life
14.5

Check Price

#5
Loom & Leaf Mattress
Memory Foam
120*
15
12"

Check Price

#6
Brentwood Hybrid Latex
Latex Hybrid
365
25
14"

Check Price
* Return transportation charge applied.
Note: Trial refers to Sleep Trial in Days while Warranty refers to Years.
Table of Contents
1. The DreamCloud Luxury Hybrid Mattress: Best Luxury Mattress
The DreamCloud luxury hybrid mattress offers true luxury at a very affordable price. We rate it our best luxury mattress because of its construction and high-end performance, not how much it will cost you to buy (which we consider low for a mattress of this quality.) It is 15 inches thick with a full 8 layers of foams and springs. These are:
Two inches of TrutuftedTM hand-tufted quilted cashmere.
A 5-inch layer of memory foam infused with gel to absorb heat and provide a cool sleeping surface.
A 1.75-inch layer of quilted memory foam that provides comfort and softness to make feel like you are sleeping on a cloud!
A layer of 0.5-inch latex, providing a slight level of bounce that helps you to move easily around the mattress.
A 0.25-inch layer of a higher density memory foam to prove some level of support.
A 0.5-inch layer of high-density memory foam that helps to support your spine in its natural shape.
An 8-inch layer of steel micro-coil springs which is separated into five different comfort zones to provide support to your body and its pressure points where most needed. This ensures that your spine receives support where you need it and that it retains its natural shape.
Finally, a 5-inch base support layer of high-density memory foam to offer support at the lowest level of the mattress.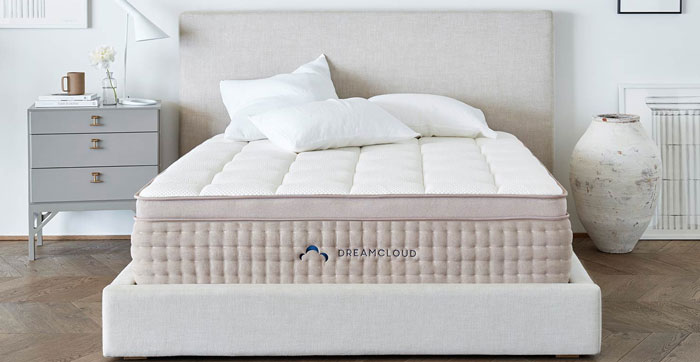 Improved edge support is provided by encasing the entire perimeter of the mattress in high-density polyfoam. It should be noted here that the polyfoam and memory foams used in the DreamCloud mattress are all CertiPUR-US certified to be free from toxic or hazardous substances, such as toxic fire retardants, heavy metals such as cadmium, lead, and mercury, ozone depleters and phthalates.
You have a full year to try out this mattress and decide whether to keep it or to return it for a full refund.
Editor's Notes: The Dreamcloud Luxury Hybrid Mattress gets our #1 vote for its superb comfort and the way it supports your spine. Edge support is good, and the mattress is easy to move around on without disturbing the sleep of your partner. The quilted cashmere surface is a great surface to sleep on and you have to generate a great deal of heat in bed to feel too warm in this bed! The foams are CertiPUR-US certified and the mattress is made in the USA.
Purchase This Mattress on Official Website
2. Brooklyn Aurora: Best Cooling Luxury Mattress
The Brooklyn Aurora mattress appears in our 15 Best Mattresses reviews as the best cooling mattress of all we have reviewed. It is a hybrid mattress comprising a lower layer of steel coils with layers of proprietary foams above. It is the best mattress we have found for those who tend to feel hot and sweaty at night. Here's why this luxury mattress is our #2 of 6 luxury mattresses reviewed.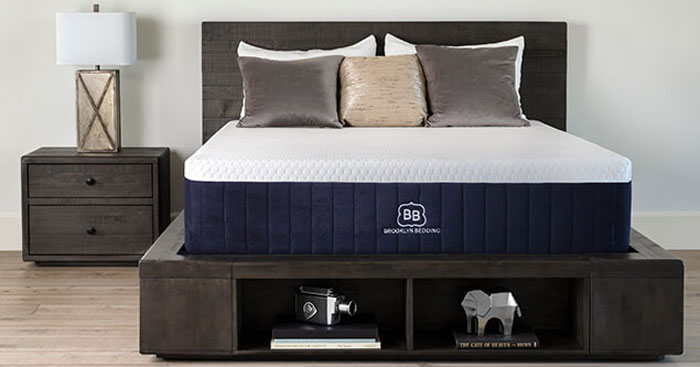 The mattress comprises six layers: the top three are proprietary and designed to provide comfort, cushioning for pressure points and to keep you cool during the night. This would be a good choice of mattress for you if you tend to wake up during the night feeling sweaty and uncomfortable.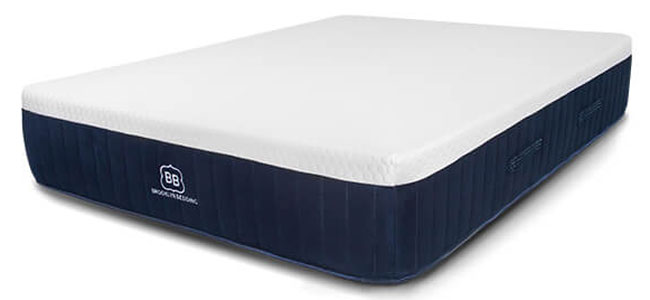 It is available in three comfort levels: Soft (3), Medium (5) and Firm (7). The comfort figures are on a 1-10 basis where 10 is firmest. Level 3 is good for side sleepers, level 5 is good for side and back sleepers, and level 7 is good for back and stomach sleepers.

The cover of the Brooklyn Aurora mattress is fitted with a smooth-weave cover designed to allow the reduced temperature to filter out through the cover to the sleeping surface. Compare the Brooklyn mattress with other mattresses here.
Editor's Notes: The Brooklyn Aurora mattress is our best luxury mattress for you if you tend to feel hot at night or wake up sweating during the night. The entire mattress is designed to keep you cool, no matter what comfort level you choose, and it is ideal for anybody who prefers to remain cool all night long.
Purchase This Mattress on Official Website
3. Zenhaven Mattress: Best Latex Luxury Mattress
The Zenhaven mattress is an excellent American-made mattress for those that prefer to sleep on latex. It is made from American Talalay latex with a bit of bounce and spring that most couples tend to like. This latex also conforms to your body shape, which makes it an excellent choice if you suffer from scoliosis. It helps to support your spinal misalignment, and the Talalay latex pushed back against the pressure of your body and helps to straighten out your spine. Its spring can also help improve your sex life.
This is true, even if you don't suffer from scoliosis. Many people buy premium mattresses such as this simply due to the bounce or spring that latex provides. Another benefit is that the comfort latex layers are zoned into five areas of support providing you with more support for your lumbar (lower back) area and less support, but more comfort, for your hips and shoulders. This is also good for scoliosis.
Zenhaven Mattress Construction
Talalay latex is naturally hypoallergenic and resists bacteria, molds, dust mites, and other allergens. The New Zealand wool which covers each side of the mattress is fire resistant, so negating the use of potentially harmful fire-retardant chemicals. It is also two-sided. Each side has a 1.5" comfort latex layer under the wool layer, with one side of a softer grade of latex than the other. There is a 6" layer of support latex in between the two. You can, therefore, flip the mattress from the 4-5 firmness level (on a 1-10 scale where 10 is firmest) to the 7-8 firmness side. So you fundamentally get two mattresses in one: one plusher than the other.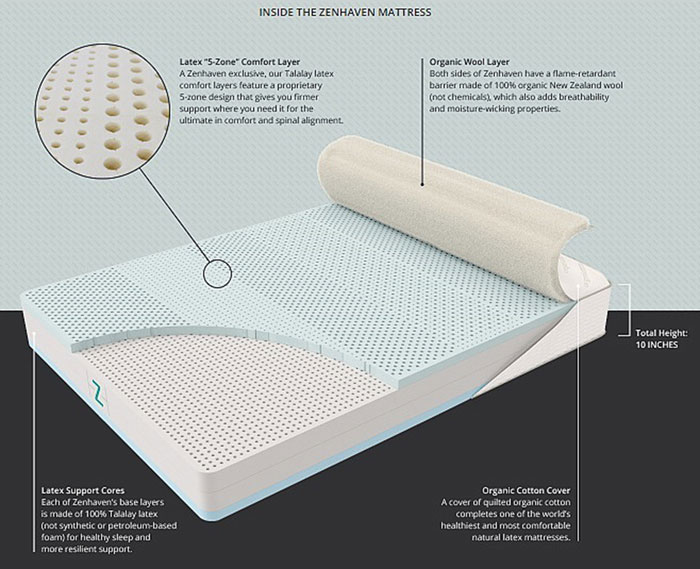 Another benefit is the white glove service, where the delivery team will set up your mattress for you and also remove your own mattress free of charge if you request this service at checkout.
Editor's Notes: The Zenhaven mattress (manufactured by Saatva) is great for anyone suffering from scoliosis or any other spinal defect. It is suitable for any sleeping position due to its dual firmness so you can flip from a softer plush side to a firmer side if you wish – and vice versa. Back and front sleepers would likely prefer the firmer side, and side sleepers the plusher side. It is also an excellent mattress for couples since it has reasonably good motion separation and is also good for sex thanks to the bouncy Talalay latex. Check out our full Zenhaven Mattress review here.
Purchase This Mattress on Official Website
4. Winkbeds Luxury Hybrid Mattress: Best for Stomach and Back Sleepers
The Winkbeds luxury hybrid mattress is available in three levels of firmness: Soft (4.5 on a 1 – 10 scale), Luxury Firm (6.5) and Firm (7.5). Each version is 14.5 inches thick. The top comfort layers determine the above firmness levels, but otherwise, the structure is the same for each of the three options.

Here is the full structure of the Winkbeds luxury mattress:
Layer 1: The top layer of this mattress is a 2-inch thick Euro pillow top, which combines gel foam and hypersoft foam that provides comfort and cooling while you sleep on it.
Layer 2: This is a 2.5-inch thick layer of small steel coils, individually encased in foam for maximum separation of movement between couples and minimum noise. This layer offers good support for stomach sleepers enjoying the comfort of the layer above. The coils are zoned so that you have maximum support in the central third to support your hips and pelvic area. This is a good set-up for stomach sleepers who need a firmer mattress.
Layer 3: The third layer comprises a 4-inch thick edge support system of high-density foam. This system enables you to sleep to the edge of the mattress, and it also offers support when you sit on the edge.
Layer 4: This is another layer of individually pocketed steel springs – this time 4 inches deep. This is the main support system which also helps reduce noise for those that move about on their mattress while sleeping.
Layer 5: This is the base support layer. It comprises 2 inches of high-density foam and offers good support for the layers above it.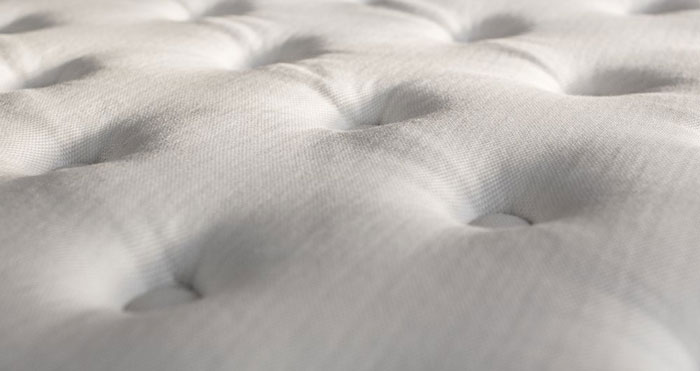 The Winkbeds luxury hybrid mattress is a great hybrid combination of CertiPUR-US certified foams and innersprings. Its design includes a support pad for the lumbar region. This absorbs pressure and helps keep your lower back and spine in its natural position so you avoid back pain. The sleep trial enables you to try out your preferred firmness option, and then change it to another option if it doesn't suit you. You get a 120-night sleep trial with a free replacement and return carriage if you don't like it.
If you weigh over 300 lb, you are best to choose the Winkbeds Plus. This involves extra cost because it is constructed using latex to hold your weight while also maintaining an acceptable comfort level. All Winkbeds luxury mattresses are made in the USA using CertiPUR-US certified foams.
Editor's Notes: The Winkbeds mattress is one of the best luxury mattresses we have reviewed for stomach and back sleepers, and the Winkbeds Plus is our best mattress for heavy people as detailed in our Best Mattress Reviews for 2023. The Tencel cover is derived from eucalyptus and provides a silky-smooth sleeping surface while also keeping you cool.
Purchase This Mattress on Official Website
5. Loom & Leaf Mattress
The Loom & Leaf mattress comprises 5 layers of memory foam and polyurethane foam. It is 12 inches thick and comes with an organic cotton quilted 5/8" top cover that is not only comfortable to sleep on, but also helps keep you cool. Here is how the layers are put together: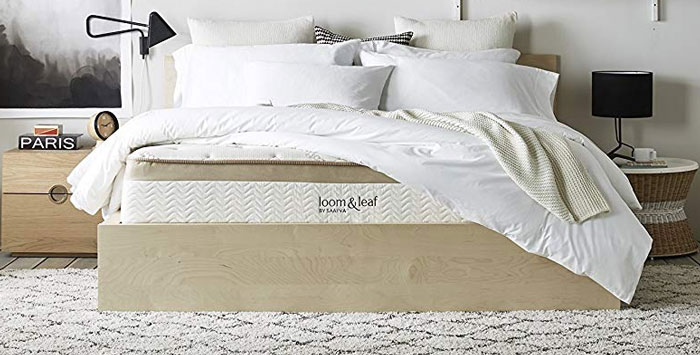 Layer 1: Beneath the quilted cover is a 2-inch layer of 4 lb gel memory foam which is convoluted for comfort and to help keep you cool. There is a Spine-Zone cooling gel panel laminated into the center of the flat side to support your spine and to keep you cool in what is normally the warmer area of a mattress. The convolution enhances the cooling property of this layer.
Layer 2: 2.5 inches of a 5 lb memory foam for additional support at a lower level.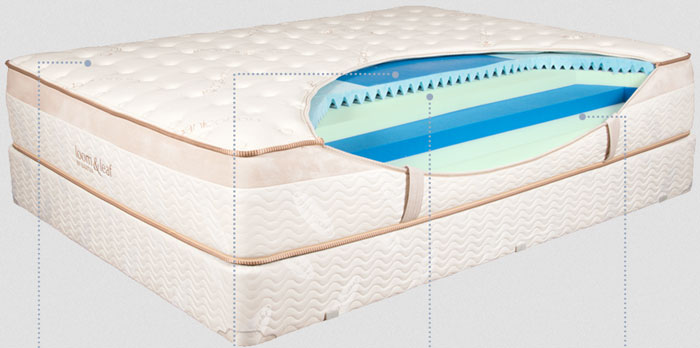 Layer 3: A 2-inch transition layer enabling the layers above and below it to fit well together to provide both comfort and support.
Layer 4: 5.5 inches of high-density support polyfoam which provides the base support layer for this luxury mattress.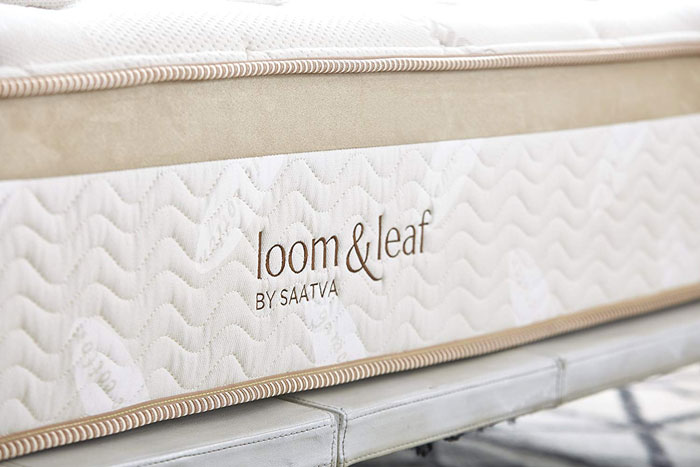 The overall result is a comfortable memory foam mattress that supports your main pressure points. The mattress is made in the USA, and white-glove delivered with free removal of your old mattress if required. It offers a 15-year warranty with a free return for the first two years. This mattress is antimicrobial and CertiPUR-US certified to be free from dangerous or toxic foams and also toxic fire retardants, heavy metals, and ozone depleters.
Editor's Notes: It will cost you a $99 return transportation charge if you decide to return your mattress during the sleep trial period. That is about the only negative we can find regarding this mattress. It is highly supportive, and the convoluted top foam helps to provide comfortable support for your pressure points while the layers beneath it help keep your spine in the correct position while you sleep. It is an excellent high-quality luxury mattress and deserves its place among the premium mattresses we have reviewed.
Purchase This Mattress with Discount
6. Brentwood Hybrid Latex Mattress: Most Eco-Friendly
The Cedar Nature Luxe Mattress is made in the USA from all-natural materials. It is one of these premium mattresses that you just have to try out to prove it worth the cost. The foam used is natural Dunlop latex with 100% natural New Zealand wool in the quilting. The mattress is 14 inches thick in total. The New Zealand wool wicks away moisture while you sleep and also helps keep you cool.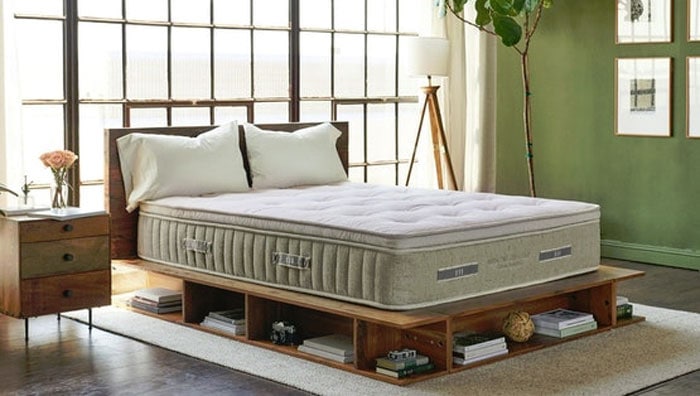 The construction of the mattress is fairly simple, and it is the materials used and the way they are used that make it so special.
Layer 1: The top surface of the Cedar luxury mattress comprises around an inch of cotton cover quilted with a natural fire barrier of silica sand, and also with organic cotton fiber in the quilted panels. Then a layer of crimped New Zealand wool is added – 1.2 ounces/sq.ft. This wicks away moisture, allows good circulation of air, and helps keep you cool and dry
Layer 2: The first layer of the mattress itself comprises a 2-inch layer of 4 lb/cu.ft Dunlop latex free of synthetic ingredients. This layer provides a 'medium' comfort level sleeping surface that supports your main pressure points and is excellent for all sleeping positions.
Layer 3: The next layer comprises 2 inches of 4 lb 100% natural GOS-certified latex, computer cut into 3 support zones with a deeply grooved top surface. The depth and thickness of the grooves are regulated to provide three targeted comfort zones, improved motion isolation between partners, and pressure relief on your principal pressure points.
Layer 4: This is a layer of individually pocketed 8-inch steel coils, arranged so as to provide 5 separate comfort zones to provide more support where needed. The pocketed coils improve the isolation of movement between partners and help keep your spine retain its natural shape while you sleep.
Layer 5: The bottom layer is an inch of organic coconut husk bonded with natural latex. Coconut fiber usually goes to waste, but it is used in the Cedar mattress as a support layer for the spring layer and also for its antimicrobial properties. It also helps recycle this material rather than discarding it as waste.
Comfort Level: The comfort level of the cedar mattress is described as 'Medium'. From our tests, we have given it a rating of 5.5 – 6.0 on a 1 – 10 scale where 10 is firmest. So the mattress is comfortable and relatively soft. It would, therefore, be best for side and back sleepers rather than belly sleepers.
Editors Notes: The Cedar mattress is our most eco-friendly luxury mattress. The mattress is 100% natural materials apart from the steel coils. Dunlop latex is good for those that are not keen on the springy, bouncy Talalay latex. It is also Greenguard certified free from toxic materials, heavy metals, VOCs, phthalates and ozone depleters. The wool is OEKO-TEX® certified and the cotton is GOTS® certified. If you prefer natural materials, then this mattress is for you.
Purchase this Mattress with a Discount
Buyer's Guide to Premium Mattresses
There are several factors that most people have to take into account when purchasing a new mattress. One is the price, and premium mattresses, luxury mattresses, or however they are described, are generally priced higher than standard mattresses. For that reason, you would expect something more than is available in a regular mattress. Here are some tips on buying premium mattresses that might help you – and also perhaps save you some money!
Firstly, the most expensive mattress is not necessarily the best, and you will likely want the best you can get for your money! But the best at what? The best mattress for one person may not be the best for another. Here are some of the more important factors you should consider when buying a premium mattress.
Sleeping Position and Weight
The reason for there being so many different types of mattress, and so many comfort ratings and mattress thicknesses, is that it is not possible for one mattress to meet the needs of everybody. People sleep in different positions, they weigh differently and they may carry out various activities in their bed that can have an impact on the mattress they choose.
Side Sleepers: If you sleep on your side, you will need a softer mattress than if you sleep on your back or your stomach. When lying on your side your hips and shoulders will tend to dig into your mattress. A good mattress for side sleepers will provide support for these salient features while helping your spine to remain straight from your neck to the base of your spine.
Back Sleepers: Back sleepers will normally prefer a slightly firmer mattress than side sleepers, although the mattresses we have reviewed above are generally suitable for both side and back sleepers. If you have a choice of comfort levels, go for a slightly firmer mattress than we recommended for side sleepers.
Stomach Sleepers: Stomach or belly sleepers (same thing) generally prefer a firmer mattress than back and side sleepers. It's important that a belly sleeper's body doesn't sink into the mattress'. This will cause their neck and head to bend backwards when they are asleep causing potentially severe pain in their neck. Some of the better premium mattresses provide a soft side and a firm side, where you can flip the mattress to get the firmer side. The Zenhaven Mattress is an example of this: you can flip it from the softer side (comfort rating 4 – 5) suitable for side sleepers to the firmer 7 – 8 level that is more suitable for stomach sleepers.
Body Weight: Those with low body weight can sleep easier on a soft mattress than on a hard mattress. So if your weight is around 140 lb or less, a mattress with a comfort level of 5.5 or less would suit you fine. Over 230 lb and a comfort level of 7 or over would likely be best. Any Premium mattress should be able to offer sleeping surfaces suitable for people of 230 lb and over.
What is a Luxury or Premium Mattress?
Getting good quality of sleep is essential for your wellbeing and good health. It is important to your mental and physical health and has a significant impact on your quality of life. Premium mattresses generally address this, and are not only made using high-quality materials but are also well designed and include some special features that are not generally included in standard quality mattresses – or at least not included to the same extent as in high-quality luxury mattresses.
Here are some of the qualities you would expect in a high quality mattress. Premium mattresses often include:
High-quality fibers such as genuine New Zealand wool that absorb heat, generate a good flow of air in the mattress and wicks moisture away from the sleeping surface.
High- quality cotton or shredded wool as a filling for quilted tops.
Choosing natural materials for their temperature-moderating properties, so that the mattress keeps you warm in winter and cool in summer.
A good selection of layers that combine support, comfort and cooling properties for your specific sleeping position and your body weight. That said, any high-quality mattress should be able to accommodate people of up to 230 lb weight and more.
We believe that only good, high-quality luxury mattresses can provide all or even most of the above properties combined in one mattress. Many people associate luxury with the term 'expensive'. Yes, a premium mattress may cost more than a standard one, but if it gives you what you want then most buyers believe it to be worth the cost.
But what does the word really mean? Luxury to one person could be commonplace to another. We have looked at a number of mattresses while compiling our Best Luxury Mattress Reviews for 2023. We have chosen the above six for the reasons given, although you may have your own idea of what a luxury mattress should be. We believe that you are sure to find a premium mattress that meets your definition among these six.
Mattress Price
The price of your mattress will reflect its quality and construction. You should expect to pay more for a high quality luxury mattress, although $2,000 is not a high price to pay for a high quality luxury mattress. Many are below that price. By purchasing direct online from a manufacturer, you can avoid the middleman and save a good amount of cash. You can easily get your hands (or body) on a high quality mattress at well over a thousand dollars less than the same mattress purchased in-store.
So don't go thinking that an apparently luxury mattress online is a bit on the cheap side because of its price. That's the modern way to buy high quality goods at prices way below the standard cost to the consumer. Internet purchasing is increasingly enabling people to purchase luxury goods at prices well below their average store price. The higher priced the item, the more you will be saving.
Premium Mattresses: Frequently Asked Questions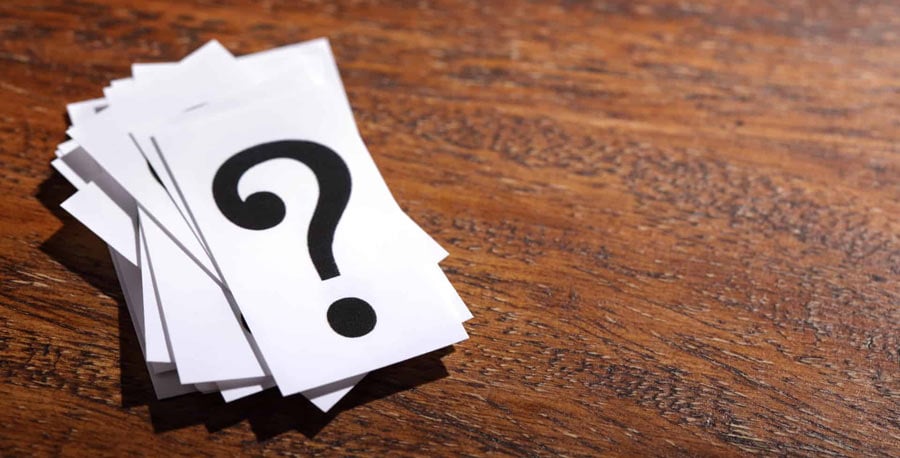 The following questions are among those we have been asked most frequently by our readers regarding premium mattresses and buying luxury mattresses online.
1. Does luxury mean soft and comfortable?
To many people, the term 'luxury' will mean a mattress that floats like a cloud and is extremely soft. It envelopes you with soft foams and is topped with a wonderfully soft and silky satin-like sleeping surface. To others, it will be a hard mattress that gives them great support and helps keep their spine straight and free from pain. Side sleepers may prefer the former definition and belly or stomach sleepers the latter.

If a belly sleeper lies on soft foam, they will tend to sink into the mattress, creating a potentially painful bend in their neck as their head remains stable on the pillow. A firm mattress would be a luxury to them. When a side sleeper lies on a hard, firm mattress, there will be undue pressure applied to their shoulders and hips. A soft, cloud-like mattress would be a luxury to them.

That's why we include both soft and firmer mattresses in our review. Luxury to one is not necessarily luxury to the next person.
2. What is a hybrid mattress?
A hybrid mattress combines the advantages of two different types of material, such as memory foam and latex foam. However, in the mattress industry, it usually refers to foam and innerspring mattresses. So a hybrid mattress could be a support layer of coils: Bonnell coils (connected to each other) or individually pocketed springs with comfort layers of memory and/or latex foam above the springs.
3. What does the term 'responsiveness' mean?
Responsiveness relates to how quickly a foam responds to changes in pressure. A highly responsive foam will rapidly revert to its original shape once the pressure is removed. So, a responsive latex foam will return to flatness quickly once you move to another part of the mattress. Slow-response foams, such as some memory foams, take time for the indentation where you were lying to rise and disappear.
4. What's the difference between responsiveness and bounce?
Foam or spring with bounce absorbs the energy you apply when you lie or fall on it, and then returns that energy back so you feel a bouncy effect. It could be described as an immediate response – returning immediately to its original shape when you lay on it. Many sexually active couples like the bounce in their mattress for obvious reasons. They might not like a luxury mattress with no spring or bounce.
5. Which are better: open coil springs or pocketed springs?
Open coil springs are connected together, so when you lie on the bed all the springs absorb some of your weight – and they also all move. There is little if any motion separation. Pocket springs are not connected to each other but are held in their own fabric pockets. Only those springs in contact with your body actually move.

Pocketed springs are best for couples since when one person moves, the springs move individually and not all at once. They are best for motion isolation. Also, avoid open-coil spring mattresses for orthopedic use since they tend not to use enough foam padding to make them truly comfortable. Luxury or premium hybrid mattresses tend to be constructed using pocketed spring coils.
DreamCloud Mattress

Brooklyn Aurora

Zenhaven Mattress

Winkbeds Mattress

Loom & Leaf Mattress

Cedar Mattress
Summary
Our best luxury mattress reviews presents our opinion of the best premium mattresses available. The more important factors in a luxury mattress are its construction, the materials used, its comfort level, and how it suits your preferred sleeping position. Any individual mattress is unlikely to be suitable for both side sleepers and stomach sleepers for example, and we have given you good choices to suit your personal needs.
Innerspring or hybrid mattresses that include a layer of pocketed spring coils generally offer excellent support for all types of sleepers, with the foam layers above the springs providing comfort. 100% foam mattresses consist of carefully chosen layers of foam to offer both support and comfort, with firmness levels carefully engineered for those that prefer specific sleeping positions. Thus, side sleepers prefer a softer sleeping surface than front sleepers, with back sleepers somewhere in between.
Our 6 best luxury mattresses should, between them, provide an excellent sleeping surface for all sleeping positions, whether you are light or heavyweight, and also for those with back and neck pain and other specific health issues. If we are missing something, or you want further information, then please comment using the Comment section below or our Contact Form.