So can a crib mattress fit a toddler bed? There is no reason why not if the crib mattress is of a suitable size. In fact, most crib mattresses are around the same dimensions as a toddler mattress. Some cribs are designed to be converted to toddler beds once the child is old enough. No need to change the mattress, just remove some rails and you are all set.
The only real difference between the two is that toddlers beds have more sheets and blankets than a crib, and are also less confined. Some crib beds are two-sided: one side for baby and the other side firmer, for the toddler. Many crib mattresses can be used for years until the child ready for a proper bed.
However – and when it comes to children there is always a 'however!' – not all crib mattresses are suitable for toddlers. Why is this? There are several reasons as detailed below.
1. Lack of Support
A toddler's mattress should be firm enough to support the child at this stage in his or her life. They are growing fast at this age, and their spine should be properly supported when sleeping. Some baby mattresses are made from fairly thin foam, and can quickly sag or lose support. Even spring cot mattresses can lose their support – many are made using thin, weak springs that have a short life.
Look for mattresses that are designed to be used for baby and toddler. They are often fabricated as mentioned above: one soft side for baby and a harder side for the toddler. Even so, always give the mattress a good inspection before changing its use. If it seems to be sagging or is beginning to lost support in the middle, you are best to purchase a new mattress. Don't take chances with growing children.
2. Contamination
The older a mattress gets the more it can become contaminated with dust mites, bedbugs, molds and various forms of insanitary substances. This applies to baby mattresses as well as to adult mattresses – in fact, likely even more so. The more wear and tear on a mattress, such as small tears, holes, loose threads and continual damp patches, the more it is likely to become contaminated.
Once bedbugs and bacteria get past the mattress cover, they are very difficult to eradicate. Even small babies shed the skin cells on which dust mite thrive. While dust mites do not directly harm you, they can lead to allergies which can. Toddlers can react badly to contact with dust mites, and we all know the damage that bedbugs can do on soft, tender skin.
If you find your crib mattress to be getting past its best days, or the cover is badly stained or torn, then get a new mattress for your toddler. The same applies if you intended to retain the mattress in the crib for another small addition to your family.
3. Chemical Health Risks
While chemical health risks do not specifically apply to reuse of a crib mattress for a toddler, it is something you should be aware of. You may not have considered this when choosing your crib mattress, or it may even have come with the crib when you purchased it.
Look for the CertiPUR label if you are purchasing your mattress in the US. This provides evidence that the product has been manufactured with the use of certain harmful chemicals. It has been tested for quality and durability to get the certification and is low in VOC content (Volatile Organic Compounds) and heavy metals.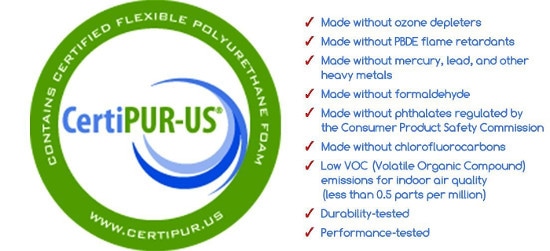 Here are some FAQs from the CertiPUR-US website explaining what the certification means. If your crib mattress has such certification, then it will be safer to reuse it for a toddler. CertiPUR-US applies to the USA, while otter counties use their own form of approved labeling.
Conclusion: Can a Crib Mattress Fit a Toddler Bed?
So, can a crib mattress be used on a toddler bed? Yes, it can, but make sure you thoroughly check it over. Those with waterproof covers are most likely to endure, and machine-washable baby mattresses are the most likely to able to be reused in this way. Do not use a baby mattress in a toddler bed if it seems to be sagging in any way, or if it is heavily stained.
Make sure you give it a good clean and inspection: vacuum it and carefully check it over for molds, small black spots that may indicate bedbugs (they are not uncommon, even it otherwise spotless homes) and tears in the cover. If you are in the least bit doubtful, then get a new mattress for your toddler. Don't take chances! Otherwise, yes.