Transparency Disclosure: We may receive a fee from the seller for any purchases made through links on this website or from other sites accessed via this website. This fee incurs no additional costs for the buyer. To learn more, please read our full disclosure page here. Read our Product Research and Testing page to know more about our review process in detail.
You know yourself that you like comfort when you sleep. A comfortable bed is welcoming and leaves you refreshed when you awake in the morning. The same is true for your child. In fact, you have two reasons for choosing the best crib mattress you can! One is to give your young son or daughter the same level of comfort you expect yourself in your bed, and the other is:
A peaceful night's sleep!!
If your child's baby crib mattress is hard or lumpy then he or she won't sleep too well. You know what that means – you could be kept awake all night!
Many parents struggle for sleep when their newborn baby cannot sleep comfortably. That is not always due to an uncomfortable cot or crib mattress. A crying child could also indicate that he or she is ill, so, as a parent, you will naturally be concerned. That is one reason why it is important to provide your child with a comfortable cot mattress to lie or sleep on. You are likely to be worried less because your baby is likely to cry less because of discomfort.
Just as your mattress is the most important part of your bed, it is also the most important part of your baby's bed. Not only does it help your baby to sleep better, but also helps him or her to grow in a healthy way, with the spine and head properly supported. You child will likely spend more than 60% of her first five years of life in her cot or crib. That's why you should purchase the best baby crib mattress you can.
Best Crib Mattress Table of Contents
Here are our Top 10 Crib Mattresses:
I have not only read a large number of crib mattress reviews, but have also surveyed those people who have purchased them. Our list of the best crib mattresses has been compiled taking the following factors into account:
Manufacturer and model
Mattress thickness
Dimensions: Size
Weight in lb
Editor's rating
I also look carefully at the safety aspect of crib mattresses, since SIDS (Sudden Infant Death Syndrome) is recognized as an issue with regard to cot and mattress design. I will state the 10 best baby crib mattresses I have found, and then provide my best crib mattresses reviews 2023 followed by a review of each of the best baby crib options I have selected.
All of top 10 crib mattresses which we have recommended are available to purchase.

Babies Sleep Patterns
While children up to 5 years old may sleep for about 12 hours daily on average, a baby will sleep for around 16 hours. Growing is a tiring business, so give your child as good an environment as possible to do this. You should give your child the best crib mattress you can.
So which? It is difficult to make a decision on what is the best crib mattress for your new son or daughter because they all claim to be the best – at least large numbers of them do! Bur which is the best? The best for one person might not seem the best for another. That is why I have chosen what I consider to be the best crib mattresses available on Amazon, reviewed each of them and offer you this buying guide along with our top 10 for you to consider for your child.
Never underestimate the difference a comfortable yet supporting crib mattress can make to your young child.
1. Moonlight Slumber Little Dreamer
My personal vote for best crib mattress 2023 goes to the Little Dreamer baby crib mattress from Moonlight Slumber. This is manufactured using non-toxic nylon which both waterproof and highly durable. It can be used for both infants and toddlers, with extra firm high density foam on the baby side and firm HD foam on the toddler side. The foam on each side has CertiPUR certification. The foam used is high-quality medical grade foam free of any harmful chemicals.
Being waterproof, this mattress does not absorb urine and can be easily cleaned with a damp sponge. It is hypoallergenic, and treated with an antimicrobial coating. Another plus for the Moonlight Slumber Little Dreamer is that it is made in the USA, and bears GreenGuard Gold Certification. A review survey of this baby crib mattress indicates that it has received 90% 4-5 star reviews. This would be a wonderful choice of mattress for your baby.
A definite plus is that the two sides have a different firmness rating. If one side is too hard for your child, then flip it and get a softer mattress. You can start your baby off on the harder mattress and as he or she grows and puts on weight, flip it to provide a more comfortable mattress for a toddler. Newborns should sleep on harder mattress than toddlers.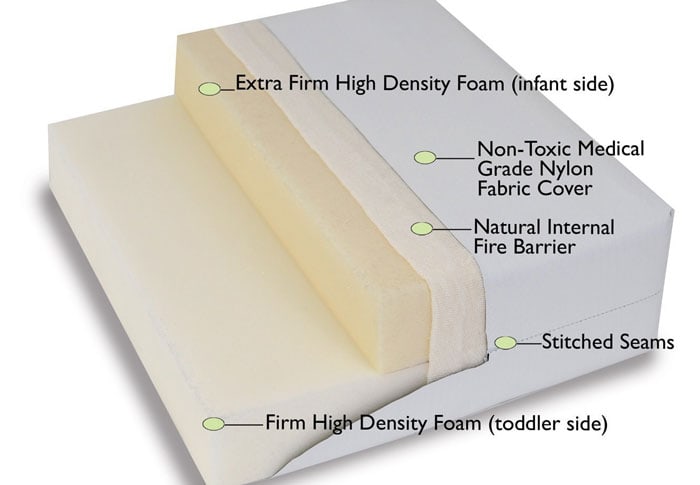 Pros
Gets 90% 4-5 star reviews.
High quality medigrade foam.
Flippable – one side harder for babies, the other softer for toddlers.
Cons
Most complaints related to sinking of the mattress in the middle.
Dimensional issues led to some complaints– the mattress becoming too narrow for the cot. Complaints of this nature were few in terms of incidences, but a good proportion of the ten 1-2 star reviews of 305 reviews in total.
2. Newton Wovenaire Crib Mattress and Toddler Mattress
Another strong contender for the accolade best crib mattress 2023 is the Newton Wovenaire Crib mattress and toddler mattress. This is completely free of latex, foam, springs, glue or allergens. It is made from a food grade polymer that is spun and woven into a polymer-air structure that is 90% air! The other 10% is food-grade polymer that is non-toxic with no emissions. Because the air in the mattress can flow freely throughout its structure, hot spots are avoided and you baby or toddler is more comfortable.
The material is washable, so you can keep it free from bacteria and mold – and mites or bedbugs are things of the past. The entire mattress can be washed if you wish, and you can easily keep it clean after those child moments which the little darlings seem to enjoy – but you not so much! The mattress structure itself is wrapped up in a breathable fabric that you can unzip for easy washing. This appears to be a very safe mattress for babies and toddlers.

Pros
95% reviews give 4-5 stars
No springs, latex or foams and allergen-free.
Washable and easily cleaned zippable cover.
Firm yet comfortable for children of all ages to sleep on.
90% air and 10% food grade polymer.
100% recyclable when no longer needed.
High safety rating
Zero off-gassing
GREENGUARD® Children & Schools certification
Cons
One reviewer noted a redness in her child's cheeks when sleeping on this mattress. There may be a rare allergic reaction involved because this was the only one.
Editor's Note: I considered giving this mattress the best baby mattress 2023 #1 spot. This is a novel approach to mattress construction, for which almost all users have given positive reviews. Newton Wovenaire technology is a new approach to mattress construction, but one which makes perfect sense. The air circulation that the design permits avoids babies becoming overheated in localized areas, and it is a completely hygienic solution to a baby crib mattress and a toddler mattress that has received numerous awards. It gets the backing of pediatricians.
Check out this YouTube video for more details on how it is made:
3. Sealy Soybean Foam-Core Crib Mattress
The Sealy Soyabean Foam-Core Crib Mattress is an extra firm baby crib mattress weighing only 8.3 lb. The high-density foam is made using American soybean oils, such foams offering enhanced support for your baby and minimum sagging. Chemical emissions are minimal which is why the mattress received the GREENGUARD® Children & Schools certification for indoor air quality and low emissions.
The mattress is also fitted with a pearl embossed waterproof cover that is stain-resistant and is easily cleaned. You can move this crib mattress to a toddler bedmove this crib mattress to a toddler bed when it becomes appropriate. You get a lifetime warranty on materials and workmanship, and it's hard to see where you can go wrong with this top crib mattress. Beneath the waterproof top, a cotton wrap surrounds the internal foam construction for maximum comfort.
Pros
91% reviews were 4-5 stars, most satisfied users commenting on the support it gives to their child and how they sleep well and appear comfortable with it.
Offers a lifetime warranty – a definite plus.
American-made using a renewable resource – using a proportion of soybeans in its manufacture is environmentally friendly with less crude oil being required for the foam.
Cons
The 7% of 1-2 star reviews comment mostly on this crib mattress being too hard or too soft. You can't satisfy everybody, although it is feasible that, like such comments with all the other crib mattresses I have reviewed, there might be a degree of manufacturing variability. If so, it is less with this mattress than with most others.
Editor's Note: Apart from the environmentally friendly nature of the way this mattress is constructed, the reason I am giving this crib mattress a high rating is that it keeps children comfortable and safe. That is not to say that any other of our top 10 does neither, just that this cot mattress does it better.
4. Lullaby Earth Breeze 2- Stage Crib Mattress
The Lullaby Earth Breeze stage 2 crib mattress is another Naturepedic mattress. However, it approached crib mattress design from a different angle. The Lullaby Earth Breeze is built around a base firm, flat and waterproof mattress which is made with no harmful chemicals. The firmness of this mattress base protects your baby from suffocation.
Around that base mattress is wrapped a breathable mattress pad designed with a honeycomb structure that air can pass through. This pad promotes a flow of air between the baby and the mattress. The flow of air passes right around your baby. The air can flow round 360 degrees, both underneath and over your sleeping child. Air can pass freely through the top surface of the pad and the bottom surface. The waterproof backing keeps the mattress dry, free from urine and resistant to vomit, spit and any other form of spillage. Your baby will be unable to breathe in urine, bacteria or mold.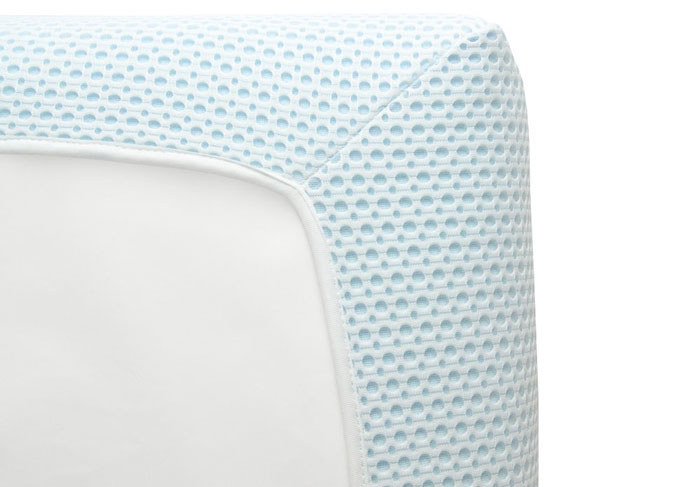 Pros
Breathable – Genuine air circulation all around the top and bottom surfaces of the mattress.
Waterproof laminate all round to provide double waterproof protection and mite and bacterial protection.
Dual firmness plus edge support: suitable for babies and toddlers.
Free from PVC, vinyl, polyurethane or other harmful chemicals
Cons
The few negative reviews and comments referred the fact that it seemed to the user to be like a large air bag. Perhaps this relates to the breathability of the mattress or maybe it is a genuine issue.
Editor's Note: I have given this baby crib mattress the rating it has for two reasons. a) It uses a novel approach to 360 degree air circulation that many seem to like, and b) Few people have purchased this mattress, perhaps because of the novel approach it uses to create circulation of air round the whole mattress. It appears to me to be an appropriate way of generating air circulation, and with it the comfort of your child.
5. Naturepedic No Compromise Organic Cotton 252 Seamless
This spring mattress consists of 252 coils with edge support, covered with a natural cotton top. It is similar to the Naturepedic – Organic Cotton Classic 150 Seamless reviewed above in that it is GOTS (Global Organic Textile Standard) certified and meets the rigorous GREENGUARD certification standard for elimination of chemical emissions. The surface of the mattress is waterproof and can be wiped clean with a cloth or sponge.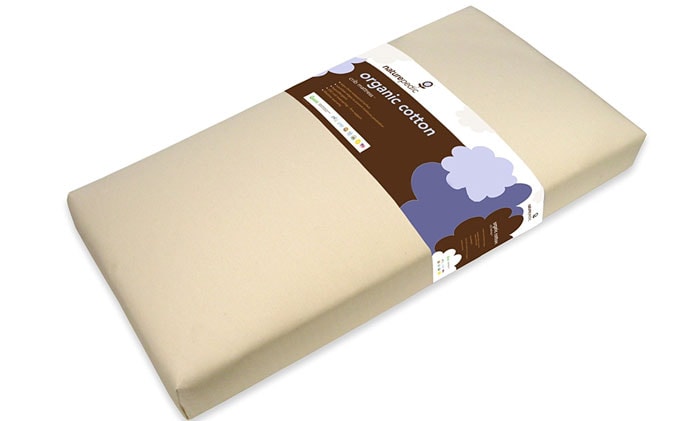 It offers dual firmness, with one side harder for babies and the other softer for toddlers. Too soft of a mattress could be dangerous for babies, who could sink into it and potentially suffocate. Some mothers lay their babies on a soft mattress when it cannot sleep, but this is not recommended because babies are often unable to move themselves out of a depression in the mattress that is filling with carbon dioxide from his or her breath. Harder mattresses are best for newborns.
Pros
100% cotton
Dual hardness for babies and toddlers
Very low chemical emissions and off-gassing
Waterproof top surface to food contact standards
252 coiled springs for extra comfort
Made in USA
Cons
There seems to be some inconsistency with dimensions, but only with very few buyers. This should not be a serious issue.
Editor's Note: Given that no 1-star reviews could be found, most people had few issues with this baby mattress/toddler mattress. It gets better reviews than its 150-coil Organic Cotton Classic 150 Seamless product. If you want a baby crib mattress than you keep using as your child grows to a toddler, then this would be good choice.
6. Colgate – Eco Classica III
The full title for the mattress reviewed is the Colgate Eco Classica III Dual firmness Eco-Friendlier Crib mattress, Organic Cotton Cover. This is another memory foam mattress with a medical-grade PVC-free cover that is waterproof and washable. It is made using two layers of Eco memory foam infused with plant oils. One layer is a harder foam for babies, and the other a layer of softer memory foam for toddlers. It fits all American crib standard sizes.
The Colgate Eco Classics III is also GREENGUARD Gold certified, signifying its ECO memory foam produces no harmful air emissions, and is CertiPUR-US® certified safe foam – this certifies that the foam has been made using no hazardous materials, and has very low organic emissions (less than 0.5 parts per million.)
Pros
89% positive reviews of 4-5 stars.
Light enough to pick up without a problem
Made in USA
Dual firmness for babies and toddlers
Very low emissions
Cons
Although only 6% of reviewers gave this baby crib mattress one star, many of these stated that they did not appear to get the product ordered, there being no labels to say what it was.
No mention of a warranty
Editor's Note: This appears to be a good mattress, although it is made using memory foam. Many people have no issue using a memory foam crib mattress for their baby, while others are more reticent. Although many recommend not using this type of foam for new-born babies, many people do with no issues whatsoever. What is more dangerous is for a baby to sleep with a parent on a memory foam mattress, particularly with a heat-sensitive foam.
7. Safety 1st Heavenly Dreams White Crib Mattress
The Heavenly Dreams mattress by Safety 1st comprises a hypoallergenic waterproof vinyl cover and a high density thermo-bonded fiber core to provide good support that supports your child's spine when sleeping. The cover is stain and odor-resistant, and this crib mattress meets federal flammability standard 16 CFR 1633 and contains no harmful or toxic chemicals.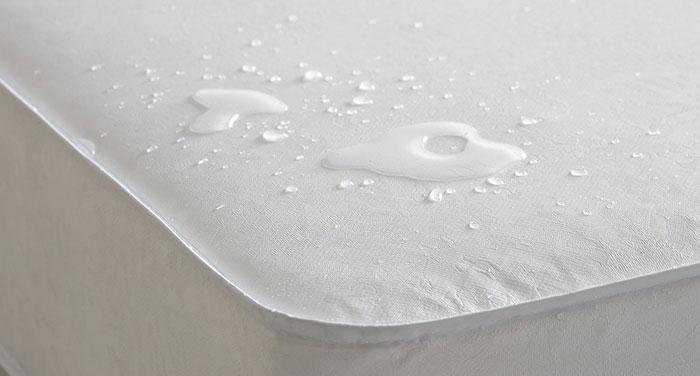 This comes second in our best crib mattress review largely because of its support. It also possesses the ease of cleaning needed for a top crib mattress that is liable to be exposed to sickness, urine and all the other contaminants expected from a very young child.
Pros
Gets 83% 4-5 star reviews. Most people comment on the firmness of the mattress. A firm mattress is important for babies and young children, so they don't sink into it and have their breathing restricted and their spine insufficiently supported.
Cons
The majority of the 11% 1-2 star reviews referred to sagging in the middle or developing indentations where the child sleeps.
Editor's Note: Even though a number of customers complained about sagging or loss of form of this crib mattress, the vast majority liked it, largely because it is so easy to wipe down and keep clean and the firmness of the bed provided good support to their child. This is very important in the early months of a baby's life when they are growing fast.
8. Simmons Beautyrest Beginnings Whispers Ultra Deluxe
This crib mattress consists of 256 pocketed coil springs. The pocketed springs offer even support for your child, each spring compressing independently of those around it. Extra stability is provided by the Innofoam corner protectors and a reinforced border.
The pocketed coils are wrapped using non-toxic natural fire protective cotton, with a top layer of medical grade stain-resistant and waterproof woven fabric. One side is more firm than the other for newborn babies, the softer side providing extra comfort for toddlers. The Simmons Beautyrest Beginnings Whispers Ultra Deluxe Baby crib mattress is GREENGUARD GOLD & CertiPUR-US certified for a healthier indoor environment.
Pros
Pocketed coils offer maximum comfort and support from a spring crib mattress.
Two-sided for babies and toddlers
Limited Lifetime Warranty (see 'Cons' below)
Made in USA
Cons
16% negative reviews (11% only 1-star).
Many complaints refer to poor quality seams opening up or ripping.
Some complaints regarding sagging of springs in middle of mattress.
Warranty situations seem unclear – some complained being informed that their 'Lifetime' warranty was out of date.
Editor's Note: Pocketed spring mattresses are generally comfortable for children, assuming the springs are of good quality and hard enough to provide support. Some complaints have been made regarding this baby crib mattress being too soft, and others too hard. It is unknown whether or not the problem with seams is due to exuberant use of their mattress by toddlers, but there seem to have been a good few buyers experiencing this problem.
9. My First Premium Memory Foam Baby Crib Mattress
My First Memory Foam Baby Crib Mattress is, as it says on the tin, a memory foam mattress for babies. Many people do not believe that memory foam is suitable for babies. It may be OK for toddlers, who have more control when sleeping with their face into the foam. Babies, however, do not have such control over their neck muscles and may not be able to get out of the memory foam 'hole' they have unwittingly created for themselves.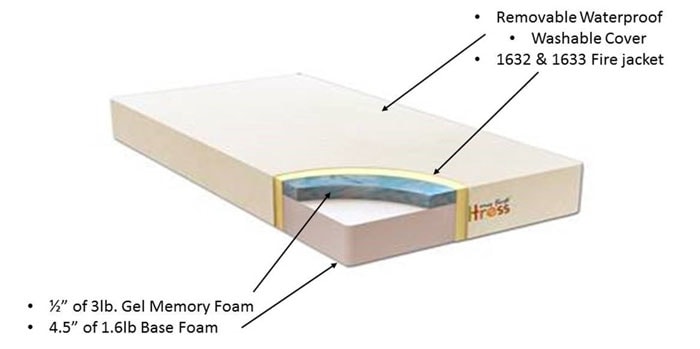 However, even more parents say that their babies have been fine sleeping on their My First Memory Foam Baby Crib Mattress. The mattress is made using CertiPUR-US certified polyurethane memory foam. Its waterproof cover is removable for washing, and hypoallergenic. This crib mattress is also mite-proof and anti-microbial, and contains no phthalate plasticizers.
Pros
82% of reviews give this mattress 4-5 stars.
Memory foam conforms to your child's sleeping position, offering comfort combined with maximum support.
As your child grows, the mattress will adapt to his or her new size and growing bones.
The hardness of the memory foam offers safety and a reduced risk of suffocation and SIDS, while the way it conforms to child's shape combines this with maximum comfort.
The mattress has a firmer 'infant side' and a softer 'toddler side'.
Cons
Not everybody liked this memory foam crib mattress, a total of 12% reviews giving it only 1-2 stars (8% 1-star).
Many of the issues involved dimensions, the main complaint being that it was too small for a standard size cot, leaving dangerous spaces between the mattress and the edges of the cot. See our 'Buyer's Guide' below for more information on this.
There were also some comments on odor and variable density of the foam.
Editor's Note: There are two schools of thought regarding memory foam mattresses for children. Parents who already use memory foam for their own mattresses comment favorably on this memory foam crib mattress, although others may be concerned regarding off-gassing and safety of the memory foam principle for babies.Many are afraid that their child can be smothered if the baby's face sinks into a memory foam crib mattresses. This is a potential risk with very young children, particularly with softer temperature-reactive foams that soften further with body heat. However, this is a fairly hard crib mattress that many people have purchased and nobody has commented on it being unsafe.
10. Naturepedic – Organic Cotton Classic 150 Seamless
The 150 refers to the 150 coil springs that make up the guts of this baby crib mattress. It comes with square corners, edge support and is covered with a soft cotton fabric, and then a waterproof top made to food standard. Like many other crib mattresses, it has a firm side for babies and a softer side for toddlers.
Being fabricated using 100% organic cotton, this is a healthy mattress for children of all ages, and is GOTS (Global Organic Textile Standard) certified. It also meets the rigorous GREENGUARD certification standard for elimination of chemical emissions so you can be sure it is free from allergens or potentially harmful chemicals.
Pros
Made in the USA, this crib mattress is an excellent choice if your child is subject to chemical allergies. It provides a harder side offering the maximum support needed for newborns, then can be flipped later to the softer side that is better for toddlers. The mattress is easily cleaned and waterproof, and fits standard crib sizes.
Cons
13% of reviewers gave this mattress a score of 1-2 stars. Only 7% gave one star, and these were mainly due to sagging of the mattress in the middle. Perhaps toddler misuse or maybe a fault in the design, where central springs have insufficient support.
Editor's Note: Many mattresses lose their support after a while. Foam mattresses can do so through continual use breaking down the integrity of the foam, and spring mattresses because the springs are not strong enough to withstand the treatment they can get from toddlers who tend to stand up in their cots and perhaps jump about.However, manufacturers of baby crib mattresses should be aware of this and design their products accordingly. There might be other reasons for this happening but our baby crib mattress reviews can only consider what I have found and what users have found.
Best Crib Mattress Reviews 2023: Buyer's Guide
Many parents spend a lot of time checking out the best baby cribs for their child, but don't spend so much on choosing the best baby mattress. Crib safety is certainly important, although the mattress is what you child sleeps on and is in most contact with. The best baby crib cannot overcome deficiencies in the mattress, and spending time over choosing the best baby mattress 2023 for your child can save you from many sleepless nights in the future.
Most Parents find it more difficult to purchase a baby mattress or a toddler mattress than purchase a mattress for themselves. They can test a mattress by lying down on it to check its comfort, and moving about to check if it restricts their freedom of movement. Parents cannot do that when purchasing a crib mattress for their newborn or even a toddler.
In this 'Best Crib Mattress Reviews', I have briefly explained what parents might be looking for, and how certain crib mattresses may meet their needs. In this Buyers Guide, I will give you more detailed information on the more important aspects of choosing a mattress for your young children, whether babies or toddlers.
Child Crib Mattress Safety
Not all parents take safety into account when considering the best crib mattress for their children. They tend to go for looks and comfort more than safety. That could be a serious mistake! Here are some of the more common safety issues you should consider.
A Hard Mattress is Best for Baby: Never forget that young children can't always get themselves out of a hole. If they are finding it difficult to breathe, they may not know how to move to get more air. That's one reason why a newborn's mattress should be hard – not soft. You are not doing a baby a favor by providing a soft mattress. Babies can sink into soft mattresses, creating a valley of carbon dioxide that can suffocate them. This is particularly the case for tummy sleepers.
Off-Gassing: Off-gassing is the emission of organic fumes from the mattress. This sometimes happens with mattresses made using synthetic materials such as polyurethane and PVC, and is common with memory foams. It is not uncommon, the fumes originating from the new polymers. If you leave the mattress in a ventilated room for 3-4 days, these fumes should disperse from the mattress. Some plastic covers can also emit fumes. If off-gassing persists then contact the supplier or the store.
Side Spaces: The best crib mattresses should fit right to the ends and sides of the cot or crib. Very young children can get trapped in any space between the mattress and the structure of the cot. In some cases, the mattress delivered may not be the exact size of the cot even though it claims to be. This is a fault, and rather than risk your child's life by using it anyway, you should make a complaint and return the mattress for a replacement or refund. Check any space using two fingers – any space should be no more than the width of two fingers. Anything over that is dangerous.
Allergies: Some young children can be allergic to certain substances present in or on the crib or cot mattress. If your child is subject to allergies, a synthetic fiber mattress might be best. Synthetics such as nylon and polyester tend to attract mites and bacteria less than some natural fibers. However, pure wool, silk and cotton are naturally hypoallergenic (less likely to cause allergic reactions) and you should look for crib mattresses that specifically claim to be hypoallergenic. Hypoallergenic mattress covers should also solve this problem.
What Type of Mattress?
Our Best Crib Mattress Reviews 2023 include foam, memory foam, pocket spring and open spring varieties. Each offers its own different benefits, and is suitable for its own particular type of sleepers. Babies and toddlers have different needs, and only very rarely will the best baby crib mattress also be the best toddler crib mattress, or even suitable for toddlers at all!
Mattresses For Babies: As I have stated earlier, babies need a hard mattress. This is for a number of reasons:
Hard baby crib mattresses provide support for your newborn child. Children are growing rapidly at this stage of their development, even when sleeping. It important that their bones and spine are properly aligned and well supported.
Mattresses for Toddlers: Children who can walk or have good mobility can sleep almost anywhere! However, it is your job to make sure that they are safe. Here are some factors to consider when purchasing a child crib or cot mattress for a toddler:
The best crib mattress for a baby is likely to be made using latex, memory foam or pocket springs. This is because:
Latex foam: Latex foam is available in a range of densities and hardness levels. You should check for any hardness or density rating shown for the mattress. Being a particularly breathable type of foam, latex can quickly disperse heat, and can keep your baby comfortable in very warm rooms. Latex can be natural or synthetic.
Synthetic Foams: There are other foams on the market, mainly synthetic such as polyurethane foam mattresses. Such mattresses tend to off-gas and give off a chemical smell for a while. They are not as hygienic as latex foam, but are fine for older children. I would not recommend a polyurethane foam for very young children.
Memory Foam: Memory foam is generally denser than latex foams, and many parents like it because they use memory foam for their own mattress. They are ideal for children who may be particularly restless on a spring or latex foam crib mattress since they conform to child's body and sleeping position. However, avoid temperature –sensitive memory foams because they could present suffocation hazard for babies.
Natural Fiber Crib Mattresses: Some mattresses are made using natural materials such as coconut fiber or soybean. Natural fiber cot mattresses generally tend to emit less odor than foam mattresses. In many such mattresses, the fiber is coated with latex, itself a natural substance.
Pocket Coil Springs: Each individual spring is held in its own pocket which, unlike a box spring construction, compresses independently of those around it. This construction offer a child good support and is the nearest you will get to memory foam in a spring mattress. Pocket spring mattresses tend to last longer than normal coil springs , and are excellent if there is more than one child on it because the springs operate independently of their neighbors.
Regular Coil Springs: Suitable if you have only one child in the cot. Provides good support, but not as good as the pocket spring mattress. Any type of spring mattress allows better airflow around the springs than a foam mattress can offer, although a pocket spring allows less circulation than a regular coil box spring.
When choosing a spring mattress, the number of coils is not critical. However, as a general rule of thumb, look for 130-150 coils of 15.5 gauge or less. However, a 100 coil spring baby mattress is OK if the coils are thicker and stringer. It is not so much the number of coils that matter but their thickness and strength. For example, I recommend one mattress with 256 pocketed coils. These are small and thin, hence the larger number. Another recommendation has only 100 coils, but they are thicker and stronger coils.
Air and Water Mattresses: Air mattress and waterbeds are not suitable for young children. They are fine for adults, but not for babies or toddlers.
Mattress Covers
Children's crib mattresses will generally come with a waterproof cover. The mattress itself may be wrapped in cotton or some other material, then a waterproof cover of PVC or some other plastic will provide protection against urine, baby vomit and other spillages. Sometimes the cover itself may emit an initial chemical odor which should disappear quickly.
A mattress cover is an option that might or might not be available from your mattress supplier. Never underestimate the ability of a child to make a heck of a mess of a mattress! Here are some factors to consider:
A toddler might react badly to too hard a mattress. It is wise to provide them with some comfort – many baby crib mattresses come with a harder side for babies and a softer side for toddlers.
A toddler can tolerate memory foam better than a baby can. Some young children take well to the concept of memory foams while others hate it. Don't force a memory foam crib mattress on a child that doesn't like it.
If you have had your young children sharing a mattress, once they reach a certain age of independence they will want their own.
All of the mattresses in our list above are suitable for toddlers, defined as children who get up onto their two feet themselves.
You will likely find toddlers to be messy. They may ask for a potty when needed, but they will still be messy with food and also with confections such as chocolate and ice cream! Make sure your mattress is easily cleaned. If not, then investing in a waterproof mattress cover will save you a great deal of work!
A mattress with good support will help prevent the baby from rolling about suffering discomfort. The child will sleep better – meaning that you will too!
A firm crib mattress is safer for very young children because it is less likely to form troughs that can accumulate carbon dioxide. Lying face down in a soft mattress can lead very young babies to suffocate.
If possible, look for a mattress cover fitted with a zip, so it can easily removed from the mattress for washing.
These should all the tips you need on how to purchase the most appropriate mattress for a child, whether that is your own son or daughter or somebody else's. It is mostly fundamental common sense. If you feel a bit pensive about your child's mattress then don't use it. Get advice!
Best Crib Mattress Reviews: Summary
There are many, many crib mattresses for sale worldwide. These are my top 10, and they may or may not meet your standards. I have not focused on price because that price would be liable to change, particularly if one specific baby crib mattress assumed significant popularity! It is not unknown for prices to vary with orders and the perceived popularity of individual products.
Keep Reading: Best Mattress for Kids: Children Mattresses Review »
Moonlight Slumber – Little Dreamer

Newton Wovenaire Crib Mattress

Sealy Soybean Foam-Core Crib Mattress

Lullaby Earth Breeze 2- Stage Crib Mattress

Naturepedic No Compromise org. Cotton

Colgate Eco Classica III

Safety 1st Heavenly Dreams

Simmons Beautyrest Beginnings Whispers

My First Memory Foam Baby Crib Mattress

Naturepedic - Organic Cotton Classic
Summary
Buying a crib mattress is not an easy thing to do due the variables involved. Manufacturers try to match their products to your needs, though even these needs vary significantly. You must consider the age and gender of your child, any special needs involved due to medical conditions, allergies or even the size and weight of your child. Many people are unable to make this sort of decision, which is why I am available to help make it yourself.