Transparency Disclosure: We may receive a fee from the seller for any purchases made through links on this website or from other sites accessed via this website. This fee incurs no additional costs for the buyer. To learn more, please read our full disclosure page here. Read our Product Research and Testing page to know more about our review process in detail.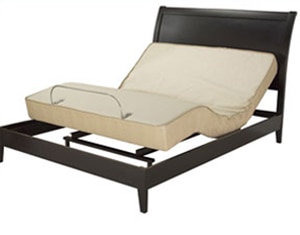 Why should the best adjustable bed reviews 2023 interest you? Do you have pain in your back, neck or shoulders when you lay down to sleep? Do you suffer from acid reflux, causing that horrible burning sensation in your throat and mouth when your digestive juices are forced upwards?
What is the answer? How can you prevent this happening to you every night when you lie down and try to sleep? How can you get over the back pain and pressure on your hips and shoulders when you try to sleep? Simple answer: take the weight off these pressure points!
Many people with such issues try to bank up their pillows so their body is less flat when they lie in bed. There is an easy answer to this: an adjustable bed! A bed where you can raise the top and bottom to allow you to sleep in the most comfortable position for you. Here are the top 5 adjustable beds that we could find.
Best Adjustable Beds Table of Contents
Best Adjustable Beds Reviews 2023: Top 5 Adjustable Beds
| Adjustable Bed | Remote | Massage | With Mattress | Wall hugger* | Max Weight** | |
| --- | --- | --- | --- | --- | --- | --- |
| Leggett & Platt Dynasty S-Cape | Wireless | Yes | Yes – 10"/12"/14" | Yes | 700 Lb | View on Amazon |
| Classic Brands Upholstered Adjustable Bed | Wireless | Yes | No | NO | 850 Lb | View on Amazon |
| Reverie 7S Adjustable Bed | Wireless | Yes | No | Yes | 850 Lb | View on Amazon |
| LUCID L100 Adjustable Bed Base | Wired | No | No | No |  550 Lb | View on Amazon |
| Leggett and Platt ShipShape | Wired | No | No | No | 550 Lb | View on Amazon |
* A Wall hugger keeps your head in the same position as the top of the bed rises. This means that you are always in the same position relative to your nightstand. Without the Wallhugger, you would have to twist awkwardly back to reach your nightstand when in the sitting position.
** Max Weight refers to the maximum weight the mechanism can lift. This includes the sleepers and the weight of the mattress.
NOTE: Some of the beds featured in our best adjustable beds review 2023 comprise the bed alone, while others also include a mattress. I recommend a memory foam or latex foam mattress because these most easily conform to the shape of the bed. The size selected for review (where available) is the Split King or Dual King, where each side is independently controlled. In one case we chose the Queen size.
1. Leggett and Platt Dynasty Mattress S-Cape Adjustable Bed
This adjustable bed system offers total relaxation, and is operated by two remote control handsets – one for each person. It is a dual bed system where each partner can control the set-up of their own part of the bed. It is fundamentally two beds. The best sleeping position you find can be saved and programmed into memory.
The bed comes two 12-inch memory foam mattresses constructed using, from top downwards, 1" of gel memory foam, 4" of normal visco-elastic memory foam and 2 x 2-inch Airflow and a 3" layer of polyurethane base foam. The hardness is medium to firm and design is a Split King design: 2 x 38-inch wide mattresses, each of 80-inch length.
Adjustments: You can use the handset to put your bed into literally hundreds of different positions. Once you have the position best for you, you can save that and set exactly the same position whenever you want to. It also provides a body massage and wave massage for additional relaxation to reduce the stresses of your day. You can adjust the massage operation separately for your upper and your lower body.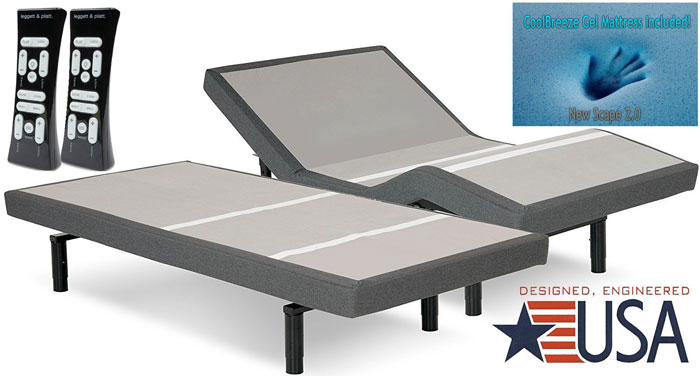 Options: You can also purchase this Legget and Platt S-Cape Bed with a 10″ Mattress and with a 14-inch memory foam mattress.
Pros
89% 4-5 star reviews.
This is strong, durable, adjustable bed that can withstand a good deal of knocks and bangs .
Memory foam for maximum comfort and support.
A 1" top layer of gel memory foam helps you to remain cool in your bed.
The split king design enables each partner to set their own half of the bed to whatever angles they prefer.
2 x Remote controls: preferred positions programmable.
One-Touch Flat – back to a flat bed with one click.
Dual massage features
Wall hugger keeps you close to your nightstand.
Cons
Some reported issues regarding customer services – but nothing that seems too serious.
Editor's Notes: Although the bed comes with a memory foam mattress, you can use your own mattress if you prefer to. The Double King adjustable bed is fundamentally two half-beds side by side, each being independently adjustable. The benefit of their layout is that each partner can set their bed the way they want it. When it comes to sex or other activities, the programmable function in the remote controls can automatically adjust both beds to the best position.
2. Classic Brands Comfort Upholstered Adjustable Bed
We are reviewing the Queen size.  This adjustable base is available in multiple sizes in addition to the Queen. These are Twin XL, Full, King, Split King and you can find details of these by clicking on the above product link to our website.  This is a high-quality adjustable base that is available in most popular sizes.
The base comes with separate elevation controls for your head and foot areas, and also includes a zero gravity position. The wireless remote enables you to easily adjust the base to suit your needs at any time. The 3-speed dual head and foot massage enables you to unwind and relax after a hard day's work. It is ideal for many different types of mattress: latex, memory foam and air mattresses.
Pros
Wireless remote control of elevation and massage features.
The head and foot massages are separately controlled, and come with three speeds for maximum comfort.
Two USB ports available to charge your electronic devices.
Legs are adjustable to heights of 4, 6.5 or 10.5 inches.
Mattress retention rail.
3-Year warranty
Customer service available 7 days a week.
Cons
The base does not come with a mattress as standard, but you have an option to purchase a mattress along the base.
No wall hugger.
Editor's Notes:  This is an excellent adjustable base for a foam mattress. The wireless remote control operates all the features effectively, and the dual head a foot massages can be controlled between three speeds. The mattress retention rail is a good feature, ensuring that your mattress does not slip beyond the edges of the base. If you want a headboard with USB ports attached or a mattress to go with this adjustable base, then these are available when you order.
3. Reverie 7S Adjustable Bed
This takes it place in my bests adjustable beds 2023 review because it not only functions as it should, but is also stylishly fashioned in charcoal grey upholstery, but offers an unlimited number of positions – each of which can be programmed for future use. The massage feature is extremely quiet, and helps you sleep with its gentle movements.
The Reverie 7S adjustable bed is available for both standard king mattresses and to be used a split king, with two paired twin mattresses. The remote controls can set up any previous position you found most comfortable for you, or can be used to set you into the most suitable position for viewing TV, for reading or even for eating breakfast.
The remote can activate a zero-gravity position to take maximum stress from your body, activate massage programs or even enable your partner to activate the anti-snore option that stops you snoring while he or she is still awake.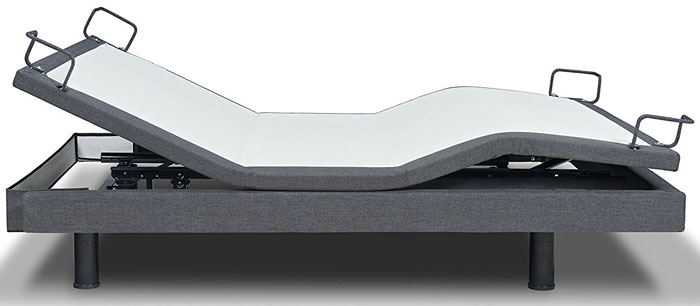 Flat position

Pros
100% 3-5 star reviews. No 0-1 stars.
Fits most standard bed frames.
Full remote control for all features.
Remote app available for Android and Apple devices.
Can be used with standard-sized king mattresses or two twins to make up a split king. With each side independently controlled.
If used with just one king mattress, both bases can be programmed to work in tandem to operate one mattress.
Editor's Notes: Although not supplied with a mattress, any foam mattress should work fine with this bed. Memory foam with a gel foam top would likely be most. Comfortable, but you could also use a latex foam mattress. Foam mattresses have good flexibility and work far better with adjustable beds than innerspring mattresses – which are not recommended.
4. LUCID L100 Adjustable Bed Base
The Lucid L100 adjustable bed base is compatible with all Lucid mattresses and most mattresses that are less than 14 inches thick.  It can fit into most bed frames, and provides you with comfort while you are lying in bed and while sleeping. It is operated with a quiet premium quality motor that is very reliable and has a 5-year warranty against manufacturing defects.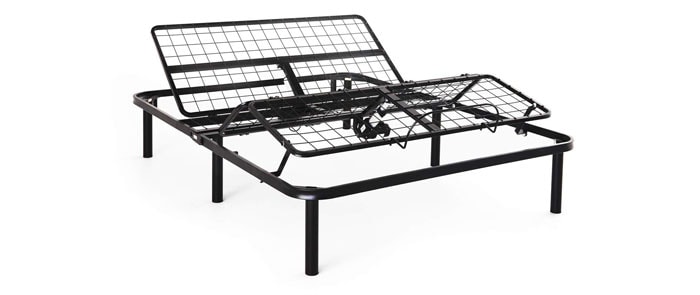 The head inclines from 0 to 58 degrees and the foot from 0 to 40 degrees, allowing maximum comfort while you are sleeping and also lying relaxing watching TV or reading.  The motor is extremely quiet and will not disturb your partner. If you have a King size bed, then two Twin XL adjustable bases can be used together to give independent adjustability to each partner. The Twin XL size measures 27.5" x 79.5" while the queen is 59.5" x 70.5".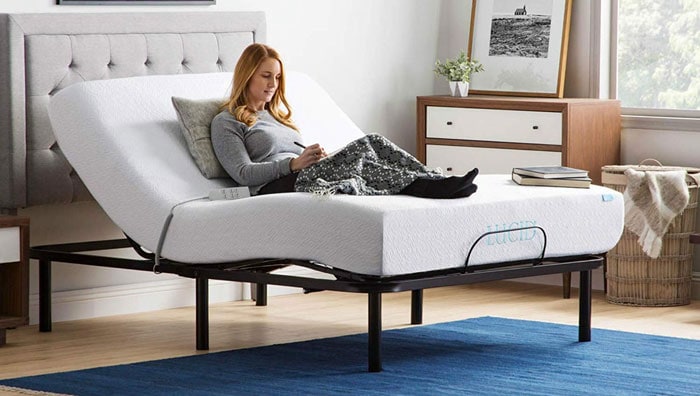 Pros
Fits most mattresses below 14 inches in thickness with very quiet operation.
High quality motor that is quiet, reliable and responsive.
Wired remote control cannot be lost.
Available in Twin XL size: Two of these can be used side-by-side for independent operation by each partner in a King size bed.
600 Lb weight limit
5 Year warranty against manufacturing defects.
Cons
Heavy at 114lb; many people cannot carry this weight.
No wall hugger.
No massage feature.
Editor's Notes: This is a basic but very reliable adjustable bed base that can be used with all mattresses supplied by Lucid. It is very easy to set and get working: simply unpack, screw in legs and attach the remote.  The independent head and foot adjustments enable you to sit up to watch TV, read or check out your emails and posts.  The Lucid L100 Adjustable Bed Base is ideal for use with latex, memory foam and gel memory foam mattresses.
5. Leggett and Platt ShipShape Adjustable Queen Base
This bed is fundamentally a mattress foundation that comes without the mattress – you have to purchase that separately. A foam mattress is recommended, particularly memory foam for maximum comfort. However, if already have a latex foam mattress you like then this will do fine. This base is very light with quiet motor, and the bed can lift a weight of 550 lb.
This is a multi-position adjustable bed, with both head and foot zones adaptable to any position you prefer using the remote control. It is available in Twin XL, Queen, King and Dual-King.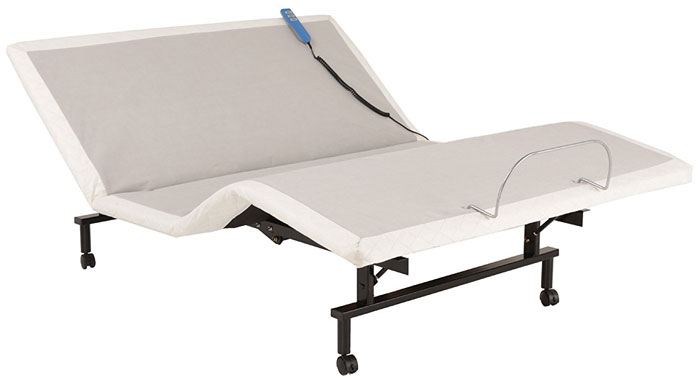 Pros
94% 4-5 star reviews.
Remote control operation (not programmable)
Multi-position adjustable
Excellent entry-level adjustable bed
Cons
No Wall hugger
Mattress required
Cannot save favorite settings.
No USB port.
Editor's Notes: It should be noted that this is an entry level adjustable bed, and its price in relation to the more advanced Leggett and Platt S-Cape reflects this. It is an excellent adjustable bed, and is just as comfortable as the more advanced models. It can be used with 8", 10" and 12" mattresses, and is particularly suitable for heavy people. The Dual-King size is fundamentally Twin XLs side by side.
Buyer's Guide: Adjustable Mattress and Beds
The term 'adjustable mattress' is a false one, because it is the bed frame that is adjustable. The mattress simply conforms to the shape of the bed. In fact, the word 'bed' refers to what you lie or sleep on. It may a blanket on the ground or a complex combination of an adjustable framework, a bed base and a mattress.
When purchasing an adjustable mattress, you are really buying an adjustable bed. It is the framework supporting the base for the =mattress that provides the adjustability, and the mattress itself that offers the comfort and support. However, let's not get caught up in semantics here.
What should you look for when purchasing an adjustable bed? My best adjustable bed reviews 2023 will not only provide you with five excellent options, but also explain the features available, and which may or may not be relevant to your needs. Let's begin with most important aspect of any bed: comfort.
Comfort of Adjustable Beds and Mattresses
There is more than one way to define comfort, and an adjustable bed provides a number of comfort options. It is important that when making a choice from my top 5 adjustable mattresses and beds that you understand what each of the headings refer to. Irrespective of the multitude of features an adjustable bed can offer you, comfort will always come first. If a bed is not comfortable, then it will be of little use to you.
Comfort comes primarily from the mattress, and two of our recommendations come with a mattress supplied. These are the Leggett and Platt Dynasty S-Cape with a 4-layer mattress and the REVERIE 5D Adjustable Base which comes with a 3-layer 12" memory foam mattress. Those that come with no mattress allow you to choose your own type and brand of mattress – which to many is a preferred option.
So what should you consider when making your choice of the best adjustable bed to meet your needs? Here are some for you to think about. The best adjustable beds enable you to adjust your sleeping in this way. Each of the five in our best adjustable bed reviews 2023 enable all of the adjustments below
Resting and Sleeping Angles:
The angle you prefer to rest and the angle you sleep at may not be the same. Most people prefer their head and upper body to be raised while awake. You may be eating in bed, or reading, but most would rather their upper body was in a raised position. When sleeping, most prefer their head to be slightly raised – unless they have a specific condition such as acid reflux or orthopedic pain.
Acid Reflux:
This is a common condition, where stomach contents tend to reflux into the esophagus or even the mouth. The gastric digestive 'juices' generally comprise a strong hydrochloric acid solution and a mixture of digestive enzymes. When these enter into your esophagus and perhaps up into your gullet then your mouth, you will feel a sharp, unpleasant burning sensation up into the back of your throat and a nasty acid taste in your mouth. Heartburn is a minor form of this.
If your face and your feet are one about the same level when sleeping, and your stomach is below the level of your throat and mouth, then it is much less likely for your stomach acid to reflux up into your gullet. Most people who suffer this condition find it happens less frequently when they lie and sleep with their head and lower body raised. An adjustable bed is an ideal of enabling you to sleep in this type of position.
Backache and Arthritis:
Backache can keep some people awake for a good part of the night. If you keep your head and chest higher than the rest of your body, you can reduce the painful compression in your joints that leads to the pain. A bed or mattress than can be adjusted to relieve this compression, and get your head and body into a comfortable position with minimum pressure on your joints, is worth its weight in gold to most people.
Ease of Breathing:
If you suffer from asthma or have some other breathing issue such as bronchitis, then any of my best adjustable beds above will help you keep your airway open. By lying and sleeping with your neck and chest in a raised position, you will open your airway and find breathing mush easier.
Snoring:
If your head is elevated while you sleep, then your airway becomes more open, so reducing the possibility of snoring. There is no guarantee that it will be completely stopped, but it is the best way to ensure that it is reduced in intensity – and might even stop snoring altogether.
Circulation and Other Issues:
If your feet or legs tend to swell at night this may indicate a circulation problem. By elevating your extremities (feet, ankles and legs) and being able to raise your legs to any angle you find most comfortable, you will be able to reduce this swelling and promote a healthier circulation of your blood.
Adjustable Bed Features
When buying and adjustable bed, it is important to be aware of the benefits above. However, it also helps to understand what you should be looking for before you decide to purchase any specific adjustable bed.
The Mattress:
An adjustable bed is really only the base of a bed. It is the mechanism that provides you with all the angles that can use when in bed. Over that will lie a mattress base, and all of the beds we have reviewed include that. Your mattress will lie on top of that base. Some beds come with the mattress but most only comprise the mechanical base with a soft top for the mattress to lie upon.
For it work properly with your adjustable bed base, your mattress should be able to bend into different angles just as the frame or base does. That why we recommend a latex foam or memory foam mattress. It's not so easy for an innerspring mattress to bend in this way so don't try it! Use foam.
Weight Capacity:
The weight capacity refers to the maximum weight the mechanism can work with. This includes both the Mattress weight and the combined weight of those sleeping on it. For Dual- King or Split-King sizes, the weight refers to that for each person. However, if two people share a Queen or a normal King, then it refers to the weight of both.
Wall-hugger:
This is often described as the position of the head of the bed in relation to its position lengthwise. This is not quite right. It's easier to understand if you refer to it as a 'nightstand hugger.' When you are lying flat, your nightstand may be next to your shoulder. When you elevate the top of the bed to raise your head and shoulders, your body moves forwards and your nightstand will then be behind you, and you have to twist back to get to it. A Wall-hugger moves your sleeping surface back and keeps the nightstand within easy reach.
Remote Control Options:
Most high-level beds have wireless remote control handsets. We have included one wired remote in out list, which comes with our entry level adjustable bed for those that want to pay less to get the adjustable experience without going straight to the better models. Some also save your settings (usually two) that you can go back to with the touch of a button.
Mattress Options:
Mattresses rarely come as part of an adjustable bed package, and it is something you should consider when pricing them. If you buy a Split King or Dual King for example, then you will have to purchase two mattresses – likely 2 x Twin XL. Some wider beds d not have dual controls, so each partner must abide by what setting the other uses. A dual system is far better, so each can use their own angles and settings.
Massage Options:
Some adjustable beds offer a massage option – in fact one or two offer a regular massage and a wave massage. This feature soothes tired and aching muscles, and is sure to get you to sleep quickly and soundly.
Best Adjustable Beds: FAQs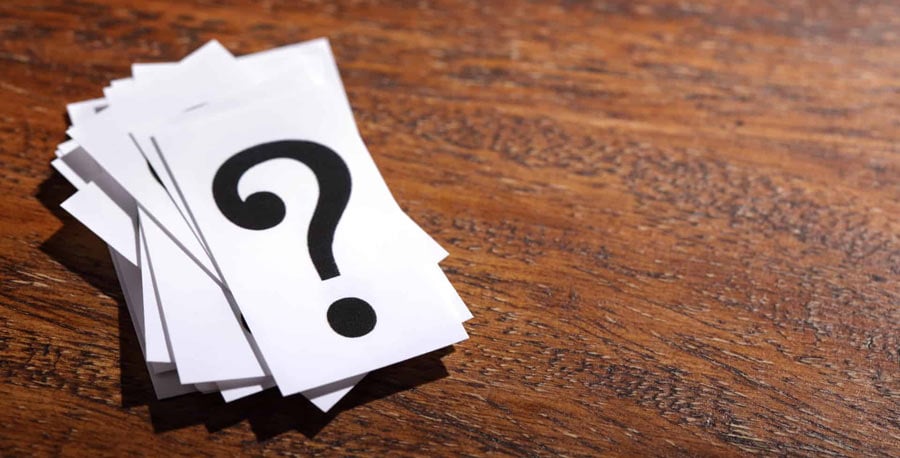 1. Do adjustable beds also come with mattresses?
No, they do not. Some do, but most just provide the mechanism frame with a mattress base on top.
2. What kind of mattress should I buy for my adjustable bed?
A mattress with a wire round the border will not be suitable. You can feel that wire around the perimeter of your mattress with your hands. A latex foam or memory foam mattress is ideal or you can also purchase a reflex foam mattress which is generally firmer and more supportive than a memory foam mattress, but much less expensive. Some pocket spring mattresses have been developed to work with adjustable beds – but not any other type of spring mattress.
3. I tend to snore – will an adjustable bed help stop that?
It could do. By raising your head that mattress could stop your snoring – and make life better for your partner!
4. What if there is a power cut? Will my bed still work?
Most of them have battery backup – check with your vendor to make sure. The backup might not allow the bed to remain adjustable, but will enable you to get it flat so you can easily get out of bed.
5. Can I fit my new adjustable bed into my existing base?
It depends on the type of base. If you have a sleigh bed, then you should discuss that with your vendor first. Most adjustable beds will fit into regular bases.
6. How much power does an adjustable bed use?
Not much – you only use power when you adjust the bed.
7. Can I use my regular bedding – sheets and duvet or blankets?
Yes – although you may find that the company providing your bed can offer specially made bedding to suit your specific model of bed – pillows, sheets, and so on. Or check the mattress supplier if you are using a separate source for your mattress.
Best Adjustable Beds Reviews 2023 – Summary
There are some other features available according to the adjustable bed you choose. The above are my top 5 adjustable mattresses and beds. In fact, I have included an entry level adjustable bed and one of the top level beds of this type in my Best Adjustable Beds Reviews 2023.
Leggett & Platt Dynasty S-Cape

Classic Brands Upholstered Adjustable Bed

REVERIE 5D Adjustable Base

LUCID L100 Adjustable Bed Base

Reverie 7S Adjustable Bed
Summary
If you have any medical or physio reason for needing such a bed, then it is unlikely that you will regret your purchase. Many people buy them just for their comfort and they way they relieve you of the daily stresses and general aches.