Transparency Disclosure: We may receive a fee from the seller for any purchases made through links on this website or from other sites accessed via this website. This fee incurs no additional costs for the buyer. To learn more, please read our full disclosure page here. Read our Product Research and Testing page to know more about our review process in detail.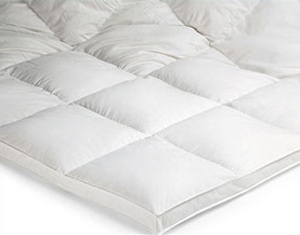 Back in the day, feather beds were only for the rich. They were hand made, using a variety of feathers for maximum comfort – rather than straw or other forms of mattress filling. Today we have a wide range if mattress types: latex foam (natural and synthetic), memory foams, innersprings of several types and feathers.
Feather mattress toppers are used to provide a top comfort layer to modern mattresses. You may find your mattress too hard for your liking. Rather than buying a new mattress, a feather topper will make it much more comfortable to lie on. We provide a Buyer's Guide to feather mattress toppers later but first here are our top 5. We are using the Queen Size for our comparison – each is 80" x 60".
| No | Feather Topper | Thickness | Filling | Rating | Price |
| --- | --- | --- | --- | --- | --- |
| #1 | Queen Daniadown White Goose Down Featherbed Topper | 3" | Duck feather + goose down % NA. | 5 | Buy on Amazon |
| #2 | Millsave Goose Feather and Down Topper | 5" | 95% Goose feather 5% down | 4.8 | Buy on Amazon |
| #3 | Sweet Jojo Designs White Goose Feathers and Down | 2" | 95% Goose feather 5% down | 4.7 | Buy on Amazon |
| #4 | Rose Feather White Goose Down and Feather Mattress Topper | 2" | 80% Goose feather 20% down | 4.6 | Buy on Amazon |
| #5 | Lavish Home Down & Duck Feather 4 Inch Gusset Topper | 4" | 95% Duck feather | 4.4 | Buy on Amazon |
* NS: Fill weight not stated.
Table of Contents
Top Five Best Feather Mattress Toppers
1. Daniadown White Goose Down Featherbed Mattress Topper
The Daniadown white goose down and duck feather mattress topper is a 3-inch thick and comfortable topper with a box baffle construction. The 100% woven white cotton cover is heaven to lie on and 260 thread count helps keep the feathers inside and not sticking out. The fill weight is a generous 15 pounds of feathers and down.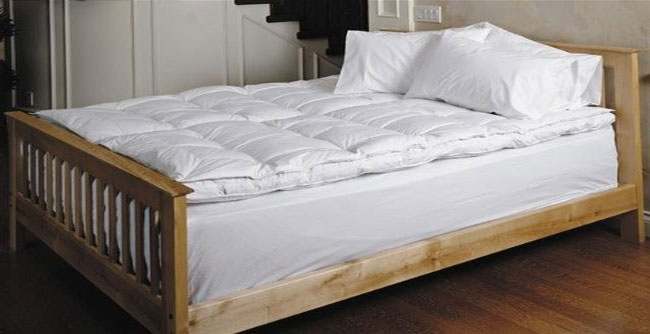 The baffles are filled with small duck feathers topped by a layer of quilted white goose down for superb cushioning and comfort. If the down gets compressed during use, simply give it a good shake to fluff it up again.
Pros
15 lb of white goose down and duck feather filling.
Woven white cotton cover with 260 thread count.
Baffle Box construction.
Excellent reviews from those who have purchased it.
Cons
Costs $40 to ship
Warranty is not published – you must contact seller after purchasing the item. We checked the website and you are warranted against defective workmanship and material defects for 2 years after purchase.
Editor's Note: This feather mattress topper gets wonderful reviews, so it must meet the needs of those who purchased it. Its 3-inch thickness is sufficient for a comfortable sleeping surface, particularly with the down covering the feathers. It gets out the top rating for its comfort and the way it is constructed. Some complain about it flattening out after a while, but read out Buyer's Guide below. It explains the difference between feather mattress toppers and those made from foam.
2. Millsave Goose Down Topper
The Millsave Goose Down Topper consists of a 300 thread outer cover filled with 95% goose feathers and 5% goose down. It has a 5-inch side gusset with a genuine baffled construction. It contains 21.6 pounds of filling for maximum support and comfort.
The title description given to this feather mattress topper is slightly misleading. It is only 5% goose down, the other 95% being goose feathers.
Pros
The 300 thread count of the topper helps to keep the feathers inside rather than the quills causing you discomfort.
The baffled design helps keep the filling where it should be. The movement could lead to lumps and pockets where there is no filling at all. This construction helps to avoid this.
Helps to reduce hip and back pain, particularly when used over a hard mattress.
Cons
As with the above, there are some complaints regarding quills sticking through the cover. The thread count of 300 should allow less of this than a lower count.
Lack of support appears to be another issue with a few buyers – but would you expect support from a feather mattress topper? It is generally intended as a comfort layer.
Returns can be expensive, and include a restocking cost.
Editor's Note: This is a thicker version of this type of feather mattress topper, made to the supplier's specifications. Its description is either intentionally or unintentionally misleading, since this "5-inch Queen Goose Down Mattress Topper Featherbed" Is only 5% goose down.
3. White Goose Feathers and Down
This goose feather mattress by Sweet Jojo Designs is sewn in a baffle box construction (See Buyer's Guide below). The 100% cotton cover has a thread count of 240 and is filled with a mix of 95% goose feathers and 5% goose down. The feathers and down have been treated with an antibacterial agent that prevents the growth of bacteria, molds, fungi and mildew. The 2-inch sides are gusseted to provide even, firm support that absorbs pressure on your shoulders, back and hips.
Pros
Mix of goose feather and down: 5% down.
The baffle boxes are sewn from end to end with a 10-inch box stitch – this prevents movement of the filling.
Antibacterial and anti-fungal filling keeps the mattress topper fresh for years.
Cushions pressure points for a good sleep and less back pain.
Cons
Some users complain about the goose quills causing discomfort.
If you wish to return this mattress topper, you pay for transport yourself.
Editor's Note: This seems like an excellent feather mattress topper, with the filling firmly contained by the stitched baffle box construction. Refer to our Buyer's Guide below for more details on baffle boxes.
4. Rose Feather White Goose Down and Feather Mattress Topper
The Rose feather white goose down and feather mattress topper is filled with 20% of white goose down and 80% goose feathers. This is more down than many others of our "best feather mattress toppers." The cover is 100% organic cotton, claimed to be down-proof. The cotton has a thread count of 233.
Most people who purchased this feather mattress topper were delighted with its comfort and thickness. A few expected it to retain its thickness for longer, but most feather and down-filled items need shaken and plumped up regularly. That's a small piece to pay for the comfort such mattress toppers provide.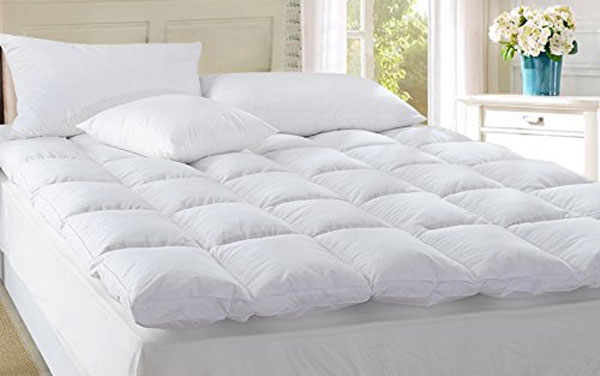 Pros
100% down-proof organic cotton cover with a 233 thread count.
Constructed to prevent feather and down from leaking out.
80% goose feathers and 20% down.
Fill weight 183 ounces (11.4 lb)
Boxed construction with double needle stitching to keep the feathers and goose down in place.
Anchor bands at each corner for elimination of shifting of the filling.
Machine washable and OK to tumble dry.
Non Live-Plucked Products Guarantee: Feathers and down originating from food industry and not plucked from live birds.
Cons
Made in and shipped from China.
Some complaints regarding the softening and resultant flattening of this feather mattress topper – but few in comparison to positive reviews.
Editor's Note: This seems to be a good quality mattress topper. Many Chinese products are of very high quality, particularly if manufactured for Donald Trump's America. It gets excellent reviews on average, though a few complain about it flattening out with use. The complaints are not enough to keep this one out of the #1 spot of those we have tested.
5. Lavish Home Down & Duck Feather 4 Inch Gusset Topper
With a soft 100% cotton cover (233 thread count), this 100% duck down and feather mattress topper keeps you comfortable and warm at night. The baffle box construction keeps the filling in place and evenly distributed. The cotton cover is soft to lie on for a comfortable sleep all year round.
This is an excellent covering for a mattress that is too hard for you. It provides a comfortable sleeping surface on a hard bed that provides the support that you need. You can use this mattress topper for comfort while the hard mattress underneath provides the support.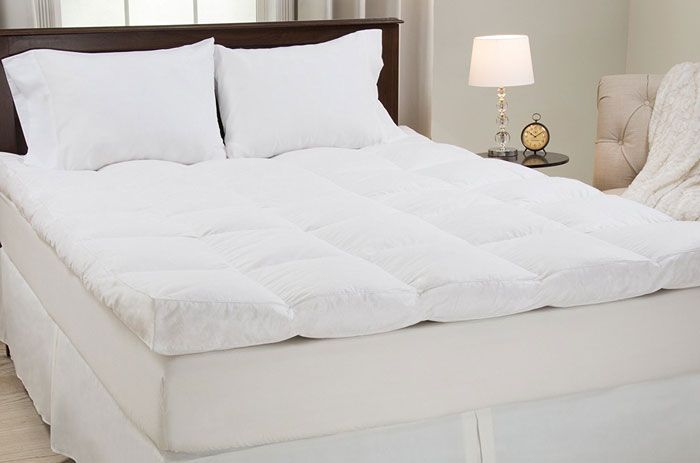 Pros
100% cotton cover with a 233 thread count to keep the feathers from poking out of the topper.
Baffle box construction – as all good feather mattress toppers should have.
Offers comfort over a hard mattress without loss of support.
Cons
The feather quills may tend to get through the cotton cover and cause discomfort. However, most feather mattress toppers have this problem.
The filling can tend to clump up over time – this can be overcome by shaming the mattress topper now and again to keep the feather and down filling loose.
Warranty – not published. You need to contact Customer Service for details.
Editor's Note: This feather mattress topper is good if you have a mattress that is too hard for you. Like most mattress toppers, it provides a softer sleeping surface while still maintaining a solid, stable sleeping surface. It seems to be a very good feather mattress topper, but its customer service and warrant information puts it at the bottom of our list.
Feather Mattress Toppers Buyers Guide
This buyer's guide will provide you with some information of feather mattress toppers and what to look for when buying one. First, what benefits do they provide and what are their disadvantages? Luckily there are more benefits, but they also have some disadvantages that you should be aware of. Here is what to look for when buying a feather mattress topper.
First, make sure your topper is constructed using baffle boxes. All of those we have included in our best feather mattress toppers reviews 2023 have been made using this construction. So what is it?
Baffle Box Construction
A mattress topper or comforter made with a baffle box construction is an indication of the stability of the feather filling. Each 'box' or 'shell' consists of a 3-dimensional chamber with stitched vertical interior walls. Each of these chambers or cells is filled with the feathers and down.
Not only do these chambers prevent the feathers from moving around too much, but they also help to retain the 'loft' or fluffiness of the feathers and down. This helps to maintain the comfort of mattress toppers and retain heat on these cold, winter nights.
Fill Weight
The 'fill weight' of a feather mattress topper relates to the total weight of the feathers and down used in the filling. The heavier the weight, the more feathers and down, and more support it may offer. Keep in mind that feather fillings are not recommended if you need good therapeutic support – they are for comfort only. However, some people with back issues prefer to use a feather topper over a hard or firm memory foam mattress. The memory foam offers the support while the feathers give a level of comfort – in this case, a lower fill weight might be more appropriate.
Flattening of Feather Mattress Toppers
If you read the reviews of feather mattress toppers, you may come across some negatives relating to the filling flattening out. It is important to keep in mind that goose and duck feathers and down are natural materials. They do not possess the bounce and spring of foams. Feather toppers do flatten after a period of use.
What you have to do is to take the topper in your hands and give it a good shake – or 'shoogle' as they say in Scotland! This loosens up the packed feathers and brings them back to their original condition. It's a small price to pay for the wonderful sleeping surface they offer on both soft and hard mattresses.
Potential Contamination
While feather mattress toppers can become contaminated, they are sometimes used to protect the mattress itself – the mattress frequently being significantly more expensive. However, it should be noted that children often pee the bed, and the urine will soak into the feathers. It is difficult to wash a feather topper that has been contaminated in this way, so it is not advisable to use one on a child's bed or that of anyone with potential incontinence.
Positives
A feather mattress topper is ideal to cover up any sagging or wear in your mattress. It also enables many people to sleep who may normally have difficulty in sleeping. Because feathers are natural, with plenty air present among the feathers, they can tend to dissipate heat faster than a latex or memory foam topper. You have to give it a regular shake to loosen up the feathers and maintain this property.
Negatives
There are few negatives other than being difficult to clean from liquid contaminants. Some people find them too warm, but if you keep the feathers well dispersed, they tend to stay cool longer. Feather mattress toppers are not recommended for you if you need a hard sleeping surface for therapeutic reasons. They do not provide the same level of support as firmer foams do.
Another issue some people find with feather toppers is that individual feathers can poke through the cover and the quills can become uncomfortable. The higher quality feather toppers tend to display this issue less than cheaper brands. Look for one with a cotton cover of high thread count (tc). A cotton cover with a thread count of 230 – 300 should be good enough to reduce this. Our top rated feather mattress topper has a thread count of 260.
Feather Mattress Toppers: FAQs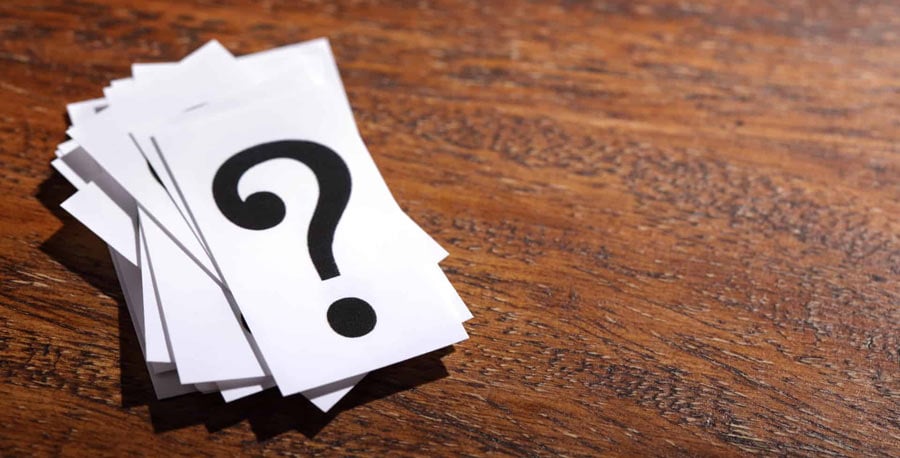 Here are some questions we have frequently been asked regarding feather mattress toppers.
1. What's the difference between feathers and down?
Down is found under the feathers. Feathers are the outer covering, and help the bird fly. Feathers have quills that can poke through the topper cover, while down has no quills. It is usually found on the underbelly of the bird and keeps it warm. It is light and fluffy, and very comfortable when used in a mattress topper.
2. Which is better: goose feathers and down or duck?
Goose down clusters tend to be larger than duck clusters. That means they have higher fill powers – you get more down and hence more comfort with goose down than duck down. Goose feathers are also smaller than duck feathers, so are potentially more expensive than duck, but are also more comfortable.

If you want comfort, then look for goose feathers and down, although duck is acceptable. With both sources, the more down the more comfortable the mattress topper. Duck feather toppers are best for heavier people or those that prefer a firmer sleeping surface. Down softens the surface and is best for lighter weight people and for comfort.
3. Can I use an electric blanket on a feather mattress topper?
Yes, but it is best to place the electric blanket under the topper. The heat will rise into the topper and fluff up the down and feathers. However, keep in mind that feather mattress toppers are fairly warm, and an electric blanket might make it too warm for you. Turn the electric blanket on before going to bed, and turn it off when you go to bed. You might find turning it off 15-30 minutes before going to bed will suit you better. Technically, there is no reason not to use an electric blanket with feather or down toppers.
4. How do I clean my feather mattress topper?
Generally, it's best not to wash or bleach a feather mattress topper. You should air it regularly to keep it fresh, but not in direct sunlight. You can spot clean the cotton cover using soap solution and warm water, but do not use bleach. Regular airing and lofting (shaking it to fluff up the feathers) is all the care you really need. Some toppers may be machine-washable, but do so only at low temperature with a slower spin speed.
5. What effect does thread count have on my feather topper?
Thread count (tc) refers to the number of threads in 10 square centimeters of fabric. The fabric used in feather mattress toppers is generally cotton. The threads are counted both horizontally and vertically. If you like a silky smooth feel to your topper, then go for over 250 thread count. If you like it to be crisper, then below 250 should suit you. Our selection above includes both.
Best Feather Mattress Toppers Reviews 2023: Summary
Our selection of feather mattress toppers was made based upon available review data, personal experience and a careful review of manufacturers' websites. Mattress toppers provide an excellent way of rejuvenating an old mattress or filling in depressions and covering lumps. The thicker the better for these applications, though our listing order is based upon their use as a comfort layer.
Queen Daniadown White Goose Down Featherbed

Millsave Goose Feather and Down

Sweet Jojo Designs White Goose Feathers

Rose Feather White Goose Down

Lavish Home Down & Duck Feather
Summary
If your existing mattress feels too firm for you, you can transform it with a feather topper. If you purchased a firm Tempurpedic mattress and your condition has improved, then a feather mattress topper can soften it for you and give a lovely comfortable sleeping surface. If your current mattress is too soft, then a feather topper will not help you. Our Best Feather Mattress Toppers Reviews provide you with a good selection that represents our opinion of the best feather mattress toppers available today.