Transparency Disclosure: We may receive a fee from the seller for any purchases made through links on this website or from other sites accessed via this website. This fee incurs no additional costs for the buyer. To learn more, please read our full disclosure page here. Read our Product Research and Testing page to know more about our review process in detail.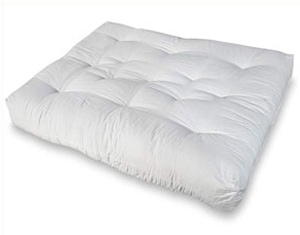 Our best futon mattress reviews 2023 provide you with our opinion of the best futons available online today. If you have a small house with limited sleeping accommodation, or even a bedsit or studio apartment, a futon could be your answer to unexpected visitors or even to the lack of space if you have children. Maybe you have enough bedroom accommodation for your family, but no spare room for overnight visitors. You are not alone, and many people have this problem to overcome every time extended family members, or even friends, need overnight accommodation for one or more nights.
Our best futon mattress reviews could help you choose appropriate sleeping facilities to supplement what you already have available for you and/or your family. We provide below our opinion of the best 5 futon mattresses from all those we have looked at. It is important that you use the most comfortable futon you can, and each of the five below has been chosen for its comfort, its particular properties, and its features.
A futon mattress can be used to convert a sofa into a temporary bed, or can even be laid on the floor as a comfortable sleeping surface for children or even adults. In fact, sofa beds may also be referred to as futons in the USA. The 5 best futon mattresses we have chosen are traditional folding or roll-out Japanese futons that can provide a comfortable bed for your visitors – or even for yourself. So what is the most comfortable futon? Here is our opinion on this:
1. FULI Japanese Traditional Shiki Futon (shikibuton)
This futon is a traditional Japanese Shiki futon, known as a shikibuton. Like most futons, once delivered you are advised to allow it to expand for 3 days after opening the package. The futon is composed of a cotton cover stuffed with polyester. Most people who have purchased this provide it with good reviews.
Check out our Buyer's Guide below for what to look for and expect in a good futon. If you find it too thin for you, as many westerners might with a genuine futon, you can use a thin mattress or a tatami mattress to make it more comfortable. The cover is 100% cotton, and the filling is polyester foam.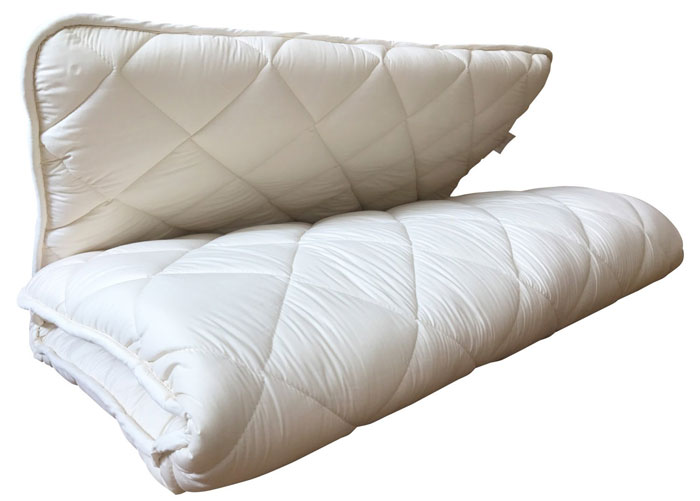 Pros
Manufactured by Japanese craftsmen.
Good thickness for a traditional shikibuton.
Made in Japan by Japanese craftsmen.
Cons
Some find it too thin for comfort, but you can use a pad beneath it: a normal mattress pad or a Tatami mattress would do.
Otherwise, this is a traditional futon that most people will find comfortable to sleep on.
Editor's Notes: Those used to sleeping on traditional Japanese futons will find this an excellent option. At 2.5 inches thick, it is normal for a futon. However, some people may find it. Too thin, and too hard to sleep on. In that case, you can use a Tatami pad under it, or even a mattress pad or some other comfortable surface to spread the futon out on.
2. EMOOR Compact Japanese Futon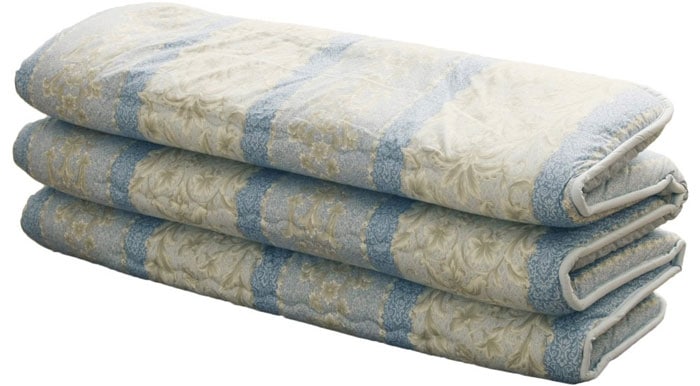 The EMOOR Japanese futon comprises a futon mattress (shikibuton), a pillow and a comforter (kakebuton). This is lightweight futon that is 76.8 x 37.4 inches (95 x 195 cm) in size with a 59 x 78.8 inch (150 x 200 cm) comforter. It is easy to store and can be rolled out on the floor when needed. This is an excellent futon if you find it comfortable to lie on a hard surface. If you prefer something softer, then you can use this futon on top of a foam mattress.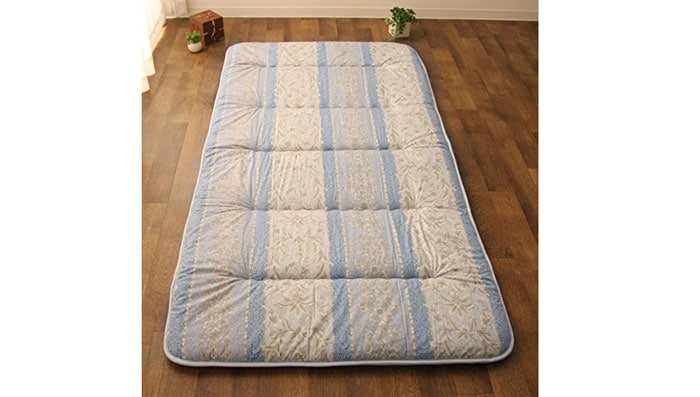 Pros
A traditional Japanese futon.
Comes with a comforter and pillows.
It is lightweight and very easy to store.
It is comfortable and can be used on top of a mattress pad if extra softness is needed.
Antibacterial and anti-ticked.
Cons
Perhaps slightly thin for many people, but traditional futon users like it, and you can roll it out on a thin sheet of foam or a Tatami mattress if you need a softer sleeping surface. Some use a normal pad as a base layer.
The size is a compact twin – smaller than a standard Japanese twin futon.
Editor's Notes: The EMOOR compact Japanese futon is a good example of this company's range of futon products. It comes with the kakebuton (comforter) and pillow. You may find it hard if used on a hard floor, but you can use it on a regular mattress, a mattress pad or on any other soft surface if you prefer. Futons tend to be thin by nature, unless you are referring to the alternative sense of the word: a sofa that can be used as a bed for overnight guests.
3. D&D Futon Trifold Mat
This shikibuton futon is a 3-inch thick tri-fold sleeping mat. It is intended for floor use, and is perfect if this is the type of futon you are looking for. It can be used anywhere: on a bedroom floor, in a nursery, guestroom, living room, mobile homes and RV trailers, and even on a patio on warm evenings. The fabric cover is 100% polyester poplin, and is manufactured using 1.8 lb high-density foam. It meets the required flammability standard CFR Part 1633.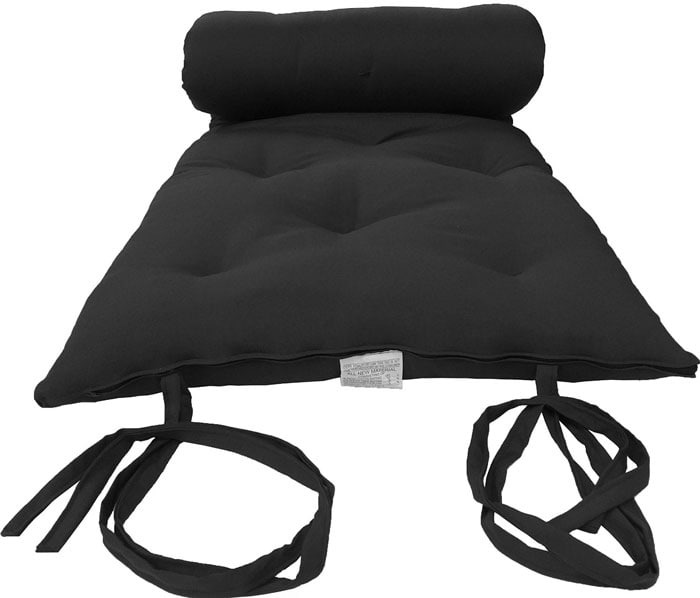 Some parents use this type of futon mat for sleeping in a nursery beside their new baby, or beside a crib while the child is transitioning from sleeping in their parents' room to their own room. Its dimensions allow it to be folded up and stored beneath the crib.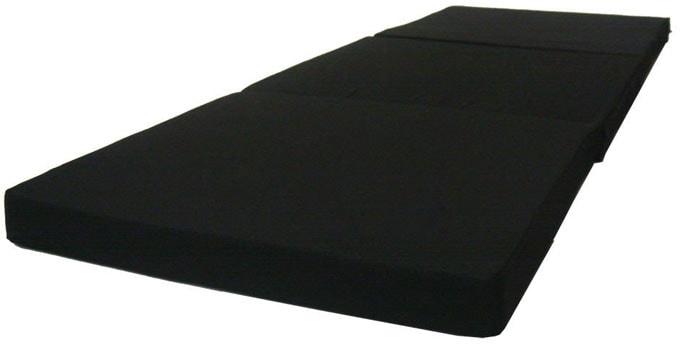 Pros
High-density comfortable foam
Easily folded for storage to 25" long x 27" wide x 9" thick.
Supportive high-density foam.
Cover removable for washing.
Also a 75" x 39" x 6" version available (at a higher price).
Made in the USA
Cons
May require airing before extended use.
No warranty or trial information provided.
Editor's Notes: This is an excellent futon mat intended for floor sleeping, although it can be used on a sofa or on a solid mattress base or foundation. There is no warranty or sleep trial information provided with this product. However, if you buy from Amazon, you get Amazon's own guarantee. It. Is good for an RV or trailer, and folds up for easy storage.
4. Merax Folding Futon Sofa Bed
The Merax folding futon sofa bed is a different type of futon that meets the American definition of 'futon'. It can be used a sofa or a gaming lounge chair, but most of all, as a futon. This is a piece of furniture you can sit or lie on, and use as your bed at night. It is ideal for a bedsit, small apartment or for your children to use for reading, watching TV, gaming and for sleeping (mostly in reverse order!). It is easy to fold and convert to a comfortable chair, stylish sofa or to a bed. It comes with a fleece cover and is both versatile and comfortable.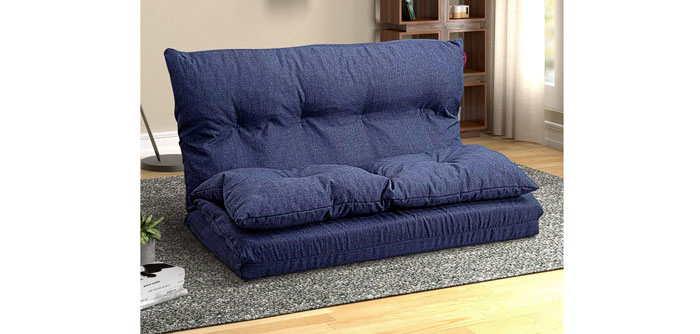 Pros
Meets all posture needs.
It is easily converted from a sofa to a chair to a bed.
It has a steel frame for strength and a fabric cover for comfort.
Dimensions of the sofa bed: 74" x 42.5" with a 25.6-inch high back.
The back can be adjusted from flat (180O) to upright (90O) at five different angles.
Available in four colors.
Double-stitched fleece upholstery with a thick cushioned interior and two back pillows.
Can be folded down quickly from a bed to a sofa to a chair for watching TV, gaming, reading or sleeping.
Perfect for sleeping, entertainment and simply sitting in a small room or apartment.
One-year warranty.
Cons
Few negatives that we could find.
This is not a traditional style of futon, but more American than Japanese.
Editor's Notes: The Merax futon is not a traditional Japanese style of futon, but is what many Americans regard as meeting the definition. It lies somewhere between a traditional sofa-bed and a futon, and would certainly be useful to many people in need of a spare bed. Because of the way it has been designed and constructed, the bed mode is very comfortable. Some people use this as their main bed.
5. Mozaic Full Size Gel Memory Foam Futon
The Mosaic futon mattress fits any full-size futon frame. It is 8 inches thick and made using gel-infused memory foam which not only feels comfortable to sleep on but also helps keep you cool on hot nights. It fits a standard Full-size frame and both sides of the Mosaic futon can be used. It is designed for use either flat as a bed or folded such as on an upright sofa.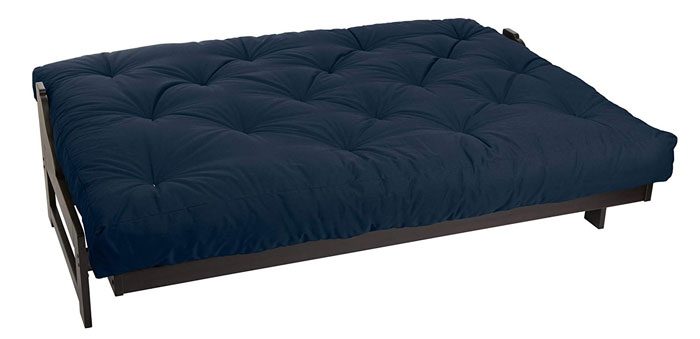 This American futon is thicker than most Japanese-style futons and may suit many Western preferences more than the thinner types of the futon. It is not rated higher because it is not a traditional type of oriental futon. Nevertheless, this is one instance where our #5 choice might be preferred by many people. The cotton twill cover will increase its life and makes it easy to clean. A futon frame is available separately for the Mosaic futon. Click Here for more details of the frame.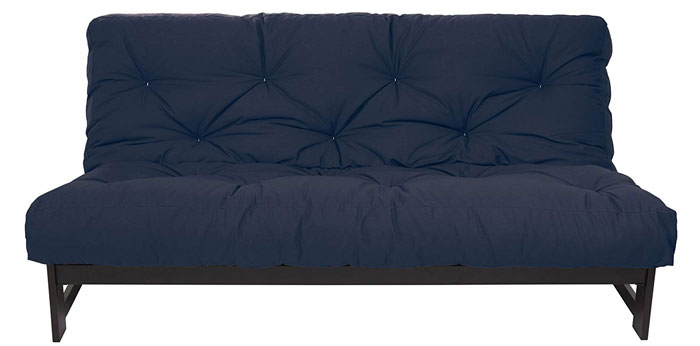 Pros
Reversible and can be used folded, upright or in a flat normal bed position.
Made by hand in the USA
Conforms to Federal Flammability Standard 16CFR 1633.
Gel memory foam helps keep you cool on hot nights.
Options of cover color.
A futon frame for this futon is sold separately. Click on this link for details.
Cons
Shipped vacuum packed – so you need to leave for several days for it to expand to its correct dimensions.
Fairly heavy at 68 lb weight.
Can be cleaned only by vacuuming and using a steam cleaner. You could also put a fitted sheet on it to keep it clean – machine wash the sheet when necessary.
Editor's Notes: This is an excellent futon, although you will need to purchase a frame to make the best use of it. If you simply want to unfold it on the floor, then it is comfortable enough to accommodate that. We recommend that you purchase a futon cover than can be removed for machine washing since the cover provided is not removable and has to be washed with a steam cleaner.
Buyer's Guide to Futons
The above are our top picks, but before even considering buying a futon it is important to understand what a futon is. Most Americans envisage a sofa bed or some other substantial item of furniture. Many others understand the Japanese concept of a foldable or roll-out bed for the floor. If you are seeking a spare bed or two for your home, in case you get visitors who have to stay overnight, then both types of futon are good.
In Japan, the word 'futon' means 'bed'! Japanese futons are designed to be rolled out or laid on the floor. The various terms used for the futon parts and accessories are:
Shikibuton: Mattress
Kakebuton: Comforter or Duvet/Quilt
Makura: Pillow
Tatami: A floor mat, traditionally made using rice straw for the core. Today, a tatami may also be made using the compressed wood chip or even polystyrene foam. Whatever it is made from, it is a good base for a futon to rolled or placed on.
In the USA, the term 'futon' generally refers to the shikibuton, or mattress, and is designed to be used on a couch or a frame. It is thicker than a traditional Japanese futon. A Japanese-style futon is normally up to around 3 inches in thickness. This can be fairly hard for most sleepers, particularly side sleepers. Most stomach sleepers would normally find it a very comfortable sleeping surface. If properly looked after and maintained, a futon should last from 7 to 12 years, and perhaps a little longer if rarely used.
The vast majority of Americans will sleep on a tradition bed, and use the futon for guests – particularly for unexpected overnight stays. It is easy to store a futon in a cupboard and bring it out when needed. You are advised to turn or flip (where possible) a futon twice a month to equalize the wear and make it last longer. Here are some tips on buying the best futon for your needs.
Period of Use: Occasional Visitor or Main Bed
Is your futon intended as the main bed or for occasional visitors? This will make a difference to your approach when deciding which to purchase. A low-priced futon might be OK for a visitor sleeping just one or two nights. However, if it is intended as your main bed, then a higher quality and more expensive futon might be called for.
Futon Construction
Because Japanese futons are designed to be rolled out they tend to be made using fairly thin foam or batting. However, some American futons are available constructed with steel coils or springs. We did not present one of these in our five above, but we do recommend one: the Better Homes and Garden Wood Arm Futon with an 8" Coil Mattress This is a futon or sofa bed that will last, and that will provide a high-quality bed whenever needed.
This futon is constructed like a proper mattress with the purpose of providing good support. You may find a memory foam futon more suited to your sleeping position, in which case the American Mosaic cotton twill gel memory foam futon introduced in our list of 5 best futon mattress reviews would likely meet your needs. Japanese futon mattresses are intended to be rolled out on the floor, while the American type, such as that above, are thicker and intended for couch, sofa or frame use.
Types of Futon
When you are buying a futon it's important to understand the different types available. Some think of a sofa type while traditionalists may prefer a traditional futon mat. One of the benefits of a futon mat is that you can lay it out on a floor, on a tatami or even on a thin mattress or mattress pad as explained earlier. A futon frame is good for a thicker type of futon such as the 8-inch thick Mosaic futon we have reviewed.
Futon Pads: As explained above, a futon pad can be laid on the floor, either alone or on a comfortable surface such as a tatami or a mattress mat. You can use a futon pad on your mattress to protect it and extend its life. The cost of the pad will likely be less than what it would cost you to replace your mattress had you not used it. You can also use a futon pad to change the comfort level of your mattress to meet your needs.
Sofa Futons: American futons tend to be used as chairs, sofas, and beds. The futon itself is generally thicker than a Japanese futon – around 8 inches in depth as opposed to around 3 inches. They can usually be used as a sofa during the day, and stretched out at night as a bed.
Spring Futons: Some futons are manufactured using innersprings as the main support system. These are generally American innovations and not true Japanese futons. They are unable to stand up to the stresses of folding or rolling and tend to have a short life. If you prefer springs then forget the futon and choose an innerspring mattress.
That said, it is important that you get what you pay for, and understand what you are paying for when you purchase a futon. Our best futon mattress reviews provide you with the information needed to make the correct decision. This buyer's guide to futons is important in helping you make the right decision. We shall explain to you what to look for when purchasing a futon, and how to avoid the main pitfalls that Westerners face when purchasing oriental furniture.
Best Futon Mattress Reviews: FAQs
Here are some questions regarding futon mattresses that we frequently have to answer.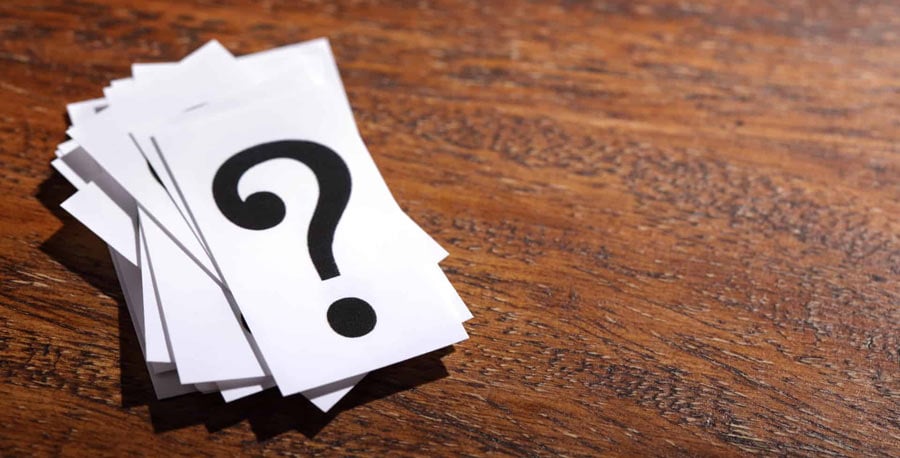 1. What does the word 'Futon' mean?
Traditionally, the word 'futon' means 'bed'. A traditional futon consists of a shikibuton (padded mattress), kakebuton (quilt or duvet) and a makura (bean-filled pillow). It was traditionally put down on the floor at night for sleeping, then rolled up in the morning for storage till night-time. Some refer to the futon as the padded or foam mattress (the shikibuton) only, while in the USA the futon is often referred to as a couch or sofa that can be used for sleeping on.
2. Will I need a frame for my futon?
Much depends on how you want to use it. You can easily roll or unfold a futon onto your floor or a thin mattress or mattress pad. However, many like to use a futon frame, which holds the futon much like a regular bed. Futons intended for use on a frame are best to be the thicker American types with a depth of around 6 – 8 inches. Only these can protect you from the pressure of the frame.
3. In what sizes can I purchase traditional Japanese futons?
Traditional Japanese futons are available only in twin and double sizes. Twins are for individuals and doubles are for couples.
4. Which will be best for me for visitors? A futon or a traditional sofa bed?
Sofa beds will normally be larger in dimensions, and will likely be preferred by most. People looking for a bed for couples sleeping overnight would normally opt for a good sofa bed. However, futon frames and beds are less massive and weigh less than standard sofa beds. Whether you choose to have a spare futon bed or a traditional.

Sofa sleepers are bigger in size, but they are more comfortable due to their construction, upholstery and foam padding. Futon frames are relatively light-weighted, less massive and usually easier to move than sofa beds. The converting mechanisms are also easier for us.
5. What are the advantages of a futon over a normal bed?
For a start, they are more affordable than normal beds and mattresses. They are also very useful if you have a small house or even a single-room apartment. They can double as a sofa or a chair, and can easily be folded or rolled up and stored away in a cupboard. If you have a guest staying overnight, a futon is easy to roll out. If you have a futon as a sofa, then it's easy to fold out into a bed at night, and back to a sofa in the morning.
Fuli Japanese Shiki Futon

Emoor Japanese Futon

D&D Futon Trifold

Merax Folding Sofa Bed Futon

Mozaic Full Size Futon
Summary
Our five best futon mattresses have been chosen for their quality, versatility, and comfort. Our chosen five comprise three traditional Japanese types of the futon and two American futons, each of which doubles as a sofa or couch. They are all high quality at reasonable prices and each has its own advantages, depending on what you/ need from your futon.