Transparency Disclosure: We may receive a fee from the seller for any purchases made through links on this website or from other sites accessed via this website. This fee incurs no additional costs for the buyer. To learn more, please read our full disclosure page here. Read our Product Research and Testing page to know more about our review process in detail.
This Marpac Yogabed review provides all you need to know about this Marpac memory foam mattress. Marpac is an American company based in North Carolina where the mattress is made. The company started life manufacturing sound machines to help people sleep, then recently began production of the Yogabed memory foam mattress. It is available in Twin, TwinXL, Full, Queen and King sizes. We are reviewing the Queen size mattress (80" x 60" x 10"). All Yogabed mattresses are 10 inches high.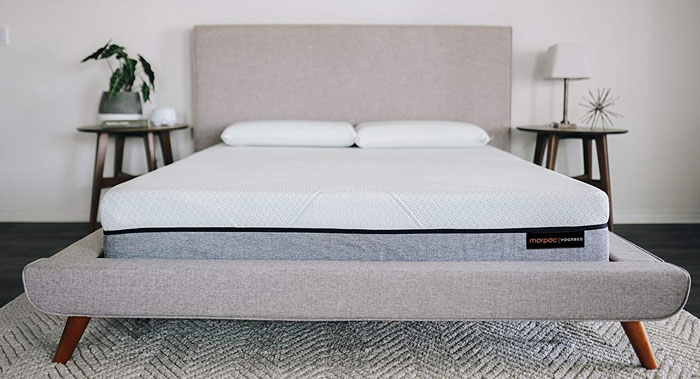 Table of Contents
Yogabed Mattress Construction
Referred to as the Yoga 'comfort system', the mattress is constructed with 4 layers of a form of gel memory foam that absorbs the pressure on your pressure points (shoulders, hips knees, arms/elbows) and also provides support for your lower back (lumbar) region. This construction helps to reduce the possibility of lower back pain and helps to ease any lumbar pain you may already have.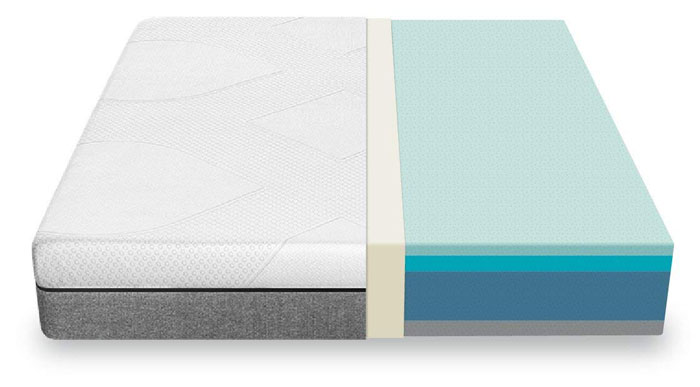 First (Top) Layer: This is a 1-inch layer of Marpac's proprietary instant Response FoamTM which is a form of foam that offers the spring or bounce of latex foam along with the support properties of a good memory foam. It is a proprietary gel foam (not containing latex) that supports the various curves and angles of your body without overheating you during the night.
Second Layer: A 2-inch layer of the firm's proprietary YogaGelTM ventilated memory foam. This also supports your pressure points while wicking away the heat you generate during the night. It provides more support than the top layer and acts as an intermediate layer between the more comfortable Response Foam and the third support layer.
Third Layer: The third layer comprises 5 inches of a breathable polyurethane support foam. This provides good stability and a good foundation for sleepers of any weight.
Fourth Layer: The 4th and final layer comprises 2 inches of high density poly foam. This provides more stability and support for heavier people who require it. It provides more stability and support without making the bed feel any harder to lighter weight sleepers.
The Cover: The cover of a mattress is often ignored, yet it is a very important component. The Yogabed cover is manufactured from what the company refers to as ThermooCool ® fiber. This is a patented breathable fiber that can regulate temperature and seems to know when the bed needs cooled down and when it needs some heat. The top of the cover is zippered, and it can be removed from the rest of the mattress for machine washing and drying.
Sleeping Positions: The entire structure renders the Marpac Yogabed mattress ideal for practically all sleepers, irrespective of their size and body weight, their sleeping position or whether they sleep alone or with a partner. The memory foam provides a high level of movement separation between partners and is good for those with orthopedic issues. Your weight is spread evenly over the mattress and is ideal for back, side or belly sleepers.
Overall Mattress Construction Summary
This is a medium-firm mattress that can accommodate a wide range of body types and weights. On a 1 – 10 scale, where 1 is softest and 10 hardest, we would rate it at 6.5. It is also good for most sleeping positions as we explain later. The top foam layer rapidly conforms to your body shape, then you slowly sink into the comfort of the memory foam beneath it. The firmer two bottom layers provide excellent support, the top of these helping to keep you cool while the base layer offers a strong foundation that is suitable for everyone, regardless of their sleeping position.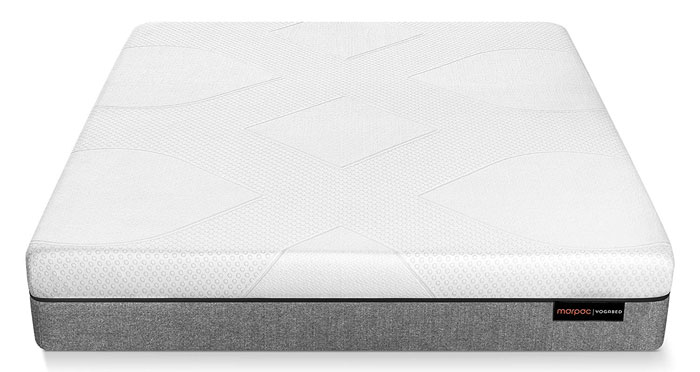 Who will Like the Marpac Yogabed Mattress?
You will like the Marpac Yogabed mattress if you:
Like a mattress that responds rapidly to your weight and provides quick support for your curves and pressure points. If you like memory foam but are not keen on the way traditional memory foams tend to hug you into the foam. This mattress responds to pressure but does not make you sink right into it or make it difficult for you to move about.
Like sleeping cool, and not waking up during the night in a sweat. The Yogabed mattress contains gels that absorb heat and keep you cool. The foams are also ventilated, enabling a good flow of air to carry away the heat of your body. The fibers in the cover have been designed specifically to control temperature while you sleep – or are awake.
Like a clean bed that does not irritate your breathing or your skin. The cover is hypoallergenic, keeping out bedbugs, dust mites, pollens, molds, and other contaminants. It is also manufactured without any hazardous chemicals (CertiPUR-US Certified) and the cover can be machine washed and tumble dried. It is cool to the touch and provides a soft and comfortable sleeping surface.
The only people who may not like the Yogabed are those that like the feel and bounce of traditional innerspring mattresses. It is not totally bounce-free, and this mattress will suit many young couples.
Use Coupon Code: INSIDE50
Sleeping Positions
Side Sleepers
The Yogabed mattress is ideal for side sleepers. People who sleep on their side tend to find hard mattresses do not allow their spine to stay properly aligned. They can lead to back pain, and also a pain in the hips and shoulders. The Marpac Yogabed mattress absorbs the initial pressure on these pressure points and others (e.g. elbows and knees). However, it also provides enough support to keep their spine straight.
The shape of the spine is a straight line when looked at from the front or back. When you lie on your side you need to maintain this straight line. The top two layers of the Yogabed absorb the weight of your shoulders, arms, and hips, conforming to these shapes. The bottom two layers provide the support needed to hold the weight of the body without allowing the spine to bend in any way.
If you are a side sleeper but are fairly light in body weight, you may find this mattress too hard for you. Your weight may not pass through the layers, and you might find that a softer mattress is best for you. However, most people who sleep on their sides report that this mattress is just soft enough with good support to allow them to sleep comfortably.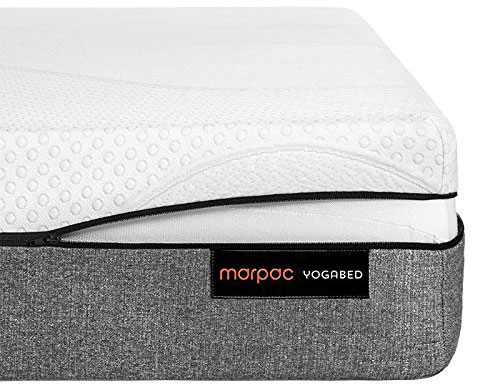 Back Sleepers
When you view your spine from the side you will see that it is an elongated S shape. The top backwards curve of the 'S' is your shoulders and upper back. The lower forward curve represents your lower back which, as you can see, needs support if it is not to collapse causing pain in the lumbar region.
What this means is that when you sleep on your back your neck and lower back need support, while your shoulders and hips/buttocks have to be absorbed into the mattress. The Yogabed mattress achieves this perfectly: the top layers allow your shoulders and buttocks to sink into the mattress while the four layers combine to support the lower back – the lower part of the elongated S, between your shoulders and lower spine (coccyx).
Stomach Sleepers
This is not a generally recommended sleeping position, but many people like to sleep face down on their belly. If you sleep in this position then this medium to firm mattress may suit you well. Front sleepers need support for their hips (the bottom tail of the 'S') because if your hips sink into the mattress, it will result in excessive pressure on the lumbar region of your spine as your position tends to straighten it.
You can find our recommended mattresses for stomach sleepers here.
Warranty and Trial Period
You get a 10-year warranty against material or manufacturing defects. However, you are responsible for the costs of collection and return of the mattress, and for the delivery of the replacement. These are not the best warranty terms we have come across, and the cost to you relates to the number of years from purchase date.
You also have a 101 night sleep trial. You must use the mattress for at least 30 days, but after that, you can return it if you don't like it. The manufacturing tags that come with the mattress must still be attached, so keep them on until you are happy with the mattress. If you don't like it, the mattress will be collected at no cost to you. Make sure you give the Yogabed a proper try out during the first 101 nights – this is an excellent trial period, and you should be able to decide whether or not you like the mattress after over 14 weeks use.
Marpac Yogabed: Pros and Cons
No bed or mattress is perfect. There are many positives about this mattress, but there are also some negatives you should be aware of. Here are our Yogabed pros and cons:
Pros
High level technology used in the ventilated memory foam and in the instant response foam.
Excellent motion isolation between partners.
Low noise when you move around on the bed.
Zippered top cover for easy cleaning.
101 Night sleep trial period with free return.
Made in the USA.
CertiPUR-US certified foams.
Cons
Not as bouncy as innerspring mattresses which may not always suit young couples. However, also no noise, squeaks or other sound when in use in this way.
Weak edge support: The edges of the Yogabed mattress are not conducive to being used for sitting on.
You must use the mattress for 30 nights before you can return the mattress free of charge. This may not seem important, but it will not be accepted if it has been soiled, has torn fabric or contaminated with pet hairs or any other form of contamination.
Marpac Yogabed Mattress Review: FAQs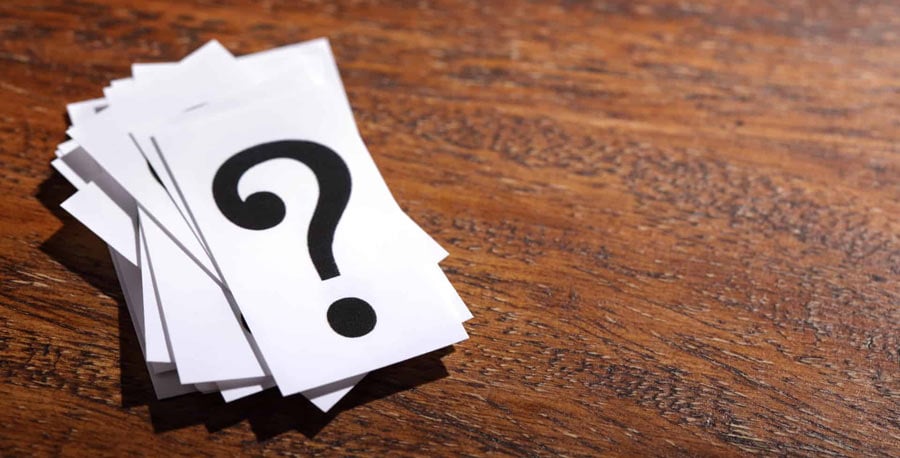 While compiling this Yogabed review we had some questions to ask ourselves, and were also asked questions by InsideBedroom readers that we researched and found relevant answers. Here are some of those that are most relevant to our review:
1. I have a latex allergy. Can I use a Yogabed mattress without suffering?
Yes – there is no latex whatsoever used in the Yogabed mattress. You will be perfectly safe.
2. What is Instant Response foam? Is it different from regular memory foam?
Every Yogabed features Instant Response FoamTM as the top layer of the mattress. It combines the properties of gel memory foam and latex foam – but without containing any latex! This foam provides the same pressure relief as regular memory foam offers, sleeps cool due to its gel content and also provides support. It helps prevent back pain and other spinal issues that can be promoted by mattresses that do not provide the level of comfort and sufficient support that Instant Response Foam offers.
3. Why does the Yogabed not provide better edge support?
That is because we have put comfort and full-body support first. This means 100% foam and no inner springs. You cannot get true edge support with 100% foam mattresses, and why should you need it? Beds are for sleeping in, not sitting on, and the Yogabed provides an extremely comfortable and supportive sleeping surface. There is always a price to pay in comfort if you have a strong, stiff edge all around your mattress.
4. What is Thermo°Cool® and why do we need it?
Thermo°Cool® is a thermoregulation system. It detects when your mattress needs to be heated up a bit and when it needs to be cooled down. It is often used with other types of fiber, such in the Yogabed where it is combined with TENCEL® to help your mattress remain at an optimum temperature throughout the night. This mattress reduces the chances of you waking up during the night with your night clothes soaked with sweat.
5. Why can't my old mattress be taken away when my new Yogabed mattress is delivered?
That's because Marpac uses FedEx Ground for its mattress deliveries, and they do not collect the old item that is being replaced. Local authorities sometimes offer collection facilities for old mattresses, and some charities may also be interested if the old mattress is in reasonable condition.
Support

Materials & Quality

Cooling

Price

Design
Summary
This Marpac Yogabed review has explained the construction of the Yogabed mattress and its positive and negative aspects. It is a high quality mattress with the properties of memory foam, and some of the bounce of latex – without containing latex. It possesses novel temperature control features and is a unique form of memory foam mattress.