Transparency Disclosure: We may receive a fee from the seller for any purchases made through links on this website or from other sites accessed via this website. This fee incurs no additional costs for the buyer. To learn more, please read our full disclosure page here. Read our Product Research and Testing page to know more about our review process in detail.
Green tea memory foam provides comfort as well as keeping your bed smelling fresh. Our Zinus mattress review will help you determine whether or not this mattress meets your needs. The Green Tea mattress is the entry level mattress offered by Zinus. In this review, we will check out all the important properties that a mattress should have while making mention of the options available with the Zinus Green tea mattress.
Zinus Mattress Review: Table of Contents
Zinus Green Tea Mattress Construction
The mattress is available in four thicknesses: 6", 8", 10" and 12". We are reviewing the 10-inch option here while making mention of the other options. This chart indicates the construction of all four options:
| Depth | Top Layer 1 | Layer 2 | Layer 3 | Layer 4 |
| --- | --- | --- | --- | --- |
| 6" | 1" Memory Foam | 5" HD Base Foam | - | - |
| 8" | 2" Memory Foam | 2" Comfort Foam | 4" HD Support Foam | - |
| 10" | 2.5" Memory Foam | 2" Comfort Foam | 5.5" HD Support Foam | - |
| 12" | 3" Memory Foam | 2" Comfort Foam | 3.5" HD Foam | 3.5" HD Base Foam |
Memory Foam: The memory foam used in the Zinus mattresses is a form of memory foam infused with green tree oil and natural castor seed oil. This foam is known as BioFoam®. It also contains active charcoal; between them, these three substances reduce or eliminate odor and are antibacterial. Memory foam absorbs pressure and conforms to your body shape, returning to its original flat shape when you move position.
Comfort Foam: This is a layer of pressure-relieving high-density polyfoam (polyurethane foam) which transitions between the memory foam and high density base foam. It has an aerated design to help with airflow and keep you cool. This layer helps to relieve pressure on your pressure points (shoulders, hips, buttocks, knees, etc. according to your sleeping position.)
HD Base Foam: The high-density base layer of polyurethane foam that provides a stable base for the mattress. The base layer is convoluted like an egg crate to allow maximum airflow and also contribute to cooling while you sleep. It provides the core support strength of the mattress and helps keep it properly shaped.
Cover: The cover is made of knitted Jacquard, and is zippered for easy removal. It can be washed although is not waterproof. Many prefer to buy a separate mattress cover or protector.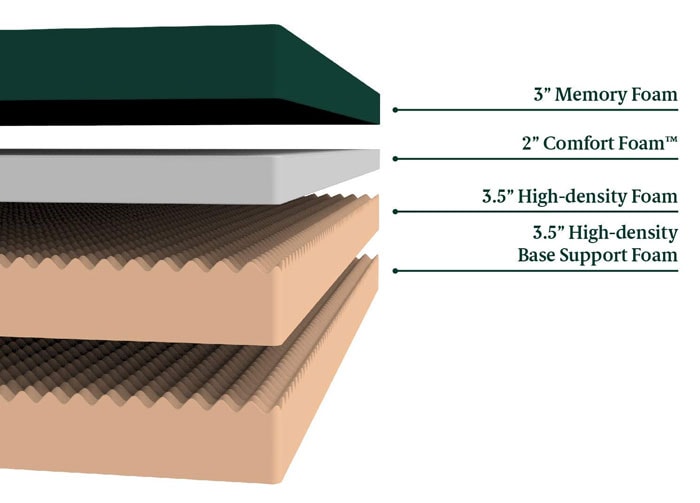 Firmness: On a 1 – 10 scale where 10 is the firmness, the firmness of each depth of mattress is: 6": 8,  8": 7,  10": 6,  12": 5.
We used the 10" Zinus Green Tea Mattress for most of this review. The 10" is a good depth, comfortable to lie on and of medium firmness. This is the mattress we believe will suit most people. It is good for all sleeping positions, although those weighing more than 230 lb would be better with the 8" version.
When you lie on this mattress, you will sink into the memory foam according to your pressure points and the heat of your body. So for side sleepers, your shoulder and hip will sink into the foam, and then feel the support of the second layer while the third layer, the base layer, will help keep your spine properly aligned. When you move or change position, the memory foam will expand back to its original flat shape where you were lying and will support you in your new position.
Check Reviews of Zinus Green Tea Mattress on Amazon
The Zinus Green Tree Mattress and Common Sleeping Positions
We mentioned above that the 10" mattress was suitable for the common sleeping positions: back, side and stomach. Here are some more details of the suitability of the other options available with the Zinus Green Tea mattress in its various thicknesses.
6" Mattress: Most suitable for heavier weight people over 230 lb. We would not recommend this for people under this weight.
8" Mattress: Again most suitable for heavier weight people, and for back sleepers over 130 lb in weight.
10" Mattress: Best all-round mattress for sleepers of any weight.
12" Mattress: Good all-round for sleepers of any weight, although not for stomach sleepers over 230 lb who are better with the firmer 6" and 8" mattresses.
All Sleepers: Over 230 lb in weight – choose the 6" or 8" version (12" for back sleepers).
Side Sleepers: The 10" and 12" versions are good for side sleepers of any weight, though not as good as the thinner versions for heavyweights over 230 lb.
Back Sleepers: The 10" and 12" mattresses are good for back sleepers up to 230 lb, with the 12" perhaps just shading it.
Stomach Sleepers: The 12" version is best for stomach sleepers up to 230 lb. Those over that weight would prefer the 6" and 8" due to them being firmer.
To summarize, all sleepers weighing over 230 lb should select the 6" or 8" mattress. These are firmer than the thicker two mattresses. Below that weight, the best for back sleepers is the 12", best for side sleepers are the 10" and 12", and best for stomach sleepers is the 12" with the 10" version also an option. Usually, stomach sleepers prefer a firm to the medium-firm mattress, but lighter weight people often prefer the comfort of a plusher mattress. The 10" and 12" versions would both be a good choice for a guest bedroom where you have no control overweight and sleeping position.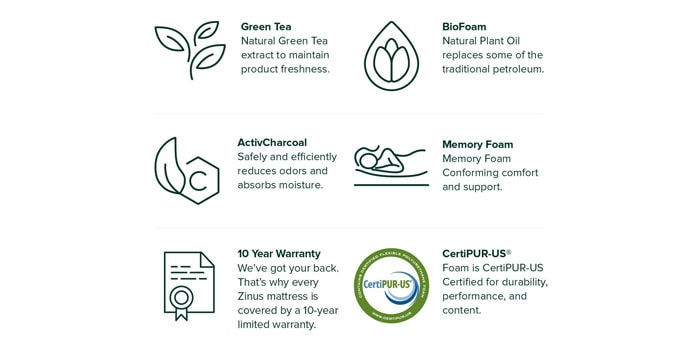 Other Mattress Properties
Motion Transfer: Memory foam is an ideal type of foam for minimizing motion transfer. It can isolate movement and absorb vibrations to reduce motion transfer to a minimum. The thicker the mattress, the thicker the top memory foam layer, so the 12" mattress would be preferred for minimal motion transfer. However, the 10" is also adequate in this respect and is the best all-round mattress in the range of Zinus 100% foam mattresses.
Edge Support: You don't expect much edge support in a 100% foam mattress, and the Zinus Green Tree mattress is no exception. You don't exactly fall off when you get close to the edge, but you do notice a lack of support.
Cooling: Memory foam mattresses are known for sleeping hot, leading to people waking up feeling hot and sweaty during the night. The design of this mattress allows air to circulate between layers, although not to the same level as an innerspring mattress. Its cooling effect is noticeable but may not suit particularly hot sleepers.
Durability: This mattress has good durability and can withstand normal use for several years before it wears. It is an important property because you want your mattress to last and not need replacing just a few years after purchase.
Health and Safety: The mattress is antibacterial by virtue of the green tea oil, castor seed oil and activated charcoal that is infused into the memory foam. The foams are CertiPUR-US certified to be free from hazardous substances such as heavy metals, toxic PBDE fire retardants, phthalates, halogenated hydrocarbons, and other ozone depleters. However, it is not hypoallergenic or dust mite resistant. You are advised to purchase a mattress cover or protector that is waterproof, hypoallergenic and resistant to dust mites and bedbugs.
The charcoal absorbs odors and moisture, while the green tea oil keeps the mattress smelling fresh. Castor seed oil is used to replace some of the petroleum-based oils that are used to manufacture the polyurethane foam used in memory foam manufacture. This provides environmental benefits.
Sleep Trial: 100-night sleep trial with no break-in period. You can return the mattress carriage-free for a full refund anytime during the 100 days after purchase.
Warranty: 10-year non-prorated warranty against manufacturing and material defects.
Negatives:
Not hypoallergenic or resistant to dust mites as stated above.
Not made in the USA.
Who Would Like the Zinus Green Tea Mattress?
You will like the Zinus Green Tea memory foam mattress if:
You want to save some money with a high quality budget-priced mattress. This is unbelievably low priced for a mattress of its quality, particularly since it contains memory foam and green tea oil.
You prefer to remain cool while you sleep.
You need good motion isolation – the Zinus Green Tea mattress offers a high level of isolation of motion between partners, thus helping to reduce sleep disturbance when your partner moves or changes position in bed.
You like your mattress to remain smelling fresh and free of body odor.
You need a mattress suitable for an adjustable base.
Purchase Zinus Green Tea Mattress on Amazon
You may not like the Zinus Green Tea memory foam mattress if:
You tend to sleep really hot.
Need good edge support.
Like a good bounce to your mattress. Memory foam and polyfoam mattresses tend to have poor resilience and bounce properties.
Like to use an electric blanket – this would void your warranty.
Zinus Green Tea Mattress: Frequently Asked Questions
Here are some of the questions we have been asked regarding the Zinus Green Tree mattress and memory foam mattresses in general.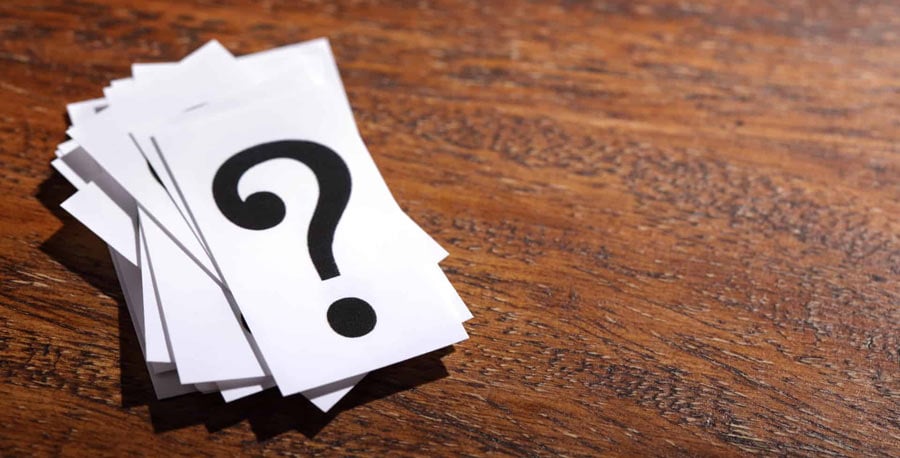 1. Why do memory foam mattresses tend to make you feel hot at night?
This is a well-known issue with memory foam mattresses. Memory foam is soft foam, and it molds to your body when you lie on it. This means that more of your body is in contact with the foam, trapping heat due to the lack of air circulation. The softer the foam, the more it heats up. With a partner in bed beside you, the bed and you will heat up even more – and faster.

The Zinus mattress uses memory foam that is aerated, allowing a flow of air through the foam that helps cool you down. The base layer is also in an egg crate shape, the air pockets also contributing to cooling. Some mattresses use gel memory foam, where a cooling gel absorbs the heat, and others use phase change materials that draw heat from the mattress when they change phase from solid to liquid.
2. Can I use an electric blanket with the Zinus memory foam mattress?
You can use an electric blanket with any memory foam mattress but you may void your warranty from the manufacturer, including Zinus if you use one. An electric blanket softens the foam so it may lose its strength. It would also make you very hot because it is difficult to remove an appreciable amount of heat from the mattress.
3. What is a transition layer and why is it necessary?
You often find a transition layer in memory foam mattresses or any mattress with a comfort foam top layer and high-density firm base layer. The comfort layer compresses with your weight and then hits the high-density firm base layer. In many cases, this sudden transition from soft to hard can be uncomfortable, particularly on the pressure points of your body.

A transition layer is a layer between the soft comfort layer and a firm support layer of a mattress. It absorbs the pressure passed on by the comfort layer and passes part of that onto the firm base layer so that you progressively sink into your mattress with good comfortable support and do not suddenly hit the harder firm layer. The transition layer in the Zinus Green Tea mattress is the comfort foam layer immediately below the top memory foam. Only the 6-inch version does not have a transition layer.
4. Does this mattress have much bounce?
Memory foams have little to no bounce, although the comfort layer in the Zinus Tea mattress has a slight bounce. However, if you are thinking of sex, then this mattress has nowhere near the bounce of latex or innerspring mattress but is very comfortable.
5. Which of the Zinus Green Tree mattresses is best overall for multiple sleeping positions?
This will be the 10-inch version. This version is best for multiple sleeping positions, particularly if you and/or your partner tend to move around in bed. The 12-inch version is also generally good, but not for stomach sleepers over 230 lb in weight.
Support

Materials and Quality

Cooling

Price

Design
Summary
There are several mattresses in the Zinus range, including innerspring and hybrids. The Zinus Green Tea range, however, is popular due to its affordable price and memory foam properties. This review has focused only on the Green Tea range, with specific focus on the 10-inch version that is the most versatile version for the main sleeping positions