Many people like air beds (which are often referred to as air mattresses) but should you be sleeping on an air bed every night? Most people have slept on an air bed at some time, such as when camping or when staying overnight at a friend's house. Others, however, have chosen this type of mattress as their regular bed. There are some questions to be answered regarding sleeping on an air mattress every night.
So are there any dangers of sleeping on an air mattress long term? Can sleeping on an air mattress each night harm you in any way? Here, we have a look at potential risks of sleeping on an inflatable bed every night, and also the benefits that an air bed can offer. First, what support do they offer?
1. Support
Not all air mattresses provide the same level of support as regular innerspring or foam mattresses do. If you suffer from back pain then some air mattresses are more likely to make your condition worse than to improve it. If your mattress is too firm, excessive pressure will likely be applied to your main pressure points: your hip and shoulder if you sleep on your side or your lower back, or lumbar region, if you sleep on your back. Too hard a mattress may result in back pain and/or misalignment of your spine.
If you do not inflate your air mattress enough then your body will sink into it. If you sink into a memory foam mattress, the foam conforms to the shape of your body and offers support to your main pressure points. An air mattress doesn't do this. As your body sinks into it, it may cause your spine to bend to an uncomfortable, unnatural shape.
When sleeping on an air bed you need a level of inflation that is best for you: your weight, your body shape and the knobbly bits that form your pressure points. This means that once you have found the ideal level of inflation for you, then you must be sure that that you avoid the leaks that can soften the mattress.
2. Air Mattress Design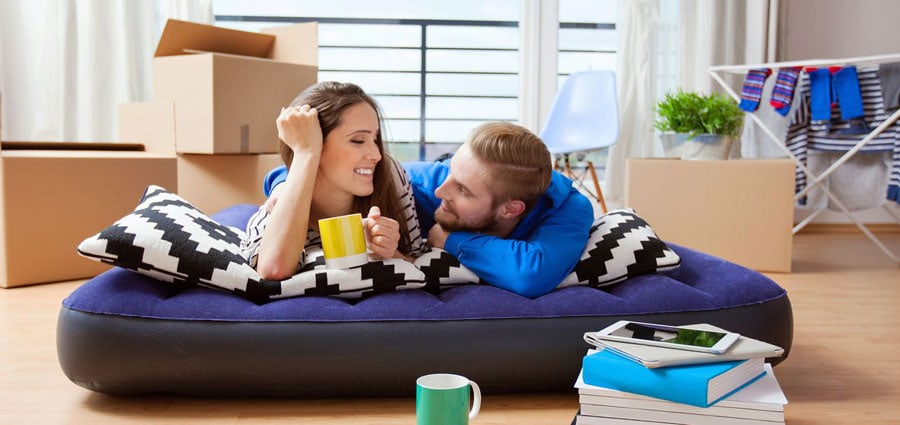 It is important to check on the design of any air mattress that catches your eye. Try to avoid air chambers that lie horizontally. You can air beds with horizontal air chambers or with vertical chambers. The latter is just like a spring mattress with individually wrapped spring coils, while the horizontal chambers can feel much like an innerspring mattress where the springs are all connected together.
Your air mattress should have a strong internal structure that provides good support, and that it keeps your spine correctly aligned while you sleep. The vertical air chambers that are under the most pressure are compressed further than those under less pressure. This means that this type of structure absorbs the pressure of your pressure points, and helps keep your spine correctly aligned no matter what sleeping position you use. This helps you to avoid stiffness and pain in your back, and also a pain in your hips and shoulders.
You can overcome the main issues involved in sleeping on an air mattress every night by selecting the correct type of air mattress. The dangers of sleeping on an air mattress long term generally relate to variations in the inflation level and to a lack of support for your spine when you are sleeping. While under-inflation is a major problem with many people, over-inflation and too hard a mattress can also give you problems. Once you start using an air mattress, it is important that you find the best level of inflation to suit your needs.
3. Overheating With an Air Mattress
Overheating is a potential issue with any air mattress or air bed. This is largely due to the materials used on the bed's surface. This is usually vinyl or some other synthetic plastic material that doesn't breathe as a woven material does. Any heat generated from your body is trapped inside the mattress, leading to a potentially very uncomfortable night during hot weather.
The same is true during winter: as your mattress cools during the day when you are not lying on it, you could find it fairly cold to lie on at bedtime. If necessary, you could use your air bed with a cooling mattress topper. This type of topper not only helps keep you cool while sleeping but also insulates you from the coldness of the mattress surface. It helps insulate you from the winter cold and can also help keep the mattress cool in summer. Just as importantly, it helps keep your spine correctly aligned irrespective of your sleeping position.
4. What to Look For When Sleeping on an Air Mattress Long Term
These are the main issues with air mattresses, but they can generally be overcome. Occasional use of this type of mattress involves little more than inflating it to a comfortable level. If you intend using an air mattress as your main bed, then it important to be aware of the issues above and also of the benefits that an air mattress can give you.
While many people use air mattresses for occasional use only (unexpected visitors, sleepovers, guest bedrooms, etc.) others will consider sleeping on an air bed every night to be normal for them. In order to avoid the dangers of sleeping on an air mattress long term, make sure you get one where you can adjust the firmness level. You should be able to add more air to make it firmer or release air to make it softer to suit your preference.
Another factor to consider when choosing an air bed for long term use is the material used in its manufacture. The cover should be hardwearing and a suede finish might help it feel good to lie on. That is not generally too important since you are advised to use a topper. This may not be necessary if you have a good foam layer lying between the vinyl cover and the air chambers. Good quality sheets and pillows will also make a difference.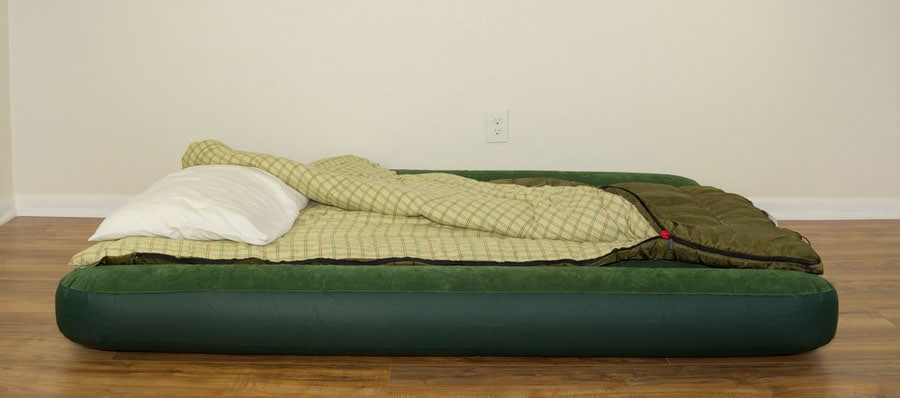 5. Motion Isolation
Motion isolation, or motion transfer, has to be mentioned here because air beds are not generally good for isolation of the movement of one partner with another. Air beds can be used by couples, although when one person moves on the bed this movement will be almost certain to disturb the other partner. There is no easy solution to this issue, though some couples use two single air mattresses on a double or king base. However, this is no reason why you should not sleep on an air mattress long term.
6. Dangers of Sleeping on an Air Mattress Every Night
So is it bad to sleep on an air mattress every night? There are several reasons why sleeping on an air mattress every night may not be good for you. However, there are also reasons why doing so may be an advantage. By purchasing an air mattress with vertical air cells rather than horizontal tubes, you can avoid many of the issues that affect some people. This is particularly the case if you sleep with a partner. The effects of air mattresses upon sleep and sleep climate have been studied extensively, the general conclusion being that, although sleeping on an air bed does not affect sleep, it does affect the absolute and relative humidity in your sleeping environment compared to sleeping on a futon.
7. Sleeping on an Air Mattress Every Night: Conclusion
So, what is the answer to the question "Should you be sleeping on an air bed every night?" If you keep the air bed inflated to a good level to provide proper support, and you maintain the room temperature during the night at the same level as when the mattress was inflated, then you should have no issues. The problems arise when the air in your mattress gets colder and tends to condense. The air bed then deflates and you lose the support you need. The mattress is also more likely to develop holes and tears when the air pressure in it drops overnight.
Another reason for tears and holes occurring is sitting on the side and end of the bed. The pressure of your body could cause the integrity of the mattress to fail. Use an air mattress only for sleeping on – lay on it only in a normal sleeping position. Then your body weight will be distributed evenly over the area of the mattress and not focused on just one spot. When you buy an air mattress, make sure that it comes with an air pump and that the air pressure inside the mattress is adjustable.
If you are looking for a good air mattress or air bed, then check out our 10 Best Air Mattresses Review. This includes a Buyer's Guide and our choice of the ten best air mattresses currently available this year. If you plan on sleeping on an air bed every night, then we recommend you make your choice from these ten.