Transparency Disclosure: We may receive a fee from the seller for any purchases made through links on this website or from other sites accessed via this website. This fee incurs no additional costs for the buyer. To learn more, please read our full disclosure page here.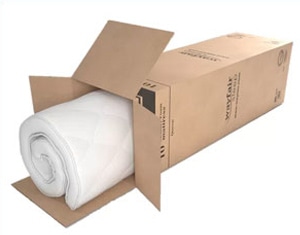 The internet is a fabulous market place. You can sell and purchase just about anything on it – including mattresses and beds. Our highest rated boxed beds online detailed below will help you purchase a piece of furniture on which you will spend a third of your life: your mattress! Many take more time choosing their sofa and armchairs than their bed! Once they have selected their bed design, they will often buy any mattress – even the one already on the bed when they view it.
That said, most will buy their mattress online separately. It is so easy to check out mattresses online, particularly with so many review sites available such as InsideBedroom. If you purchase a mattress online, you generally have little influence on how it is delivered. Many are shipped in a box, and a mattress in a box tends to be rolled up when shipped. You have to take the rolled mattress out of the box, and then unroll it. Boxed beds are compressed to enable them to be boxed – and it can take several hours for them to regain their normal shape.
The vast majority of mattresses shipped after an internet purchase are boxed in this way. Here are our 10 highest-rated boxed beds online.
Table of Contents
What is the Best Mattress That Comes in a Box
The table below lists our ten best boxed mattresses, with our best at #1.
Ranking
Mattress
Type
Height
Check Price
#1
Nectar mattress
(Best overall bed in a box)
Memory Foam
11"

Check Price

#2
Layla Mattress
(Best memory foam )
Memory foam
10"

Check Price

#3
Alexander Signature
(Best Hybrid)
Hybrid
13.25"

Check Price

#4
DreamCloud
(Best Economical Luxury)
Hybrid
15"

Check Price

#5
Casper Mattress
(Most versatile)
Mixed foams
9.5"

Check Price

#6
Brooklyn Aurora
(Best cooling bed in a box)
Hybrid
13.5"

Check Price

#7
Helix Mattresses
(Most customizable)
Multiple Options
10" – 14"

Check Price

#8
Nolah Mattress
(Best for animal welfare)
Memory Foam
10"

Check Price

#9
DreamFoam Sojourn
(Best Budget Boxed Mattress)
Memory Foam
12"

Check Price

#10
Tuft & Needle
(Best for teenagers and kids)
Adaptive Foam
10"

Check Price
Note: Comfort Levels provided during this review refer to a 1 – 10 scale, where 1 is softest and 10 is firmest. Side sleepers tend to prefer softer mattresses while belly (stomach) sleepers need a firmer mattress. Heavier weight people need a firmer mattress, firmness increasing with weight from around 210 lb upwards. We recommend a bed with a firmness level of 7 – 9 for anyone over 220 lb.)
Important: It is also important to note that the mattresses below are not presented in any specific order. The top mattress is not the best and that listed at #10 is not inferior to the nine above it. Each is best for a specific property factor. Thus, our #1 is the best we have tested for value, taking both price and properties into consideration, while our #10 is the best budget-priced mattress we have tested.
1. Nectar Mattress – Our Best Overall Bed in a Box
The Nectar mattress may not be the best bed overall, but when you take its relatively low price into consideration then it is right up there among the high flyers. You can use it on any foundation, including the floor, box spring or even an adjustable frame. So let's get down the main properties of this mattress, and why we feature the Nectar as our #1 mattress in a box! First, its construction:

The 11-inch thick Nectar mattress has four main layers:
A 1-inch quilted top that provides a plush sleeping surface that you are sure to love. The quilting consists of Tencel breathable, bedbug resistant fabric enclosing one inch of gel memory foam based on aloe vera. This layer helps keep you cool at night, while also providing a soft, comfortable sleeping surface. The cover can be removed for cleaning – but only spot cleaning. It cannot be machine-washed.
3 Inches of proprietary gel memory foam known as LushFoamTM that helps remove any heat your body generates during the night.
1.5 inches of an Adaptive HiCore memory foam which is firmer than the gel memory foam above it. This foam is highly responsive to your body weight and can not only support your body weight but also act as a transition layer between the comfort layer above and the high-density support layer below it.
A 5.5-inch layer of high-density support foam which not only provides good support to the mattress but also makes it very durable.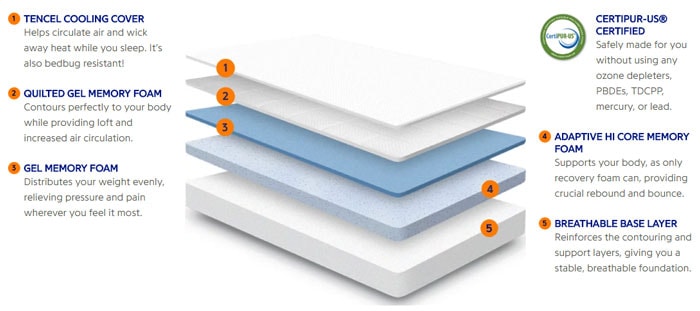 The comfort level of the Nectar Mattress is 6.5 – 7.5 which is ideal for most people. It is most suitable for back and side sleepers, though belly sleepers have also found it suited to them. Heavier weight people will likely need something a bit firmer. It is rare to find a mattress that is ideal for both belly and side sleepers, and also for those weighing over 230 lb.

Pros
This is our best mattress in a box and also the Inside Bedroom Overall Best Mattress of 2021.
Comfortable and cooling to sleep on
Ideal for side and back sleepers.
Suitable for all foundations and bases.
CertiPUR-US certifies foams.
OEKO-TEX® Standard 100 certified textiles suitable for babies and toddlers.
65-Night sleep trial – free collection and full refund if you don't like it.
Guaranteed forever against faulty materials or workmanship.
Cons
Not suitable for heavyweight sleepers or most stomach sleepers.
Cover cannot be machine washed due to quilting.
Editor's Notes: The Nectar mattress is our #1 bed in a box for all the above positive factors. There are others almost as good which are detailed below, but none meet the overall standard and price of the Nectar mattress. Some may be lower in price and others higher, but this is the best mattress in a box that stood out for us. It is hard to believe that this is a mattress that comes in a box.
Get NECTAR Mattress at $125 Off + 2 Free Pillows
2. Layla Mattress: Our Best Memory Foam Mattress
The Layla mattress is our top memory foam bed in a box. It has the advantage of being two-sided: one side is soft (3 – 4) and the other firm (7 – 8). Both sides of the mattress are topped with a layer of memory foam, and fitted with an all-round soft gel-infused zippered polyester cover that can be removed for dry cleaning. This gets our accolade as best memory foam mattress in a box largely because of its versatility. You can use either side according to your sleeping position or weight. Here is how it is constructed:

Cover: The cover is a soft polyester that is infused with a cooling gel to help prevent you from getting too hot at night. You can unzip it for dry cleaning. The cover fits the entire mattress, soft and firm sides.
Soft Side:

The top layer of foam is a 3-inch layer of 3.5 lb/cubic foot memory foam that has been infused with copper. The copper conducts heat away from your body and distributes it around the whole mattress. It is eventually cooled down by the gel in the cover.

The Second layer is a 2-inch transition layer of 1.8 lb/cu.ft convoluted polyurethane foam which transitions your weight from the soft comfort layer to the support layer below it. The convoluted (egg crate) design enables a good flow of air in the mattress, adding to its cooling properties.

Support Layer: This is made using 2 lb polyurethane foam which responds rapidly to comfortably support your weight. This becomes the second layer when the mattress is placed firm side up.

Firm Side:

The top layer when the firm side is on top is a 1-inch layer of the same copper-infused memory foam used for the soft side (only 2 inches thinner). Because you will not sink into this comfort layer as much as you would into the 3-inch layer on the soft side, you reach the firmer lower two layers sooner. The mattress, therefore, feels firmer.

Here are the pros and cons of the Layla mattress. Apart from being a double-sided mattress as explained above, it offers a number of advantages over other memory foam mattresses.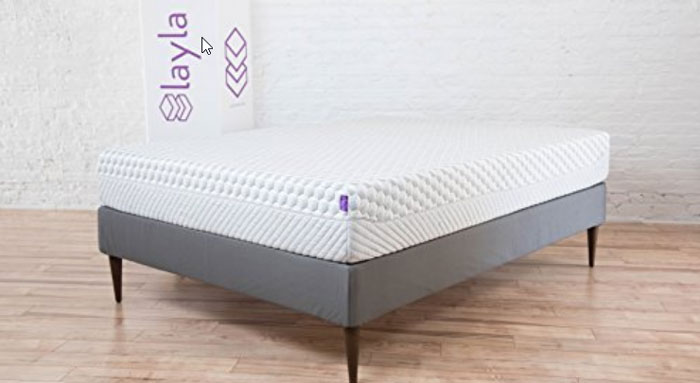 Pros
You get two sides: one soft and one firm so you are buying practically two mattresses in one.
The memory foam, particularly the 3-inch layer, provides relief for those with back pain and scoliosis.
Suitable for all sleeping positions. The soft side for side and back sleepers, and flip to the firm side for back and stomach sleepers.
The Layla mattress provides two ways of keeping you cool when you sleep: the cooling gel in the cover and the copper in the top comfort layer.
Copper is antimicrobial and kills viruses and molds.
CertiPUR-US foam – certified free from heavy/ metals, halogenated hydrocarbons and other potentially toxic substances.
Made in the USA
120-Night sleep trial. Return it within 4 months and get a full refund.
Lifetime warranty for manufacturing defects.
Cons
Little bounce.
Otherwise no reported negatives.
Editor's Notes: The Layla mattress is our best memory foam mattress, largely because of it being double-sided, and because of its superb cooling properties. Like the Nectar mattress, the lifetime warranty gives you peace of mind in the event of the mattress developing faults after the first year – a more common warranty period. Although you will love to sleep on it, this is an ideal mattress for a spare bedroom where guests can prefer any specific comfort lever – soft or firm.
Purchase Layla Mattress with Discount
3. The Alexander Signature Mattress – Our Best Hybrid Mattress
The Alexander Signature mattress is our best Hybrid mattress that comes in a box. It is also our best hybrid mattress overall, boxed or delivered flat. One reason for this is that it offers a choice of comfort levels: Plush (7 – 7.5), Medium (5 – 5.6) and Luxury Firm ( 2 – 2.5). If these figures confuse you it is because this company provides comfort levels with 1 as the firmness and 10 as softest. So if we translate these to the 10 being firmest, it would be roughly Plush (3.0 – 3.5), Medium (4.4 – 5.0) and Luxury Firm (7.5 – 8.0).
Here is how the 13.25-inch Medium version of the Alexander Hybrid mattress is constructed:
Top Layer: A 0.25-inch cover of 4 lb memory foam infused with a cooling gel covered with a soft quilted phase-change fabric. This works to keep you cool while you sleep.
The second layer is A 3-inch layer of 3.5 lb medium TitanChill Endurance Foam®
The third layer is a 1-inch layer of 3 lb SmartFlow support foam.
The fourth layer is 8 inches of individually pocketed support coils.
The bottom layer is 1-inch of 3 lb base support polyfoam.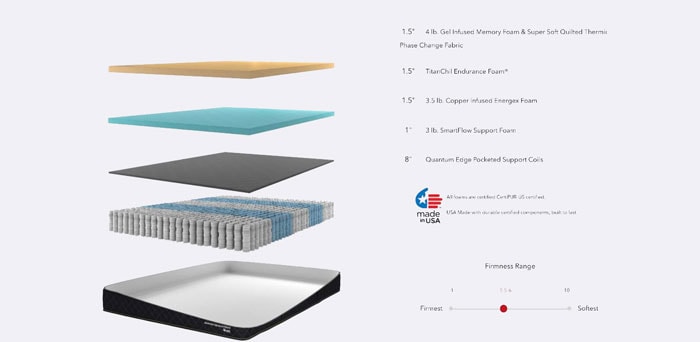 The result is a cooling mattress that is comfortable to sleep on regardless of your weight or sleeping position. The Luxury Firm mattress is suitable for stomach sleepers or heavy weight people. The Medium mattress is suitable for side and back sleepers and for lighter weight stomach sleepers. The Plush version is for those that prefer a soft surface to sleep on, particularly if you are a side or back sleeper.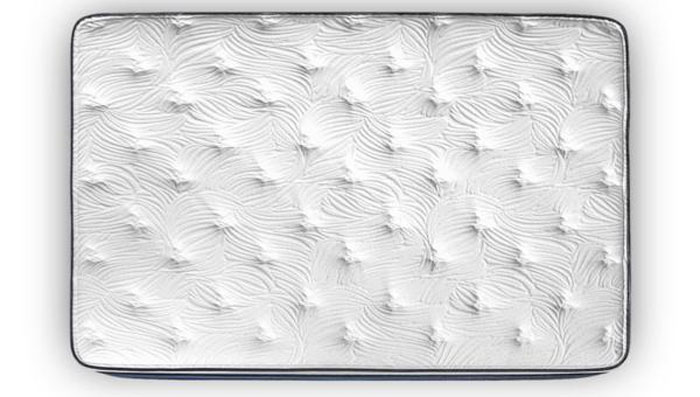 Pros
Three different comfort levels available, providing an option for all three main sleeping positions: side, back and stomach.
Excellent motion separation between partners.
Keeps you cool while you sleep.
CertiPUR-US certified foams.
100-Night sleep trial
Lifetime warranty
Made in the USA
Cons
Not as responsive as other mattresses to movement on it.
None others that we could find, though this is not for you if you prefer a 100% foam mattress.
Editor's Notes: The Alexander Signature mattress is an excellent hybrid mattress, particularly if you prefer an innerspring mattress with a good, comfortable layer of foam above the spring layer. If you want a responsive mattress, then this is not for you. It is, however, your best choice if you like pocketed springs and a choice of comfort levels.
Purchase This Mattress from the Official Website
4. Dreamcloud Luxury Hybrid Mattress: Best Economical Luxury Mattress
The DreamCloud Luxury Hybrid Mattress in a box also appears in our 15 Top Rated Mattresses for 2021. It is an affordable hybrid mattress and a great value for money bed in a box. It is 15 inches thick and comprises 8 layers. These are: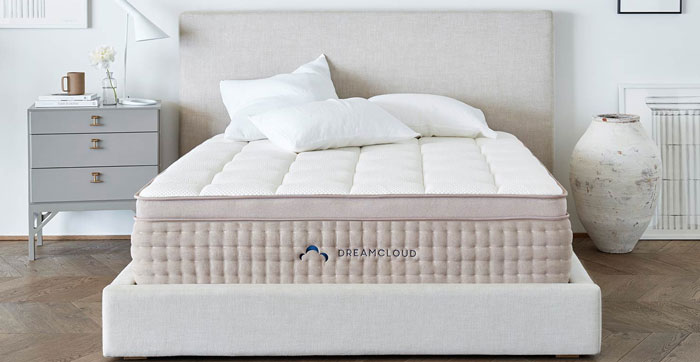 2 Inches of quilted cashmere.
5 Inches of gel-infused memory foam to keep you cool and comfortable while sleeping.
1.75 inches of quilted memory foam for added comfort.
0.5 inches of natural latex to give a slight bounce and help you change position easily.
A 0.25-inch layer of high-density memory foam for support.
An additional 0.5-inch layer of high-density memory foam to help maintain your spine in its natural position.
8 Inches of individually encased micro steel coils, separated into five separate zones for excellent support where needed. The coils also help maintain isolation of motion between partners.
A final 5-inch layer of high-density foam as the base support layer of the mattress.
The fitted cashmere cover cannot be removed for cleaning. However, after a year you can use the DreamCloud complimentary cleaning service to have your mattress professionally cleaned. You can also take advantage of the company's refurbishment 'as new' service after 5 years of ownership. This mattress has an average comfort level of 6.5.
Pros
Free shipping.
CertiPUR-US certified.
Year-long sleep trial, after which you can keep it or have it returned free for a full refund.
Lifetime warranty with free return if necessary.
White glove service, including set-up of the bed or mattress, is offered but at a price of $149 for the first item. Any other items in the order are charged $45.
Cons
None, other than the charge for the White Glove service. Many companies do not offer this service.
Editor's Notes: This mattress is a genuine luxury mattress offered at an economical price. The coils are arranged to provide good support for your main pressure points, and to help keep your spine in its natural position. Because of this and the memory foams, the DreamCloud Luxury Hybrid Mattress is suitable for all sleeping positions. The comfort level is at 6.0-6.5 in the 0 – 10 scale where 10 is firmest. This is an ideal mattress if you suffer from back pain and want to keep your spine straight when you sleep on your side, or in its natural elongated S shape if you sleep on your back or your stomach, although some belly sleepers might prefer a slightly firmer mattress.
Purchase This Mattress from Official Website
5. The Casper Mattress: Most Versatile Mattress in a Box
The Casper mattress was designed to suit individuals and couples, and with a high level of versatility for sleepers of all types. It is a 100% foam mattress, and while Casper now has a number of mattresses to offer, this is the award-winning original foam mattress that we are recommending here.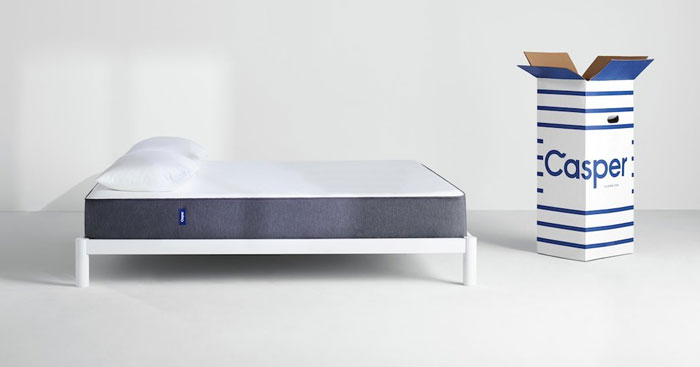 It is also suitable for back and side sleepers, which means that this would be a very attractive prospect for combination sleepers who change sleeping positions during the night. For the same reasons, it is also a good bed in a box for couples whose needs are different from each other. It features as the Most Versatile Mattress in our Best Mattress Reviews for 2021.

Casper Mattress Construction
The mattress is constructed with a thick, zippered, machine-washable polyester cover and four layers of foam. It incorporates the company's Zoned Support™ system where there is more support in the center of the mattress where your hips lie. This helps keep your spine straight irrespective of the position you sleep in. It also makes this boxed bed much more suitable for stomach sleepers than those without it. Here are the foam layers of this 9.5-inch thick mattress.

Top Layer: 1.5 Inches of a proprietary latex-like foam with a good bounce for younger couples. It relieves pressure on your buttocks, hips, shoulders and other pressure points. It is also good for those suffering from scoliosis and appears at #3 in our Best Mattress for Scoliosis Reviews 2021.
Layer 2: 1.5 Inches of memory foam (3.5 lb/cu.ft) which maintain pressure point relief down to the layer below it. This adds to the excellent memory foam support and comfort of the Casper mattress.
Layer 3: This another 1.5-inch layer, this time of polyurethane foam (polyfoam) that is split into zones. There a softer layer at the top for your shoulders, and a firmer layer for your hips and lower back, or lower back and buttocks if you sleep on your back. This firmer layer is also good for stomach sleepers and is a transition layer that transfers your weight down to the final support layer.
Layer 4: The final layer is 5 inches of 1.8 lb poly support foam. The result is a 9.5-inch deep mattress with a removable and machine washable cover all round the mattress.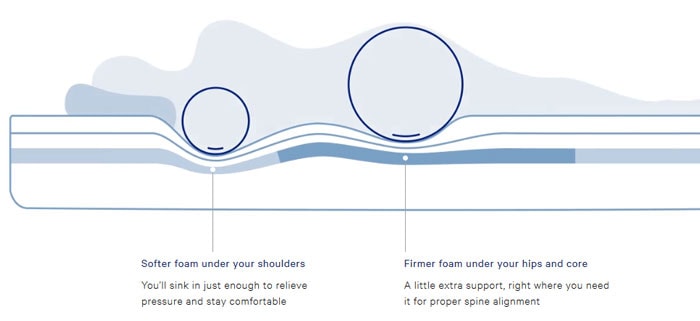 Pros
Versatile – suitable for couples and singles and all sleeping positions.
Helps keep your spine in its natural shape.
Removable, washable cover.
Made in the USA and the UK.
100-Night sleep trial, with a free return for a full refund if you don't like it.
10-Year warranty against manufacturing and workmanship defects.
CertiPUR-US certified foams, free from ozone depleters and toxic materials such as heavy metals, phthalates, toxic fire retardants, CFCs, etc.
Editor's Notes: The Casper Mattress is one of the highest rated boxed beds online in 2021, and is also our most versatile with a Comfort Level of 6.5. It is an excellent choice for couples who don't always sleep in the same position as each other, or who change positions during the night. It helps keep your spine straight or in its natural curved shape according to your sleeping position. It is good for scoliosis sufferers, but if you are not sure, you have the 100-night trial to decide.
Purchase Casper Mattress on Amazon
6. Brooklyn Aurora Mattress: Best Cooling Bed in a Box
The Brooklyn Aurora Mattress is the ideal bed in a box to keep you cool at night. Its construction has been designed both for comfort and for preventing you from heating up and waking up in the middle of the night sweating. The 13.5" thick Brooklyn Aurora combines comfort with cooling in a mattress that was expertly designed for all sleeping positions. It consists of six separate layers: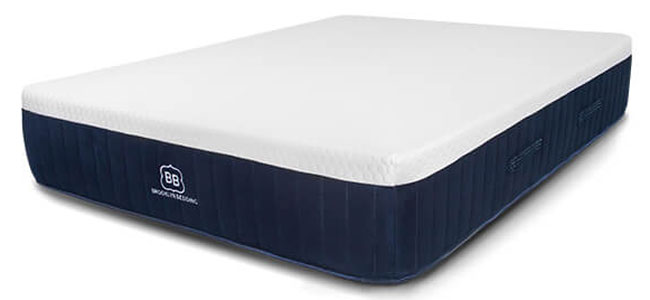 Layer 1: The Cover. This mattress is constructed in six layers, including the cover which has been designed to allow your body heat to pass through into the body of the mattress.
Layer 2: 1.5 Inches of EnergexTM foam. The company uses three trademarked foams in this mattress, including this one and also TitanCoolTM which contains a phase-change substance that absorbs heat. The whole layer has an open structure that keeps you feeling cool and is infused with heat-conducting copper. This foam possesses excellent support with good viscoelastic properties.
Layer 3: 2 Inches of TitanFlexTM hyperelastic foam, that lies somewhere between memory and latex foam. This helps support your major pressure points of hips, buttocks, knees, and shoulders.
Layer 4: The 4th layer is a one-inch layer of memory foam to support the layers above it.
Layer 5: The 5th layer provides the strength of the mattress. It comprises a layer of 1,189 individually encased 8-inch steel coils. Because they are individually encased, they help promote good motion isolation between partners, so one partner does not disturb the other when they move in bed to adjust their sleeping position.
Level 6: A bottom support layer of one-inch high-density polyurethane foam, designed to support the spring compression and helps make the mattress last longer.

Together, these layers combine to provide a comfortable mattress that keeps you cool at night. If you tend to wake up feeling too hot during the night, then the Brooklyn Aurora is one of the highest rated boxed beds online for keeping you cool all night through.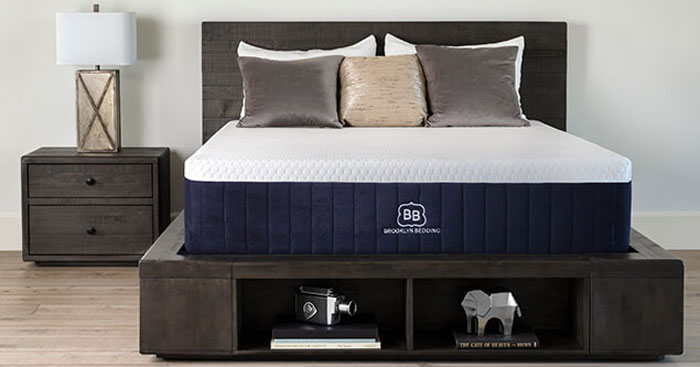 Pros
Exceptional cooling properties.
Suitable for all sleeping positions.
Available in three comfort levels: soft, medium and firm.
Well-designed and comfortable patented foams.
All foams are CertiPUR-US certified free from toxic chemicals such as heavy metals, ozone depleters and phthalates.
120-Night sleep trial during which you can return the mattress for a full refund of the cost.
10-Year warranty against faulty workmanship and material defects.
Made in the USA
Editor's Notes: This mattress is a high-quality cooling mattress. The cooling properties are awesome and will keep even the hottest sleepers cool during the night. This is the best cooling mattress we were able to find at such an affordable price. If you wake up sweating and can't get back to sleep then this is the mattress in a box for you.
Purchase This Mattress on Official Website
7. The Helix Mattress: Your Personally Customized Bed in a Box
The Helix Mattress offers you the opportunity to customize your mattress in a box yourself. When you click to the Helix website, you are asked to fill in a questionnaire with details of your weight, height, normal sleeping position and several other factors that are combined to recommend the best bed for you based on your answers.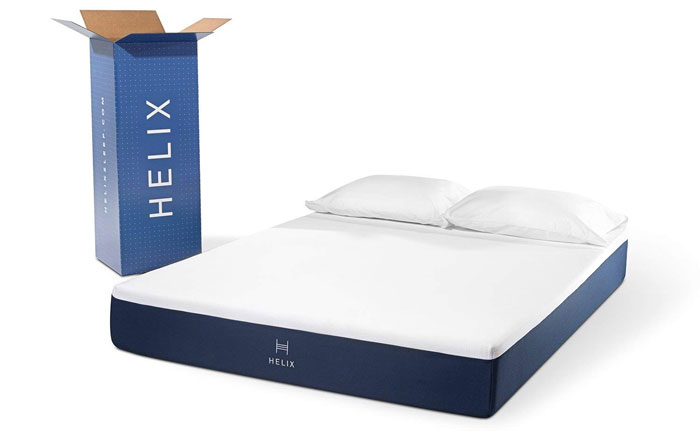 Helix has nine mattress models available and six of these are available in Soft or Luxe versions. You are almost certain to find a bed suited to your needs from this enormous selection of 15 mattresses. Simply fill in the questionnaire, then wait for your recommended mattress. If you are unsure about their selection, then suggest your own. Then you may get a price to suit your budget.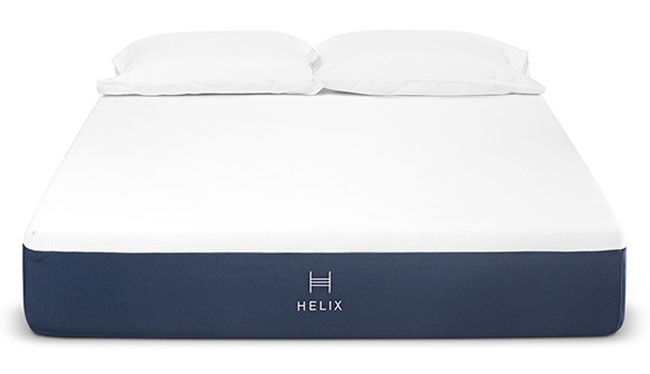 You have a larger choice than most other mattress brands offer you, and you have the time to provide the answers needed to set you up with the best mattress for your personal needs. You have 100-nights to come to a decision, and if you are unhappy with the mattress then it will be collected and returned to the manufacturer.
Pros
You fill in a quiz, then the Helix Mattress is constructed to your personal requirements based on your needs and preferences. If you don't like the mattress, then you can return it for a full refund.
Choice of mattresses to meet your needs.
10" – 14" thick according to your requirements.
CertiPUR-US certified foams.
Made in the USA
Free shipping within the USA.
100-Night sleep trial with free return if you don't like it.
10-Year warranty against manufacturing and material defects.
Editor's Notes: Helix offers nine different boxed mattresses according to your needs. Six options are available in both Standard and Luxe versions. Two are available in a dual format where partners prefer different comfort levels to each other. One side can be soft and the other firm, for example. The level of customization is the best we have found.
Buy Helix Sleep Mattress With $125 OFF
8. Nolah Mattress: Best Mattress for Animal Welfare
The Nolah mattress donates 7% of its profits to animal welfare services. You can choose the animal you want to adopt via the Defenders of Wildlife organization. This does not cost you anything extra. The mattress we are reviewing here is the Nolah Original mattress, a 10-inch thick foam mattress that has a firmness level of 5.0. It has 4 layers: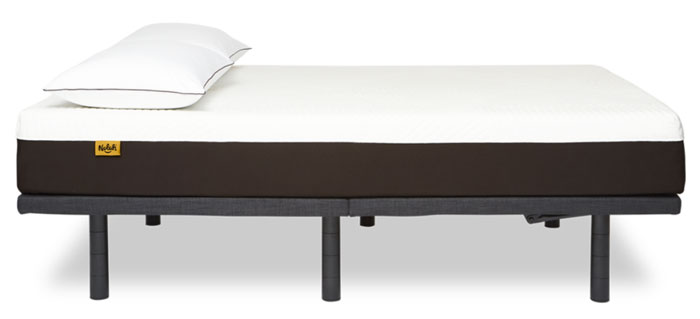 The Cover: This is made using a soft natural viscose material that helps remove heat and moisture while you sleep for a dry, cool, comfortable night's sleep.
Layer 1: The top layer is 2 inches of a type of memory foam known as Nolah AirFoamTM. This memory foam is infused with small air pockets that absorb the pressure of your body's pressure points for a very comfortable sleep. This foam has a good bounce to it and would be a good choice for couples.
Layer 2: The next layer is an inch of a responsive transition foam that comes between the memory foam above and the support foam layer beneath it. This layer also provides a good bounce.
Layer 3: This is bottom support foam, made from high-density polyurethane foam. This layer makes the mattress more durable and long-lasting.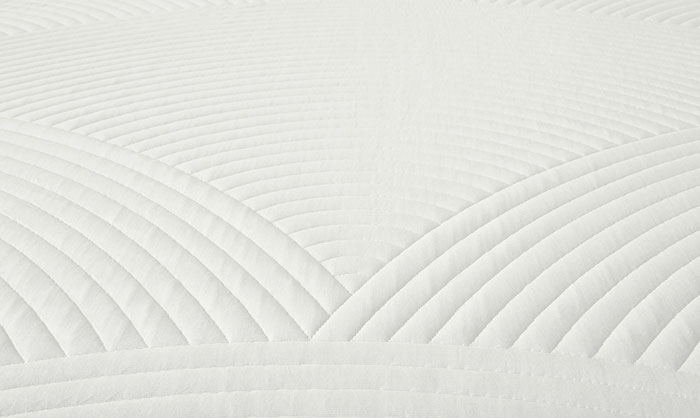 Pros
Animal welfare: You can choose the animal you want to adopt from a list of endangered American animals provided by the Defenders of Wildlife organization.
CertiPUR-US certified foams.
120 Night sleep trial: Full refund with free collection if you don't want to keep it.
15-Year warranty against defects in workmanship and materials.
Made in the USA
Editor's Notes: This is an excellent mattress, particularly for animal lovers. It is a simple construction with a bouncy type of memory foam that may not suit those that prefer to sink right into their mattress. However, it does provide good support for your hips, buttocks, shoulders and lower back in the lumbar area. It is ideal if you suffer from back pain, and worth a trial if you have issues with your spine.
Purchase This Mattress on Official Website
9. Dreamfoam Sojourn Mattress
The Brooklyn Sojourn memory foam mattress offers a cooling top level of copper and graphite infused memory foam that wicks away heat while you sleep. The medium-firm sleeping surface is not only cool but also offers excellent cushioning with the benefits of memory foam in supporting your pressure points.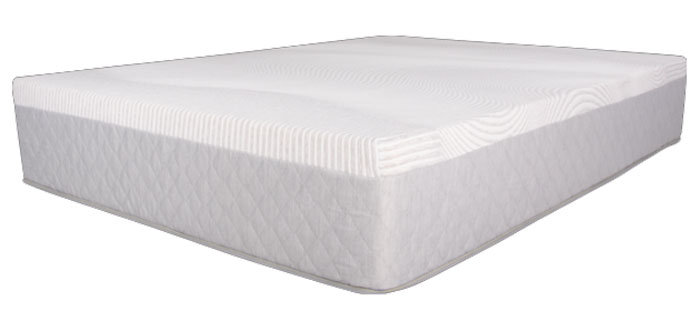 Here is how the 12-inch Dreamfoam Sojourn mattress is put together:
Layer 1: The top layer is 1.5 inches of a copper-graphite memory foam to conduct heat away from you into the body of the mattress to keep you cool at night.
Layer 2: 2.5 inches of standard memory foam for extra cushioning and cradling.
Layer 3: 2 inches of a transition foam to provide a softer transition from the memory foam to a high-density support foam beneath it.
Layer 4: A 6-inch layer of a high-density base support foundation foam for durability.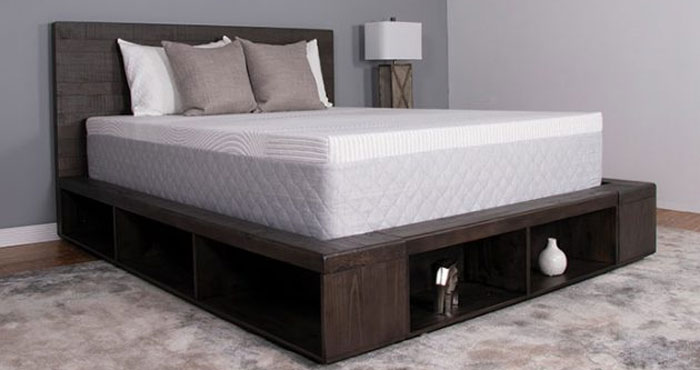 This is a medium-firm mattress that provides excellent support for your pressure points, and while it is suitable for all sleeping positions, it may be slightly too soft for some stomach sleepers. Motion separation is good, so you don't get disturbed by your partner moving in bed.
Pros
Effective cooling properties.
Good motion separation.
120-night sleep trial with a full refund if you don't want to keep it.
10-Year warranty against manufacturing or material defects.
CertiPUR-US certified foams against toxic substances and ozone depleters.
Made in the USA
Editor's Notes: The Dreamfoam Sojourn mattress is an excellent boxed mattress for those that prefer to sleep on memory foam. It is a substantial 12-inch thick mattress and not only keeps you cool but also supports your major pressure points while helping maintain your spine in its natural shape.
Purchase This Mattress from Official Website
10. Tuft & Needle Mattress: Best Bed in a Box for Teenagers and Children
The Tuft & Needle mattress is the ideal mattress in a box for teenagers and younger children. The top layer of proprietary T&N Adaptive® foam is ideal for teenagers because it gives them more freedom of movement on the bed than regular memory foams or latex foams do. These foams can give youngsters a feeling of being stuck that this adaptive foam does not. Also, its open-cell design helps keep the mattress cool and also provides excellent pressure relief for teenagers and children. This helps keep their spine straight while they grow into adults – a very import factor with growing children's beds.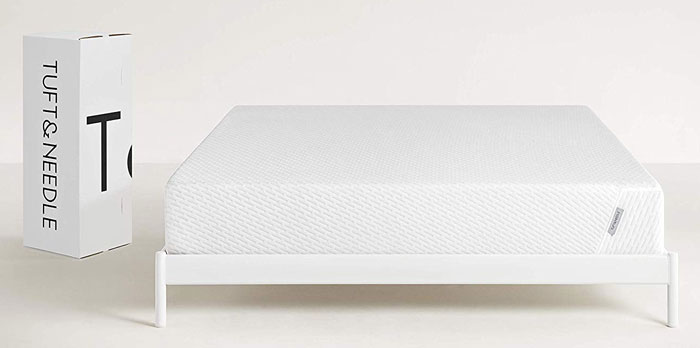 The mattress is infused with a cooling gel and conductive graphite that absorbs any heat generated and spreads it throughout the body of the bed. This helps to keep your teens cool and not wake up in the night sweating. They will love the localized bounce of the foam when they checking out the social media accounts or playing with their Xbox. The mattress is 10" with a firmness rating of 6.0 – 6.5.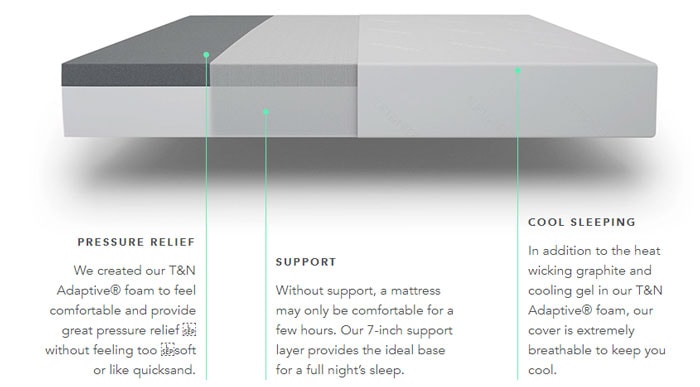 Pros
Excellent support with bounce.
A high level of support without your kids feeling trapped or enclosed by the mattress.
Helps maintain a good, healthy posture while they are sleeping.
CertiPUR-US certified foams.
Oeko-Tex certified textiles.
100 Night sleep trial with a full refund guarantee if purchased through Amazon.
10-year warranty against faults in workmanship or materials.
Made in the USA
Cons
May be slightly too firm for some young people.
Editor's Notes: The Tuft & Needle mattress is an excellent choice for teenagers and growing children if you prefer to buy one of the most highly rated boxed beds online. Its construction helps keep young spines in their correct shape while your kids are growing up. For this alone, it's worth buying but it provides even more as explained above.
Purchase Tuft & Needle on Amazon
Why Buy a Bed In a Box Online?
Good question! Why buy a bed in a box – and why buy it online? What do the highest rated boxed beds online have that other beds don't? The answer to the first part of that question is simple: You have a lot more choice online, and you don't have to walk for miles from the store to store to find what you want. You can compare boxed mattresses easier online and also read reviews of what other people think about them. Comparison shopping is much easier online!
But that's not all: there's also price. It is cheaper to buy a mattress online than buy the same one from a store. That's because of the overheads that physical stores have that warehouses don't. You must also consider that the manufacturer may have sold that mattress to a distributor or mail order company. The distributor may then have sold it to a store that has lots of employees and advertising to pay.
Buying online, however, could mean that the same mattress is delivered to you with no middleman. No store, middleman's advertising, staff wages and retailer's profit to add to the price. If you buy online, that boxed bed could be delivered to you directly from the distributor (e.g. Amazon) or even from the manufacturer itself – and that's why it is the same mattress at a much lower price online than from a bed store.
A mattress in a box has usually been pressed flat by the manufacturer, rolled up and sealed in a plastic wrapper that excludes air. It is then boxed and ready for delivery. A mattress packaged in this way is lighter in weight and in a more convenient form to carry than a regular mattress.
Some Essential Questions to Ask Yourself
1. What Comfort or Firmness Level Should I Get?
Comfort is relative – some believe that comfort is lying on (or in) a plush, soft, fluffy mattress while others equate comfort to a fairly firm mattress that supports their body so they are sleeping on the mattress rather than in it. Your preferred sleeping position may make the decision for you.

A side sleeper needs support for their pressure points, without causing pain. A softer memory foam mattress will allow your shoulders, hips, and elbows to sink into the foam and then reach a firmer layer below that provides the support. This enables your spine to remain straight when you sleep. A firmness or comfort level of anything from 4 – 6 should suit you where 0 is softest and 10 firmest.

A back sleeper needs their shoulders, lower back, and buttocks to be supported by their mattress. Your spine is in an elongated S shape when viewed from the side, and a medium soft mattress will help maintain that shape. A firmness level of 5-7 should be good for you. Stomach sleepers need firmer mattresses to prevent their neck from being pushed upward out of position. A comfort level of 6 – 8 should be good for you.
2. Will It Suit My Sleeping Position?
If you definitely need to sleep in a certain position, then you will need a mattress that suits that position. Few mattresses, if any, are ideal for all positions: back, side and stomach and a lot also depend on your body weight. A heavier weight person needs a firmer mattress, and perhaps a thicker one, that a lightweight. The above information is good generally, but what if you need a certain type of mattress and your partner needs another? There are mattresses with which each side of the bed can be customized, so one can sleep on the soft side and the other partner can sleep on a much firmer side. The customizable Helix mattress offers this option.
3. I Enjoy Regular Sex: What Mattress Should I Buy?
If you are a couple who enjoy regular sex in bed, you should consider your normal sexual positions and parts of your body mostly in contact with your mattress. You may find that a memory foam mattress tends to hold you into it. You need a mattress with a good bounce, but also with good support for the weight of two people. Casper, Noah and Tuft & Needle boxed beds will probably be best for you. However, you should also consider the highly customizable Helix mattress. This can be selected on the basis of a questionnaire and is also a bed in a box needing time to return to its proper shape after unrolling it.
4. Safety Issues: Is My Mattress Safe?
Some people never consider the foams their mattress is made from and how safe they are. Before buying, look for the CertiPUR-US accreditation. This indicates that your mattress does not contain heavy metals such as lead, mercury and other toxic metals. It also does not contain phthalates, ozone depleters such as CFCs, formaldehyde, toxic flame retardants. These are mostly associated with polyurethane foams such as polyfoams and memory foams. The CertiPUR-US logo assures you that your foam mattress is free of these substances.
Nectar mattress

Layla Mattress

Alexander Signature

DreamCloud

Casper Mattress

Brooklyn Aurora

Helix Mattresses

Nolah Mattress

DreamFoam Sojourn

Tuft & Needle
Summary
There are many different types of boxed beds online, and we have presented here the 10 best mattresses that come in a box we could find. Buying a mattress in a box enables you to purchase a high-quality mattress at a significantly lower price than from a mall bed store. Each of our 10 has been thoroughly tested and chosen for their own specific properties and benefits.