The latex vs. spring mattress argument can only be sensibly considered in general terms. That is because there are different types of latex and different types of spring arrangements used in such mattresses. Some combine the two. Many people in the process of buying a mattress become confused by the number of options available. Here, we shall initially consider the two in general terms, referring to the options only where relevant.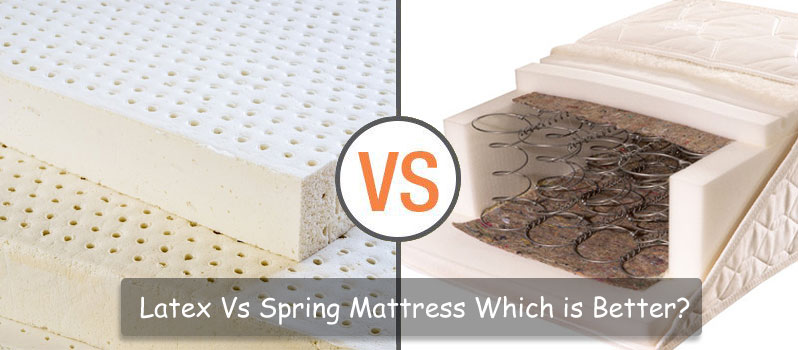 Spring mattresses and latex mattress both have their own benefits and issues. Some don't like latex. In fact, they don't like any kind of foam mattress because it keeps them too hot during the night. Many find memory foams to be like this, although memory foam is polyurethane, not latex.
Latex foam does not soften when you get warmer – it retains its support. It is also ideal for side sleepers. Although, it must be said, innerspring mattresses do tend to be better at keeping you cool on very warm nights.
So – Latex Vs. Spring Mattress – Which is Better?
Let's look at the pros and cons of spring mattresses first. Often referred to as innerspring mattresses, these are chosen first because this is the original type of mattress that was used – assuming we ignore the old palliasses that were filled with straw, horsehair or feathers to make a mattress. Believe it or not, spring mattress are still the most popular, and account for the majority of mattress sales worldwide.
Pros and Cons of Spring Mattresses
In a spring mattress, the springs are either steel coils attached to each other in a frame edged with metal wires, or are individually pocketed. This means that each spring is independent of its neighbors, and is held in a fabric pocket. The spring will be padded with cushioning in the form of foam or a cotton-like padding. This prevents the springs from digging into you while you lie on the mattress. They can also be fashioned from one long length of steel wire, fashioned into a number of spring coils.
Spring Mattress Pros:
Cost effective – spring mattresses are generally less expensive than latex foam mattresses.
Good level support from springs.
Springs have more bounce if that is important to you (think about it!)
Spring mattresses are available in a number of firmness levels.
Last a long time – you can get 10 years or more from a spring mattress.
If you like the concept of memory foam, then many spring mattresses are available with a memory foam top. You can enjoy the firmness and bounce of a spring mattress with the comfort of memory foam on the top sleeping surface.
Spring Mattress Cons:
Unless you have individually pocketed springs, your sleep can be affected by the motion of a restless partner.
Springs can lead to pressure points on your body if they eventually fail to lie flat.
What Are Latex Mattresses
Latex mattresses are strictly manufactured from latex. Obviously – but latex is a natural material and many confuse latex mattresses with foam mattresses. They are not the same. Latex is the natural milky fluid that is tapped from the rubber plant/tree. It's not the purpose of this review to discuss the chemistry of the materials. Suffice it to say that latex is not polyurethane foam. It is natural latex extracted from the rubber plant and processed into a material suitable for use in mattresses.
So how do latex mattresses stand against spring mattresses – or innerspring mattresses? Here's how – some good and some not so good.
Pros and Cons of Latex Mattresses
Latex mattresses are generally a large slab of latex foam. They may have other layers, such as comfort layers or a thin layer of memory foam. However, but they are fundamentally constructed from latex foam. Here the pros and cons – benefits and disadvantages – of using a latex foam mattress.
Latex Mattress Pros:
Latex mattresses are more environmentally friendly than spring mattresses. That is because they come from a natural growing source. Spring mattresses are made using mined metals that are not so environmentally friendly.
Latex is highly durable and can outlive springs. Many latex mattresses offer a 20 year warranty.
Pinpointed support, allowing pressure points sink in while the main bulk of your body is supported.
Latex has a natural resistance to many allergens, such as dust, dust mites, molds and bacteria.
A latex mattress can offer a firmer surface than padded springs. This can be important for those with medical conditions that are best to sleep on a firm mattress.
Latex Mattress Cons:
Generally more expensive than spring mattresses. If you find a latex mattress at a lower price than an equivalent spring mattress make sure you find out why. You may have struck lucky, but might also have come across some cheap mattress claiming to be latex when it is nothing but polyurethane. Polyurethane memory foam mattresses can be well worth the money you pay, but you must make sure they are genuine recognized brands.
That's just about all the cons for a latex mattress, though no doubt you have a few. If so, let us know. It's your choice. Some prefer the traditional innerspring mattresses while others like the idea of foam. So how do you choose? Here are some questions to ask yourself before opting for a latex or spring mattress.
Latex Vs Spring Mattress – How to Choose
You may need some assistance when choosing between a latex or spring mattress. In order to help you make the correct choice, here are some questions to ask yourself:
Do I need my partner's movements not to disturb my sleep?
Do I need my mattress to be resistant to dust, bacteria and mold?
Do I need my mattress to last a long time?
Is price important? Do I have a budget for my mattress I must keep to?
Do my partner and I enjoy bedtime activities that benefit from a bouncy mattress
Do I want to stay cool at night?
Which type of mattress when I lie on it? feels best
If most of your answers are 1-3, then you will probably find a latex mattress best for you. If they are mostly 4-6 then a spring mattress would probably be most suitable. If you have one specific property of your mattress that you must have then go with the one relating to that property above.
If nothing really matters much to you then try 7, and go with that! Test your choice of mattress in the store first. If it feels good to you then go with your gut. It's amazing how often your gut feeling is right when you have choices to make! The latex vs spring mattress issue could be resolved simply by walking into a store and lying on all the beds in there. However, nothing is ever that simple – as you will find out!