Transparency Disclosure: We may receive a fee from the seller for any purchases made through links on this website or from other sites accessed via this website. This fee incurs no additional costs for the buyer. To learn more, please read our full disclosure page here. Read our Product Research and Testing page to know more about our review process in detail.
Why are there so many TEMPUR-Pedic mattress alternatives? That's easily answered – everybody wants to copy the best! A TEMPUR-Pedic mattress is generally regarded as the best orthopedic mattress available. It has been used by Serena Williams for many years. It was the first company to introduce visco-elastic foam, better known as memory foam, to the mattress world.
Invented by NASA to help pilots' seats absorb the G-forces of extreme acceleration and direction changes, memory foam offers a comfortable sleeping surface that relaxes as it warms up. That means it becomes softer where your body is in most contact with it: your shoulders, hips, knees, ankles – and your buttocks if you sleep on your back. In other words, a TEMPUR-Pedic mattress conforms to your body shape.
Why an Alternative? Why Not Just Buy a TEMPUR-Pedic Mattress?
So why not just purchase a TEMPUR-Pedic mattress if that's what you want? Many people do, but even more are unable to afford their high price. The basic mattress starts at over $1100. Not everybody wants to spend that on a mattress, and not everybody can afford to!
This has led to a whole host of less expensive alternatives that claim to be just as good as a genuine TEMPUR-Pedic memory foam mattress. They are not all even close! However, many are and some people believe that they may be even better. Here is our opinion of the best of the best mattresses that we consider to be TEMPUR-Pedic mattress alternatives.
Our Five Alternatives to TEMPUR-Pedic
We have checked out a number of alternatives and narrowed the selection down to those that are genuine memory foam mattresses suitable for orthopedic use. These are three genuine alternatives that we have checked out. They are all true memory foam alternatives to TEMPUR-Pedic mattress.
For each we considered, "Would Serena have used one of these" – and included those that we believe she would. This is purely out own opinion based on how close each choice is to the alternative. We have also included two mattresses that are not made predominantly using memory foam, but which we also consider to be genuine alternatives.
1. The Novosbed Mattress
The Novosbed mattress is an excellent choice if you are looking at a good alternative to a TEMPUR-Pedic. It is made from high quality high-density memory foam and has a washable cover. You can choose between 3 different firmness options, while TEMPUR-Pedic offers 14 different model options.
The Novosbed mattress gives you a 120 trial period to test your mattress. You can return it if you don't like it. TEMPUR-Pedic offers only 90 nights. If you find your Novosbed mattress too soft or hard for you, the company will send you a free topper which will either make the mattress feel softer or harder. It also gets a higher review score than TP from users.

The Novosbed mattress is a genuine contender against TEMPUR-Pedic, and those that have tried both find it difficult to tell any difference – and not all in TP's favor either! Novosbed gets 97% 4-5 star reviews.

2. Layla Copper Infused Mattress
The Layla memory foam mattress is infused with copper to help reduce inflammation and joint pain. Copper is well known to help reduce inflammation and this mattress is patented in the US Patent Office. It provides you with two sides to sleep on.
You can sleep on the softer side or on the firm side: both are made using genuine memory foam. This mattress is an excellent lower cost option to a TEMPUR-Pedic mattress and it offers two comfort levels. It is made in the USA using memory foam and genuine metallic copper. As regards a guarantee, you can't ask for better than the lifetime warranty it offers.

The Layla copper infused memory foam mattress is available in Twin, Twin XL, Full, Queen King and California King sizes and priced well below the genuine TEMPUR-Pedic mattress while offering the same benefits – and more!
3. Visco Revolution Bed Boss Visco PT
This Visco revolution memory foam mattress offers the full memory foam experience with a softer cushion surface than the TEMPUR-Pedic. The bamboo fiber cover absorbs and dissipates heat to keep you cool at night. This 15-inch thick mattress has a Eurotop layer that provides the soft sleeping surface, over memory foam that supports your entire body.
Available in five sizes from Twin to California King, this viscoelastic memory foam mattress comes with a 10 year warranty. The memory foam contains a cool gel that absorbs heat when you sleep. Consider that in addition to the heat-absorbing bamboo cover, and you are practically guaranteed a cool sleep all night through.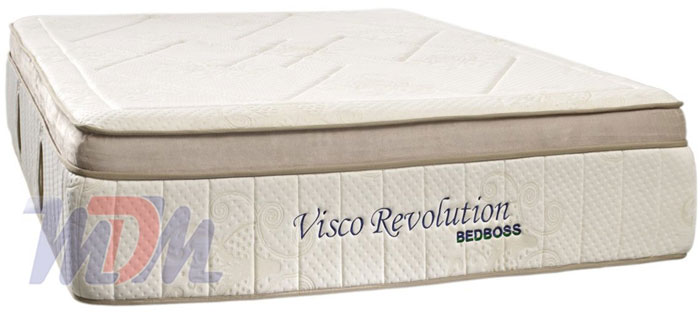 This is an excellent alternative to a genuine TEMPUR-Pedic mattress.
Other TEMPUR-Pedic Mattress Alternatives
Our choices above have excluded mattresses that do not use genuine memory foam. However, there are other TEMPUR-Pedic mattress alternatives that are not 100% memory foam, and even some viable alternatives that contain no memory foam. They are nevertheless excellent orthopedic mattresses – just the same as our choice immediately below is, the Amerisleep Liberty mattress.
1. Amerisleep Liberty Mattress
Although not 100% memory foam, the Amerisleep Liberty 12" mattress is another excellent alternative to a TEMPUR-Pedic mattress. Available in six sizes, it is an ideal medium-soft mattress for side and back sleepers.
It is constructed with a 3" top memory foam cooling layer designed dissipate your body heat for a cooler sleep. This is followed by an Affinity Transition layer. This layer channels the airflow through it and also helps distribute your weight evenly. These layers lie over a 7-inch thick support layer of 1.5 lb/cu.ft. general foam.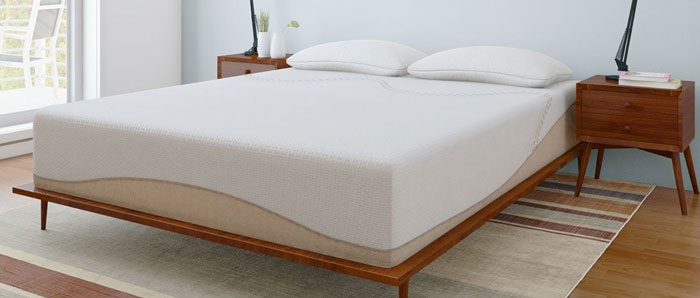 While not 100% memory foam, the Amerisleep Liberty mattress comes very close when compared to the performance of the regular TEMPUR-Pedic mattress. It is medium soft, with a plush surface but also very supportive.
2. Tuft and Needle Mattress
The Tuft and Needle is an excellent mattress that claims to offer the same level of comfort as a memory foam mattress using its own innovative adaptive foam. It offers a 10 year warranty with a sleep trial of 100 nights. If you don't want to keep it after that time, then simply return it.
You can check out the Tuft and Needle mattress yourself, although it is not a genuine TEMPUR-Pedic mattress equivalent. With an 89% 5-star review from over 10,000 users, this seems an excellent mattress for a low price, about half that of a genuine TEMPUR-Pedic. You may decide to give it the 100-day try-out. You might find you like it and decide to keep it.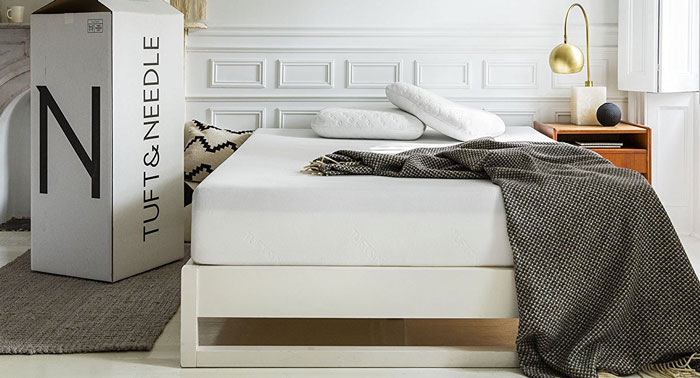 The Novosbed Mattress

Layla Copper Infused Mattress

Visco Revolution Bed Boss Visco PT

Amerisleep Liberty Mattress

Tuft and Needle Mattress
Summary
These are our top five alternatives to the TEMPUR-Pedic mattress. They have been chosen for various reasons. They are either 100% memory foam mattresses, or they are high-quality examples of mattresses that possess properties that are equal to, or very close to, those of the TEMPER-Pedic standard. They are all suitable for orthopedic use, although if you have medical issues you should also get professional medical advice.