Transparency Disclosure: We may receive a fee from the seller for any purchases made through links on this website or from other sites accessed via this website. This fee incurs no additional costs for the buyer. To learn more, please read our full disclosure page here. Read our Product Research and Testing page to know more about our review process in detail.
Many people are keen to find the best mattresses for arthritis sufferers. There are many different types of mattresses that claim to be the best for arthritis, just as there are many different types of arthritis. The two most common types of arthritis are osteoarthritis and rheumatoid arthritis. We present our best mattresses for arthritis sufferers below, including the one we believe deserves the accolade of the best mattress for arthritis sufferers.
Osteoarthritis: Usually connected with aging, osteoarthritis affects the cartilage that surrounds the area of the ends bones that meet together to create a joint. The anatomy of the ends of joints such as the knees, hips, lower back, neck and hands involves a smooth cushion of cartilage that is lubricated with a fluid known as synovial fluid. In osteoarthritis, this cartilage becomes rough and tends to flake. The result is small pieces of cartilage that break off, ultimately leading to inflammation of the synovial membrane that lines the spaces between the ends of bones that move against each other, such as the knees, hips, shoulders, elbows finger bones, wrist bones, etc. This causes the pain of osteoarthritis. It is similar to a rusty hinge.
Rheumatoid Arthritis: Rheumatoid arthritis is associated with inflammation of the synovial membrane covering the ends of joints. This inflammation results in an excess of synovial fluid which leads to stretching of the capsule that encloses the synovial joints and fluid, leading to pain. This can lead to a deformity of the joint and its ultimate breakdown or destruction. It can also lead to inflammation of the tendons. 
There are medications available to help relieve the pain of each type of arthritis, and also aspects of their bed that those suffering from either type of arthritis should be looking for. There are certain aspects of a bed that can relieve or at least reduce the pain of arthritis, and also help you get a restful sleep. We at InsideBedtoom.com have tested several mattresses for their suitability for those suffering from arthritis. Our top 7 are sure to include the best mattress for arthritis to suit your particular needs. All seven are good and are not presented in any order, since #5 might suit you better than #1., and you will need to check out the properties that are most important to you in order to choose between them.
Sizes: T: Twin, TXL: Twin XL, F: Full, Q: Queen, K: King, CK: Californian King
*Copper Dreams: Plus Split Cal King
** Loom & Leaf: +split King
Comfort: The lower the figure the softer the mattress, and the higher the figure the firmer the mattress.
Table of Contents
1. The Layla Mattress Best Mattress Overall for Arthritis
Layla offers two mattresses that are good for those suffering from arthritis. There is the Layla memory foam mattress with each side having different firmness levels.: level 4 (medium soft) and level 7 (firm). Simply flip the mattress to the comfort level you prefer. Layla also offers a hybrid mattress that can be flipped to the comfort level you prefer. Let's look at each of these options with the Layla memory foam mattress first:
Memory Foam Option: Both sides of this mattress have a top layer of memory foam infused with copper. The copper helps keep the mattress cool while you are sleeping. The removable thermogel cover is also cooling. The copper also helps to improve the flow of blood in those whose circulation is sluggish. Memory foam offers outstanding motion isolation, making it ideal for couples. The memory foam also supports your entire body, helping to ease the pain of arthritis.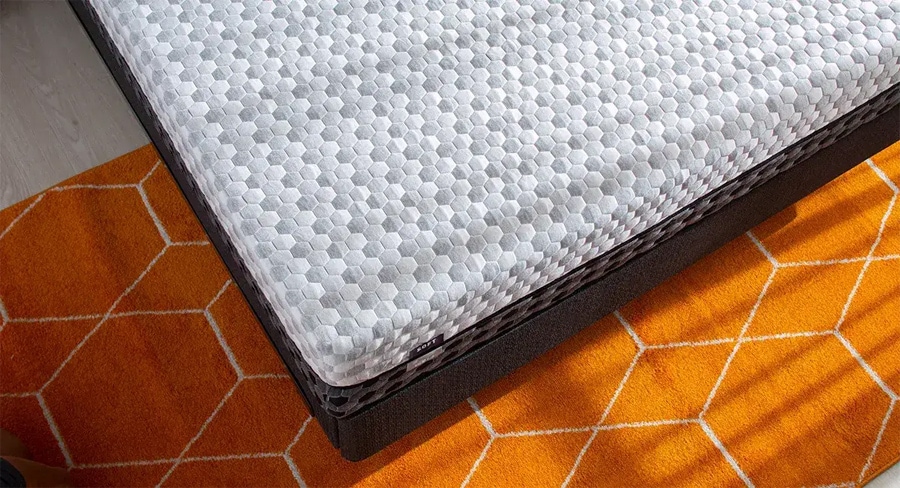 Hybrid Option: The Hybrid Layla mattress also offers copper-infused memory foam with a different firmness level on each side. It provides two layers of zoned maximum airflow support foam – one on each side and is fitted with a central layer of zoned, individually pocketed steel coils that provides maximum motion separation between partners and promotes airflow to keep you cool. Each side of this layer has double coils for maximum edge support. This is a flippable hybrid mattress that enables you to choose the lower or higher firmness level to sleep on.
The soft and firm sides have their own zippered cover that can be removed for washing. All in all, both of these Layla mattresses are superb for those suffering from arthritis.
Pros
Available in two types: memory foam and hybrid with memory foam above and below the springs.
Two comfort levels ( 4 and 7) offer a high level of pain relief.
Both versions can be flipped to change the comfort level.
Memory foam helps support arthritic joints.
Maximum cooling.
Good for the circulation.
Good for couples due to excellent motion isolation.
Removable washable covers.
Suitable for all sleeping positions.
Suitable for lightweight, medium and heavyweight sleepers.
Excellent edge support
Can be rotated and flipped.
Free shipping to contiguous states.
120-night trial period – money back if not satisfied.
10-year warranty against workmanship or material defects.
Made in the USA
Editor's Notes: The Layla mattress is superb and truly deserves out accolade as best mattress for arthritis sufferers. It is in effect 3 mattresses. The memory foam mattress is ideal for those who love memory foam, and are not too heavy in weight. The hybrid has level 4 and level 7 firmness sides, which makes it suitable for heavy and light weight sleepers. The softer side may suit side and back sleepers, while the firmer side might be preferred by stomach sleepers. Simply flip to the side you like best. The motion transfer control is excellent and couples can sleep together without disturbing each other. It is also an ideal mattress for those who tend to get hot while they sleep.
Purchase This Mattress with Discount
2. The Winkbed Best Mattress for Heavyweight People
The Winkbed is a hybrid mattress available in six sizes and four comfort levels (see below.) The cover is derived from Tencel ©, which is a 100% natural eucalyptus-based fabric. This cover absorbs moisture and helps keep you feeling cool and dry. It is available in six sizes and four comfort levels: Soft (4.5), Luxury Firm (6.5), Firm (7.5), Plus (8). This mattress offers targeted support, providing good support for the shoulder and hips and superb comfort through a zoned coils system designed for excellent responsiveness. Edge support is also good all around the mattress.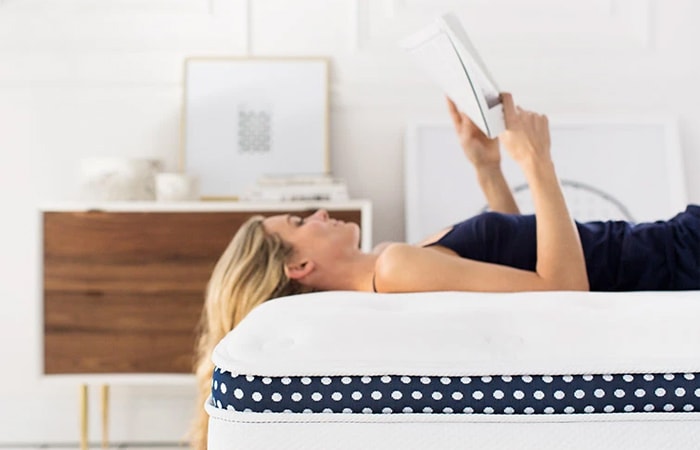 The Firm and Plus options are suitable for back and stomach sleepers who are more suited to firm mattresses. The Plus is designed for people weighing 230 Lb or over. This version contains a 2.5-inch support layer of high-density support latex foam and a layer of individually wrapped steel coils providing maximum support for heavier-weight people. The Plus model is recommended for heavier weight back and stomach sleepers. Extra support is provided for the lumbar region in the middle of your back.
Construction
Cover: A three-layered eucalyptus Tencel© cover absorbs moisture to keep you dry while you sleep, while also helping to reduce pressure on your shoulders and hips. 
Top Layer: Euro-pillow top quilted with a proprietary cooling gel-infused Hypersoft Foam. This is not memory foam and does not tend to heat you up while sleeping. However, it does relieve pressure on your shoulders and hips, rendering it suitable for side sleepers as well as those who prefer to sleep on their back or stomach.
Support layer: Zoned individually wrapped steel coils designed to offer extra support to your lumbar (lower back) region. This layer also helps to reduce motion transference if you sleep with a partner.
Pros
Available in six popular sizes.
Available in four comfort levels as above for excellent pain relief.
Excellent choice for side sleepers.
Plus version particularly suitable for back and stomach sleepers.
High-density foam cushioning has a density of at least 1.8 pcf (pounds per cubic foot) and is claimed to be sag-proof.
Enhanced edge support enabling you to sleep right to the edge of your mattress without it sagging.
Free shipping and returns.
Lifetime durability and replacement guarantee.
120-night sleep trial. If you don't like the Winkbed mattress, then return it for a 100% refund.
Cover OEKO-TEX approved for use with children.
Hand-made in the USA
CertiPUR-US approved – free from hazardous substances such as formaldehyde, heavy metals, phthalates and other hazardous chemicals.
Cons
Can be rotated but not flipped.
Otherwise, we could find none.
Editor's Notes: The Winkbed is available in four comfort levels to suit all sleeping positions, and if you don't like it (which is very rare) you can return it free for a full refund or replacement in a different comfort level. A hybrid mattress is suitable for most heavier-weight people and is our best mattress if your body weight is 230 lb or over. The foams used also enable lighter-weight users to get a great night's sleep. Between the four comfort levels, there is sure to be one suitable for you.
Purchase This Mattress with Discount
3. The Casper Wave Mattress: Best Cooling Mattress for Arthritis
The Casper Wave is the most supportive Casper model and is their best for back pain. The Wave is a hybrid mattress with zoned support, the zoning formed by 86 gel pods that align your spine by supporting your waist and lower back. Your spine is correctly aligned in two levels to maintain its natural curvature. This helps significantly in helping reduce the pain of arthritis.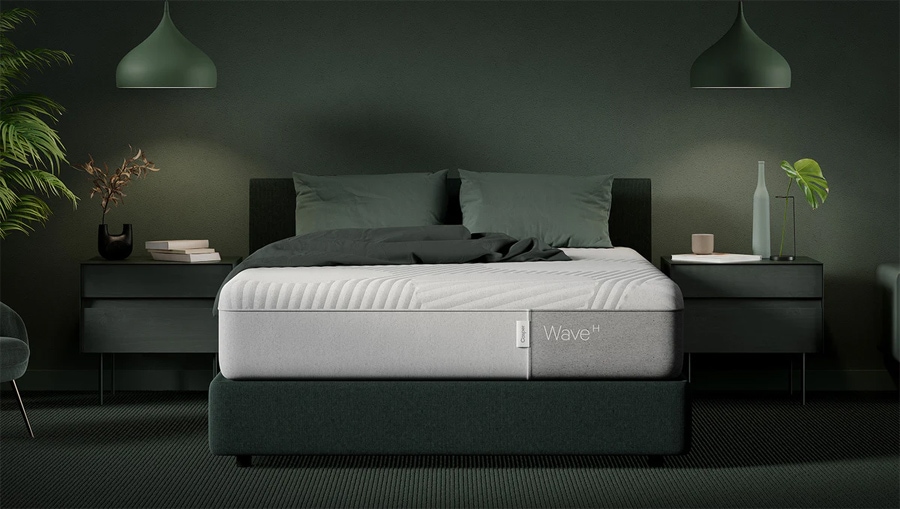 AirscapeTM 3 consists of three perforated foam Layers and cooling gel. This system circulates air away from you, and so helps prevent you from overheating while in bed. It also keeps your mattress cool to the touch. This system also includes hundreds of resilient springs that increase airflow through the mattress, while also adding bounce.
Zoned SupportTM Max comprises a number of ergonomic zones to support your full body. It gently sinks your shoulders and your hips are cradled by up to 86 gel pods to support you even more. Each zone is reinforced by this 3D zoning system, giving your back muscles a rest. This system maintains a correctly aligned spine, and gives your back a rest. You sleep better and feel less pain during the night.
The mattress is constructed as below:
Layer 1: A breathable polyurethane foam layer with an added phase-change cooling substance.
Layer 2: A layer of natural latex.
Layer 3: Memory foam layer, zoned to provide the best support.
Layer 4: A layer of polyurethane with gel pods.
Base Layer: A layer of springs encased in polyurethane foam for durability.
The firmness of this mattress is difficult to establish due to the zoned support and shoulder cushioning. It seems around 6.5 – 7.5 and is firm enough to support your spine in its correct alignment without feeling too firm where your arthritis may need cushioning.
Casper Wave Hybrid with Snow Technology
If you still feel hot while sleeping, you may prefer the Casper Wave hybrid mattress with Snow Technology. For an additional $425 you get the benefits of:
A QuickCool™ Hyperlite™TENCEL™ Cover – you can feel the cool-to-touch properties as soon as you get into bed. It is a lightweight cover that is 24% cooler to the touch than the standard cover of the Casper Wave mattress without Snow Technology. The cover is woven in a grid structure to facilitate venting and removal of warm air.
50% more advanced cooling gel.
Bands of HeatDelete™ that remove 34% more heat over 12 hours than the Casper Wave mattress without Snow Technology. This can help soothe the pain of arthritis and help promote sleep.
Pros
The Snow Wave Hybrid option possesses superb cooling properties.
Excellent support from the base layer of springs.
Suitable for all sleeping positions, particularly back and side sleepers.
Good motion separation: great for couples.
Good edge support.
Zoned support is ideal for reducing the pressure on arthritic joints.
An excellent option if you have back pain.
CertiPUR-US certified foams free from heavy metals, phthalates, formaldehydes, CFCs, ozone depleters and any other toxic substances,
Free Delivery in contiguous US states.
100-Night sleep trial: Casper will collect and provide a full refund if you don't like the mattress.
10-Year limited warranty against faults in workmanship or materials.
Made in the USA.
Cons
None found, though some might find it too cool.
Editor's Notes: The Casper Wave Hybrid mattress is an excellent mattress if you have arthritis. While the extra cost of Snow Technology might appear expensive, those suffering the pain of arthritis should find themselves in heaven with a cooler, longer sleep, and the support needed to rest their joints. If you feel that you don't need the extra cooling capacity of Snow Technology, then the standard Casper Wave provides excellent support for your back and other joints. I had difficulty in justifying not placing this mattress as #1 or #2, and placed it where it is at #3 due to the extra cooling and associated pain suppression of the Snow Technology cooling system.
4. Saatva Classic Best Support Choices for Arthritis Sufferers
The Saatva Classic mattress is a hybrid mattress, meaning that it is a foam mattress with an innerspring core to provide support. The innerspring support system comprises hourglass-shaped Bonnell steel springs encased in foam. This structure gives strength to the entire bed and helps to maintain good strength at the edge to prevent sagging. From top to bottom, here is the construction of a Saatva Classic mattress.
The Saatva Classic offers three firmness options and two thicknesses (heights). The firmness options are Plush Soft (3), Luxury Firm (6) and Firm (8). The two thicknesses are 11.5" and 14.5". The mattress begins with a knit organic cotton, under which is a Euro-top of polyfoam, three-quarter inches of fiberfill and an ounce of Dacron (a polyester fiber that gives a rounded finish to the mattress top). The Plush Soft and Luxury Firm options have 1.25 inches of soft foam in their Euro-tops while the Firm option has 1.5 inches of higher density foam. Those weighing under 130 lb would prefer the Plush Soft version, and those over 230 lb would likely prefer the Firm version. The Luxury Firm version may be preferred by most people with arthritis.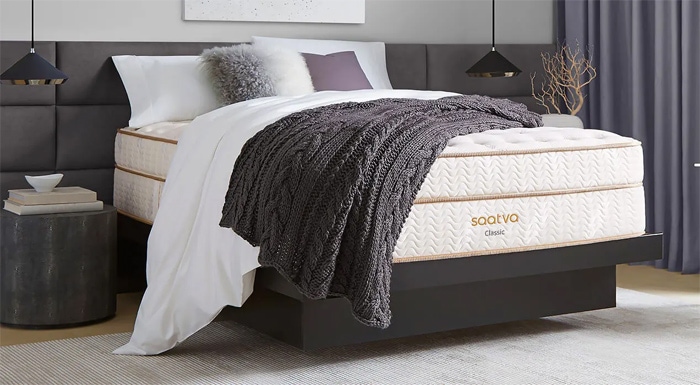 Beneath the Euro pillow-top is a 5/8 inch layer of polyfoam. A 3/8 inch layer of memory foam supports the lumbar region (small of the back) helping to maintain a proper spinal alignment. Beneath all that, support and breathability is provided by a 4-inch thick layer of 14.5 gauge wrapped Bonnell steel coils in the 11.5-inch version and a 7-inch layer in the 14.5-inch version. The core is supported by base pads and a foam layer is wrapped around the mattress edges to reducing sagging.
Sleeping Positions: If you sleep on your side or weigh less than 130 pounds, then the Plush Soft version of the Saatva Classic would be best for you. The mattress will conform closely to your body shape and reduce pain in those joints affected by arthritis. The Luxury Firm mattress would be better for heavier people and back sleepers, while the Firm version would be most suitable for stomach sleepers. Motion isolation is not good.
Pros
Organic cotton cover.
Three firmness options.
Two thicknesses (11.5" and 14.5")
Excellent pressure and pain relief.
Excellent edge support.
In addition to the six standard sizes, the Saatva Classic is available in Split King and Split Cal King for adjustable beds where each side can be adjusted separately for couples. Motion isolation is not good, though a split adjustable will provide 100% motion isolation.
CertiPUR-US certified foams, free of heavy metals, phthalates, ozone depleters, formaldehyde, or any other toxic substances.
OEKO-TEX® Standard 100, Class 1 certified textiles.
Antimicrobial
Hypoallergenic
Made in the USA
Free white glove delivery.
Old mattress removal.
180-night sleep trial ($99 return fee.)
15 Year limited warranty against faulty materials or workmanship.
Cons
Returns cost $99.
Motion isolation not good for couples other than a split mattress.
Otherwise, no negatives that we could find.
Can be rotated but not flipped.
Editor's Notes: The Saatva Classic mattress is an excellent mattress for arthritis sufferers. However, it is not good for couples. It is not only available in a choice of thicknesses and six sizes, but also in a choice of three comfort levels and a Split King and split California King option for adjustable frames for these two sizes. Then couples can sleep with the frame individually adjusted to give them maximum pain relief from arthritis.
Purchase This Mattress with Discount
5. The Bear Pro Mattress Best For Pressure Relief for Arthritis Sufferers
The Bear Pro mattress is an excellent choice for arthritis sufferers, particularly if you tend to sleep hot. It is all memory foam, with 4 layers totaling 12 inches high, and is ideal for providing pressure relief to arthritis sufferers. The memory foam alleviates pressure and has a quick response. The top layer of foam is a fluffy and airy open-cell memory foam that is infused with copper to draw heat away from you when sleeping. It's a 100% memory foam medium-firm mattress with a firmness rating of 6.5/10. It is also fitted with a breathable quilted cover for improved air circulation.
It's a great mattress for pressure relief and is an excellent choice if you have back pain or arthritis. Its firmness is a plus when it comes to your sleeping temperature, and the open-cell structure of the gel memory foam combines with the copper-infused foam to rapidly draw away the heat you generate while asleep. No more waking up hot and sticky with sweat! It is ideal for athletes and for anybody looking for the best mattress technology available. The edge support is better than the standard Bear mattress.
Toxicity: The Bear Pro mattress is Greenguard gold certified, indicating very low total volatile organic compound (VOC) emissions levels, and that it is acceptable for use in environments such as schools and health care facilities. It is also certified to CertiPUR-US standards, indicating that the foams are low in VOCs and contains no heavy metals, phthalates, ozone depleters or any other toxic materials. It is also free of Ecoflex TM fiberglass.
Celliant Technology: Celliant is a form of SRT (Sleep Recovery Technology) that transforms the heat of your body into full-spectrum infrared energy. This promotes the oxygenation of your body cells and good local blood circulation. It also keeps you drier and at the perfect temperature for you. The result is better sleep, more energy, stamina, strength and endurance, and quick recovery.
Pros
100% memory foam and ideal for those suffering from arthritis or lower back pain.
A high level of cooling to keep you cool at night. We found this worked very well in testing, and you will not find it easy to find a mattress at a similar price that cools as well as the Bear Pro mattress.
Excellent motion isolation.
Celliant technology to help you recover quicker from hard exercise and also give you a better sleep and more stamina.
Greenguard Gold certified.
CertiPUR-US certified free of toxic substances such as heavy metals, phthalates, CFCs, formaldehyde, ozone depleters and other toxic substances. Copper creates a natural antiviral and antibacterial environment.
An ideal mattress for those suffering from arthritis or back pain.
Free shipping and free returns.
100-Night sleep trial: money back if you don't want to keep it.
10-Year limited warranty.
White glove service for an additional $100.
Made in the USA from American materials.
Cons
Edge support is OK, but not the best. It tended to sag a little when I sat on the edge.
We could find no other negatives with this mattress, although the white glove service is not free.
Editor's Notes: You will find it difficult to source a better cooling mattress at the price of the Bear Pro Mattress. It is without a doubt one of the best mattresses for arthritis sufferers we have come across.
Purchase This Mattress with Discount
6. Copper Dreams Mattress Best Budget Mattress for Arthritis
Made in Phoenix, Arizona, the Copper Dreams mattress by Brooklyn Bedding is manufactured using copper-graphite infused memory foam and individually encased steel coils. Its construction is:
A premium smooth-weaved top surface. This tends to cool you on contact.
A 1.5-inch top memory foam layer infused with copper graphite to conduct heat away from your body and help maintain an ideal body temperature while you are sleeping.
The second layer of 2.5 inches of memory foam contours your body and provides targeted pressure relief – ideal for arthritis sufferers.
A 2-inch transition foam layer, which transitions your weight to the main support core of steel coils.
A 6-inch layer of individually encased coils (up to 961) that not only provides exceptional support for arthritis sufferers but also reduces motion transfer.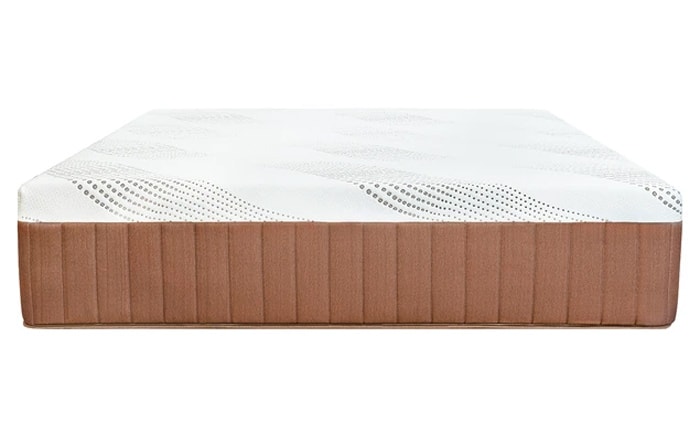 The mattress comes in two comfort levels to suit your required level of comfort. The first is a 12-inch thick mattress offering firm support (5.5 on a scale of 1-10 with lowest softest), while the second is a 13-inch thick mattress that offers a medium-firm (6.5) sleeping surface.
Pros
Choice of firm or medium-firm support: firm is best for back and stomach sleepers, while medium-firm would suit side sleepers best.
The internal spring layer provides excellent support, particularly for heavier-weight people and those with arthritis.
The spring layer has enhanced edge support to prevent the mattress from collapsing when you sit on it.
Low motion transfer between couples.
The benefit of memory foam to support the contours of your body and so reduce the pain of arthritis.
The copper-graphite layer helps keep you cool during the night. No more waking up in the night feeling hot and sweaty.
Available in 8 sizes and 6 split sizes allowing partners to use adjustable frames to avoid motion transfer and to help them use their respective ideal sleeping positions. Or even different mattress comfort levels.
Delivered in a box for easy carrying from your door to your bedroom.
Made in the USA
CertiPUR-US certified foams: Free from toxic materials such as heavy metals, phthalates, formaldehyde, ozone depleters, CFCs and any other toxins.
120-night risk-free trial period.
10-year warranty
Free returns
Cons
Can be rotated, but not flipped.
Edge support is not the best – it felt unstable when I sat on the edge. There is some support, but not as good as the first 5 reviewed.
No others that we could find.
Editor's Notes The Copper Dreams mattress made by Brooklyn Bedding combines the cooling effects of a combination of graphite, copper and individually encased steel coils with the deep comfort of memory foam to provide a cooling mattress that is an excellent choice for those suffering from arthritis. It comes with firm or medium firm support properties with targeted pressure point relief. It is one of the best mattresses for arthritis we have found for sufferers who have only a small budget to work with. In fact, it combines the deep contouring properties of memory foam with the excellent cooling properties of graphite and copper and the strength and additional cooling of individually wrapped coils.
Purchase This Mattress with Discount
7. Loom & Leaf Mattress Best Premium Mattress for Arthritis
Made by Saatva, the Loom & Leaf mattress is the company's premium mattress, and our premium choice other than the Casper Wave Hybrid, which is also a premium mattress. Both are ideal for you if you suffer from arthritis, but the Casper has been categorized as the best cooling mattress for arthritis.
The Loom & Leaf mattress is manufactured using high-density memory foam and is ideal for those with arthritis. It is available in two levels of firmness: Relaxed Firm with a firmness level of 5 – 7 and Firm with a firmness level of 8. The memory foam used is premium 5 lb foam and is matched with softer foams and gel-infused foam to create the softer option. All foams used are of high premium quality.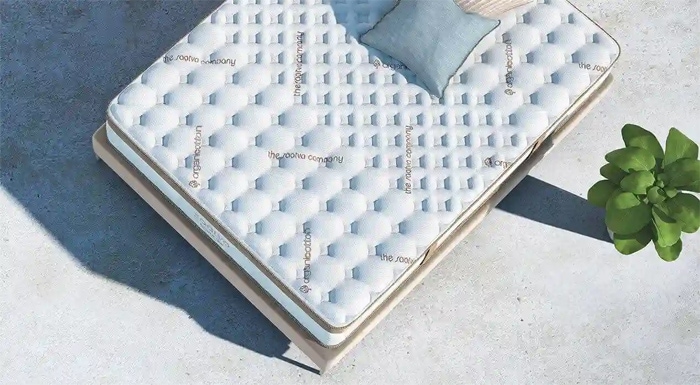 Relaxed Firm (5-7): This is the most popular Loom & Leaf firmness level, and suits all sleeping positions with comfort and contouring support. It is a good mattress for arthritis because it helps maintain a healthy spinal alignment no matter what you sleeping position may be. This mattress is ideal for couples who have differing sleeping positions and comfort preferences.
Firm (8): This is a comfort level of 8, and is ideal for stomach sleepers who need a firm mattress or anybody else who prefers their mattress to be firm. You will lie on top of this mattress and not sink into it.
The Cover: The cover is quilted using certified soft, breathable and hypoallergenic organic cotton which has been treated with a Guardin® botanical antimicrobial treatment, then quilted with a double layer of plush comfort foams and a natural thistle flame barrier.
Foam Infused With Cooling Gel: This is a proprietary layer of gel in the spinal zone of the mattress which not only keeps you cool but also offers a high level of support for your spine.
5-lb Premium Memory Foam: Although many companies use cheaper foams, Saatva uses a high-quality 5 lb high-density memory foam for the Loom & Leaf mattress. This quality of memory foam provides the long-lasting support and pressure point relief needed by arthritis sufferers.
Comfortable Lower Back Support: The gel-infused foam described above will keep you cool throughout the night and also provides the additional support for you your lumbar region, or lower back, that arthritic people need. 
Pros
5lb premium memory foam is of high quality and will offer long-lasting support for arthritis sufferers.
A good range of mattress sizes.
Two levels of comfort and excellent pressure point relief for arthritis sufferers.
Hypoallergenic and antimicrobial cotton cover.
Natural thistle flame barrier.
CertiPUR-US certified foams, free of toxic materials such as phthalates, heavy metals, formaldehyde, halogenated hydrocarbons such as CFCs, ozone depleters and any other toxins.
Certified organic cotton.
Free delivery
Free white glove service.
Free old mattress removal.
180 night home trial – If you don't like the mattress it will be collected for a fee of $99.
Cons
Edge support is OK, but a bit weak when sitting on the mattress.
Return of the mattress after home trial costs $99
We could find no other negatives
Editor's Notes: The Loom and Leaf mattress deserves its place among the best mattresses for arthritis sufferers. Like the others in our list, it is non-toxic, safe to use and ideal for arthritis sufferers. It may not be the best mattress for arthritis, but it is one of the best for the money. Edge support is good when lying on the mattress, but tends to sag when sitting on the side.
Purchase This Mattress with Discount
Conclusion
There are many mattresses that are suitable for people who suffer the pain of arthritis. However, after carrying out an extensive search we have arrived at the above seven as our best choices available online. Five are hybrids while two are all memory foam. Much depends upon whether you prefer the body-conforming memory foam or the firmness and springiness of a hybrid with its layer of springs.
Our top 7 provide you with an excellent choice, and if you can't get to a store to try a new mattress, or if there are no outlets near you, then you can choose online with the help of this guide. All seven choices give you a sleep trial period of a minimum of 100 nights, and one even gives you 180 nights to make up your mind. Most of these are free returns, though two charges $99 for a return (though their trial period is longer than 100 nights).
Questions and Answers
Here are some questions we have been asked regarding mattresses for arthritis.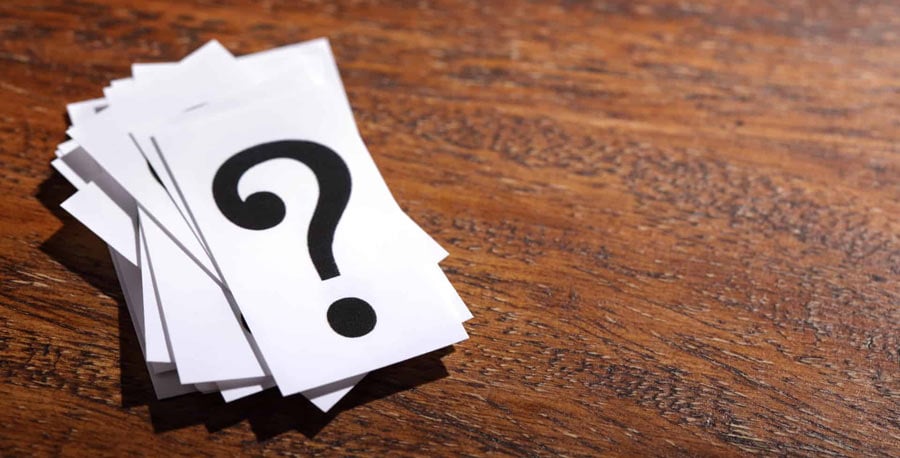 1. What causes people to get arthritis?
Ans: Arthritis is caused by your body's immune system attacking your body tissues. The synovium is a soft tissue in the joints that emit a nourishing fluid that also lubricates your joints. Rheumatoid arthritis is a synovial disease that can destroy a joint. Osteoarthritis is caused by aging or damage to the joint. This is all explained in more detail in paragraphs 2 and 3 of this review – right at the beginning.
2. Can sleeping on a hard bed cause joint pain?
Ans: A firm mattress is fine so long as it is supportive. If you feel excess pressure on your shoulders, arms and coccyx (tailbone) then that could result in short-term or long-term joint pain.
3. What's the best mattress to relieve pressure points?
Ans: All the mattresses above should help relieve your pressure points. However, the best three for pressure points such as the knees, hips and shoulders are the Winkbed, Casper Wave and Saatva mattresses. 
4. What's the best mattress for me?
Ans: Depends on how you sleep. If you sleep on your side, then you should sleep on a soft to a medium mattress that will cushion these pressure points. On your back or stomach, you should look for a medium-firm to a firm mattress to help keep your spine lined up in its natural shape.
5. What mattress do orthopedic doctors mostly recommend?
Ans: There are several mattresses that they recommend, but we believe that Botanical Bliss is a good one, and is ecologically compliant.
6. What is the best mattress for seniors?
Ans: The Winkbed definitely, though Saatva is more comfortable.
7. What is the most comfortable mattress?
Ans: Much depends on what you prefer: a firm mattress, a medium-firm or a soft mattress. Generally, for comfort, many people choose the Layla mattress as the most comfortable with The Winkbed and Saatva close behind.
8. Can you get a split frame with separate mattresses on either side?
Yes, you can, so the partners can adjust their bed without upsetting their partner. We recommend the LUCID L300 adjustable bed base. It comes with a split king memory foam hybrid mattress with wireless remotes, so both partners can adjust their own mattress to their own liking. Check it out HERE. 
A Buyer's Guide to the Best Mattresses For Arthritis Sufferers
The above is our selection of the best mattresses for arthritis sufferers. How do you choose the best of these for you? Here, below, is what to look for in a mattress for arthritis. We have identified the most important factors that will help those suffering from arthritis to get a comfortable sleep irrespective of their pain. 
The factors below are among the more important properties of a mattress for arthritis sufferers. We start with price because this is a very important factor for many people. Mattresses can cost anything from a few hundred dollars to several thousand. Generally, the more you pay the better the mattress you get. Inexpensive mattresses can save you a lot of money, but may not provide you with the level of comfort and pain relief you want or need.
Mattress Price: A low-priced mattress might seem easier on your wallet, but when you compare that with higher-priced mattresses it may not be the bargain you were hoping for. Many high-priced mattresses well outlast less expensive options. Others may offer more comfort than a lower-priced option or may be designed specifically for your sleeping position.
Take the Winkbed, our top choice for heavyweight people as an example. This mattress comes in four comfort levels, ranging from 4.5 (Soft) which provides maximum comfort for side sleepers to 7.5 and 8 (Firm) which are most suitable for back and stomach sleepers. The 8 levels have been designed specifically for those of 230 lb or over in weight, with the 7.5 for less heavyweight back or stomach sleepers.
The Winkbed is one of our more expensive options, but what price do you put on proper support/comfort for your sleeping position, and on a high level of pain reduction for arthritis sufferers. Would you rather have an inexpensive mattress that is too soft for you or that keeps you awake at night as you try to get comfortable. Then there is heating – most people release heat at night and many of these are unable to sleep well due to overheating and sweating. You may prefer to pay a bit more for a mattress that helps keep you cool at night by conducting the heat away from your mattress.
Our recommendation is that you purchase the best mattress you can within your budget. This is particularly true if you suffer from arthritis, a condition that keeps you awake all night if you have chosen the wrong mattress. Price is important to most people, but make sure you get the best mattress for arthritis sufferers within your budget.
Here are a few other properties of the best mattresses for arthritis sufferers, some of which apply to most sleepers whether they have arthritis or not:
Contouring: A good contouring mattress will easily adjust to conform to your body shape. A mattress that can contour to the heavier, or even wider, parts of your body will automatically support your spine in its correct shape or alignment. Much of the pain that people experience when trying to get to sleep is due to poor alignment of your spine, particularly in the lumbar region (small of your back.) A memory foam mattress is the best type of contouring mattress, although a hybrid mattress with memory foam or latex foam over a spring base will combine contouring with support. The Winkbed is a good example of the latter. Pressure relief is a very important factor to those suffering arthritis. Without good pressure relief, a mattress can exert excessive pressure on joints and hence more pain. The better the contouring of a mattress the less such pressure will be, and hence the lower the pain level when in bed.
Comfort Level: Also referred to as Firmness Level, the comfort level of your mattress should suit your sleeping position and your body weight. Too soft a mattress will strain your spine while too firm a mattress can build up too much pressure on your spine and joints. Each of these can lead to excessive pain in those with arthritis, so choose your comfort level carefully. Two of the mattresses we have reviewed offer split versions, so you can use split frames to enable couples to choose their own individual comfort level. The Copper Dreams and Loom & Leaf mattresses are available in split Cal King and Split King sizes respectively (also our best Budget and best Premium mattress for arthritis respectively.) 
Temperature Regulation: Mattresses can either retain temperature, gradually heating up your bed to uncomfortable levels or dissipate heat away from the sleeping surface. Innerspring and latex foams tend to offer the highest levels of heat dissipation. However, some memory foam and other 100% foam mattresses can include copper in the foam to conduct heat away, or possess other features that enable airflow through the mattress to cool it down. The best may include both. The Layla mattress possesses conducting copper in its memory foam option, and copper plus a good airflow in its hybrid model.
Edge Support: Edge support is important for arthritis sufferers. This is because it helps the person sit on the edge of the bed to help them get into bed, and also to sit upon the edge prior to getting out of bed. They also feel more secure if they are sleeping on a mattress with good edge support. The top 4 choices in the table above have good to excellent edge support while the edge support of the next three is fair – Ok for sleeping to the edge of the mattress but not so good for sitting on.
What is the Best Type of Mattress for Arthritis Sufferers?
There are a number of mattress types that are suitable for arthritis sufferers. Here is a brief discussion of each type:
Foam
100% Foam mattresses are constructed using multiple foam layers. They can include a number of foams, though the most popular are memory foam, latex foam and polyurethane foam (polyfoam). Here is a brief synopsis of each.
Memory Foam: Memory foam is an excellent conforming foam. It reacts to the pressure and heat of your body shape to conform to that shape. Many find memory foam highly pressure-relieving and so good for those suffering from arthritis. However, memory foam can absorb heat and lead to you sleeping hotter than is comfortable for you. For that reason, many memory foams include copper, or some other conducting material, so conduct heat away from your body. Memory foam is excellent for the separation of movement between couples sleeping together.
Latex Foam: There are different types of latex foam, but irrespective of that many people are allergic to latex and cannot sleep on a latex mattress. However, for those that are not allergic, latex is a close-conforming foam. It is made from the sap of the rubber tree and there are two types: Dunlop latex and Talalay latex. Dunlop latex is the denser of the two while Talalay latex has a bouncy feel to it, which is why many young couples prefer Talalay latex in their mattress to any other type of foam.
Polyfoam: Polyurethane foam is manufactured chemically, and is a medium bounce foam – not as bouncy as latex. It is relatively inexpensive and is the foam used to manufacture memory foam. 
Any of the above foams are good for joint pain and arthritis sufferers. There are two types of spring mattresses:
Springs
There is no such thing a 100% spring mattresses since you need a layer of soft material over the springs for comfort. This layer can be batting, memory foam or a combination of different types of foam for specific properties.
Hybrid Mattresses: Hybrids include a combination of innerspring and foam. Most spring mattresses sold today are hybrids. There are not so many 100% innerspring mattresses anymore. With these, the bulk of the mattress consists of steel coils with a layer of batting or foam on top for comfort. Hybrids are way more popular and can consist of several foam layers over a layer of individually encased steel coils. Very few hybrids are flippable – those that have the spring layer in the center of a sandwich with various types of foam on either side of the springs. Hybrids can be paired with any type of base. 
Innerspring Mattresses: These are not as popular as they once were. They consist of a layer of springs at the base of the mattress covered by a thin layer of padding or upholstery materials, including various foams and fiber. Sometimes additional layers of smaller steel springs are used to provide a degree of motion separation. Innerspring mattresses should be paired with a box spring base, although many of the newer innerspring can be used with an adjustable base.
The Importance of Your Choice of Mattress
Your choice of mattress is important, and it can have a serious impact on your pain and your general health. It is important that arthritis sufferers choose a mattress that is appropriate to their condition. You will spend up to a third of your life or more on your mattress – either lying on it, reading, or sleeping on it. Make sure you choose the most appropriate mattress for your condition.
Any of the mattresses we have recommended above should be suitable for arthritis sufferers. Take your time to check them out. Also, don't forget your partner if you have one. You may prefer a split mattress so that you can each have your own choice – or even a split adjustable frame so that you and your partner can have your own individual mattress and your individual frame setting. Check out the Blissful Nights Split King Memory Foam Bed. It comes with 2 individually remote-controlled split king bed frames and memory foam mattresses.
Best Mattresses for Arthritis Sufferers
Layla Mattress

Winkbed Mattress

Casper Wave Mattress

Saatva Classic

Bear Pro Mattress

Copper Dreams Mattress

Loom & Leaf Mattress
Summary
If you have arthritis and feel that you are not getting enough proper sleep, then read this guide carefully. It presents you with our opinion of the 7 best mattresses for arthritis sufferers in addition to a Buyer's Guide and information on split king beds and mattresses to enable your partner to sleep in his or her best position. Arthritis pain can be extreme and can prevent you from getting a proper night's sleep. Follow our advice and you should sleep better and feel less pain at night.